This Easy Indian Butter Chicken is just like the restaurant but so much EASIER! Made with rich tomato sauce, a simple and delicious blend of spices, and super tender rotisserie chicken which makes this creamy comfort dish super speedy to make.
Indian Butter Chicken- The EASY Way!
Indian food is steeped in heritage and tradition. There are many dishes with with rich and complex flavors that can take long hours to achieve.
Butter Chicken is just as rich and delicious as the name implies. But instead of taking hours, this version of the classic dish just takes one pot and minutes on your stove top.
I promise you though, the results will still knock your socks off! It is every bit as rich and flavorful as takeout from your favorite restaurant.
The real secret here lies in using rotisserie chicken. This makes for quick prep, less cooking, and allows the recipe to go from fridge to fork in a fraction of the time.
What is Butter Chicken?
Butter Chicken is a traditional Indian dish
What to Serve with Butter Chicken
First things, first, if you are planning to make Butter Chicken for a meal, make sure you plan out what to serve it with.
The traditional Indian pairings for Butter Chicken are:
Each of these are readily available in most grocery stores to buy. Naan can also be easily made at home if you have the time.
Although it is less traditional I also frequently use these for lighter side dish options for butter chicken:
Side salad- try it with a ginger dressing
Sautéed Spinach– I serve my butter chicken over spinach instead of rice to keep it low carb. It is not traditional but very delicious!
Roasted Cauliflower- My other go-to for keeping it light and healthy.
Cauliflower rice- You can use this as a rice substitute or mix it half and half with regular rice to lighten it up.
Recipe Tips
This recipe is pretty simple and straight forward. I am going to offer a few of the tips I use to make sure I get the very best results out of this recipe.
Make sure you scroll all the way to the bottom to find the FULL recipe card. If you have additional questions you can leave them in the comments at the bottom of this post.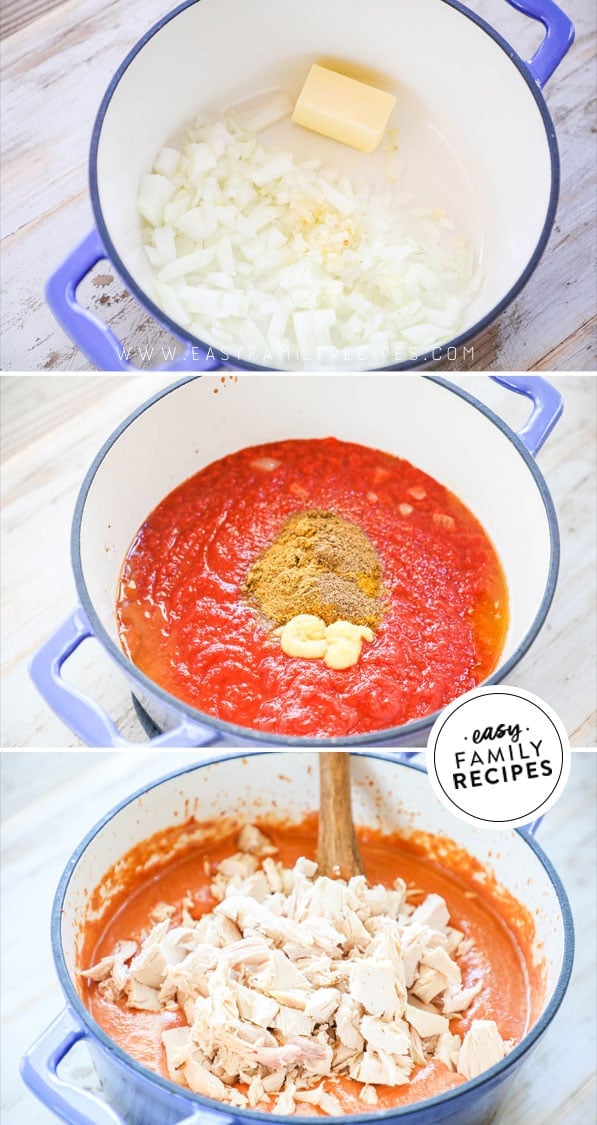 Ingredients + Substitutions
The ingredients on this list are pretty straight forward, and although the list isn't super short, most of the ingredients are dried spices, so they are quick and easy to add.
Rotisserie Chicken- I love the tenderness and flavor using rotisserie chicken in this recipe. Make sure you use a traditional flavor rotisserie chicken, not lemon, BBQ or another specific flavor.

Substitutions: You can use pre-cooked shredded chicken or leftover chicken that was baked, boiled, or cooked in the method of your choice as long as it is neutral in flavor.

Onion– I generally use yellow onion, but white, or red will work as well.
Garlic– Fresh always carries the best flavor, and I recommend it to freshen up the canned tomatoes, but in a pinch, you can use jarred minced, or paste if needed.
Butter– Salted or unsalted will work.
Crushed tomatoes– The consistency of crushed tomatoes works well for the sauce, as well as, makes it easy to bring the sauce together quickly.

Substitutions: You can use whole or diced canned tomatoes if you cannot get crushed tomatoes. I recommend blending them before and after cooking to help the seasonings flavor the sauce in the most flavorful way.

Garam Masala– This is a traditional Indian dried spice blend. It used to be a bit more challenging to find, but now is widely available at most grocery stores on the spice aisle or with the Indian foods. I even find in Walmart these days. The great thing about this, is that even though it isn't an everyday ingredient in most kitchens, as a dried spice it will last over a year when stored properly, so it is easy to keep on hand for the next time you make this dish.
Curry powder
Ginger– I like to use the ginger paste found in the refrigerated produce section at the grocery store (Gourmet Garden is the brand I use) because it gives the fresh taste with less work. You can also use fresh ginger or dried ginger if needed.
Cumin
Heavy cream- Heavy cream is traditional in this dish. Some people use coconut milk and that also works well for a non-dairy option. Heavy cream will provide a thicker consistency and a more rich flavor.

Substitutions: Coconut milk or coconut cream can be used in place or, or substituted for half of the heavy cream. You can also use half and half for a lighter dairy option in this recipe.
Method
This recipe takes only four basic steps to get it from the fridge to the table.
Sauté to soften the onions and garlic
Simmer the tomato blend and spices all together
Blend to make it smooth
Stir in the cream and chicken
Tip 1: Sautéing the onions and garlic first help to develop the flavor and make this recipe come together more quickly.
Tip 2: If you like a kick to your curry, you can add in 1/2-2 tsp cayenne pepper in step 2 with the other spices. Add more or less depending on if you want just a hint of spiciness, or if you want it mouth on fire kind of spicy. In many Indian restaurants, they have you rate spiciness on a scale of 1-5. 1/2 tsp will be a 1-2 level and 2 tsp will get you up to a 4-5 level.
Tip 3: Use an immersion (or hand) blender. Once the tomato blend is done simmering, I highly recommend using a hand blender to blend the sauce to smooth. You do not have to do this step, but my family thinks it makes a big difference and really prefers both the taste and texture when it is blended. You can use a traditional blender to do this as well, but it is much more effort and mess than a hand blender.
Tip 4: Mix the cream in SLOWLY! Cream can curdle if it is mixed in too fast, so don't just dump it all in and stir. I try to make a slow stream with one hand and stir with the other. If you can't do both at the same time, just pour a little, then stir, and repeat.
Tip 5: Add the chicken in last. This is helpful because you won't be able to blend the sauce smooth if the chicken is already in it, so it helps me not to get things messed up. Also it makes adding the cream easier and if you decide to save some for another night you can freeze it before adding the chicken.
Recipe Variations
This is a great base recipe for an easy version of classic Indian Butter Chicken. You can tweak this recipe to make a few other great twists on the classic.
Spicy Butter Chicken– As noted in the tip above, follow the recipe as directed and in step 2, add 1/2-2 tsp cayenne pepper when adding the other spices. This will raise the heat level according to how much you add.
Vegetarian Butter Chicken– To make this recipe vegetarian friendly, you can substitute blanched cauliflower for chicken in the last step. Prepare the cauliflower by cutting it into bite sized pieces, then boil it for 3-5 minutes until fork tender. Drain and add to the Butter Chicken sauce in the last step.
Vegan Butter Chicken– Substitute olive oil for butter and coconut milk for heavy cream in this recipe. Then use the cauliflower method in the vegetarian recipe above to make this butter chicken completely vegan.
I also like to use half cauliflower and half chicken breast in the butter chicken recipe just to up the wholesome veggies included in the recipe. My kids don't seem to notice when the cauliflower is hidden in the rich and thick sauce.
Scaling the recipe
This recipe makes enough to feed a crowd! Especially when pairing it with rice and naan. You will get roughly 10 cups of Butter Chicken from this recipe. If this is too much, you can use the freezing directions below, or cut the recipe in half.
To half the recipe, simply cut the quantity for each ingredient in half and follow the directions using the new amounts.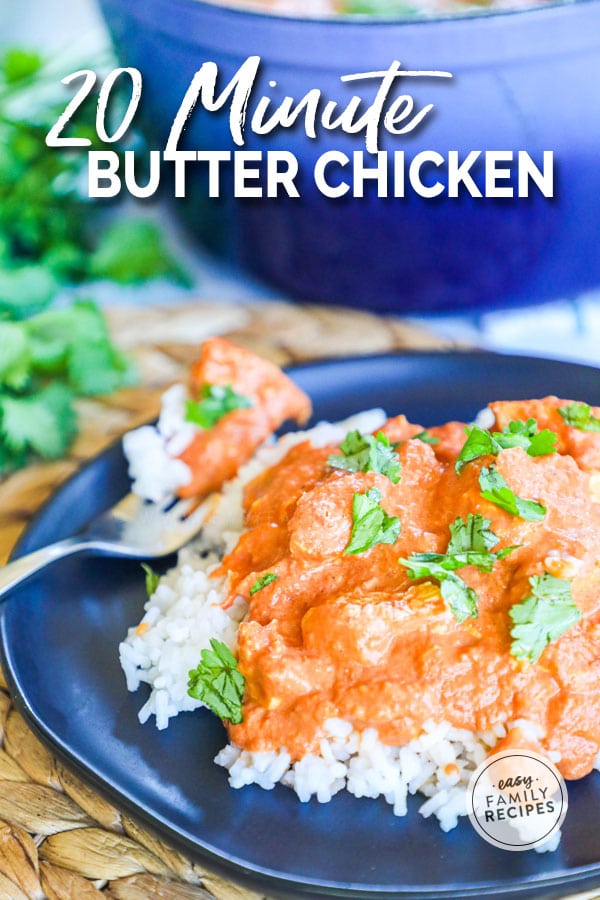 Freezer Meal Instructions
Butter Chicken freezes really well for reheating at a later date.
To freeze this recipe I recommend making it partially, rather than freezing the ingredients together uncooked. This will allow you to spend just minutes to prepare the meal after taking it out of the freezer and get all of the taste with just minutes of effort.
To freeze:
Follow the recipe through step 3.
Add the heavy cream slowly while stirring.
Allow dish to cool to close to room temperature.
Place the sauce in a freezer bag or other air tight container.
Freeze.
When ready to eat place sauce in a pot over medium heat, stirring frequently, until sauce is heated through. (Sauce can be frozen or thawed at this step)
Add chicken to sauce, and continue to cook until chicken is heated.
Note: I like to freeze the sauce without the chicken and add fresh rotisserie chicken when we are ready to serve. You can absolutely add it in before freezing and have it completely ready to go when thawed. I just think it is a little better fresh, also I think it stays better longer without the meat so I can freeze it for 6 months instead of just 1-3 without impacting taste.
Butter Chicken Leftovers
This recipe does feed a crowd, so if you have leftovers, the save WONDERFULLY to reheat another day.
To save leftovers, allow it to cool to close to room temperature, then package it in meal sized portions and store in the:
refrigerator for 3-4 days
freezer for up to a month.
Leftover Recipes
You can eat butter chicken over and over with just rice and naan, but there are a few more creative recipes we like to make with leftover Butter Chicken as well.
Butter Chicken "Tacos"– This is inspired by a favorite restaurant in NYC. Take a piece of toasted naan and fold it like a taco. Add a scoop of butter chicken. Top with shredded cabbage (or use coleslaw mix for ease) and a sprinkle of cilantro.
Butter Chicken Grain Bowls– On a bed of rice scoop on some butter chicken. Add wilted spinach, roasted cauliflower, chopped cilantro, and a squeeze of fresh lime juice.
More Quick and Easy Recipes
If you loved this easy recipe as much as we do at our house, make sure to take a minute to browse a few more of our simple dinner recipes.
You can see all of our easy recipes here, or find a few reader favorites below!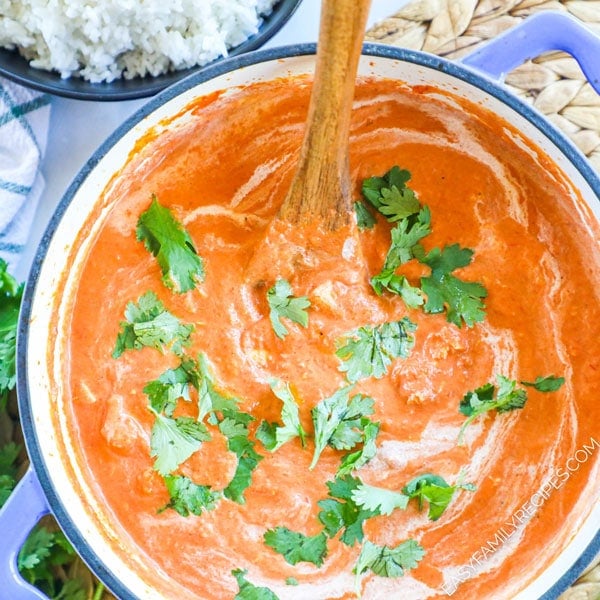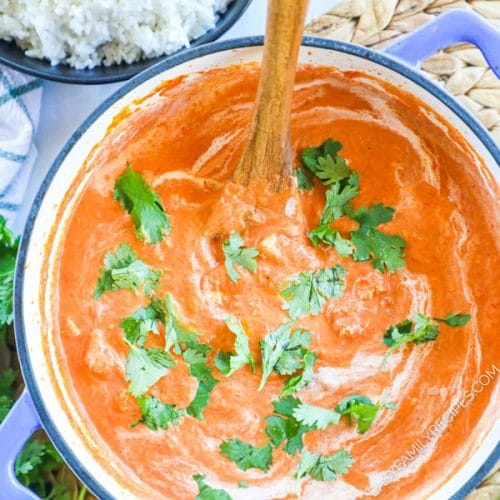 EASY Butter Chicken
This super easy Butter Chicken recipe takes just 20 minutes and one pan. It pairs perfectly with toasty naan or tender basmati rice. Make it mild for the family, or spice it up using the option below.
Ingredients
4

cups

shredded rotisserie chicken

1

onion

,

diced

6

garlic cloves

,

pressed

1/4

cup

butter

56

oz

crushed tomatoes

,

(2 large cans)

1

tbsp

garam masala

1

tbsp

curry powder

1

tbsp

ginger paste

,

or 1 tsp dried ground ginger

2

tsp

ground cumin

1

tsp

salt

1

cup

heavy cream

,

See note
Instructions
In a large stock pot, melt butter over medium heat. Once hot, add the chopped onion and garlic and saute until onions start to turn translucent, about 3-5 minutes.

Add the crushed tomatoes. Then stir in the garam masala, curry powder, cumin and ginger.

Simmer for 10 minutes. Optional: Once done simmering, use an immersion blender to blend the sauce until smooth.

Slowly stir in the cream until fully combined, then add the chicken.

Remove from heat and garnish with cilantro. Serve warm over rice or with naan.
Recipe Notes
To make the Butter Chicken spicy add in 1/2-2 tsp cayenne pepper in step 2 with the other spices. Add more or less depending on if you want just a hint of spiciness, or if you want it mouth on fire kind of spicy. In many Indian restaurants, they have you rate spiciness on a scale of 1-5. 1/2 tsp will be a 1-2 level and 2 tsp will get you up to a 4-5 level.
This recipe also can be made with cauliflower instead of chicken, or a combination of cauliflower and chicken. Prepare the cauliflower by cutting it into bite sized pieces, then boil it for 3-5 minutes until fork tender. Drain and add to the Butter Chicken sauce in the last step.
This recipe makes A LOT!  It does save well in both the fridge or freezer, but if you want less, you can cut the recipe in half.
Nutrition Information
Serving:
1.25
cups
,
Calories:
407
kcal
(20%)
,
Carbohydrates:
18
g
(6%)
,
Protein:
39
g
(78%)
,
Fat:
22
g
(34%)
,
Saturated Fat:
12
g
(75%)
,
Cholesterol:
161
mg
(54%)
,
Sodium:
729
mg
(32%)
,
Potassium:
995
mg
(28%)
,
Fiber:
4
g
(17%)
,
Sugar:
9
g
(10%)
,
Vitamin A:
1063
IU
(21%)
,
Vitamin C:
20
mg
(24%)
,
Calcium:
117
mg
(12%)
,
Iron:
4
mg
(22%)