Mexican Roasted Vegetables are crazy delicious and take only minutes to prepare! This healthy side dish pairs perfectly with your favorite Tex-Mex and Mexican meals. It also makes a hearty and delicious vegetarian filling for tacos, burritos, fajitas and more!
Mexican Roasted Veggies – The EASY Way!
Roasted vegetables are a staple on our dinner table. They are an amazing option for a busy night because:
They are DELICIOUS!
They are HEALTHY!
They are FAST!
They cook all on on pan so clean up is EASY!
They can be adjusted to use whatever vegetables you have on hand.
They make great leftovers and meal prep!
I could keep going, but you get the idea!
Roasting vegetables brings out incredible flavor with very little effort, and this Mexican style variety is one of my absolute favorites!
Grab these other varieties of roasted veggies for another night: Cajun Roasted Vegetables, Classic Roasted Vegetables, and Pesto Roasted Veggies.
How to Serve Mexican Roasted Vegetables
These veggies are perfect to bulk up a meal with something wholesome you can be excited about eating, but because the Mexican Roasted Vegetables are so hearty, they also can be used as part of a vegetarian main dish.
You will want to keep this recipe handy for both, so I am going to share my tried and true ideas on each for you below.
Serve as a Side Dish with…
Served as a Main Dish…
Roasted Vegetable Enchiladas
Vegetarian Burrito Bowls
Mexican Roasted Veggie Tacos
Vegetarian Fajitas
Mexican Roasted Vegetable Salad
Recipe Notes
This Mexican Roasted Vegetable recipe is as simple as promised! Just a handful of vegetables and a sheet pan for a hearty and wholesome dish.
In this section I am going to go through a few tips and tricks I use when making this recipe to get the absolute best and most delicious results.
As written, this recipe is NOT spicy. If you want to add some heat to the Mexican Roasted Vegetables, follow the directions in the recipe variations section below.
Make sure to scroll to the bottom for the FULL recipe card.
Ingredients
This is the base recipe I use to make the roasted vegetables. The most important thing to remember, is that this can be adapted to what you have on hand.
So if you are missing something on the list, just leave it off and add a little extra of something else.
Or if you have another vegetable your family really enjoys, you can add that into the mix as well.
Red onion
Red bell pepper– Can be sliced or cut into chunks
Fresh broccoli – You can also use frozen broccoli that has been thawed.
Yellow squash– Can be sliced or cut into chunks
Zucchini squash – Can be sliced or cut into chunks
Green bell pepper – Can be sliced or cut into chunks
Olive oil
Taco seasoning– you can use store bought, but if you have the time, I highly recommend making your own! This homemade taco seasoning is AMAZING, takes minutes to make, and you can keep it in the pantry for up to a year (so I like to make it in bulk!)
Lime juice– using fresh lime juice will give you the best flavor.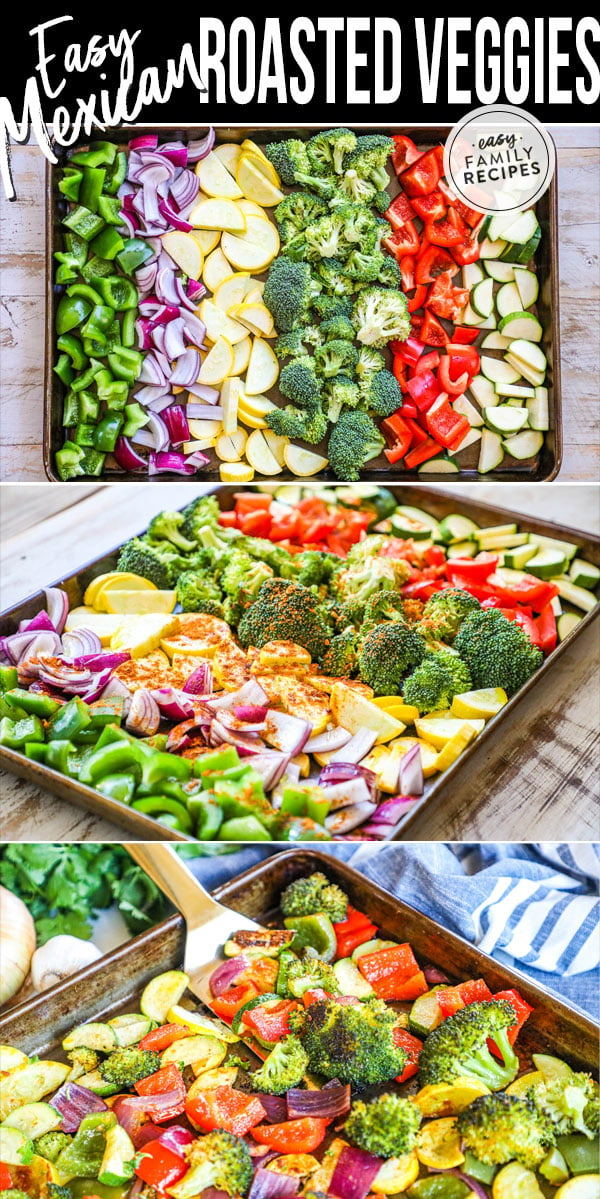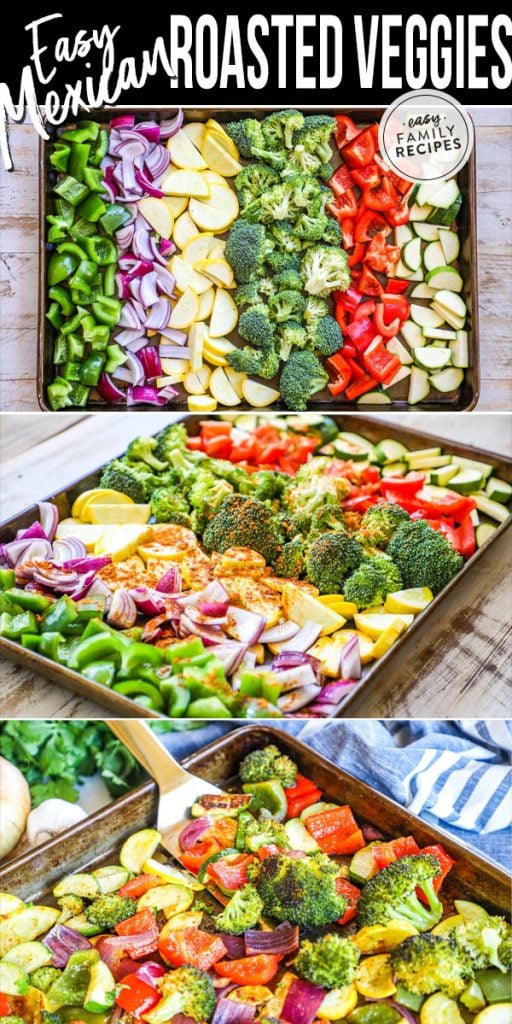 Recipe Tips
Use a LARGE Sheet Pan– Make sure the sheet pan is large so there is plenty of room for all of your vegetables to lay flat and not pile on top of each other. This allows them to get the maximum flavor from the roasting process
Cut vegetables so they cook evenly– The key to perfect vegetables is cutting them so they cook evenly. Things that take longer to cook like broccoli should be cut in smaller pieces. Things that cook more quickly like zucchini should be cut in bigger pieces.
Slice or Dice – I put suggestions in for how I cut my vegetables, but this is really personal preference. If you prefer chunks of peppers and onions cut it that way. If you want it to look more like fajita veggies, you can cut them in slices. This will not affect the outcome.
Use other veggies if you want! Here are some others that make an appearance in our Mexican Roasted Vegetables from time to time:

Mushrooms
Tomatoes (only add in the last 5 minutes so they don't cook too much)
Other colors/types of peppers- think poblano, jalapeño etc.
Cauliflower
Thinly sliced carrots – these take a long time to cook, so need to be sliced thin!
Recipe Short Cuts
If you need to make this recipe, but are extra short on time, here are a few ideas that can help make this recipe even faster!
Prep Veggies ahead– Most vegetable can be cut or chopped and stored in the refrigerator 2-3 days in advance.
Use pre-cut veggies– you can also find a decent assortment of pre-cut veggies at most grocery stores in the produce section. This can be a great time saver!
Use freezer meal option– You can also prepare these up to 6 months in advance using the freezer method for the Mexican Roasted Vegetables below.
Recipe Variations
If you love this recipe as much as we do and want some quick ways to change it up for variety, these little tips will do the trick!
Spicy Mexican Roasted Vegetables- Add sliced jalapeno peppers to the vegetable mixture. Then add an additional 1/4-1 tsp cayenne pepper (adjust amount for the heat level you want) to the taco seasoning and continue as directed.
Fajita Roasted Vegetables– Try using fajita seasoning in place of taco seasoning in this recipe.
Salsa Veggies– Make this recipe as directed and after baking, toss with 1/2-1 cup of your favorite salsa.
Cheesy Mexican Roasted Vegetables– Make recipe as directed. 5 minutes before cook time is up, add your favorite cheese to the top of the vegetables and broil for 3-5 minutes or until the cheese starts to brown. You can use cojita, Mexican blend, cheddar, monterey jack, pepper jack, or queso fresco.
Dietary Considerations
If you have special dietary needs, this recipe meets some and can be easily modified to comply with others.
As always, check all store bought ingredients for compliance on specific dietary needs. The notes below are a general guide.
Gluten free: This recipe is naturally gluten free when using homemade taco seasoning.
Dairy free: Mexican Roasted Vegetables are naturally dairy free
Nut free: This recipe is naturally nut free
Egg free: This recipe is naturally egg free
Low carb/Keto: This recipe is low carb at only 6g net carbs per serving.
Macros: The approximate macro calculation for this recipe is- P: 3g C: 9g F: 3g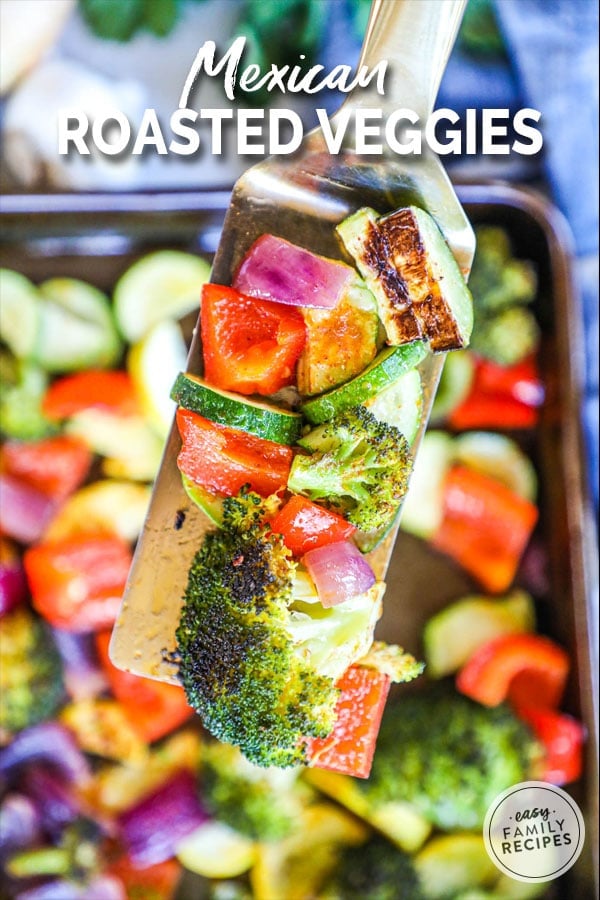 Freezer Meal Instructions
To prepare these Mexican Roasted Vegetables as a freezer meal, you can follow the recipe below.
While this recipe does make a delicious freezer meal, when using this method, vegetables such as squash will have a less firm texture than they would without freezing. You can choose to leave out the squash and zucchini if you prefer, or add them in fresh when you are ready to bake, if you want to keep the more firm texture.
Chop vegetables and place in a freezer bag or other airtight container.
Drizzle olive oil over veggies, and sprinkle the taco seasoning evenly. Mix until vegetables are evenly coated with oil and seasoning.
Freeze.
Once ready to cook, thaw in the refrigerator for 24-48 hours.
Bake as directed.
Mexican Roasted Vegetables Leftovers
If you have leftovers after making Mexican Roasted Veggies, then it is your lucky day! They save and reheat well, and can make the start of another delicious dish.
To save leftovers, separate into meal sized portions and then place in an airtight container and store:
in the refrigerator for 3-4 days
in the freezer up to a month
Leftover Recipes
Here are a few ways to repurpose those leftovers and give them a delicious makeover! You can also use ideas from the main dish serving section above.
Mexican Roasted Veggie Frittata– Saute leftover vegetables in a pan until warmed through. Add scrambled eggs and season with salt and pepper. Sprinkle with cheese and transfer to the oven to cook until baked through.
Mexican Roasted Vegetable Wrap– Spread sour cream on a large tortilla. Add leftover vegetables (hot or cold) shredded lettuce, cheese, and pico de gallo or pineapple salsa. Wrap and enjoy!
Mexican Veggie Quesadillas– Butter a skillet and warm to medium heat. Place Mexican Vegetables and cheese on half of the tortilla and fold over. Beans can also be added to make it more hearty! Grill the quesadilla on each side until golden brown and the cheese is melted. Serve with sour cream for dipping.
More Easy Side Dish Recipes
If you enjoyed this recipe, I really hope you will take a moment to grab a few more easy recipes for another busy night!
You can check out all of my Side Dish recipes here, or see a few of our readers favorite recipes below.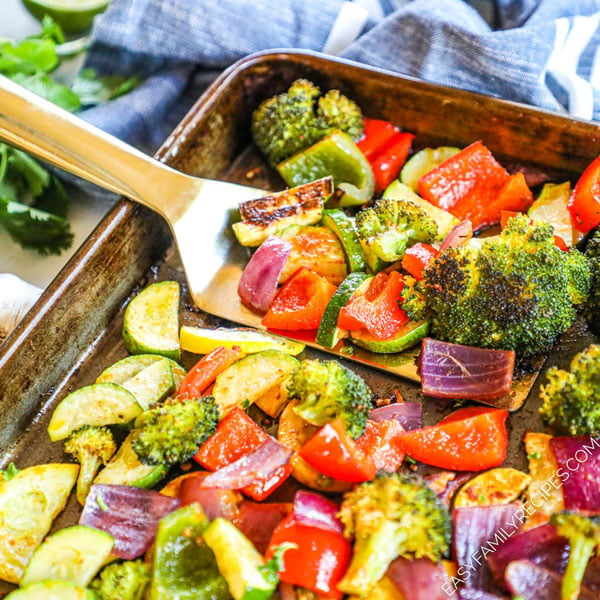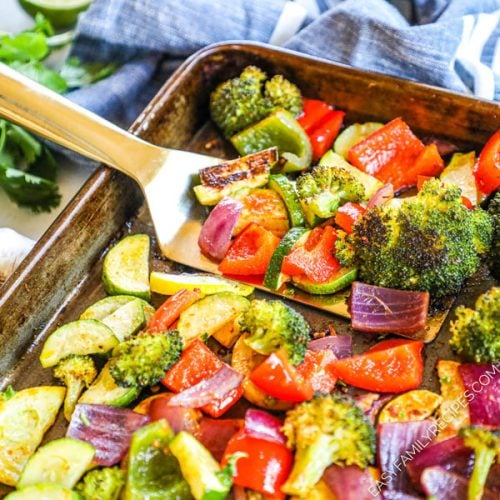 Mexican Roasted Vegetables
These Mexican Roasted Veggies are super simple to make and so delicious! The roasting process brings out wonderful flavor with only minutes of prep. These make a great side dish, or can be used as a vegetarian filling for your favorite Mexican recipes.
Ingredients
1

red onion

,

roughly diced

1

red bell pepper

,

roughly diced

½

lb

fresh broccoli

,

cut into small florets

½

lb

yellow squash

,

cut into 1/4 in slices

½

lb

zucchini squash

,

cut into 1/4 in slices

1

green bell pepper

,

roughly diced

1

tbsp

olive oil

1

tbsp

taco seasoning

1

tbsp

fresh lime juice

,

(juice of 1/2 lime)
Instructions
Chop vegetables and place on a large baking sheet in a single layer.

Drizzle olive oil over veggies, and sprinkle the taco seasoning evenly. Mix until vegetables are evenly coated with oil and seasoning.

Bake at 425˚F for 15-20 minutes or until vegetables are tender.

Remove from oven and squeeze lime juice over top. Enjoy!
Nutrition Information
Serving:
0.5
cup
,
Calories:
63
kcal
(3%)
,
Carbohydrates:
9
g
(3%)
,
Protein:
3
g
(6%)
,
Fat:
3
g
(5%)
,
Saturated Fat:
1
g
(6%)
,
Sodium:
20
mg
(1%)
,
Potassium:
420
mg
(12%)
,
Fiber:
3
g
(13%)
,
Sugar:
5
g
(6%)
,
Vitamin A:
1081
IU
(22%)
,
Vitamin C:
90
mg
(109%)
,
Calcium:
36
mg
(4%)
,
Iron:
1
mg
(6%)