This Chicken Fajita Marinade is an absolute MUST for grilled chicken fajitas! The delicious Tex-Mex flavors tender juicy chicken breast for the perfect chicken fajita. This Fajita Marinade is super easy and uses only 4 ingredients, but each play a critical part in making these Chicken Fajitas so good!
Easy Chicken Fajita Marinade
Fajitas may seem fancy when you order them at a restaurant. They come on big skillets packed with colorful veggies and tender chicken and the signature sizzle can't be missed!
All of these things that make Chicken Fajitas so delicious can be a bit intimidating, but I am here to tell you that you can make fajitas as good as the any restaurant, and IT'S EASY!
With only 4 ingredients you can be on your way to an authentic Tex-Mex Chicken Fajita Marinade.
Being born and raised in Texas, I have eaten chicken fajitas at hundreds of different restaurants, and this recipe doesn't disappoint!
This recipe is usually used for Grilled Chicken Fajitas, but you can try my one dish Baked Chicken Fajitas, Sheet Pan Chicken Fajitas, or Sizzling Steak Fajitas here.
How to Make Chicken Fajita Marinade Recipe
As promised, this recipe is super simple! I am going to walk through some tips and notes to help you get the most tender, juicy, perfectly flavored chicken fajitas of all time.
Make sure to find the FULL recipe card for the Chicken Fajita Marinade at the bottom of this post.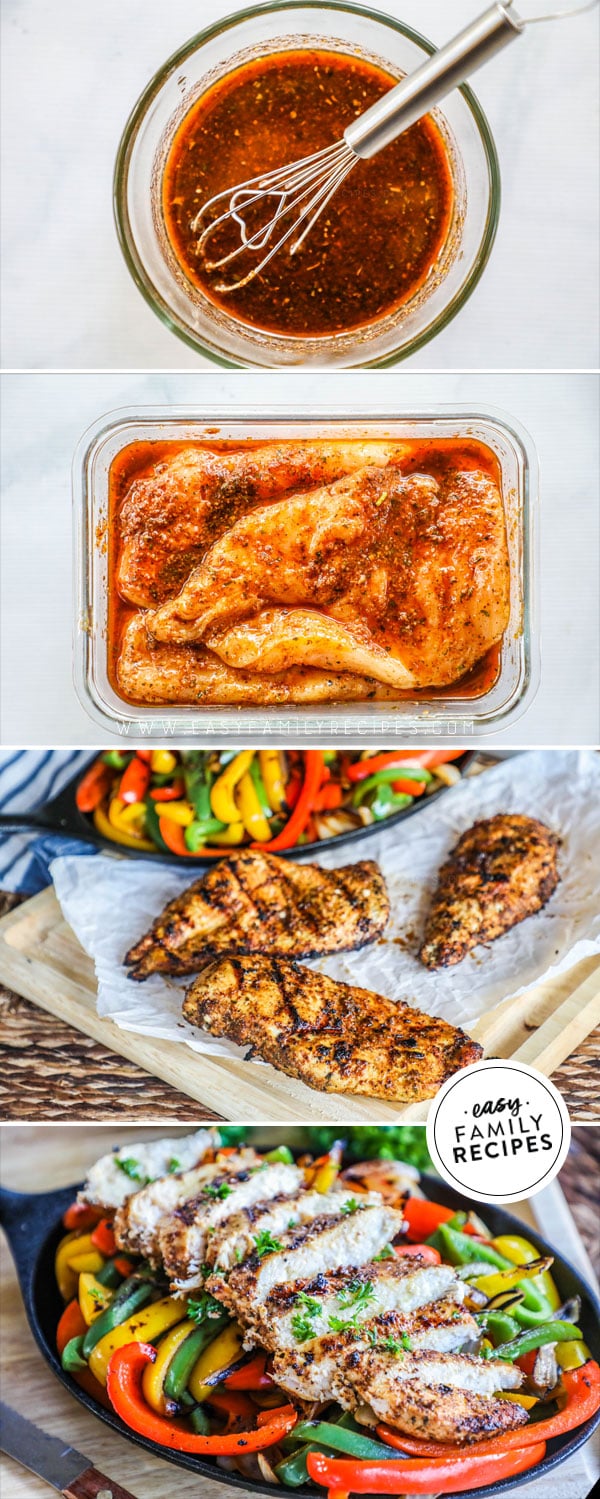 The Meat
This Chicken Fajita Marinade can be used on any cut of chicken, and will make them all equally delicious!
That said, boneless skinless chicken breast is the defacto standard for chicken fajitas, and my personal preference 100x over.
If you do decide to go in a different direction for the cut of meat you use, here are a few things to consider:
Bone in cuts will take longer to cook
Smaller cuts like chicken tenderloins or wings will often take less time to cook.
Dark meat like chicken thighs can be used and produces a very tender and flavorful fajita as well but may not slice as well.
The Seasoning
For the marinade ingredients, I highly recommend you use my homemade fajita seasoning to make this chicken fajita marinade.
The reason I say this is two-fold.
Each brand of fajita seasoning is different. By making your own you know exactly what is in it and can control how you flavor it the best, resulting in THE BEST FLAVOR!
The homemade seasoning only takes minutes to make and is healthy, gluten free, dairy free, preservative free, and low carb. Plus, you can keep it in your pantry for up to a year!
I encourage you to make the seasoning from scratch because I think it really is the best option, however, I am a busy person too and know that things don't always go as planned.
This recipe WILL WORK with store bought seasoning as well. So if you are in a pinch, don't worry! Just do what you need to do and it will still be delicious! I promise!
The Lime
The lime plays a really important part in the fajita marinade!
First, It helps to tenderize the meat. The acidity of the lime will break down the proteins in the meat to create a more tender fajita though the marinating process.
Second, it helps to give that really authentic Tex-Mex fajita flavor!
Since this ingredient not only has the scientific use, of tenderizing, but is also a really important ingredient to the flavor profile, I encourage you to use fresh lime juice over the pre-packaged variety.
Fresh lime will give that irresistible fresh flavor to the fajitas, and it only takes a fraction of a minute longer to squeeze the lime.
Marinating time
The time you marinate your chicken fajitas can be a bit flexible! I prefer to let them marinate for at least 30 minutes, but for the best flavor I think that 2 hours is optimal.
If you are prepping ahead, you can let the fajitas rest in the marinade for up to 24 hours.
There is also a freezing option for prepping beyond 24 hours that I will detail below.
How to Cook Chicken Fajitas
This Chicken Fajita Marinade is so versatile it can be used for traditional chicken fajitas cooked on a grill, but it also can be used for baked chicken fajita recipe or chicken fajitas prepared in a skillet.
Grilled Chicken Fajitas
Cook the chicken breast over medium heat on a preheated grill for 4-6 minutes per side, until chicken has reached 165˚F internal temp. Once the chicken is done, cut the fajitas into strips on a cutting board and serve over peppers and onions.
Baked Chicken Fajitas
Remove each chicken breast from the marinade and place on a baking sheet spread out on the sheet so that they are not touching. Bake at 375˚F for 20-30 minutes or until they are cooked through (165˚F).
Note: You may want to butterfly or pound out the chicken breasts so that they are thin cutlets if you are baking. This helps them to cook more quickly and evenly and stay tender and juicy!
Skillet Chicken Fajitas
You can use any heavy bottomed skillet to make chicken fajitas, but I prefer a cast iron skillet. Heat 1 tbsp of butter over medium high heat. Remove each chicken breast from the marinade and place in the skillet (do two batches if necessary so that they are not over crowded!) Cook for 3-5 minutes per side, trying to flip only once.
Note: If you are cooking completely in a skillet, you will have the best results if you either use very thin chicken breasts, or pre-slice the meat. I prefer to work with sliced meat in the skillet because it will cook so quickly and it comes out ready to serve!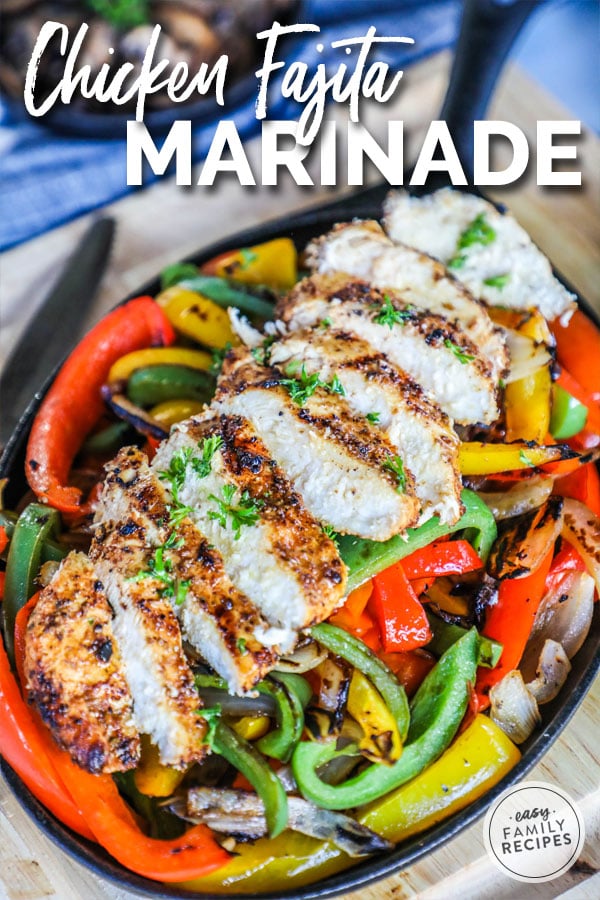 How to Freeze Chicken Fajita Marinade
This Tex-Mex Chicken Fajita Marinade makes a great freezer meal and can be frozen both before and after cooking.
Freezer Meal Instructions
Whisk together the vegetable oil, lime juice, and fajita seasoning.
Cut the chicken breast to the desired thickness, then place the chicken breast in a freezer bag or airtight container.
Pour the marinade over the chicken and toss to coat.
Freeze.
When ready to cook, let thaw 24-48 hours in the refrigerator, then cook as directed.
To Freeze after Cooking
You can package cooked fajitas up after eating, and keep them on hand for an easy start to your meal later in the month. Cooked fajita meat will taste best when used within 1-2 months of freezing.
Prepare fajitas and cook as directed.
Let cool.
Slice (if desired) and package in meal sized portions in a freezer bag or air tight container.
When ready to eat, reheat in microwave or skillet.
How to Serve Chicken Fajitas
If you are planning for Chicken Fajitas and getting ready to marinate your meat, then make sure you plan the full sha-bang to really get the authentic fajita experience.
A traditional Tex-Mex Fajita set up will come with:
Flour Tortillas
Mexican Rice
Refried Beans
Shredded lettuce
Sour Cream
Guacamole
Shredded cheddar cheese
It may seem like a lot but most of these are pretty simple and can be homemade or store bought for convenience.
If you want to go all the way, definitely make everything above, but I also like to just grill chicken fajita meat and veggies, and then use them for healthy meals through out the week, like salads and burrito bowls.
Chicken Fajita Side Dishes
If you go with the traditional set up above, you probably won't need much else, but here are a few notes on serving sides with fajitas.
Peppers and Onions – I love to have these whether I am serving them traditionally or just plan to use the meat in other dishes. It is kind of like peanut butter and jelly. They just go together! You can use traditional bell peppers and onions, or give it a kick by using jalapeno peppers.
Mexican Street Corn Casserole– A fun twist on a dish to serve with fajitas and the perfect party food!
Green Chile Cheddar Mashed Potatoes– Growing up we ate at Don Pablo's a lot. Although I haven't been there in years, I still remember their green chile potatoes as a favorite and recreated my own version to serve myself!
Tex-Mex Chicken Fajita Leftovers
This Chicken Fajita Marinade produces some of my absolute favorite leftovers! I could eat these daily and never tire of them!
If you have leftovers you can package them in meal sized portions and keep them in the refrigerator for 3-4 days or in the freezer for up to 2 months.
Leftover recipes
Here are some of my favorite recipes I love to use with leftover fajita meat. This makes prepping dinner for another night super easy, but equally delicious!
Chicken Fajita Salad– Pile greens with chicken fajita meat, grilled bell peppers, onions, cheddar cheese, pico de gallo and sliced avocado. Drizzle with ranch dressing and toss to coat. Garnish with fresh cilantro and tortilla chips.
Chicken Fajita Quesadillas– Chop leftover chicken, bell peppers and onions. Heat a skillet over medium high heat. Butter the outside of a large tortilla. Place it in the skillet and pile high with chicken fajita meat, bell peppers, onions, and colby jack cheese. Fold in half and grill each side until golden.
Loaded Chicken Fajita Enchiladas– Chop chicken, bell peppers and onions. Mix with sweet corn kernels, and black beans. Fill corn tortillas with a scoop of the mixture and a bit of shredded cheese. Roll and place seam side down in a casserole dish. Repeat. Cover enchiladas with green enchilada sauce and sprinkle the top with cheese and crumbled cooked bacon (optional.)
Chicken Fajita Tacos– Do a build your own taco night with sliced chicken fajitas, fajita veggies, shredded lettuce, pico de gallo, sour cream, guac and more!
Chicken Fajita Pasta– Prepare my homemade alfredo sauce as directed stirring in 1 tbsp of fajita seasoning to the mixture. Add chopped chicken fajitas, bell pepper and onion, and then toss with pasta. DELICIOUS!
More DELICIOUS Marinades!
If you love to grill, I have several more marinades just as simple and delicious as this Chicken Fajita Marinade. I hope you will get a chance to put a few more in your regular rotation!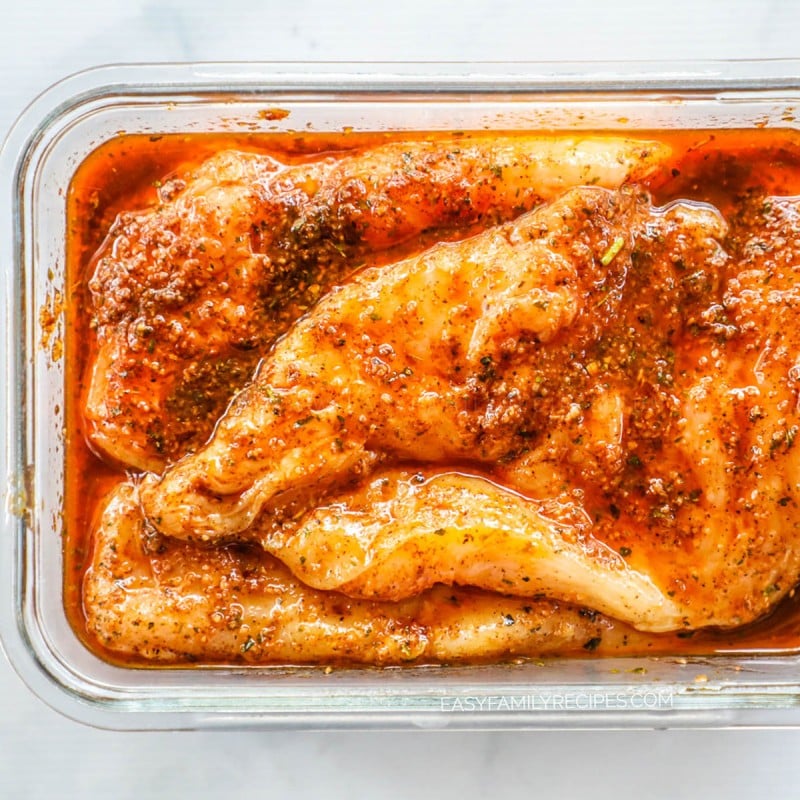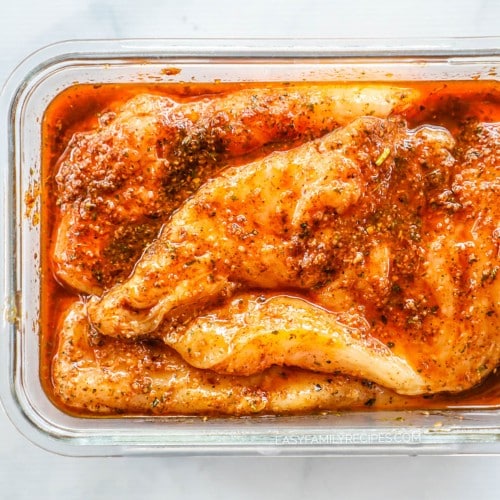 Tex Mex Chicken Fajita Marinade
This chicken fajita marinade is a healthy dinner favorite! It makes perfectly tender, juicy chicken breasts seasoned with the best Tex-Mex flavors.
Ingredients
2

lbs

chicken breast

,

boneless, skinless

1/4

cup

vegetable oil

,

extra virgin

2

tbsp

fajita seasoning,

(homemade or store bought)

2

tbsp

lime juice

,

fresh
Instructions
To make marinade, whisk together the vegetable oil, lime juice, and fajita seasoning.

Poke chicken all over with a fork. Place the chicken in a dish or zip top bag and pour the marinade over the chicken to cover completely. Refrigerate for up to 4 hours, with a minimum of 30 minutes.

Heat the grill to medium heat and brush with oil to prevent sticking. Place chicken on the grill and cook for 4-6 minutes per side, depending on thickness. Cook to an internal temperature of 165˚F.

Once done, remove chicken from grill and allow to rest for 5 minutes. Then serve warm. Enjoy!
Recipe Notes
How to Store:
If you have leftovers you can package them in meal sized portions and keep them in the refrigerator for 3-4 days or in the freezer for up to 2 months.
How to Freeze:
This Tex-Mex Chicken Fajita Marinade makes a great freezer meal and can be frozen both before and after cooking. For full instructions go to the "freezer" section in the post above. 
How to Reheat: This can be reheated in the microwave in 30 second increments, or cover with tin foil and place into the oven to reheat.
Nutrition Information
Serving:
8
oz
,
Calories:
380
kcal
(19%)
,
Carbohydrates:
1
g
,
Protein:
48
g
(96%)
,
Fat:
20
g
(31%)
,
Saturated Fat:
12
g
(75%)
,
Cholesterol:
145
mg
(48%)
,
Sodium:
370
mg
(16%)
,
Potassium:
839
mg
(24%)
,
Fiber:
1
g
(4%)
,
Sugar:
1
g
(1%)
,
Vitamin A:
192
IU
(4%)
,
Vitamin C:
6
mg
(7%)
,
Calcium:
11
mg
(1%)
,
Iron:
1
mg
(6%)