This Santa Fe Chicken is EASY + Flavor Packed + Delicious! The winning dinner combo. Inspired by the flavors of the Southwest, this meal is made in just one dish, with only minutes of prep. Best part? It is a crowd pleaser that both kids and adults will love!
Santa Fe Chicken – The EASY Way!
It is not often that you find a recipe the kids enjoy just as much as the grown ups.
Then, throw in the fact that it is made in one dish and takes minutes to go from the fridge to the oven, and you have a winning combination!
The Santa Fe Chicken Bake does all of that! While it may not earn you a michelin star, this dish gets 5 stars for families!
Clean plates and easy prep and clean up are the name of the game on these busy week nights!
Recipe Notes
This Santa Fe Chicken Bake recipe is as simple as promised! Just minutes of prep and one pan for a family friendly meal.
In this section I am going to go through a few tips and tricks I use when making this recipe to get the absolute best and most delicious results.
Make sure to scroll to the bottom for the FULL recipe card.
Ingredients
Chicken breast – You will want THIN chicken breasts! Here is 3 ways to get thin chicken breasts:

Cut them in half horizontally so they are half the thickness
Pound them out
Purchase them labeled as "Thin" chicken breasts

Taco seasoning- You can use store bought or if you have an extra 5 minutes, I highly recommend this homemade taco seasoning
Black beans- This recipe will use 1 can drained and rinsed
Sweet corn drained- I use canned for convenience, but you can also use frozen or fresh (see recipe notes)
Salsa- I prefer a thick chunky salsa for this recipe. If you use a thin, more "watery" salsa, it will still have good flavor, but the end result will be much more thin and liquidy and less hearty.
Green onions- Combining the green onion with canned corn and beans, brings in fresh flavors to the dish
Cheddar cheese- you can use colby jack, or mexican blend if desired
Salt and pepper- to taste!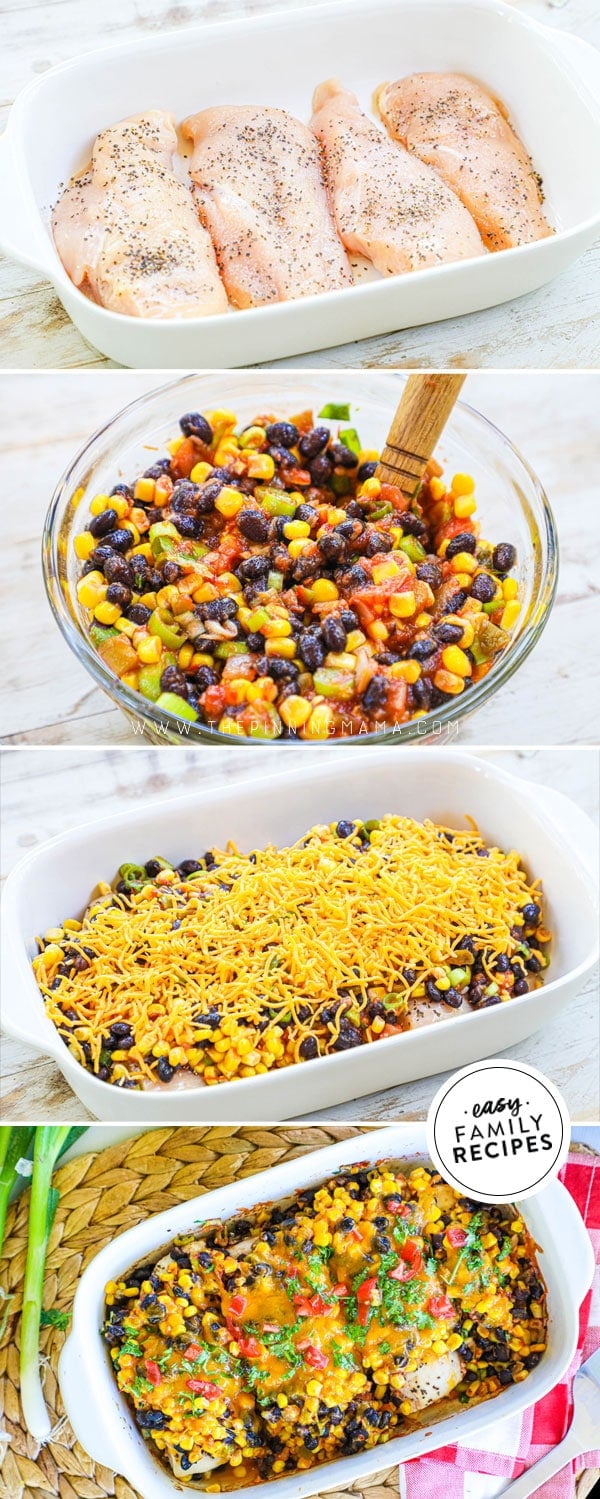 Recipe Tips
Thin Chicken breasts are a must! This dish has a lot going on and so if you use chicken breasts that are normal to thick, it will take a little longer to MUCH longer to cook! It will still taste good, but it will take much longer, and not have as much flavor in each bite.

Use a large dish– Because the Santa Fe Chicken is packed with so much, you will need a large dish to cook it best. You can use a casserole dish, or a high sided cookie sheet. The larger the dish, the less crowded it will be, and the less crowded it is, the more liquid will cook off leaving just the delicious flavor!

If you have too much liquid… Having too much liquid can be a common problem with baked chicken.
In the future you can cook it in a bigger dish to allow more liquid to cook off.
For an immediate fix:

Carefully drain some of the liquid
Lift the chicken with toppings out of the dish with a slotted spoon or spatula to a serving platter and discard the liquid
Or let it cook a bit and the juices will start to thicken and can be mixed back into the toppings.
Recipe Short Cuts
If you need to make this recipe, but are extra short on time, here are a few ideas that can help make this recipe even faster!
Pre-mix the toppings– The black bean/corn mixture can be combined up to 3 days in advance and then just stir the mixture and spread on the chicken when ready to cook.
Prepare dish ahead– You can assemble this dish up to 24 hours in advance, so it can be done in the morning or the night before you are wanting to serve the dish. I recommend topping with cheese right before cooking.
Freezer Meal– This dish can be made as a freezer meal. See full instructions below.
Recipe Variations
If you love this recipe as much as we do and want some quick ways to change it up for variety, these little tips will do the trick!
Creamy Santa Fe Chicken Bake– Make recipe as directed, adding 4 oz softened cream cheese and 1/2 cup sour cream to the black bean mixture.

Spicy Santa Fe Chicken– Make recipe as directed adding 4 oz dicced jalapeños to the black bean mixture. For extra spice, you can also season the chicken with a sprinkle of cayenne pepper, and sub pepper jack cheese for cheddar.

Crock Pot Santa Fe Chicken– Make recipe as directed layering in the crock pot instead of a baking dish and LEAVE OFF the cheese topping. Cook for 3-4 hours on high, or 4-5 hours on low. Sprinkle cheese over the top 3 minutes before it finishes cooking.
Dietary Considerations
If you have special dietary needs, this recipe meets some and can be easily modified to comply with others.
As always, check all store bought ingredients for compliance on specific dietary needs. The notes below are a general guide.
Gluten free: This recipe is naturally gluten free when using homemade taco seasoning.
Dairy free: Santa Fe Chicken can be made dairy free if the cheese is omitted.
Nut free: This recipe is naturally nut free
Egg free: This recipe is naturally egg free
Low carb/Keto: This recipe can be made low carb by omitting the black bean and corn. They can be replaced with diced cauliflower.
Macros: The approximate macro calculation for this recipe is- P: 46g C: 34g F: 11g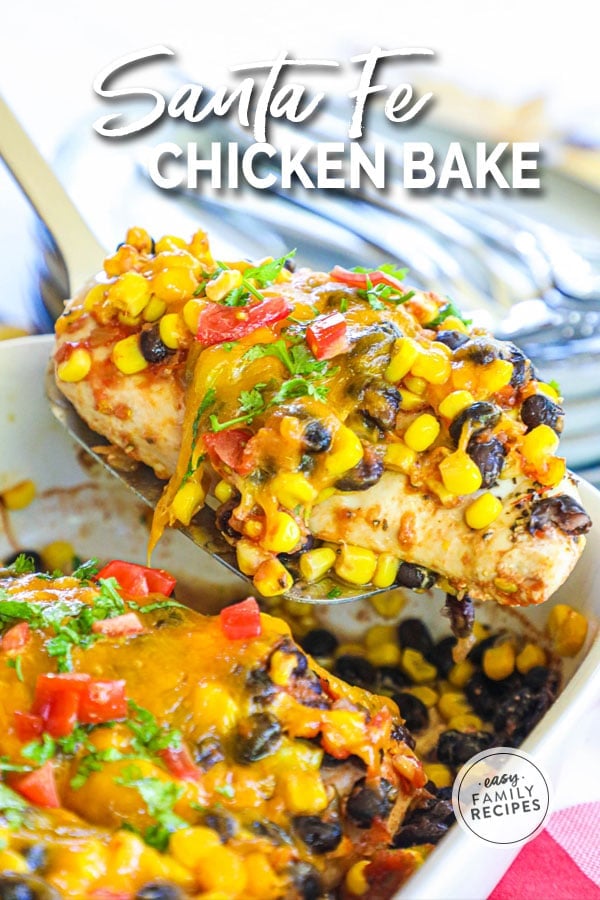 Freezer Meal Instructions
Santa Fe Chicken Makes a great freezer meal and can be frozen both before or after cooking. For best flavor cook within 6 months of freezing.
Combine the black beans, corn, green onions, taco seasoning, and salsa and mix until evenly coated.
Place chicken breasts and topping mixture together in a zip top bag or freezer friendly dish. These can be placed in separate containers and combined when you are ready to cook if desired.
Freeze
When ready to cook, thaw for 24-48 hours in the refrgerator.
Drain any extra liquid, and then place mixture in a baking dish and top with cheese.
Bake as directed.
What to Serve with Santa Fe Chicken
Santa Fe Chicken is a hearty dish. It contains meat, beans, corn, and veggies all in one, so you really don't need to add much to make this a well rounded meal.
Since this dish has the classic flavors of the southwest, it will pair well with many of your favorite Mexican side dishes. There are both classic options and some healthy options to keep it light.
Side Dish Ideas
Mexican Rice – We love this recipe, or you can keep it simple with white or brown rice. You can serve it in a bowl right on top of a bed of rice.
Cornbread– Perfect for soaking up every last drop of this delicious casserole.
Toppings– Load it up with all the good stuff like sour cream, guacamole, pico de gallo, etc.
Shredded lettuce– Santa Fe Chicken also serves well, salad style on top of shredded lettuce.
Green Chile Cheddar Mashed Potatoes – These are delicious and make a great side
Mexican Corn Salad– simple and can be made ahead!
You can choose one or add a few sides to make a wholesome, well rounded dinner.
Santa Fe Chicken Leftovers
If you have leftovers after making this Santa Fe Chicken, then it is your lucky day! It will save and reheat well, and can make the start of another delicious dish.
To save leftovers, separate into meal sized portions and then place in an airtight container and store:
in the refrigerator for 3-4 days
in the freezer up to a month
Leftover Recipes
Here are a few ways to repurpose those leftovers and give them a delicious makeover!
Santa Fe Chicken Sandwich– Take a thin chicken breast and trim it to fit you slice of bread. Between 2 slices of bread add the chicken breast, a scoop of the southwest toppings, and a hefty sprinkle of cheese. Heat a griddle pan (or panini press) over medium heat. Butter the pan and grill on each side until the bread is golden, the cheese is melted, and the chicken is heated through.
Santa Fe Chicken Salad– Chop the leftover chicken and mix into the toppings. Place on top of chopped romaine. Then top with your choice of crush tortilla chips, diced avocado, tomato and thinly sliced onion. Use classic ranch dressing, or my favorite… Jalapeño ranch dressing.
Santa Fe Chicken Wrap– Chop the leftover chicken and mix into the toppings. In a large tortilla, spread a thin layer of sour cream, then spread the chicken mixture, shredded lettuce and your choice of tomatoes, avocado, and thinly sliced onions. Wrap and eat!
Santa Fe Chicken Enchiladas– Chop the leftover chicken and mix into the toppings. Spoon the mixture into flour tortillas and add extra cheese if desired. Place in a casserole dish and cover the top with enchilada sauce (both green and red work well!) Sprinkle with cheese and bake at 400˚F for 25-35 minutes or until heated through.
Santa Fe Chicken Stuffed Peppers– Chop the leftover chicken and mix into the toppings. Mix toppings with cooked rice in a 1:1 ratio (ie 1 cup of toppings to 1 cup rice. Divide peppers in half and remove the stems and seeds. Fill peppers with the Santa Fe Chicken mixture and then place in a baking dish and add 1 inch of chicken broth to the bottom of the dish. Cover with foil and bake at 375˚F for about 35-45 minutes or until the peppers are tender. Uncover, top with cheese and bake an additional 5 minutes.
Optional: Mix cream cheese and sour cream into the chicken and rice mixture for a creamy filling!
More Easy Chicken Bake Recipes
If you enjoyed this recipe, I really hope you will take a moment to grab a few more easy recipes for another busy night!
You can check out all of my Chicken Dinner recipes here, or see a few of our readers favorite recipes below.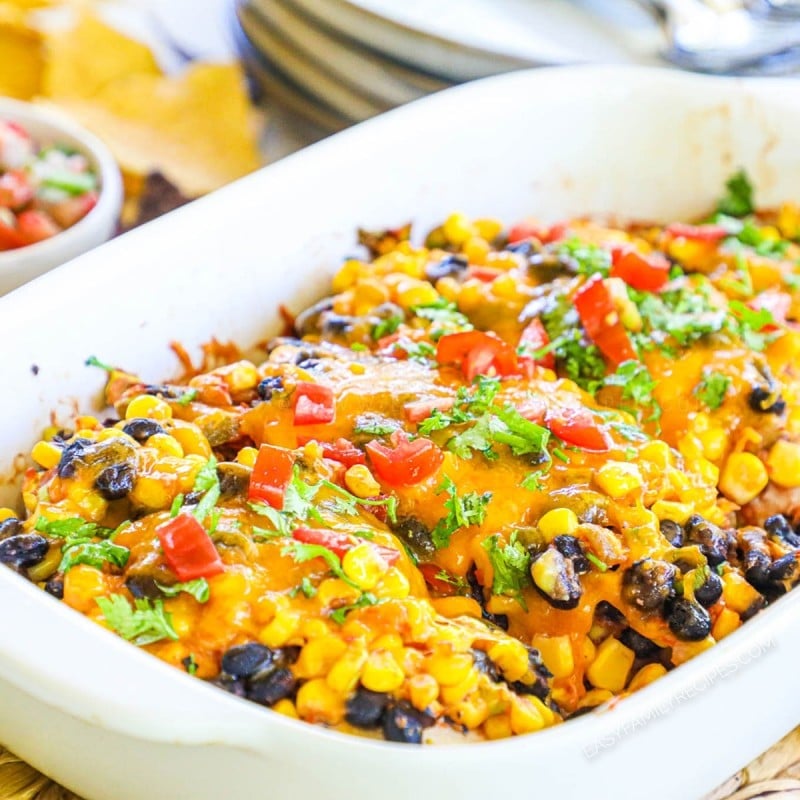 Santa Fe Chicken Bake
This Santa Fe Chicken is as EASY as it is DELICIOUS! With only a few ingredients, you can make this hearty dinner in just one dish for easy prep and clean up! This family friendly crowd pleaser is a wholesome way to get everyone to clean their plates!
Ingredients
2

lbs

boneless, skinless chicken breast

,

(4-6 thin chicken breasts)

2

tbsp

taco seasoning

15

oz

black beans,

drained and rinsed (1 can)

15.25

oz

sweet corn

,

drained (1 can)

1

cup

salsa

,

chunky

1/4

cup

green onions

,

sliced

1

cup

cheddar cheese

,

shredded

Salt and pepper

,

to taste
Garnish (optional)
Sour cream

Chopped cilantro
Instructions
In a large bowl, mix the black beans, corn, green onions, taco seasoning, and salsa until evenly combined.

Season the chicken to taste and lay flat in a casserole dish. Spread the bean mixture over top of the chicken and sprinkle with cheese.

Bake at 350˚F for 35-45 minutes or until your chicken breast is cooked through (165˚F internal temp.)

Garnish as desired. Enjoy!
Recipe Notes
Substitutions: 
Corn — Fresh corn, or frozen corn that has been thawed can be used in place of canned corn. Use about 1 cup.
Black Beans — Dried black beans that have been prepared can be used in place of canned. Use about 1 cup.
Cheddar cheese — you can use colby jack, or mexican blend if desired
How to Store: To save leftovers, separate into meal sized portions and then place in an airtight container and store:
in the refrigerator for 3-4 days
in the freezer up to a month
How to Freeze: See post for freezer meal instructions and leftover meal ideas. 
How to Reheat: This can be reheated in the microwave in 30 second increments. 
Serve with:
Nutrition Information
Calories:
414
kcal
(21%)
,
Carbohydrates:
34
g
(11%)
,
Protein:
46
g
(92%)
,
Fat:
11
g
(17%)
,
Saturated Fat:
5
g
(31%)
,
Cholesterol:
117
mg
(39%)
,
Sodium:
805
mg
(35%)
,
Potassium:
1064
mg
(30%)
,
Fiber:
9
g
(38%)
,
Sugar:
4
g
(4%)
,
Vitamin A:
599
IU
(12%)
,
Vitamin C:
5
mg
(6%)
,
Calcium:
181
mg
(18%)
,
Iron:
3
mg
(17%)