This Garlic Herb Butter is a super flavorful condiment with a punch of herby goodness that can be added to just about anything! Use as a spread, a topping, an easy way to add flavor while baking, you name it! Make a good size batch as this infused butter with garlic and herbs has a long shelf life and can be used often.
Garlic and Herb Butter – The EASY Way!
Kick up the flavor in your recipes with this easy, 5-minute spread that is versatile and can match your desired taste with exchangeable herbs. This recipe couldn't be easier or more delicious. There's just the right amount of earthy flavor from the combination of fresh and dried herbs. Depending on the garlic you choose to use, the flavor may be more pungent or strong if used fresh, or milder if using garlic paste.
Add this herbed garlic butter recipe to your fridge stock. It is easy, savory, and pairs well with vegetables, proteins, bread, and so much more. It is versatile and can be the perfect way to enhance the flavor of your meals.
Why I LOVE this recipe!
Easy and quick – this recipe is quick, easy, and delicious. It takes a matter of minutes to whip this together.

So MUCH Flavor – the garlic, fresh and dried herbs, and seasonings are balanced but also pack a punch of flavor that is savory and so satisfyingly tasty.

Versatile – the best part of this garlic herb butter is how versatile it is. Get creative and find your favorite combination of herbs and spices. Roast the garlic, add more fresh herbs, dried herbs, roasted red pepper pieces, and ginger… the possibilities are endless and can only be as delicious as this main recipe.

Last long in the fridge – this butter recipe will last 1-2 weeks in the refrigerator. Invest in small containers to whip up a few different batches of this butter herb spread with garlic.

An amazing addition to many dishes – using this herbed garlic butter is a quick and easy way to enhance your main dishes, vegetables, sides, and bread.
How to Use Garlic Herb Butter
Since this dish has the classic flavors of butter and herbs, it will add flavor to many of your favorite main and side dishes. There are both classic options and some healthy options to keep it light.
Main Dish Ideas
Strip Steak or Garlic Herb Steak – not only does butter help brown the meat when cooked in a cast-iron pan, but it adds another layer of flavor that is simply mouthwatering.

Roasting Chicken or Turkey – For a crispy flavorful skin and moist, tender piece of poultry, add this butter under the skin and roast. The butter, garlic, and herbs will infuse the meat with flavor and the seasonings will be under the crispy skin.

Pasta – For a quick and easy lunch, add a heaping spoonful of this herbed butter with garlic to a saute pan. Add in onions, peppers, mushrooms, black olives, spinach, and diced tomatoes. Cook until the vegetables are tender and add in cooked bowtie pasta (or your favorite pasta). Toss together in the butter sauce and serve with shredded parmesan.
Side Dish Ideas
Potatoes – add a dollop to your mashed or baked potatoes, or even roast by coating your potatoes in this herb butter with garlic for a big, savory flavor.

Corn on the cob- COrn on the cob was MADE to be smothered in this garlic butter. It is SO GOOD!

Oven-roasted vegetables – prepare your vegetables and toss in this garlic butter with herbs.

Carrots – add carrots to a pot with water and this butter spread. Simmer until carrots are tender.

Rice – a huge flavor punch is adding this garlic butter to cooked rice. It'll be buttery, garlicky, with an herby taste. Pair with baked chicken and steamed vegetables to balance out the buttery rice.

Bread, rolls, biscuits – This is a spreadable butter infused with garlic and herbs that makes for a great addition to bread.

Alternatively, spread the butter on pieces of bread for garlic toast OR for sandwiches! Enhance any sandwich when this spread is added. Try it with grill rye, pepper jack cheese, and thinly sliced ham.
You can choose one or add a few sides to make a wholesome, well rounded dinner.
Recipe Notes
This Garlic Herbed Butter recipe is as simple as promised! Just minutes for an exceptionally delicious spread.
In this section I am going to go through a few tips and tricks I use when making this recipe to get the absolute best and most delicious results.
Make sure to scroll to the bottom for the FULL recipe card.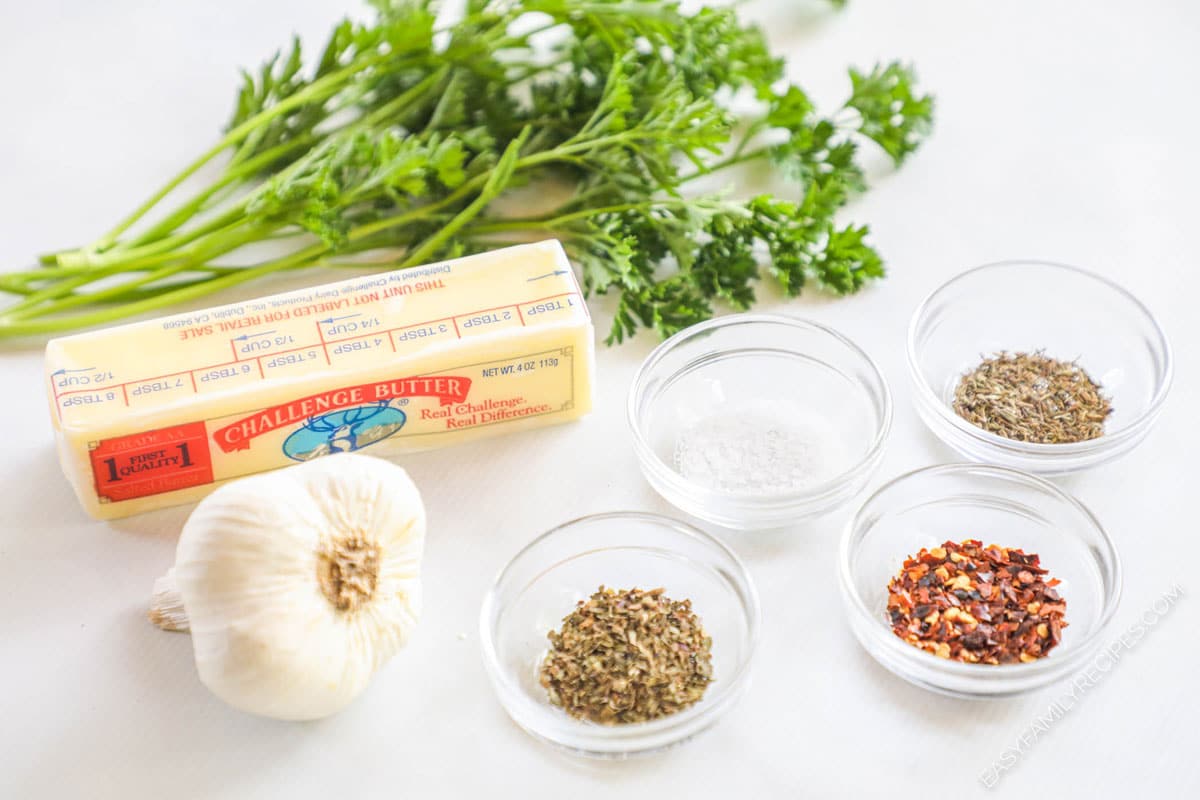 Ingredients + Substitutions
Butter – Use regular or unsalted butter. If salted, be aware of adding salt to the butter recipe.

It is also best to use very soft butter to ensure that the garlic butter herbs blend smoothly and incorporate for the best flavor.
If the butter isn't very soft the ingredients won't blend as well and you're likely to have chunks of butter without any herbs or garlic.


Fresh Parsley – fresh has the best earthy flavor and infuses into the butter for amazing flavor.

Dried Basil – dried goes a long way and has more flavor in smaller amounts. You could use sweet basil, but regular basil will complement the other spices in this blend. Try an Italian blend with sweet basil, oregano, thyme, and rosemary.

Dried Thyme – a well-rounded herb that is a bit minty/floral, and also earthy. This herb is a great addition to many dishes.

Garlic – fresh garlic is perfect for this herbed butter if you want to use it for baking and cooking.

If wanting to use this butter for a spread, I recommend using garlic paste as it is much more mild and perfect for spreading on bread. Also, more palatable than raw garlic butter. Roasted garlic is also a great option as it is also milder and man, is it scrumptious!


Red Pepper Flakes – just the right amount of heat to add to this butter and adds a hint of heat.

Salt – if using salted butter, be mindful of not over-salting. Season to taste.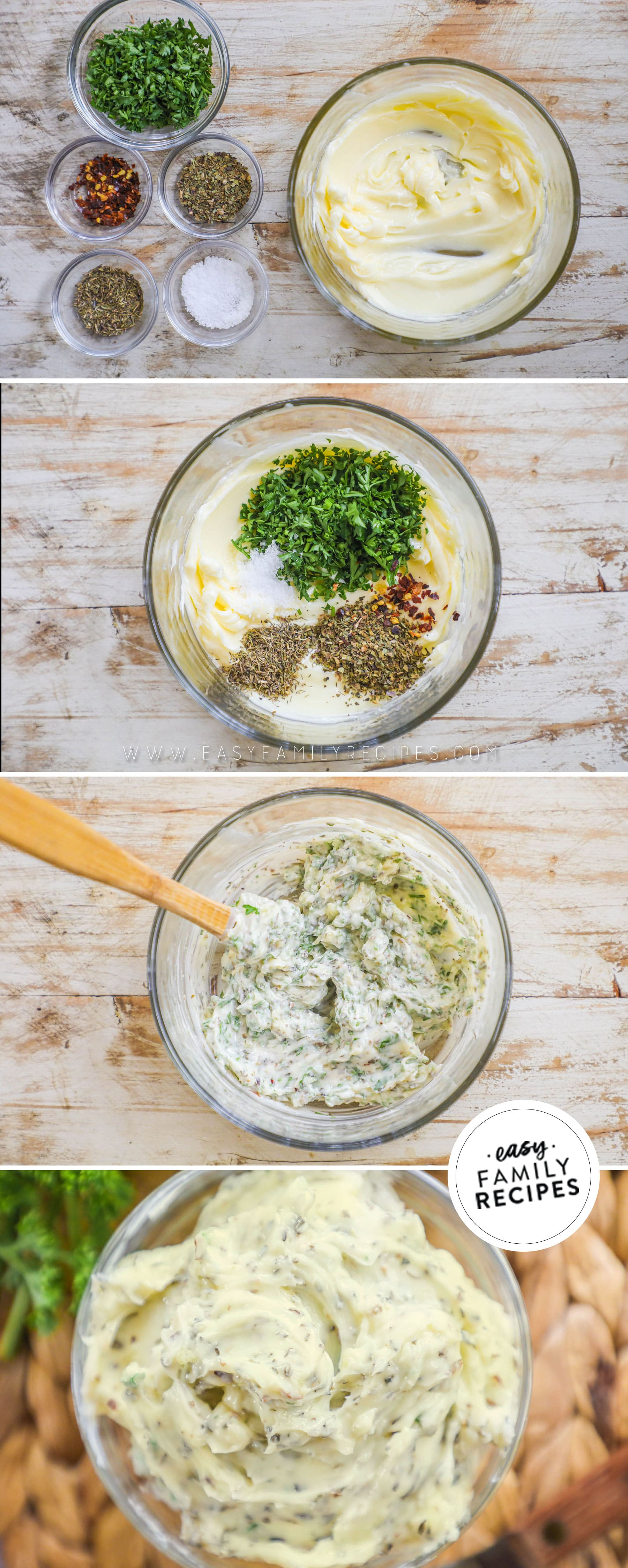 How to Make Garlic Herb Butter
Get excited because this is going to be SUPER easy!
Add ingredients to the bowl.

Mix until well combined.

Done! Store in a container or roll into logs with wax paper.
Recipe Tips
Use softened butter – To incorporate all the herbs and seasoning into this garlic butter recipe, using softened butter is key. It allows everything to meld together for the absolute best taste.

Make a larger batch – this herb garlic butter can be used on so many dishes that increasing the recipe to store in the refrigerator just makes sense! This butter recipe will keep in the fridge for up to two months. *Read below for further storage instructions.

Preserve your herbs – Do you grow your own herbs? Or have an abundance of herbs that you purchased for recipes? Making this butter recipe is a great way to preserve your herbs. Dry them or use them fresh. Either way, you'll throw away less and that is always a win!

Add citrus – For a super bright and fresh addition to this herb and garlic butter, especially if adding to chicken, fish, or pasta, squeeze in some fresh lemon juice and grated zest for an unreal zing of flavor.

Fresh garlic – use fresh garlic in this butter herb recipe when you plan on cooking or baking with it. Raw garlic isn't very palatable, but when adding this condiment to a cooked recipe you'll get a more appealing flavor profile.


For example, smear this garlic herb butter under the skin of the chicken for a crisp, garlic, and herb-infused skin. The garlic will cook and the flavor will be better.


Garlic paste – For a spreadable, garlic-infused butter with herbs, it's best to use garlic paste. This type of garlic is more palatable and less pungent than if using fresh and eating the garlic raw. Spread it on a piece of bread for a quick snack, it's that delectable.

Roasted garlic – this takes longer, but man oh man will the taste be phenomenal! Roasted garlic can basically be eaten squeezed right out of the clover. It would be a delicious substitution and ideal for spreading on toast, melting in mashed potatoes, tossed in vegetables, and so much more.

Add different herbs – Be versatile and satisfy your palette by using your favorite herbs.

Try rosemary and chives with lemon for grilled or baked fish.
Or turmeric, ginger, cardamon, and cilantro for an Indian-inspired dish
Recipe Variations
If you love this recipe as much as we do and want some quick ways to change it up for variety, these little tips will do the trick!
Roasted Garlic Herb Butter
Lemon Garlic Herb Butter
Rosemary Garlic Herb Butter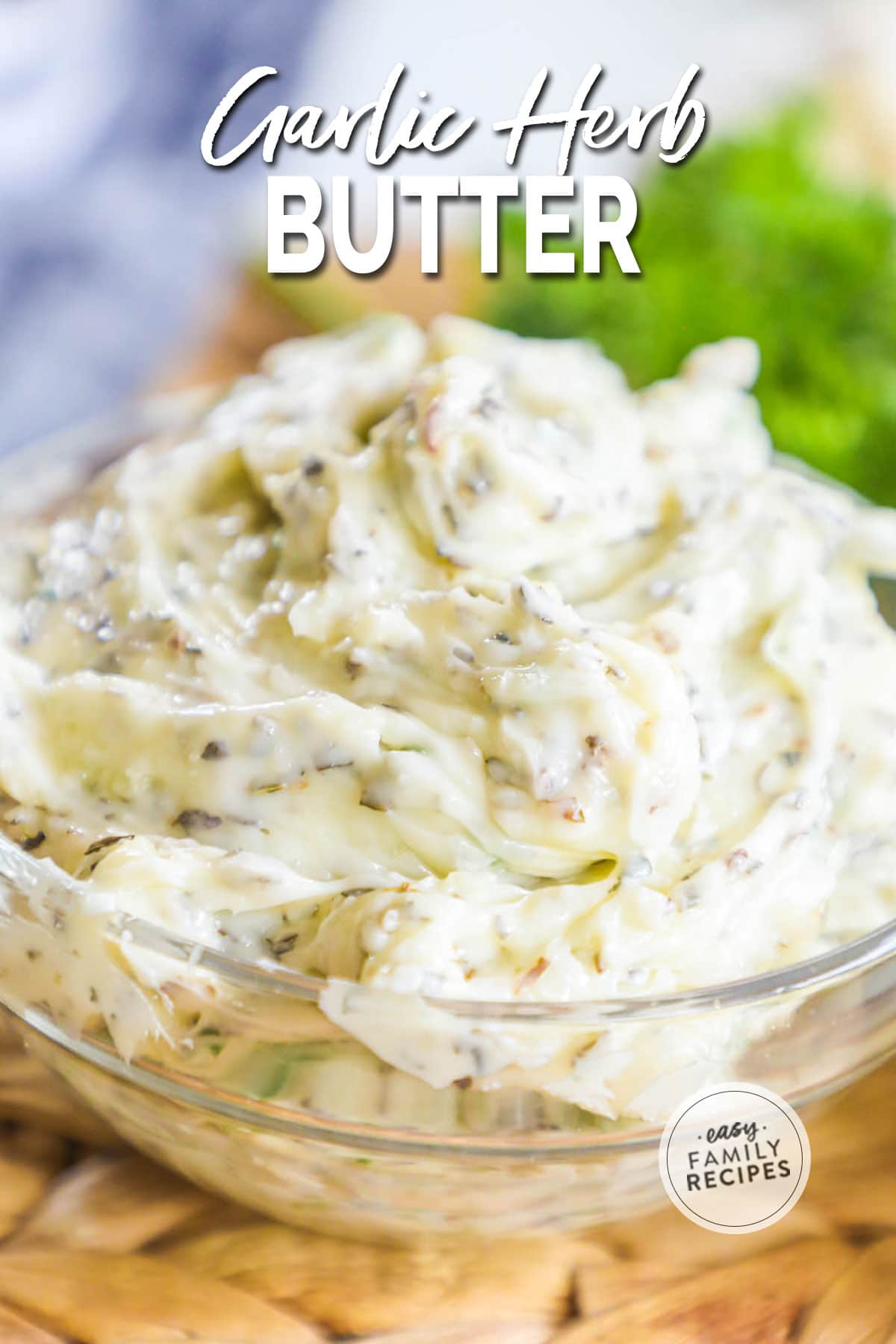 Recipe Storage
The absolute best thing about this garlic herb butter recipe is that you can store this for a long time and make multiple batches in different flavors. You'll have flavored butter ready to go when you are.
For spreads, marinades, baking, and sauteeing, this butter recipe with herbs and garlic will be a great prepped condiment.
To store, place in an air-tight container. Store in the refrigerator for up to two months.
For longer storage, keep in a freezer-safe container for up to 6 months.

If using a glass container, be sure to leave at least one-inch space from the top.
More Easy Recipes
If you enjoyed this Garlic Herb Butter recipe, I really hope you will take a moment to grab a few more easy recipes for another busy night!
You can check out all of my Easy Weeknight recipes here, or see a few of our readers favorite recipes below.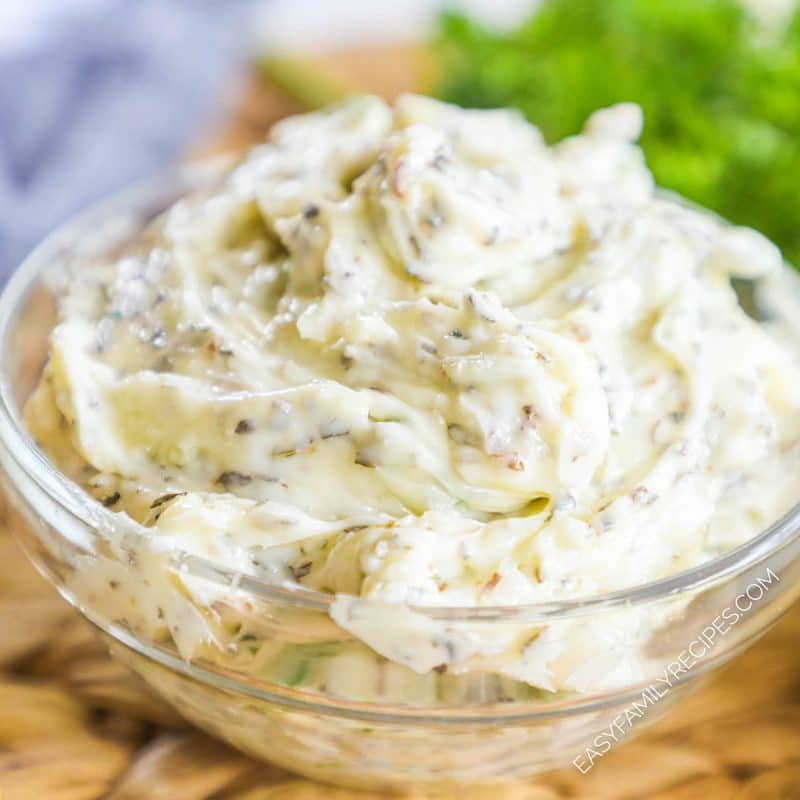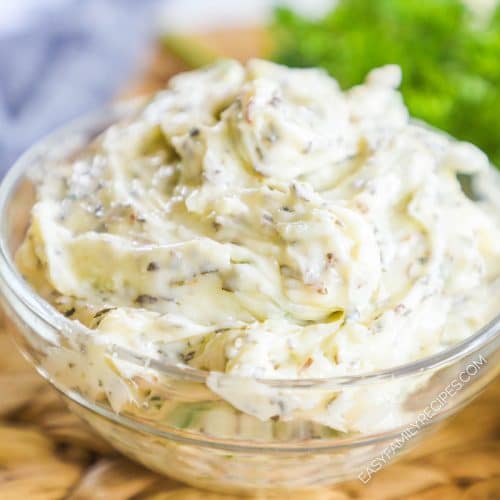 Garlic Butter
Add a punch of flavor to your recipes with an easy, under 5-minute Garlic Herb Butter. Perfect addition to vegetables, proteins, and bread, this spread has just the right amount of earthy flavor from the combination of fresh and dried herbs.
Ingredients
1/4

cup

butter

,

softened

2

tbsp

fresh parsley

,

finely chopped

1/2

tsp

dried basil

1/4

tsp

dried thyme

1/4

tsp

kosher salt

1

clove

garlic

,

pressed, or 1 tsp garlic paste

1

pinch

red pepper flakes
Instructions
Combine all ingredients and mix well.
Nutrition Information
Serving:
1
tablespoon
,
Calories:
104
kcal
(5%)
,
Carbohydrates:
1
g
,
Protein:
1
g
(2%)
,
Fat:
12
g
(18%)
,
Saturated Fat:
7
g
(44%)
,
Polyunsaturated Fat:
1
g
,
Monounsaturated Fat:
3
g
,
Trans Fat:
1
g
,
Cholesterol:
31
mg
(10%)
,
Sodium:
238
mg
(10%)
,
Potassium:
22
mg
(1%)
,
Fiber:
1
g
(4%)
,
Sugar:
1
g
(1%)
,
Vitamin A:
534
IU
(11%)
,
Vitamin C:
3
mg
(4%)
,
Calcium:
12
mg
(1%)
,
Iron:
1
mg
(6%)