Enjoy a fast but delicious family dinner with this juicy, stovetop Sizzle Steak recipe. A flavorful marinade seasons and tenderizes thin cuts of beef that cook quickly to create a family friendly meal that can be served in so many delicious ways! Whether you pair it with simple sides or pile it high on a bun, kids and adults will both be thrilled to have sizzling steak for dinner, and you'll love how fast and easy it is to throw together.
Sizzle Steak – The EASY Way!
We all love going out to a nice steak dinner, right? Beef is always such a satisfying and filling dinner protein, but recreating that steakhouse meal at home can sometimes feel too time-consuming, especially when you're cooking for a family! That's when my house turns to quick and easy recipes like sizzle steak. We get all that juicy, seasoned steakhouse flavor, but it takes me only 6 minutes of actual cooking to make.
The secret is a SUPER flavorful marinade that transforms cheap and quick-cooking pieces of beef into a fabulous, sizzling steak dinner. You'll only need one pan too! We also love that there's so many great ways to serve it, so feel free to double this recipe so you can enjoy the leftovers as other tasty meals throughout the week.
Why I LOVE this recipe!
Hands Off – Once the beef is marinating, you're done until it hits the pan. Plenty of time to toss a few easy sides together to serve with your sizzle steak.
SUPER Quick – Even if you only marinate it for 15 minutes, you'll STILL get delicious tender beef. Then it'll only take 6 more minutes to cook it all up!
Tender & Juicy – A marinade is an amazing way to take cuts that can be tougher, like the ones typically used for sizzling steak, and tenderize them into something magnificent. The acids and salts in this recipe create huge flavor fast!
Versatile – There are countless ways to serve this, whether you're aiming for quick and easy sizzle steak sandwiches or just want to feed the whole family without having to cooking individual steaks
Easy Clean up! – Marinate your beef in a bag so clean up is a breeze. Then it's just one simple pan to wash when you're done cooking.
What to Serve with Sizzle Steak
Since the seasoning for this sizzle steak recipe uses classic steakhouse flavors, it will pair well with many of your favorite traditional side dishes. There are both classic options and some healthy options to keep it light.
Side Dish Ideas
You can choose one or add a few sides to make a wholesome, well rounded dinner.
Recipe Notes
This sizzle steak recipe is as simple as promised! Just 25 minutes and one pan for a family friendly meal.
In this section I am going to go through a few tips and tricks I use when making this recipe to get the absolute best and most delicious results.
Make sure to scroll to the bottom for the FULL recipe card.
What is Sizzle Steak
While the name lends itself to the signature sound of steak, sizzle steak is actually defined by how the steak is cut. Sizzle steak is a cut of steak that has been thinly sliced. The most common cuts made into sizzle steak are top round and sirloin. Either one can be used in this recipe, however I generally use top round.
Sizzle steak is most often cooked quickly over high heat and can be eaten as is, or served on a bun. You can also add vegetables to the steak as it cooks like mushrooms, onions, or peppers. See more on that in the recipe variations section below.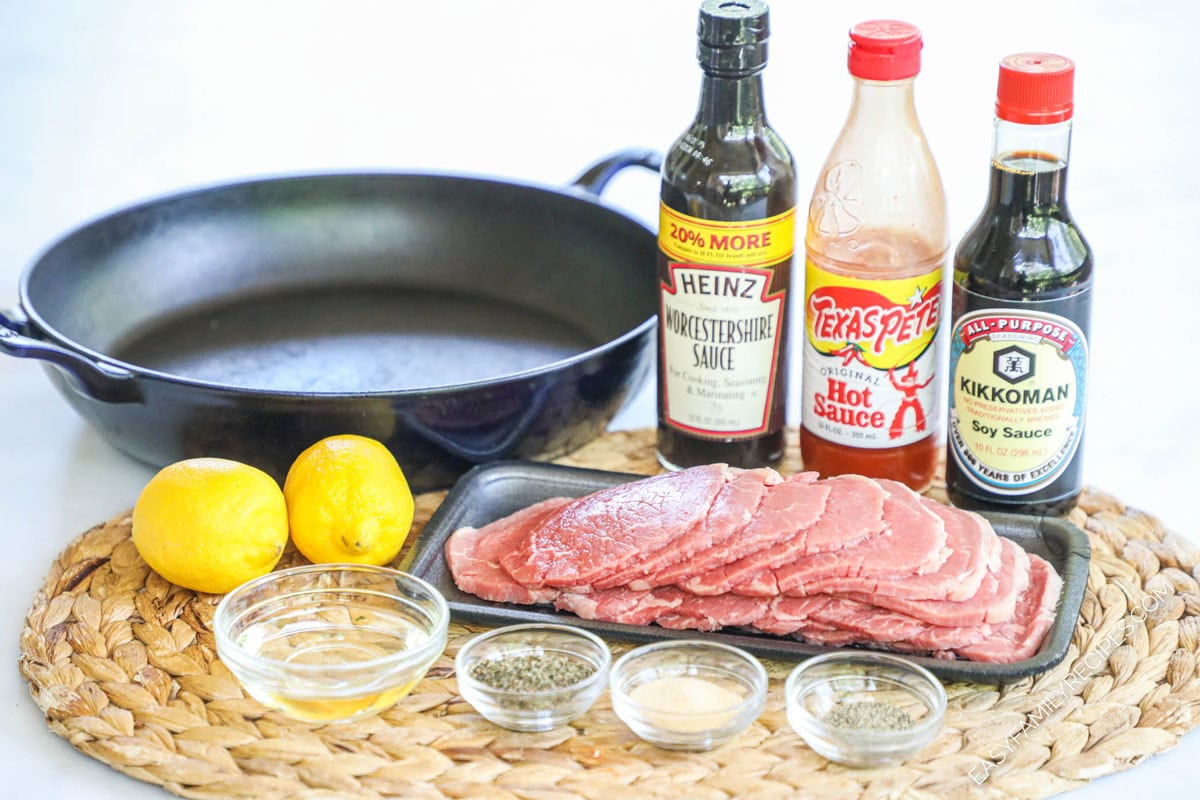 Ingredients + Substitutions
Sizzle steak – Choose thin cuts of top round or sirloin so that you can keep the cooking time really quick for this recipe. I prefer top round, but you can choose whatever your family likes.
Oil – Neutral, high heat oils are best for using in hot pans like we will for this sizzle steak recipe because they're less likely to burn or smoke as we sear the meat. Grapeseed, canola, or vegetable oil are all good choices.
Sizzle Steak Marinade
Soy sauce
Vegetable oil – Any oil that doesn't have tons of flavor will work here instead. Grapeseed, light olive oil, or canola would be good alternatives.
Lemon juice – I always prefer fresh squeezed lemons for best flavor, but bottled lemon juice will absolutely work too!
Worcestershire sauce
Dried basil – Other herbs like oregano, thyme, or rosemary would be delicious too if you don't have basil.
Garlic powder – Using dried spices makes the marinade so EASY to put together, but you can crush about 8 cloves of fresh garlic into the marinade instead if you'd like.
Black pepper
Hot sauce optional – We like a little spice, but feel free to leave it out if your family doesn't. I chose a mild, vinegar-based hot sauce we all love.
Recipe Tips
Marinade means tenderness – I recommend at least 15 minutes to let the marinade really penetrate the beef, but you can definitely let it go longer! It's completely safe to let your sizzle steak marinade sit in the fridge overnight.

Separate the Meat – The thin cuts tend to stick together, so be sure to gently work the marinade around the slices so they're fully immersed and exposed to those tasty flavors.

Remove from liquid to cook – When it's time to cook, avoid the temptation of pouring marinade into the pan with the steak. It might seem like a good way to add flavor, but you'll actually end up boiling your steak instead of searing it. Instead pull each slice out with tongs and place it in the pan. That will let it caramelize it into the tastiest beef dinner possible!

Use a large pan – Use your biggest sauté pan or skillet to cook your beef sizzle steak. Everything will caramelize better if you don't overcrowd a smaller one. If you don't have one big enough to cook the pieces in a single, uncrowded layer, then cook in batches to avoid steaming it.

Cook over high heat – Since this cooks SO fast, we want to start with high heat and hot oil before the beef touches the pan. Keep it over medium high and only add the steak when the oil is glossy and hot. It'll caramelize quickly and develop flavor without overcooking it!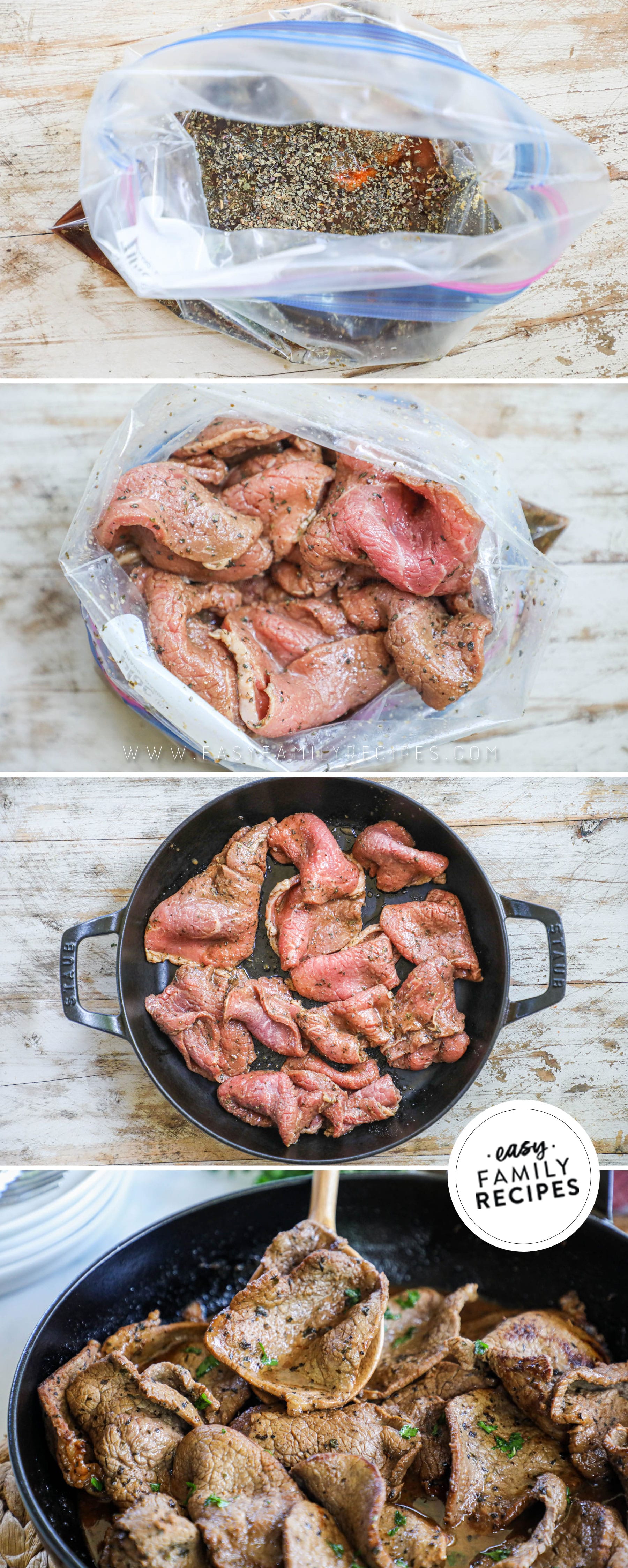 Recipe Short Cuts
If you need to make this recipe, but are extra short on time, here are a few ideas that can help make this recipe even faster!
Marinate the night before– It will literally take you just minutes to get this sizzling steak on the dinner table if you marinate your beef the night or morning before. All you'll have to do is heat the pan, take the steak out of the marinade and cook. It's just a bonus that the beef will have all that extra time to soak up all those awesome flavors!
Recipe Variations
If you love this recipe as much as we do and want some quick ways to change it up for variety, these little tips will do the trick!
Sizzle Steak Stir Fry– Thinly slice bell peppers and onions. Add them to the hot pan with crushed garlic and fresh or frozen green beans, then cook for 4-5 minutes until tender. Remove and cook the steak as directed in the recipe. When done, remove the pan from heat, add in the veggies, and toss it together. Serve over rice.

Sizzle Steak Sandwiches– Lightly toast bread or sliced buns and spread with mayonnaise. Cook the steak as directed then sprinkle shredded cheddar or Monterey jack cheeses over the top and let it melt with the residual heat. Scoop the cheesy steak onto the bread with a spoonful of pan sauce. Top with lettuce and tomatoes and serve.

Sizzle Steak with Mushrooms and Onions– Caramelize sliced mushrooms and onions in the hot skillet with a pinch of salt and pepper. When tender and golden, remove from the pan and set aside. Add the steak to the hot pan and cook according to the recipe. Add the onions and mushrooms back into the pan in the last minute of cooking and stir to combine.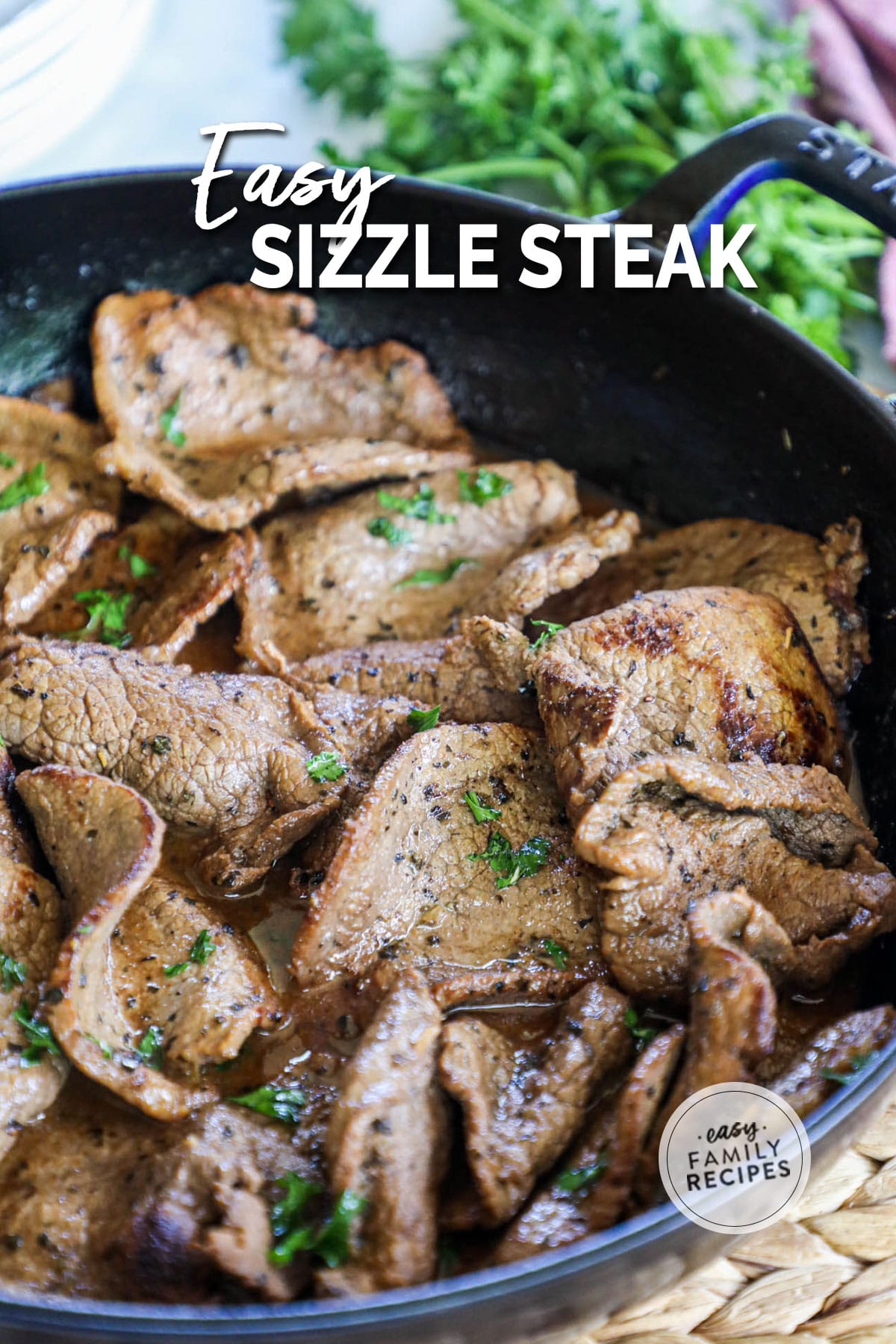 Freezer Meal Instructions
Making this sizzling steak recipe into a freezer meal is simple! Follow the steps below and you can store this recipe in the freezer for up to 6 months.
Make the marinade in a freezer safe bag or container.
Add in the steak and work it around to ensure the pieces are separated and coated.
Seal and lay flat to freeze.
When ready to cook thaw in the fridge overnight.
Cook as directed.
Sizzle Steak Leftovers
If you have leftovers after making sizzling steak, then it is your lucky day! They save and reheat well, and can make the start of another delicious dish.
To save leftovers, separate into meal sized portions and then place in an airtight container and store:
in the refrigerator for 3-4 days
in the freezer up to a month
Leftover Recipes
Here are a few ways to repurpose those leftovers and give them a delicious makeover!
Sizzle Steak Pasta– Boil pasta according to package instructions. Make a pot of homemade alfredo sauce, or heat a jar of your favorite prepared brand. Toss pasta, sauce, and chopped leftover sizzle steak together and serve.
Sizzle Steak Salad– Combine lettuce in a bowl with sliced leftover sizzle steak, tomatoes, shredded cheddar cheese, corn, and avocado chunks. Serve with a homemade buttermilk ranch or blue cheese dressing.
Sizzle Steak Fajitas– Make a pan of sautéed onions and peppers, a quick guacamole, and warm some flour tortillas. Gently reheat the steak and chop, then assemble everything inside the tortillas with a side of Mexican rice.
More Beef Dinner Recipes
If you enjoyed this recipe, I really hope you will take a moment to grab a few more easy recipes for another busy night!
You can check out all of my easy dinner recipes here, or see a few of our readers favorite recipes below.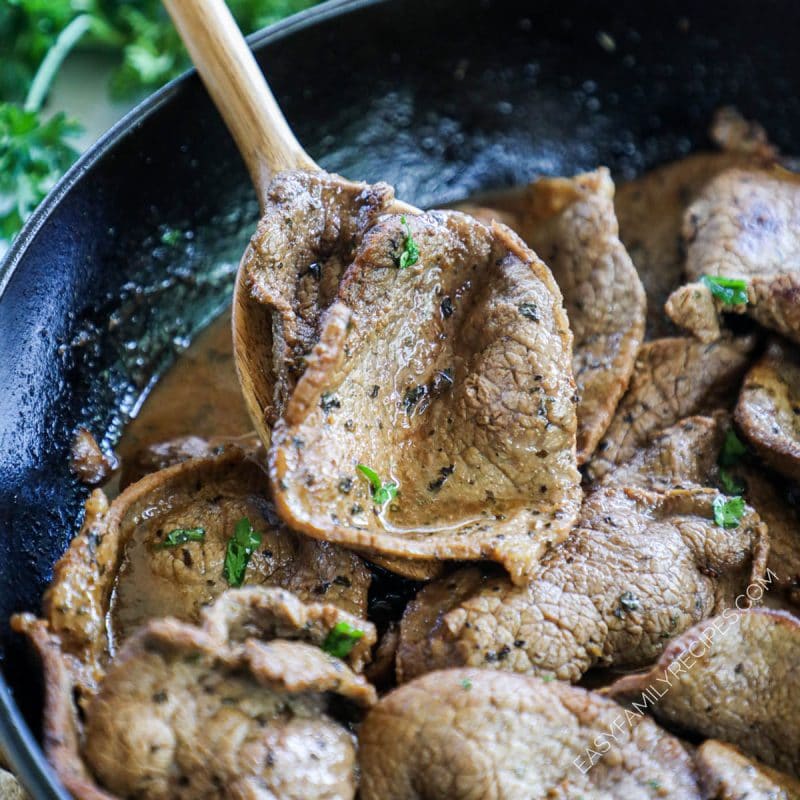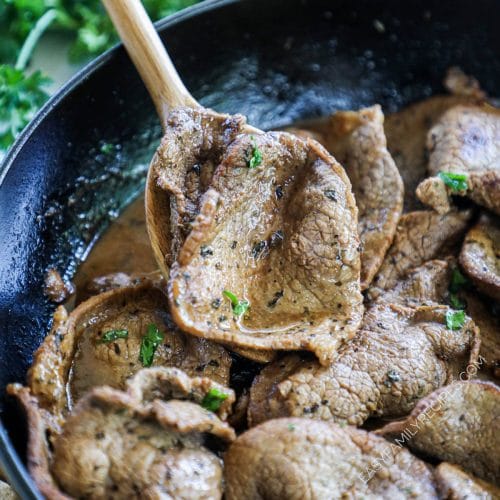 Sizzle Steak
Thinly sliced beef is soaked in a flavorful marinade of soy, lemon, garlic, and Worcestershire then seared quickly in a hot pan to create a juicy and tender steak dinner in just minutes.
Ingredients
2

pounds

sizzle steak

1

tablespoon

oil
Sizzle Steak Marinade
1/4

cup

soy sauce

1/4

cup

vegetable oil

2

tablespoons

lemon juice

2

tablespoons

worcestershire sauce

1

tablespoon

dried basil

2

teaspoons

garlic powder

1/2

teaspoon

black pepper

1

teaspoon

hot sauce

,

optional
Instructions
Make the marinade by combining all of the ingredients in the marinade section in a zip top bag or container. Mix until well combined.

Add the sizzle steak and work it around until it is evenly coated in the marinade. Let it marinate in the refrigerator for 15-30 minutes.

Heat a large skillet with 1 tablespoon oil over medium high heat. Once hot add the steak into the pan. Don't stir or touch it for 2-3 minutes to get a nice sear on the first side. Then flip the sizzle steak pieces to finish cooking on the other side for an additional 2-3 minutes.

Try to avoid over crowding the pan. You can cook the steak in batches if the pan gets too full.

Once done, garnish with with freshly chopped parsley and serve warm. Pan juices can be spooned over the sizzle steak for additional flavor.
Nutrition Information
Calories:
308
kcal
(15%)
,
Carbohydrates:
2
g
(1%)
,
Protein:
36
g
(72%)
,
Fat:
17
g
(26%)
,
Saturated Fat:
3
g
(19%)
,
Polyunsaturated Fat:
6
g
,
Monounsaturated Fat:
6
g
,
Trans Fat:
1
g
,
Cholesterol:
92
mg
(31%)
,
Sodium:
660
mg
(29%)
,
Potassium:
625
mg
(18%)
,
Fiber:
1
g
(4%)
,
Sugar:
1
g
(1%)
,
Vitamin A:
8
IU
,
Vitamin C:
2
mg
(2%)
,
Calcium:
52
mg
(5%)
,
Iron:
4
mg
(22%)