This post is sponsored by one of our favorite grocery stores, Tom Thumb®. All recipes, ideas, and opinions are cooked up right here at Easy Family Recipes.
French Onion Chicken is the perfect easy weeknight dinner when you don't want to sacrifice on flavor! Tender, juicy chicken breast is nestled on a bed of sweet caramelized onions and topped with cheese, and toasty bread crumbs encompassing all of the mouthwatering flavors from French onion soup. Easy enough for a weeknight dinner, but delicious enough to impress company, this recipe is on repeat in our home!
French Onion Chicken – The EASY Way!
French onion soup is one of the all-time best classic flavors with a rich broth, sweet, tender onions, that perfect piece of crusty bread on top with rich cheese covering it all. We took all of those amazing flavors that are so well loved and packed them in a simple to make, 7 ingredient weeknight dinner!
This French Onion Chicken is one that will pull you right out of a dinner time rut with its rich, inviting flavors. Not only is it really delicious, but there are quite a few other reasons to love this recipe as well.
Quick prep
Only 7 ingredients
Just one pan needed!
Impressive enough for company
Hearty and delicious
Family friendly flavors
This simple dinner recipe is perfect for busy weeknights. I love keeping it simple with not only my recipes, but also my grocery shopping!
I have been using the Tom Thumb® Deals and Delivery app to make shopping at my local store something I can look forward to each week! With the Tom Thumb® Deals and Delivery app you're automatically enrolled in the Tom Thumb for U™ Member program which gives me a personalized shopping experience with personalized deals based on what I purchase, and even allows me to make a list, automatically organized by section while meal planning so once I am in the store, getting everything is quick and easy!
There are even more Tom Thumb for U™ Member perks to love, like a treat on your birthday, a free item every month, Rewards for discounts on groceries and gas, and digital coupons. The best part is that everything is all in one place – the app! If you don't have it, make sure to go here to download the app. It's free and so easy!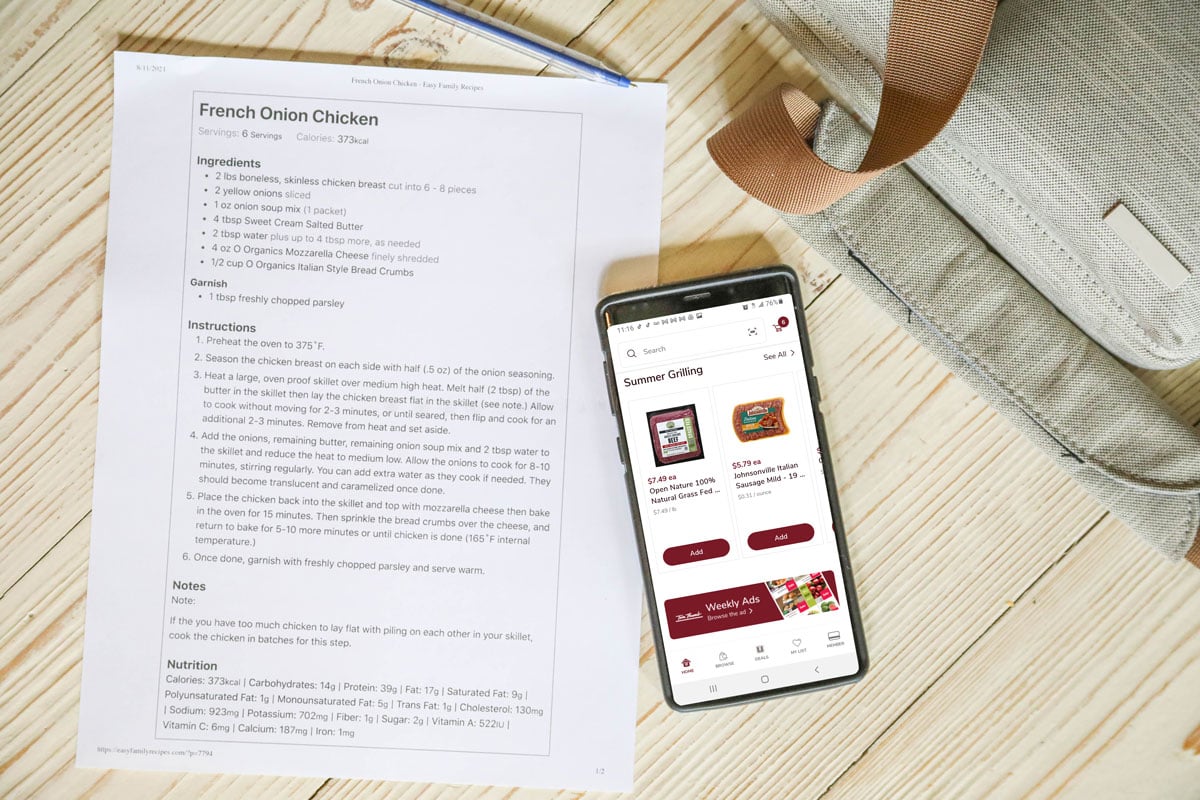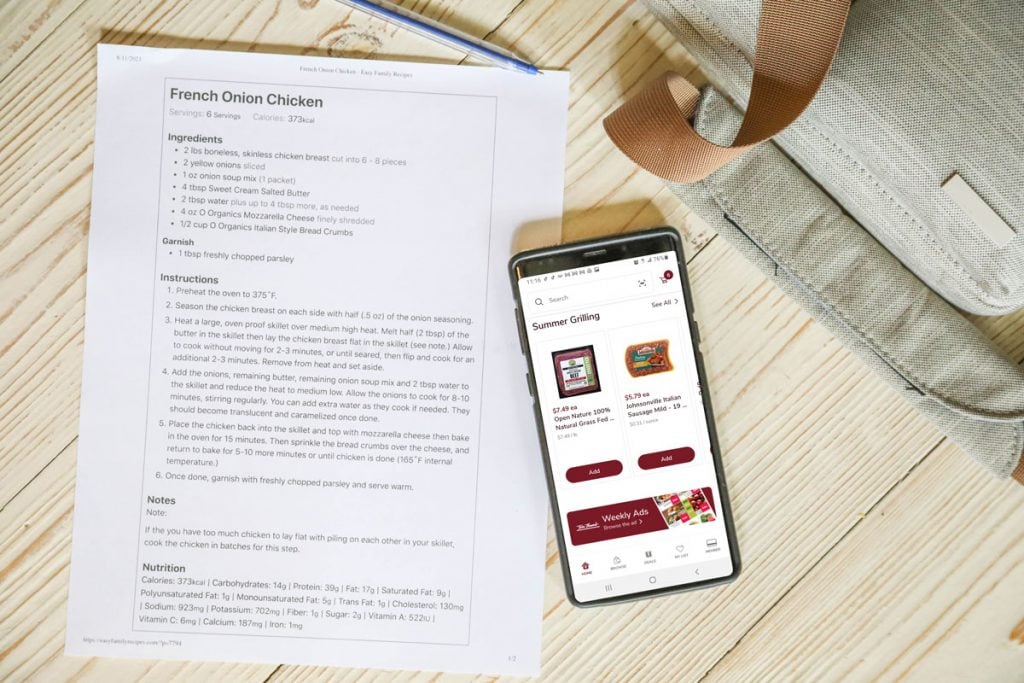 What to Serve with French Onion Chicken
Since this dish has the classic flavors of caramelized onion and tender chicken, it will pair well with many of your favorite traditional side dishes. There are both classic options and some healthy options to keep it light.
Side Dish Ideas
You can choose one or add a few sides to make a wholesome, well-rounded dinner.
Recipe Notes
This French Onion Chicken Bake recipe is as simple as promised! Just seven ingredients and one pan for a family friendly meal.
In this section I am going to go through a few tips and tricks I use when making this recipe to get the absolute best and most delicious results.
Make sure to scroll to the bottom for the FULL recipe card.
Ingredients + Substitutions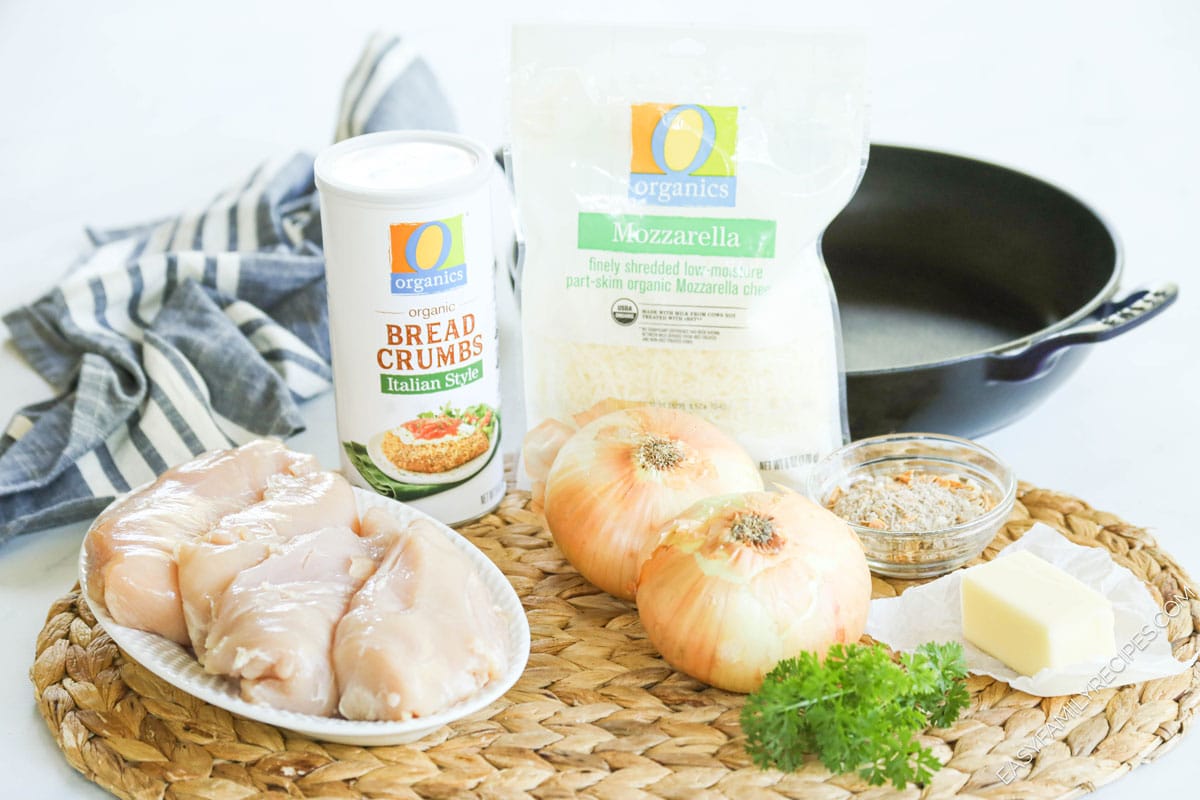 Chicken breast– I like to cut into 4 – 6 smaller pieces both because it is easier to serve and it cooks more quickly. You can substitute boneless, skinless chicken thighs, chicken tenderloins, or other boneless, skinless cuts of chicken if you prefer.

Yellow onions- I generally use medium sized, yellow onions to make this recipe because of their excellent taste and texture. In a pinch, you could use any traditional onion as a substitute such as white onions, sweet onions, etc. I generally slice them into 1/2-inch slices and cut them down further if needed to make more manageable bite sized pieces when they are extra-large.

Onion soup mix – You can use store bought for ease, or make your own homemade onion soup mix to use in this recipe.

Sweet Cream Salted Butter– A few tablespoons of butter make all the difference for richness and flavor in this dish! If needed you can substitute unsalted butter and add 1/4 tsp of salt to the recipe.

Water– Tap water is fine! You can also substitute chicken or beef broth here for even more flavor.

Shredded Mozzarella Cheese– You can use mozzarella, or an Italian cheese blend to keep it simple with great results. If you want something even more authentic, you can try a nuttier cheese like gruyere or swiss. I used O Organics® shredded mozzarella cheese.

Italian Style Bread Crumbs– The toasted bread crumbs give you the feel of that crusty bread that floats a top the soup. I use Italian style bread crumbs from O Organics® to skip the extra step of seasoning, but if you have plain bread crumbs, those can be substituted with the addition of some Italian seasoning.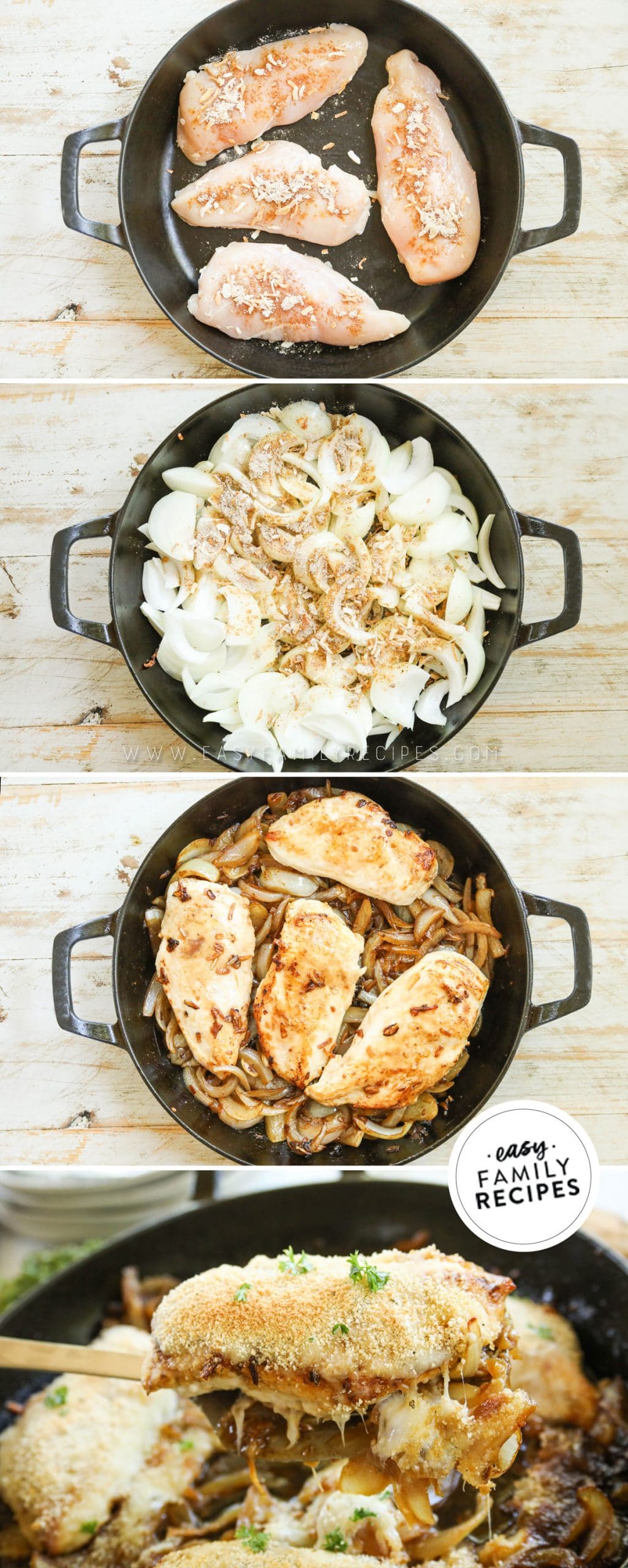 Recipe Tips
Prep your ingredients– This French Onion Chicken Bake recipe moves really quickly, so it is a big help if you have everything prepped, measured, and cut before you start! This helps avoid anything over cooking or causing a delay at any point in the recipe.

Use a large skillet– This recipe feeds 4-6 people, so it will cook most quickly and easily in a large skillet. If you only have a smaller skillet, you can cook the chicken and onions in batches if needed. You will also want to make sure your skillet is oven proof up to 375˚F. If you don't have an oven proof skillet, you can transfer the onions and chicken to a casserole dish to bake.

Season the chicken– You will use the onion soup mix to season the chicken. I like to try to use less of the onion flakes, and more of the powdered seasoning. It allows the chicken to brown a bit more evenly. Don't worry about getting some onion flakes in there, it will work just fine, but this little trick helps you to yield the best seasoned crust on your chicken.

Use water in the onions– This helps the onions to caramelize beautifully. Depending on the size of your pan and amount of heat your stove top provides you may need more than the 2 tbsp in the recipe. When you first start to cook the onions, there will be more liquid. As they begin to caramelize, the liquid will reduce and the onions will become soft and translucent. If the pan becomes too dry, or you notice then onions darkening too much, you can add a little water at a time, until they are done cooking.

Baking steps– This recipe has a couple of steps for baking. It will bake fairly quickly since the chicken is already browned, and cut into smaller pieces. First will finish the majority of the cooking and melt the cheese. After the cheese is melted, we add the bread crumbs to allow them to get that delicious toasty flavor.

By letting the cheese melt first, it gives you a nice solid surface to add the bread crumbs to. If they are added before the cheese is melted, they fall through the sheds and absorb the liquid rather than getting toasted and crisp!
Recipe Short Cuts
If you need to make this recipe, but are extra short on time, here are a few ideas that can help make this recipe even faster!
Prep ingredients ahead of time– You can trim and cut the chicken breast, slice the onions, and make sure the cheese and bread crumbs are measured and ready. This can all be done up to 2-3 days in advance.

Caramelize the onions in advance- The majority of the hands on time in this recipe comes from caramelizing the onions. You can do this step in advance and then layer them in the pan before cooking to save time cooking the day of.

Recipe Variations
If you love this recipe as much as we do and want some quick ways to change it up for variety, these little tips will do the trick!
French Fried Onion Chicken– Make recipe as directed, except omit the bread crumbs and use French-fried onions as a topping at the end. This gives the dish a comforting twist.

Crock Pot French Onion Chicken– Prepare the recipe as directed through step 4. At that point transfer the onions into a crockpot and top with the seared chicken. Cook on low for 2-3 hours (until chicken reaches 165˚F) then top with mozzarella cheese and close lid for 5-10 minutes to let the cheese melt.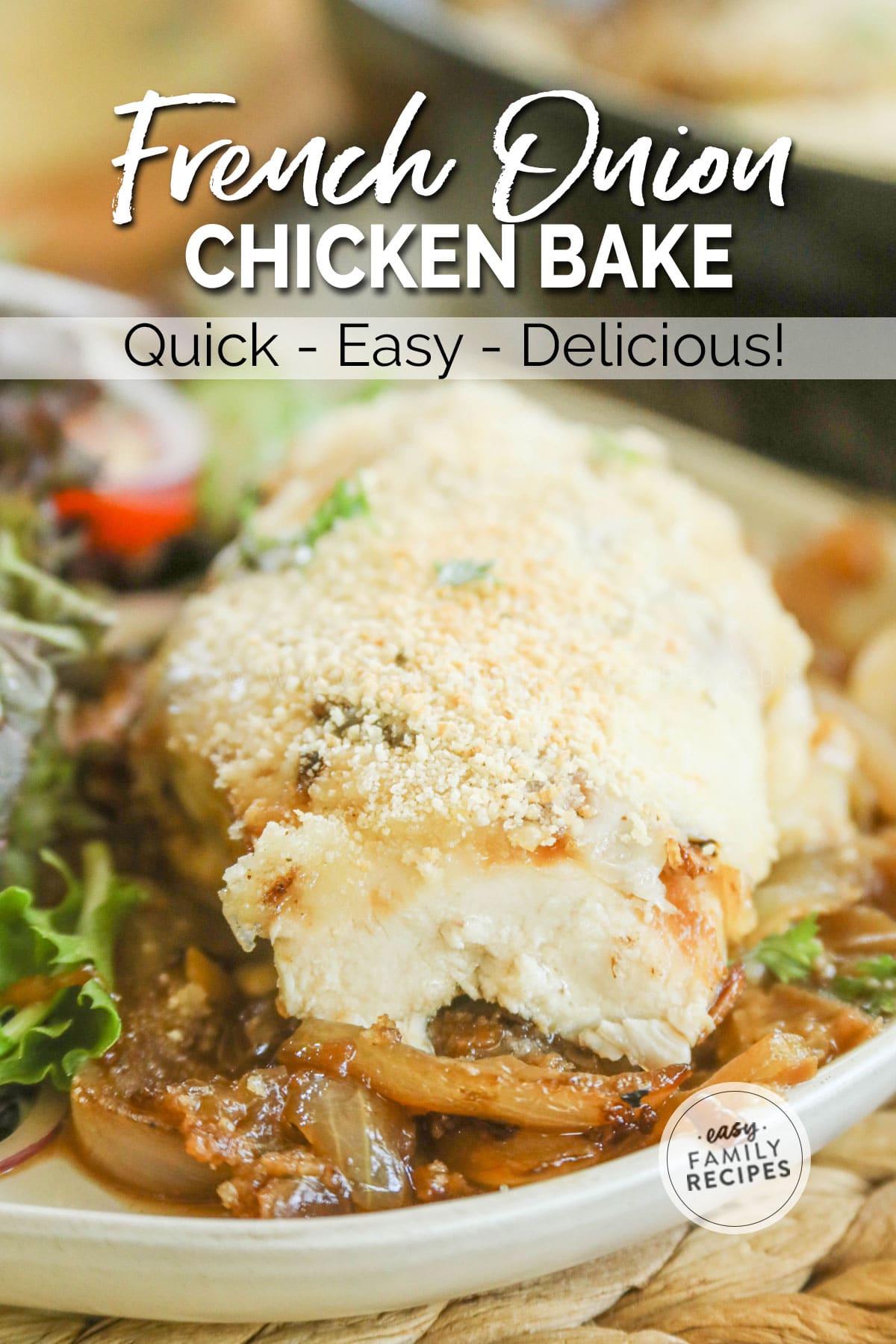 French Onion Chicken Bake Leftovers
If you have leftovers after making this recipe, then it is your lucky day! They save and reheat well, and can make the start of another delicious dish.
To save leftovers, separate into meal sized portions and then place in an airtight container and store:
in the refrigerator for 3-4 days
in the freezer up to a month
Leftover Recipes
Here are a few ways to repurpose those leftovers and give them a delicious makeover!
French Onion Chicken and Rice– Chop leftover chicken and onions. Mix with cream of chicken soup and sour cream. Mix everything with prepared white rice and spread in a casserole dish. Top with French-fried onions and bake for 20-30 minutes or until heated through and the edges get bubbly.

French Onion Chicken Subs– Cut a sub roll in half and spread each side with butter and garlic salt. Broil on low until the butter is melted and the edges are golden. Remove from oven and reduce the heat to 350˚F. Place the chicken and onions on the roll and top with additional mozzarella cheese if desired. Top the sandwich with the other slice of bread and place back in the oven for 10-15 minutes or until heated through. Top with shredded lettuce or arugula if desired and enjoy!

French Onion Chicken Pizza– On a prepared pizza crust, spread a thin layer of olive oil and garlic. Top with Italian blend cheese, and then chop up the leftover French onion chicken and onions and sprinkle it evenly over the top. Bake as directed. Optional: once done, top with fresh arugula and brush the crust with garlic butter.
More Easy Dinner Recipes
If you enjoyed this recipe, I really hope you will take a moment to grab a few more easy recipes for another busy night. Don't forget to grab the Tom Thumb® Deals and Delivery app for shopping convenience and extra perks and feed your joy or visit TomThumb.com/foru for more info. When you download the app you're automatically enrolled in Tom Thumb for U™ – new Members can snag a welcome offer of $5 off your $25 or more purchase!
You can check out all of my Easy Dinner recipes here, or see a few of our readers favorite recipes below.
This post is sponsored by one of our favorite grocery stores, Tom Thumb®.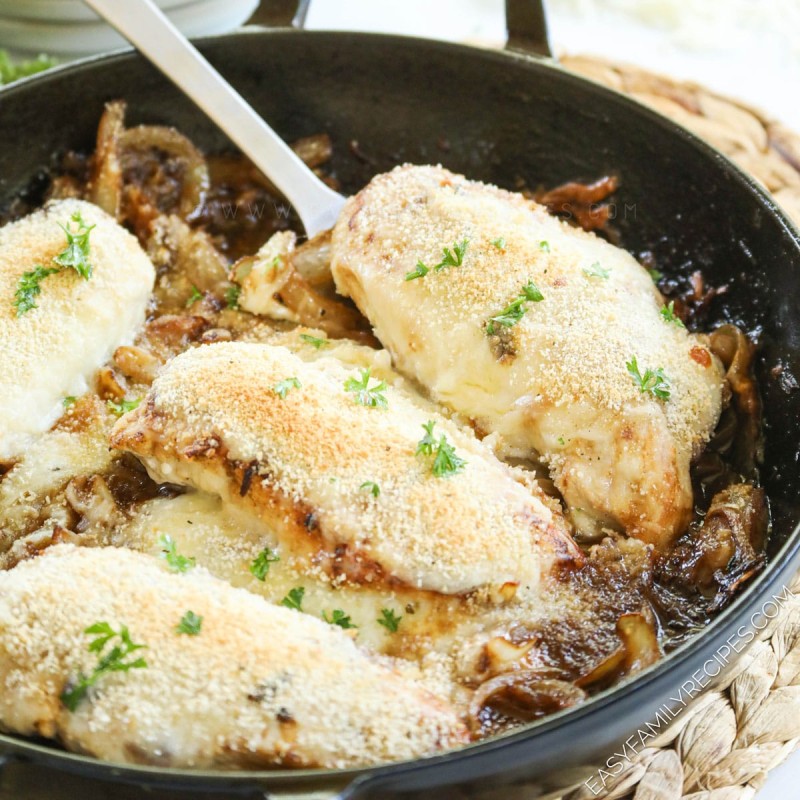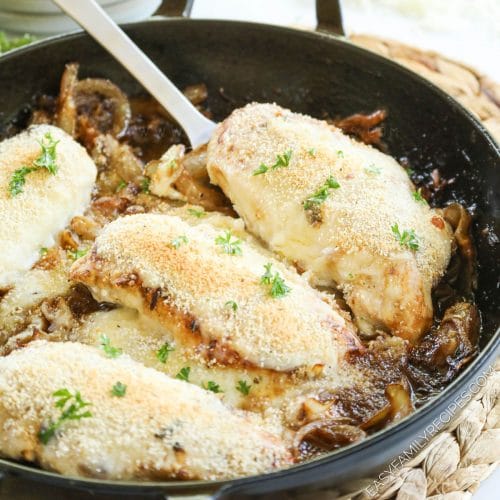 French Onion Chicken
This recipe is easy enough for a busy weeknight, but tasty enough to entertain company! With all the rich flavor of classic French Onion Soup, this simple 7 ingredient French Onion Chicken is a quick and easy way to make a dinner that will impress!
Ingredients
2

lbs

boneless, skinless chicken breast

,

cut into 4 – 6 pieces

2

yellow onions

,

sliced

1

oz

onion soup mix

,

(1 packet)

3

tbsp

Sweet Cream Salted Butter

2

tbsp

water

,

plus up to 2 tbsp more, as needed

4

oz

O Organics® Mozzarella Cheese

,

finely shredded

1/4

cup

O Organics® Italian Style Bread Crumbs
Garnish
1

tbsp

freshly chopped parsley
Instructions
Preheat the oven to 375˚F.

Season the chicken breast on each side with half (.5 oz) of the onion seasoning.

Heat a large, oven proof skillet over medium high heat. Melt half (2 tbsp) of the butter in the skillet then lay the chicken breast flat in the skillet (see note.) Allow to cook without moving for 2-3 minutes, or until seared, then flip and cook for an additional 2-3 minutes. Remove from heat and set aside.

Add the onions, remaining butter, remaining onion soup mix and 2 tbsp water to the skillet and reduce the heat to medium low. Allow the onions to cook for 8-10 minutes, stirring regularly. You can add extra water as they cook if needed. They should become translucent and caramelized once done.

Place the chicken back into the skillet and top with mozzarella cheese then bake in the oven for 10 minutes. Then sprinkle the bread crumbs over the cheese, and return to bake for 5-10 more minutes or until chicken is done (165˚F internal temperature.)

Optional: Turn the oven to broil for the last 1-2 minutes of the cooking time to toast the bread crumbs more heavily.

Once done, garnish with freshly chopped parsley and serve warm.
Recipe Notes
If the you have too much chicken to lay flat with piling on each other in your skillet, cook the chicken in batches for this step.
Nutrition Information
Calories:
327
kcal
(16%)
,
Carbohydrates:
10
g
(3%)
,
Protein:
38
g
(76%)
,
Fat:
14
g
(22%)
,
Saturated Fat:
7
g
(44%)
,
Polyunsaturated Fat:
1
g
,
Monounsaturated Fat:
4
g
,
Trans Fat:
1
g
,
Cholesterol:
127
mg
(42%)
,
Sodium:
792
mg
(34%)
,
Potassium:
678
mg
(19%)
,
Fiber:
1
g
(4%)
,
Sugar:
2
g
(2%)
,
Vitamin A:
415
IU
(8%)
,
Vitamin C:
6
mg
(7%)
,
Calcium:
130
mg
(13%)
,
Iron:
1
mg
(6%)