This isn't your Grandma's Chicken Salad! This is my FAMOUS Loaded Chicken Salad! It is packed with the savory flavors of bacon, cheddar cheese, sour cream and green onions, perfectly blended together for the ultimate chicken salad. Perfect for everything from meal prep to taking to a pot luck, just make sure to keep the recipe handy if you share, because everyone will want it!
Chicken Salad – The EASY Way!
When it comes to chicken salad, there are a lot of recipes out there. Some are sweet, some are savory, some are green, and some are creamy.
I have made A LOT of these recipes that have gotten tons of raving reviews through the years, but none, have gotten the amount of ooohhhing, awwwwing, amazing reviews, and almost constant requests to pass on the recipe as much as THIS ONE!
As a matter of fact, I feel pretty confident calling it famous since it has been made and shared by MILLIONS of people!
Not only is my FAMOUS Loaded Chicken Salad DELICIOUS, but it is super simple to make! As a matter of fact, you can have it together in minutes, and is ready to serve to a crowd, feed a hungry family, or pass around at the potluck.
How to Serve LOADED Chicken Salad
Chicken salad is great because it can be eaten in so many ways! From plain jane, to dressed up, there is an option for everyone! Best part, since the chicken salad recipe is naturally low carb and gluten free, it can be customized to meet dietary needs like low carb, keto, and gluten free with almost no extra effort!
Traditional serving ideas
Sandwich– Eat it traditionally between two slices of sandwich bread, or try toast, a baguette, or even sour dough is great!
Crackers– Go for just crackers or add some veggies too!
Wrap– add some greens and wrap it up for a great lunch on the go.
Low Carb + Healthy Serving Ideas
Avocado- Fill an avocado
Tomato- Hollow and stuff a tomato
Green Salad- Put it right on top of greens. I especially like crunchy romaine
Lettuce wrap- Try wrapping it in butter lettuce leaves
Veggies- Celery, cucumber slices, or mini peppers make great vehicles for scooping this delicious chicken salad up and into your mouth!
Side Dish Ideas (What to serve with it!)
Since this chicken salad has the classic flavors of American favorites like a loaded baked potato, it will pair well with many of your favorite traditional side dishes, as well as other salads like you might traditionally pair with chicken salad. There are both classic options and some healthy options to keep it light.
You can choose one or add a few sides to make a wholesome, well rounded meal.
Recipe Notes
This LOADED Chicken Salad recipe is as simple as promised! Just mix together a few ingredients for a family friendly meal.
In this section I am going to go through a few tips and tricks I use when making this recipe to get the absolute best and most delicious results.
****Make sure to scroll to the bottom for the FULL recipe card.****
Ingredients
Chicken– shredded or cubed. Here are a few ideas on what type of chicken to use:

Rotisserie- My personal favorite
Baked, boiled, or grilled – My runner up
Leftovers- if you have leftover roast or fried chicken, or other neutral flavored chicken, you can shred it and use it in this salad.
Canned- Not my favorite but will work in a pinch!

Celery– I love to bulk up my chicken salads with a lot of veggies. Using celery gives you more volume at a low cost (both in dollars and calories!)
Sharp cheddar cheese– I really like to use sharp because you can use less with more flavor. If you want to cut down the fat/calories in this recipe, you can even get by with as little as half the cheese when using sharp or extra sharp cheddar. If you want the most flavor grate your own cheese and avoid pre-shredded.
Crispy crumbled bacon– you can make this fresh, or I like to make a big batch and then just reheat the few pieces I need to use as needed. This is a short cut to give you that fresh, ultra flavorful taste that makes the chicken salad extra good!!
Sour cream
Mayonnaise
Yellow onion- you can use sweet onion or white onion in place if needed.
3 Green onions– or even more if you love the flavor like we do!
Salt & Pepper to taste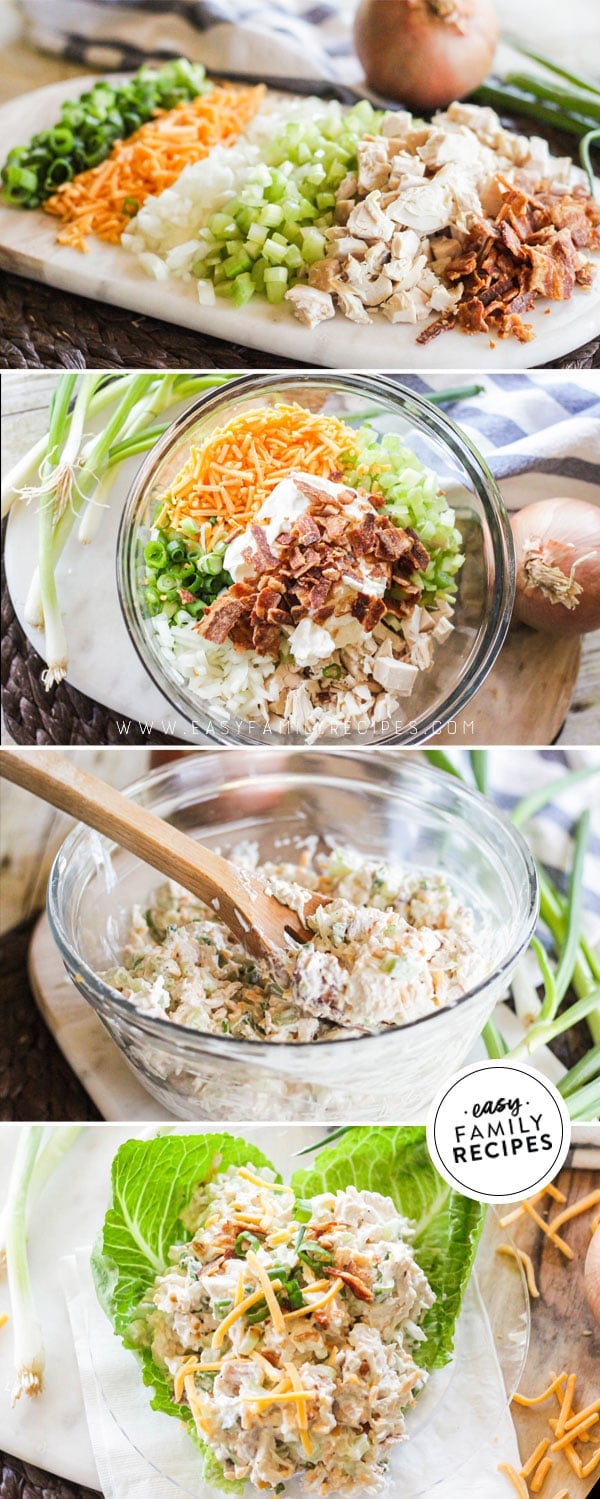 Recipe Tips
Use fresh when you can! This chicken salad recipe is always good, but to make it truly exceptional, try using ingredients like freshly cooked bacon instead of bacon bits, and freshly grated cheese. These fresh ingredients will take the entire flavor profile up 10 notches!
Skip Fat Free– If you want to lighten this up, feel free to use light mayo, light sour cream, or light cheese. I do not recommend using fat free, as it alters the taste and texture of the dish much more.
Let it set– While you can eat the chicken salad immediately after making, it is the absolute best after sitting for about 30 minutes to an hour. This gives the flavors a little time to meld and distribute.
Recipe Short Cuts
If you need to make this recipe, but are extra short on time, here are a few ideas that can help make this recipe even faster!
Prep ahead– most of the time to make this recipe comes from chopping and prepping. Items that can be done up to 24 hours in advance are:

shredding the chicken
pre-cooking and crumbling the bacon
dice the yellow and green onions
grate the cheese

Make ahead of time– This salad will stay fresh and delicious for up to 3-4 days in the refrigerator. You can make it in advance and just pop it out and serve as needed.
Use Frozen Chicken– One of my biggest time savers in the kitchen is prepping and freezing my proteins. I like to buy rotisserie chicken, and cook big batches of chicken and then shred or dice and freeze in 1-2 cup portions in the freezer. This gives me a head start on making any meal when the protein is prepped and ready! Just pop it out to thaw in the fridge overnight the day before you need it.
Recipe Variations
If you love this recipe as much as we do and want some quick ways to change it up for variety, these little tips will do the trick!
Ranch LOADED Chicken Salad– Make the chicken salad as directed adding 2 tbsp ranch powder in place of the salt and pepper.
Broccoli Cheddar Chicken Salad– Make salad as directed, increasing the mayonnaise to 1/2 cup and adding 1 cup of broccoli florets chopped to small bite sized pieces.
Greek Yogurt Chicken Salad– Substitute greek yogurt for sour cream in the recipe and make as directed to lighted it up a bit.
Dietary Considerations
If you have special dietary needs, this recipe meets some and can be easily modified to comply with others.
As always, check all store bought ingredients for compliance on specific dietary needs. The notes below are a general guide.
Gluten free: This recipe is naturally gluten free. (confirm the bacon you use is gluten free)
Nut free: This recipe is naturally nut free
Egg free: This recipe can be made egg free by using vegan mayo
Low carb/Keto: This recipe is low carb at only 1g net carbs per serving.
Macros: The approximate macro calculation for this recipe is- P: 9g C: 2g F: 17g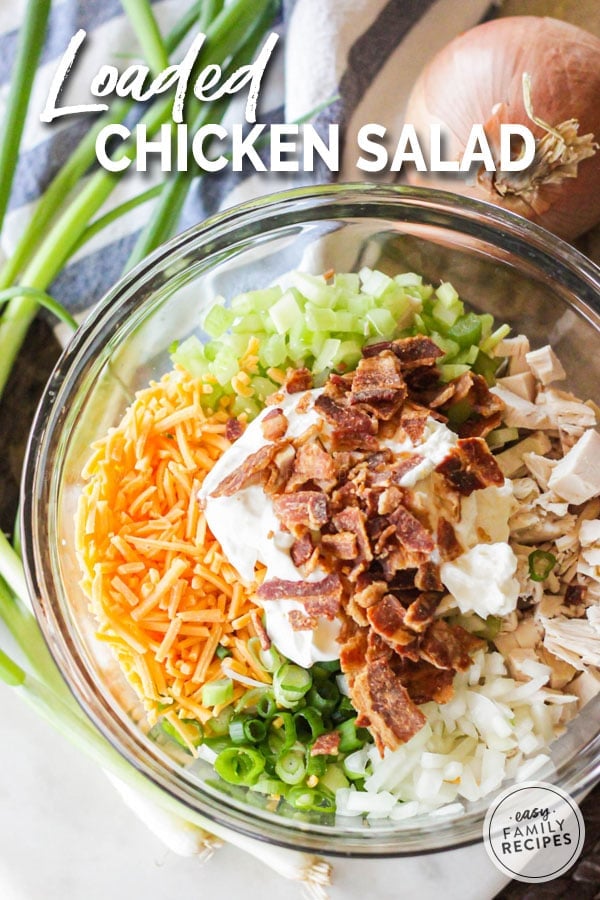 Loaded Chicken Salad Leftovers
If you have leftovers after making this recipe, then it is your lucky day! They save well, and can make the start of another delicious dish.
To save leftovers, separate into meal sized portions and then place in an airtight container and store in the refrigerator for 3-4 days. Chicken salad will not freeze well.
Leftover Recipes
Here are a few ways to repurpose those leftovers and give them a delicious makeover!
Loaded Chicken Salad Panini– Place between two slices of good white bread and use a panini maker or grill in a skillet on each side.
Loaded Chicken Salad Stuffed Zucchini– Cut zucchini in half and hollow each half. Place on a cookie sheet in the oven and spritz with olive oil. Bake at 350 for about 15 minutes or until they are fork tender. Then remove from the oven, fill with loaded chicken salad, and a sprinkle of cheese and bake for another 10-15 minutes or until heated through.
Loaded Chicken French Bread Pizzas– Cut a loaf of french bread in half lengthwise. Spread each side with butter and garlic salt and broil for 3-5 minutes or until browned and crispy around the edges. Spread chicken salad over the bread and top with a sprinkle of cheese. Bake at 350 for 10-15 minutes or until heated through. Remove and top with additional green onions.
Loaded Chicken Salad Bowls- Place baby spinach in a bowl. Add a scoop of loaded chicken salad, a handful of baby tomatoes, shredded carrots, chopped hard boiled eggs, and a handful of croutons. Drizzle with ranch dressing if desired!
More Easy Chicken Recipes
If you enjoyed this recipe, I really hope you will take a moment to grab a few more easy recipes for another busy night!
You can check out all of my Chicken recipes here, or see a few of our readers favorite recipes below.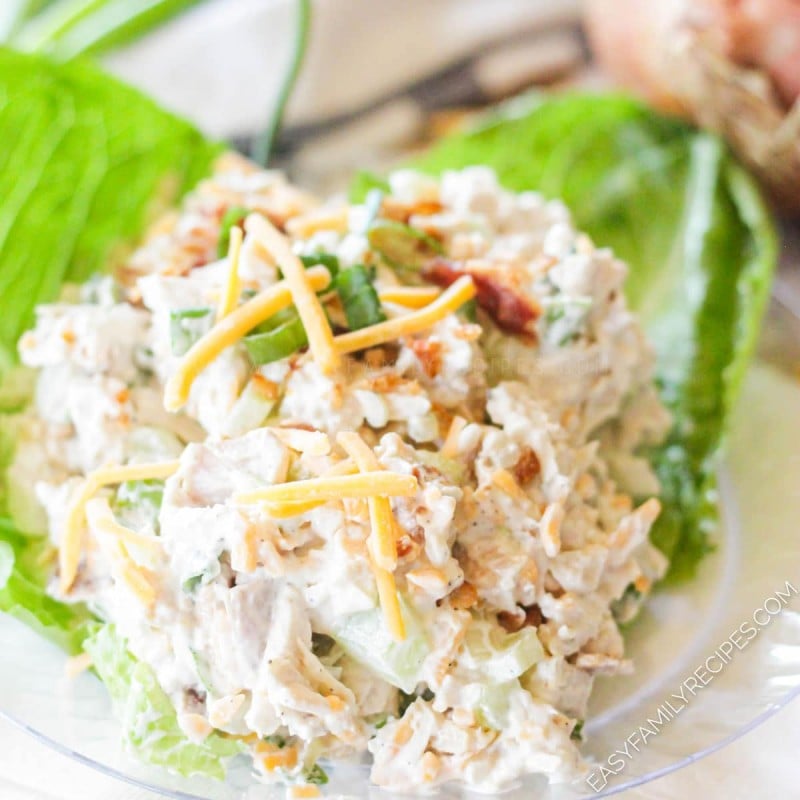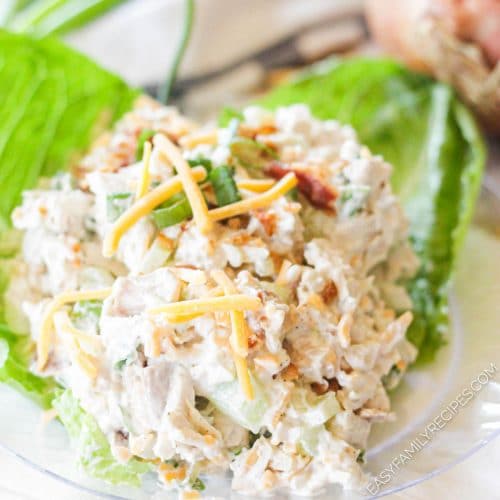 LOADED Chicken Salad
This isn't your Grandma's chicken salad, this is my famous LOADED Chicken Salad! It is packed with flavor and perfect for making sandwiches or topping a bed of greens!
Ingredients
2

Cups

chicken

,

shredded or cubed (I like rotisserie)

1

Cup

celery

,

finely chopped

1

Cup

sharp cheddar cheese

,

shredded

½

Cup

crispy bacon

,

crumbled

½

Cup

sour cream

¼

Cup

mayonnaise

¼

Cup

yellow onion

,

finely chopped

3

Green onions

,

sliced

Salt & Pepper

,

to taste (about 1/4-1/2 tsp each)
Instructions
Place the chicken, celery, onions, bacon, and cheese in a large bowl and top with the mayonnaise and sour cream.

Mix well until everything is evenly coated and distributed throughout.

Season with salt and pepper to taste. I usually use between ½-1 tsp of each.

Serve on toast, in an avocado, tomato, in a lettuce wrap, with crackers or your favorite way to eat chicken salad.

ENJOY!
Nutrition Information
Serving:
0.5
cup
,
Calories:
200
kcal
(10%)
,
Carbohydrates:
2
g
(1%)
,
Protein:
9
g
(18%)
,
Fat:
17
g
(26%)
,
Saturated Fat:
7
g
(44%)
,
Cholesterol:
42
mg
(14%)
,
Sodium:
285
mg
(12%)
,
Potassium:
148
mg
(4%)
,
Fiber:
1
g
(4%)
,
Sugar:
1
g
(1%)
,
Vitamin A:
352
IU
(7%)
,
Vitamin C:
2
mg
(2%)
,
Calcium:
127
mg
(13%)
,
Iron:
1
mg
(6%)