Teriyaki Chicken Marinade is full of DELICIOUS flavors of teriyaki sauce, pineapple juice, and garlic. This recipe is a mixture of SAVORY and SWEET. This marinade has only a few ingredients and with leave your chicken tender and ready to grill. 
Teriyaki Chicken Marinade – The EASY Way!
I really love to use my grill. Both for a lazy summer day, and especially when I am entertaining guests. Grilling allows you to get flavor packed chicken that is still super tender and juicy.
This Teriyaki Chicken Marinade produces chicken loaded with flavor and is just almost too easy!
Simple– Only 5 ingredients!
Tender & Juicy– The marinade tenderizes the chicken
DELICIOUS – The flavor is the perfect combo of sweet and tangy!
The best part is that if you are busy, you can throw it all together and let it marinate for hours to soak up all of the delicious flavor. Then when ready to grill it just takes minutes to get dinner to the table.
What to Serve with Teriyaki Chicken
I like to serve my delicious Teriyaki Chicken with a few wholesome sides. You can serve it with traditional sides or make it lighter by serving with healthy side dishes. Here are a few of our favorites:
Traditional Sides:
Rice- we like to use basmati or jasmine.
Side Salad with ginger dressing
Healthy Side Dish Ideas:
Recipe Notes
This Teriyaki Chicken Marinade is as simple as promised! Just whip together a few ingredients and time will do its magic for a delicious family friendly meal.
In this section I am going to go through a few tips and tricks I use when making this recipe to get the absolute best and most delicious results.
Make sure to scroll to the bottom for the FULL recipe card.
Ingredients
Teriyaki Sauce– You can use store bought bottled sauce or make teriyaki sauce from scratch. Both work wonderfully!
Pineapple Juice– The acidity of the juice helps to tenderize the meat while adding flavor and caramelization to it when cooked.
Green Onions– These compliment the flavor but are optional
Garlic– Try using fresh to get the most flavor infused into the chicken
Oil– Helps to prevent sticking while grilling and keeps the chicken juicy.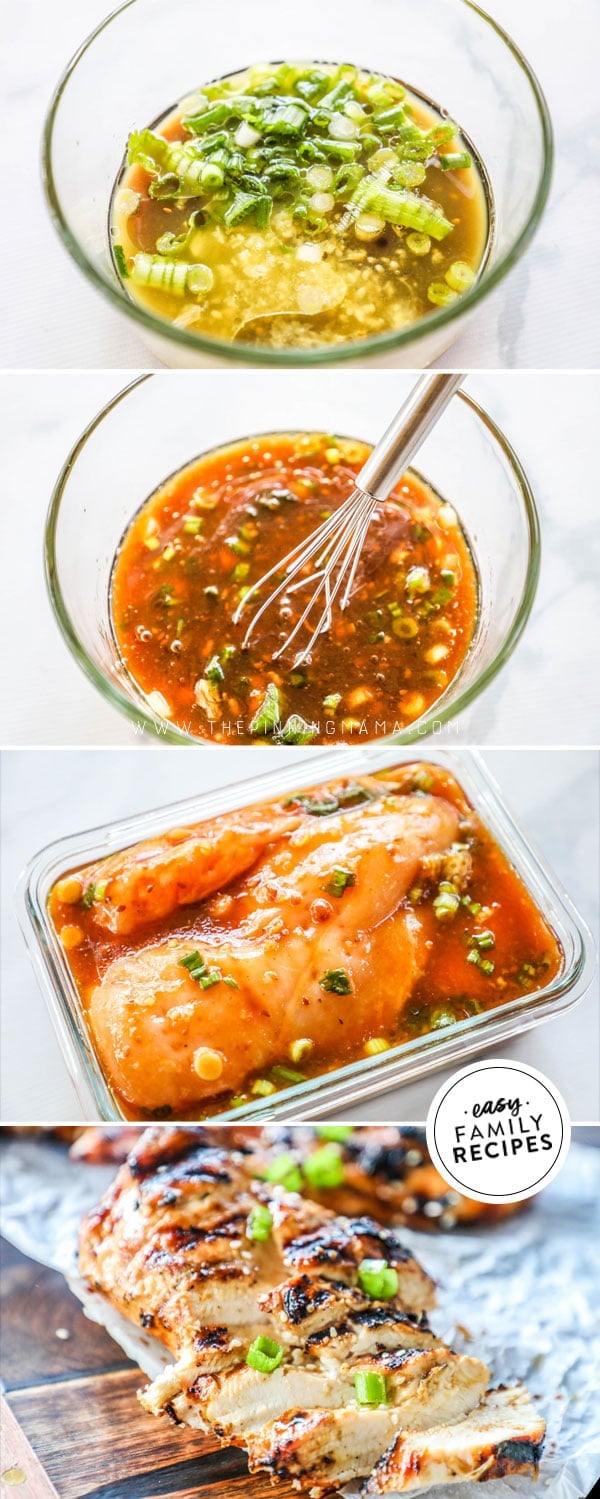 Recipe Tips
Completely cover the chicken– You can use a dish to marinate the chicken or a zip top bag. Either way, I like to use a trick of sizing my container close to the volume of the chicken. Since things are tight, the marinade more completely covers the chicken than it does when you use a larger container. That usually results in the marinade sinking to the bottom and not covering the top of the chicken. If that happens you will need to stir and toss your chicken with the marinade throughout the time it spends in the marinade.

Marinating time – Give the meat enough time to marinate to really soak up the flavor and get the tenderizing benefits of the marinade. Although you can get some good flavor in 30 minutes, I recommend giving it at least 2 hours to get more of the benefits of the marinade.

Cook Over Medium Heat– Since both the teriyaki sauce and pineapple juice have sugar in them, you will want to cook the meat over a medium heat, not too hot, so that the sugar doesn't burn before the chicken is done cooking.
Recipe Variations
If you love this recipe as much as we do and want some quick ways to change it up for variety, these little tips will do the trick!
Spicy Chicken Teriyaki Marinade– Prepare marinade as directed adding 1+ tbs chili pepper paste before mixing. Use more or less to taste for level of heat.
Honey Teriyaki Chicken– Double the marinade recipe. Marinate the chicken with half and add 2 tbsp honey to the other half. When grilling the chicken, baste with this extra marinade every 1-2 minutes for a sticky honey teriyaki chicken.
Teriyaki Chicken and Pineapple– Make recipe as directed. When marinating, add one can of pineapple chunks that have been drained. When ready to grill, skewer the pineapple and grill side by side with the chicken. Serve together.
Other Cuts of Meat
The recipe as written uses chicken breast, however most cuts of chicken will work really well in this marinade.
You can use any of the cuts below with good results, however the cooking time may change depending on the size and thickness of the cut and whether or not it is bone in, or boneless.
Drumsticks
Chicken Thighs
Chicken Wings
Chicken Tenderloins
Dietary Considerations
If you have special dietary needs, this recipe meets some and can be modified to comply with others.
As always, check all store bought ingredients for compliance on specific dietary needs. The notes below are a general guide.
Gluten free: To make this recipe gluten free make sure to use gluten free teriyaki sauce. You can also make gluten free teriyaki sauce at home by using gluten free soy sauce.
Dairy free: This recipe is naturally dairy free.
Nut free: This recipe is naturally nut free.
Egg free: This recipe is naturally egg free.
Low carb/Keto: This recipe is low carb at only 5g net carbs per serving.
Macros: The approximate macro calculation for this recipe is- P: 34g C: 6g F: 9g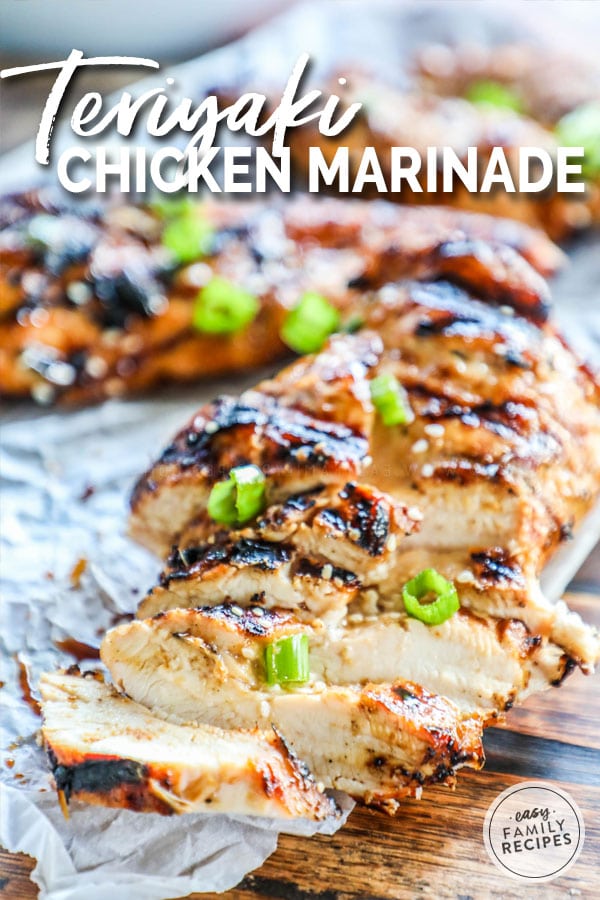 Freezer Meal Instructions
This marinade can be prepared as a freezer meal in a few simple steps.
Prepare the marinade as directed.
Place chicken and marinade in a freezer bag or freezer friendly container.
Freeze.
When ready to make place the chicken in the refrigerator for 24-48 hours or until completely thawed.
Prepare as directed.
This dish can stay in the freezer for up to 6 months to preserve the best taste and texture.
More EASY Grilling Recipes
If you enjoyed this recipe, I really hope you will take a moment to grab a few more easy recipes for another busy night!
You can check out all of my easy grill and marinade recipes here, or see a few of our readers favorite recipes below.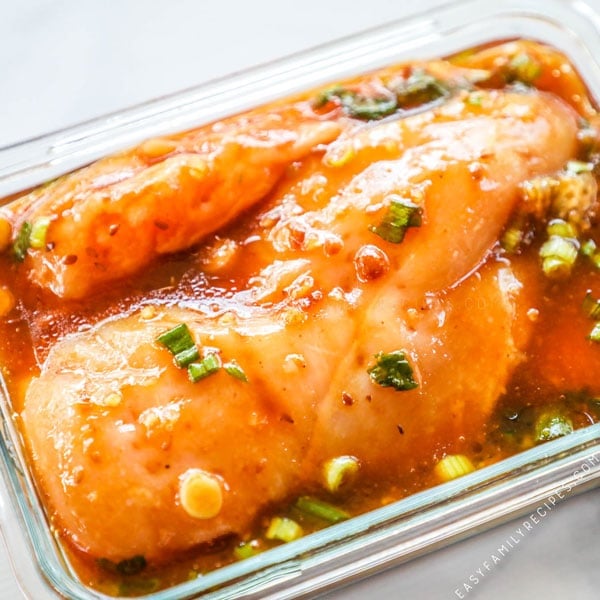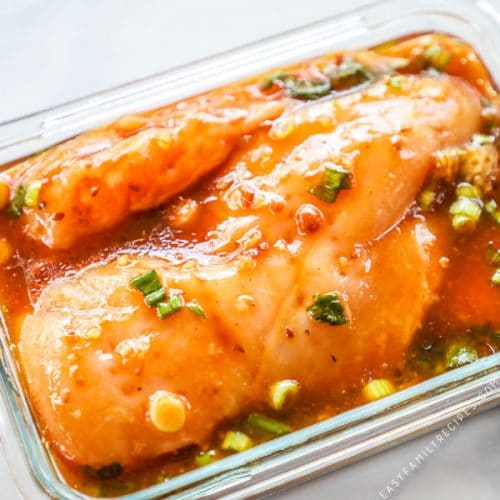 Teriyaki Chicken Marinade
This Teriyaki Chicken Marinade is the perfect combo of sweet and tangy. Use this marinade to flavor chicken breast, chicken tenderloins, chicken thighs or drumsticks. The it produces tender juicy meat that is brimming with flavor!
Ingredients
2

lbs

chicken breast

,

boneless, skinless

1/2

cup

teriyaki sauce

1/4

cup

pineapple juice

3

green onions

,

chopped

3

cloves

garlic

,

pressed

2

tbsp

vegetable oil
Instructions
To make marinade, whisk together the teriyaki sauce, pineapple juice, green onions, garlic, and oil.

Poke chicken all over with a fork. Place the chicken in a dish or zip top bag and pour the marinade over the chicken to cover completely. Refrigerate for up to 4 hours, with a minimum of 30 minutes.

Heat the grill to medium heat and brush with oil to prevent sticking. Place chicken on the grill and cook for 4-6 minutes per side, depending on thickness. Cook to an internal temperature of 165˚F.

Once done, remove chicken from grill and allow to rest for 5 minutes. Then serve warm. Enjoy!
Recipe Notes
Alternate Cuts of Chicken:
Chicken thighs
Chicken tenderloins
Drumsticks
Wings
Depending on the thickness of the cut and whether or not it contains a bone, the cook time may vary and be more or less than in the recipe.
Alternate Cooking Methods:
(Instructions based on cooking with chicken breast)
Baked Teriyaki Chicken– Marinate, then cook in a baking dish for 20-30 minutes or until chicken has reached 165˚F.
Skillet Teriyaki Chicken– After marinating meat, sear meat in a hot pan and cook over medium heat for about 2-3 minutes per side. Transfer skillet to the oven to finish cooking (165˚F internal temp)
Crock Pot Teriyaki Chicken– Dump the chicken and marinade in the crock pot and cook for 2-3 hours on high or 3-4 hours on low.
Sticky Chicken-
For more sticky Teriyaki Chicken, reserve some marinade before adding the chicken. While grilling brush with the reserved marinade on each side.
Nutrition Information
Calories:
243
kcal
(12%)
,
Carbohydrates:
6
g
(2%)
,
Protein:
34
g
(68%)
,
Fat:
9
g
(14%)
,
Saturated Fat:
5
g
(31%)
,
Cholesterol:
97
mg
(32%)
,
Sodium:
1097
mg
(48%)
,
Potassium:
649
mg
(19%)
,
Fiber:
1
g
(4%)
,
Sugar:
5
g
(6%)
,
Vitamin A:
105
IU
(2%)
,
Vitamin C:
4
mg
(5%)
,
Calcium:
21
mg
(2%)
,
Iron:
1
mg
(6%)