Sun-dried tomato and basil chicken is the perfect summer meal. It is super quick, super flavorful, and uses all those fresh summer ingredients (like basil and tomatoes!). Just 20 minutes for a delicious, family-friendly dinner!
Sun Dried Tomato and Basil Chicken – The EASY Way!
When you cook chicken in cream sauce, it is an automatic winner. And when you cook it with fresh basil and sun dried tomatoes, it is even better!
This sun dried tomato chicken recipe is so simple, that you will question if you missed a step. Your guests and family will LOVE this recipe and you might want to keep it handy because someone always asks for it.
This Sun Dried Tomato Basil Chicken recipe is so great because it requires minimal work and is ready in 25 minutes, meaning adults love it. But, it is also made with flavors that are kid-friendly too meaning everyone in the house will be coming back for seconds!
Why I LOVE this recipe!
Family Friendly – This dinner is perfect for all ages. With creamy Italian-inspired sauce (that is not spicy) and quick prep and cook time, everyone loves it!
Delicious – I have never met someone who doesn't love Italian flavors or cream sauce. If you do meet someone who doesn't though, let me know!
30 Minute Meal – This includes prep time and cooking time! And really, it could be made in 20 – 25 minutes if you are in a real rush!
One Pan – Makes for super easy clean up!
What to Serve with Creamy Sun Dried Tomato Chicken
Since this dish has classic Italian flavors, it will pair well with many of your favorite Italian side dishes. There are both classic options and some healthy options to keep it light.
Side Dish Ideas
Pesto Cheese Bread – So good… so so good! Great for soaking up that cream sauce!
Pasta– spaghetti, penne, angel hair, any will work!
Mashed Potatoes– This recipe is ultra creamy!
Caesar Salad– Love this with the addition of pasta!
Healthy Side Dish Ideas:
Side Salad with Lemon Vinaigrette– the dressing is SO GOOD!
Low carb noodle alternatives

Zoodles
Spaghetti Squash
kohlrabi noodles

Kale Salad – This is a copycat of one of my favorite restaurant salads!!
Oven Roasted Veggies– One of my go-to side dish recipes
You can choose one or add a few sides to make a wholesome, well-rounded dinner.
Recipe Notes
This chicken with sun dried tomato sauce recipe is as simple as promised! Just 30 minutes and one pan for a family-friendly meal.
In this section I am going to go through a few tips and tricks I use when making this recipe to get the absolute best and most delicious results.
Make sure to scroll to the bottom for the FULL recipe card.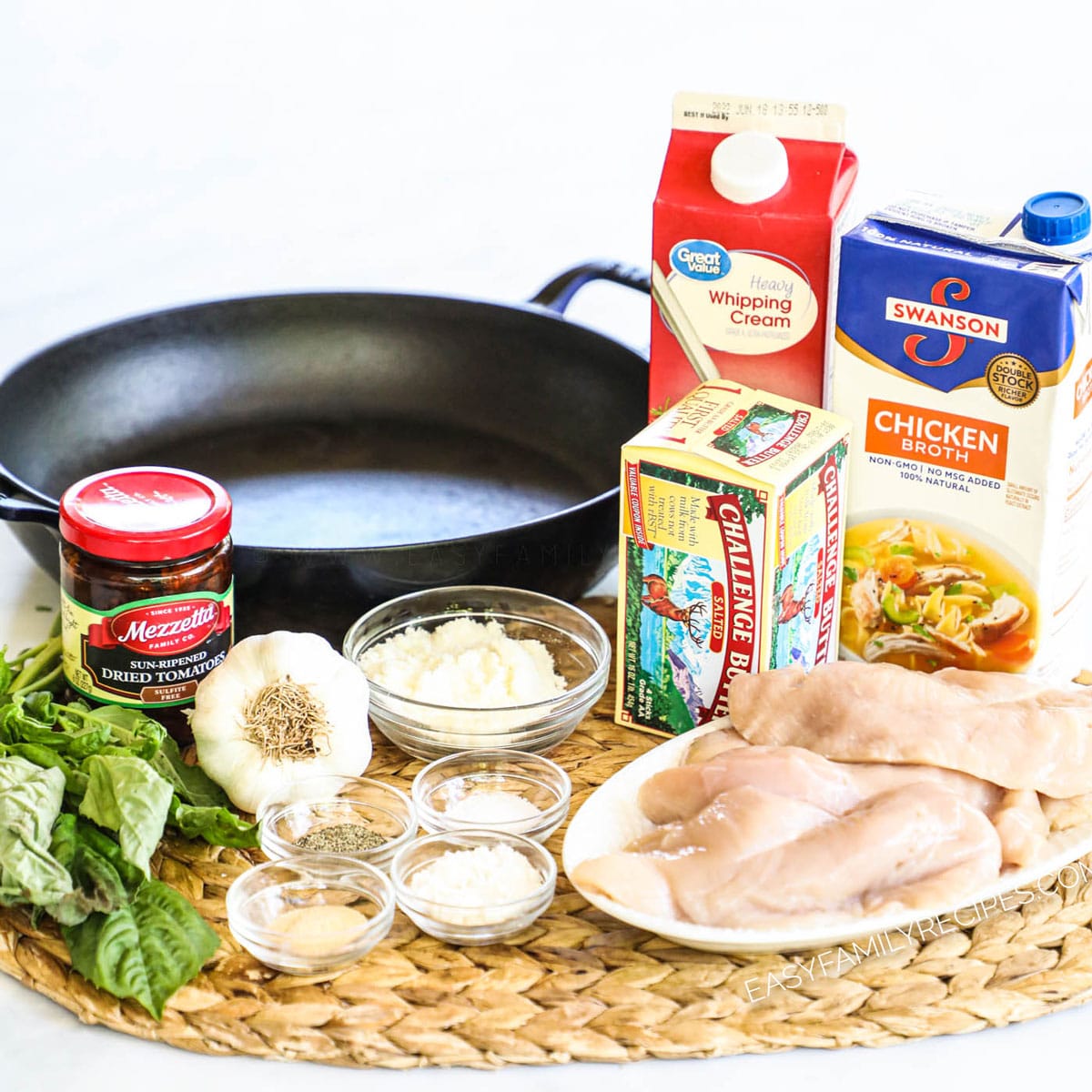 Ingredients + Substitutions
For the chicken
Chicken breasts– You need to cut or pound them to thin cutlets so they will cook completely in the skillet without needing to be transferred to the oven.
Seasonings: garlic powder, salt, pepper
Olive oil
For the sauce
Garlic – fresh is best! If you are in a time crunch you can use jarred or crushed garlic to save time.
Chicken broth – Vegetable broth, or white wine can also be used, if that is what you have on hand.
Sun-dried tomatoes – I used julienned sun-dried tomatoes that were marinated in Italian herbs.  If you can only find halves and/or they don't have herbs, don't worry about it!  The real flavor of the dish is carried by the tomato itself, so as long as you find the jarred tomatoes that should be packed in some sort of oil, you are golden.  If you don't know where to find these, check near the olives, in the vegetable section, or in the specialty foods section of your local grocery store.
Parmesan – Use the grated (powder-like) cheese, not the shredded kind. It will blend into the sauce much better!
Heavy Cream – This gives the sauce the richness and is the base for everything to come together.

Substitutions: You can use half and half in place of heavy cream, however, you will have to modify the recipe to NOT boil the sauce as it could cause the half and half to curdle since it has a lower fat content.

Fresh Basil – In a pinch, you can use dried basil, but fresh makes it much better!
Flour – Good ol' all-purpose flour.
Butter– I use salted because it is what I keep on hand but unsalted will work as well.
Salt– you can vary the amount of salt to taste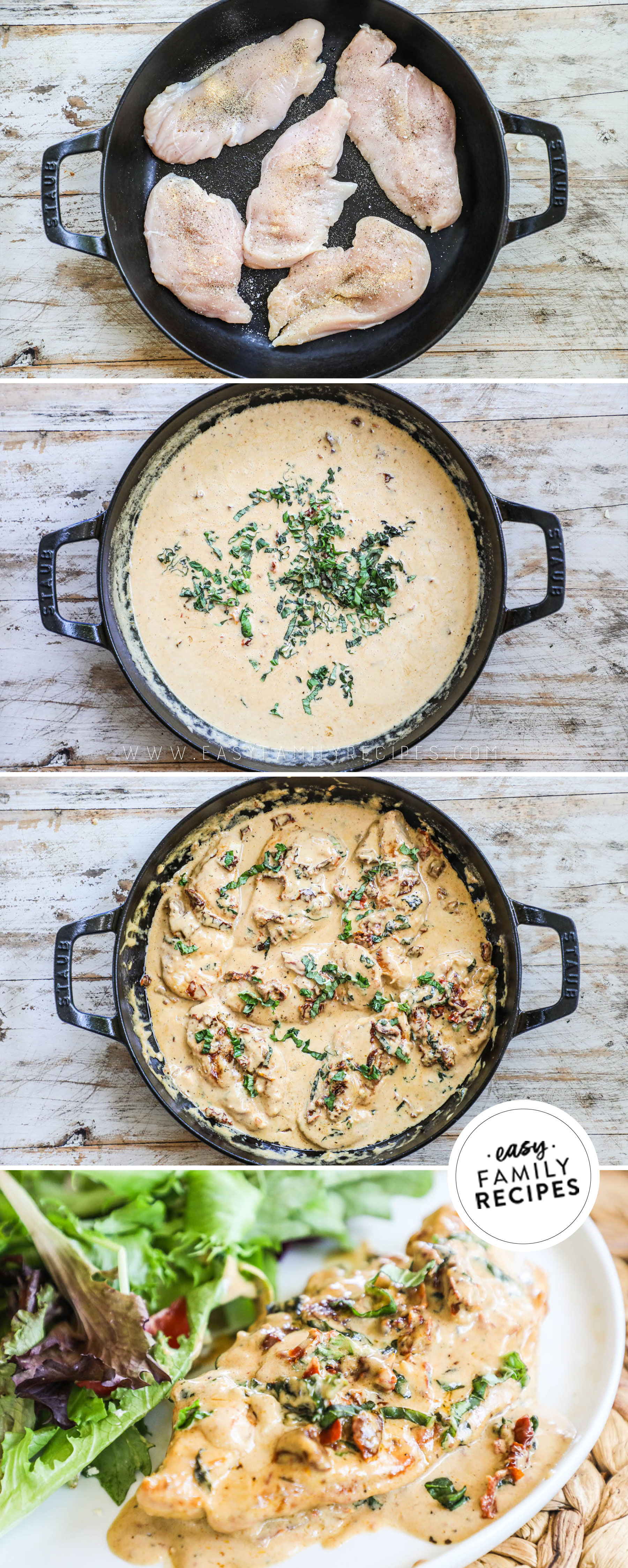 Recipe Tips
Make sure the chicken is THIN! Using thin chicken breasts allows the chicken to fully cook in the skillet without having to go in the oven. This also allows it to cook to temperature quickly so that it stays super tender and juicy! You can get thin chicken breasts a few different ways-

Buy thin chicken breast at the market
Cut them in half horizontally (this is what I usually do)
Pound them out with a meat mallet.


Prep the ingredients – This may sound a bit silly, but this recipe moves really fast and you are working with a hot skillet. If you take the time to have the garlic pressed and ready and the other ingredients are measured and ready to go, it makes the recipe run much more smoothly, not to mention avoiding burning things!

Allow the sauce to thicken – The sauce starts to thicken when it is added to the skillet with the remnants of the flour from the chicken. As you stir it, make sure and scrape the bottom of the pan to loosen these bits so that they can combine with the sauce. The 2-minute boil, will reduce the sauce a bit, then when it simmers with the chicken at the end it will continue to thicken and keep the chicken nice and tender. The sauce will continue to thicken as it cools as well, so I like to get it to a consistency where it coats a spoon.

IMPORTANT NOTE: If you try to use milk or half and half to make this recipe lighter, they will curdle at a much lower temperature and cannot be boiled. You will need to cook the sauce over low to get good results.

Know your stovetop! Each stove (and even different burners on the same stove) can cook differently. I cook this dish at medium-high, but that might be too high or low depending on the temperature of your stovetop, as well as, the skillet you use.

A high quality skillet will help you cook more evenly without hot spots which can cause food to burn. Make sure to keep the temperature as high as you can without burning the chicken for this recipe, where ever that lands on your stovetop dial.

Don't crowd the pan! Crowding the pan with chicken means there is no room for air to circulate and cook all around the chicken. If needed, cook the chicken in two batches.

Simmer together – To really mix all the flavors, add the chicken back into the cream sauce and allow them to simmer together for 2 minutes rather than just topping the chicken with cream sauce. This results in the best flavor!
Recipe Short Cuts
If you need to make these chicken cutlets with sun-dried tomato cream sauce but are extra short on time, here are a few ideas that can help make this recipe even faster. This recipe is insanely fast, with very minimal work meaning there are limited ways to speed this up more, but every little bit helps!
Prep the ingredients– The garlic and basil can be chopped and minced in advance. You can also measure out all of the other ingredients in advance to quickly cook and go.

Have it ready to go! This recipe moves quickly so having everything measured and prepped makes this recipe super fast!
Recipe Variations
If you love this recipe as much as we do and want some quick ways to change it up for variety, these little tips will do the trick!
Chicken Sun Dried Tomatoes Spinach– To make this recipe, simply add fresh spinach into the cream sauce at the end while everything is cooking together and allow it to wilt.
Chicken Sun Dried Tomatoes and Artichokes– Again, super simple to make this chicken alfredo with sun-dried tomatoes and artichokes variation. Just add canned and diced artichoke hearts (drained) to the cream sauce at the end.
Chicken Sun Dried Tomatoes and Mushrooms– Another great way to mix it up! Add mushrooms to the pan with the butter and garlic to saute together.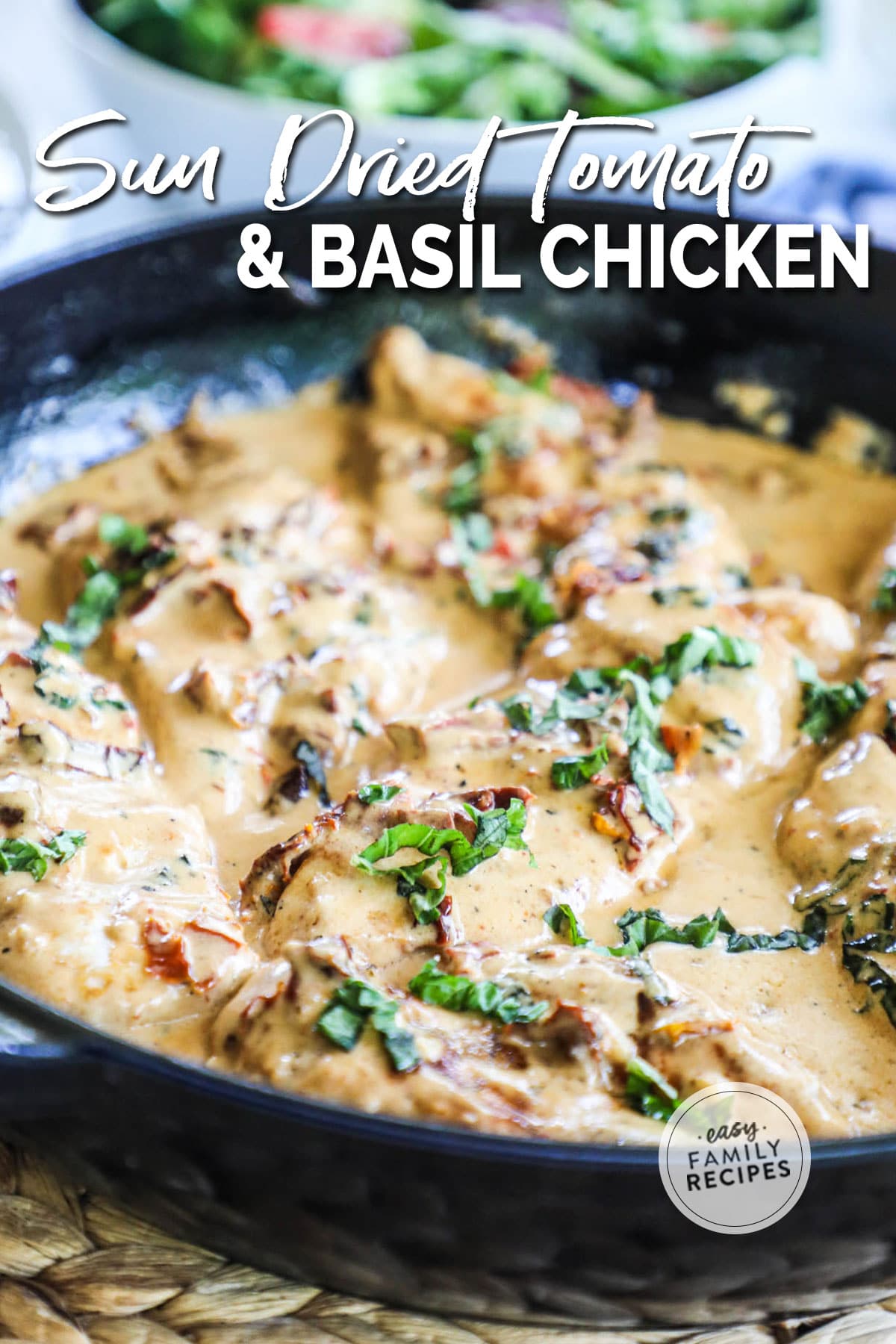 Sun Dried Tomato and Basil Chicken Leftovers
If you have leftovers after making this chicken in sun dried tomato cream sauce, then it is your lucky day! They save and reheat well, and can make the start of another delicious dish.
To save leftovers, separate into meal sized portions and then place in an airtight container and store:
in the refrigerator for 3-4 days
Leftover Recipes
Here are a few ways to repurpose those sun dried tomato basil chicken leftovers and give them a delicious makeover!
Sun-Dried Tomato and Basil Chicken Pasta– Enjoy this creamy sun-dried tomato basil chicken over pasta right when you make it or for leftovers! It's like a better alfredo pasta!
Chicken Panini with tomato and basil– For this one, remove the chicken from the sauce and place it in between bread slices with mozzarella or Italian blend cheese. Then cook using a panini press to melt the cheese. Enjoy it with soup or try dipping it into the creamy tomato basil sauce!
More Easy Chicken Recipes
If you enjoyed this chicken basil sun dried tomato recipe, I really hope you will take a moment to grab a few more easy recipes for another busy night!
You can check out all of my easy chicken recipes here, or see a few of our readers favorite recipes below.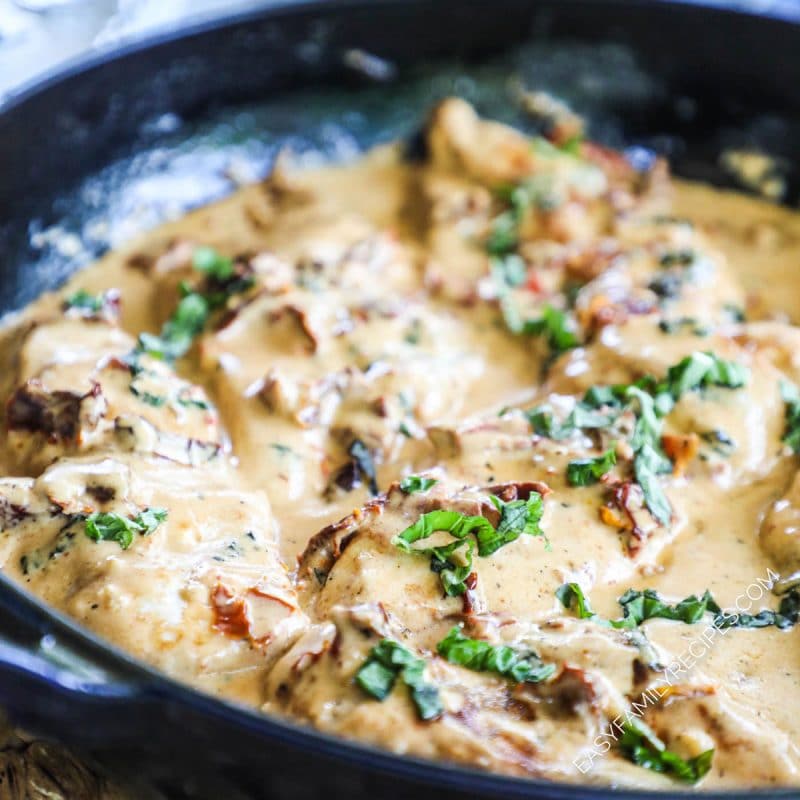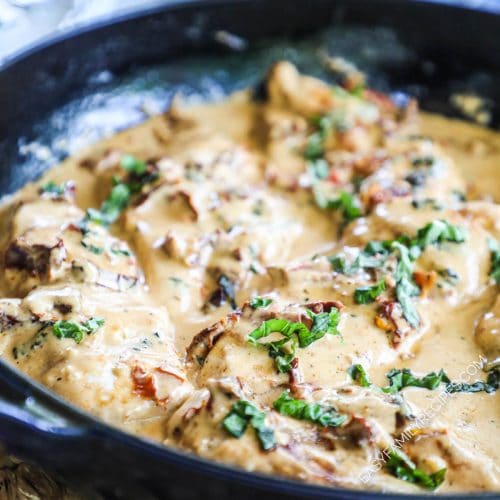 Sun Dried Tomato and Basil Chicken
This creamy skillet chicken with sun dried tomatoes and basil is the perfect week night meal. Ready in 30 minutes and takes hardly any work!
Ingredients
For the Chicken
2

lbs

chicken breast

,

cut into thin cutlets

1/2

teaspoon

salt

1/2

teaspoon

garlic powder

1/2

teaspoon

pepper

1

tablespoon

olive oil

,

or more as needed
For the Sun Dried Tomato and Basil Cream Sauce
3

tablespoons

butter

1

tablespoon

flour

3

cloves

garlic

,

pressed

1/2

cup

chicken broth

4

ounces

Sun dried tomatoes

,

chopped

¾

cup

heavy cream

1/2

teaspoon

salt

1/4

cup

parmesan

1/4

cup

chopped fresh basil
Instructions
Heat a large skillet with the olive oil over medium heat. While it is heating season the chicken with the salt, pepper and garlic powder.

Once the skillet is hot, add the chicken and let cook without moving for 3-4 minutes. Then flip and cook an additional 3-4 minutes until the chicken has reached 165˚F internal temperature. Remove from skillet and set aside.

Note: For best results, cook the chicken in a single layer without over crowding the pan. If you have too much chicken, cook the chicken in 2-3 batches by repeating this process.

Reduce heat to low and add the butter to the skillet, once melted, add the flour and mix together. Add the garlic and cook 30-60 seconds.

Mix in the chicken broth and bring the mixture to a simmer to thicken.

Once thickened, slowly stir in the cream. Then add the salt, parmesan, sun dried tomatoes, and fresh basil.

Add the chicken back into the sauce, and simmer for 3-5 minutes. Garnish with additional basil or parmesan if desired. Enjoy!
Nutrition Information
Calories:
419
kcal
(21%)
,
Carbohydrates:
13
g
(4%)
,
Protein:
38
g
(76%)
,
Fat:
24
g
(37%)
,
Saturated Fat:
12
g
(75%)
,
Polyunsaturated Fat:
2
g
,
Monounsaturated Fat:
7
g
,
Trans Fat:
1
g
,
Cholesterol:
149
mg
(50%)
,
Sodium:
776
mg
(34%)
,
Potassium:
1261
mg
(36%)
,
Fiber:
2
g
(8%)
,
Sugar:
8
g
(9%)
,
Vitamin A:
910
IU
(18%)
,
Vitamin C:
10
mg
(12%)
,
Calcium:
106
mg
(11%)
,
Iron:
3
mg
(17%)