These Potato Wedges are made in the oven with our exceptional baking method to get them perfectly crispy on the outside and soft on the inside. The special seasoning blend adds loads of flavor that bakes right in as the Potato Wedges cook.
Potato Wedges in the Oven – The EASY Way!
One of my most favorite things about this potato wedges recipe is that is goes with almost ANYTHING! This is a recipe I keep in my back pocket when I need something to round out a meal, because everyone loves it and it can make a good pair with almost any meal.
Since potatoes last a long time and store easily, it is easy to keep all of the pantry ingredients on hand to make these whenever the mood strikes!
What I love about this recipe:
Healthy– Tastes like french fries with out the frying for a much lighter option!
Easy– Cut, toss, and bake… doesn't get much easier than that!
Pantry ingredients– Everything is basic and so easy to keep on hand
Special dietary needs– if you are serving someone with special dietary needs, these work well with many of them!
Kid friendly AND adult friendly– Serve them to the kids and call them french fries and the kids are happy… serve them to the adults and call them seasoned potato wedges and they are a hit!
Appetizer, snack or side– You decide! These are great for for any– or all of them!
What to Serve with Baked Potato Wedges
These will pair well with many of your favorite main dishes that you would traditionally serve . There are both classic options and some healthy options to keep it light.
Main Dishes to Serve with Seasoned Potato Wedges
Dipping Sauce for Potato Wedges
Since this dish has the classic flavors of seasoned french fries, you can enjoy them plain, or use a variety of dipping sauces to make it even more fun.
Recipe Notes
This Baked Potato Wedges recipe is as simple as promised! Just a few minutes of prep for this crowd pleasing recipe.
In this section I am going to go through a few tips and tricks I use when making this recipe to get the absolute best and most delicious results.
Make sure to scroll to the bottom for the FULL recipe card.
Ingredients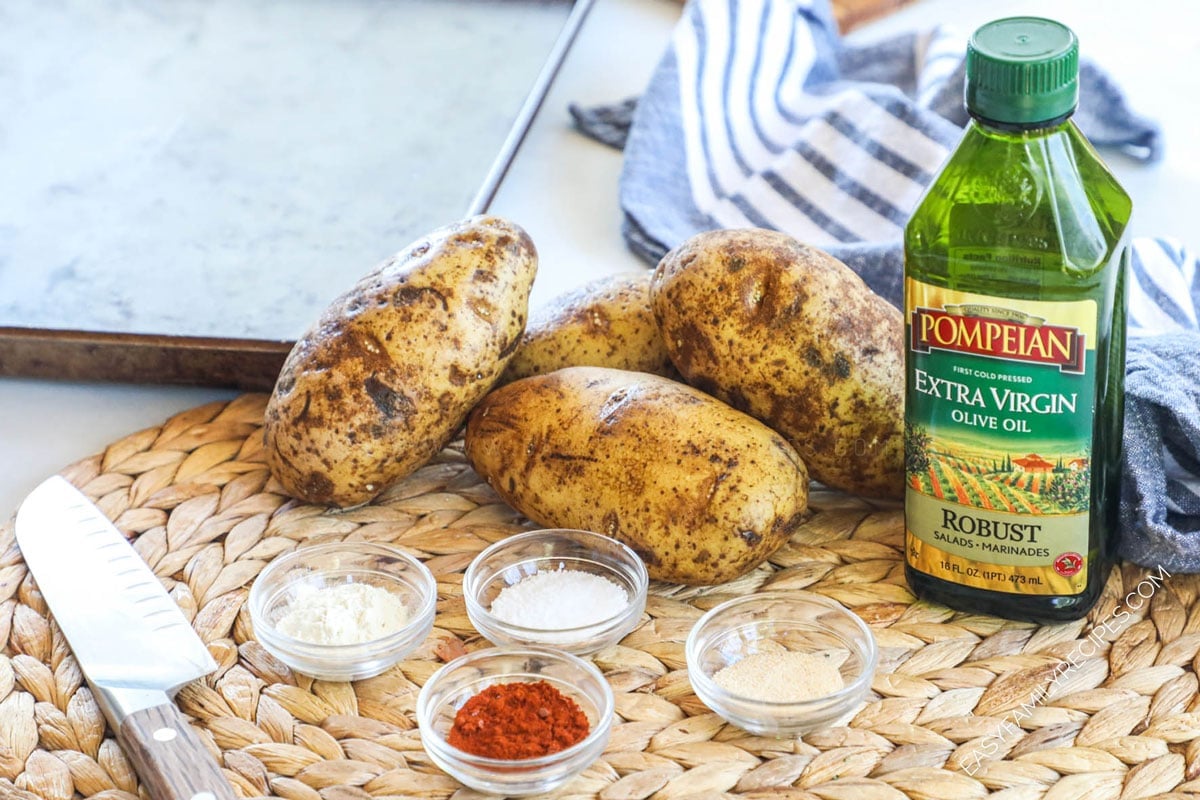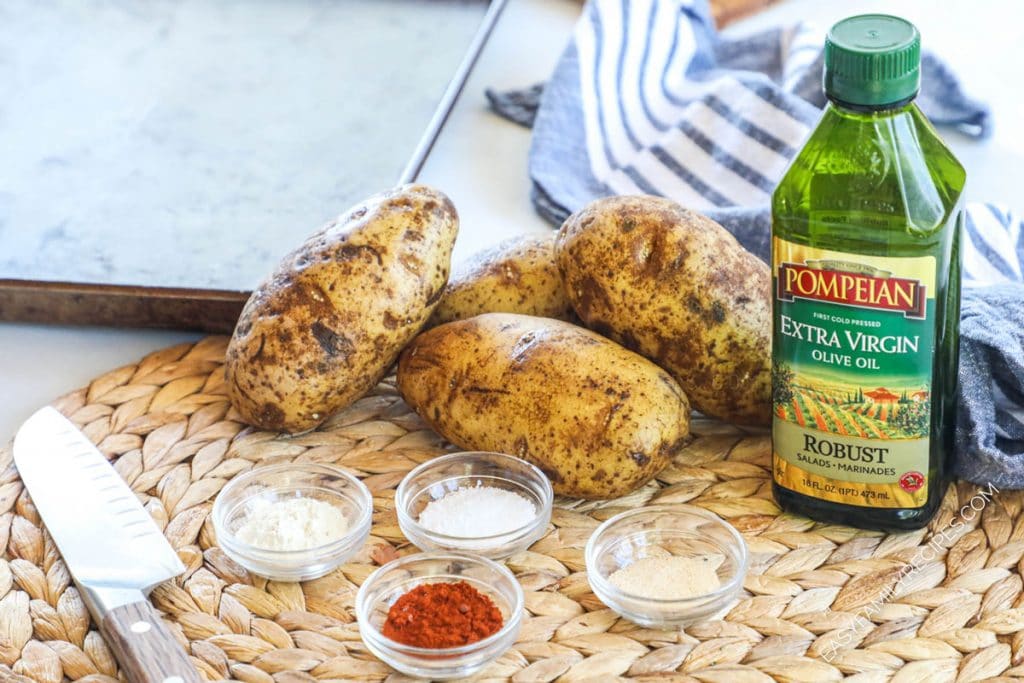 Russet potatoes– You can use about 4 medium potatoes or 3 large potatoes. I prefer using Russet potatoes for potato wedges because they are high in starch and low in moisture which helps them to get crisp on the outside. Also the size and shape of the potato lend to a perfect traditional potato wedge shape!

Olive oil– This helps to coat the potato in spices and give it the flavor of fried in the oven, without deep frying.

Seasonings– A generous combo of garlic powder, onion powder, paprika, and kosher salt create perfectly seasoned potato wedges. With potatoes, you always want a generous amount of seasoning to best compliment the flavor.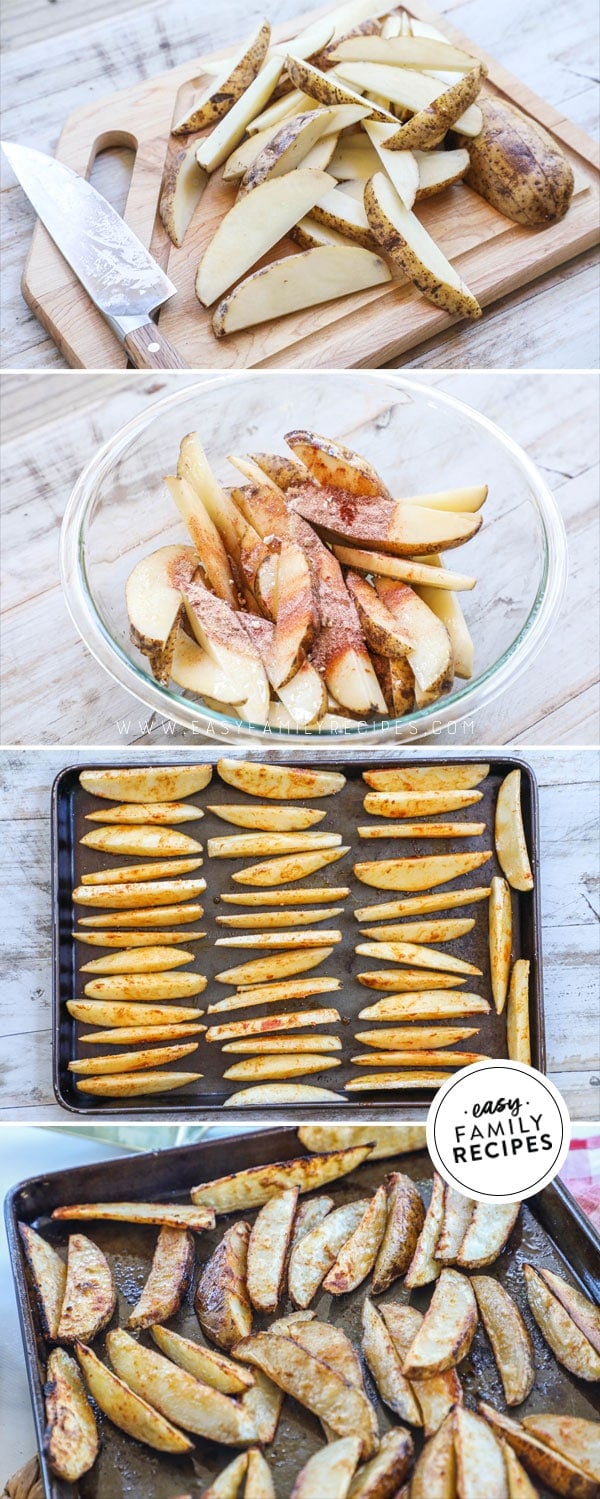 How to Cut Potato Wedges
Cutting these potato wedges may seem tricky, but it is really simple to do! The number of wedges you cut each potato into will depend on the size of the potato, but this is the easy way to cut potatoes into wedges.
First make sure your potatoes are thoroughly washed
Slice each potato in half length-wise.
Place the flat side down and cut in half again length-wise.
Then take each quarter of the potato and cut it in 2-3 wedges by slicing it in half or thirds length-wise again.
Using this method should create 8-12 wedges per potato. If you have an extra large potato you may slice each quarter into 4 or more pieces.
Recipe Tips
Cut Evenly– You want your wedges (slices of the potato) to be as even as possible so they cook at the same rate. If some are super thin while others are much thicker, some could be crispy or burnt, while others aren't yet cooked through.

Coat Evenly– This recipe uses a good amount of seasoning which is perfect to coat the whole batch of potatoes. You will want to use a large bowl or zip top bag to make sure that each slice of potato has an even layer of seasoning. If the seasoning ends up in clumps throughout you will not enjoy the end result!

Bake skin down– Even is the name of the game for perfect potato wedges. Making sure that the potato wedges are evenly spread on the sheet skin down and not overlapping will give you the BEST result. If the potato wedges overlap, they will not be able to crisp up and may end up soggy.

How long to bake potato wedges– To bake these potato wedges, cook for for about 30 min at 425˚F. The allows the insides to cook through and get nice and soft. Then at the end of the cook time we add a couple minutes of broiling to really get nice extra crispy edges and give the outside some extra color and flavor.

WARNING– Broiling is no joke. It is the hottest your oven will get and you need to keep a close eye on the potato wedges as you do this step. If you leave them on broil too long, you may very well end up with burnt potatoes so make sure to complete this step with a watchful eye.
Recipe Short Cuts
If you need to make this recipe, but are extra short on time, here are a few ideas that can help make this recipe even faster!
Pre-cut the potatoes– you can do this earlier in the day when you have more time, or even the day before.
Pre-mix the spices– this can be done as far in advance as you need!
Pre-cook– If you are really in a pinch, you can make the entire recipe ahead of time start to finish and then just re-crisp them in the oven as you are ready to serve.
Recipe Variations
If you love this recipe as much as we do and want some quick ways to change it up for variety, these little tips will do the trick!
Ranch Potato Wedges– Make recipe as directed replacing all spices with 2 tbsp ranch seasoning.
Rosemary Potato Wedges– Make recipe as directed adding 2 tsp dried rosemary to the spice mix.
Greek Potato Wedges– Make recipe as directed replacing all spices with 2 tbsp Greek seasoning.
Cajun Potato Wedges– Make recipe as directed replacing all spices with 1 tbsp Cajun seasoning.
Dietary Considerations
If you have special dietary needs, this recipe meets some and can be easily modified to comply with others.
As always, check all store bought ingredients for compliance on specific dietary needs. The notes below are a general guide.
Gluten free: This recipe is naturally gluten free.
Dairy free: These potato wedges are naturally dairy free.
Nut free: This recipe is naturally nut free
Egg free: This recipe is naturally egg free
Vegetarian/Vegan: This Potato Wedges recipe is naturally vegan and vegetarian friendly.
Macros: The approximate macro calculation for this recipe is- P: 2 g C: 20 g F: 7g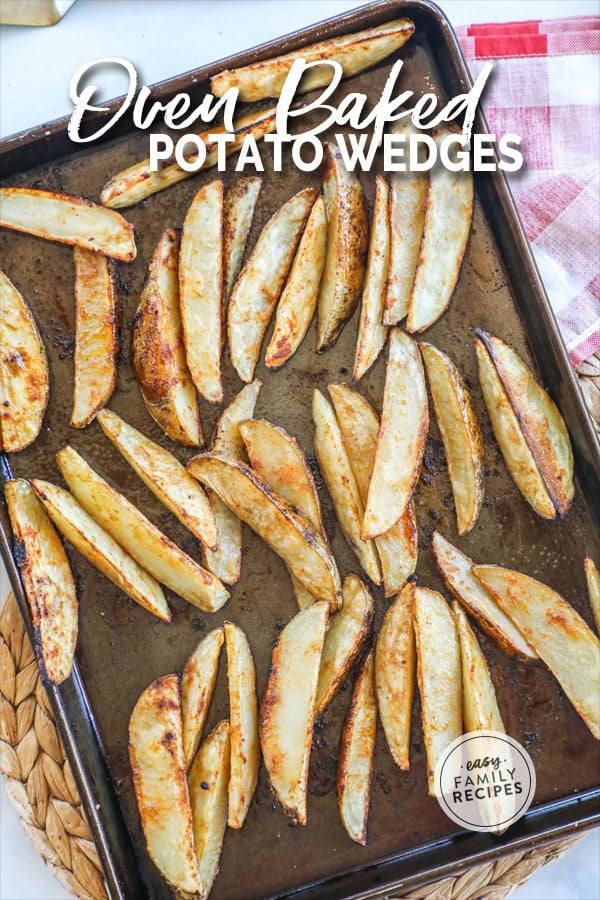 Leftover Potato Wedges
If you have leftovers after making Oven Potato Wedges, then it is your lucky day! They save and reheat well, and can make the start of another delicious dish.
To save leftovers, separate into meal sized portions and then place in an airtight container and store:
in the refrigerator for 3-4 days
in the freezer up to a month
Reheat potato wedges by cooking in a single layer on a baking sheet in at 425˚F for 10-15 minutes or until potato wedges are heated through and the edges are crispy.
More Easy Side Dish Recipes
If you enjoyed this recipe, I really hope you will take a moment to grab a few more easy recipes for another busy night!
You can check out all of my Easy Side Dish recipes here, or see a few of our readers favorite recipes below.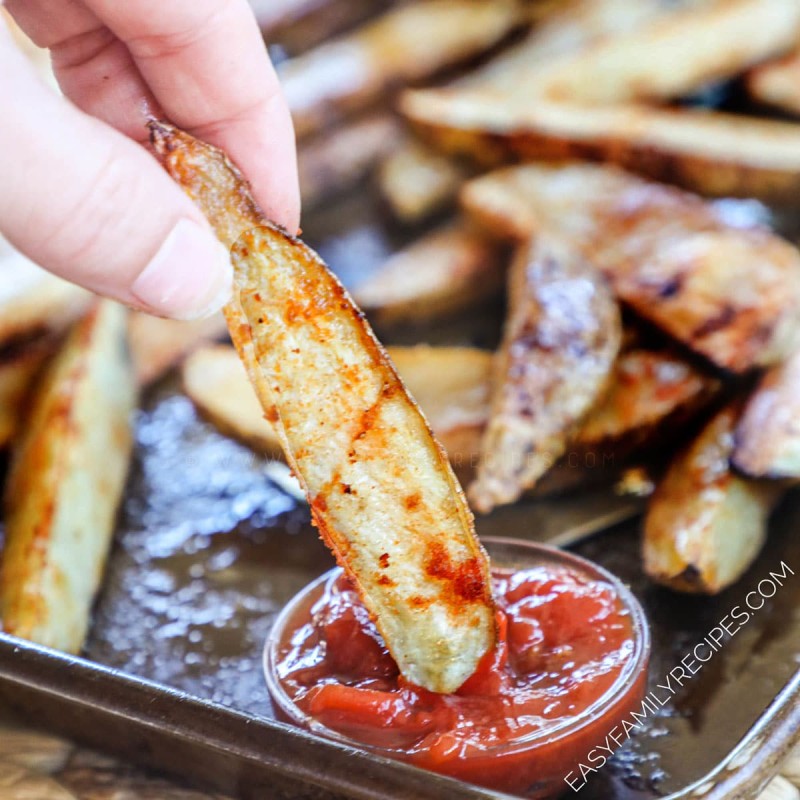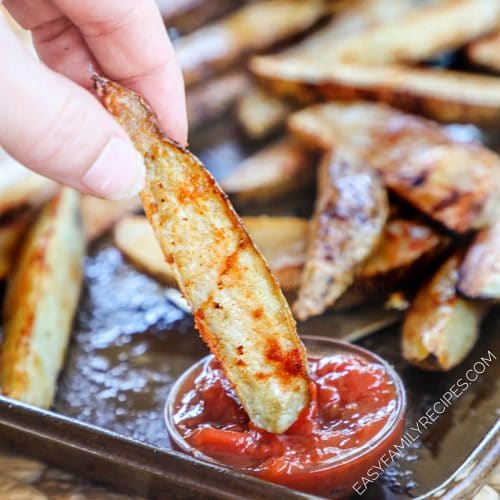 Seasoned Potato Wedges
These perfect oven baked Potato Wedges are perfectly seasoned and cooked until soft on the inside and crispy on the outside. They make a great appetizer, side dish or afternoon snack!
Ingredients
4

medium russet potatoes

,

(or 3 large potatoes)

1/4

cup

olive oil

1

tsp

garlic powder

1

tsp

onion powder

1

tsp

paprika

2

tsp

kosher salt
Instructions
Cut each potato in half. Then cut each half in 4-6 wedges.

Place potato wedges in a large bow. Drizzle with olive oil and toss to coat.

Mix garlic powder, onion powder, paprika and salt together. Sprinkle over potato wedges and then toss to evenly coat.

Arrange the potato wedges on a baking sheet skin side down. Then bake for 30 minutes. Turn the oven to broil and cook for an additional 2-4 minutes or until they reach desired brown color.
Nutrition Information
Serving:
6
wedges
,
Calories:
147
kcal
(7%)
,
Carbohydrates:
20
g
(7%)
,
Protein:
2
g
(4%)
,
Fat:
7
g
(11%)
,
Saturated Fat:
1
g
(6%)
,
Sodium:
587
mg
(26%)
,
Potassium:
457
mg
(13%)
,
Fiber:
2
g
(8%)
,
Sugar:
1
g
(1%)
,
Vitamin A:
124
IU
(2%)
,
Vitamin C:
6
mg
(7%)
,
Calcium:
16
mg
(2%)
,
Iron:
1
mg
(6%)