Try these hearty and delicious smothered shredded chicken burritos the next time you need a quick and easy family dinner. With just 1 pan and 30 minutes you can serve a complete meal and know that everyone will leave the table happy. You can easily whip up a cheesy, delicious baked chicken burrito that can be adjusted to your family's tastes for an easy dinner win.
Smothered Shredded Chicken Burritos – The EASY Way!
Everyone loves taco night, but what about switching things up with burrito night? Once you start making this delicious and super easy shredded chicken burrito recipe, you may never go back! It is SO simple, super filling, and of course, really, really tasty! The chicken and bean burritos are smothered in enchilada sauce and have everything you love, even veggies! But, it only takes 10 quick minutes to get them prepped and in the oven.
It's a one pan, easy to clean up weeknight meal that you can whip together with leftover chicken and a few cans from the pantry, but it'll taste like you took your time. It's so good you'll start stocking the ingredients on purpose, so you can always throw together a pan of cheesy, saucy, smothered shredded chicken burritos.
Why I LOVE this recipe!
Family Friendly Flavors – Everyone loves burritos! These are filled with easy to please flavors like corn, beans, chicken, and cheese.
Easy to Customize – Whether you want to change up the filling, the toppings, or adjust the portion sizes, it is SO easy to make this recipe just right for your family.
SO Fast! – It takes just 10 minutes to get these in the oven and then just 20 minutes of baking until they're ready to serve.
Easy Clean Up – This one pan dinner hardly needs any prep. Plus it's just as fast to clean up as it is to make.
Feed a crowd! – This recipe can be adjusted up or down very easily if you need to feed a crowd or just want dinner for 2.
What to Serve with Smothered Chicken Burritos
Since this dish has the classic flavors of Mexican chicken burritos, it will pair well with many of your favorite Mexican side dishes. There are both classic options and some healthy options to keep it light.
Side Dish Ideas
Topping Ideas
You can choose one or add a few sides to make a wholesome, well rounded dinner.
Recipe Notes
This easy baked chicken burrito recipe is as simple as promised! Just 30 minutes and one pan for a family friendly meal.
In this section I am going to go through a few tips and tricks I use when making this recipe to get the absolute best and most delicious results.
Make sure to scroll to the bottom for the FULL recipe card.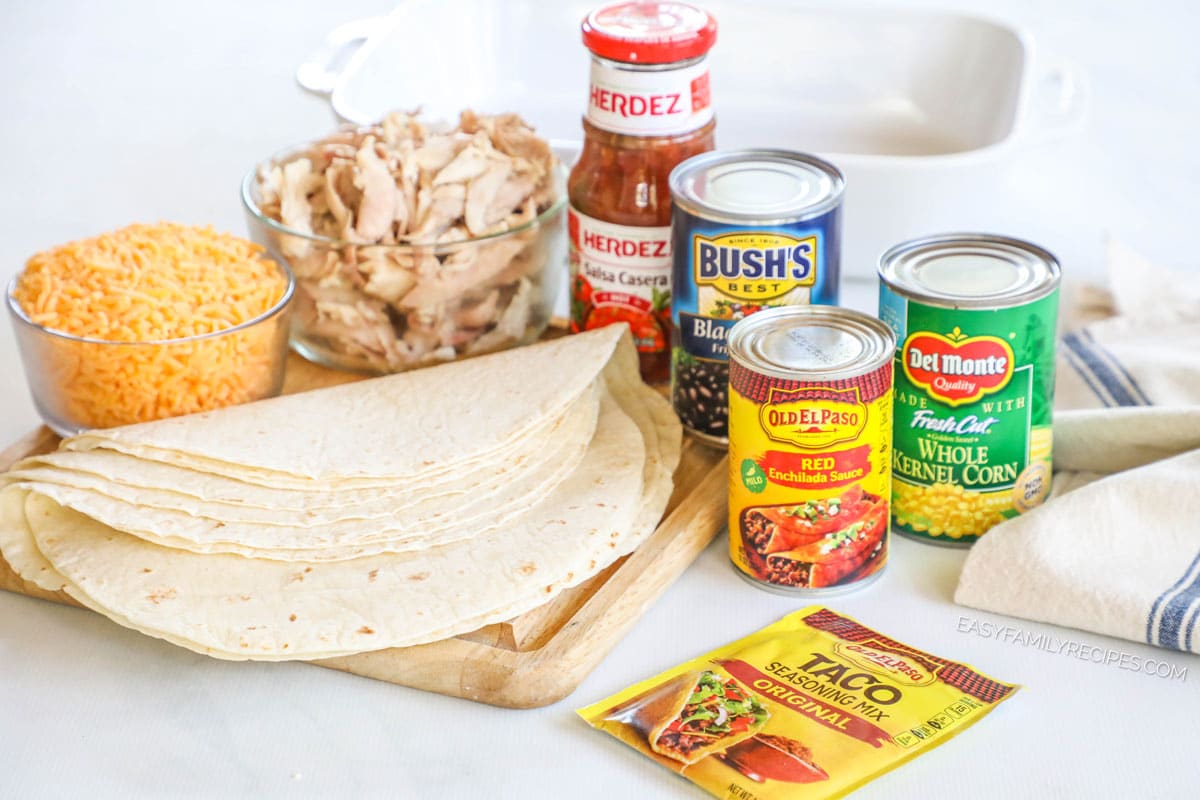 Ingredients + Substitutions
Chicken – Any pre-cooked, mild-flavored chicken will work for shredded chicken burritos. Leftovers, boiled or baked chicken breasts, or rotisserie chicken are all great options. I like to use leftovers from my homemade crock pot rotisserie chicken or oven baked rotisserie chicken.
Corn – I recommend a can for quick prep. To swap in frozen corn, thaw it completely first and drain off any extra liquid.
Black Beans – You can use canned black beans, or make a batch of black beans in the crockpot. We love chicken and black bean burritos but pinto beans are a great alternative too.
Salsa – Use your favorite store bought salsa or whip up a batch of homemade salsa. Make sure you choose one that isn't too spicy or too mild for your family's tastes.
Taco Seasoning – One packet of store bought taco seasoning provides all salt and spices we need. Use an entire packet or two tablespoons of homemade taco seasoning.
Flour Tortillas – We use the extra large, burrito-sized flour tortillas. You should be able to find them at most grocery stores but smaller ones can also be used if not.
Red Enchilada Sauce – Either canned or homemade enchilada sauce will work. We like red, but green is fine if you like that better.
Cheddar Cheese – My family likes cheddar but a Mexican blend, Monterey jack, or even pepper jack can also be used.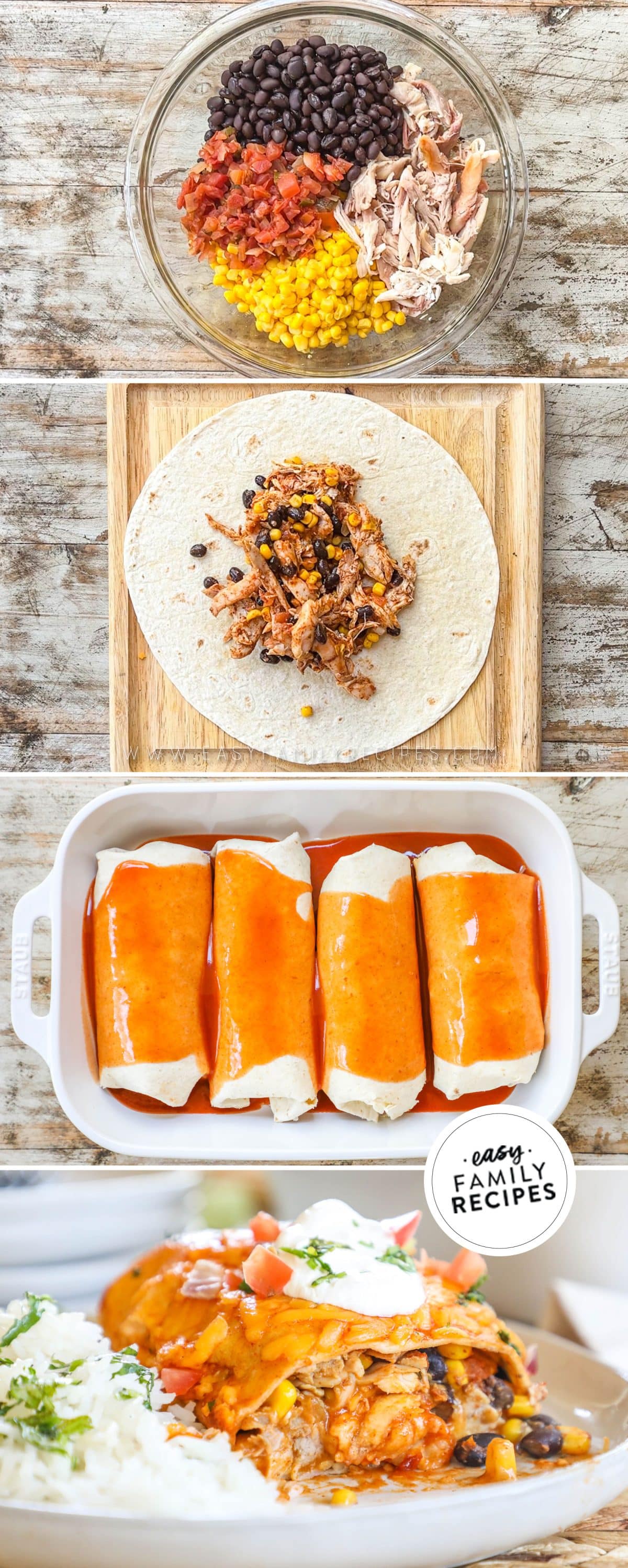 Recipe Tips
Adjust the filling to your tastes – Easily amp up the Mexican flavors you love by adjusting the mix ins and seasonings in the filling. Add more spice by using a hot sauce or adding jalapenos. Use rice instead of beans, or swap in a Mexican cheese like queso fresco. Feel free to make any variation that will make this chicken burrito a family favorite in your house.

Make large or small burritos – As written this recipe makes 4 extra large burritos, just like you'd get at a taqueria. But if you have little kids or want smaller portions, swap out the extra large tortillas for large ones. Then this recipe will make 8 smaller burritos.

Place seam side down – Make sure you place the filled burritos into the baking dish seam side down. That will help make sure everything stays inside while they bake and they hold their shape when serving.

Use a HOT oven – In order to heat everything through and not have soggy tortillas it's important to have a really hot oven before baking. Preheat it to 400°F before you do anything else for dinner.

Don't forget the toppings – If you want them simply smothered in enchilada sauce, then go for it! My family loves cilantro, pico de gallo, and chopped cilantro. Guacamole, corn salsas, or any of the suggestions above can easily take this simple burrito dinner to the next level.
Recipe Short Cuts
If you need to make this recipe, but are extra short on time, here are a few ideas that can help make this recipe even faster!
Buy prepared ingredients– Go for pre-shredded cheese, pre-cooked and even pre-chopped chicken, canned beans and corn, and jarred sauces to make this recipe a real snap to put together.

Mix the filling ahead– Combine the salsa, chicken, corn, beans, and taco seasoning in a bowl. Cover it and refrigerate for up to 12 hours in advance. Then all you have to do is fill the tortillas, roll, and bake at dinner time.
Recipe Variations
If you love this recipe as much as we do and want some quick ways to change it up for variety, these little tips will do the trick!
Ground Chicken Burritos– Swap shredded chicken for pre-cooked ground chicken that is either mildly flavored or seasoned with taco seasoning. If it's pre-seasoned as taco meat, adjust the amount of taco seasoning added to the chicken mixture by adding a teaspoon or two at a time until it tastes right for you. Continue with the rest of the recipe as written.

Buffalo Chicken Burritos– Skip the salsa and taco seasoning. Toss the chicken, corn, and beans with 2 tablespoons – 1/4 cup of buffalo sauce depending how saucy and spicy you want it. Swap the cheddar cheese for Monterey jack. Instead of enchilada sauce, combine 1/2 cup of buffalo sauce with 1 tablespoon of melted butter and pour it over the top of the burritos in the baking dish. Bake and serve as directed.

Creamy Chicken Burritos– Add 1/2 a block, or 4 ounces, of softened cream cheese to the filling. Make the rest of the recipe as directed.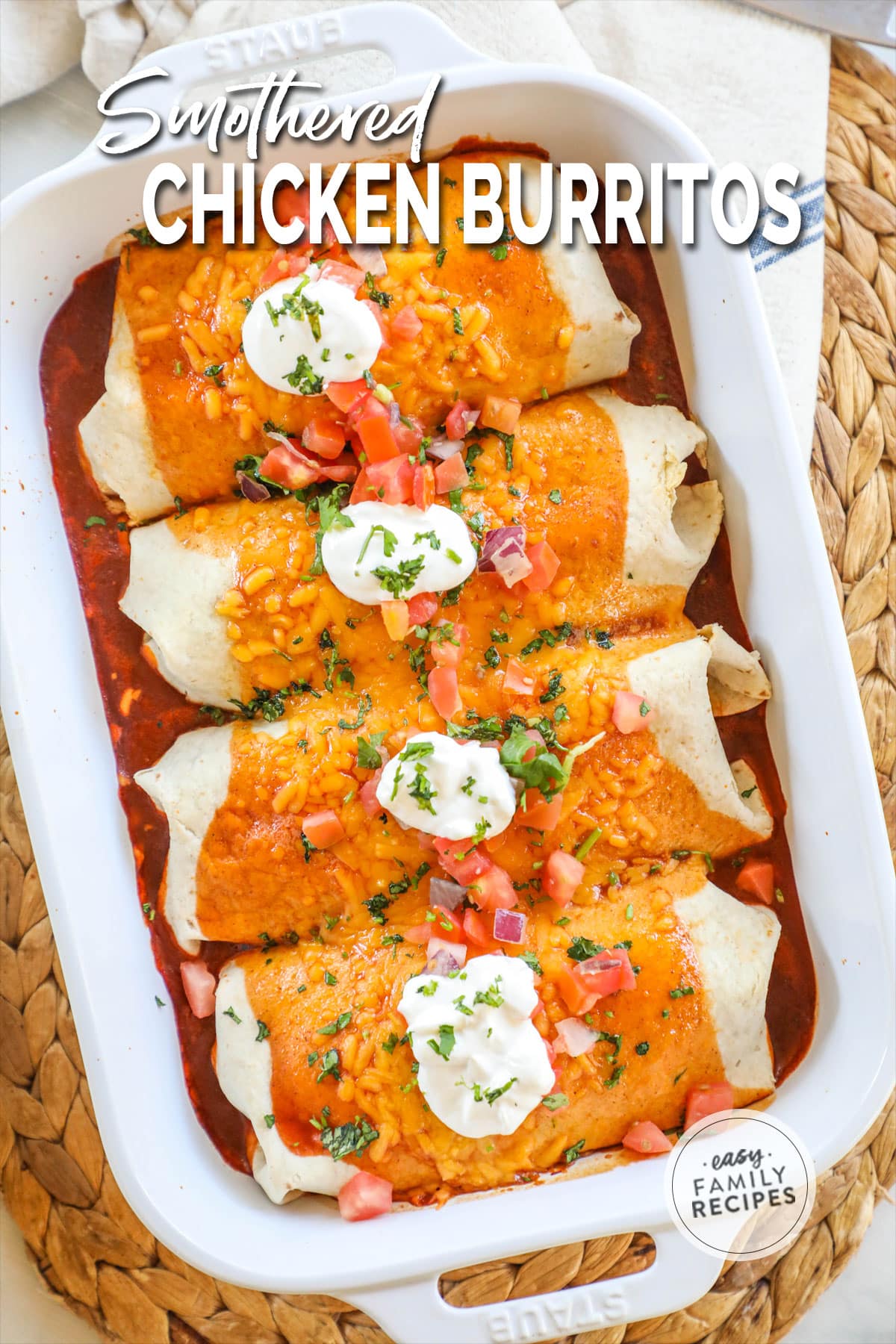 Freezer Meal Instructions
Making this smothered shredded chicken burrito recipe into a freezer meal is simple! Follow the steps below and you can store this recipe in the freezer for up to 6 months.
Mix the chicken filling and transfer to a freezer safe bag.
Freeze the filling and tortillas separately.
When ready to make thaw both in the fridge for 24-48 hours.
Make the recipe from step 3, using fresh cheese for the filling and topping.
Shredded Chicken Burrito Leftovers
If you have leftovers after making smothered baked chicken burritos, then it is your lucky day! They save and reheat well, and can make the start of another delicious dish.
To save leftovers, separate into meal sized portions and then place in an airtight container and store:
in the refrigerator for 3-4 days
in the freezer up to a month
What does a wet style burrito mean?
When you call a burrito wet, it means that it is smothered in sauce and baked before serving.
What is the difference between a burrito and a chimichanga?
Burritos contain fillings such as meat, beans, rice, cheese, etc wrapped in a tortilla. A chimichanga will contain similar fillings wrapped in a tortilla, like a burrito, however it is then it is deep fried.
More EASY Burrito Recipes
If you enjoyed this recipe, I really hope you will take a moment to grab a few more easy recipes for another busy night!
You can check out all of my chicken dinner recipes here, or see a few of our readers favorite recipes below.
Hungry for more family-friendly recipes? Sign up for my free recipe club to get new family-friendly recipes in your inbox each week! Find me sharing daily meal-time inspiration on Pinterest, Instagram, and TikTok.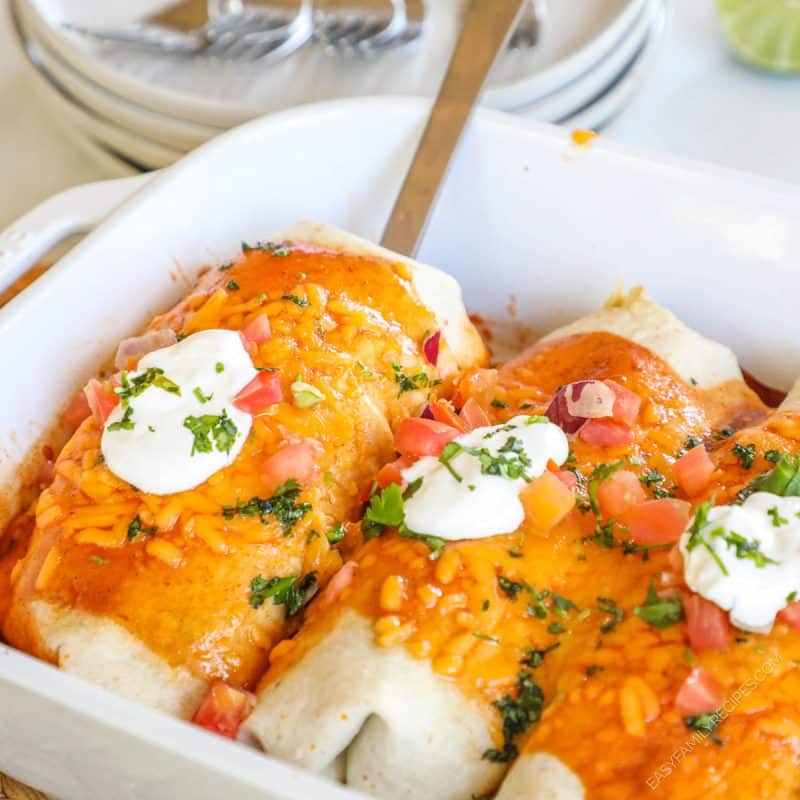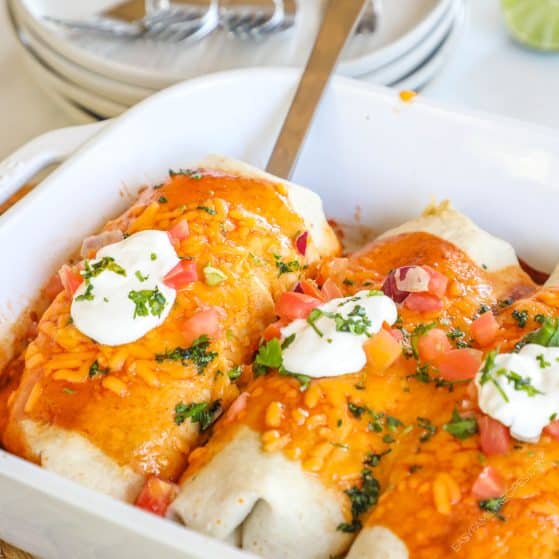 Smothered Shredded Chicken Burritos
Seasoned chicken, corn, beans, and cheese are wrapped in large tortillas before being smothered in enchilada sauce and baked to create a delicious, family friendly meal in just 30 minutes.
Prep Time: 10 minutes
Cook Time: 20 minutes
Total Time: 30 minutes
Serves:4 people
Hover over "serves" value to reveal recipe scaler
Ingredients
3 cups shredded chicken
1 can corn drained
1 can black beans drained and rinsed
1/2 cup salsa
2 tablespoons taco seasoning (1 packet)
4 extra large flour tortillas burrito size
10 ounces red enchilada sauce (1 can)
1.5 cups sharp cheddar cheese
Garnish (optional)
chopped cilantro
sour cream
Instructions
Preheat the oven to 400˚F.

In a large bowl, combine the shredded chicken, corn, black beans, salsa and taco seasoning.

Lay a tortilla flat and add one quarter of the meat mixture to the center of the tortilla. Add about 1/3 cup of cheese on top.

Fold the ends of the tortilla in, then roll it up burrito style. Place in a large casserole dish (9×13 inch) that has been sprayed with cooking spray or oiled.

Repeat until all the burritos are rolled and in the casserole dish.

Pour the enchilada sauce over the burritos and then top with any remaining cheese.

Bake on the lower oven rack for 20-25 minutes or until piping hot. Remove from oven and garnish as desired.
Nutrition Information:
Serving: 1burritoCalories: 661kcal (33%)Carbohydrates: 61g (20%)Protein: 49g (98%)Fat: 26g (40%)Saturated Fat: 11g (69%)Polyunsaturated Fat: 4gMonounsaturated Fat: 7gCholesterol: 121mg (40%)Sodium: 1507mg (66%)Potassium: 840mg (24%)Fiber: 11g (46%)Sugar: 12g (13%)Vitamin A: 1487IU (30%)Vitamin C: 8mg (10%)Calcium: 385mg (39%)Iron: 5mg (28%)
(Nutrition information provided is an estimate and will vary based on cooking methods and brands of ingredients used.)