This Chicken Taco Seasoning blend is the PERFECT blend of flavors for seasoning chicken for tacos or and chicken Mexican inspired recipe. Use it with chicken breast, chicken thighs, or even a whole chicken to add the best taco flavor. The best part is our homemade seasoning takes as little as 5 minutes to make!
Homemade seasoning mix are one of my secrets for adding a TON of flavor to food, with just a tiny bit of time and effort.
This Chicken Taco Seasoning blend is one of the most used seasonings in my cupboard. I use it not only for chicken tacos, but seasoning everything from chicken breast to ground chicken for casseroles and more. If you are looking for an all purpose taco seasoning for beef or other cuts of meat, you can find our popular classic taco seasoning here.
The great thing about homemade seasoning is that it takes about 5-10 minutes to make (depending on how organized your spice cabinet is!) and then you can pop it in an airtight container and it will stay good for UP TO A YEAR!
So for 5 minutes of work you can have this delicious seasoning on hand for a year!… or until you run out which very well may be sooner because this stuff is just that good.
You can easily make a single batch of homemade chicken taco spice blend, or if you enjoy it as much as me, you can make a double or triple batch in the same amount of time so you can always have it on hand.
Recipe Notes
This seasoning blend recipe is as simple as promised! Just mix together some key spices and seasonings and you have the perfect chicken taco flavors.
In this section I am going to go through a few tips and tricks I use for how to make chicken taco seasoning to get the absolute best and most delicious results.
Make sure to scroll to the bottom for the FULL recipe card.
Ingredients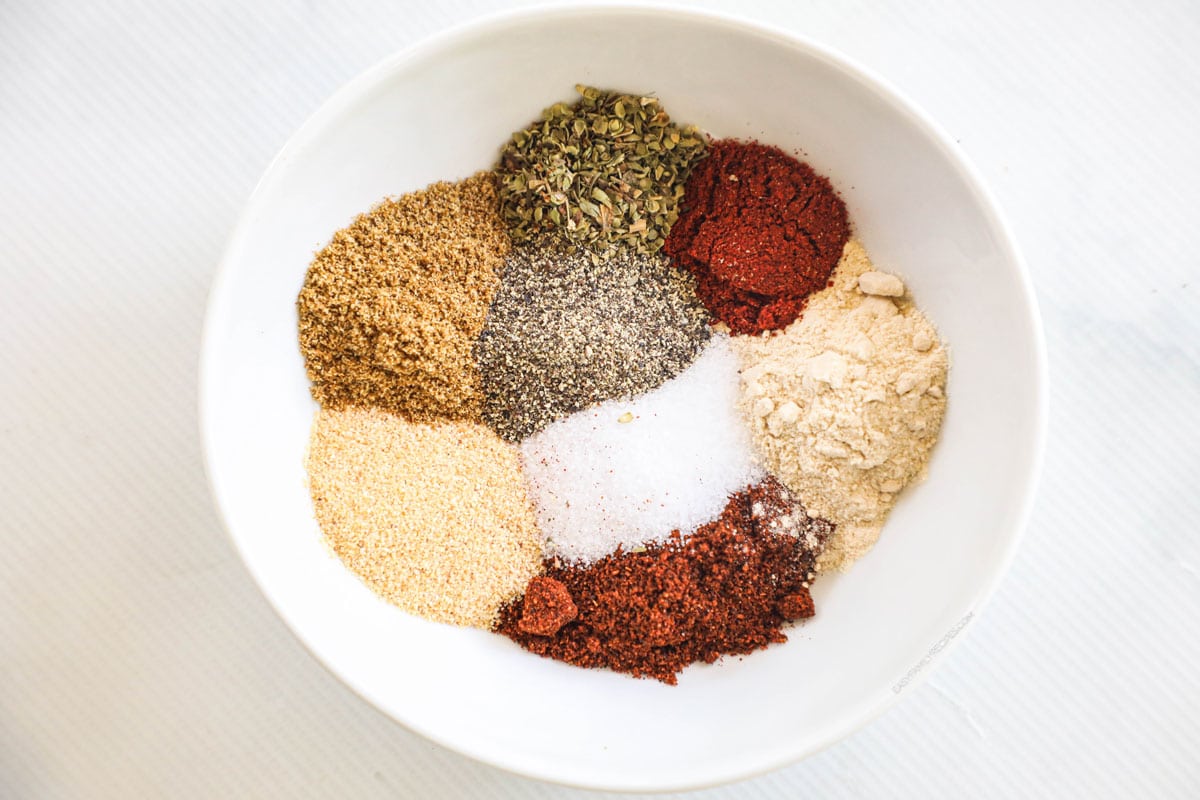 All spices and seasonings in this blend are dried. If you only have fresh on hand, I would recommend either drying them to be used in this seasoning blend, or grabbing the dried version the next time you are at the store. Fresh spices do not work here.
Chili powder
Garlic powder
Onion Powder
Dried oregano
Ground cumin
Paprika
Salt
Black pepper
Cayenne Pepper – optional if you want spicy chicken tacos
All of these are commonly found spices and there shouldn't be anything you have to hunt down. You may even have every single one already in your pantry or spice cabinet!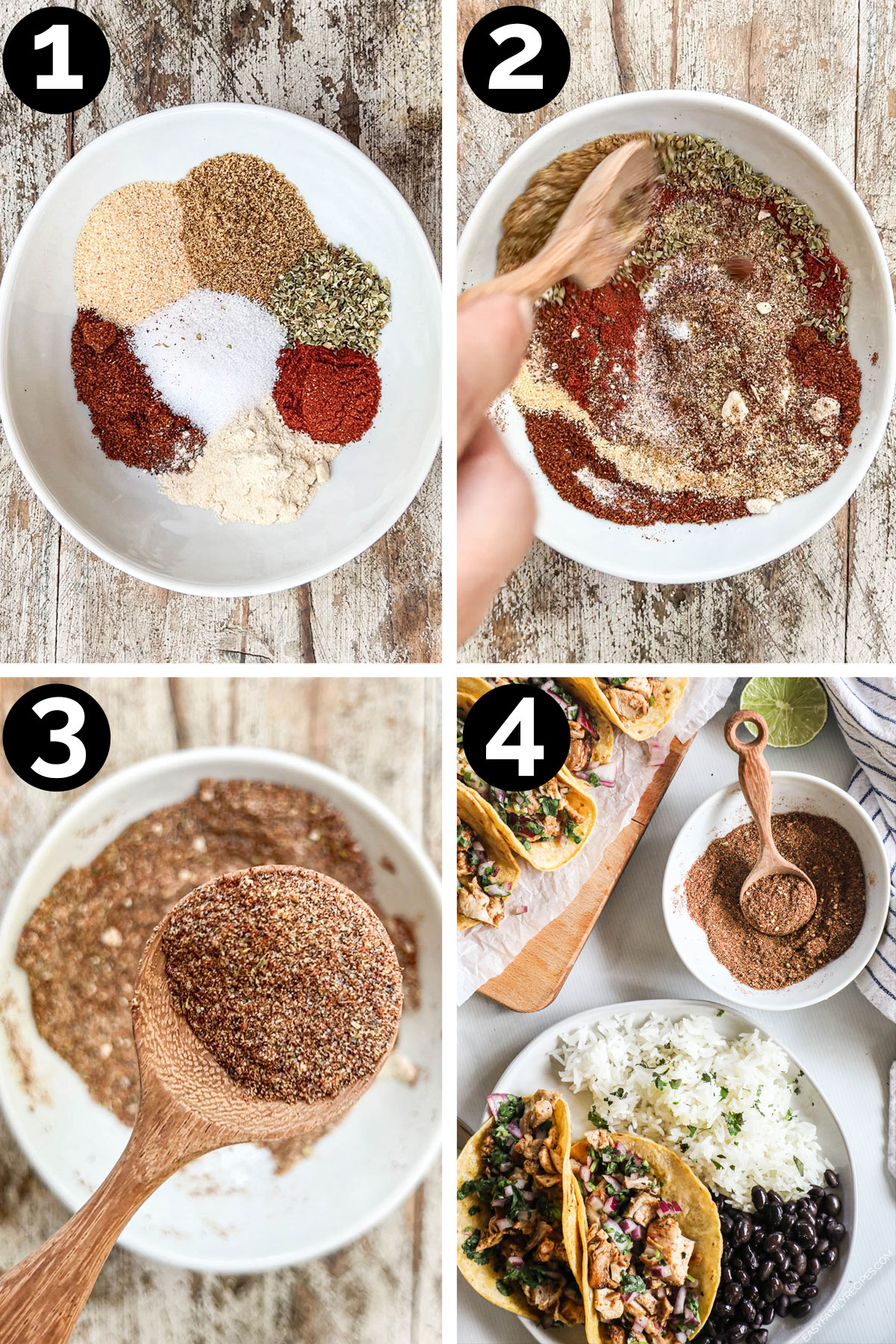 Recipe Tips
Key Ingredients! The chili powder and cumin give the classic taco flavor to this seasoning mix and make it similar to the taco seasoning packet you would buy at the grocery store. Each of the spices is balanced to give the perfect taco flavor, however you can experiment and add more or less if you have a preference for certain flavors.

Mix to combine– There is no special magic here. To make this, you just dump it all together and mix it up in a small bowl. To make it even easier, you can use a mason jar or other container and dump, then shake. Then all you get messy is a couple of measuring spoons!

Grinding is optional– In the blend of spices that make up the chicken taco seasoning there are a variety of sizes, from ground to larger leaves like oregano. You can combine them, but as they sit, the seasoning blend can settle so that it is harder to grab an even scoop out with every spice evenly distributed. To solve this you can:

Shake or stir before each use – This is what I do
Grind- Run it through a grinder, food processor, or blender to get the spices to a smaller consistency so that they combine evenly.


Store in an airtight container in a cool dry place. When stored like this the Chicken Taco Seasoning should

stay fresh for up to a year

. Some also recommend putting it in the freezer to further extend the life but I have never found that necessary. I run out long before it would ever go bad.

Double, triple, or more! This recipe can easily be scaled up to make a big batch of Chicken Taco Seasoning. This will allow you to keep it on hand for longer periods of time, especially when you start throwing it in everything as your "secret ingredient" like I do!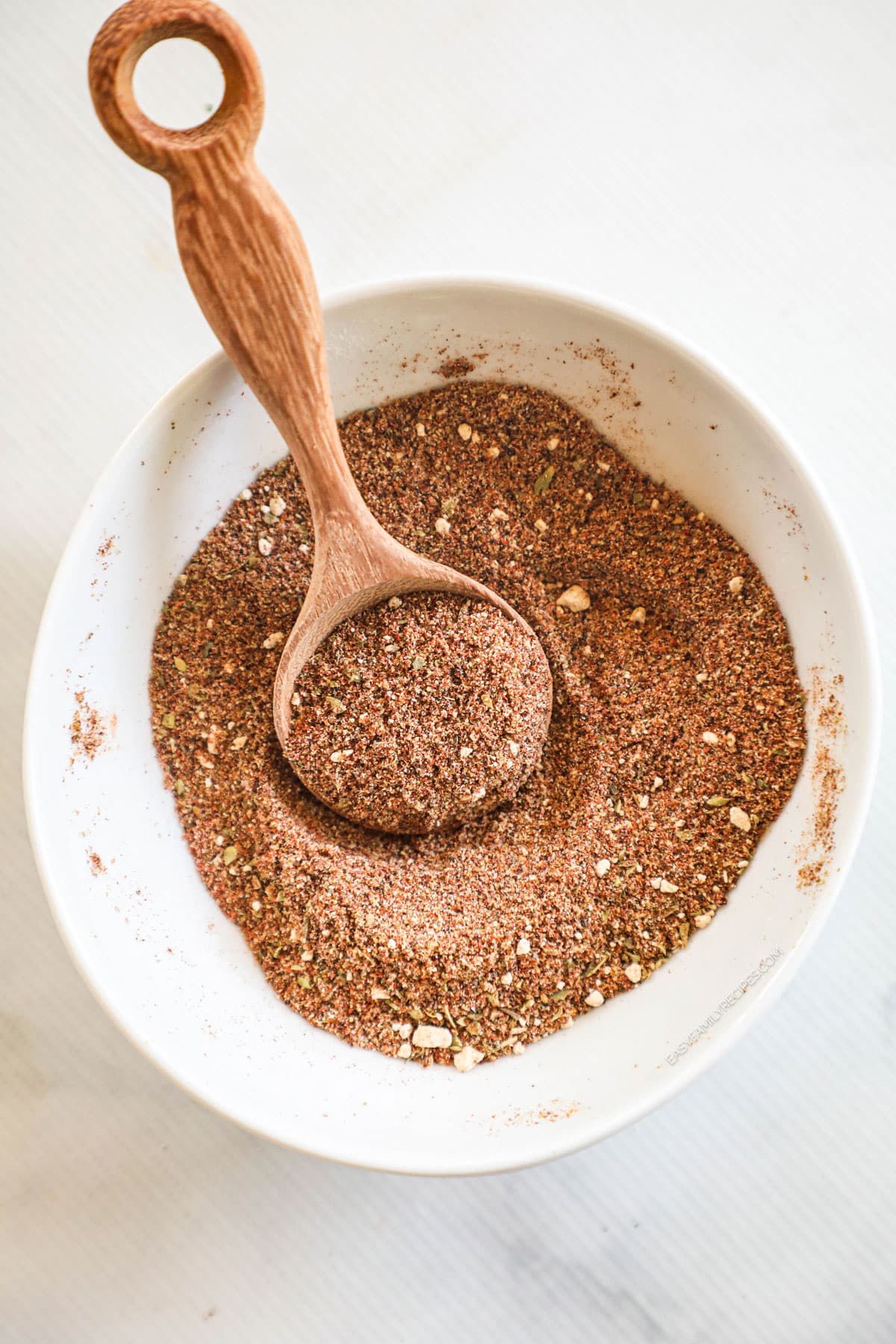 How to use Chicken Taco Seasoning
The thing that makes this seasoning for chicken tacos so great, is that it can add so much flavor to a recipe with so little effort! I use it in SO many ways, both for tacos and other main dishes, but also side dishes and appetizers as well.
From seasoning meat, to sprinkling on something to add extra there are almost endless ways to use this seasoning.
How to Season Chicken for Tacos
Marinate and season meat– add about 1 tbsp chicken taco seasoning per pound of meat. I like to also add 1 tablespoon of neutral cooking oil (like canola or vegetable) and some fresh lime juice as well.
Cook meat on the grill, oven, or in a skillet and chop or shred the chicken once done for tacos.
This works well with chicken breast, chicken thighs and chicken tenderloins. If you need more guidance, use my baked chicken recipe and replace the spices with this chicken taco seasoning.
Taco Seasoning with Ground Chicken– To make a classic taco style meat using this seasoning, sautee 1.5 pounds ground chicken in a large pan, then drain any fat or liquid. Combine meat with an 8 oz can of tomato sauce, 3 tablespoons tomato paste, and 3 tablespoons Chicken Taco Seasoning, and continue to cook stirring regularly until the liquid has mostly evaporated and the meat is coated in the tomato and seasoning.
Other Meat: Although this homemade taco seasoning has balanced the flavors especially for complimenting chicken, you can also use it on other meats such as beef, pork, or ground turkey.
These are a few examples of using this Homemade Chicken Seasoning in recipes:
Side Dish Ideas
Chicken Taco Salad– Use this taco salad recipe, and substitute the taco meat for chicken taco meat as directed above.
Beans– This seasoning is great on beans. You can do black beans, refried beans, or add some to canned beans as well.
Vegetables– Mexican roasted vegetables are delicious! You can eat them as a healthy side dish, or use them as a vegetarian filling in tacos, burritos, and more.
Appetizer Recipes
Taco Dip– One of my favorite appetizers of ALL TIME!
Creamy Taco Dip– Mix sour cream or Greek yogurt with this Chicken Taco Seasoning blend to taste and use as a dip for chips. You can also add a spoonful or two of salsa for a new twist.
Cheesy Bean Dip– This cheesy bean dip gets amazing flavor from the taco seasoning and is great for game day or potlucks.
Recipe FAQs
Can I use Chicken Taco Seasoning on beef?
Yes, although this has specially balanced flavors to compliment chicken, it also works well and can be used with ground beef or steak.
What goes well on chicken tacos?
I love to serve our chicken tacos with shredded lettuce, pico de gallo, corn salsa, sour cream and shredded cheese. You can choose some or all to build the perfect taco.
How is taco seasoning different from fajita seasoning?
Taco seasoning and fajita seasoning are similar and can generally be used interchangeably in recipes calling for one or the other. Generally speaking the cumin is more prominent in fajita seasoning and there is more oregano in taco seasoning.
How can I substitute this homemade seasoning mix for a taco seasoning packet?
2 tablespoons of homemade chicken seasoning should be equivalent to one store-bought packet. This is true for popular brands like Old El Paso Chicken Taco Seasoning and McCormick Chicken Taco Seasoning.
Can I use this to make Mexican seasoned chicken?
Yes! This Chicken Taco seasoning works very well with chicken breast or chicken thighs. You can use it as a dry rub, or mix it with a little oil and lime juice to make a paste. Coat the chicken with the spice mix and then bake, slow cook, or grill it.
More Spice Mix Recipes
If you enjoyed this recipe, I really hope you will take a moment to grab a few more easy recipes for another busy night!
You can check out all of my Easy recipes here, or see a few of our readers favorite seasoning mixes recipes below.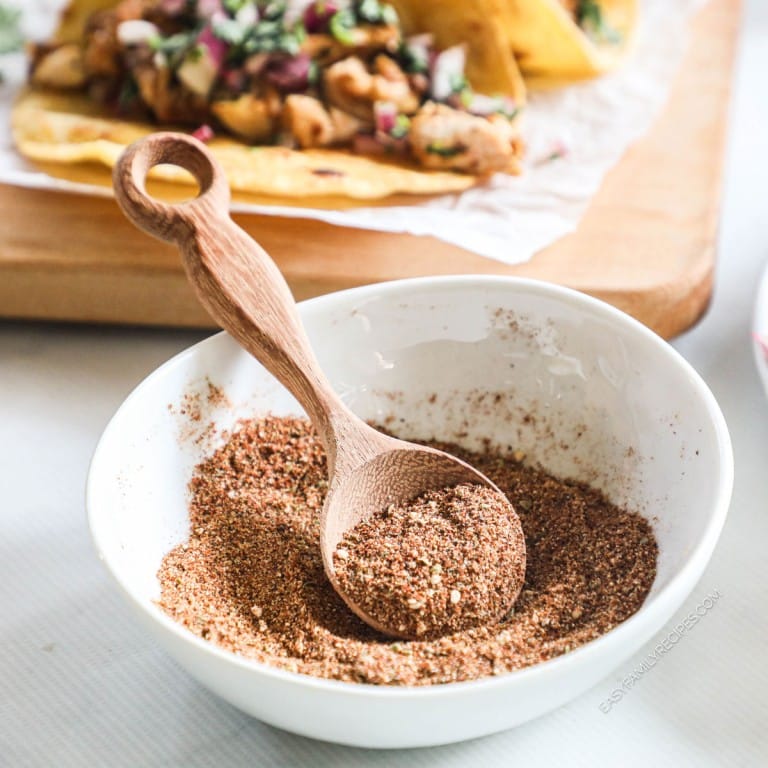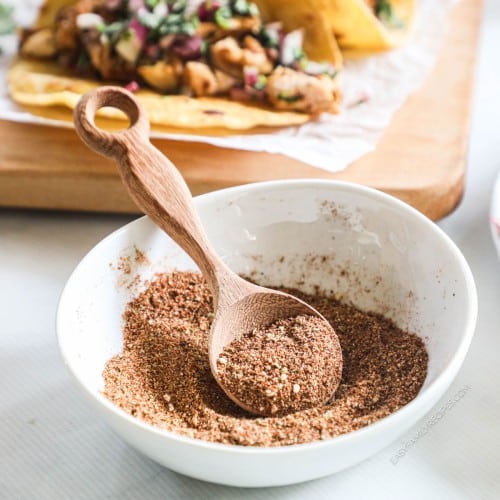 Chicken Taco Seasoning
This homemade Chicken Taco Seasoning makes absolutely amazing chicken tacos! It only takes about 5 minutes to whip up a batch and you can use it for many Mexican inspired recipes.
Ingredients
1

tablespoons

chili powder

2

teaspoons

garlic powder

2

teaspoons

onion powder

2

teaspoons

dried oregano

2

teaspoons

cumin

1

teaspoon

smoked paprika

1

teaspoon

salt

1

teaspoon

pepper

1/2

teaspoon

cayenne pepper

,

OPTIONAL
Instructions
Mix all spices together and store in an airtight container. If you want mild taco seasoning omit the cayenne pepper.
Recipe Notes
All seasonings listed are dried.
2 tbsp = 1 taco seasoning packet.
This taco seasoning is naturally gluten free, dairy free, low carb and compliant for Whole30, Paleo, and Keto diets.
To use seasoning with ground chicken: To make a classic taco style meat using this seasoning, sautee 1.5 pounds ground chicken, then drain any fat or liquid. Combine meat with an 8 oz can of tomato sauce, 3 tablespoons tomato paste, and 3 tablespoons Chicken Taco Seasoning, and continue to cook stirring regularly until the liquid has mostly evaporated and the meat is coated in the tomato and seasoning.
To marinate chicken breast or thighs: 
For more great easy dinner inspiration, sign up for our emails here!
Nutrition Information
Serving:
0.5
tablespoon
,
Calories:
9
kcal
,
Carbohydrates:
2
g
(1%)
,
Protein:
0
g
,
Fat:
0
g
,
Saturated Fat:
0
g
,
Polyunsaturated Fat:
0
g
,
Monounsaturated Fat:
0
g
,
Trans Fat:
0
g
,
Cholesterol:
0
mg
,
Sodium:
148
mg
(6%)
,
Potassium:
0
mg
,
Fiber:
0
g
,
Sugar:
0
g
,
Vitamin A:
0
IU
,
Vitamin C:
0
mg
,
Calcium:
0
mg
,
Iron:
0
mg