You have never had Green Bean Casserole like this! This easy holiday dish combines fresh green beans with a creamy sauce made of garlic and parmesan with tender mushrooms and rich, toasted walnuts and baked to perfection.
The best part of this homemade Garlic Parmesan Green Bean Casserole is that not only is it easy and delicious, but also naturally gluten free and low carb too!
This post is sponsored by California walnuts and Martha Stewart Living. All thoughts, ideas, stories, and recipes are created right here at Easy Family Recipes.
Homemade Green Bean Casserole
When it comes to the holidays, it is the one time where the sides seem to be the main attraction. Sure, there may be some turkey or ham on the table, but everyone is most excited about over loading their plates with all of the delicious sides.
One thing that is always on our holiday table is Green Bean Casserole. Now, Green Bean Casserole is good, but it has never been GREAT. Until now that is!
This Green Bean Casserole has gotten a complete makeover with a creamy homemade sauce, and fresh green beans and mushrooms, and crunchy, toasted walnuts to top it all off and make it completely irresistible. As a bonus, this from scratch method keeps the dish gluten free and low carb so it is friendly for all of the guests at the holiday gathering.
Some think homemade and easy don't go hand, but this casserole is proof that cooking from scratch can be as easy as it is delicious. So let's make some Green Bean Casserole that we can get excited about!
Tips for the BEST Green Bean Casserole From Scratch
Making Green Bean Casserole from scratch requires little more effort than the original. With just a few simple pantry ingredients you can have this recipe whipped up in no time.
I am going to share a few of my tips and tricks for making the BEST Green Bean Casserole, along with with some short cuts for when you are in a time crunch. Make sure to find the FULL printable recipe card below.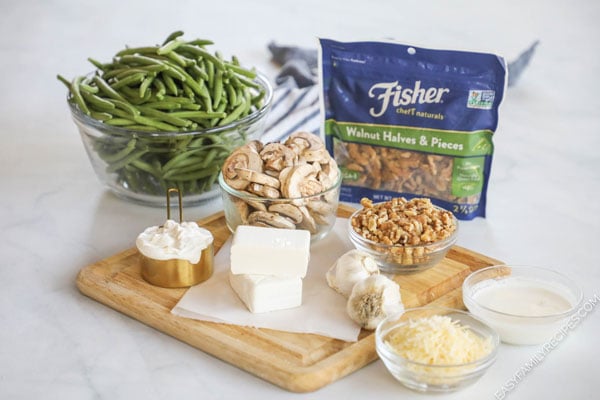 Ingredients
There are a few things that really make this work. We will walk through what is a must for this casserole and why we use it, and substitutions when necessary.
Green Beans
This recipe calls for fresh green beans. You can buy these in the produce section of the grocery store either prepackaged or loose.
If you prefer you can use frozen green beans that have been thawed, or canned green beans that have been drained.
Mushrooms
I prefer to use regular fresh white mushrooms in a Green Bean Casserole to give it the signature taste we know and love.
It is simple to find them in the store, and you can get them pre-sliced then just give them a quick chop to get them to the right size.
You can use other types of mushrooms if you don't have white. Baby bella or portobello will both work well.
The mushrooms add flavor and texture to the dish. However, if you don't like them, they can be omitted all together, and the casserole will still be delicious.
Cream Cheese
Cream Cheese creates the creamy base for the sauce. It allows us to get the rich signature flavor of green bean casserole, and binds all of the flavors together.
The only really important note on the cream cheese is that you can use original (that is what I use) or light, but avoid using fat free as it doesn't melt in the same way.
Garlic
Use nice fresh large cloves for the best taste! This is the key to packing the the flavor.
Parmesan
Shredded parmesan is what I usually use in this recipe. You will divide it to use 1/2 cup in the sauce and 1/4 on the top.
The sharp, salty flavor of the parmesan perfectly balances the green beans.
California walnuts
This is the SECRET ingredient in the recipe! It is unexpected, but compliments each ingredient perfectly. The walnuts help us to get the signature crunch on top, and adds a richness to the flavor.
Plus, it is a delicious whole food ingredient that allows us to keep this recipe wholesome, gluten free, and low carb while still enjoying that delicious toasty crunch atop the casserole.
California walnuts are part of a simple, satisfying, and healthful lifestyle. They add flavor and texture to not only this green bean casserole, but all sorts of dishes. You can find hundreds of ideas on Walnuts.org!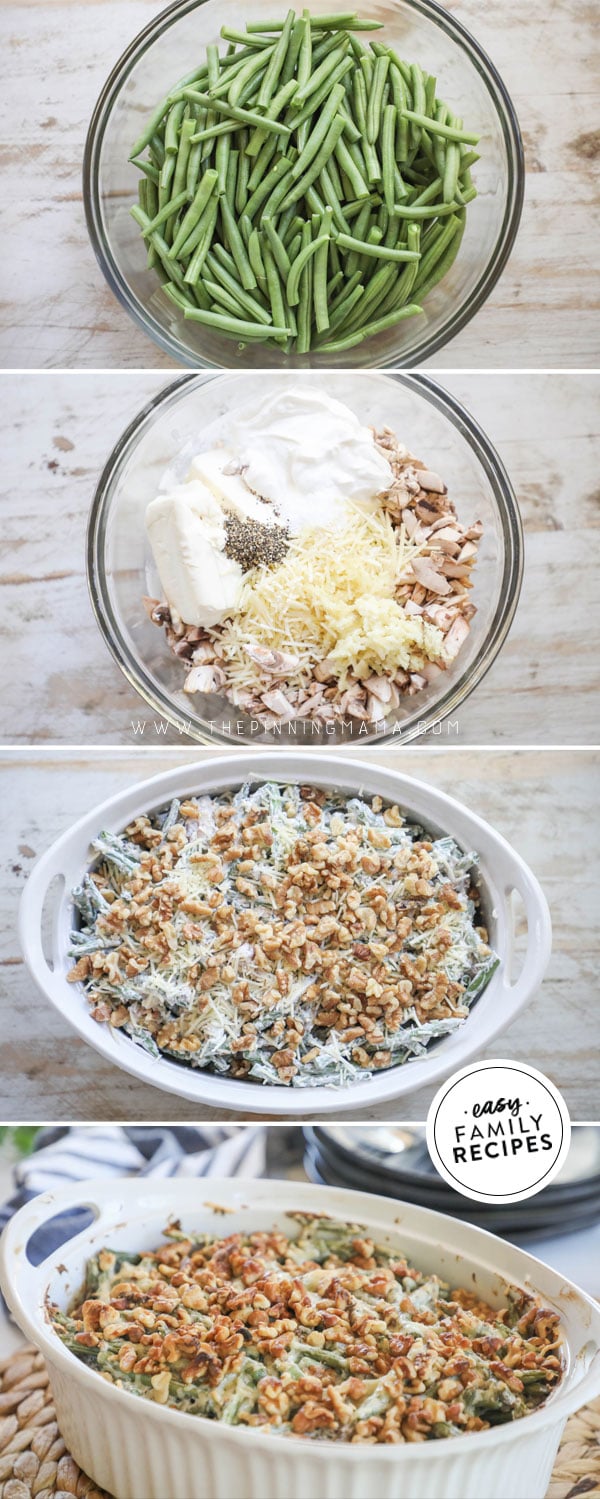 How long to Bake Green Bean Casserole
To make this casserole super simple, the cooking all takes place in one step.
Because of this, you will need to cook the casserole at a high temperature for enough time to soften and cook the green beans all the way to the center. This generally takes 45-55 minutes.
Make sure you cover the dish with foil as you cook, so the walnuts, cheese and green beans on top of the dish do not get burnt.
You will remove the foil towards the end of the cooking so that the walnuts can get nice and toasted.
Let it Rest
Since this Garlic Parmesan Green Bean casserole is homemade, AND because it uses the simplest method allowing it to cook together, the vegetables will release some moisture as they cook.
If you spoon this casserole out right out of the oven, it will be piping hot and delicious, however, you will see some of this liquid at the bottom.
When you let the casserole rest, the liquid starts to thicken and can be easily reincorporated into the casserole with a stir.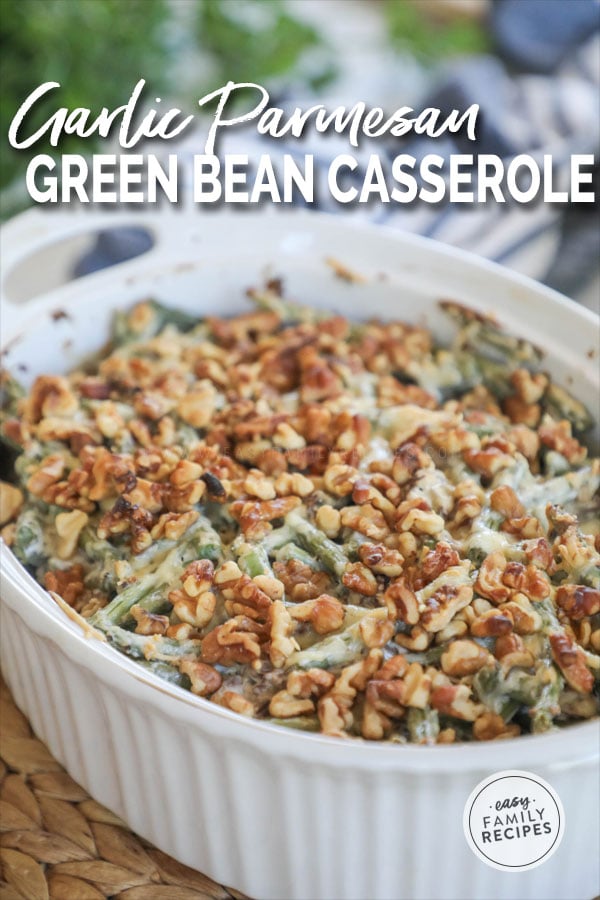 Recipe Short Cuts
The recipe as written is quick to put together, but if you are in a time crunch, there are a few things you can do to make this recipe even quicker.
Use canned green beans. Drain canned green beans and pat dry, then mix with the sauce and bake. Because the green beans are already cooked, you can shorten the baking time to 25-35 minutes.
Pre-cook the green beans. If you like the idea of fresh but still want to shorten the cooking time, you can pre-cook the green beans by steaming them on the stove, or microwaving them. Then continue to make the casserole as directed. You should only need to cook the casserole 25-35 minutes with this method.
Use pre-chopped nuts and veggies. You can find pre-chopped walnuts in the baking section and sliced or chopped mushrooms in the produce section.
Prepare the casserole ahead of time. The green bean casserole can be prepared up to 24 hours in advance and stored in the fridge until baking. I recommend keeping the walnuts off until right before you are ready to cook and then adding them.
Dietary Considerations
If you are cooking for a crowd, it is likely there will be some special dietary needs. This casserole fits the bill for several common requirements.
Gluten Free– This casserole is naturally gluten free. Make sure to check individual ingredients purchased to ensure compliance.
Low Carb/ Keto– With only 7g net carbs per serving, this is a great low carb side dish option.
Egg Free– This recipe is naturally egg free.
Soy Free– This dish is naturally soy free.
More Holiday Sides
If you enjoyed this delicious, creamy Green Bean Casserole, I hope you will try some of our other holiday side dishes.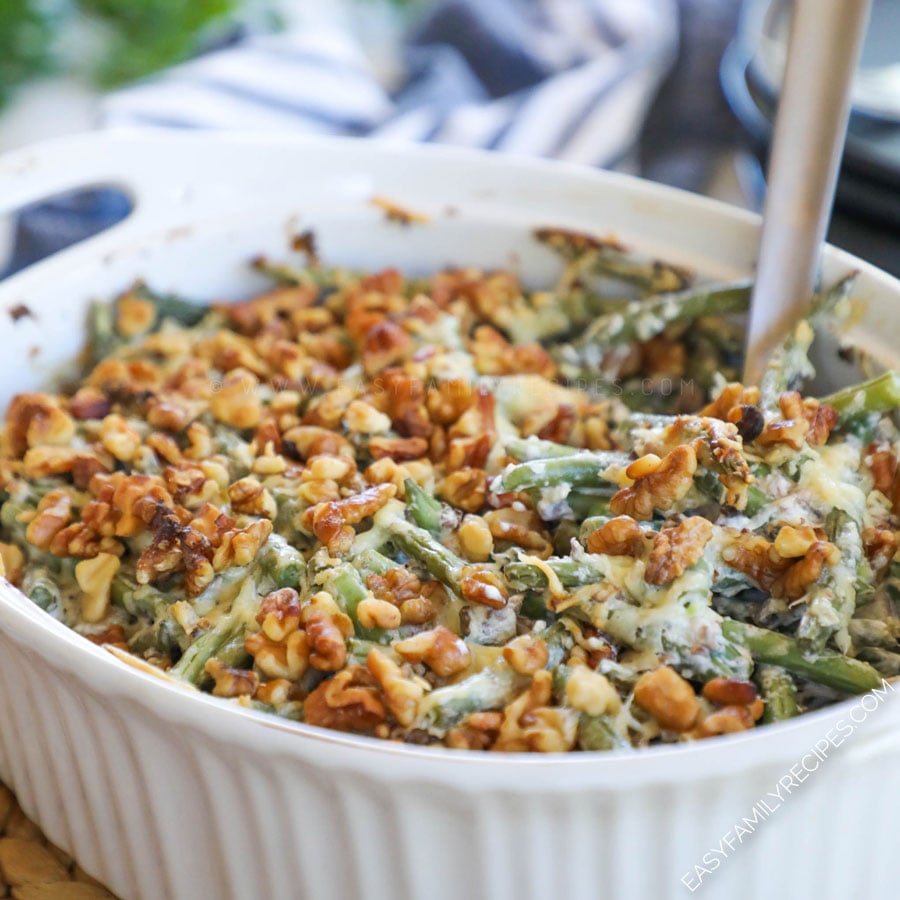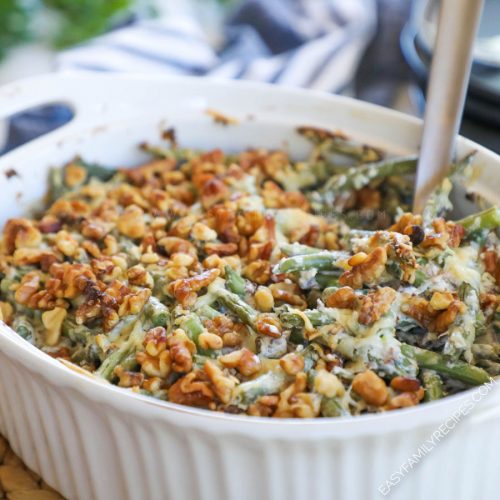 Garlic Parmesan Green Bean Casserole
Garlic Parmesan Green Bean Casserole is the most wonderfully flavorful holiday side dish! This homemade version is garlic, parmesan, and walnuts for crunch. It is not only delicious, but naturally gluten free and low carb as well.
Ingredients
32

oz

green beans

6

oz

cream cheese

,

softened

4

cloves

garlic

,

pressed

1

tsp

salt

1/2

tsp

ground pepper

1/2

cup

sour cream

2

tbsp

heavy cream

3/4

cup

parmesan cheese

,

shredded (divided)

8

oz

mushrooms

,

chopped

1/2

cup

California Walnuts

,

chopped
Instructions
Chop green beans in half and remove any hard ends.

In a large bowl, combine cream cheese, garlic, salt, pepper sour cream, heavy cream, 1/2 cup parmesan cheese, and chopped mushrooms and mix until combined.

Stir in the green beans and toss until coated with the mixture, then transfer to a large casserole dish.

Sprinkle remaining 1/4 cup parmesan cheese over the top of the casserole and then top with walnuts.

Bake covered with foil at 425˚F for 40 minutes. Remove the foil and cook for an additional 10-15 minutes, or until the nuts are toasted and the green beans are tender.

Let rest 10-15 minutes before serving for sauce to thicken.
Nutrition Information
Serving:
4
oz
,
Calories:
194
kcal
(10%)
,
Carbohydrates:
10
g
(3%)
,
Protein:
7
g
(14%)
,
Fat:
15
g
(23%)
,
Saturated Fat:
7
g
(44%)
,
Cholesterol:
34
mg
(11%)
,
Sodium:
308
mg
(13%)
,
Potassium:
341
mg
(10%)
,
Fiber:
3
g
(13%)
,
Sugar:
5
g
(6%)
,
Vitamin A:
1029
IU
(21%)
,
Vitamin C:
12
mg
(15%)
,
Calcium:
162
mg
(16%)
,
Iron:
1
mg
(6%)