Make the most of your leftover beef brisket by making this irresistible BBQ Brisket Grilled Cheese! Made with a few simple ingredients, this hearty grilled cheese sandwich will surely be a family favorite.
Brisket Grilled Cheese – The EASY Way!
This brisket grilled cheese recipe is one of my easiest and simplest recipes. Creating the perfect grilled cheese sandwich from our leftover brisket, with the combination of bbq sauce and sharp cheddar cheese is a sure fire crowd pleaser. If you need ideas for what to make with leftover brisket, this is one of our favorites!
Why I LOVE this recipe!
Perfect for all seasons– Whether fall, winter. spring, or summer. You can easily eat the sandwich all year round, warm and gooey enough to satisfy the stomach during the winter months, and the bbq sauce gives you the perfect sweet taste for summer.

Uses up leftovers– I love to make crockpot brisket at the beginning of the week as a main dish and then use the leftovers later, and it saves me time and breathes life back into leftovers to make a whole new dinner my family will love.

Family favorite– Everyone loves a good grilled cheese. You can count on kids, teens, and adults to love this delicious comfort food. Easy to make and delicious to eat, all ages will enjoy the sweet and salty combo.

Comfort food at it's finest! Bringing together comforting flavors of grilled cheese and BBQ brisket make a ultra comforting meal to enjoy.

Customizable– This beef brisket grilled cheese can easily be made with modifications that take no extra effort to make it perfect for each family member.
What to Serve with Brisket Grilled Cheese
Since this dish has the classic flavors of a Texas BBQ, it will pair well with many of your favorite bbq side dishes. There are both classic options and some healthy options to keep it light.
Side Dish Ideas
Pasta Salad– This rotini pasta salad is a classic recipe that is perfect for pairing with the brisket grilled cheese.

Soup– A favorite side dish for the classic grilled cheese. The warmth of the soup and sandwich complement each other very well. I love my creamy tomato soup alongside this dish.

Green Salad– adding a little crunch on the side of your brisket grilled cheese is perfect for the spring or summer months. Carrots, tomatoes, and cucumbers make a fresh side. I highly recommend pairing with my homemade ranch dressing! It only takes 5 minutes to make!

You can choose one or add a few sides to make a wholesome, well-rounded dinner.
Recipe Notes
This brisket grilled cheese recipe is as simple as promised! Just 8-10 minutes for a family-friendly meal.
In this section I am going to go through a few tips and tricks I use when making this recipe to get the absolute best and most delicious results.
Make sure to scroll to the bottom for the FULL recipe card.
Ingredients + Substitutions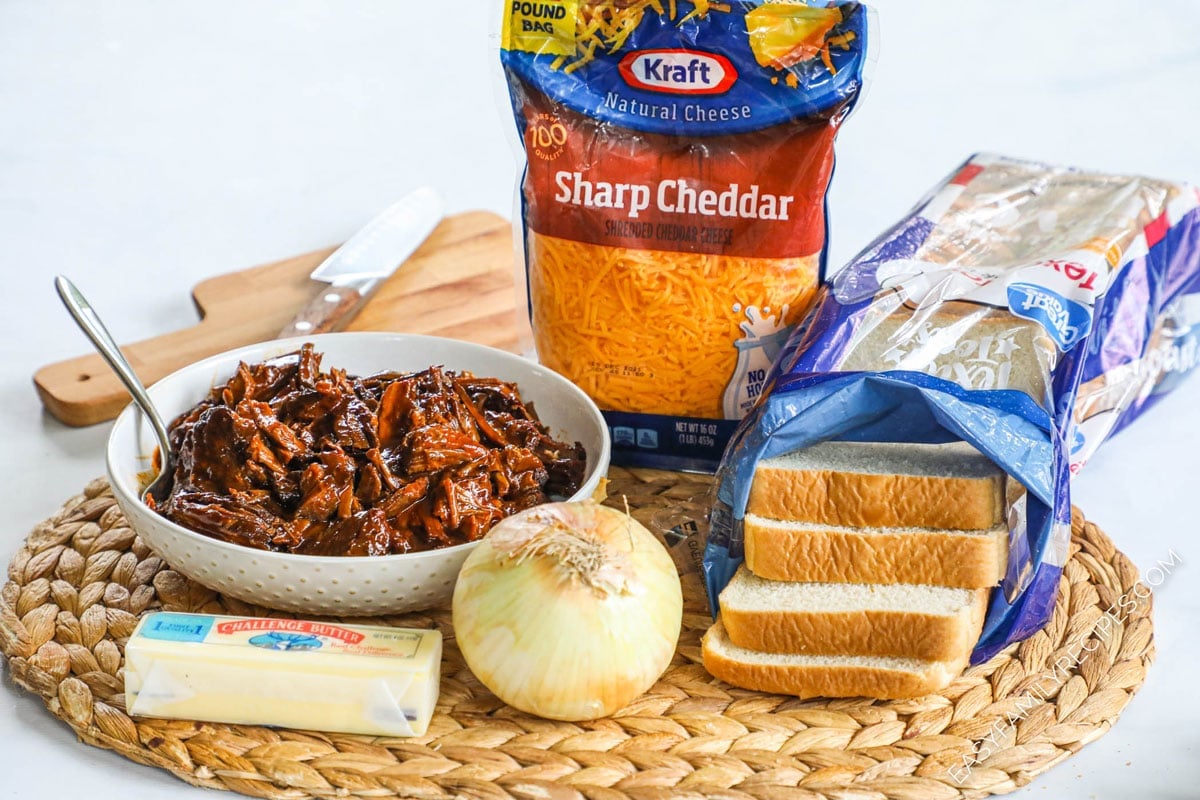 Texas toast– Texas Toast is extra thick white bread that you should be able to find on the bread aisle. It's important to use thick bread because brisket is heavy, so this helps to provide the sandwich a sturdy base.

Beef brisket– This recipe was designed to use with leftover brisket from our slow cooker BBQ brisket. You can use any leftover brisket you have on hand though, whether it is homemade, or from a restaurant. You can also substitute BBQ pork, or chicken with delicious results!
Sharp cheddar cheese– The sharp cheese melts very well, and having the sharp flavor allows you to use less cheese while getting more flavor! I prefer cheddar, but you can substitute most any melting cheese if preferred, Anything from american cheese, to mozzarella, to mexican blend, monterey jack, or colby can work well in this recipe.

Caramelized onions– This is what makes this sandwich extra special, adding a touch of sweeetness and a punch of flavor. These are optional. If you have little ones that don't care for onions, you can leave them out.

Butter– Helps turn the texas toast golden brown for the perfect sandwich.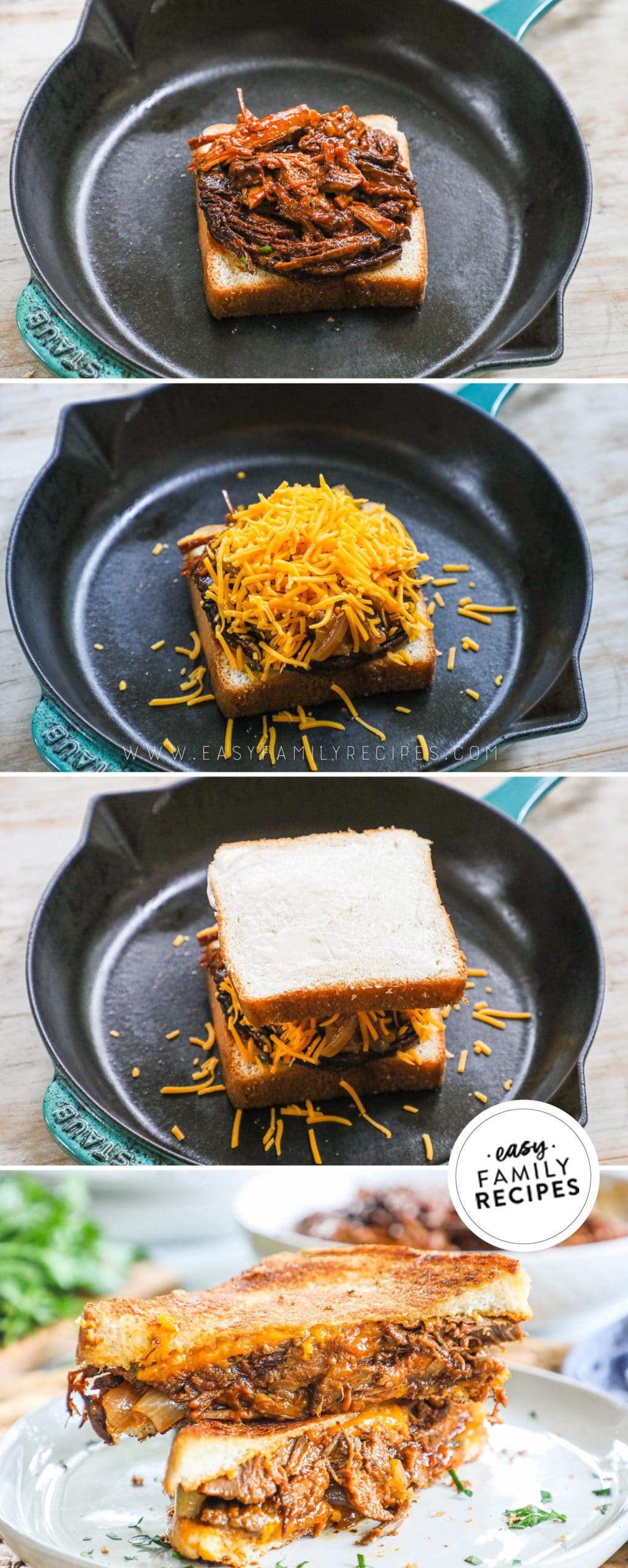 Recipe Tips
Use leftovers- Sandwiches can be made with freshly made bbq brisket but can also be prepared with leftover brisket. I like to eat the brisket as a meal itself the first day, then save leftovers to make the grilled cheese. So it is a SUPER quick and easy meal!

BBQ Sauce– Since this recipe is designed using our crock pot brisket, you may need to add bbq sauce to the brisket before making this sandwich if you are using a dry rub brisket that doesn't already have BBQ sauce incorporated.

Cooking time– You will want to cook the sandwich a little longer over low heat. About 4-5 minutes on the first side and 3-4 minutes on the other side is generally about right. The leftover brisket will be cold, so you want to give it enough time to warm up the brisket and turn the bread–golden brown over low to medium heat.
If the sandwich gets brown too fast, this means your heat is too high, turn it lower and continue.

Caramelized onions- Caramelized onions are the easiest thing to make! You just let them cook and forget about them for the most part. If the caramelized onions seem a little dry, you can add in a little bit of water as they cook to give he a jammier texture.

Softened butter– Using softened butter will be a time-saver in the long run. It will spread easier on the texas toast, and since this sandwich makes 4 sandwiches, spreading butter on 8 slices of bread will be time-consuming.
Recipe Variations
If you love this recipe as much as we do and want some quick ways to change it up for variety, these little tips will do the trick!
Garlic butter brisket grilled cheese– Grab some softened garlic butter and spread it on the outside of the texas toast to add the flavor of garlic, it's delicious with the taste of the bbq sauce and sharp cheddar.

Jalapeno brisket grilled cheese– Substitute the caramelized unions for jalapeños (or add both) to add a little spice to your life. The sweet and spicy is the perfect mix.

Brisket grilled cheese with bacon– Bacon goes with everything and a grilled cheese brisket sandwich is no different. Add some pre-cooked maple bacon or regular bacon for the perfect salty addition to your sandwich.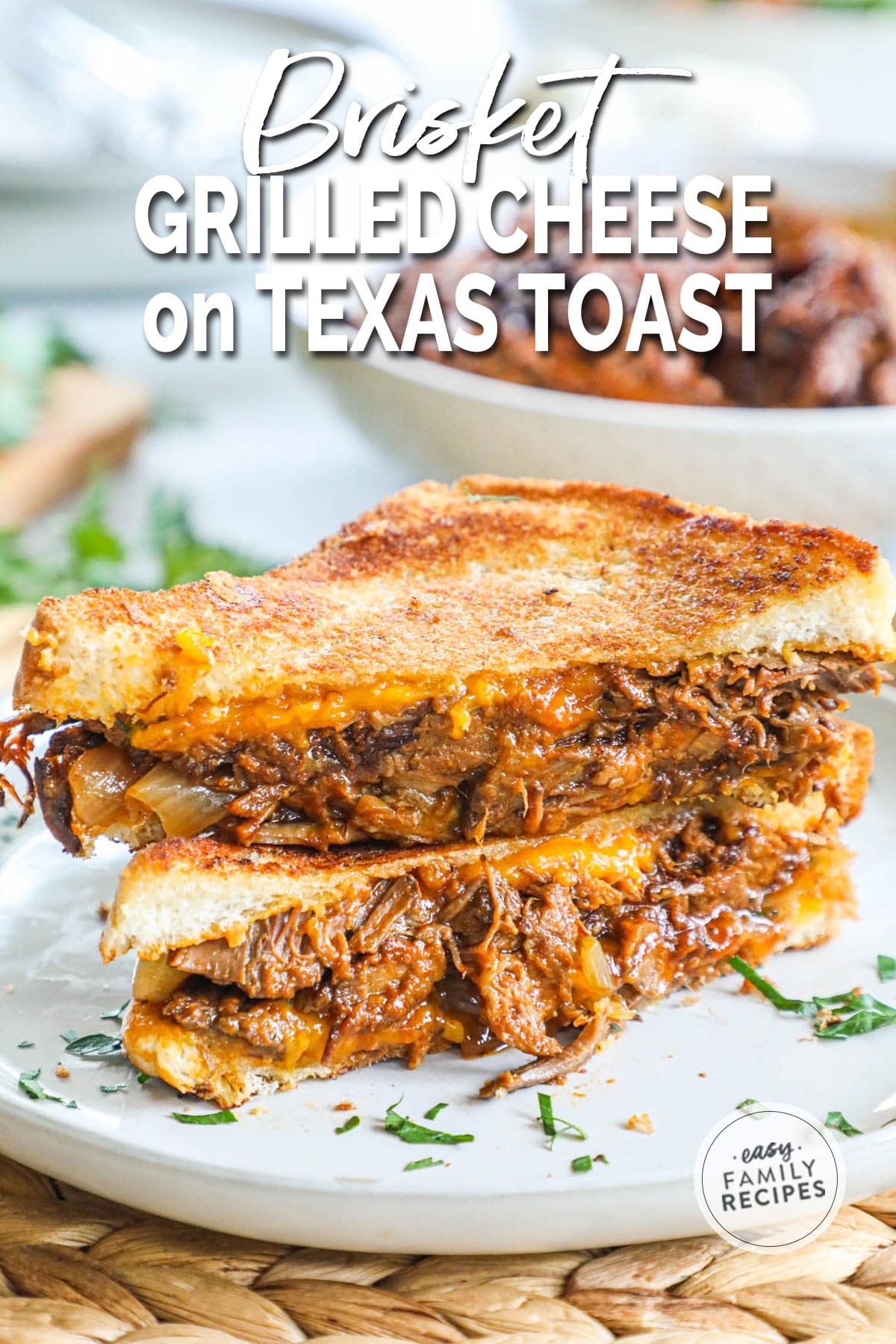 Brisket Grilled Cheese Leftovers
If you have leftovers after making grilled cheese with brisket, then it is your lucky day! This sandwich makes a great midnight snack. This recipe is not the best the next day, the texas toast can become soggy because of the bbq sauce. You can still enjoy them later in the evening.
To reheat leftovers:
Warm up a skillet on medium heat.
Place grilled cheese sandwich on skillet until cheese and brisket are warm.
More Leftover Brisket Recipes
If you enjoyed this recipe, I really hope you will take a moment to grab a few more easy recipes for another busy night!
You can check out all of my brisket recipes here, or see a few of our readers' favorite recipes below.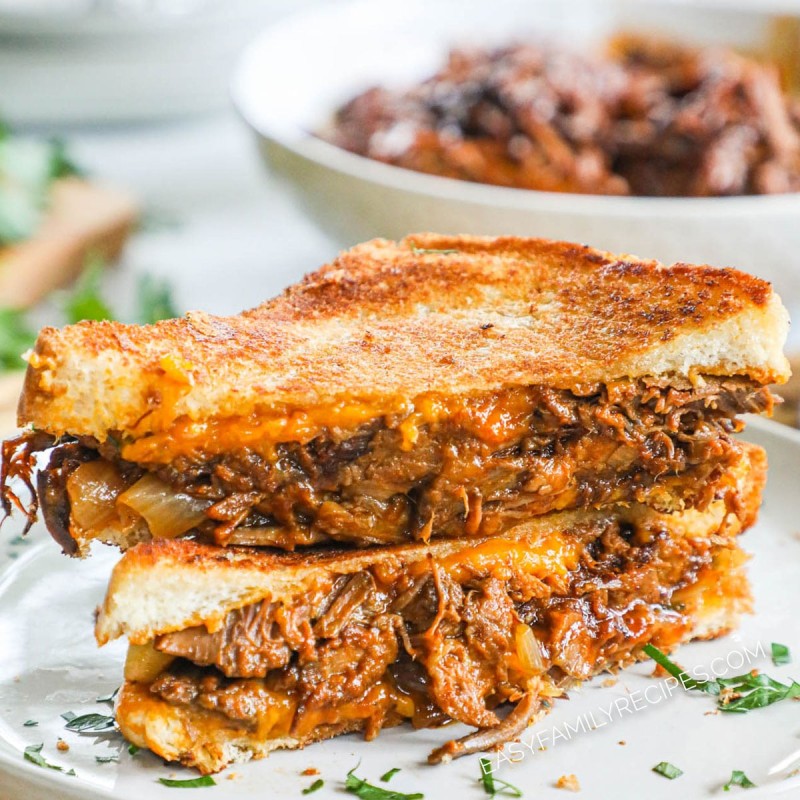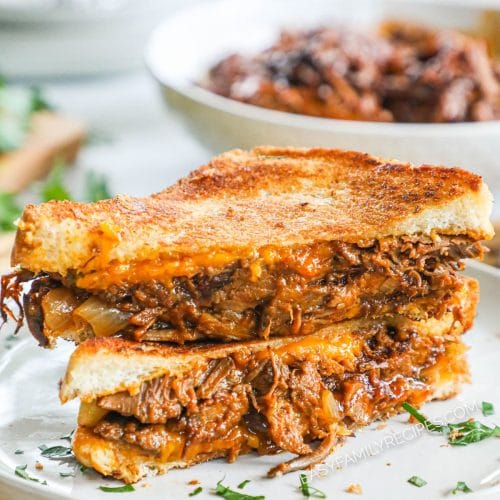 Beef Brisket Grilled Cheese Sandwich with Caramelized Onions
This easy Brisket Grilled Cheese is packed with flavor and easy to make with leftover brisket. This sandwich is the ultimate quick and easy lunch or dinner packed with flavor!
Ingredients
8

slices

Texas toast

,

(thick white bread)

16

ounces

BBQ brisket

8

ounces

shredded sharp cheddar cheese

,

or more to taste

5

tablespoons

butter

1

sweet yellow onion

,

thinly sliced
Instructions
Heat a large skillet over medium-low heat. Melt 1 tablespoon of butter in the skillet then add the sliced onion. Cook stirring occasionally for 8-10 minutes or until the onions are translucent and caramelized.

Remove from skillet and set aside.

To assemble each sandwich, butter the outside of each slice with about 1/2 tablespoon of butter. Then pile on cheese, caramelized onions, BBQ brisket, and more cheese.

Heat the pan to medium heat and place each sandwich in. Depending on the size of your pan you may be able to do 1-2 at a time. Cook for 4-5 minutes on the first side (until golden brown) and then flip to cook the other side for about 3-4 minutes.

If the sandwich gets brown too quickly, reduce the heat. You will need the heat to be low enough to cook this length of time to ensure the beef brisket is heated through.

Repeat until all sandwiches are cooked. Cut in half to serve.

If you have the leftover juices from cooking the BBQ Brisket in the slow cooker, you can serve with the juices to dip in.
Nutrition Information
Serving:
1
sandwich
,
Calories:
837
kcal
(42%)
,
Carbohydrates:
41
g
(14%)
,
Protein:
44
g
(88%)
,
Fat:
55
g
(85%)
,
Saturated Fat:
28
g
(175%)
,
Polyunsaturated Fat:
1
g
,
Monounsaturated Fat:
13
g
,
Trans Fat:
1
g
,
Cholesterol:
167
mg
(56%)
,
Sodium:
992
mg
(43%)
,
Potassium:
532
mg
(15%)
,
Fiber:
3
g
(13%)
,
Sugar:
8
g
(9%)
,
Vitamin A:
1006
IU
(20%)
,
Vitamin C:
4
mg
(5%)
,
Calcium:
435
mg
(44%)
,
Iron:
15
mg
(83%)