This Monterey Chicken Bake is the one dish dinner that will knock your socks off! Tender chicken breast is smothered in tangy BBQ sauce, smokey bacon, and gooey cheese and baked to perfection then topped off with fresh tomatoes and green onions.
It doesn't get much tastier or EASIER than this for a week night meal. With only 6 ingredients, and one dish to dirty, you can have this prepped and in the oven in minutes!
Monterey Chicken – The EASY Way!
There's easy…. then there's 1 pan, 6 ingredients, hands off cooking kind of easy.
And this Monterey Chicken bake is the later.
As far as crazy weeknight dinners go, this one is a winner for us!
It has all the flavors that my kids and husband adore, plus, if I have leftovers, there are a bunch of leftover makeover recipes that my kids actually beg for!
This means I usually make this recipe in a double batch, just to make sure! Find all of my leftover suggestions toward the bottom of this post.
What to Serve with Monterey Chicken
This chicken dish is fairly simple, but still loaded with flavor. The key flavors being the BBQ sauce and bacon. Those lend themselves well to pairing with simple, traditional sides.
Since the dish is cheesy and rich from the bacon, I like to keep the sides on the lighter side.
You can pair it with one and have a wholesome meal, or add a few side dishes to bulk up the meal and help it to go farther.
Here are some go-to sides for Monterey Chicken:
Side Dish Ideas
Pick one, or pair it with a few! These side dishes will pair wonderfully and are all simple enough to make on a busy night.
Recipe Tips
This Monterey Chicken is super simple to make. I am going to share a few of my notes and tips for getting the absolute best out of this recipe, cover substitutions, and hopefully answer any questions that may pop up along the way.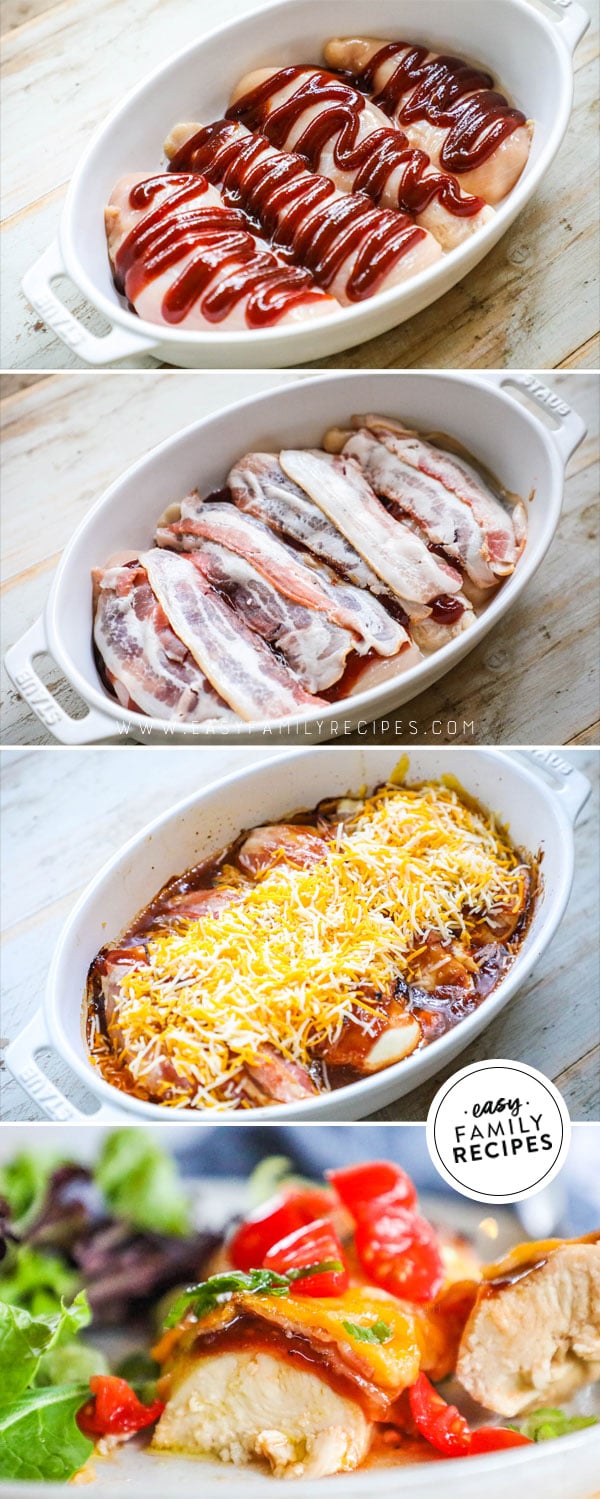 The Chicken
This recipe starts with chicken breast. I always recommend that you either cut them in half, so that they are half the thickness, use small chicken breasts, or pound them out a bit. 
Thin chicken breasts cook more quickly and evenly, that results in it being more tender, juicy when cooked. And that is half the battle to a delicious dinner!
Frozen or fresh chicken breast can be used in this recipe, however, if you use frozen, you will need to thaw it completely first.
Substitutions: If you prefer, you can use other cuts of chicken for the Monterey Chicken. Any boneless, skinless cut will work such as chicken thighs or tenderloins.
The Bacon
The smokey flavor of bacon is key to the taste of this dish. There are a couple of ways you can make this recipe, depending on your preferences, but the way we use (detailed in the recipe card) is the best combination of incredibly easy, less clean up, and all the flavor!
When you select bacon for this recipe, choose a regular or thin cut. Thick cut bacon does not work as well.
Use kitchen shears to cut the strips of bacon to the size of the chicken breast. I usually use 1-2 cut down strips per chicken breast.
The bacon should be put right on top of the chicken breast covered in BBQ sauce. I try to cover the top and overlap the two pieces ever so slightly because it helps them to stay on top and not slide off during cooking.
The dish then goes in the oven. The oven is heated to 425˚F which is higher than normal for cooking chicken. This is because the bacon protects the chicken, and the high temperature will help to give the bacon more crispy edges.
The bacon will not be completely crispy, however, will have crispy edges with the easy, one dish method. If you like your bacon extra crispy, you can use the alternate method below.
Crispy Bacon Method: To make this dish with crispy bacon, pre-cook the bacon to your desired level of crispiness. Reduce the cooking heat of the recipe to 350˚F. Bake the chicken covered in BBQ sauce for 20-25 minutes or until it is no longer pink. Top each chicken breast with the crispy bacon, cover with cheese, and put back into the oven for 3-5 minutes or until the cheese is completely melted. Remove and continue with recipe as directed.
Substitutions: You can use most any bacon or bacon product you like for this recipe including turkey bacon, vegetarian bacon, or any flavor of regular bacon. If you use thick cut bacon, I recommend using the alternate method detailed above to make sure it gets cooked through.
Other Ingredients
You only need 4 other ingredients for this recipe, and I only have a couple of notes for you on them!
Barbecue sauce – Use your favorite flavor or brand. We generally use Sweet Baby Rays.
Colby Jack cheese- Colby jack is traditional here, but you can sub cheddar or Mexican blend.
Grape tomatoes- I like grape because they are extra sweet, but any diced tomato will do.
Green onions
How Long to Cook the Chicken
I talked about the method a bit in the bacon section above, but the method is important and a little different than how we normally cook chicken so I want to share a few notes.
We start out at a higher temperature in this recipe. This is to help the bacon get crispy. Make sure you are using the upper rack (middle or higher) in your oven so the bacon is close to the heating element.
It is important to make sure you have thin chicken breasts, or else the high temp can cause your chicken to become more tough, by the time it takes to cook thicker chicken all the way through.
With thin chicken breasts, the chicken shouldn't take longer than 20-25 minutes to cook. If you want the most tender chicken, I recommend using a meat thermometer and cooking to 165˚F exactly!
You can turn the oven to broil right at the end of the cook time if you want crispier edges on your bacon. Just make sure to watch it closely or you could end up with burnt bacon! This step is optional, but tasty!
At this point, you can throw the cheese on and reduce the temp to 350˚F. The chicken should be cooked, you just want to get the cheese nice and melted so give it a few minutes and you should be good to take it out and get ready to serve.
Recipe Variations
This recipe is deliciously classic as is. If you love it and make it often, you may want to try some of these variations for a fun flavor twist!
Monterey Ranch Chicken– Make as directed. When done, drizzle with ranch dressing (this homemade ranch recipe is AMAZING) and then top with the tomatoes and green onions.
Spicy Monterey Chicken– Use a spicy BBQ sauce (I like the Sriracha BBQ sauce from Trader Joes) or mix Sriracha into your BBQ sauce. Make recipe as directed subbing pepper jack for colby jack, then add jalapeño slices to the tomato and green onion garnish.
Monterey Chicken Casserole– Use precooked shredded chicken, mix with BBQ sauce and bacon crumbles. Bake at 350˚F for 30 minutes. Top with cheese to melt, then garnish with tomatoes, green onions, and extra bacon!
Dietary Considerations
This recipe is friendly for many dietary needs, and can be easily modified to meet a variety of others. 
Gluten Free– This recipe is naturally gluten free. Check all store bought ingredients for compliance.
Low Carb/Keto – This recipe can be made low carb by using sugar free BBQ sauce. This will reduce the carbs to roughly 4 g net carbs per serving.
Dairy Free– This recipe can be made dairy free by omitting the cheese. The recipe flavor will be altered, but it will still be delicious.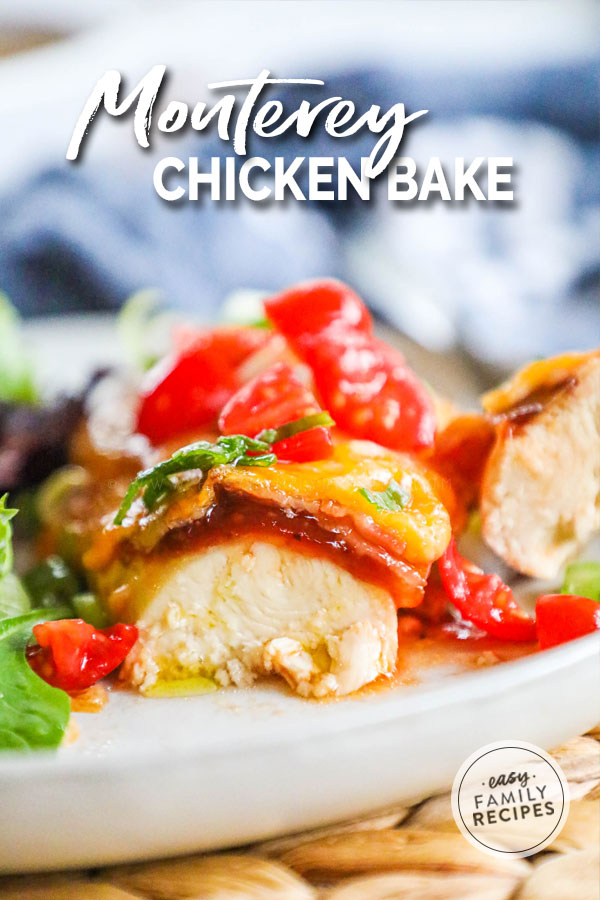 Freezer Friendly
This recipe is quick and easy enough to whip up fast, but if you like to prep ahead using freezer meals, then this can be prepared in a freezer meal method and kept frozen up to 3 months.
Freezer Meal Instructions
Prepare the chicken breasts and layer BBQ sauce and bacon on top of them. (For crispy bacon method, pre-cook bacon and freeze separately)
Place in an airtight container or zip top bag.
Freeze.
When ready to make, thaw for 24-48 hours.
Place in an oven safe dish and continue with recipe as directed.
Monterey Chicken Leftover Ideas
Leftovers of Monterey Chicken can be made just as delicious as the original meal. As a matter of fact, some of my kids favorite dinners are made from leftovers of this meal.
To save leftovers, place in an airtight container and store in the:
Refrigerator for 3-4 days
Freezer for up to a month
Leftover Recipes
Monterey Chicken Nachos– Layer tortilla chips on a sheet pan. Sprinkle with colby jack cheese. Dice leftover chicken and spread it over the chips. Add black beans. Cover with additional cheese. Bake at 425˚F for 8-12 minutes or until the nachos are heated through and the cheese is melted. Drizzle with BBQ sauce and serve with pico de gallo and sour cream.
Monterey Chicken Stuffed Peppers– Prepare white or brown rice. Chop up leftover chicken and mix with rice at about a 1:1 ratio. Add extra BBQ sauce as needed to keep it moist. Cut peppers in half and remove seeds and ribs. Fill with chicken mixture and top with cheese. Bake at 350˚F for 35-45 min or until the peppers are tender.
Monterey Chicken Quesadillas– Chop leftover chicken. Heat a skillet over medium heat. Butter one side of a large tortilla. Place the tortilla in the skillet. Fill half of the tortilla with the chopped chicken and an extra sprinkle of cheese. Fold the tortilla over and cook until golden brown, then flip and repeat on the other side. Cut into triangles and serve with sour cream and salsa.
Monterey Ranch Chicken Sandwich– Heat leftover Monterey chicken. Lightly toast a bun in a skillet or toaster. Place the chicken breast on the sandwich. Add  lettuce, tomato, and spread ranch dressing on the top of the bun. Cut in half and serve hot!
Monterey Chicken Stuffed Baked Potatoes– Bake potatoes using your preferred method. Split the potatoes and fluff. Chop and heat leftover Monterey Chicken. Add a pat of butter to the potato then the chopped chicken. Top with an additional sprinkle of cheese and bake for 15-20 minutes or until cheese is melted. Top with sour cream and green onions.
More EASY Chicken Recipes
If you enjoyed this recipe, I hope you will browse through a few more of our recipes and bookmark some for another day. You can find all of our chicken recipes here, or see a few of our favorite one dish recipes below.
Hungry for more family-friendly recipes? Sign up for my free recipe club to get new family-friendly recipes in your inbox each week! Find me sharing daily meal-time inspiration on Pinterest, Instagram, and TikTok.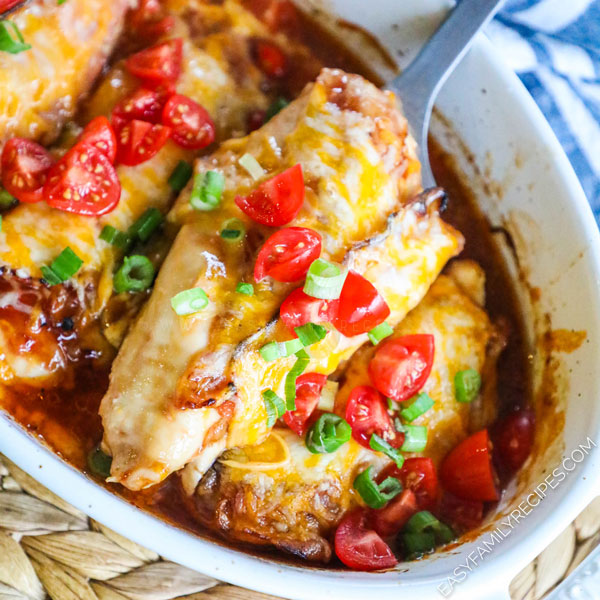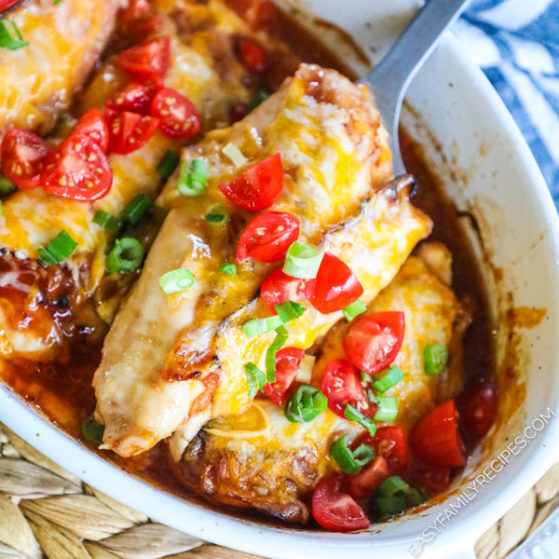 Monterey Chicken Bake
Monterey Chicken is not only DELICIOUS, but quick and easy to make with only 6 ingredients and one pan. The combination tangy BBQ sauce, smokey bacon, and rich colby jack cheese makes this a meal the whole family will love!
Prep Time: 10 minutes
Cook Time: 25 minutes
Total Time: 35 minutes
Serves:4 servings
Hover over "serves" value to reveal recipe scaler
Ingredients
2 lbs boneless skinless chicken breast thinly cut or pounded
6 tbsp BBQ sauce
4 oz bacon regular or thin sliced
4 oz grape tomatoes quartered
1 cup colby jack cheese shredded
2 green onions sliced
Instructions
Preheat the oven to 425˚F. Place chicken flat in the bottom of a baking dish. Spread 1-2 tbsp BBQ sauce on each chicken breast.

Cut the bacon into slices equal to the size of the chicken breast and lay it over the top of the chicken. Bake uncovered for 20 minutes. If you want crispier edges on your bacon, broil for 2-5 additional minutes.

Remove from oven and sprinkle cheese over the top, then turn oven to 350˚F and cook for 5 additional minutes, or until chicken is cooked through (165˚F internal temp.)

Once done, sprinkle tomatoes and green onions over the top. Serve warm. Enjoy!
Recipe Notes:
Crispy Bacon Method
To make this dish with crispy bacon:
pre-cook the bacon to your desired level of crispiness.
Reduce the cooking heat of the recipe to 350˚F. Bake the chicken covered in BBQ sauce for 20-25 minutes or until it is no longer pink.
Top each chicken breast with the crispy bacon, cover with cheese, and put back into the oven for 3-5 minutes or until the cheese is completely melted.
Remove and continue with recipe as directed.
Nutrition Information:
Serving: 10ozCalories: 559kcal (28%)Carbohydrates: 13g (4%)Protein: 60g (120%)Fat: 28g (43%)Saturated Fat: 12g (75%)Cholesterol: 195mg (65%)Sodium: 922mg (40%)Potassium: 1082mg (31%)Fiber: 1g (4%)Sugar: 10g (11%)Vitamin A: 751IU (15%)Vitamin C: 8mg (10%)Calcium: 253mg (25%)Iron: 2mg (11%)
(Nutrition information provided is an estimate and will vary based on cooking methods and brands of ingredients used.)