This ultra creamy Mushroom Chicken Bake has all of the rich flavors of a delicious comfort food, while still being packed with veggies and protein for a whole dinner. Tender chicken breast is smothered with a rich mushroom sauce and baked to perfection!
Made in just one dish, this chicken dinner will hit the spot even on extra busy week nights where you need something takes only minutes to prepare. Once you mix together the handful of ingredients for the toppings, this easy chicken breast recipe will bake hands off, so you can get other things done.
Easy Baked Mushroom Chicken
Mushrooms are one of those foods where either you love them or you hate them.
If you LOVE them, then this recipe is for you!
With not just one, but TWO varieties of mushrooms, this dish is loaded up on mushroom flavor. The creamy sauce that they are mixed into enhances the flavor and gives it that over the top delicious quality.
Aside from the amazing flavor, the best part of the recipe has got to be how easy it is!
Made with just a few everyday ingredients, all this recipe requires is a quick stir and a dump over the chicken breast.
Everything bakes together, hands off, and the result is tender juicy chicken smothered in a rich creamy mushroom topping.
What to Serve With Mushroom Chicken Bake
This dish is packed with mushrooms, onions, and tender chicken, so it is hearty and rich in and of itself. You can pair the Mushroom Chicken Bake with just one or two sides for a really wholesome and filling meal.
Side Dish Ideas
Pair it with one or stretch the meal by adding a few side dishes to the menu. If you need more ideas, check out all of our side dish recipes here!
Make sure and leave me a comment below and let me know how you liked the recipe and what you served it with!
Mushroom Chicken Bake – Tips & Tricks
This recipe is perfectly quick and easy to make dinner on a hectic night a snap. There are a few tips and tricks I will share with you to answer any questions that might come up, as well as offer a few thoughts to help you get the best tasting chicken.
Ingredients
Most of the ingredients in this dish are pantry staples and can be found easily at any grocery store. I will walk through some of my preferences and also offer substitutions where applicable.
Chicken Breast
Chicken breast is the hearty protein packed base for the recipe. I prefer chicken breast because it is lean and tender.
Tip: Make sure you either purchase thin chicken breast, or slice them horizontally so that they are half the thickness. This helps them to cook more quickly and easily and also keeps them tender.
Substitutions: If you prefer, you can use other cuts of chicken in this recipe. Make sure they are boneless and skinless for the best results. Cuts that work well are:
Chicken thighs
Chicken tenderloins
Mushrooms
This is obviously the key ingredient in the recipe! I use a combination of baby bella and white mushrooms when I make this dish.
Tip: The more thin the mushrooms are sliced (or smaller they are diced) the more they will cook and get soft in the oven.
Substitutions: Both white and baby bella are very common mushroom varieties and should be available at any grocery store. If you can't find one or the other, you can just use one variety. Or if you have access to other types of mushrooms you can add them in this recipe as well.
The Sauce
Even though this is not a true sauce, it is the creamy mixture that coats the mushrooms and chicken so I think that is the best word to describe it.
The sauce is made up of cream cheese, sour cream, mozzarella cheese and seasonings. Each of these plays an important part in the flavor and consistency of the end result.
Tip: Make sure the cream cheese is very soft before mixing. This will help it evenly distribute rather than having lumps of cream cheese throughout.
Substitutions:
Light cream cheese and light sour cream can be used in lieu of full fat versions with good results. I do not recommend using Fat Free cream cheese as it doesn't melt and combine in the same way that regular cream cheese will.
Parmesan cheese can be substituted for mozzarella if you like a sharper flavor.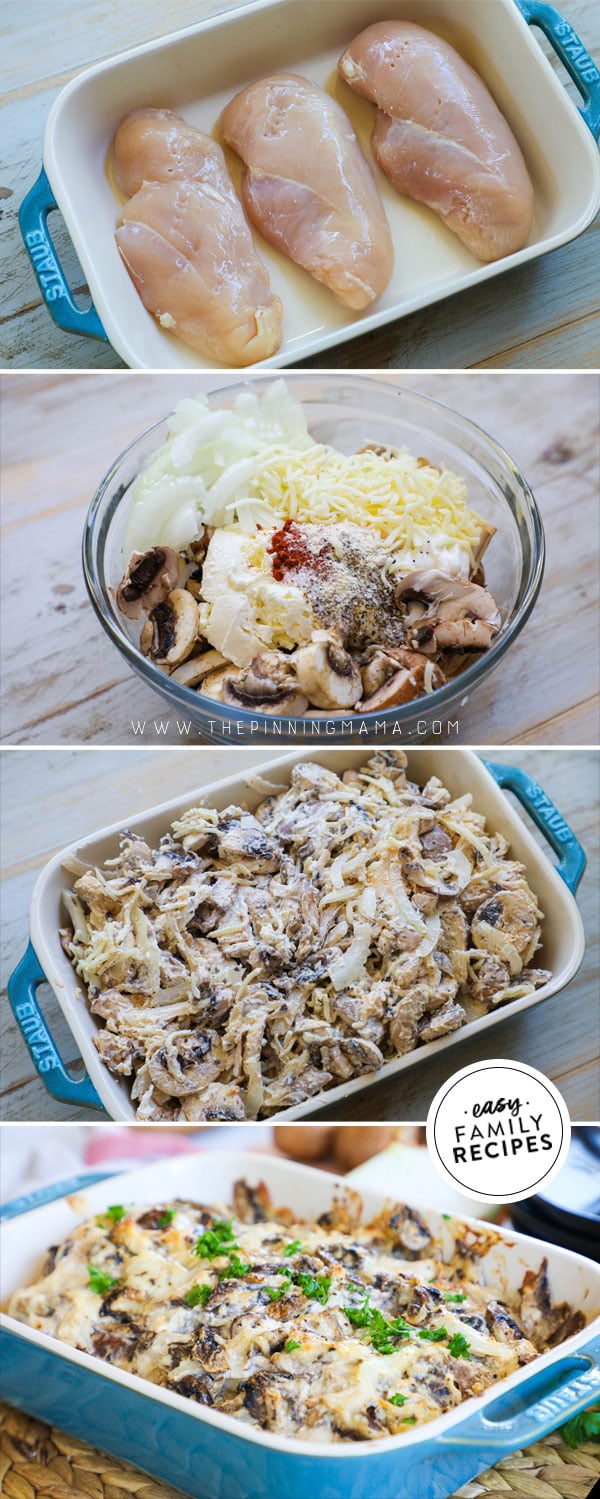 Instructions
To help you get the absolute most tender, perfectly cooked chicken I have a few pointers on putting this dish together.
Make sure you have a roomy casserole dish. Don't smash the chicken together too much or it will take longer to bake. Choose a dish where all of the chicken breasts can be laid flat. If you need to, you can use two smaller dishes, as opposed to one large on.
When mixing the mushroom topping, it is smart to start with the cream cheese, sour cream, and spices. You can mix those together smoothly and then stir in the cheese and mushrooms.
I bake this dish uncovered. That works to cook and brown the top perfectly, however, how an oven cooks can vary by climate, type of power and size rather greatly. My recommendation is to keep an eye on it and if it starts to brown more than you want, cover it loosely with foil for the remainder of the baking time.
After baking the dish will be piping hot! I like to let it sit for about 5 minutes to lock in the juices. If there is a lot of liquid in the dish (both the chicken and mushrooms will release liquid as they cook) you can lift the chicken with toppings out of the drippings and discard the thin liquid, or you can stir them into the drippings for more of a sauce.
Recipe Short Cuts
If you are in a rush, this recipe can be prepped quickly so you are in luck! If you are in an even bigger hurry, there are a few short cuts you can take to get the Mushroom Chicken Bake in the oven ASAP!
Buy presliced mushrooms– this can save lots of time chopping and they are sold sliced in most grocery store produce sections.
Prep the sauce– You can prep the sauce up to the point where you add mushrooms in up to 3 days in advance and store in the refrigerator.
Prep the chicken – Chicken can be trimmed, cut thin, and placed in the baking dish ready to have the toppings added and then covered with plastic wrap and placed in the refrigerator. You can do this up to the expiration date on the package.
Dietary Restrictions
This Mushroom Chicken Bake is friendly for a couple of different dietary needs and some modifications are available.
Gluten Free- This dish is naturally gluten free, however, some mushrooms are grown on wheat, so if you are very sensitive to gluten make sure to check the source of the mushrooms.
Low Carb/Keto– This recipe is compliant with most low carb diets such as Keto with only 6g net carbs per serving. You can further reduce the carb count by omitting the onions in the recipe.
Mushroom Chicken Leftover Ideas
If you have leftovers, you can save them to reheat for lunch or dinner another night. The Creamy Mushroom Chicken Bake does reheat well, so it is an added bonus to have leftovers for later!
To save leftovers, package them in meal sized portions in an air tight container, and store in the
Refrigerator for 3-4 days
Freezer up to a month
Leftover Recipe Ideas
Creamy Mushroom Chicken is great as is, but I love to use the leftovers as a base for a completely new meal! I am going to share several things you can make with leftover mushroom chicken, but really the sky is the limit. There are so many more great ways to use this dish.
Chicken and Mushroom Paninis– chop leftover mushroom chicken and spoon the mixture between 2 slices of Italian bread. Add spinach and mozzarella cheese. Butter the outsides of the bread then cook in a skillet over medium heat until the bread is golden brown. Flip and repeat.
Creamy Mushroom Chicken Cauliflower Rice bowl– Chop leftover mushroom chicken. Place cauliflower rice in a skillet with olive oil over medium high heat. Season with salt pepper and fresh crushed garlic and cook 6-8 minutes stirring occasionally. Reduce the heat to medium and stir in the leftover chopped chicken and cook until heated through. Turn off heat and top with mozzarella and parmesan cheese and replace the lid until the cheese has melted. Garnish with freshly chopped parsley.
Spinach Mushroom Chicken Baked Shells– Chop leftover mushroom chicken. Mix with frozen spinach that has been thawed with liquid wrung out. Cook large pasta shells per package directions. Spoon alfredo sauce into the bottom of a baking dish. Fill each shell with the mixture and place in dish, then cover with additional sauce and cheese. Bake for 25-35 minutes or until heated through.
Mushroom Chicken Pizza– Chop the leftovers of the mushroom chicken bake. Spread a small amount olive oil and freshly pressed garlic over a prepared pizza crust. Cover crust with shredded mozzarella or Italian blend cheese. Sprinkle the chopped chicken and mushroom mixture over the top of the pizza. Optional additional toppings: a dash of crushed red pepper, pepperoni, ricotta cheese, fresh basil, chopped spinach. Bake as directed on the crust.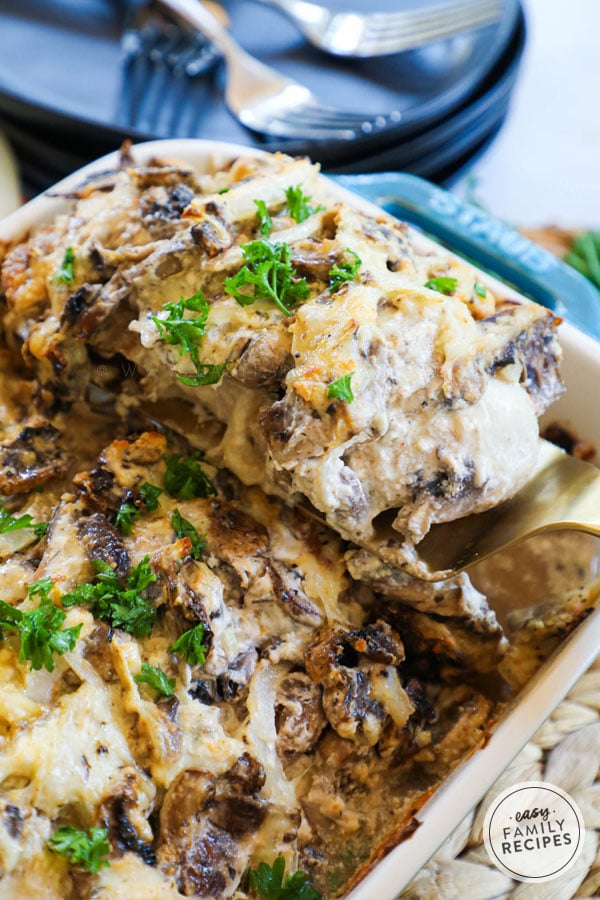 More Easy Dinner Recipes!
If you enjoyed this recipe I hope you will bookmark some of our other delicious dinner ideas for another night! You can see all of our Dinner Recipes here, or grab ideas from some favorites below.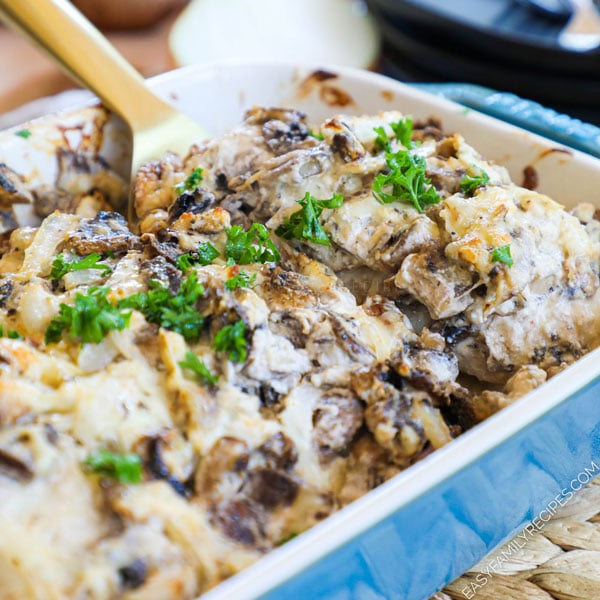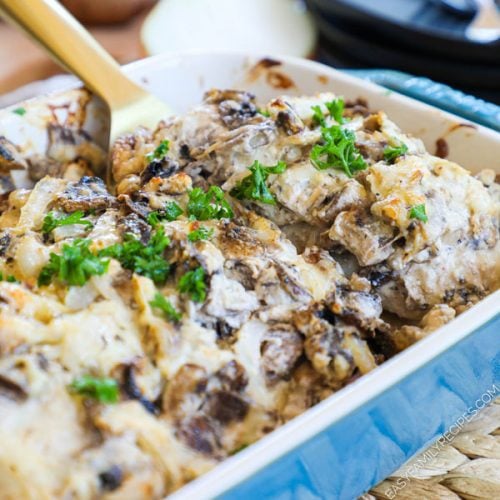 Baked Creamy Mushroom Chicken
This Mushroom Chicken Bake is smothered in mushrooms and full creamy, cheesy goodness. It is the perfect easy dinner idea since it is made in just one pan.
Ingredients
2

lbs

chicken breast

,

(boneless, skinless) thinly sliced

8

oz

baby bella mushrooms

,

sliced

4

oz

white mushrooms

,

sliced

1/2

sweet yellow onion

,

thinly sliced

4

oz

cream cheese

,

softened

1/2

cup

sour cream

4

oz

mozzarella cheese

,

shredded (about 1 cup)

1

tsp

garlic powder

1

tsp

salt

1/2

tsp

onion powder

1/2

tsp

black pepper

1/4

tsp

smoked paprika
Instructions
In a large bowl, combine the cream cheese, sour cream, garlic powder, salt, onino powder, black pepper, paprika, and mozzarella cheese and stir to combine. Mix in the mushrooms and sliced onion and continue to stir until everything is evenly coated.

Lay the chicken breast flat in a baking dish. Cover with mushroom mixture.

Bake at 375˚F for 35-45 minutes or until the chicken is cooked through (165˚F internal temperature.)

Remove from the oven, garnish with fresh parsley. Serve warm. Enjoy!
Nutrition Information
Serving:
8
oz
,
Calories:
355
kcal
(18%)
,
Carbohydrates:
7
g
(2%)
,
Protein:
40
g
(80%)
,
Fat:
19
g
(29%)
,
Saturated Fat:
9
g
(56%)
,
Cholesterol:
142
mg
(47%)
,
Sodium:
763
mg
(33%)
,
Potassium:
895
mg
(26%)
,
Fiber:
1
g
(4%)
,
Sugar:
4
g
(4%)
,
Vitamin A:
587
IU
(12%)
,
Vitamin C:
4
mg
(5%)
,
Calcium:
155
mg
(16%)
,
Iron:
1
mg
(6%)