Pesto Chicken Salad is a fresh and delicious meal you can make in minutes. This creamy chicken salad is perfect for making sandwiches, topping salad greens, or making making wraps with lettuce or flat bread. With tender chicken tossed with celery parmesan in a creamy pesto sauce, this dish is mouthwateringly delicious!
Pesto Chicken Salad – The EASY Way!
If there is one staple I love to have in my refrigerator, it is chicken salad! Chicken salad is great because:
It is easy to make
can be so many great fresh flavors
Makes a great FAST meal, or a meal on the go
There are SO MANY ways to serve it, you can eat it day after day and keep it exciting!
It can stay in the fridge for 3-4 days and taste just as good as when it was made fresh
Because we are on the go so much, meals like this Pesto Chicken Salad give us a way to still have homemade, really delicious meals, even when we need to eat quickly or pack a meal to take with us.
This Pesto Chicken Salad is one of our favorites because it is especially delicious! The fresh flavors shine in just the right way, and are loved both by the kids and grown ups in our home.
Besides serving this as an everyday meal in our home, it has become my go-to recipe for entertaining. It is perfect for bringing to a potluck, or adding to the buffet table at a baby shower, wedding shower, or brunch. It looks beautiful, tastes delicious, and just feels fancy, yet is just too easy to make!
How to Serve Pesto Chicken Salad
Since this dish has the classic flavors of XXXXXX, it will pair well with many of your favorite XXX side dishes. There are both classic options and some healthy options to keep it light.
Serving Ideas
Pesto Chicken Salad Sandwich– Try it toasted for a special treat
Pesto Chicken Salad Wraps – Try using flat bread for traditional wraps or lettuce for a low carb meal.
Pesto Chicken Salad Croissants
Pesto Chicken Salad over salad greens– I prefer mixed greens, arugula, spinach, or romaine
Pesto Chicken Salad stuffed tomatoes – hollow out beefsteak tomatoes for a larger meal, or roma tomatoes for a smaller meal and fill with chicken salad. To help them stand up, you can slice a small piece off of the bottom to flatten it.
Pesto Chicken Salad stuffed peppers– Stuff chicken salad in a half of a sweet bell pepper. If you want to soften the pepper you can cook it slightly to make it more tender
With crackers– One of my favorite ways to serve
With veggies– Try celery sticks, sliced cucumbers, zucchini and squash.
Sides that pair well with chicken salad
If you are serving this as a meal or setting it up as a buffet for entertaining, I love to pair chicken salad with other salads to make a well rounded and filling cold meal.
Pick one or add a few! These salads all compliment the flavors of pesto and add some great variety to the table.
Recipe Notes
This Pesto Chicken Salad recipe is as simple as promised! Just seven ingredients for a family friendly meal.
In this section I am going to go through a few tips and tricks I use when making this recipe to get the absolute best and most delicious results.
Make sure to scroll to the bottom for the FULL recipe card.
Ingredients
Shredded chicken– You can use any kind of neutral flavored shredded chicken. Our favorite kinds to use are:

Rotisserie chicken – my personal favorite!
Leftover chicken (not flavored) fried, baked, etc
Baked chicken
Boiled chicken
Canned chicken – this is not my favorite, but will work in a pinch

Mayonnaise– I like Duke's but any brand will work
Pesto– You can use prepared pesto or homemade pesto. If you choose to use prepared pesto, I highly recommend you buy the kind that is kept in the refrigerated section. I think the flavor is much superior to the jarred pesto in the canned goods aisle or specialty foods section.
Celery– chop into small bite-sized pieces
Sweet green peas– I like to use thawed frozen peas. Canned peas will not work well in this recipe.
Sweet onion– Finely dicing the onion helps to add flavor without getting the bite of raw onion in the flavor.
Parmesan Cheese– I use shredded cheese as opposed to grated because the grated will soak up more of the liquid in the salad and make it a bit more dry.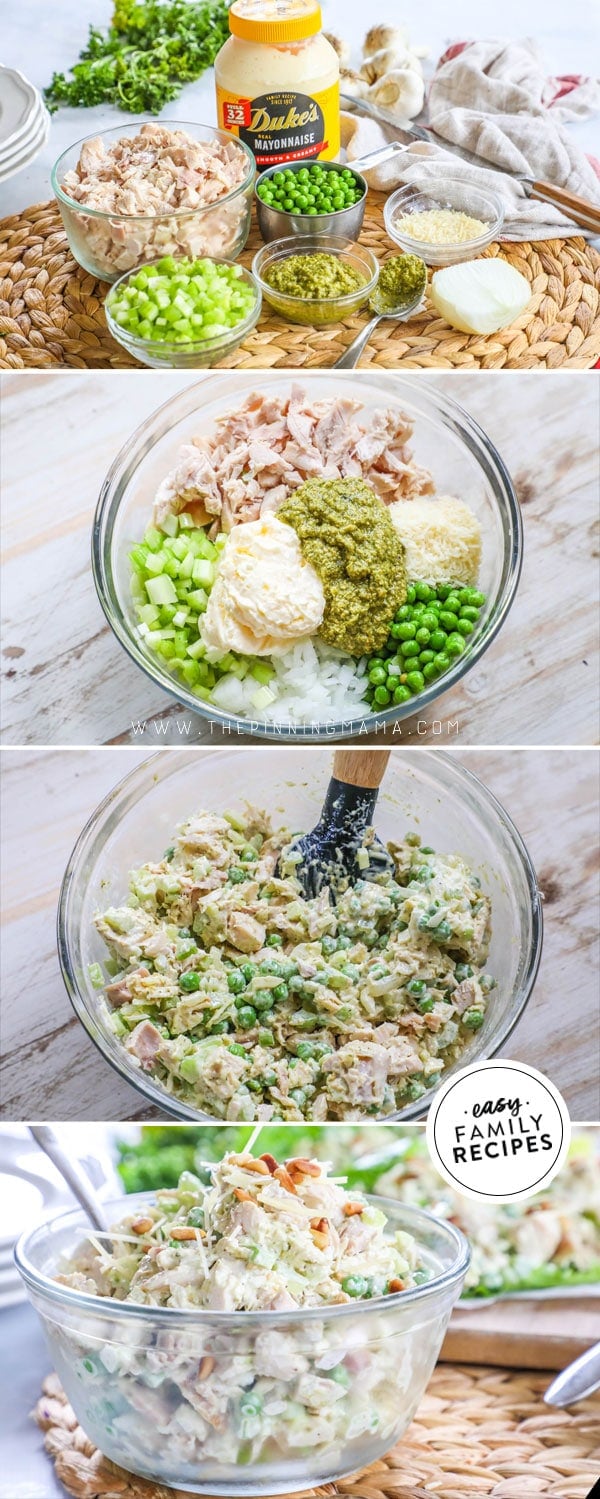 Easy Family Recipe's Tips
Start with good chicken. The base of this salad is chicken so if you start with chicken that has great flavor and texture like rotisserie chicken then it just makes it all the more delicious! Depending on your preference you can use chicken breast, chicken thighs, or a mix of white and dark meat.
Use the veggies! I love to pack my chicken salad full of celery and other vegetables because it helps to lower the overall calories and cost of the salad, while packing in extra nutrients. If you want to add more celery or other veggies, feel free!
Real Mayo makes a difference! I recommend using real (full fat) mayonnaise instead of replacing it with Miracle Whip or a light variety. There is a relatively small amount per serving size and it makes all the difference in the creaminess and richness of the dish.
Combine the dressing, then mix in the rest. To get the most even mixture, start my mixing the mayonnaise and pesto then fold in the chicken and vegetables to the mixture. This ensures that the mayo and pesto are evenly mixed and distributed to dress the salad.
Recipe Short Cuts
If you need to make this recipe, but are extra short on time, here are a few ideas that can help make this recipe even faster!
Pre-shred the chicken– Make sure the chicken is shredded and ready to go when you are ready to make the meal. You can also buy chicken pre-shredded at many markets.
Pre-cut the veggies– you can chop most vegetables up to 3 days in advance. You can also buy many veggies pre-chopped at the grocery store.
Make ahead– This salad can be completely made ahead and refrigerated for up to 48 hours and still maintain its freshness.
Recipe Variations
If you love this recipe as much as we do and want some quick ways to change it up for variety, these little tips will do the trick!
Chicken Pesto Pasta Salad– Double the dressing (pesto and mayo) and then mix with an extra 3 cups of pasta along with the chicken and veggies.
Pesto Chicken Salad with no Mayo– Make recipe as directed substituting Greek yogurt in place of mayonnaise. The salad does not end up quite as rich and creamy, but it is a great option for those who cannot have mayo, or are looking to reduce fat.
Keto Pesto Chicken Salad– This chicken salad recipe is low carb as written, but to further minimize the carbs:

omit the onion
reduce the celery and green peas to half a cup each
increase the chicken by 1 cup
Dietary Considerations
If you have special dietary needs, this recipe meets some and can be easily modified to comply with others.
As always, check all store bought ingredients for compliance on specific dietary needs. The notes below are a general guide.
Gluten free: This recipe is naturally gluten free.
Dairy free: This pesto chicken salad can be made dairy free by using vegan pesto and omitting the parmesan cheese. I like the vegan pesto at Trader Joes.
Nut free: Most pesto contains pinenuts, or a nut alternative. If you need to modify to nut free, make sure to use a nut free pesto.
Egg free: This recipe can be modified to egg free by using vegan mayo or subbing for greek yogurt.
Low carb/Keto: This recipe is low carb at only 4g net carbs.
Macros: The approximate macro calculation for this recipe is- P: 21g C: 6g F: 5g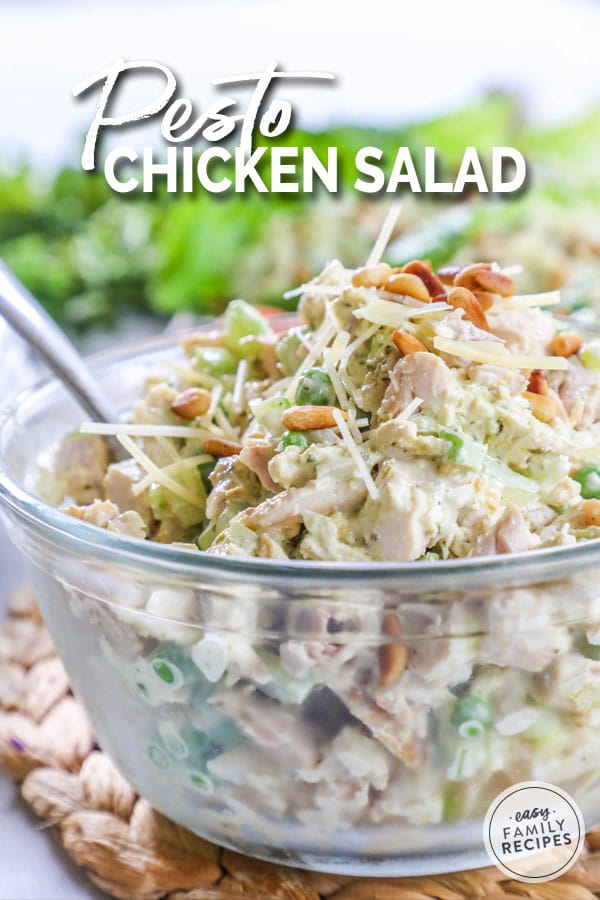 Freezer Meal Instructions
Pesto Chicken Salad Leftovers
If you have leftovers after making this Pesto Chicken Salad, then it is your lucky day! They save well, and can make the start of another delicious dish.
Leftovers can be placed in an airtight container and stored in the refrigerator for 3-4 days.
Leftovers can be used or repurposed in any of the ways listed above such as chicken salad croissants, chicken salad wraps, eaten over salad greens etc.
More Easy Salad Recipes
If you enjoyed this recipe, I really hope you will take a moment to grab a few more easy recipes for another busy night!
You can check out all of my EASY Salad recipes here, or see a few of our readers favorite recipes below.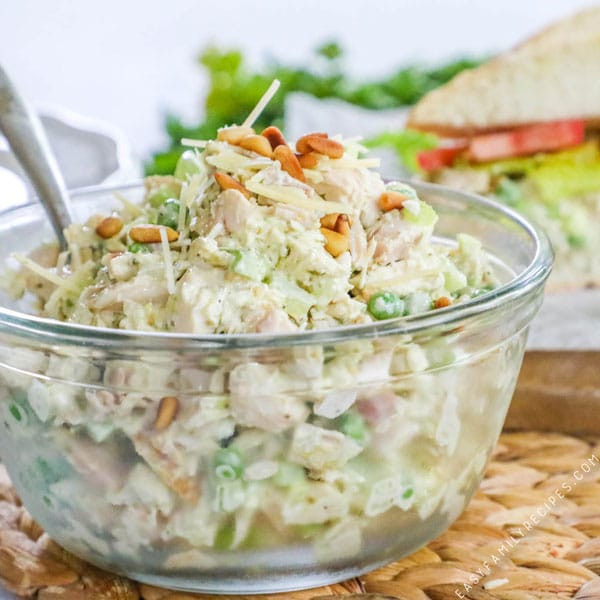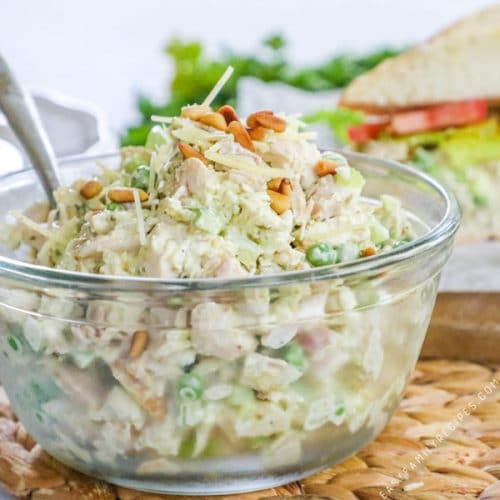 Pesto Chicken Salad
This Pesto Chicken Salad is absolutely packed with flavor and SO easy to make! Perfect for making, sandwiches, wraps, or topping salad greens, this creamy chicken salad shines as the star of the dish.
Ingredients
3

cups

shredded chicken

1/2

cup

mayonnaise

1/4

cup

pesto

,

prepared

1

cup

celery

,

diced

1

cup

sweet green peas

1/4

cup

sweet onion

,

finely diced

1/4

cup

Parmesan Cheese

,

shredded
Instructions
Combine the shredded chicken, celery, green peas, and onion together and mix.

Mix the mayonnaise, pesto, and parmesan and mix well. Pour mixture over the shredded chicken and stir until everything is evenly coated.

Garnish with pine nuts and parmesan as desired. Chill until ready to serve. Enjoy!
Nutrition Information
Serving:
1
cup
,
Calories:
325
kcal
(16%)
,
Carbohydrates:
6
g
(2%)
,
Protein:
21
g
(42%)
,
Fat:
24
g
(37%)
,
Saturated Fat:
5
g
(31%)
,
Cholesterol:
64
mg
(21%)
,
Sodium:
350
mg
(15%)
,
Potassium:
271
mg
(8%)
,
Fiber:
2
g
(8%)
,
Sugar:
3
g
(3%)
,
Vitamin A:
540
IU
(11%)
,
Vitamin C:
10.5
mg
(13%)
,
Calcium:
87
mg
(9%)
,
Iron:
1.4
mg
(8%)