Everybody loves the classic flavors of Shake and Bake chicken, and this homemade version will not disappoint! It's so easy to make, and creates flavorful breadcrumb coated chicken cutlets that bake to crispy perfection.
This recipe makes it simple to prepare a delicious dinner because it satisfies kids and adults alike, and pairs well with any sides the family will enjoy. It's a quick recipe you can prep ahead and cleans up so easily that you'll soon discover it's your favorite new way to prepare chicken, pork, fish, and even veggies too!
Homemade Shake and Bake Chicken – The EASY Way!
Shake 'n Bake is one of those iconic busy family dinners for so many good reasons. It takes away the messiness and hard work of breading chicken for dinner, but still delivers flavorful, crispy meat to the table. Well, my homemade shake and bake chicken does all of that, and more! It's truly so easy to make your own version and I'm so excited to share exactly how. All it takes is a bag, breadcrumbs, a handful of pantry seasonings, and chicken. Clean up is just as easy – shake, bake, and you never have to dirty a bowl.
Making it yourself comes with the benefit of serious versatility. I can use any protein, from pork and fish, to different cuts of poultry. It can be the entrée, simply served with a few sides, or I can use my shake and bake chicken as a crispy protein in sandwiches, wraps, or pastas. I can even customize the spices so we can change the flavor profiles whenever we want. It's the kind of recipe that helps make dinner creative and fun, even when you're busy!
Why I LOVE this recipe!
So EASY! – All you need is a large bag to make the mix and toss the chicken. It's easy prep and clean up all at once!
It's Tastier Homemade – Add more or less of your favorite herbs, salt, and spices to make it just the way you like every time.
3 Cooking Methods – You can oven bake, pan fry, or even deep fry your chicken, and each is equally tasty!
Super Versatile! – Feel free to use any cut of chicken you like. Drumsticks, thighs, breasts, nuggets, or tenders are all great. But pork, fish, or even veggies can be used too!
Recipe Notes
This shake and bake chicken recipe is as simple as promised! Just 25 minutes and one pan for a family friendly meal.
In this section I am going to go through a few tips and tricks I use when making this recipe to get the absolute best and most delicious results.
Make sure to scroll to the bottom for the FULL recipe card.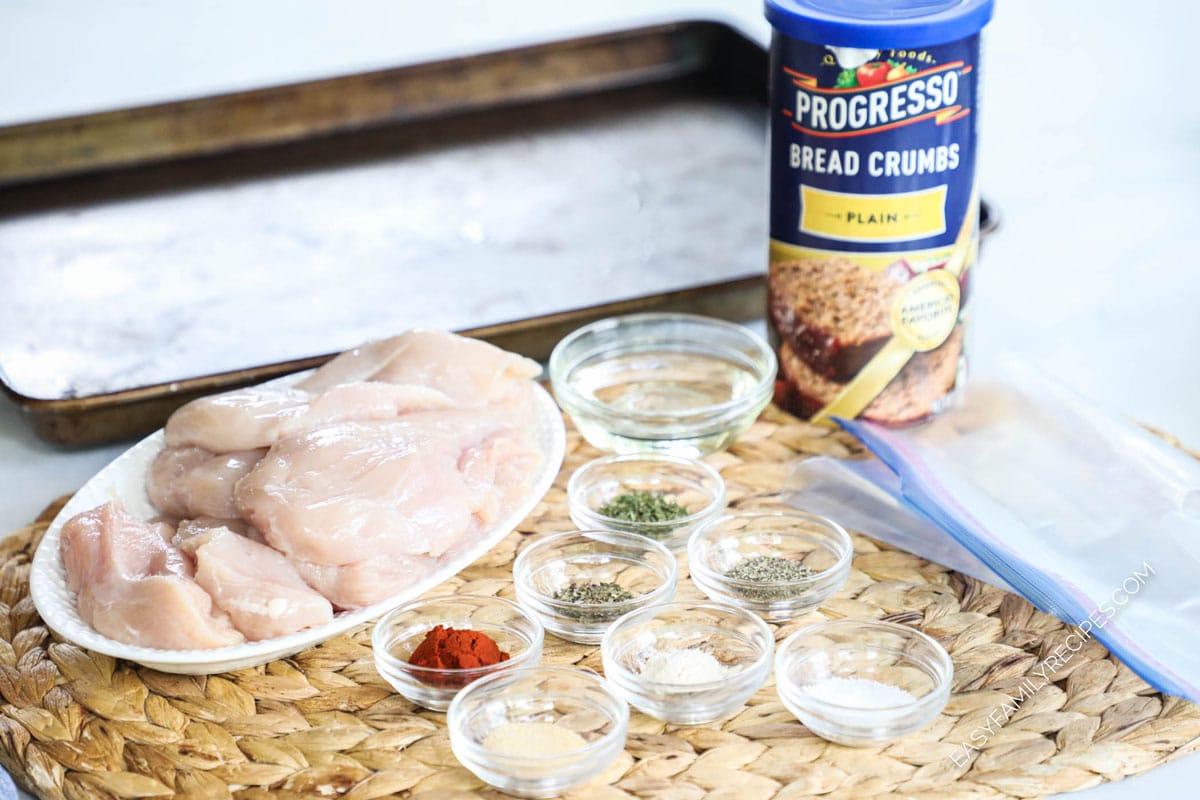 Ingredients + Substitutions
Chicken cutlets – We're using quick-cooking, thin chicken cutlets for our shake and bake, but you can use any cut that you like. Thighs, breasts, drumsticks, tenders, or even little chunks could all be used so long as you adjust the bake time so they're cooked to the proper 165°F.

If you only have chicken breasts, but want cutlets, you can slice it into thinner pieces. Start by butterflying it open, then slicing each piece in half again.

Breadcrumbs – I like panko breadcrumbs which have a delicious, crunchy texture. You can use any breadcrumbs you like, even homemade, but make sure they're unseasoned. We'll be adding all the flavors ourselves!

Oil – Vegetable oil works perfectly. But any neutral flavored oil like Canola or grapeseed oil would also be just fine to use.

Seasonings – Celery salt, onion powder, garlic powder, and paprika are used to create those classic Shake 'n Bake flavors.

Dried Herbs – A combination of dried parsley, basil, and oregano give us that Italian breadcrumb flavor that's irresistible on chicken! But you can leave out what you don't have if needed, and it will still taste amazing.

Salt & Pepper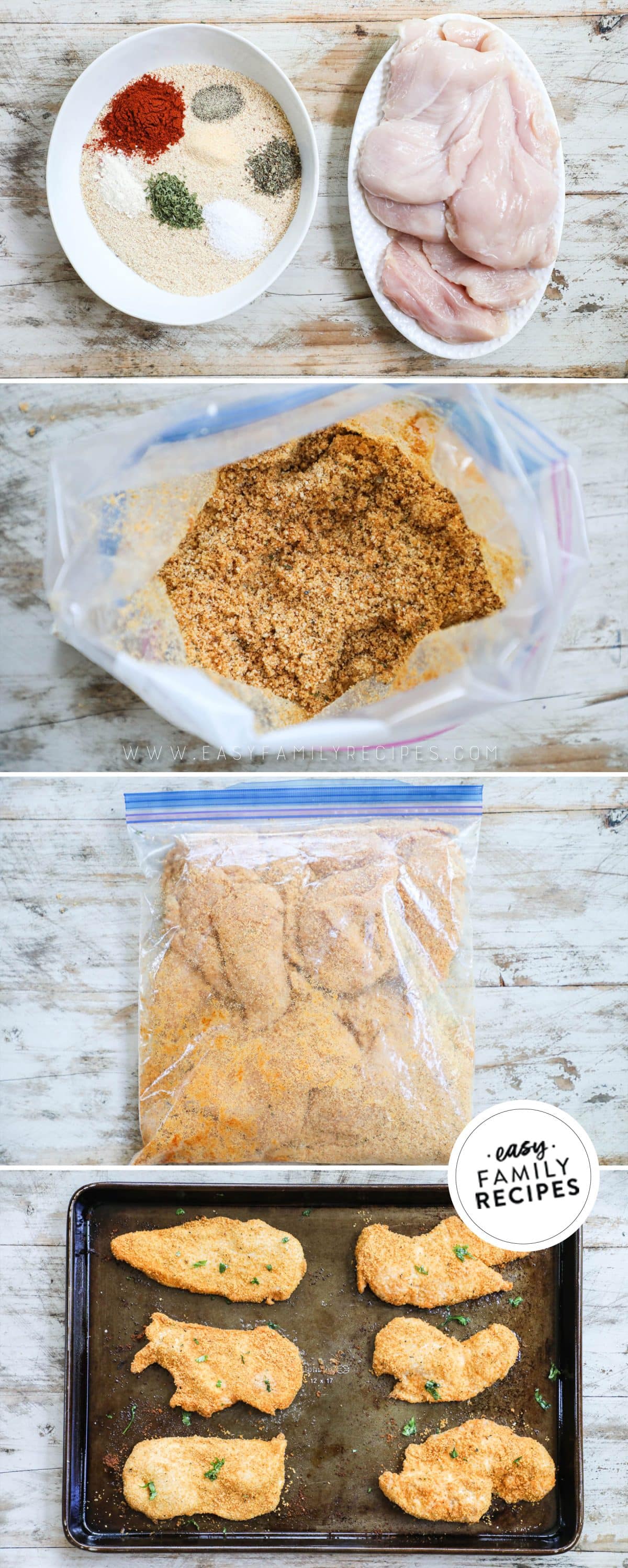 Recipe Tips
Thin cuts and high heat are key for crispness – A quick cook in a hot oven is essential for keeping the chicken juicy while getting it crisp. Using too low of a heat will let all that moisture leak out, and lead to soggy breading instead of the crispy exterior we want.

Place near the bottom rack – One way to help make sure the chicken is crispy when baking it in the oven is to place your sheet pan on the bottom rack. It's the best way to help stop the underside of the chicken from getting soggy.

Don't overcook – The number one enemy of juicy, delicious chicken is overcooking it! I highly recommend you invest in a meat thermometer if you don't have one. They're inexpensive and available at box stores, grocery stores, and online. Then you can always be sure that you've cooked chicken to the perfect, juicy 165°F.

Use cooling rack if frying – If you choose to pan fry your chicken, don't stack them on a plate or paper towels after cooking. Instead, line a baking sheet with paper towels and set a cooling rack on top. Pull chicken from the oil and set it on the rack. Any excess oil will drip down to the paper towels, but the chicken won't steam and get soggy!
Recipe Short Cuts
If you need to make this recipe, but are extra short on time, here are a few ideas that can help make this recipe even faster!
Make a large batch ahead– One of the best things about this recipe is that it can be doubled or tripled with hardly any extra effort. Just portion out what you need to coat enough chicken for one meal and the rest of your homemade shake and bake breadcrumb mixture can be stored in the fridge. One batch is enough to coat about 2-3 pounds of chicken.

Just be sure NOT to store any breadcrumbs that you've already tossed with raw meat. Once they've been tossed with the chicken, leftover breadcrumbs need to be discarded. I generally make a big batch, take out what I need to coat the chicken and store the rest!

Use the thinnest, smallest chicken– To get dinner on the table fast, choose small cuts like cutlets, tenders, or chicken chunks, which will cook in just minutes. You can also break down bigger pieces like breasts or boneless thighs so they'll cook faster.

Choose pre-seasoned breadcrumbs – Part of the fun of homemade shake and bake chicken is that you get to add in the flavors you love. But if you're in a hurry, pre-seasoned breadcrumbs can make it a real snap to throw together. Just make sure to add salt if the mixture doesn't include it, and then proceed with working in the oil and tossing in the chicken.
Recipe Variations
If you love this recipe as much as we do and want some quick ways to change it up for variety, these little tips will do the trick!
Shake and Bake BBQ Chicken– Swap out the basil, parsley, and oregano for 1/2 teaspoon each of cumin, chili powder, and ginger, plus 1 tablespoon of brown sugar to create a BBQ seasoned breadcrumb. Continue with the recipe as directed. you can even toss it in BBQ sauce after.

Shake and Bake Chicken Parmesan– Add shredded parmesan to the breadcrumbs and continue with the recipe as directed. When the chicken is almost done baking, top each piece with 1-2 tablespoons of marinara and 2 tablespoons of shredded mozzarella then pop it back in the oven to melt the cheese and finish baking.

Shake and Bake Ranch Chicken– Swap out the seasonings, herbs, salt, and pepper for 2 tablespoons of store bought or homemade ranch seasoning. Then continue with the recipe as written.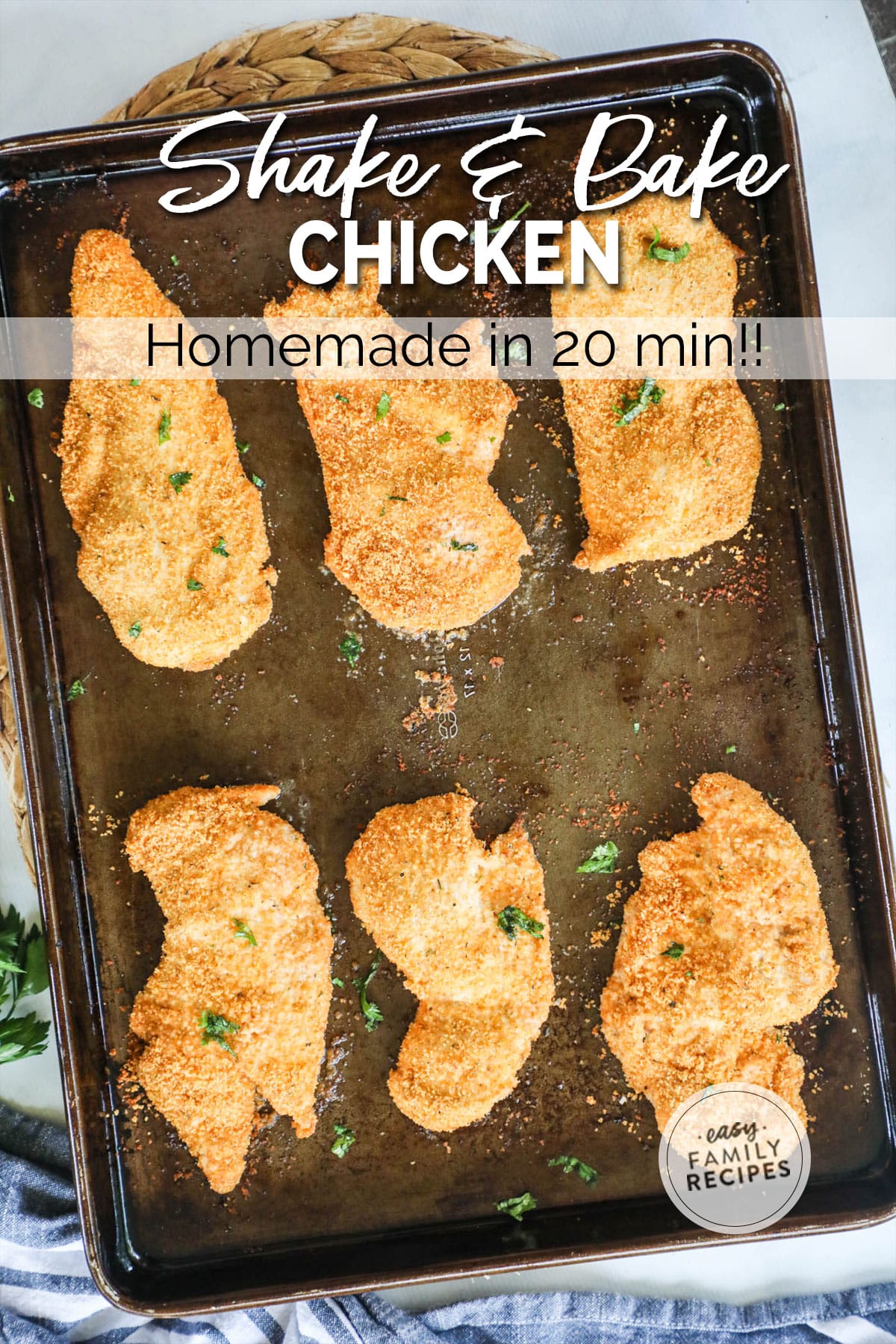 What to Serve with Chicken Shake and Bake
Since this homemade shake and bake recipe has the classic flavors of Italian seasoning, it will pair well with many of your favorite Italian or traditional side dishes. There are both classic options and some healthy options to keep it light.
Side Dish Ideas
You can choose one or add a few sides to make a wholesome, well rounded dinner.
Leftovers
If you have leftovers after making crispy shake and bake chicken, then it is your lucky day! They save and reheat well, and can make the start of another delicious dish.
To save leftovers, separate into meal sized portions and then place in an airtight container and store:
in the refrigerator for 3-4 days
in the freezer up to a month
Leftover Recipes
Here are a few ways to repurpose those leftovers and give them a delicious makeover!
Crispy Chicken Wraps– Slice leftover chicken and lay it in a wrap or tortilla with 1 tablespoon of ranch dressing, 2 slices of tomato, 2 tablespoons shredded lettuce, and 2 tablespoons of shredded cheddar cheese. Roll up the wrap and slice in half, then serve.
Chicken Parmesan Sliders– Arrange the bottom half of slider rolls on baking sheet. Cut leftover chicken into slider sized pieces and lay on top of the bottom bun. Top with a tablespoon of marinara and a tablespoon of shredded mozzarella cheese. Bake at 350°F for 10-15 minutes, or until the cheese is bubbly and melted. Top with the other half of the bun and serve hot.
Chicken and Waffles– Reheat the chicken in a pan or on a baking sheet to retain crispness. When it's hot, serve it over freshly made or toaster waffles with warm maple syrup and butter.
More Chicken Recipes
If you enjoyed this recipe, I really hope you will take a moment to grab a few more easy recipes for another busy night!
You can check out all of my easy chicken recipes here, or see a few of our readers favorite recipes below.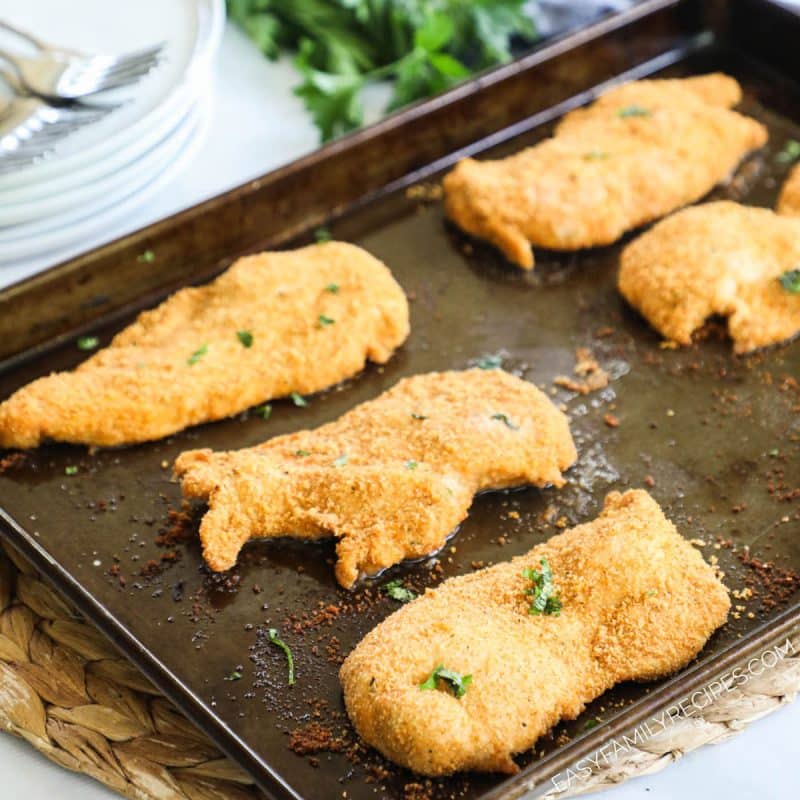 Homemade Shake and Bake Chicken
This easy blend of breadcrumbs, salt, seasonings, and herbs combine with oil to make a homemade version of classic shake and bake. It's perfect for coating poultry, pork, fish, or veggies that can then be baked or fried to crispy, golden perfection.
Ingredients
2

lbs

boneless, skinless chicken breast

,

cut into thin cutlets
For the Homemade Shake and Bake mix
1

cup

dried bread crumbs

,

plain

1

tablespoon

vegetable oil

1

teaspoon

salt

1

teaspoon

paprika

1/2

teaspoon

celery salt

1/2

teaspoon

ground black pepper

1/2

teaspoon

garlic powder

1/2

teaspoon

onion powder

1/2

teaspoon

dried basil leaves

1/2

teaspoon

dried parsley

1/2

teaspoon

dried oregano
Instructions
Combine all ingredients for the shake and bake mix except the oil in a gallon size zip top bag, or large container. Mix well. Add the oil and work the mixture until it is evenly distributed throughout.

Place the raw chicken breast cutlets in the bag and shake until they are all coated in the mixture.

Grease a large baking sheet and lay the chicken in a single layer leaving at least an inch between each cutlet.

Bake on lower oven rack for 12-18 minutes or until the chicken is 165˚F internal temp.
Recipe Notes
Substitutions: This Homemade Shake and Bake mix can be used with any cut of chicken you want. The method will be the same, but the time will change depending on the cut of chicken you use.
Here is a guide for baking other cuts of chicken at 400˚F with the Shake and Bake:
*cook times are approximate. Chicken should always be cooked to 165˚F when done.
Chicken Legs- 35-40 minutes
Chicken drumsticks – 25-30 minutes
Wings- 35-40 minutes
Bone in chicken breast- 40-45 minutes
Bone in chicken thighs- 35-40 minutes
Boneless chicken thighs- 25-30 minutes
Chicken tenderloins- 15-20 minutes
How to Store: To save leftovers, separate into meal sized portions and then place in an airtight container and store:
in the refrigerator for 3-4 days
in the freezer up to a month
How to Reheat: This can be reheated in the microwave in 30 second increments, or cover with tin foil and place into the oven to reheat.
How to Scale: One of the best things about this recipe is that it can be doubled or tripled with hardly any extra effort. Just portion out what you need to coat enough chicken for one meal and the rest of your homemade shake and bake breadcrumb mixture can be stored in the fridge. One batch is enough to coat about 2-3 pounds of chicken. 
Nutrition Information
Calories:
267
kcal
(13%)
,
Carbohydrates:
14
g
(5%)
,
Protein:
35
g
(70%)
,
Fat:
7
g
(11%)
,
Saturated Fat:
1
g
(6%)
,
Polyunsaturated Fat:
2
g
,
Monounsaturated Fat:
2
g
,
Trans Fat:
1
g
,
Cholesterol:
97
mg
(32%)
,
Sodium:
889
mg
(39%)
,
Potassium:
614
mg
(18%)
,
Fiber:
1
g
(4%)
,
Sugar:
1
g
(1%)
,
Vitamin A:
214
IU
(4%)
,
Vitamin C:
2
mg
(2%)
,
Calcium:
48
mg
(5%)
,
Iron:
2
mg
(11%)