Pork Carnitas Quesadillas have layers of flavor stuffed full of slow-cooked pork infused with Mexican spices and citrus, melted cheeses, and hearty black beans nestled between a large crispy cheese-crusted tortilla shell.
Bring dinner together in JUST 15 minutes with this quick and easy weeknight recipe made from leftover carnitas. It's sure to be a family favorite and can be paired with our favorite Mexican-inspired side dishes.
Carnitas Quesidilla – The EASY Way!
Mexican flavors are always a huge hit in my house. These carnitas quesadillas fit the bill with the warm spices and bright citrus marinade that slow-cooked a pork shoulder for hours. And what a special treat to use this leftover Slow Cooker Pork Carnitas recipe than in this easy quesadilla dish!
You can use leftovers from our recipe, or any other Mexican style pulled pork that you have to make this dinner extra quick and easy!
Serve up this Pork Carnitas Quesadilla recipe in a flash with nearly no prep and cooked in 10 minutes. The combination of using leftover (or meal prepped) pork along with this being an extra kid friendly recipe make this a big weeknight win!
Why I LOVE this recipe!
Made with leftovers – Being able to make a large batch of a recipe and use leftovers later makes for quick meals during the week. You can be creative and use fresh, different ingredients with each dish you feel like creating.

That cheese! – By pan-frying the cheese on the outside of the quesadilla gives you a crispy, oh-so-delicious flavor that makes this anything but another boring dinner.

Family friendly– Quesadillas are not only one of the most kid friendly foods around, but this also is a big hit with the grown ups because the meat is so flavorful, and you can load it up and/or top it with as many delicious extras as you want. Think guac, sour cream, pico, corn salsa… the sky is the limit!

One-pan – As fast as this meal is, it is equally as simple when it comes to cleaning up. Fry the meat in the same pan that you fry the cheese-crusted pork carnitas quesadillas. What's better than fewer dishes to clean?
What to Serve with Pork Carnita Quesadillas
This Pork Carnitas Quesadilla is loaded with our favorite Mexican inspired flavor and made hearty with both pulled pork and black beans. They will go perfect with many classic Mexican side dishes, and since the beans are already mixed in, a lighter side would be a great option.
Side Dish Ideas
Toppings- One of my favorite way to make this a really amazing dinner for both kids and adults is to offer topping to load it up for those who want to! Here are some of my favorites:

Pico de Gallo
Sour cream
Shredded lettuce

Mexican Roasted Vegetables– These make for a delicious and extra wholesome addition to these quesadillas. They can roast while you build your carnitas dish.

Mexican Rice – is great for a wholesome, hearty dinner for the family.
You can choose one or add a few sides to make a wholesome, well rounded dinner.
Recipe Notes
This Carnitas Quesadilla recipe is as simple as promised! Just 15 minutes for a family-friendly meal that's full of flavor and hearty enough to fill you up.
In this section I am going to go through a few tips and tricks I use when making this recipe to get the absolute best and most delicious results.
Make sure to scroll to the bottom for the FULL recipe card.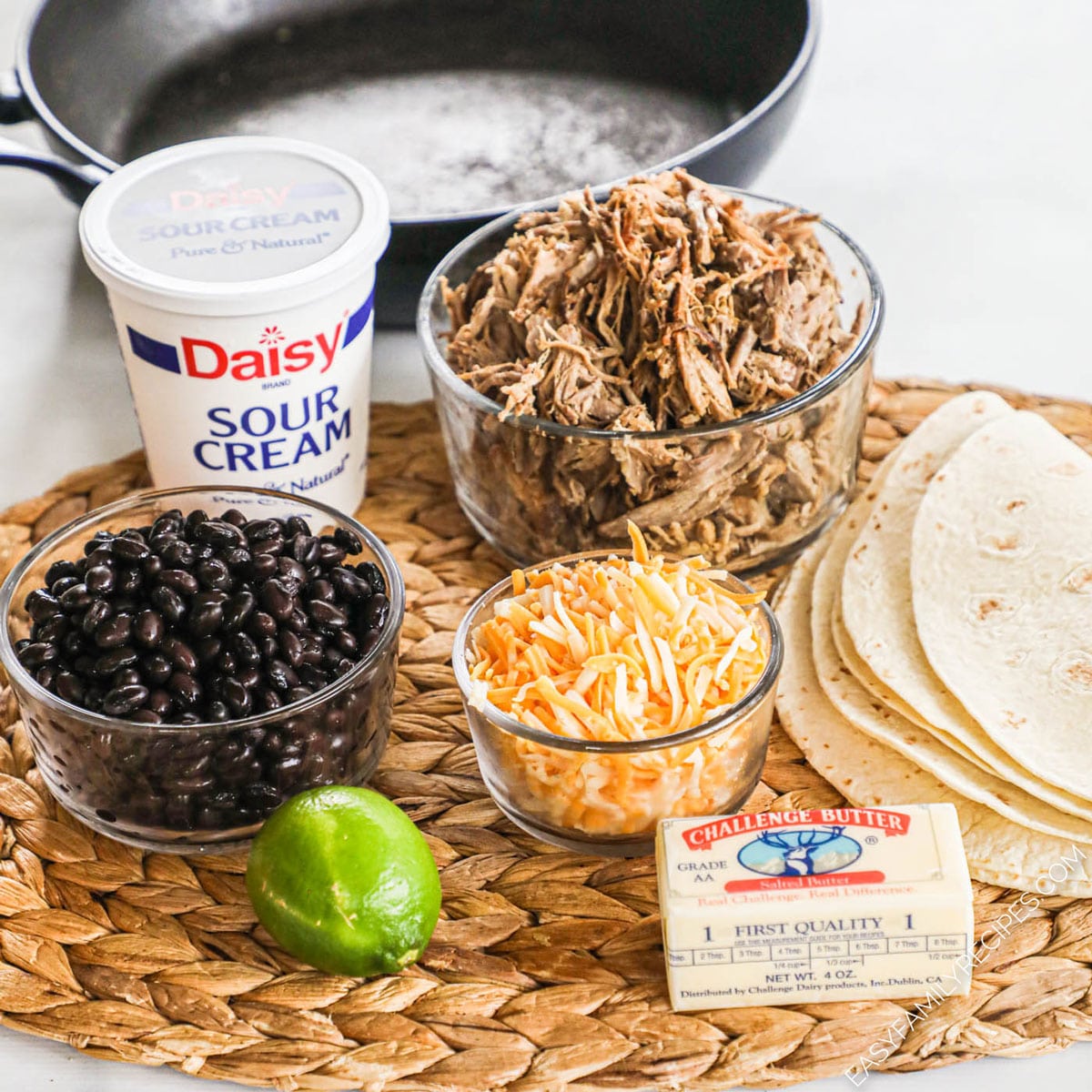 Ingredients + Substitutions
Carnitas – The best part about making a big batch of carnitas is all the yummy recipes you can make with leftovers! You can use our Crock Pot Carnitas here, or any carnitas or pulled pork you may have leftover from elsewhere.

Oil – vegetable oil is used to heat the frying pan and crisp up the carnitas meat. This gives the carnitas that signature texture and flavor. You can also heat the carnitas filling in the oven, but I like to just pan fry it because it saves dishes since we will use the same pan for cooking the quesadillas.

Flour tortillas – for big, crispy quesadillas I use large burrito sized flour tortillas. You can use smaller tortillas if you like, simply reduce the ingredients to fill the quesadilla. Flour is preferred over corn because flour holds up better with frying and filling, and is the traditional choice for a quesadilla.

Cheese – I use shredded Colby Jack cheese for this pork carnitas quesadilla recipe, but you could also you shredded cheddar or Mexican blend cheese.

Black Beans – These are a great way to really bulk up your meal without having to use too much meat. It makes for a hearty filling in the quesadillas. You can substitute other beans such as pinto beans or white beans based on preference.

Butter – this is used to grease the pan before frying the cheese for the outside of the quesadilla. You will want to use enough so that the cheese and tortilla will easily release from the pan.
What is the best cheese for pork carnitas quesadillas?
For this recipe, I love to use Colby Jack cheese. It has a great mild flavor and gets really melty and delicious.
Alternately, you could use cheddar, monterey jack, colby jack, pepper jack or Mexican blend which are all really good melting cheeses. I find that Mexican style cheeses like queso fresco or cojita cheese don't work as well in a quesadilla, but they can be crumbled on top for garnish if you wish.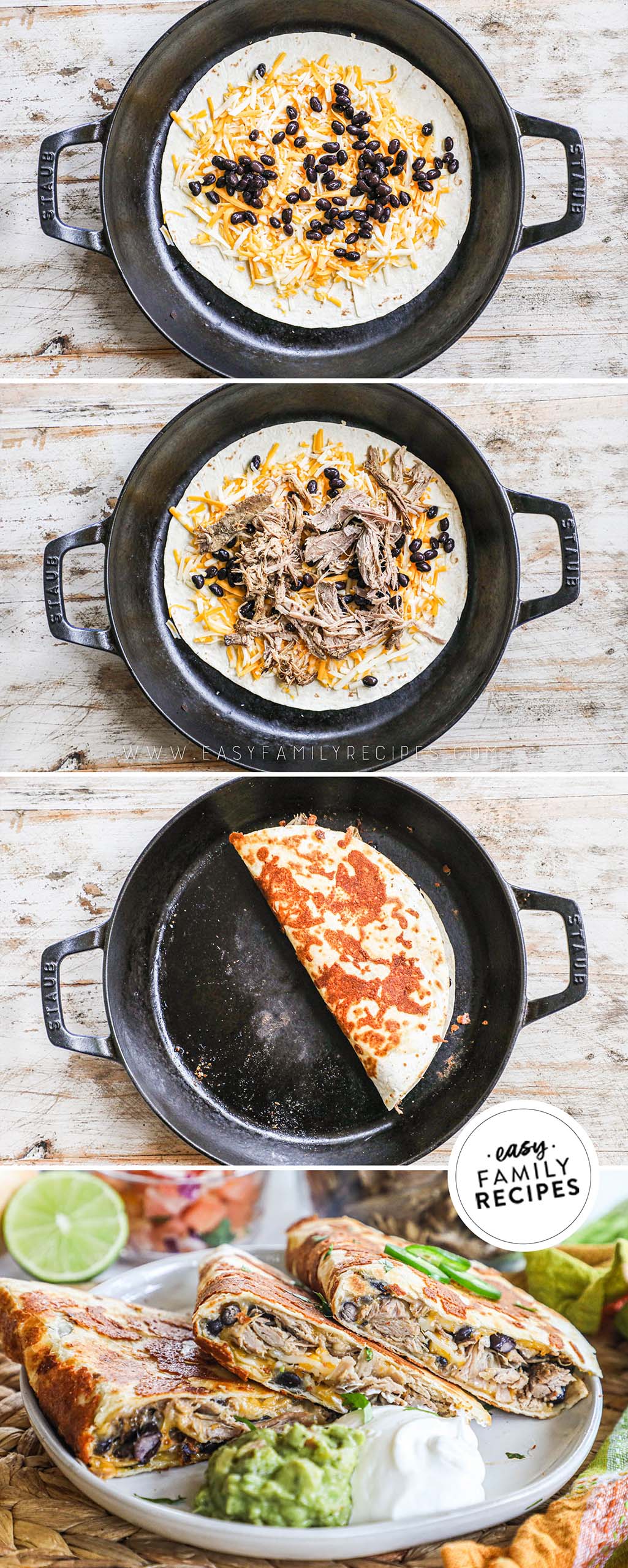 Recipe Tips
Use a Non-stick pan – One of the little extras we do to make this carnitas quesadilla extra delicious, is add a crispy cheese on the outside of the quesadilla! This is optional, but if you choose to do it I have a couple tips to make it easy and delicious!

To keep the cheese from sticking to the pan, it's best to use a non-stick pan. The cheese can be hard to release when the pan isn't non-stick and can cause the tortilla to tear. If you do not have a non-stick skillet, you can. skip frying the cheese on the outside of the tortilla. Instead, add the butter to the pan and fry the tortilla shell. Then, put the all the cheese on the inside of the quesadilla before the carnitas and beans. Easy fix and still delicious!

Fry the Tortilla Open – For faster cooking and a more even color and crisp on the tortilla, fry the tortilla open and flat in the skillet with the ingredients spread evenly across it. Once it is heated and melty, you can fold it in half to finish. This is a really great way to speed up the process since it will help it cook faster and avoid flipping and having to cook on both sides. You can see an example of how I do this in the process photo above!

Fry the meat – For that traditional, crispy carnitas flavor and texture, we pan fry the meat before we start the quesadilla. This will crisp it back up for that traditional carnitas texture. If you are short on time, you can just skip this step all together and just use the leftover meat straight in the quesadilla.

Load it up! – Salsa, sour cream, guacamole… You name it! They all will pair deliciously with this hearty meat, bean, and cheese quesadillas. Check the toppings section above to get ideas on how to load up the carnitas quesadillas to make them extra delicious!
Recipe Variations
If you love this recipe as much as we do and want some quick ways to change it up for variety, these little tips will do the trick!
Loaded Carnitas Quesadilla– Don't hold back on stuffing a quesadilla! Add pico de gallo and corn for a nice crunch layered between savory pork, beans, and cheese.

Spicy Carnitas Quesadillas– We love to kick it up a notch and add jalapenos, pepper jack cheese, and a sprinkle of crushed red pepper to the quesadilla filling.

Carnitas Breakfast Quesadilla– You probably thought enjoying carnitas could be better, but lucky you this Breakfast Quesadilla is super satisfying. Scramble eggs, peppers, onions, and tomatoes with some savory citrus pork carnitas. Pressed between a crispy fried tortilla shell and dip in salsa and sour cream, you'll never look at breakfast the same again!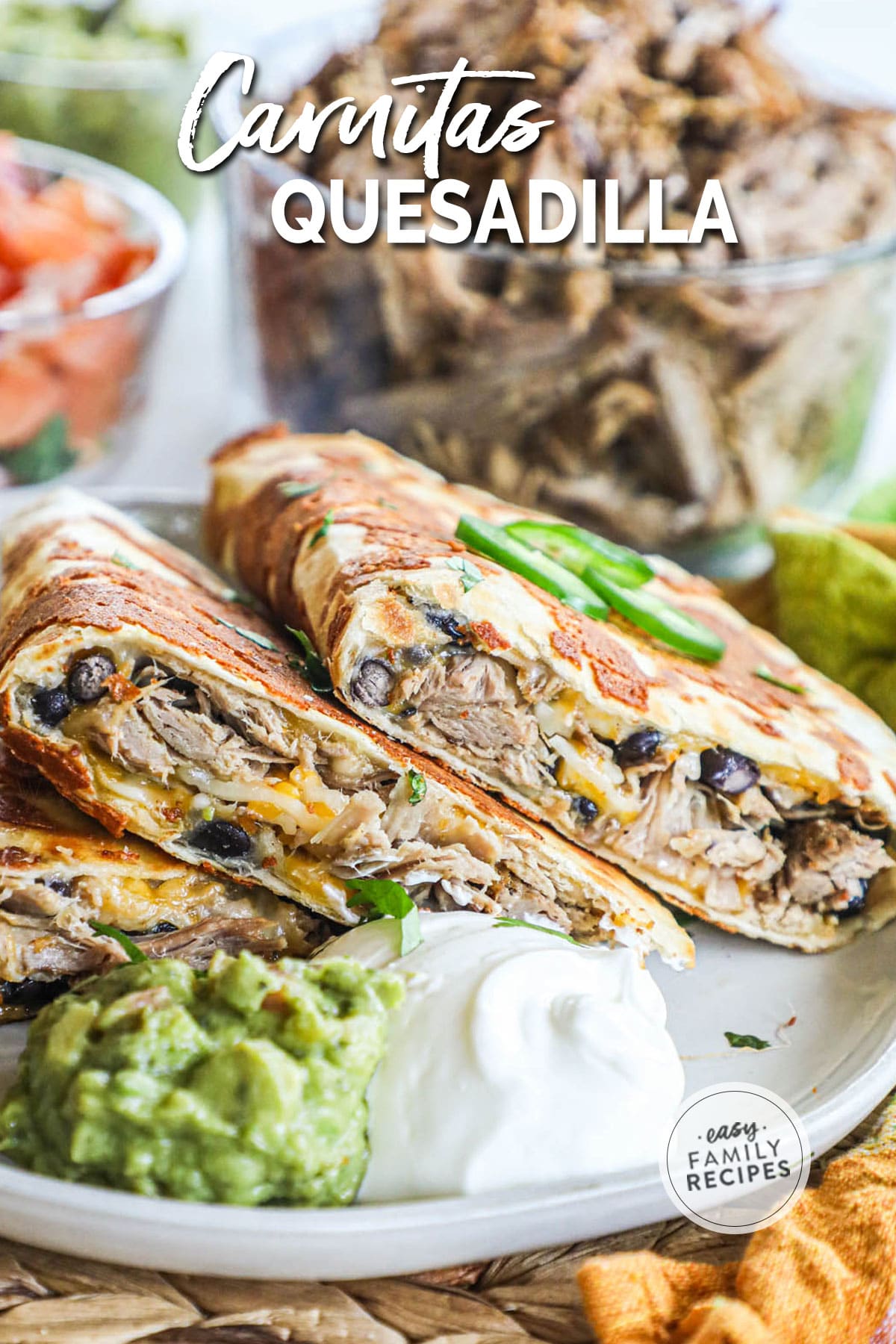 More EASY Recipes
If you enjoyed this recipe, I really hope you will take a moment to grab a few more easy recipes for another busy night!
You can check out all of my Easy and Quick leftover recipes here, or see a few of our readers favorite recipes below.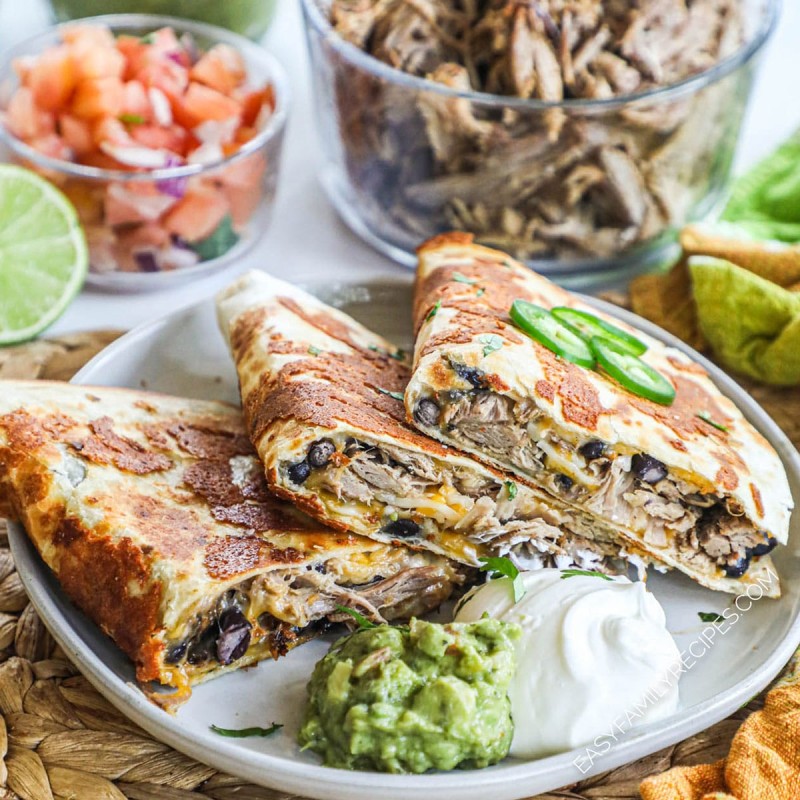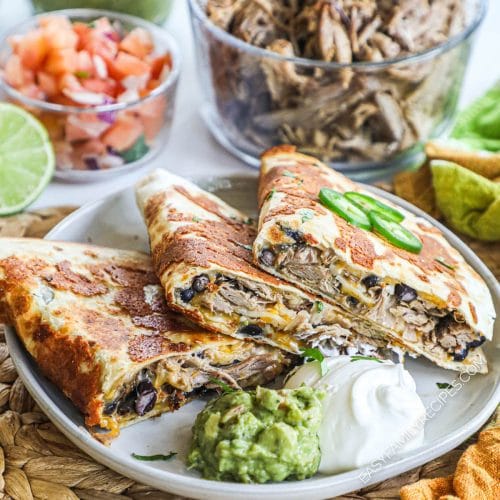 Carnitas Quesadilla
These Carnitas Quesadillas are crispy on the outside with tender carnitas pork, melted cheese, and hearty beans on the inside. Eat it just like that or load it up with toppings for a quick and delicious weeknight meal!
Ingredients
1⅓

cups

pork carnitas

1

teaspoon

vegetable oil

2

large flour tortillas

,

(burrito size)

1

cup

shredded colby jack cheese

1/2

cup

black beans,

drained and rinsed

1

tablespoon

butter
Toppings (optional)
sour cream

shredded lettuce
Instructions
Heat the oil in a large non-stick skillet over high heat. Once hot, add the carnitas and let cook without stirring for 2-3 minutes or until the bottom gets crisped.

The meat does not have to be heated through as it will continue to warm as we cook the quesadilla.

Remove the meat and reduce the heat to medium.

Add half of the butter to the skillet and let melt, swirling the skillet to make sure the entire surface is covered. Once the butter melts sprinkle 1 tablespoon of the cheese in the skillet. (see note)

Lay one tortilla on top of the butter and cheese. Add half the remaining cheese, half the black beans and half of the carnitas meat evenly over the top of the tortilla.

Let cook for 5-6 minutes or until the cheese is melted and the bottom of the tortilla is golden brown.

Fold quesadilla in half and repeat with second tortilla.

Once both are cooked, cut each one in half with a knife and serve with your choice of sour cream and guacamole to dip. Enjoy!
Recipe Notes
This carnitas quesadilla recipe works best in a non-stick skillet because the cheese will release most easily in this type of skillet. If you don't have a non-stick skillet, you can use a well seasoned cast iron skillet, or opt to omit the cheese on the outside of the quesadilla and use all of the cheese on the inside of the quesadilla.
If you are short on time, you can skip frying the pork carnitas in the skillet before you make the quesadilla. This crisps up the meat and adds that signature carnitas texture, but it will still taste great if you just add the meat to the quesadilla without crisping it in the pan first.
Nutrition Information
Calories:
385
kcal
(19%)
,
Carbohydrates:
27
g
(9%)
,
Protein:
21
g
(42%)
,
Fat:
22
g
(34%)
,
Saturated Fat:
11
g
(69%)
,
Polyunsaturated Fat:
1
g
,
Monounsaturated Fat:
4
g
,
Trans Fat:
1
g
,
Cholesterol:
73
mg
(24%)
,
Sodium:
802
mg
(35%)
,
Potassium:
138
mg
(4%)
,
Fiber:
2
g
(8%)
,
Sugar:
12
g
(13%)
,
Vitamin A:
535
IU
(11%)
,
Vitamin C:
1
mg
(1%)
,
Calcium:
294
mg
(29%)
,
Iron:
2
mg
(11%)