Chicken with Pesto Cream Sauce is the ULTIMATE family dinner! It is made in as little as 20 minutes and kids and adults both love this flavor packed dish. The secret is in the quick and easy cream sauce which packs in flavor and keeps the chicken super tender!
Why is this recipe THE BEST?
When it comes down to what is really important to me at dinnertime, there are a few things that really make a dish go from good to great, and this Chicken with Pesto Cream Sauce has them all!
In order of importance, here is what really makes this recipe stand apart:
DELICIOUS– This dish is so good we rarely have any leftover, and often find ourselves scraping every last drop off our plates.
Easy– No fancy steps, or special equipment needed. Just an everyday skillet and your stovetop.
Quick– It is hard to believe something so delicious can be made so quickly! In as little as 20 minutes you can go from fridge to fork.
Everyday Ingredients– This recipe uses things you will find readily available, and might even already have everything you need.
Delicious enough for company, but easy enough for everyday, you have to admit it doesn't get much better than that.
What to Serve with Chicken and Pesto Cream Sauce
If you are making this for dinner, you probably need a couple of sides to serve with the chicken. There are quite a few dishes that we regularly serve with it that I will share with you below.
Side Dish Ideas
Mashed Potatoes– This go really well right on top of mashed potatoes. The sauce soaks right into the mashed potatoes and is just so good!
Garlic Bread– Perfect compliment, and great to soak up any extras from the chicken.
Baked Asparagus– This side dish is just as easy as the chicken
Tomato Mozzarella Basil Salad– I LOVE these flavors with this dish. This light salad makes a perfect first course.
Roasted Vegetables– My go to recipe. A great way to add some extra veggies in
Cauliflower rice– If you want to keep the dish lighter on carbs, you can serve it over cauliflower rice instead of mashed potatoes.
I like to pick a veggie and a starch to serve the Chicken with. That way you have some healthy stuff and something to soak up every last drop of the delicious pesto cream sauce.
You can easily serve this with just one side dish and have a really filling meal, or pair it with two or three and really stretch the meal.
Recipe Notes
This recipe is super simple, made in just one skillet! I am going to walk through my preference on ingredients, as well as some of my tips & tricks to help you get the absolute best results from the recipe.
Make sure and head to the FULL recipe card at the bottom of this post for all of the details on making this recipe.
Ingredients
Chicken– I always use chicken breasts for this recipe. They do need to be thin to work best.

Substitutions: You can use other cuts of chicken as long as they are boneless and skinless. Both chicken thighs and chicken tenderloins work well.

Flour- Good ol' all purpose flour.
Garlic powder– Granulated garlic will also work.
Salt & Pepper
Olive oil– This is to pan fry the chicken, although you don't need much.

Substitutions: you can easily use vegetable, or canola oil in place of olive oil in this recipe.

Garlic– I always recommend fresh garlic if possible to give the whole dish that "made from scratch" taste. In a pinch, you can use jarred garlic or garlic paste.
Heavy cream– This gives the sauce the richness and is the base for everything to come together.

Substitutions: You can use half and half in place of heavy cream, however, you will have to modify the recipe to NOT boil the sauce as it could cause the half and half to curdle since it has a lower fat content.

Parmesan cheese– I find that the grated parmesan works better than the shredded.
Pesto– You can use store bought pesto or you can make pesto from scratch. I usually use store bought for ease. If you choose to use store bought pesto, I highly recommend using the kind that you find in the refrigerator section, and not the variety that is jarred and sold in the canned food section. The refrigerated kind tastes much closer to fresh pesto to me. (if you need a few more recipes to use up the rest of the container, try my Pesto Roasted Veggies, Pesto Cheese Bread, or Caprese Chicken dinner.)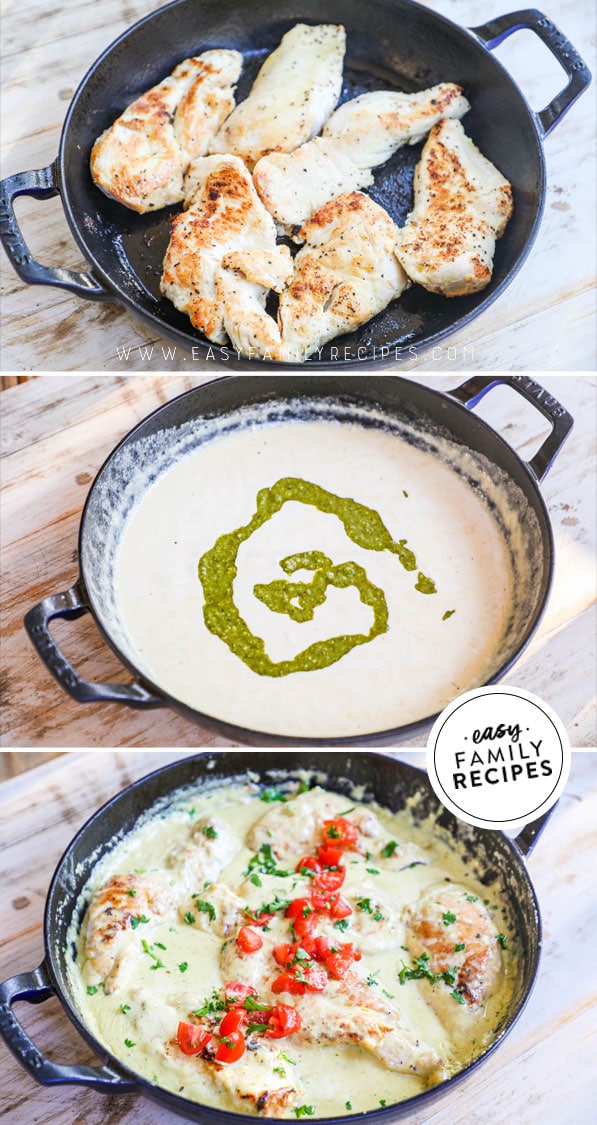 Recipe Tips
With just a few tips, you will know everything you need to in order to make the PERFECT Chicken with Cream Sauce!
Make sure the chicken is THIN!

Using thin chicken breasts allows the chicken to fully cook in the skillet without having to go in the oven. This also allows it to cook to temperature quickly so that it stays super tender and juicy!

You can get thin chicken breasts a few different ways-

Buy thin chicken breast at the market
Cut them in half horizontally (this is what I usually do)
Pound them out with a meat mallet.

Prep the ingredients

This may sound a bit silly, but this recipe moves really fast and you are working with a hot skillet. If you take the time to have the garlic pressed and ready and the cream, cheese, and pesto measured, it makes the recipe run much more smoothly, not to mention avoiding burning things!

Allow the sauce to thicken.

The sauce starts to thicken when it is added to the skillet with the remnants of the flour from the chicken. As you stir it, make sure and scrape the bottom of the pan to loosen these bits so that they can combine with the sauce.

The 2 minute boil, will reduce the sauce a bit, then when it simmers with the chicken at the end it will continue to thicken and keep the chicken nice and tender.

The sauce will continue to thicken as it cools as well, so I like to get it to a consistency where it coats a spoon.

IMPORTANT NOTE: If you try to use milk or half and half to make this recipe lighter, they will curdle at a much lower temperature and cannot be boiled. You will need to cook the sauce over low to get good results.

Know your stove top!

Each stove (and even different burners on the same stove) can cook differently. I cook this dish at medium high, but that might be too high or low depending on the temperature of your stovetop, as well as, the skillet you use.

A high quality skillet will help you cook more evenly without hot spots which can cause food to burn. Make sure to keep the temperature as high as you can without burning the chicken for this recipe, where ever that lands on your stovetop dial.
Dietary Considerations
This recipe is friendly or can be very easily modified to meet others. Please use the notes below as guidelines to adapt to your needs.
Gluten Free- To make this recipe gluten free, you can substitute a gluten free flour, or omit the flour all together. If omitting the flour, the chicken is still good, but will not have the "restaurant style" of a very light flavorful breading.
Nut Free- Pesto generally contains pinenuts or another type of nuts. To make this recipe nut free, you can use nut free pesto. They have a nice variety at Trader Joes.
Low Carb/Keto- As written this recipe has approx 7g net carbs per serving so is low carb. If you want to make the dish more Keto friendly, you can omit the flour all together and just season the meat with salt, pepper, and garlic powder without using flour.
Macros: This recipe has a macro calculation of: P: 39g F: 40g C: 8g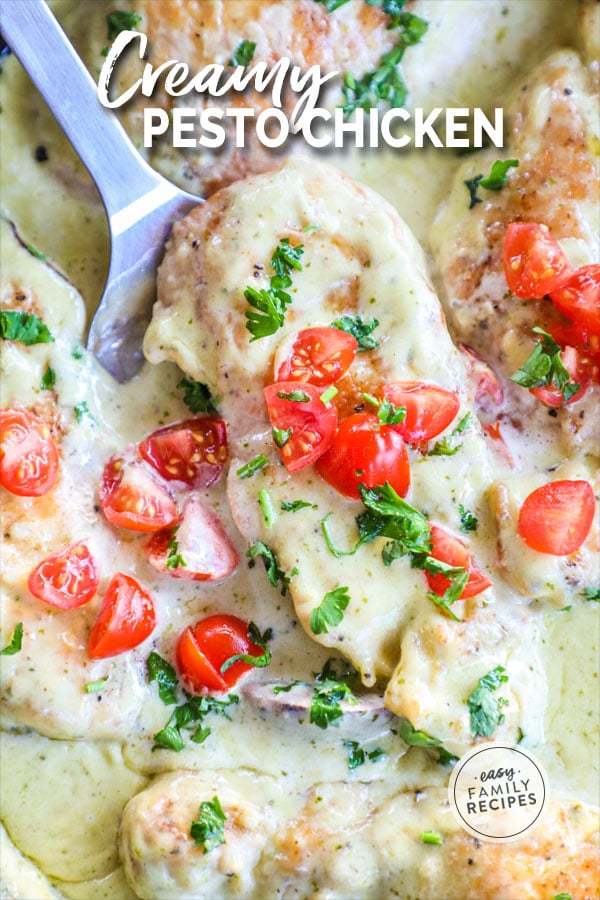 Recipe Variations
Since we really enjoy this recipe, we make it often! We like to change it up a bit with some easy variations to keep it delicious and still feeling new.
Creamy Pesto Chicken Pasta– To make this into a pasta dish, just add al dente pasta to the pesto cream sauce and toss. Then add the chicken back in and serve together.
Pesto Chicken and Asparagus– Prepare the recipe as directed through step 2. Once you remove the chicken, add chopped asparagus in with the garlic in step 3. Continue as directed.
Sun Dried Tomato Pesto Chicken– Prepare the recipe as directed through step 2. Once you remove the chicken, add chopped sun dried tomatoes pack in oil that have been drained in with the garlic in step 3. Continue as directed.
More EASY Skillet Recipes
If you love this recipe as much as we do, I hope that you will stick around and check out a few more of our simple and SUPER DELICIOUS dinner recipes.
You can see all of our EASY Dinner Recipes here, or a few of our most popular skillet recipes below.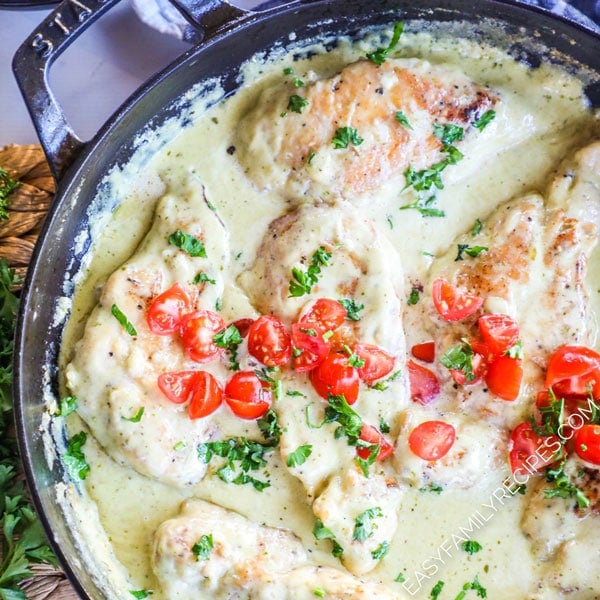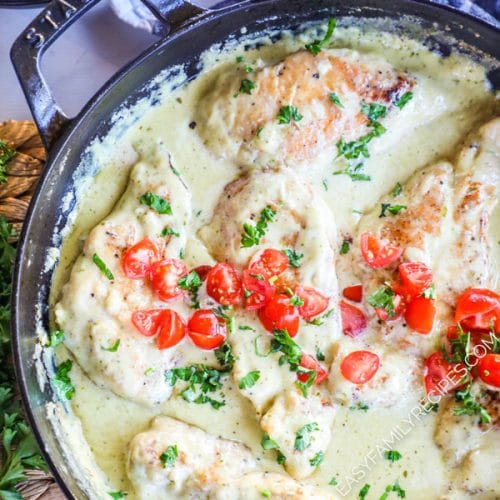 Chicken with Pesto Cream Sauce
This recipe is unbelievably delicious and takes as little as 20 minutes to make! Tender chicken breasts are pan seared and then simmered in a flavorful pesto cream sauce for a perfectly tender and flavor packed chicken dinner.
Ingredients
For the Chicken
2

lbs

boneless, skinless chicken breast

,

cut or pounded to thin cutlets

2

tbsp

flour

1/2

tsp

garlic powder

1/2

tsp

salt

1/2

tsp

pepper

1

tbsp

olive oil
For the Sauce
3

cloves

garlic

,

pressed

2

cups

heavy cream

1/2

cup

parmesan cheese

,

grated

1/3

cup

pesto

,

prepared
Garnish (optional)
grape tomatoes

,

quartered

fresh basil

,

chopped
Instructions
Mix the flour, garlic powder, 1/2 tsp salt, and pepper together. Lightly coat each side of the chicken cutlets with the mixture.

Heat oil in a large skillet over medium high heat. Once the oil is hot, add the chicken breasts to the pan in a single layer and cook 3-4 minutes per side. Remove the chicken from the skillet and set aside.

Add the garlic to the skillet and stir for about 30 seconds.

Add the cream and parmesan cheese to the skillet and mix to combine. Bring to a rapid boil for 2 minutes stirring regularly, then reduce the heat to low.

Stir in the pesto until combined with the cream sauce.

Place the chicken breasts back in the the sauce and let it simmer for 3-5 minutes or until the sauce has thickened.

Garnish as desired and serve immediately.
Nutrition Information
Calories:
545
kcal
(27%)
,
Carbohydrates:
8
g
(3%)
,
Protein:
39
g
(78%)
,
Fat:
40
g
(62%)
,
Saturated Fat:
22
g
(138%)
,
Cholesterol:
216
mg
(72%)
,
Sodium:
748
mg
(33%)
,
Potassium:
873
mg
(25%)
,
Fiber:
1
g
(4%)
,
Sugar:
2
g
(2%)
,
Vitamin A:
1335
IU
(27%)
,
Vitamin C:
4
mg
(5%)
,
Calcium:
163
mg
(16%)
,
Iron:
1
mg
(6%)