This simple Caprese Chicken recipe always impresses! The chicken covered in pesto, tomatoes and creamy mozzarella has delicious flavors and feels like a fancy meal, but only takes minutes to put together with only 4 simple ingredients and one dish. It is perfect for guests but also great for a quick family dinner, and is one of those recipes we make over and over again since it has that perfect combo of simple to make and lick your plate good!
We might make this recipe more than any other. There aren't many things that compare to the combination of simplicity and flavor in this dish. I also love that it is something that I can make that looks fancy, and very impressive but only takes a few minutes to put together. With 3 crazy kids there isn't much in the world that makes me feel put together these days, ha! This recipe is similar to my Bruschetta Chicken recipe that we love so much, but even easier to make!
Beyond the fact that this is just really delicious, it can be served with a variety of options to cater to what your family likes or any special dietary needs. This recipe is naturally gluten free and low carb, so it is friendly for many diets.
What I LOVE about this recipe:
Looks Fancy! It has that fancy restaurant feel to the dish, but it is just so simple to make
Only 4 ingredients– And they are all easy every day items
Lots of flavor– who doesn't love that amazing flavor of gooey mozzarella?!Quick clean up– with only 1 pan and 4 ingredients, this is a breeze to make and clean up!
How to Make Caprese Chicken
I am going to share some of my tips, tricks and notes for this recipe below, if you have questions, there is a good chance I will answer them here! To find the full printable recipe card, scroll down to the bottom of the post.
Caprese Chicken Ingredients: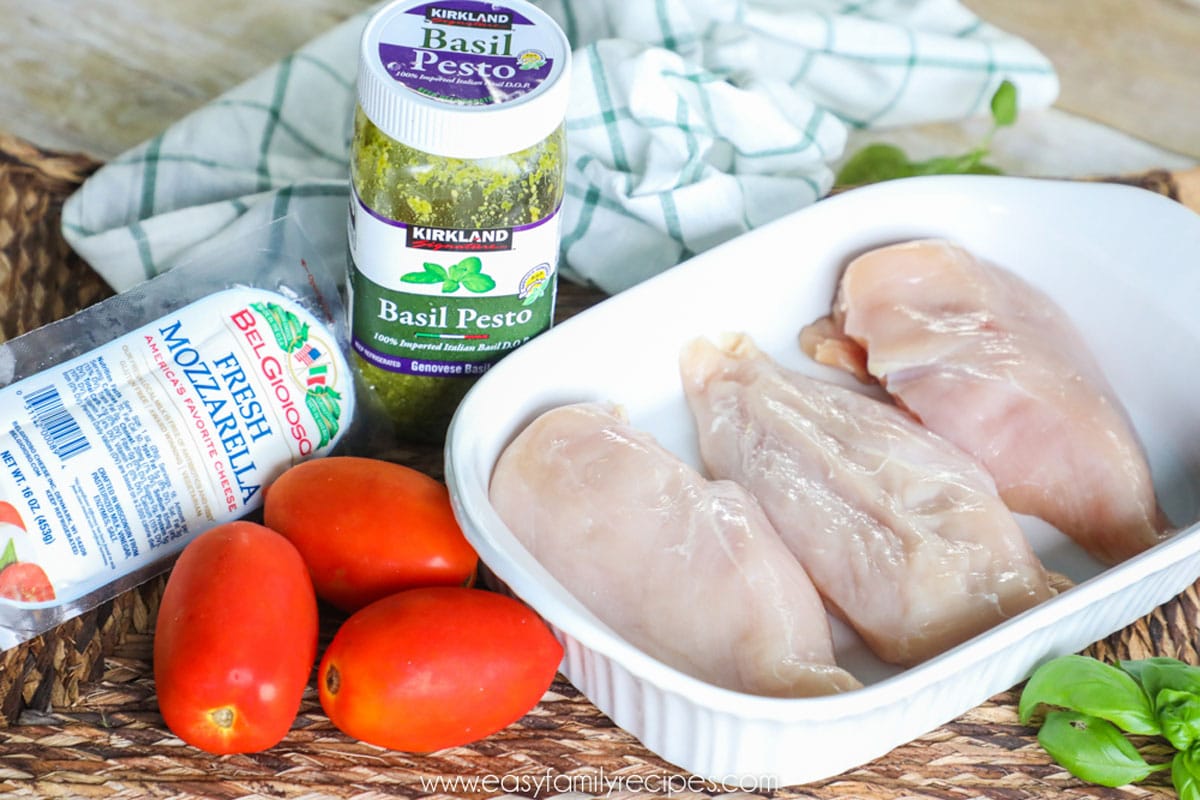 Since this recipe has so few ingredients, the key to good flavor in this dish is using great quality pesto, tomatoes, and mozzarella.
Chicken– I use regular boneless, skinless, chicken breasts. If they are frozen they need to be thawed before you make this recipe. If your chicken breasts are thick, I would recommend cutting them in half so they are thinner and will cook more quickly and get more flavor in each piece of chicken even if it doesn't look the same as the pictures here.

Pesto– I like the pesto that both Costo and Sam's Club carry and almost always keep a jar on hand. I also have used the Buitoni brand pesto that you can find in the refrigerated section at most local grocery stores. I think the flavor of the refrigerated pestos is better than jarred (non-refrigerated) pestos, but again it is a personal preference so if you have a brand you love, use it! If you don't want to buy the pesto or you can't find it locally, pesto is simple a sauce made of blended basil, garlic, parmesan cheese, pine nuts, and olive oil and is easy to make at home. This is a great homemade pesto recipe.

Tomatoes– I like to use roma tomatoes. I think they have great flavor and they seem to be the perfect size for layering onto the chicken. You can really use any tomato you have on hand though, even halved cherry tomatoes would work in a pinch!

Mozzarella– Fresh mozzarella is a key ingredient in traditional caprese flavors so I recommend using it in this dish. You can find this at most grocery stores and even Walmart, but sometimes it is not in the cheese section and instead in more of a specialty case near the deli. If you are in a pinch you can use regular grated mozzarella but the flavor and creaminess of the cheese won't be quite the same.
Recipe Step by Step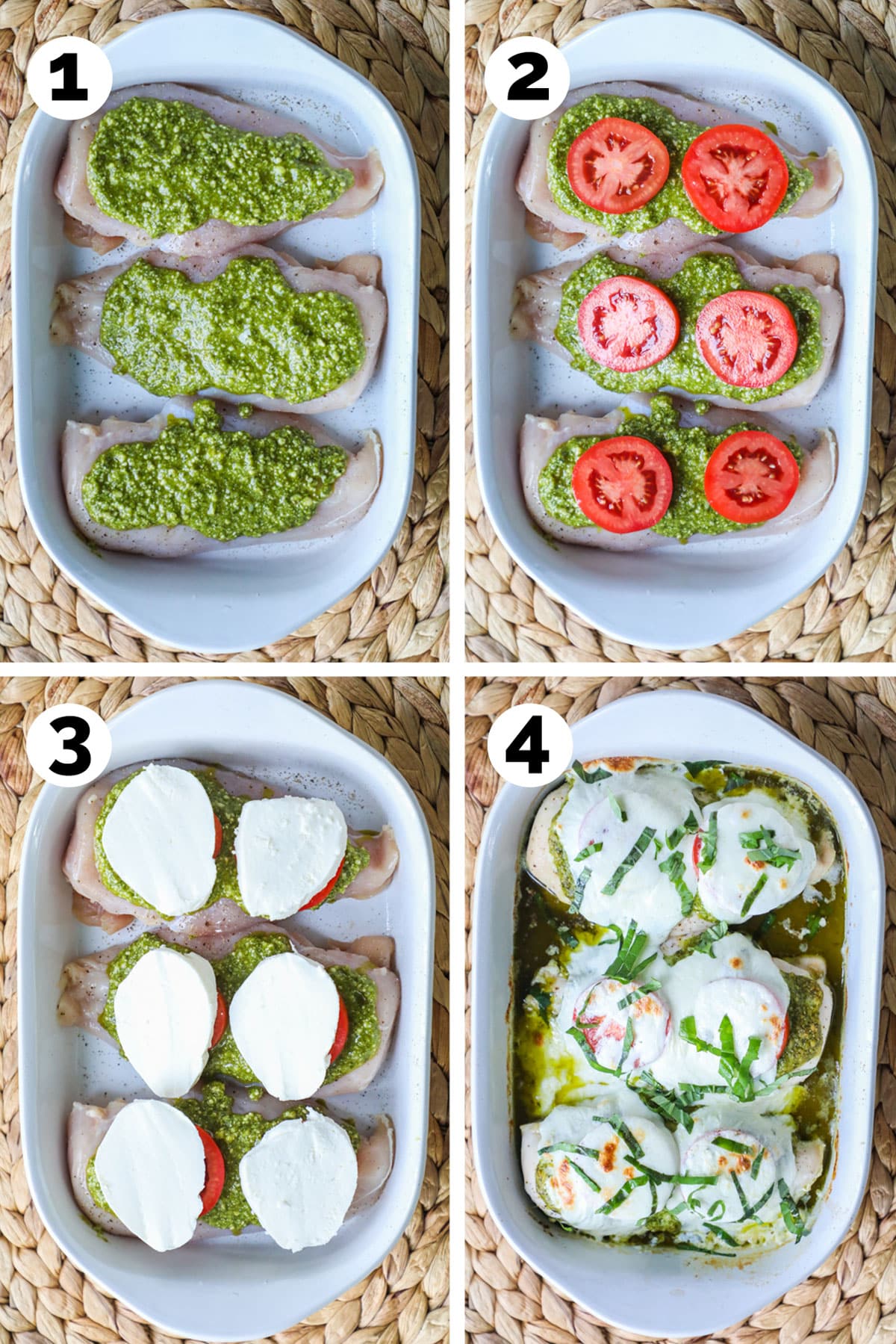 Lay the chicken flat in a casserole dish and cover with pesto. Leave enough room for the chicken not to be too crowded.
Slice a roma tomato and place on top of the pesto. The thinner you slice the tomato, the more soft it will be, while a thicker tomato will hold some firmness after baking.
Add slices of fresh mozzarella cheese to top the caprese chicken bake. If you prefer you can shred the cheese instead and put it over the top.
Bake the chicken until it reaches an internal temperature of 165˚F. Make sure not to over cook it so that it stays tender and juicy! Garnish with freshly chopped basil.
Recipe Tips:
Baking tips– I always cook my dish on the middle rack. I do not cover the dish while baking. Since the oil in the pesto will melt and the chicken and cheese will release additional juices, cooking the Caprese Chicken uncovered helps some of that liquid to evaporate.

Browning– I have not had a problem with the cheese getting too browned, but if your oven cooks differently and you are getting more browned than you like I would recommend cooking uncovered until that point and then covering the dish loosely with a piece of foil until it finishes cooking.

How long to bake chicken in the oven– This will vary depending on the thickness of your chicken breast, the size of your baking dish, and the actual temperature of your oven. Generally it will take about 30-40 minutes at 375˚F. I highly recommend using a meat thermometer to gauge the temperature of the meat and remove it just as it hits 165˚F.

All the juices! When the chicken is done cooking there will be juices in the bottom of the dish. I love to set the chicken on top of the rice, mashed potatoes, or whatever I am serving it with and then spoon some additional juices on top to really get the flavor mixed in.
Freezer Meal Instructions
You can prepare Baked Caprese Chicken as a freezer meal to keep for later, or give to a friend in need. For the best flavor store this frozen for up to 6 months.
Lay the chicken flat. Layer on the pesto, tomato, and mozzarella.
Package in a freezer friendly container or freezer bag, and freeze.
Once ready to cook, move chicken to a baking dish and thaw covered in the refrigerator for 36-48 hours.
Bake as directed.
How to Serve Caprese Chicken
One of the things I love most about this dish is that it can be served in so many ways. This dish is great warm from the oven served over a starch or greens and for a special treat drizzle it with balsamic glaze! (Balsamic glaze can be found at the grocery store near the balsamic vinegar.) I will share both my favorite traditional ways to serve it and also low carb serving suggestions. I think a combination of a couple of options from the list below makes a perfect meal.
Caprese Chicken serving ideas:
Rice– serve over wild, white or brown rice or with a side of risotto.
Potatoes- One of my husbands favorite ways to eat this is over creamy mashed potatoes, with a side of smashed potatoes, or it would also make a great topping for baked potatoes.
Pasta– You can serve this right over pasta tossed with olive oil or butter and garlic or with additional pesto.
Bread– This goes great with a loaf of french bread or a crusty baguette. You can also make garlic bread or garlic cheese bread and serve it with or right on top. This works great to soak up the juices.
Caprese Chicken low carb serving ideas:
I think the perfect meal is a combination of of a few of these options, like served over rice with a side of broccoli and some crusty bread, or similar. If you have a way that you serve this dish that I missed on my list, please let me know in the comments so I can try it out!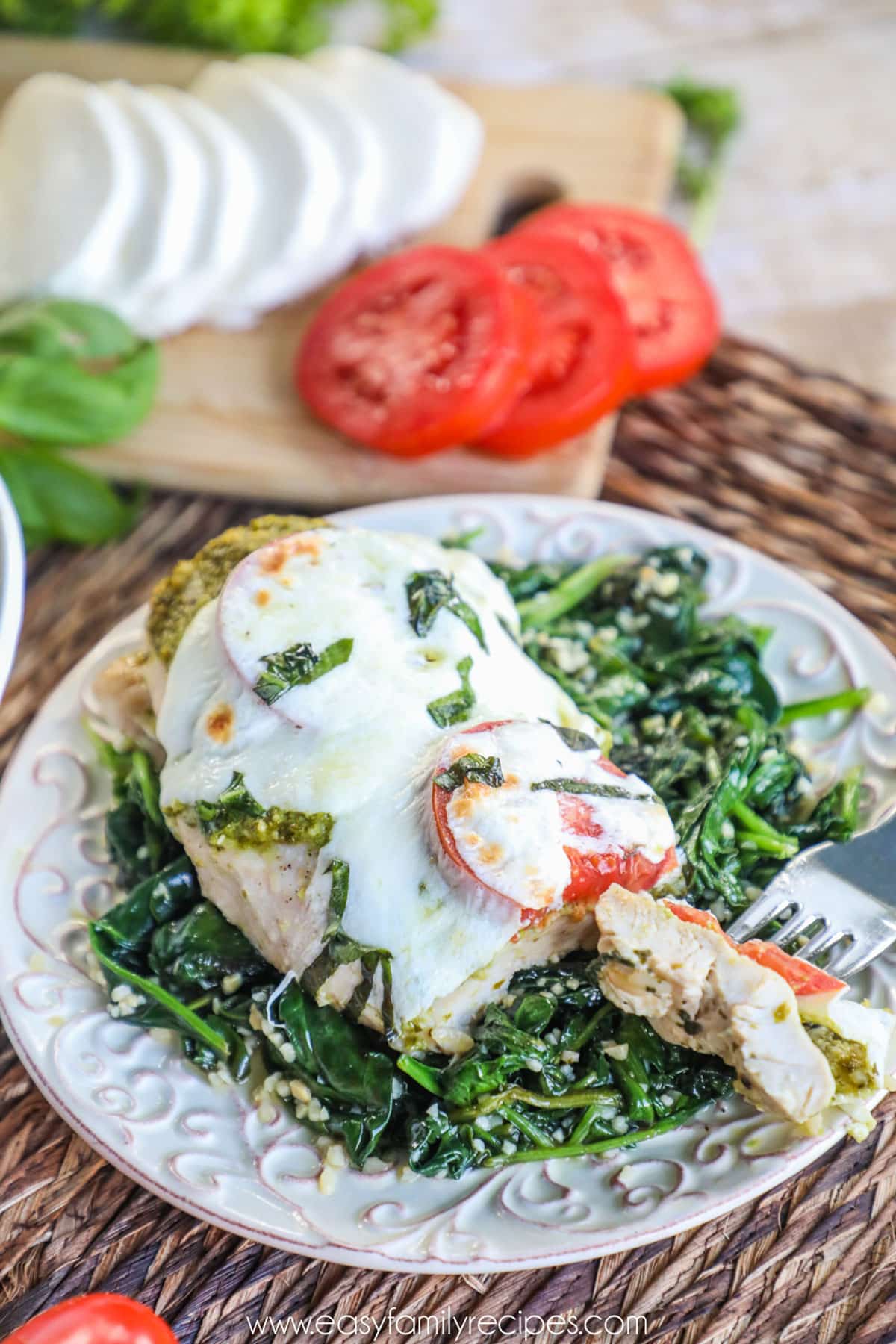 What to do with the Caprese Chicken Leftovers
Leftovers of Caprese Chicken (if you have any!) might even be the best part. To store leftovers you can place them in an airtight container in the fridge for 3-5 days or in the freezer for up to a month. I like to divide the leftovers into portion sized containers before I freeze it so it is easy to take out for a new meal.
There are many ways that you can repurpose this dish so that it makes a stellar second meal. Here are a few of my favorites:
Caprese Chicken Salad– If you want to eat this for lunch the next day, chop up the leftover chicken (cold or warm) and add it to a bed of greens with grape tomatoes, and crunched pita chips, and any additional veggies you like such as artichokes, olives, sweet bell peppers etc and toss with Italian dressing, balsamic vinaigrette, or some additional pesto mixed with ranch or caesar dressing.
Caprese Chicken Pasta– You can use your favorite pasta and make this a number of ways but two of my favorites are:

Toss hot pasta with butter and garlic then add heated caprese chicken leftovers, additional cherry tomatoes and a little parmesan cheese and toss.
Toss hot pasta with alfredo sauce. Chop and warm the leftover caprese chicken, then toss it with the alfredo chicken. Add an extra spoonful of pesto for an extra treat!

Caprese Chicken Pitas– Spread a thin layer of pesto into the inside of a pita pocket. Chop up leftover caprese chicken and stuff into a pita pocket. Top pita with arugula or spinach, and extra tomatoes, mozzarella, or other toppings as desired.
More EASY Chicken dinner recipes
If you enjoyed this recipe, I hope you will try some others! You can find all of our easy dinner recipes here, or see a few of my personal favorite chicken dinner ideas below.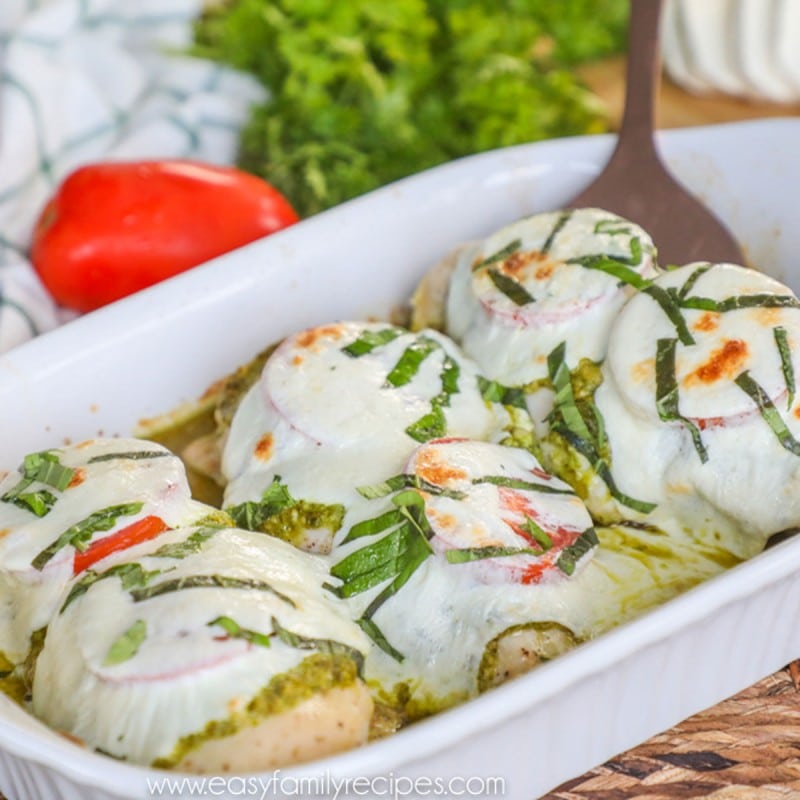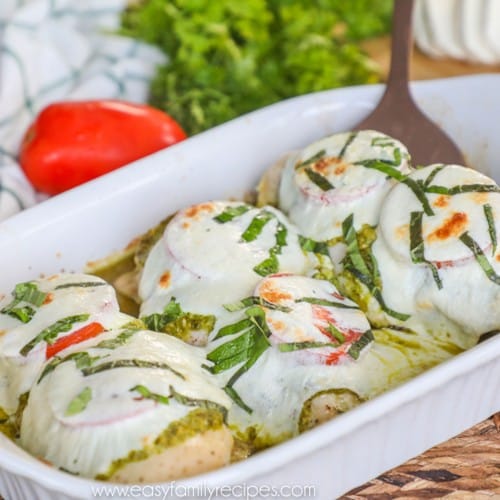 Caprese Chicken
This simple dish is packed full of delicious flavors. It is perfect to serve for guests, or just for your own family. With only 4 ingredients and one dish, it comes together quickly and is easy to clean up!
Ingredients
3-4

boneless

,

skinless chicken breasts (about 2 pounds)

4

tbsp

prepared pesto

2

roma tomatoes

,

cut in 1/2″ slices

8

oz

fresh mozzarella cheese

,

cut in slices
Instructions
Preheat oven to 375˚F

Lay the chicken breasts flat in a baking dish.  Spread 1 tbsp of pesto evenly on each chicken breast. Top with tomato slices and cheese.

Bake for 30-40 minutes or until chicken is cooked through to an internal temperature of 165˚F

Garnish with fresh basil and serve with your favorite sides.  Enjoy!
Recipe Notes
If your chicken breasts are thick, I would recommend cutting them in half to make them thinner. You can also cut the chicken into chunks or use tenderloins.  If you do cut the chicken or use tenderloins, the cooking time will probably be reduced.
Caprese Chicken leftovers can be stored in an airtight container in the fridge for 3-5 days or in the freezer for up to a month.
Dietary Considerations:

This recipe is naturally gluten free low carb and friendly for low carb and keto diets.
How to Store — To store leftovers you can place them in an airtight container in the fridge for 3-5 days or in the freezer for up to a month. 
How to Freeze — For the best flavor store this frozen for up to 6 months. This

recipe freezes well. It can be frozen before or after cooking. See how to freeze section in original post for full instructions. 
How to Reheat —

This can be reheated in the microwave in 30 second increments, or cover with tin foil and place into the oven to reheat. 
Nutrition Information
Serving:
4
oz
,
Calories:
270
kcal
(14%)
,
Carbohydrates:
3
g
(1%)
,
Protein:
36
g
(72%)
,
Fat:
12
g
(18%)
,
Saturated Fat:
5
g
(31%)
,
Polyunsaturated Fat:
2
g
,
Monounsaturated Fat:
0
g
,
Trans Fat:
0
g
,
Cholesterol:
85
mg
(28%)
,
Sodium:
380
mg
(17%)
,
Potassium:
0
mg
,
Fiber:
2
g
(8%)
,
Sugar:
0
g
,
Vitamin A:
0
IU
,
Vitamin C:
0
mg
,
Calcium:
0
mg
,
Iron:
0
mg