This Baked Bruschetta Chicken is the perfect quick and wholesome Italian inspired dish for a busy weeknight. With only 8 fresh ingredients this meal comes together quickly and can be prepped and in the oven in as little as 15 minutes. If you love bruschetta, then you will love layering the flavors on top of tender chicken breast to turn it into a delicious, one dish meal.
There is nothing that says fresh like vine ripe tomatoes and fresh herbs. This Baked Bruschetta Chicken recipe takes the freshest flavors and combines them into a one dish wonder! All the delicious flavor of bruschetta transformed into a one pan meal with just minutes of prep.
What I Love about this recipe!
It's easy
You can make it all in one dish.
It cooks without babysitting so you can get other stuff done!
Very few dishes once you are done (The real MVP)
What is Bruschetta
Pronounced bru-sket-ta, bruschetta is an Italian dish traditionally prepared as grilled bread rubbed with garlic and served as an appetizer or antipasto. In America though, we are more familiar with it as a crusty garlic bread, toasted and topped with a tomato mixture. Generally, this mixture is made of diced tomatoes mixed with basil, olive oil, salt and pepper and then sometimes drizzled with balsamic vinegar.
I have to say, as much as I love bread in all of it's forms, as far as I am concerned, bruschetta the American way is pretty much perfection. Borrowing these flavors from the appetizer and making it into a complete dinner with this Bruschetta Chicken Bake was meant to be.
How to Make Baked Bruschetta Chicken
Follow along as I walk step by step through the recipe below, where I will go through all the frequently asked questions and add my extra tips.
If you just want the quick version, you can scroll down to the recipe card below.
Ingredients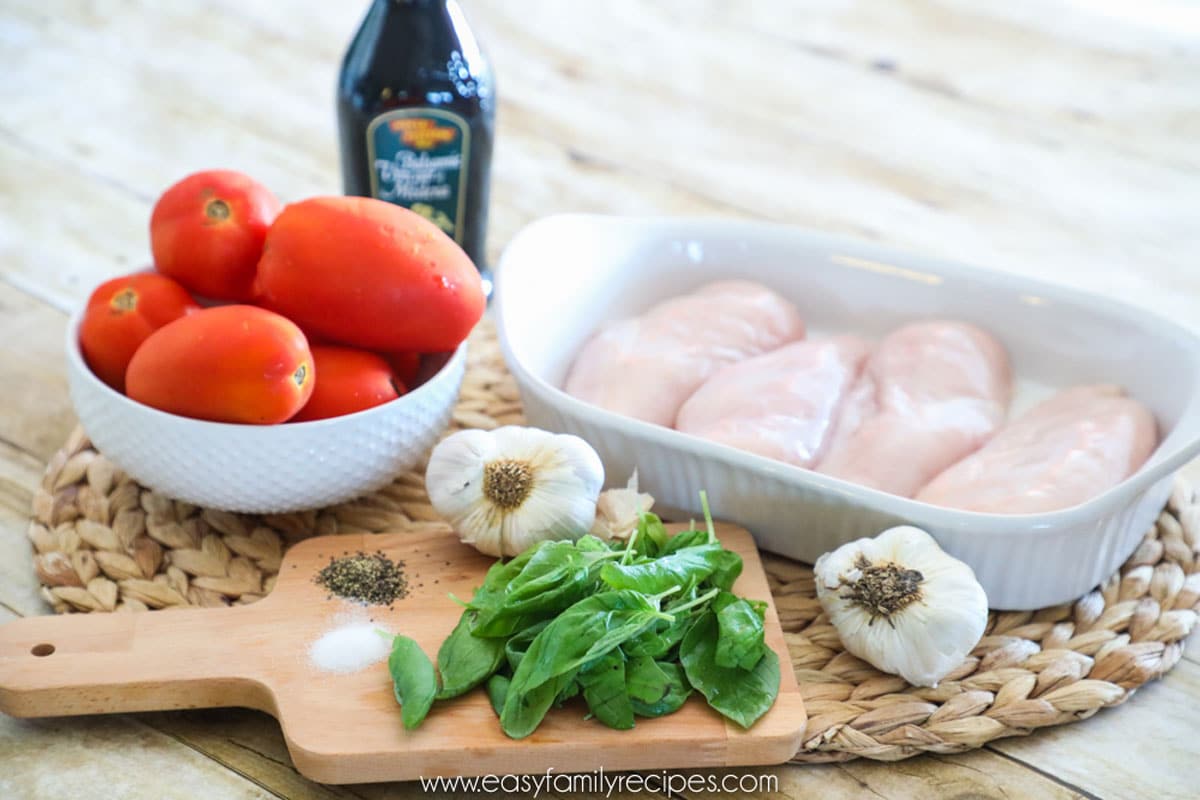 Chicken breasts- This will be about 1.5-2 pounds of boneless skinless chicken breasts. Prepare the chicken by trimming any excess fat or gristle
Roma tomatoes- Try to find nice firm fresh tomatoes, It will make the dish easier to prepare and avoid getting mushy when it is cooked. My tomatoes were on the large side, so if you can only find small tomatoes you might want to grab 1-2 extra. You can substitute cherry tomatoes too if you prefer.
Fresh chopped basil- Fresh basil is going to make a big difference in this dish! You can usually find it year round in the produce section, either in the refrigerator or potted near the garlic or tomatoes.
Garlic- Again, fresh really adds to this dish. I recommend smashing the cloves with the side of your knife and then very finely dicing them so that it can cook through and distribute the flavor throughout the dish.
Balsamic vinegar– Grab whatever variety they sell at your store
Seasonings- We start with a simple seasoning of salt and black pepper. You can get fancier with it and add some Italian Seasoning if you wish, but I like to keep it simple and let the bruschetta carry the flavor of the dish.
Mozzarella cheese- This will be about 1 cup of shredded cheese. You can also use fresh mozzarella and tear it into pieces on top.
For garnish (optional)
Fresh chopped basil
Balsamic Glaze- Although it says optional, I would HIGHLY recommend this! It is super delicious and really makes this dish special. This works especially well if you have kiddos because it is nice and sweet and kids really like it!
Recipe Step by Step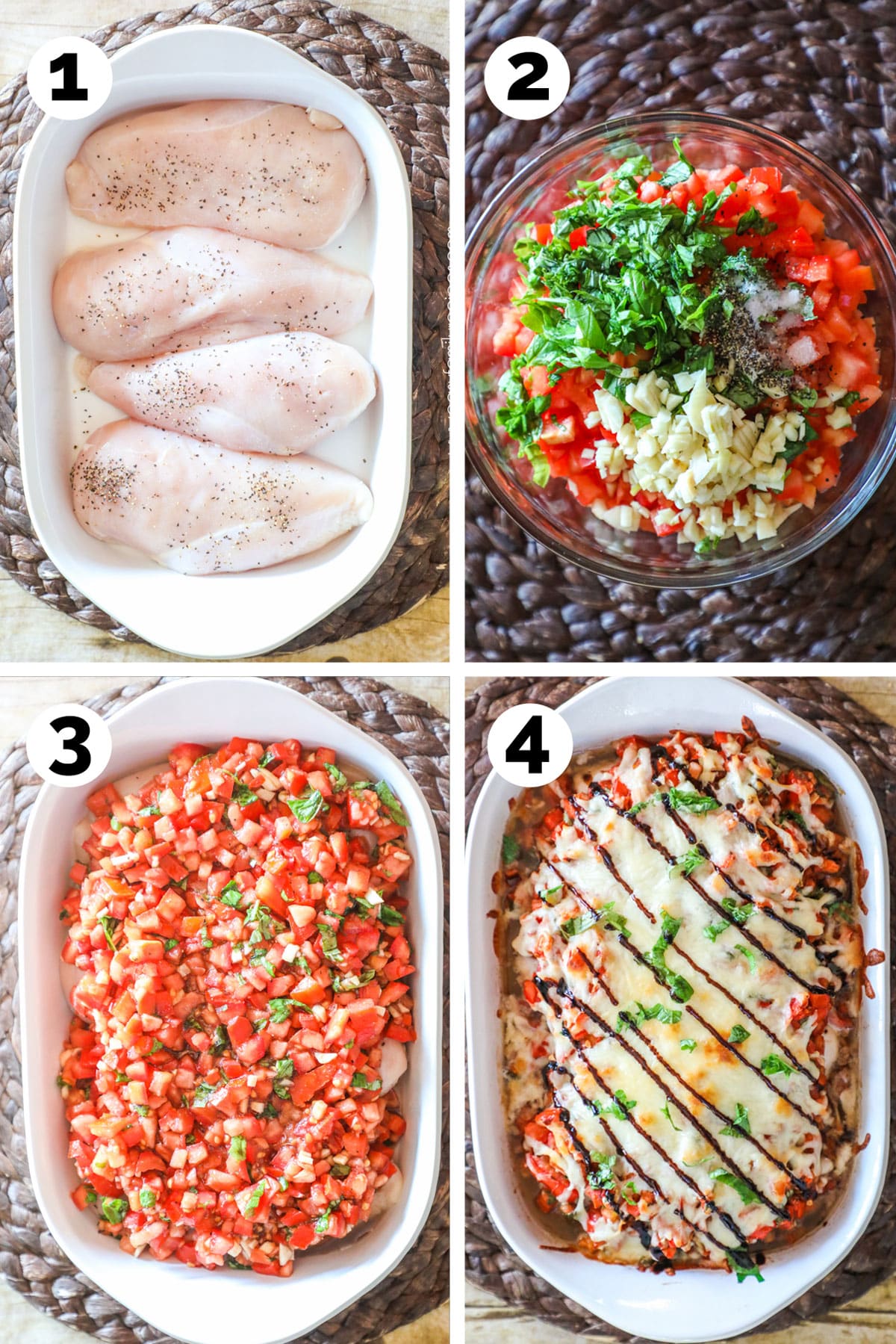 Season the chicken and place it in a single layer in a baking dish.
Prepare the bruschetta topping for the chicken bake by combing chopped tomatoes, basil, garlic, and balsamic vinegar. Mix well so it is evenly combined.
Pour the tomato mixture over the top of the chicken and then use a spatula to spread it evenly over the chicken. Spreading it evenly will help it to cook evenly as well.
Top with the mozzarella cheese and bake. You will want to cook this uncovered in the casserole dish. Since tomatoes have so much water content it helps some of it to burn off of the Bruschetta Chicken while cooking, so that the dish isn't overly juicy, although there will still be a good bit of flavorful juice in the bottom after cooking.
Recipe Short Cuts
This recipe is full of fresh flavors and simple to make. If you are short on time, these tips can help to speed up the preparation of the Bruschetta Chicken and get it into the oven even faster.
Prep ahead – You can save time by prepping the tomato mixture the night before.
Prepared Topping– Buying pre-diced tomatoes can really help to speed things up. They are often available in many grocery stores in the refrigerated produce section.
Bruschetta Mix– Some stores even sell pre-made Bruschetta topping. I have found this at Trader Joe's before and other local grocery stores. You can use about 2-3 cups of prepared topping in lieu of making fresh bruschetta.
Variations
Pesto Bruschetta Chicken- To give this dish a flavor blast with pesto, simply slather each chicken breast with prepared pesto before piling on the bruschetta topping and cheese.

Grilled Bruschetta Chicken- Instead of baking the chicken, grill each chicken breast over medium flame until cooked. Once done pile on the bruschetta topping and sprinkle with mozzarella cheese. This is a refreshing way to eat Bruschetta Chicken with a cold topping in the warmer months.
How to Serve Bruschetta Chicken
This dish is awesome because it is so easy but still kinda fancy and impressive! You can whip this up just as easily for a family dinner as you can if you have company coming over and need something that is just a little more impressive than the usual fare.
This dish can be served in a variety of traditional or low carb ways. For almost all of them, I like to top with the chicken then spoon some of the juices over everything to incorporate more of the flavors.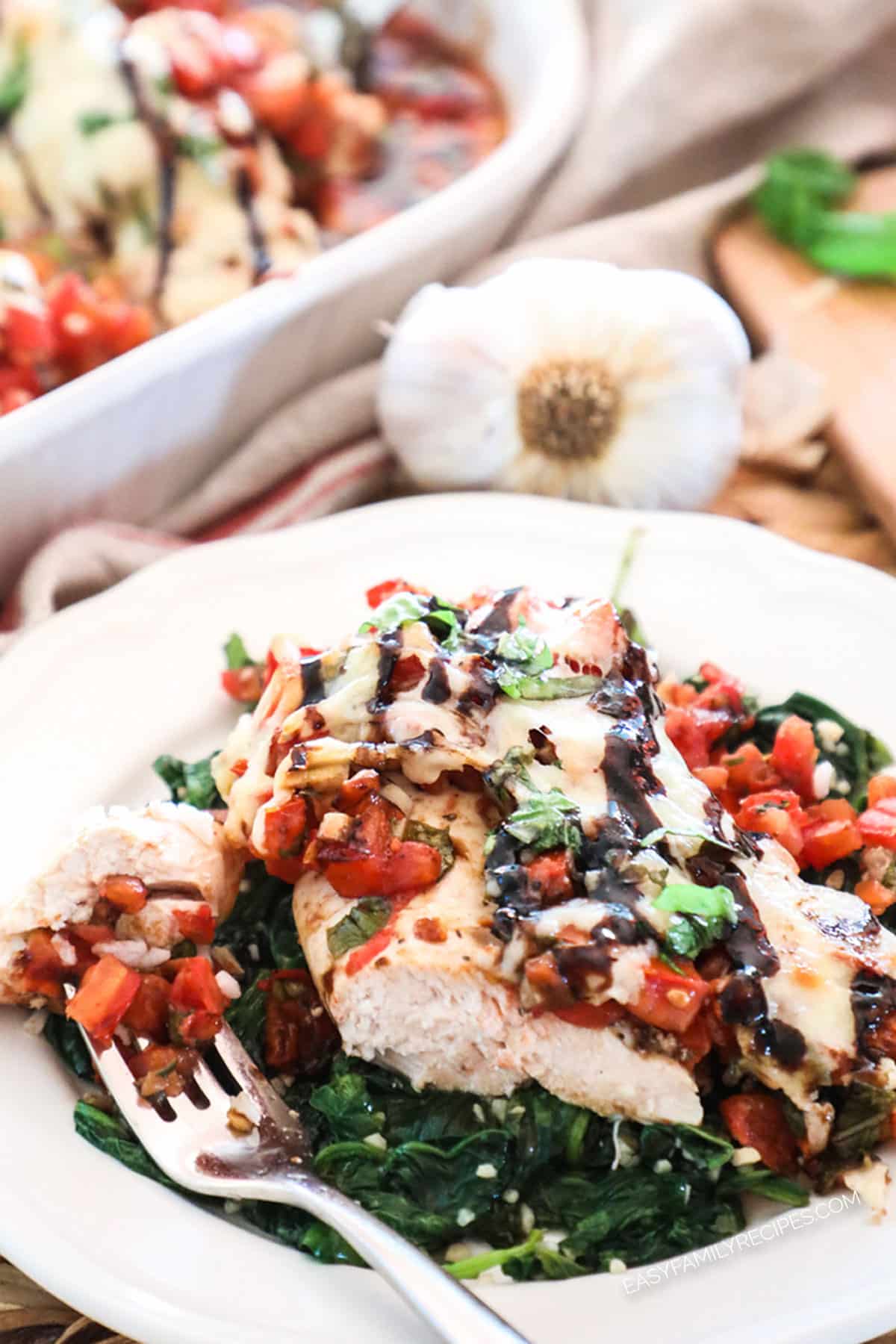 Traditional serving ideas for Bruschetta Chicken
On top of a big piece of toasted garlic bread (this is a ode to traditional bruschetta)
Over pasta (this would be similar to pomodoro sauce)
Over rice
On mashed potatoes or with a side of roasted red potatoes
Low Carb Serving ideas for Bruschetta Chicken
Baked Bruschetta Chicken Leftovers
If you have leftovers after making Bruschetta Chicken they will save well and can make the start of another really delicious meal! Try these options, or let me know in the comments if you have other ways you love to eat leftover Baked Bruschetta Chicken.
Bruschetta chicken quesadillas– Slice leftover bruschetta chicken and pile it in a tortilla along with some additional mozzarella cheese. Grill in a buttered skillet on each side until golden brown.
Chicken bruschetta casserole- Chop leftover bruschetta chicken. Toss cooked and drained pasta with alfredo sauce and stir in leftover chicken and bruschetta topping. Cover with cheese and bake until the edges are bubbly.
Chicken bruschetta pizza– Top a prepared pizza crust with pesto and mozzarella. Chop leftover Baked Bruschetta Chicken and sprinkle chicken and bruschetta topping over the top of the pizza. Bake as directed on crust. Drizzle with balsamic glaze to finish.
Chicken bruschetta sandwich– Mix 1 teaspoon of each mayonnaise and pesto. Spread on each side of a cut ciabatta roll. Reheat bruschetta chicken and place on top of the bottom of the roll. Top with arugula and balsamic glaze.
Chicken bruschetta salad- On a bed of mixed greens, add chopped bruschetta chicken and topping. Sprinkle with parmesan and add sliced red onion, and crushed pita chips. Toss with balsamic vinaigrette.
More Easy Chicken Bake Recipes
If you loved this recipe as much as we do, don't forget to leave me a comment and rating on the recipe below. And make sure to check out a few of our other easy chicken bake recipes for another night. You can see all of our chicken recipes here, or some of my hand-picked favorites below.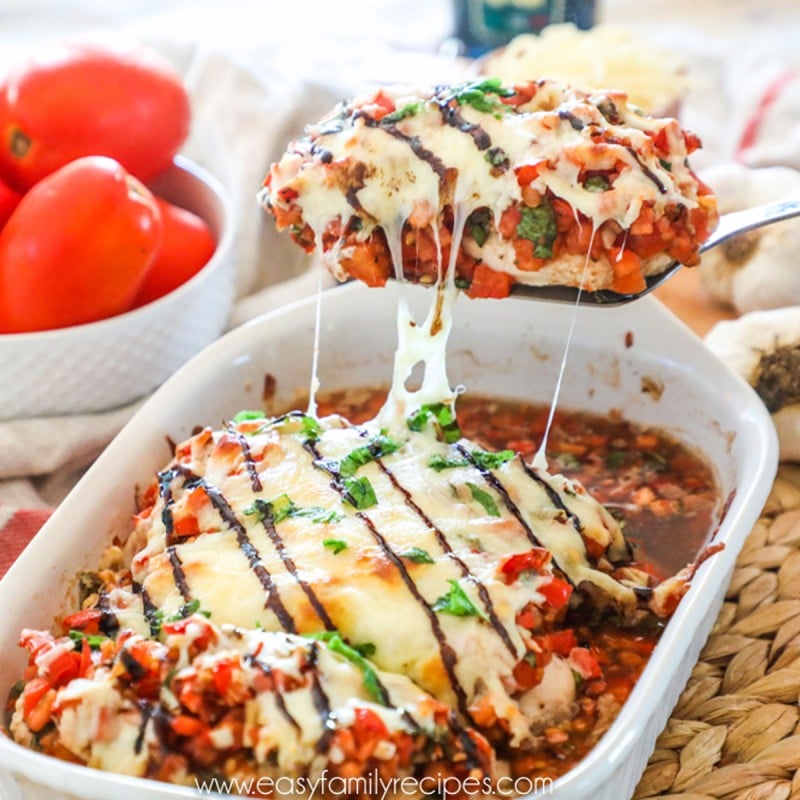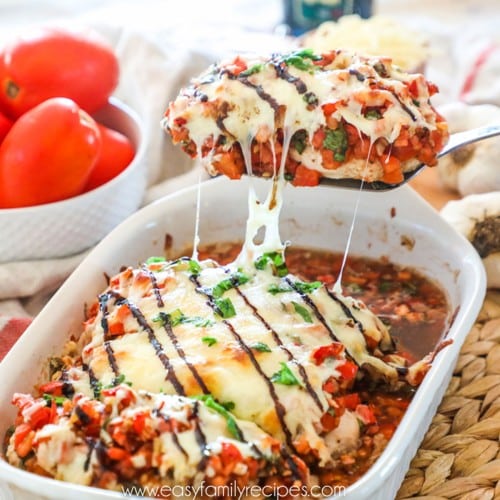 Bruschetta Chicken
This Bruschetta Chicken will knock your socks off with its fresh bold flavors. It turns the delicious taste of the family favorite Bruschetta appetizer into a wholesome meal that comes together quickly and is a crowd favorite.
Ingredients
3-4

chicken breasts

,

about 2 lbs

6

roma tomatoes

1/2

cup

fresh chopped basil

2

cloves

fresh chopped garlic

2

tbsp

balsamic vinegar

1/2

tsp

salt

1/2

tsp

black pepper

4

oz

shredded mozzarella cheese

,

about 1 cup
Garnish (optional)
Fresh chopped basil

Balsamic Glaze
Instructions
Preheat the oven to 375˚F

Chop the roma tomatoes into small 1/4″ pieces. Chop basil and garlic. In a large bowl, toss the tomatoes, basil, and garlic with the vinegar and half of the salt and pepper.

Lay the chicken breasts flat in the bottom of a large baking dish and season with the remaining salt and pepper.  Pour the tomato mixture over the top of the chicken and then use a spatula to spread it evenly over the chicken.  Top with the mozzarella cheese.

Bake on the middle oven rack for 35-45 minutes or until the chicken reaches an internal temperature of 165˚F.

Top with fresh chopped basil and balsamic glaze to garnish. Serve hot and Enjoy!
Recipe Notes
This recipe is full of fresh flavors and simple to make.  Although I do not recommend freezing this before cooking, you can save time by prepping the tomato mixture the night before or buying pre-diced tomatoes which are available in many grocery stores in the refrigerated produce section.
Leftovers can be stored in an airtight container in the refrigerator for up to 3 days or frozen for up to 3 months.
Dietary Restrictions:
Gluten Free– This recipe is naturally gluten free
Dairy Free– This recipe can be prepared dairy free by omitting the cheese
Whole30– This recipe can be made Whole30 by omitting the cheese and balsamic glaze.
Weight Watchers Freestyle- 2 SmartPoints
©2017 Easy Family Recipes
Recipe found at: https://www.easyfamilyrecipes.com/bruschetta-chicken
Nutrition Information
Serving:
4
oz chicken breast with toppings
,
Calories:
259
kcal
(13%)
,
Carbohydrates:
10
g
(3%)
,
Protein:
38
g
(76%)
,
Fat:
8
g
(12%)
,
Saturated Fat:
4
g
(25%)
,
Polyunsaturated Fat:
3
g
,
Monounsaturated Fat:
0
g
,
Trans Fat:
0
g
,
Cholesterol:
99
mg
(33%)
,
Sodium:
629
mg
(27%)
,
Potassium:
0
mg
,
Fiber:
2
g
(8%)
,
Sugar:
5
g
(6%)
,
Vitamin A:
0
IU
,
Vitamin C:
0
mg
,
Calcium:
0
mg
,
Iron:
0
mg