These easy, 5 ingredient Buffalo Chicken Tenders are perfect for satisfying that saucy wing craving in a lighter, and even faster way. Skip the breading and choose these ranch seasoned, skillet cooked chicken tenderloin strips that only take 15 minutes to prepare. Once tossed with a quick buffalo sauce every bite will be a combination of irresistible, classic wing flavors. Serve them as an appetizer, snack, or a dinner the whole family will love!
Buffalo Chicken Tenders – The EASY Way!
Buffalo style chicken is one of those things that is universally loved! Everyone enjoys those classic wings at restaurants, but having that saucy, spicy flavor at home is actually really easy. There is no need to labor over a pot of frying oil when you have a quick buffalo chicken tender recipe at hand!
Cooking boneless chicken tenderloins without breading in a skillet is a lighter alternative to deep fried wings. Plus they are faster to prepare too, like 15 minutes fast!
This can be a family friendly dinner, a crowd-pleasing appetizer, or snack for those hungry friends your kids bring home from school. Any way you slice it, it is a real crowd pleaser. BONUS- it can fit into gluten free, low carb, or keto diets really easily.
Why I LOVE this recipe
Fast – You'll only need 15 minutes to get these on the table, prep time included!
Simple – Does it get any easier than 5 ingredients? No chopping required here!
Appetizer or dinner – Great as the main protein for dinner, or part of a sampling of appetizers.
Wholesome – Lean, skillet-cooked tenderloin strips are a much healthier way for you and your family to enjoy buffalo chicken.
One Skillet– Easy prep, minimal dishes, and just one skillet to clean up!
What to Serve with Homemade Buffalo Chicken Tenders
Since this dish has the classic flavors of tangy, spicy buffalo chicken, it will pair well with many of the flavors traditionally served with the dish. There are both classic options and some healthy options to keep it light.
Choose two or three other quick and easy appetizers and you'll create a grazing table nobody will be able to resist. Or, simply pair them at the dinner table with vegetable sides or salads to create a wholesome family meal.
Appetizer Ideas
Side Dish Ideas
If you are serving this as a main dish you can pair any of these with the Buffalo Chicken Tenders to round out your plate.
You can choose one or add a few sides to make a wholesome, well rounded dinner.
Dipping sauces
Buffalo Chicken Tenders can't reach their full potential until you have the perfect dipping sauce! Our favorites are always a creamy dressing to perfectly compliment the flavor!
Recipe Notes
This buffalo chicken tenders recipe is as simple as promised! Just 15 minutes, 5 ingredients, and one pan for a family friendly meal.
In this section I am going to go through a few tips and tricks I use when making this recipe to get the absolute best and most delicious results.
Make sure to scroll to the bottom for the FULL recipe card.
Ingredients + Substitutions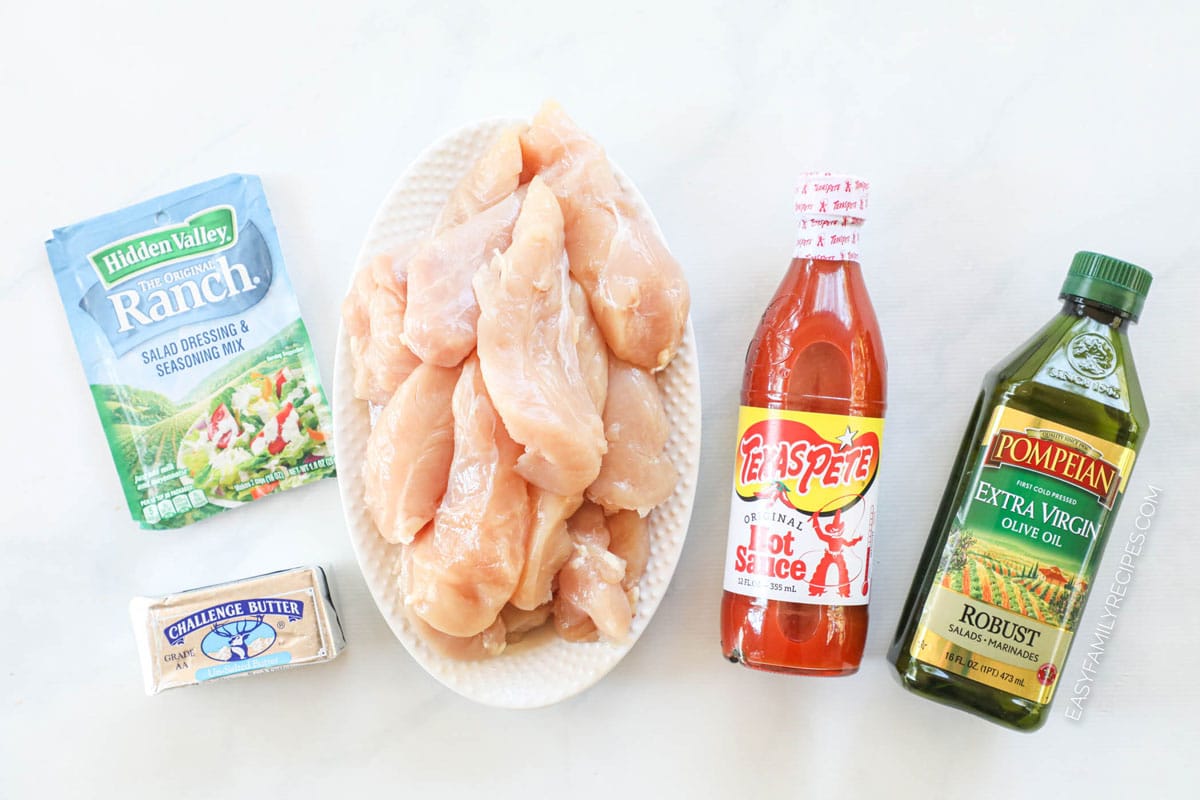 Chicken tenderloins – Buying actual chicken tenderloins is a huge time-saver. But if you have chicken breast or boneless skinless thighs on hand, you can use those too. Simply slice them into even strips to make tenders.

Ranch seasoning – You'll need exactly one packet's worth of ranch seasoning, no need to measure! But you can also use my homemade ranch seasoning if you keep it on hand. It is great if you are dairy free or have other special dietary needs.

Olive oil– I use olive oil, but you can also substitute canola oil, vegetable oil, or grape seed oil.

Hot pepper sauce – We use a vinegar-based hot sauce which has a great balance of spice and tang. Texas Pete's, Franks Red Hot, Crystal, or Louisiana Hot Sauce are a few suggestions, but pick one that is the right level of spice for your family.

You can also buy pre-made buffalo sauce in lieu of making your own like we do here.

Butter – This makes the hot sauce into that thick, familiar buffalo sauce. I recommend unsalted since ranch seasoning already contains the salt you need. You can also substitute margarine if you are dairy free.

IMPORTANT: If you have a bottle of prepared buffalo sauce, you will not need butter at all.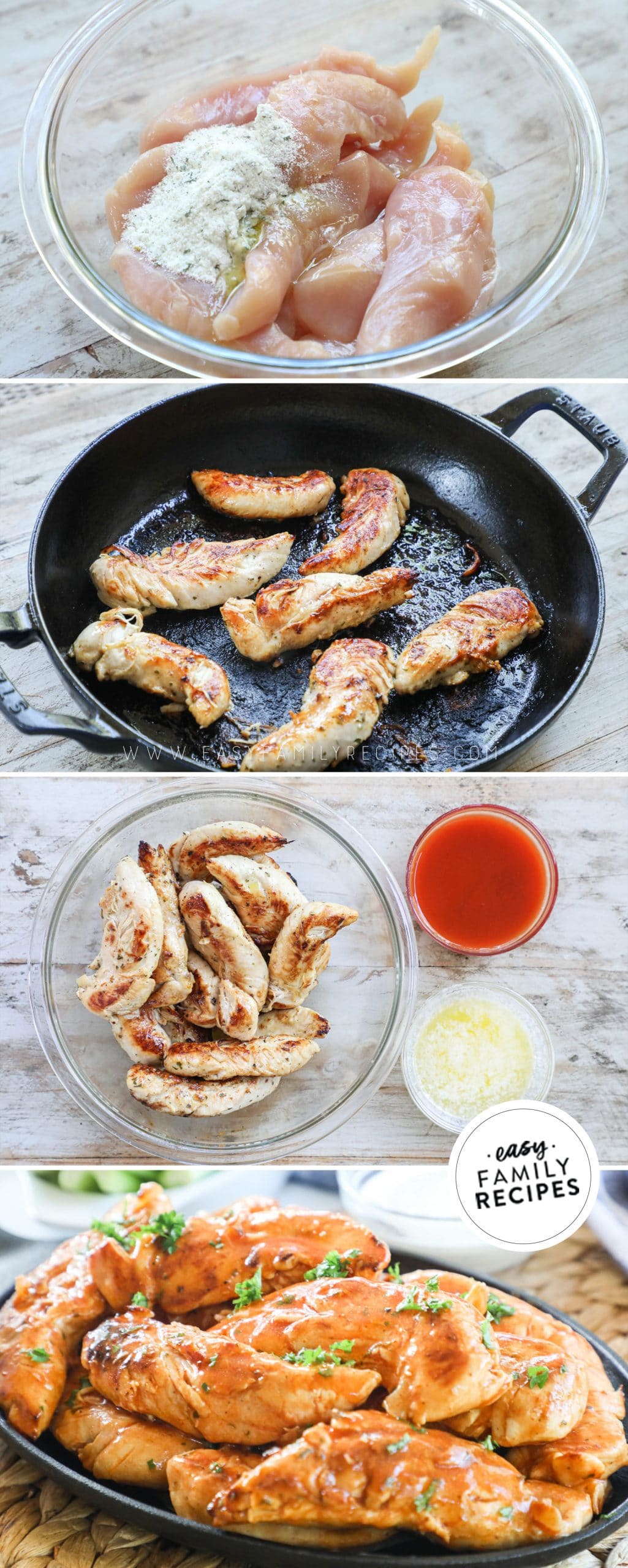 Recipe Tips
Use a large skillet – One key technique for getting that gorgeous, flavorful caramelization on your chicken tenders is using a large pan. When we overcrowd a pan with ingredients they steam instead of sear, and that's not what we're after! If you don't have a pan large enough to cook them without cramming them in, I recommend you cook in batches instead.

Preheat your pan – The second secret to browned chicken is getting the pan and oil hot before any chicken touches it. Start the skillet on medium high to get it ready.

Don't fiddle with the chicken – The final step in that browning is to let the pan do the work. Don't lift, move, or check those tenders. For a full 2 minutes you are completely hands off!

Cover to Finish – After the chicken has been flipped, they will finish cooking on the second side. To do that without burning, you'll want to cover the pan and reduce the heat. This allows them to cook through without burning the outside.

Don't overcook the chicken – There is nothing worse than dry, overcooked chicken. Since chicken tenders are small and cook fast, you will want to stay nearby. Once flipped they should only take 3-4 minutes to cook to that perfect 165°F. Check with a meat thermometer if possible to make sure you are serving up the juiciest, most tender buffalo chicken tenders.

Adjust the heat– You can make these Buffalo Chicken Tenders more or less spicy to your personal preference. To do this, use hot sauce that is more or less spicy, or use a lower hot sauce to butter ratio.

Let the sauce cool – One of my all-time favorite tips for having a thick coating of that luscious buffalo sauce on your chicken tenders is also a super easy one. You don't need breading to make it stick, just let the sauce cool after mixing! When you first combine melted butter and hot sauce, it will be pretty loose. As the butter cools though the sauce will thicken. Just let the chicken and sauce rest for a few minutes, then toss them together and you'll have that really saucy buffalo chicken we all love.
Recipe Short Cuts
If you need to make this recipe, but are extra short on time, here are a few ideas that can help make this recipe even faster!
Pre-made sauce – Buy a prepared bottle of buffalo style hot sauce and sauce your chicken directly, no melted butter needed.
Pre-mix the sauce – Alternatively, you can mix the hot sauce and store it in the fridge for up to one week before you use it.
Recipe Variations
If you love this recipe as much as we do and want some quick ways to change it up for variety, these little tips will do the trick!
Use Thighs, Breasts, or Nuggets – To use a different cut of chicken, all you need to do is adjust the cooking time. Boneless, skinless thighs or breasts sliced into thinner cutlets will both cook in a skillet fairly quickly, but may need an extra 2-4 minutes on each side. You could also make smaller nugget style pieces by cooking them like I do my ranch chicken bites before saucing.

Breaded tenders – If you're longing for that crisp breaded coating, go for it! Coat each tender in flour and beaten eggs, then press them gently into ranch seasoned breadcrumbs. Bake them in the oven at 400°F for 10-12 minutes then sauce them before serving. You can check out my classic baked chicken tenders for inspiration on how to make them this way.

Make them spicy – If you have a family of spice lovers, feel free to heat things up! Add a few pinches of cayenne pepper to the ranch seasoning to give them an added kick of spice.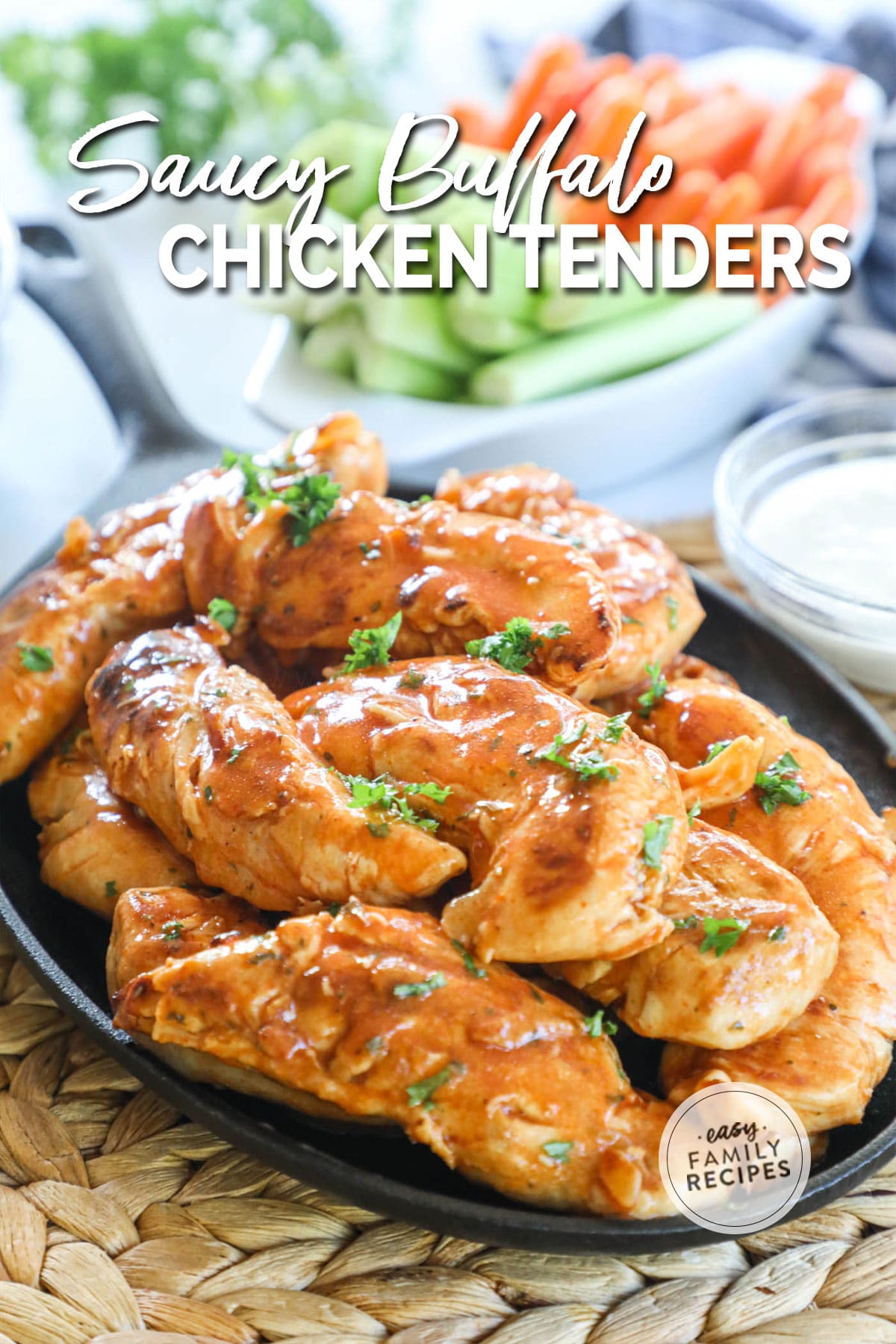 Freezer Meal Instructions
Buffalo ranch chicken tenders can be prepared as a freezer meal for another busy night, or to give to a friend in need.
Prepare the chicken as directed in the recipe. Set aside to cool completely.
Mix the butter and hot sauce and set aside to cool.
Package the chicken tenders and buffalo sauce in separate freezer bags or freezer friendly containers.
Freeze.
When ready to serve, reheat the chicken and sauce separately in the microwave or on the stovetop, then toss to combine.
Buffalo Chicken Tenders Leftovers
If you have leftovers after making homemade buffalo chicken tenders, then it is your lucky day! They save and reheat well, and can make the start of another delicious dish.
To save leftovers, separate into meal sized portions and then place in an airtight container and store:
in the refrigerator for 3-4 days
in the freezer up to a month
Leftover Recipes
Here are a few ways to repurpose those leftovers and give them a delicious makeover!
Buffalo Chicken Salad – There are so many ways you could enjoy these on a salad! Chop and layer them on top of mixed salad greens. Then, add your favorite toppings like tomatoes, cheddar, bleu cheese crumbles, green onions, peppers, or avocado. Then drizzle with a bleu cheese or ranch dressing. Or, use them to make a really special, spicy chicken cobb salad!
Buffalo Chicken Sliders – Pile leftover tenders on slider buns with melted jack or cheddar cheese, crisp lettuce, and a drizzle of ranch, then serve.
Buffalo Chicken Wraps – Lay out a large tortilla and add reheated tenders, lettuce, avocado, sliced tomato, and bleu cheese crumbles or shredded cheddar. Finish with a drizzle of ranch before wrapping it up.
Buffalo Chicken Pizza – Use a prepared pizza crust and spread a thin layer of ranch over top. Add chopped leftover buffalo chicken tenders with shredded jack and cheddar cheeses. Bake as directed on the crust then top with green onions and an extra drizzle of ranch or buffalo sauce as desired.
More Easy Chicken Recipes Recipes
If you enjoyed this recipe, I really hope you will take a moment to grab a few more easy recipes for another busy night!
You can check out all of my easy chicken recipes here, or see a few of our readers favorite recipes below.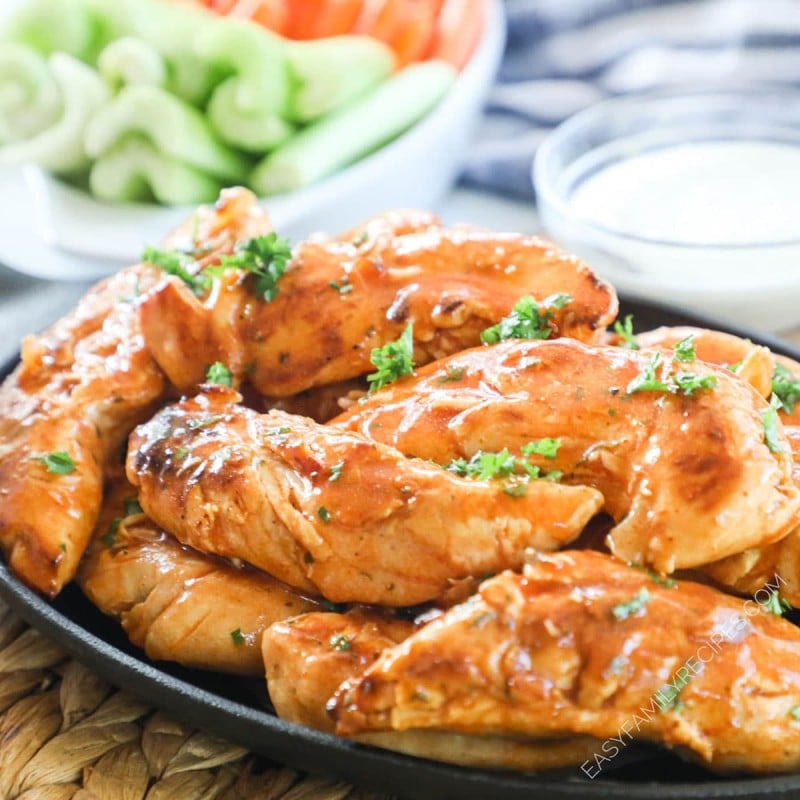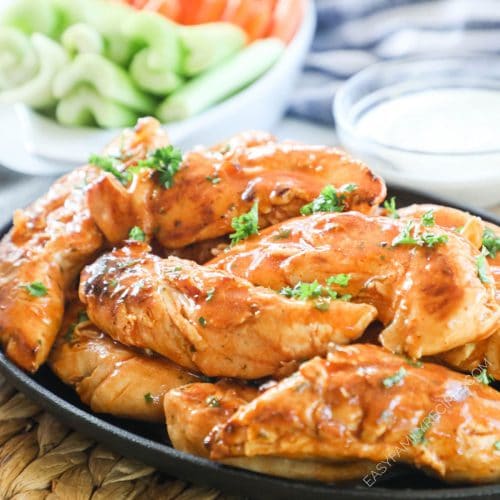 Saucy Buffalo Chicken Tenders (No Breading)
You won't miss the breading, because these Buffalo Chicken Tenders are full of flavor! They are marinated in ranch seasoning and pan fried, then tossed in a rich, buttery, buffalo sauce to make these some of the quickest, easiest, and most delicious chicken tenders in no time flat!
Ingredients
2

pounds

chicken tenderloins

3

tablespoons

ranch seasoning,

(1 packet)

2

tablespoons

olive oil

1/2

cup

hot pepper sauce

3

tablespoons

butter

,

melted
Instructions
Combine the chicken tenders, 1 tablespoon olive oil, and the ranch seasoning and toss until the chicken is evenly coated.

Heat remaining oil in a large skillet over medium high heat. Once hot, place chicken tenderloins in a single layer on the skillet. Cook for 2 minutes without stirring or flipping, then flip, reduce heat to low, and cover. Cook for 3-4 additional minutes, until the chicken reaches 165˚F internal temperature.

Remove chicken from skillet and let rest.

Combine melted butter and hot sauce in a small bowl to make the buffalo sauce. Allow to cool slightly to thicken, then toss the chicken in the buffalo sauce.

Garnish with freshly chopped parsley and serve warm. Enjoy!
Nutrition Information
Serving:
6
ounces
,
Calories:
430
kcal
(22%)
,
Carbohydrates:
7
g
(2%)
,
Protein:
48
g
(96%)
,
Fat:
22
g
(34%)
,
Saturated Fat:
8
g
(50%)
,
Polyunsaturated Fat:
2
g
,
Monounsaturated Fat:
9
g
,
Trans Fat:
1
g
,
Cholesterol:
168
mg
(56%)
,
Sodium:
1975
mg
(86%)
,
Potassium:
885
mg
(25%)
,
Fiber:
1
g
(4%)
,
Sugar:
1
g
(1%)
,
Vitamin A:
379
IU
(8%)
,
Vitamin C:
25
mg
(30%)
,
Calcium:
16
mg
(2%)
,
Iron:
1
mg
(6%)