This Blackened Fish recipe makes the most tender, flavorful and perfect fish using simple pantry ingredients and only about 10 minutes of your time! The special method ensures the fish stays juicy and perfectly cooked every time.
This post is created in partnership with Destin Ft Walton Beach, and favorite area to fish and purchase fresh seafood! All opinions and recipes are created by Easy Family Recipes.
Blackened Fish – The EASY Way!
Dinner doesn't get much more quick and easy than Blackened Fish! Quick enough for a busy weeknight dinner, but beautiful and flavorful enough to entertain guests, this Blackened Fish is all that, and incredibly delicious too!
Here is why it makes such an amazing quick and easy meal:
Uses simple ingredients – you likely already have them in your pantry!
FAST – Recipe can be made in 10 minutes, start to finish
Healthy– This meal is packed with protein, under 200 calories, and low in carbohydrates, so it makes a great start to a wholesome meal.
DELICIOUS! The flavorful seasoning, combined with the cooking method bring out the best in the fish filet.
The fish I am sharing in this recipe was caught fresh on our adventure with Destin Ft Walton Beach. We used the Venture Out program to book a fishing charter and dinner, and we still had so much fish left to take home and cook!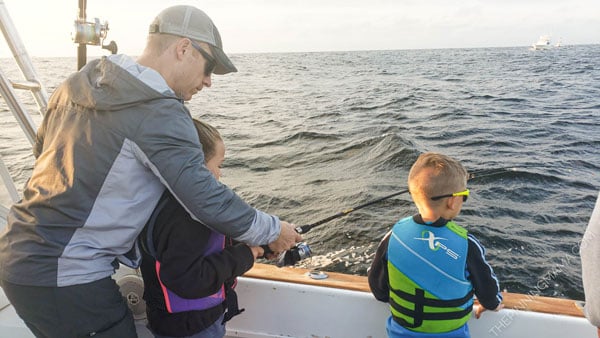 If you ever want a fun, family friendly water adventure, I highly recommend checking out the Venture Out packages, especially the fishing charter with Captain Kevin paired with Harbor Docks preparing your catch to eat there, or packed up to-go.
You can read all about our adventure and exactly how the deep sea fishing trip with kids goes, here. But for now, I am just going to tell you what an amazing life time memory we made as a family, and how incredible sharing the adventure of catching a fish and then taking it from the sea to the table is.
What is blackened fish?
There are 3 common ways to prepare fish, grilled, fried, or blackened.
Blackened fish is fish prepared by the cooking method of blackening. To blacken the meat is seasoned and then cooked quickly in a very hot skillet with butter. The fish develops a black crust from the seasoning and milk solids from the butter.
Blackening is traditionally associated with cajun cuisine, though it can appear in any type of restaurant or cuisine today. Typically blackening seasoning is spicy using black or cayenne pepper. When it is not spicy it is often referred to as bronzed instead of blackened.
In our Blackened Fish recipe we are using today, we use a spice mix that includes cayenne pepper, which can be omitted for a mild seasoning, with just as much delicious flavor.
What to Serve with Blackened Fish
Since this dish has the classic flavors of cajun cuisine it will pair well with many of your favorite traditional side dishes.
You can dress the meal to impress with fancier side dishes, or keep it simple and quick for an everyday family meal.
Side Dishes
Salads– If you want to keep it light, blackened fish is perfect served with or on a salad. Here are a few of my favorites:
Potatoes– At most restaurants here on the water, you will see french fries as an accompaniment to fish, you can pair potatoes at home just as easily.
Vegetables– Add a veggie for a well rounded meal. Almost any you choose will go wonderfully, although these seem to be on repeat for us!
Bread
You can choose one or add a few sides to make a wholesome, well rounded dinner.
Recipe Notes
This Blackened Fish recipe is as simple as promised! Just 10 minutes and a few ingredients for a family friendly meal.
Since seafood isn't my specialty I brought in my dear friend Reade who was born and raised on the Gulf of Mexico and makes some of the best fish in town to help show me the tricks to making the most delicious fish.
In this section I am going to go through a few tips and tricks I learned to use when making this recipe to get the absolute best and most delicious results.
Make sure to scroll to the bottom for the FULL recipe card.
What kind of fish to use for blackened fish
The best part of this recipe, is that you can use almost any kind of fish with this method of cooking. Blackened fish works wonderfully with mild white fish, like the trigger fish we caught in the gulf, but many other kinds work too. Here are some common types:
Snapper
Tilapia
Cod
Bass
Grouper
Haddock
Catfish
Salmon
Drum
Ingredients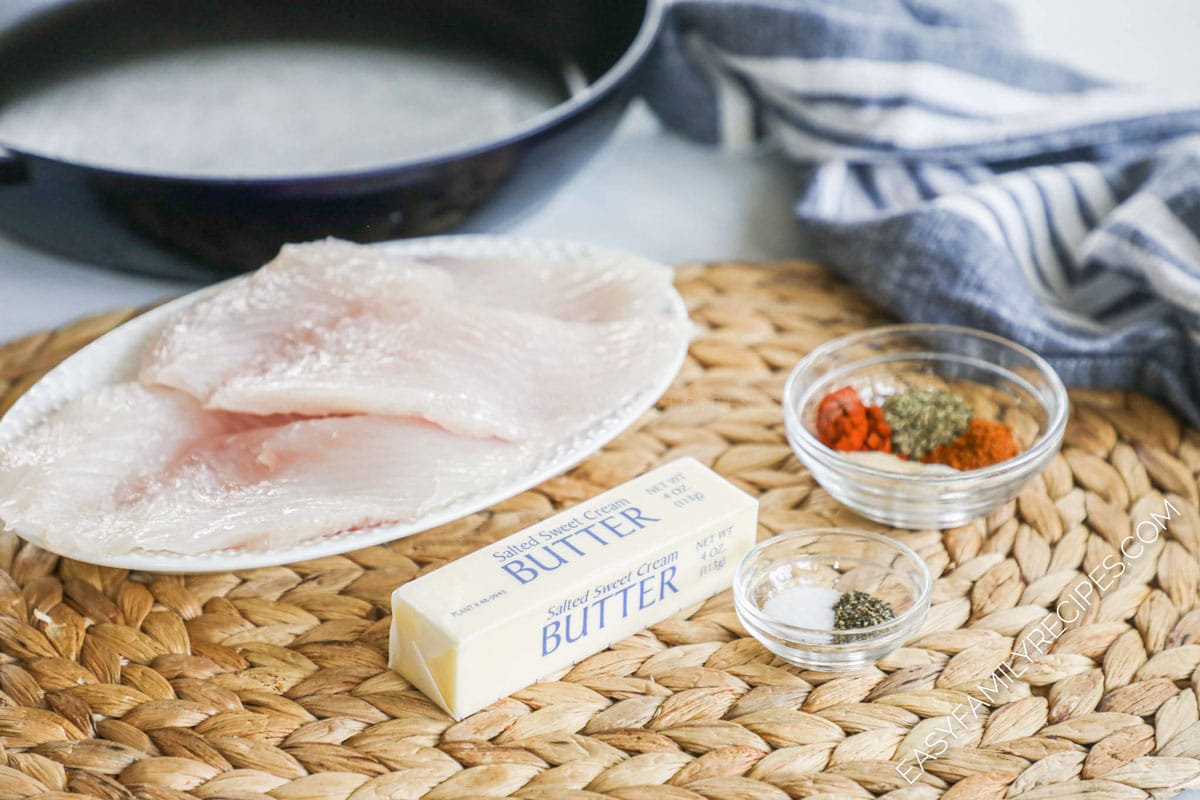 Fish filets – We used trigger fish we caught fresh in the gulf, but any mild white fish will be delicious
Butter– This adds flavor, color and texture to the dish
Salt and black pepper – to taste
For the Blackened Fish Seasoning
This seasoning mix is what makes the magic in the blackened fish. It is important to note that made as written you will get flavor and heat in your blackened fish.
If you want all the flavor without the the blackened fish being spicy, you can leave out the cayenne pepper, or reduce it to a smaller amount to taste.
Garlic powder
Onion powder
Paprika
Italian seasoning – you can use store bought, or make your own homemade Italian seasoning.
Old Bay seasoning
cayenne pepper
You can use the recipe as written to make enough seasoning for a pound of fish, or you can make a batch of seasoning to keep on hand, which will save you time and energy each time you want to make this recipe.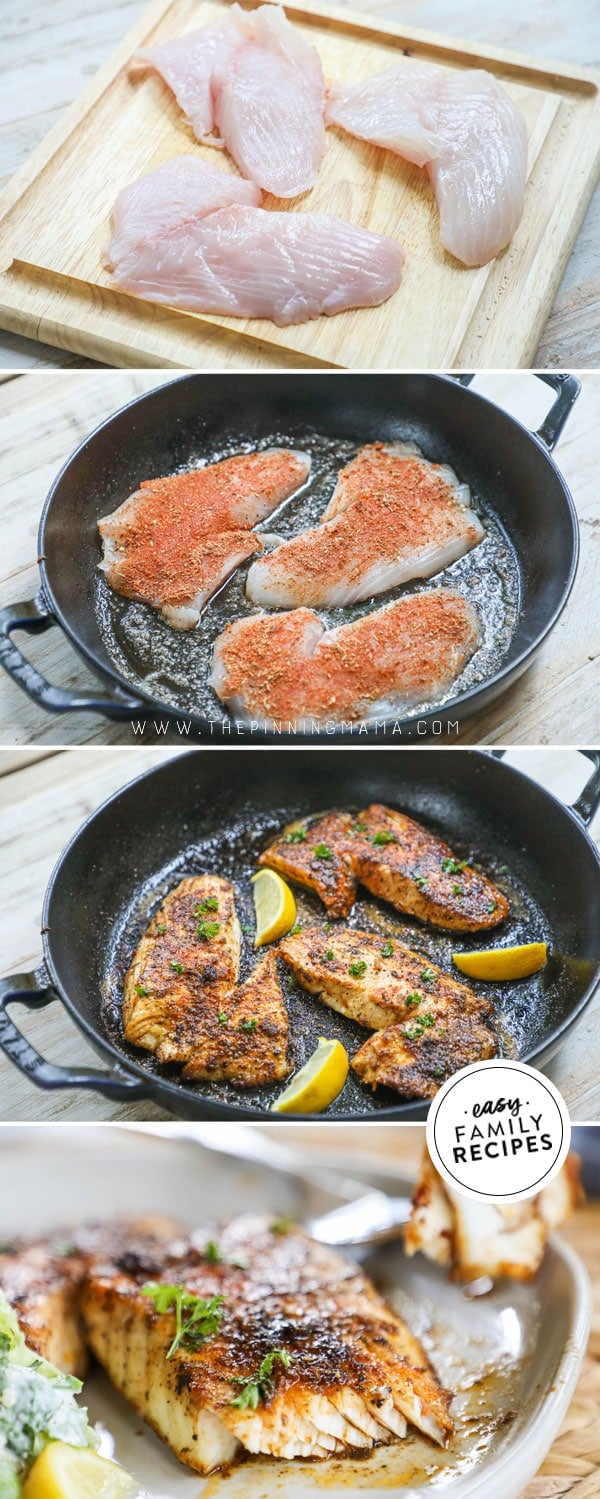 Recipe Tips
Prep ahead- This recipe moves FAST, so make sure everything you need is prepped ahead. Also, with the fish cooking so quickly, it is smart to prep whatever else you want to serve first, then cook and plate the fish last.

Use fresh fish– the fresher the fish the more tender and delicate the flavor will be. Try to use the freshest fish you can, and if you can't get your hands on anything super fresh, fish frozen at the peak of freshness will work well too.

Salt right before cooking– You can season the fish with the blackened seasoning up to a few hours in advance, however, save the salt for right before you cook the fish. If you add the salt earlier it will draw the moisture out of the fish leaving you with a more dry or tough end result.

Use a very hot pan– Heat the pan up before you even add the butter, as an integral part of the blackened cooking method, you need high heat. Once the pan is hot, it will melt the butter quickly and bring it to the right heat to add the fish.

Don't over cook the fish – The pan is HOT and the fish will cook FAST! The cook time for the fish will vary slightly depending on how thick the fish filets are, but it will usually be 1-3 minutes per side. Fish are fully cooked at 145˚F, so when in doubt, use a meat thermometer!
Dietary Considerations
If you have special dietary needs, this recipe meets some and can be easily modified to comply with others.
As always, check all store bought ingredients for compliance on specific dietary needs. The notes below are a general guide.
Gluten free: This recipe is naturally gluten free, however, keep in mind that Old Bay seasoning does not contain gluten ingredients, however it is not certified gluten free.
Dairy free: This recipe can be modified to be dairy free by using oil in place of butter. This will change the flavor and richness of the dish as well.
Nut free: This Blackened Fish recipe is naturally nut free
Egg free: This recipe is naturally egg free
Low carb/Keto: This recipe is low carb at only 1g net carbs per serving.
Macros: The approximate macro calculation for this recipe is- P: 24g C: 2g F: 7g
Freezer Meal Instructions
To prepare this as a freezer meal:
Prepare seasoning mix (excluding salt and pepper)
Coat fish with seasoning on both sides.
Vacuum seal the fish and freeze.
When ready to cook season with salt and pepper to taste then continue as directed.
Blackened Fish Leftovers
Fish is best eaten fresh, but can be saved in the refrigerator for 1-2 days. I like to use them in another recipe to get the most out of the dish.
Leftover Recipes
Here are a few ways to repurpose those leftovers and give them a delicious makeover!
Blackened Fish Tacos– Reheat and shred the leftover fish. Place it in a tortilla and top with your choice of shredded cabbage, or prepared coleslaw, avocado, and cilantro. For an extra treat, drizzle with this spicy mayo sauce!
Blackened Fish Sandwich– Heat blackened fish. Toast a hoagie roll. Mix mayo with old bay, salt, and a little lemon juice and spread it on the roll and add fish, lettuce, tomato, and red onion.
Blackened Fish Salad– Though this can be made with many salads, caesar is my favorite. Shred romaine lettuce. Toss with caesar dressing, croutons and parmesan cheese. Top with blackened fish.
More Easy Dinner Recipes
If you enjoyed this recipe, I really hope you will take a moment to grab a few more easy recipes for another busy night!
You can check out all of my EASY dinner recipes here, or see a few of our readers favorite recipes below.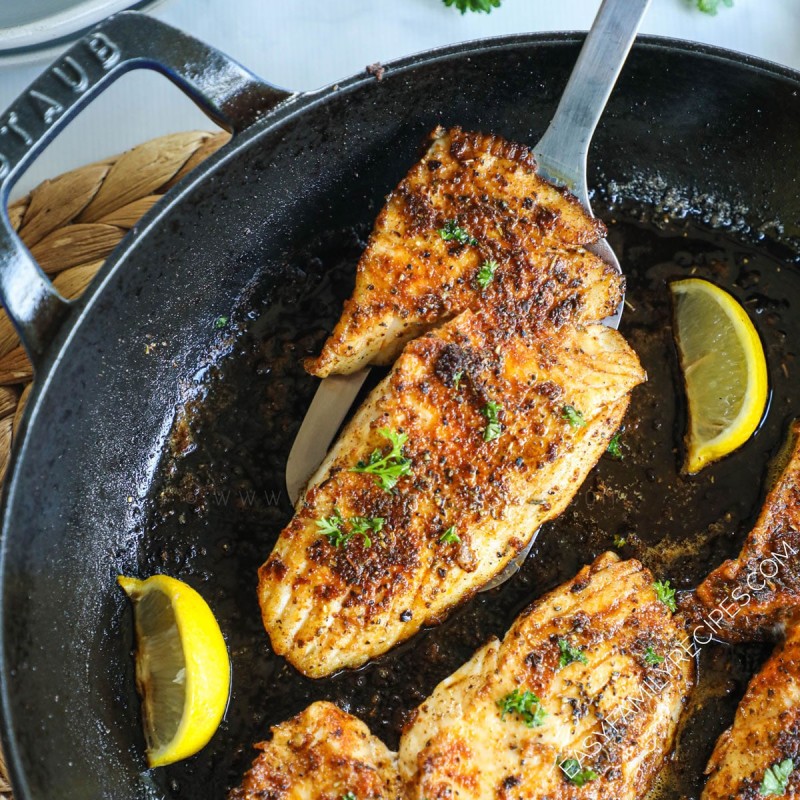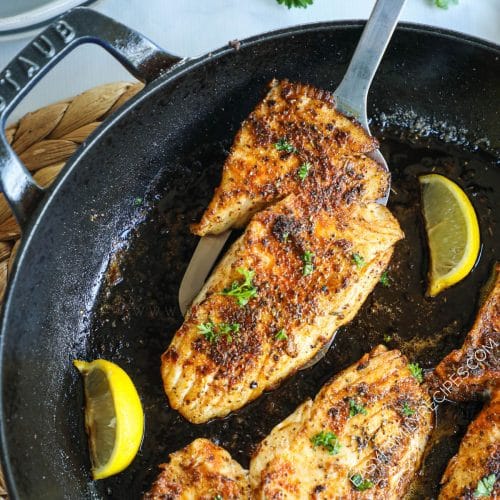 Blackened Fish Recipe
This Blackened Fish is so simple, yet so delicious! It is easy and quick enough for a busy weeknight, but flavorful enough to impress guests. Filled with protein and big on taste, you can't go wrong with this easy dinner idea.
Ingredients
1

lb

fish filets

,

(3-4 filets)

2

tbsp

butter

salt and black pepper

,

to taste
For the Blackened Fish Seasoning
1

tsp

garlic powder

1

tsp

onion powder

1

tsp

paprika

1

tsp

Italian seasoning

1

tsp

Old Bay seasoning

1/4

tsp

cayenne pepper

,

or up to 1/2 tsp to taste (optional)
Instructions
Combine the garlic powder, onion powder, paprika, Italian seasoning, Old Bay, and cayenne pepper (optional) and mix.

Lay the fish filets flat and sprinkle seasonings on the first side, lightly pat them in, and then sprinkle the remaining seasoning on the back side and pat in. This can sit in the refrigerator for up to an hour seasoned.

Heat a large cast iron skillet over high heat for 2-3 minutes, then reduce to medium high and add the butter.

Once the butter is melted and starting to brown, but not smoke, season the fish with salt and pepper to taste, then put it flat in the skillet. Do not crowd the skillet. Cook the fish in batches if necessary.

Let the fish cook for 2-3 minutes on the first side without moving or checking it, then flip and cook 2-3 minutes on the other side, or until it reaches the desired doneness, or about 145˚F. Cooking time will vary depending on the size and thickness of your fish filets.

Remove the fish from the skillet (to prevent it from continuing to cook) and serve warm with fresh parsley or lemon juice if desired.
Recipe Notes
To make a true blackened seasoning use the cayenne and black pepper to create the spice.
To create a milder, kid-friendly blackened fish, sometimes called bronzed fish, omit the cayenne and lightly season with black pepper.
Nutrition Information
Serving:
4
oz
,
Calories:
174
kcal
(9%)
,
Carbohydrates:
2
g
(1%)
,
Protein:
24
g
(48%)
,
Fat:
7
g
(11%)
,
Saturated Fat:
4
g
(25%)
,
Cholesterol:
57
mg
(19%)
,
Sodium:
125
mg
(5%)
,
Potassium:
495
mg
(14%)
,
Fiber:
1
g
(4%)
,
Sugar:
1
g
(1%)
,
Vitamin A:
688
IU
(14%)
,
Vitamin C:
2
mg
(2%)
,
Calcium:
48
mg
(5%)
,
Iron:
1
mg
(6%)