An all time favorite dinner recipe, this Lemon Basil Chicken is especially delicious and can be made in less than 30 minutes from start to finish. Tender chicken is pan seared in a savory parmesan coating and then finished by simmering in a fresh lemon butter sauce. This recipe will earn its spot in your regular rotation with its simple and delicious flavors.
Lemon Basil Chicken – The EASY Way!
If there is one thing that I know to be true, it is that a single hot skillet can make chicken stand out and shine with delicious flavor more easily than any other cooking method.
Fast + Fresh Flavor.
What really sets apart this Lemon Basil Chicken is the bright fresh flavors combined with a touch of richness delivered by the butter.
If lemon, basil, parmesan and butter are a match made in heaven, then this chicken was the vehicle sent to deliver it straight to our taste buds.
Lemon Basil Chicken is reminiscent of Chicken Piccata (my favorite Italian restaurant order) but simplifies the sauce and leaves out the capers for a super family friendly recipe.
With the ease of thin chicken breasts cooking quickly in a hot skillet, and a simple, foolproof sauce with just a few ingredients, you can have a restaurant quality dinner the whole family can enjoy, whether you are a novice cook or a home chef.
What to Serve with Lemon Basil Chicken
Since this dish has the bright fresh flavors of lemon, basil, and garlic, it will pair well with many of your favorite classic side dishes. There are both traditional options and some healthy options to keep it light.
Side Dish Ideas
Pasta- Anything from spaghetti to penne will work well. Your choice!
Spaghetti squash- If you want to keep it light, this is a great way! You can use spaghetti squ
Roasted Vegetables
Garlic Bread
Skillet green beans
Salad with lemon vinaigrette
Sautéed Spinach
You can choose one or add a few sides to make a wholesome, well rounded dinner.
Recipe Notes
This Lemon Chicken recipe is as simple as promised! Just 30 minutes and some everyday ingredients for a family friendly meal.
In this section I am going to go through a few tips and tricks I use when making this recipe to get the absolute best and most delicious results.
Make sure to scroll to the bottom for the FULL recipe card.
Ingredients + Substitutions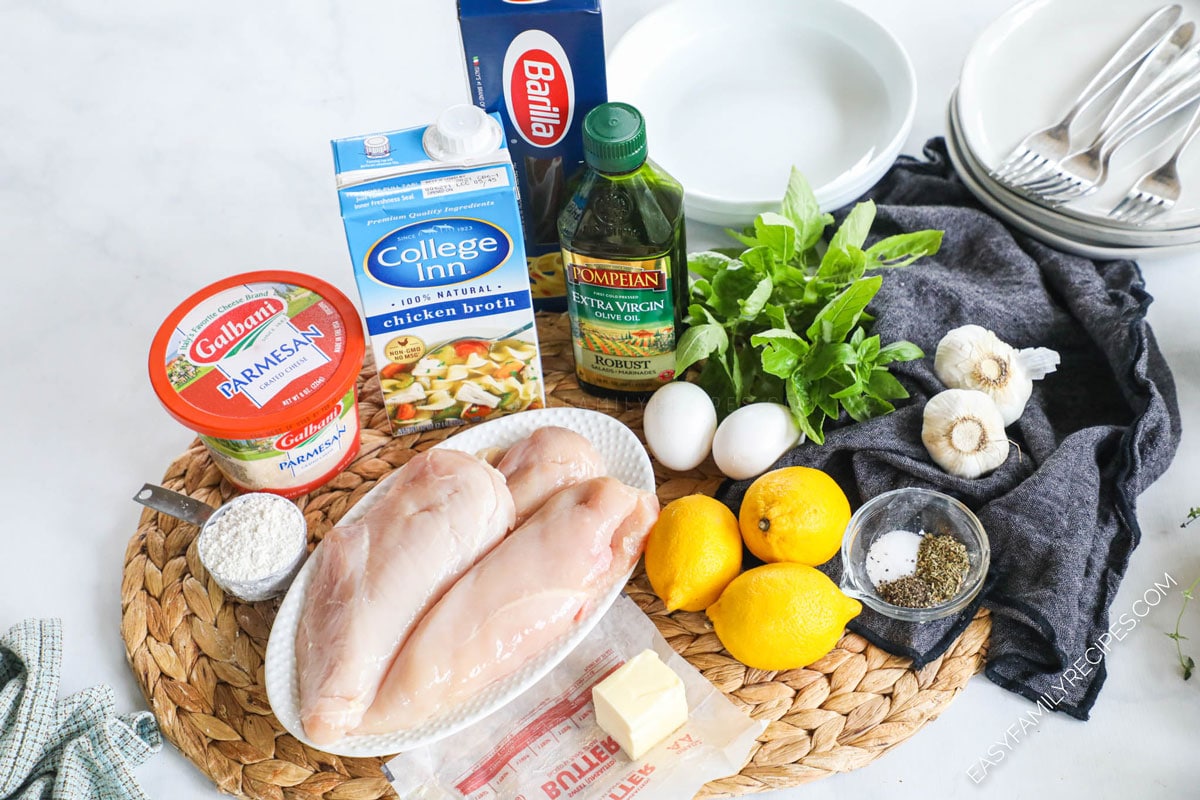 For the chicken:
Chicken breast cutlets– It is important to use thin chicken breast pieces for this recipe so that it can cook completely in the skillet.

You can usually buy these prepared at the store, or use the instructions below for making chicken cutlets. Alternatively, you can slice the chicken breast in half so it is half the thickness, or use chicken tenderloins in lieu of chicken breast.
Olive oil– Other high heat oils will work well too such as vegetable, canola, or avocado oil.
Eggs
Grated parmesan– You want the kind that looks more like powder, not the kind that looks like shreds of cheese. Using a higher quality parmesan will give you more flavor with less cheese, so I always recommend going for a nicer brand here.
Flour
Italian Seasoning– use the store bought blend, or try my homemade Italian Seasoning here
salt & pepper
For the Sauce
Chicken broth– This will deglaze the pan, soaking up all the intensified, delicious flavor from cooking the chicken and start the base of our sauce. You can also use a dry white wine here if you prefer!
Butter – I recommend using the real stuff here. I use salted butter because it is what I keep on hand. If you use unsalted, you may need to season with additional salt to taste at the end.
Garlic cloves– fresh garlic makes such a difference in the flavor here!
Lemon juice– fresh lemon is every bit as important as fresh garlic. You will notice a huge difference in the brightness of the flavor with fresh lemon.
Fresh basil– Another ingredient that really benefits the fresh flavor. I like to get a little extra so that I can garnish it with some freshly chopped basil as well.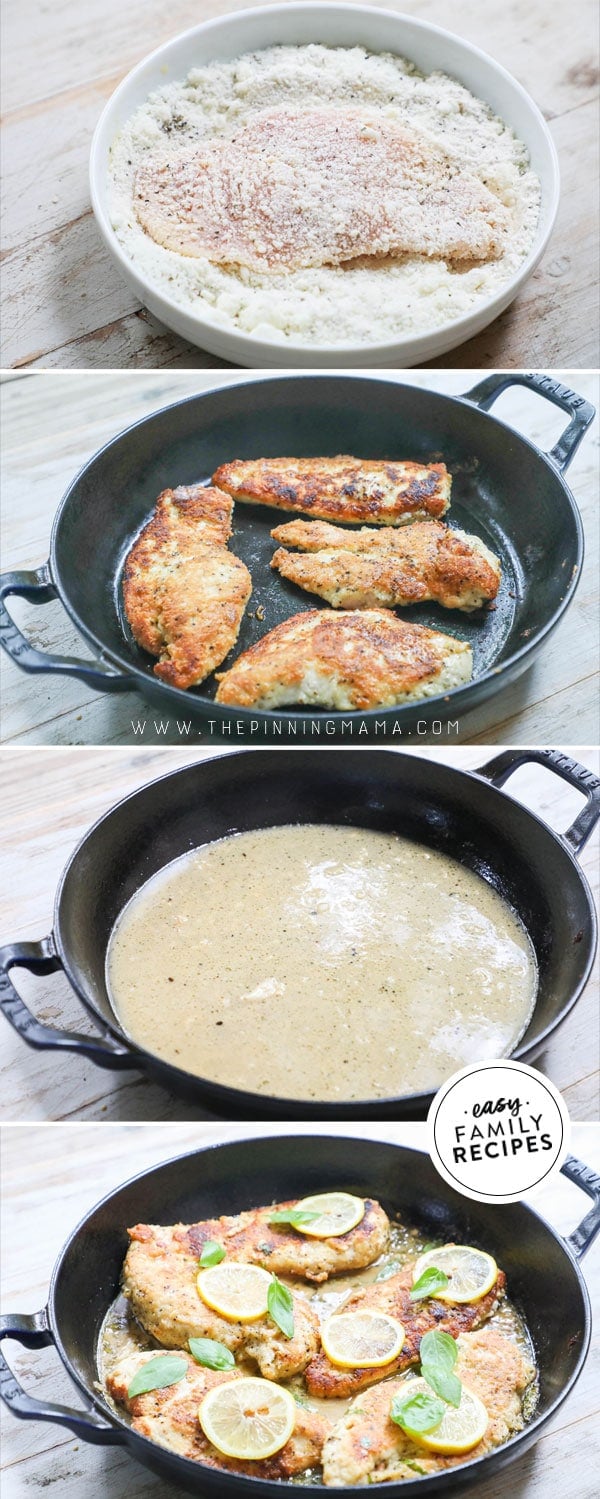 Recipe Tips
Get the perfect crust– If you want the best most delicious lemon chicken, the secret is two-fold.

First, make sure the pan and oil are hot before adding in the chicken. If it is hot enough, it should sizzle when you add the chicken.

Next, don't move or check the chicken. It will develop the crust on the breading by the continuous high heat. If you continue to move or check it, it won't be nearly as perfect. The breading can stick to the pan, or not get the golden color and perfect texture you want.

Leave room in the pan. Depending on how big your pan is, you may need to do the chicken in batches so that there is breathing room in the pan when you cook. If the chicken breasts are too close, they can become steamed, more than seared because there is not room for the moisture to escape.

Don't clean the pan. After you cook the chicken, you want the remaining browned bits in the pan to flavor the sauce. These have a really intensified flavor and are the trick to making a really flavorful sauce. I like to scrape the bottom of the pan as I stir the sauce to make sure all of the bits are loosened and able to incorporate into the sauce.

Let it simmer. Letting the chicken simmer in the sauce at the end will help bring all of the flavors together. The bright lemon flavor of sauce becomes incorporated into the chicken, and the savory juices from the chicken blend into the sauce.
How to make chicken cutlets
Making chicken cutlets from chicken breast is easy and only takes a few minutes. Just grab a pack of boneless, skinless chicken breast and get to work!
Cut each chicken breast horizontally into thin slices about 1/4-1/2 inch thick. You should be able to get 2-4 pieces per chicken breast.
Lay the chicken between sheets of plastic wrap
Beat each piece to an even 1/4 inch thickness with a meat mallet.
Recipe Variations
If you love this recipe as much as we do and want some quick ways to change it up for variety, these little tips will do the trick!
Creamy Lemon Chicken– Make as directed. Once the sauce comes together, slowly stir in 1/2-1 cup of heavy cream until completely blended. Season with salt to taste. Add the chicken and simmer.
Lemon Chicken with Capers– Make recipe as directed. Add in 4 oz of capers (drained) alongside the basil. Add chicken breast back in and simmer.
Lemon Chicken with Spinach– Make recipe as directed. Once the sauce is complete, stir in 4-6 oz of fresh spinach. Continue to cook until wilted and reduced in volume. Salt to taste. Add the chicken back into the sauce.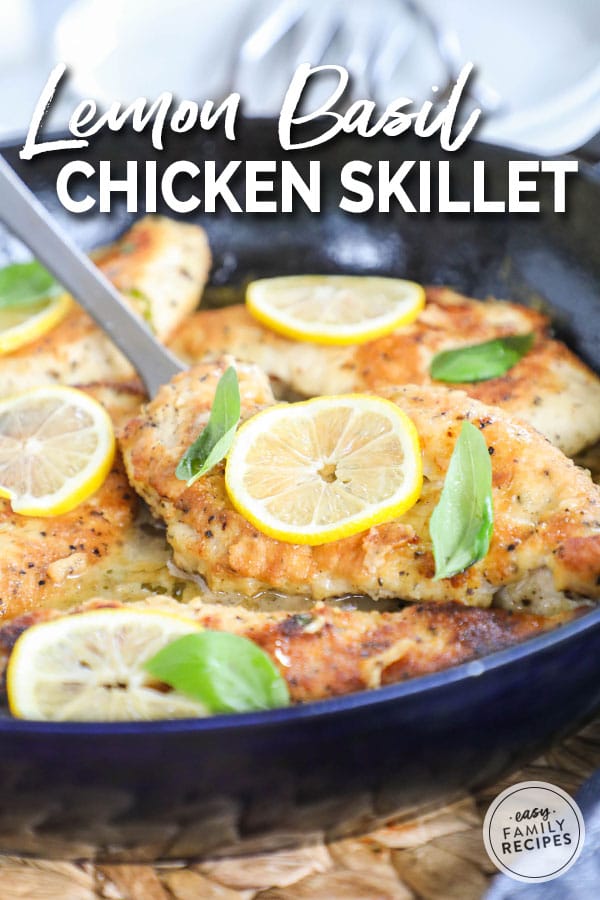 Freezer Meal Instructions
This Lemon Chicken can be prepared as a freezer meal. Since it is partially cooked, it will taste best when stored for up to 3 months.
Prepare recipe through step 3 (prepare and cook the chicken breasts fully.)
Once chicken is done, let cool, then package in a freezer bag or freezer friendly container.
Combine lemon juice and chicken broth and place in a seperate container.
Freeze.
When ready to cook, thaw chicken in the refrigerator, then continue recipe at step 4.
Lemon Basil Chicken Leftovers
If you have leftovers after making XXX, then it is your lucky day! They save and reheat well, and can make the start of another delicious dish.
To save leftovers, separate into meal sized portions and then place in an airtight container and store:
in the refrigerator for 3-4 days
in the freezer up to a month
Leftover Recipes
Here are a few ways to repurpose those leftovers and give them a delicious makeover!
Lemon Basil Chicken Pasta– Heat leftovers and toss chicken and sauce with penne pasta. I like to chop the chicken for easier eating!

Lemon Basil Chicken Flatbread– On a prepared pizza crust, spread lemon sauce over the crust. Chop chicken and place it on evenly. Sprinkle with mozzarella and parmesan, or Italian blend cheese. Top with your choice of fresh spinach, thinly sliced onions, and mushrooms.

Lemon Basil Chicken Sandwich– Lightly toast a sub roll with butter and garlic salt. Spread lemon sauce over the bread, then add a heated chicken breast piece and top with fresh mozzarella, spinach and red onion.
More Easy Recipes
If you enjoyed this recipe, I really hope you will take a moment to grab a few more easy recipes for another busy night!
You can check out all of my Easy Dinner recipes here, or see a few of our readers favorite recipes below.
Hungry for more family-friendly recipes? Sign up for my free recipe club to get new family-friendly recipes in your inbox each week! Find me sharing daily meal-time inspiration on Pinterest, Instagram, and TikTok.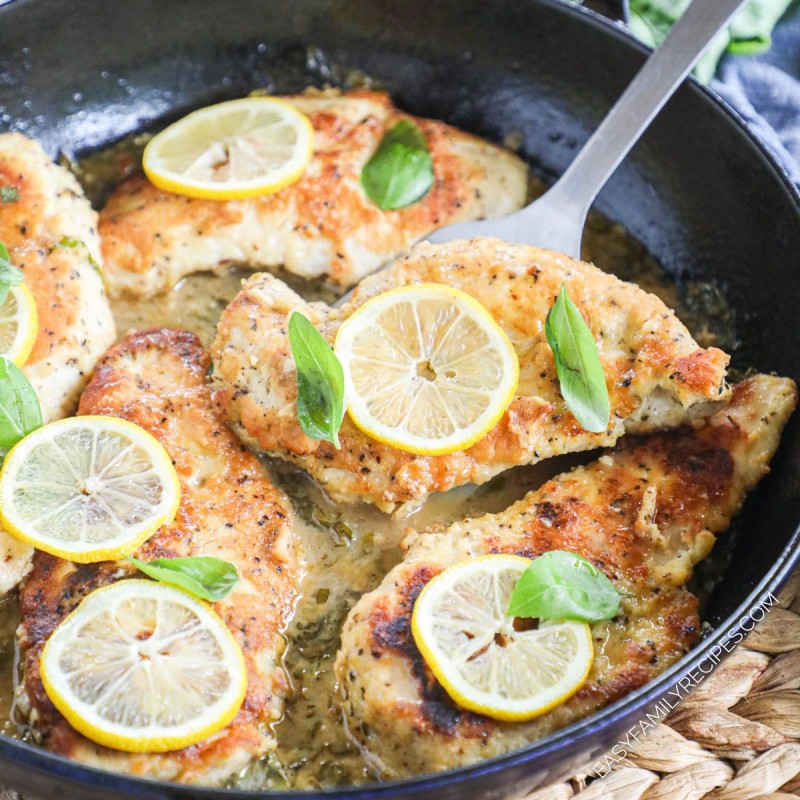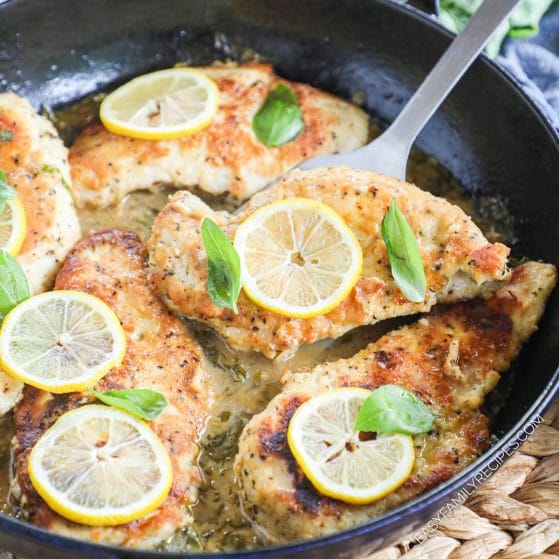 Lemon Basil Chicken
The bright fresh flavors of this Lemon Basil Chicken are sure to make it a new family favorite. This dish is not only delicious, but super simple going from fridge to fork in as little as 30 minutes.
Prep Time: 10 minutes
Cook Time: 15 minutes
Total Time: 25 minutes
Serves:6 servings
Hover over "serves" value to reveal recipe scaler
Ingredients
For the chicken:
1.5 lbs chicken breast cutlets (5-6 thin pieces)
2 tbsp olive oil
2 large eggs
1 cup grated parmesan
1/4 cup flour
1 tsp Italian Seasoning
1/2 tsp salt
1/2 tsp black pepper
For the Sauce
1 cup chicken broth (or white wine)
6 tbsp butter
4 garlic cloves
1/4 cup lemon juice (about 1 lemon)
1/2 cup fresh chopped basil about 15 leaves
Instructions
Begin by scrambling the eggs in one bowl and combining the salt, black pepper, Italian Seasoning, flour, and grated parmesan in another bowl. Dredge each chicken cutlet in the egg mixture, then coat completely in the parmesan cheese mixture.

Heat the oil in a large skillet over medium high heat. Once hot, add the chicken breast cutlets and sear for 2 minutes on each side. The chicken should release when it is ready to turn. It is important not to move the chicken around until it is time to flip so it gets a nice crust.

Then place the lid on the skillet, reduce the heat to low and continue to cook for 3-6 minutes or until the chicken is cooked through to a internal temp of 165˚F. (Time will vary based on thickness of the chicken.) Once cooked, remove the chicken from the skillet and set aside.

In the same skillet, add the butter and garlic and increase the heat to medium. Stir until the butter is melted.

Add the chicken stock (or wine) and lemon juice and bring to a simmer. Simmer until it has reduced by about 1/3, then stir in the basil.

Nestle the chicken into the sauce and simmer for 2-3 minutes. Garnish with fresh basil and serve hot. Enjoy!
Nutrition Information:
Calories: 386kcal (19%)Carbohydrates: 7g (2%)Protein: 33g (66%)Fat: 25g (38%)Saturated Fat: 12g (75%)Cholesterol: 169mg (56%)Sodium: 859mg (37%)Potassium: 511mg (15%)Fiber: 1g (4%)Sugar: 1g (1%)Vitamin A: 704IU (14%)Vitamin C: 9mg (11%)Calcium: 229mg (23%)Iron: 1mg (6%)
(Nutrition information provided is an estimate and will vary based on cooking methods and brands of ingredients used.)