These Blackened Chicken Tenders are full of flavor and ready in as little as 15 minutes! With a combination of pantry spices like garlic, cayenne, and Old Bay Seasoning they are sure to be a family favorite. Try them for a quick weeknight dinner or make them in advance to enjoy for meals throughout the week.
Blackened Chicken Tenders – The EASY Way!
Chicken tenders are an essential family meal. They are thin so they cook quickly and they are small and easy for little hands to eat. And these chicken tenders? Well, they are packed with bold cajun flavor making them great for parents too!
What makes these blackened cajun chicken tenders so great is that they can be customized for each family's taste preference. Sometimes, I will make two versions of the spice rub, one less spicy and one full spice. The other great thing about this chicken is it is awesome to have on hand to use in salads, wraps, or even pasta! Could you imagine, creamy pasta with this blackened chicken? I am already drooling thinking about it.
What is Blackened Chicken
You might be wondering what blackened chicken tenders are and what blacked really means. Blackened chicken is often associated with Cajun cuisine and is traditionally something pan fried in butter with a dry rub seasoning on it. A little heat and Old Bay Seasoning are essential to a great blackened chicken! To make our blackened chicken tenders, we followed this traditional method. We pat the chicken tenders with a fantastic dry rub spice blend and then pan fried them in butter to achieve that perfect "blackened" crust.
What to Serve with Blackened Chicken
Since this dish has the classic flavors of Cajun blackened chicken, it will pair well with many of your favorite side dishes. There are both classic options and some healthy options to keep it light.
Side Dish Ideas
Pasta – You probably saw this one coming, but a cream based pasta would make a great side dish! The creaminess of a pasta dish works well to cool down the spice of this blackened chicken tender recipe. I recommend using blackened chicken as the protein for this Creamy Cajun Chicken Pasta or enjoy along side my Easy Brown Butter Spinach Tortellini.

Salad – Pairing this chicken with a crisp salad is a great way for a super quick and super delicious meal. It can also be a way to use up any left over chicken. I recommend my Blackened Chicken Salad, this Italian Quinoa Salad, or this Cobb Salad.

Roasted Vegetables – Vegetables are a wonderful side option that are easy to throw on a sheet pan, bake, and serve. Try this chicken with my Cajun Roasted Veggies or with these Garlic Roasted Vegetables (aka, the best and easiest side dish EVER).
You can choose one or add a few sides to make a wholesome, well rounded dinner.
Blackened Chicken Tenders Dips
I can't have chicken tenders without a good dipping sauce! These two are my favorites. You can make them from scratch – each only takes about 5 minutes- for an over the top delicious treat, or grab them at the store.
Recipe Notes
This easy blackened chicken tenders recipe is as simple as promised! You just need 15 minutes for a family friendly meal.
In this section I am going to go through a few tips and tricks for how to make balckened chicken tenders to get the absolute best and most delicious results.
Make sure to scroll to the bottom for the FULL recipe card.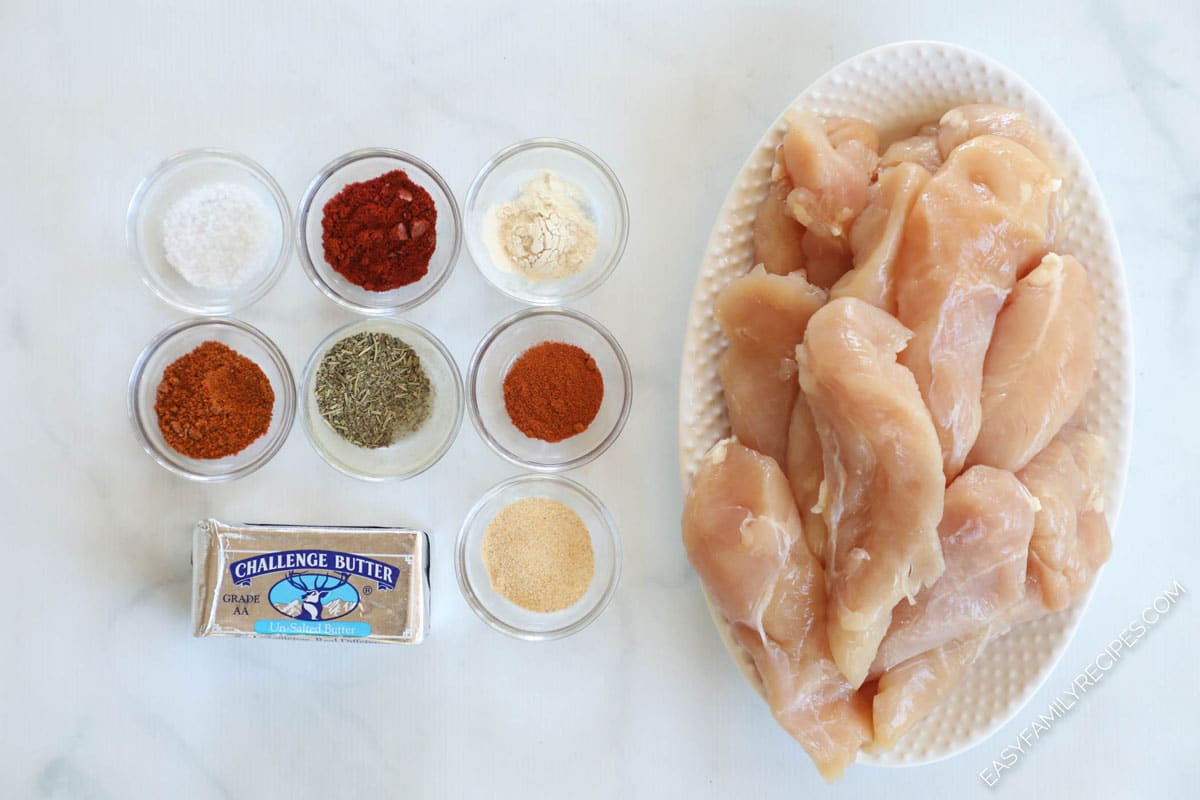 Ingredients + Substitutions
Chicken Tenderloins – chicken tenders are small and thin meaning they will cook incredibly fast. You could also use chicken thighs to make these blackened chicken thighs or chicken cutlets for blackened chicken breasts. Both of these are also very tasty but they will take a little bit longer to cook than chicken tenders.

Butter– You can use either salted or unsalted butter. The taste difference between the two won't be noticeable so whatever you have on hand will work great.
Blackened Chicken Seasoning
Garlic powder
Onion powder
Paprika
Italian Seasoning – you can make your own or use a store bought one.
Old Bay Seasoning
Salt
Cayenne Pepper – feel free to adjust this as desired to meet your spice preferance.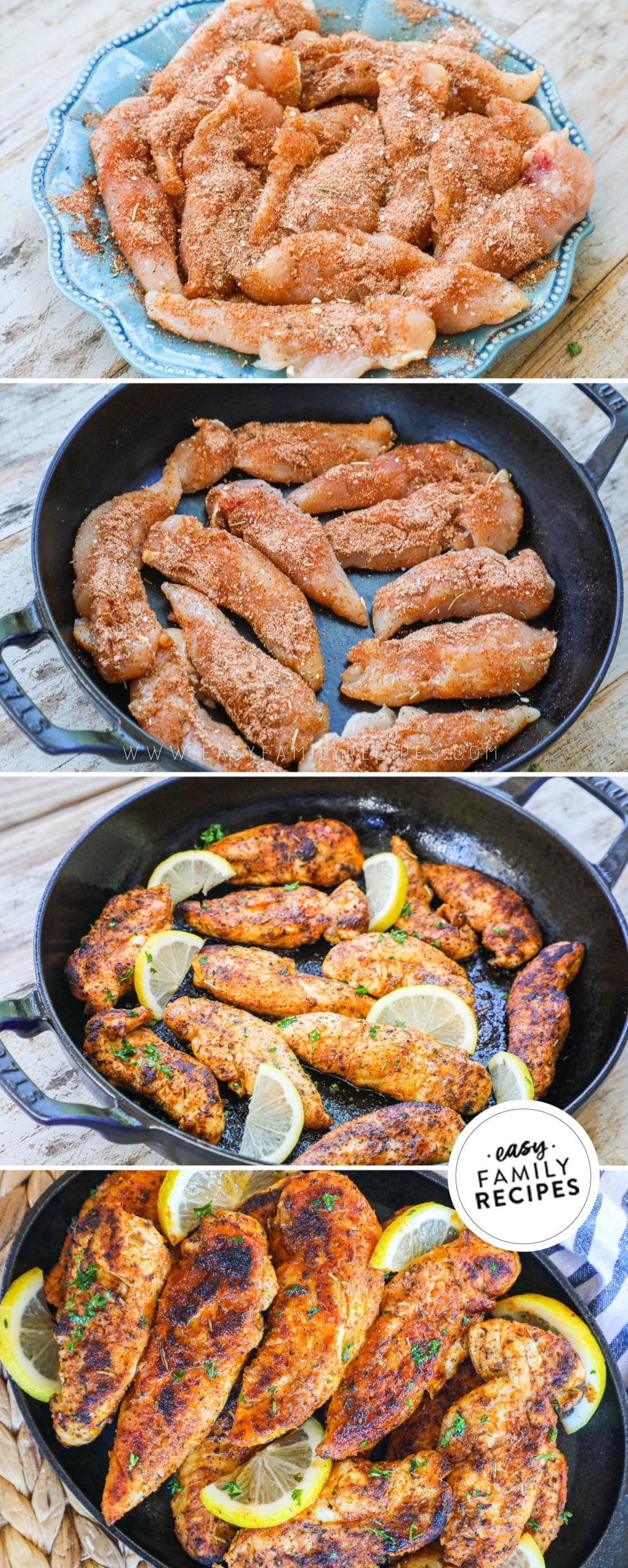 Recipe Tips
Heat – The key to a perfect crust is a hot pan and hot butter. Try using a pan that evenly distributes heat, like a cast iron skillet, a Dutch oven, or a heavy metal skillet and ensure the butter is fully melted and hot (not burning) before adding any chicken. Both the pan and the butter should be at medium to high heat when you add the chicken to get that great seared crust that is makes the blackened chicken special.

Don't Crowd the Pan – Overcrowding the pan will limit the airflow between chicken tenders. This will not allow the chicken to form the signature sear of blackened chicken. If you are using a smaller skillet, you may need to cook the chicken in batches to avoid over crowding.

Use a meat thermometer! While not necessary, having a meat thermometer for chicken tenders is the only sure way to avoid over cooking them and is highly recommended. Because chicken tenders are so small, they can easily become over cooked and dry out. No one wants dry, tough chicken! Chicken should be cooked to an internal temperature of 165˚ F to be perfectly cooked.

Leave them be! It may be tempting to fiddle with the chicken tenders, but the only way to achieve that crispy blackened crust is to leave the chicken alone for 2-3 minutes before attempting to flip it so it can get the beautiful sear.

Control the spice level – These easy blackened chicken tenders are great because you can control the spice level. If you are worried about how spicy this dish is, start without any cayenne, then add small amounts of cayenne, tasting in between each addition until you reach your desired spice level.
Recipe Short Cuts
If you need to make this recipe but are short on time, here are a few ideas that can help make this recipe even faster!
Mix the seasoning in advance – By making the seasoning blend before hand, you will cut out a big step in the recipe, thus cutting down on time. You could also make a double batch of the seasoning to store for use whenever you want to enjoy blackened chicken. The seasoning will keep for 1+ year.
Recipe Variations
If you love this recipe as much as we do and want some quick ways to change it up for variety, these little tips will do the trick!
Baked Blackened Chicken Tenders – to make these chicken tenders in the oven, simply dip the chicken tenders in butter then coat them with the seasoning . Bake at 400 degrees for 8-12 minutes. This doesn't give you as much of the blackened crust, but it does keep a lot of the flavor of the dish intact.

Grilled Blackened Chicken Tenders – to make these on the grill, mix the seasoning with the butter and coat the chicken tenders in the mixture. Place on the grill and let cook for 2-3 minutes per side, closing the lid of the grill for the last 2 minutes. The grill will help you achieve a great blackened crust but it can also be hard to clean the grill after laying buttered chicken on it.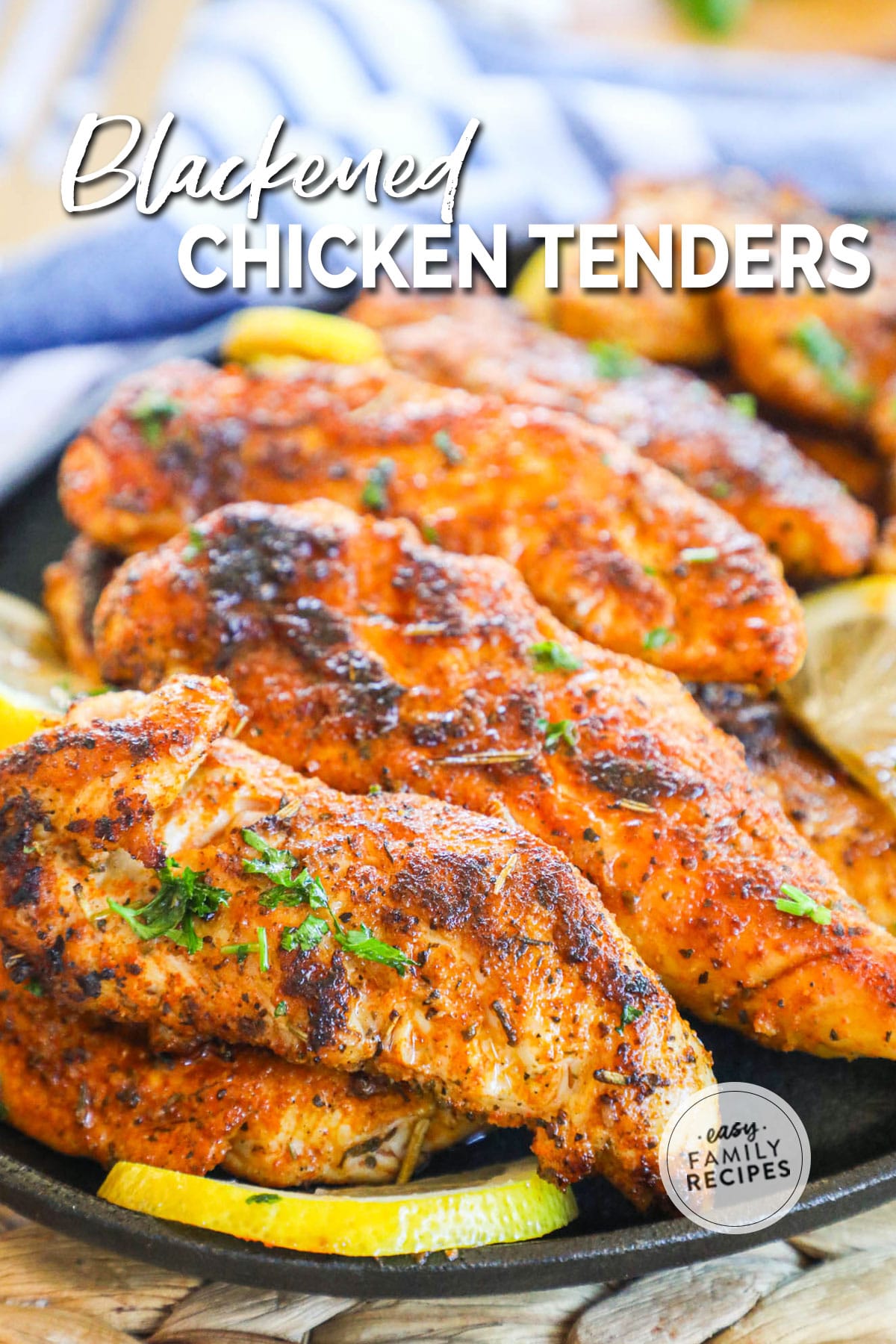 Freezer Meal Instructions
This easy Blackened Chicken Tenders recipe can be prepared as a freezer meal to make on another busy night, or give to a friend in need.
Prepare the seasoning mix.
Coat the chicken with seasoning on both sides.
Vacuum seal the chicken, or place in a freezer friendly container and freeze it.
When you are ready to enjoy it, leave the chicken to thaw in the refrigerated for 24-48 hours prior to cooking. Once thawed, continue with the recipe as written.
For the best flavor, this meal can be frozen for up to 6 months.
Blackened Chicken Tenders Leftovers
If you have leftovers after making Blackened Chicken Tenders, then it is your lucky day! They save and reheat well, and can make the start of another delicious dish.
To save leftovers, separate into meal sized portions and then place in an airtight container and store:
in the refrigerator for 3-4 days
in the freezer up to a month
Leftover Recipes
Here are a few ways to repurpose those leftovers and give them a delicious makeover! Simply swap the called for chicken in these recipes for any leftover blackened chicken tenders. Saves time and money!
Blackened Chicken Salad – This salad is perfect for prepping for lunches.
Creamy Cajun Chicken Pasta – Use these chicken tenders in place of cooking the chicken from scratch to short cut this recipe and save time!
Cajun Chicken Sandwich– layer the chicken tenders on a toasted bun along with freshly made ranch dressing, lettuce and tomato. You can add more toppings like onion, avocado, and bacon per preference.
More Easy Chicken Recipes
If you enjoyed this recipe, I really hope you will take a moment to grab a few more easy recipes for another busy night!
You can check out all of my easy chicken recipes here, or see a few of our reader's favorite recipes below.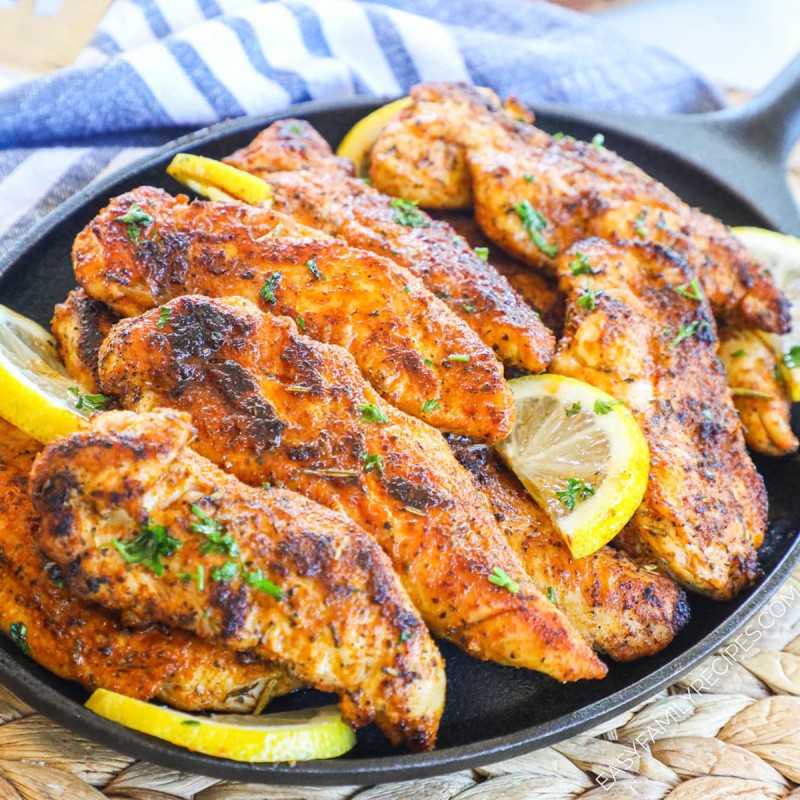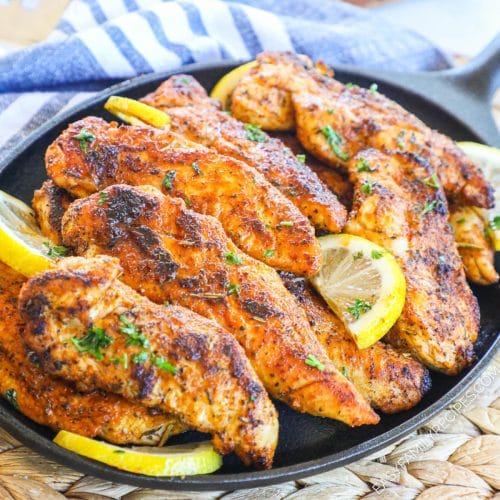 Blackened Chicken Tenders Recipe
These blackened chicken tenders are super quick and easy to make! They are the perfect wholesome and flavor loaded dinner for a busy night. Serve them with ranch dressing, or blue cheese dressing for a real treat!
Ingredients
2

pounds

chicken tenderloins

,

(about 12)

1.5

tbsp

butter
For the Blackened Chicken Seasoning
1

tsp

garlic powder

1

tsp

onion powder

1

tsp

paprika

1

tsp

Italian seasoning

1

tsp

Old Bay seasoning

1/2

tsp

salt

1/4

tsp

cayenne pepper

,

or up to 1/2 tsp to taste (optional)
Instructions
Combine the garlic powder, onion powder, paprika, Italian seasoning, Old Bay, salt, and cayenne pepper (optional) and mix.

Lay the chicken tenders flat and sprinkle seasonings on the first side, lightly pat them in, and then sprinkle the remaining seasoning on the back side and pat in. This can sit in the refrigerator for up to an hour seasoned.

Heat a large cast iron skillet over high heat for 2-3 minutes, then reduce to medium high and add the butter.

Once the butter is melted and starting to brown, but not smoke, put the chicken flat in the skillet. Do not crowd the skillet. Cook the chicken in batches if necessary.

Let the chicken cook for 2-3 minutes on the first side without moving or checking it, then flip and cook 2 minutes on the other side. Then reduce heat to low, cover the pan and continue to cook until the chicken reaches an internal temp of 165˚F (about 1-2 more minutes.)

Remove the chicken from the skillet (to prevent it from continuing to cook) and serve warm with fresh parsley or freshly squeezed lemon if desired.
Recipe Notes
To make a true blackened seasoning use the cayenne and black pepper to create the spice.
To create a milder, kid-friendly blackened chicken, sometimes called bronzed chicken, omit the cayenne and lightly season with black pepper.
Nutrition Information
Serving:
4
oz
,
Calories:
305
kcal
(15%)
,
Carbohydrates:
2
g
(1%)
,
Protein:
49
g
(98%)
,
Fat:
10
g
(15%)
,
Saturated Fat:
4
g
(25%)
,
Polyunsaturated Fat:
1
g
,
Monounsaturated Fat:
3
g
,
Trans Fat:
1
g
,
Cholesterol:
156
mg
(52%)
,
Sodium:
593
mg
(26%)
,
Potassium:
878
mg
(25%)
,
Fiber:
1
g
(4%)
,
Sugar:
1
g
(1%)
,
Vitamin A:
519
IU
(10%)
,
Vitamin C:
3
mg
(4%)
,
Calcium:
30
mg
(3%)
,
Iron:
1
mg
(6%)