This quick and easy BBQ chicken bake is the perfect go-to recipe for busy families. Prepped in only 10 minutes, simple ingredients like onions, pantry seasonings, and BBQ sauce combine in one pan to make a flavorful family-friendly main dish that kids and adults will both love.
If you ever need a shoe-in dinner the kids are guaranteed to like all you really need is a good bottle of barbecue sauce. I have over a dozen fantastic BBQ recipes on the site, (Like my crockpot BBQ Chicken, BBQ Brisket, and BBQ Pulled Pork)but this super simple, classic baked BBQ chicken chicken breast is a go-to that I think will be as much a mainstay for your whole family, as it is for ours.
The beauty of this recipe is in the simplicity. It takes family dinner staples like your go-to BBQ sauce and simple chicken breasts then uses solid but easy cooking techniques to make them as delicious as they can be. Tender juicy chicken seasoned and sauced to perfection is a dinner that you can always feel confident serving any day of the week with any of your family's favorite sides.
Why I LOVE this recipe!
Easy ingredients – BBQ sauce, chicken breasts, pantry seasonings, and an onion are all you really need!
Quick prep – You can get your baked BBQ chicken breasts ready to cook in just 5 minutes.
Easy clean up – With practically no prep and one baking dish, clean up is a breeze!
Versatile leftovers – Any barbeque baked chicken leftover is so easy to repurpose into TONS of other easy family meals.
Scale it up – Whether you're serving two or a crowd, this recipe can easily be adjusted to make more or less.
Recipe Notes
This BBQ chicken bake recipe is as simple as promised! Just a one pan and 5 mins of prep for a family friendly meal.
In this section I am going to go through a few tips and tricks I use for how to make easy baked BBQ chicken to get the absolute best and most delicious results.
Make sure to scroll to the bottom for the FULL recipe card.
Ingredients + Substitutions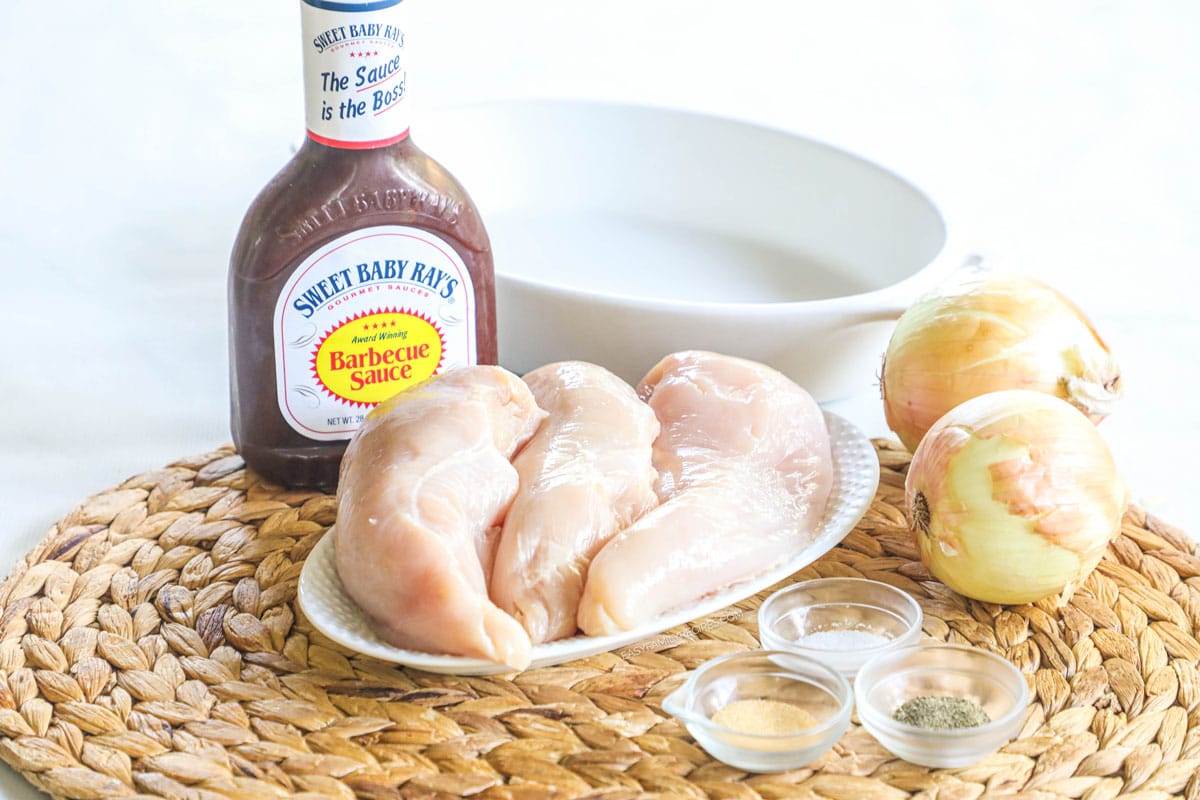 Chicken breasts – Thin, boneless skinless chicken breasts are my go to for chicken bakes. You can use cutlets, boneless skinless chicken thighs, or chicken tenderloins as well. Bone-in thighs can work, but they take a longer bake time. I don't recommend skin-on chicken thighs or breasts because the skin will not crisp when baked under the sauce.

Onion – I use one large white onion, but you can use yellow or any onion your family prefers.

BBQ Sauce – Any bottled BBQ sauce that your family likes is perfect, or you can try out my easy recipe for homemade BBQ sauce.

Cheddar Cheese – Cheddar and BBQ pair SO well together, but you can use any shredded cheese, like Monterey jack, Colby, or Swiss.

Seasonings- Just a touch of salt, pepper, and garlic powder

Make sure to see the recipe card at the bottom of this post for the full quantities and ingredients list.
Recipe Variations
If you love this recipe as much as we do and want some quick ways to change it up for variety, these little tips will do the trick!
Pineapple Oven Baked BBQ Chicken– Include one can of pineapple slices in juice in the ingredient list. Drain the juice and mix 1 tablespoon in with your favorite BBQ sauce. Slice the onion and layer it with the pineapple slices on the bottom of your baking dish. Continue with the recipe as directed, omitting the cheese.

Spicy Jalapeno Baked BBQ Chicken– Choose a bottle of spicy BBQ sauce. Layer 1/4 cup of pickled jalapenos in with the onions. Continue with the recipe as directed, sprinkling a few more jalapenos on top of the BBQ sauce with the cheese. Bake and serve.

BBQ Baked Chicken Bites– Buy chicken pieces or cut your chicken breasts down into 1-2″ cubes. Dice the onion instead of slicing them, and mix them in with the chicken. Add both to the baking dish and pour over the BBQ sauce and sprinkle on the cheese. Bake as directed.
Recipe Step by Step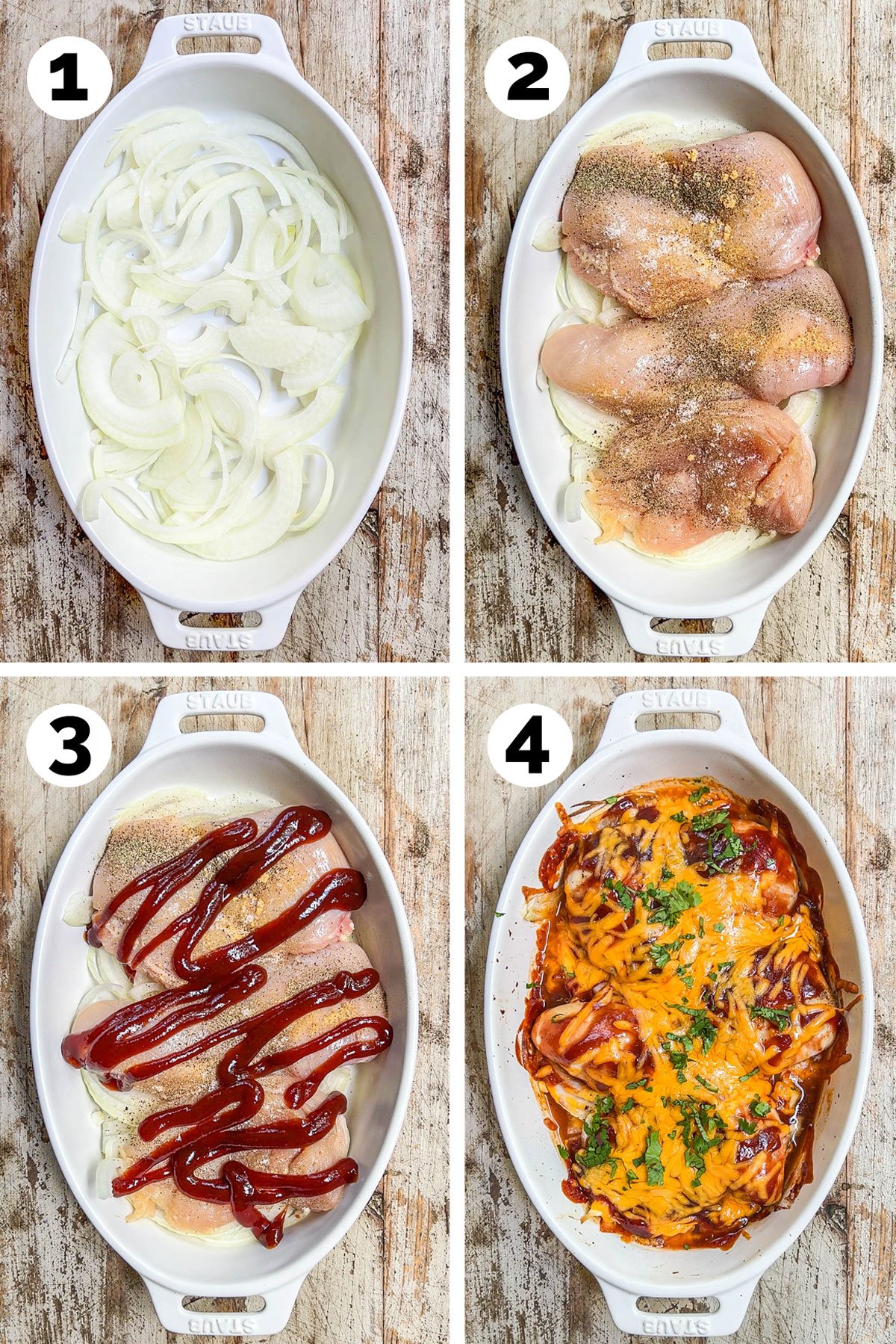 I am going to highlight a few key steps in the recipe here, but make sure to jump down to the recipe card for comprehensive instructions on how to make these baked BBQ chicken breasts.
Step 1– Layer the bottom of the casserole dish with thin slices of the onion.

Step 2– Place the chicken breasts in a single layer on top.

Step 3– Pour over the BBQ sauce and sprinkle on the cheese.

Step 4– Bake and let rest, then serve.
Recipe Tips
Use Thin Chicken Breasts – Using thin breasts is key for how quickly and evenly your BBQ chicken bake cooks. If you have some larger and some smaller, the small pieces may overcook while the large ones finish up. Use a mallet to pound the chicken breasts thin or butterfly them open by slicing them through the middle horizontally.

Pick a Large Pan – It's equally important to use a large enough pan. You'll need to choose an oven safe skillet or baking dish that allows the chicken to lay flat next to each other. If they're squished up or layered on top of each other, you'll end up with unevenly cooked chicken.

Don't Overcook! – The number one enemy of tender juicy chicken is overcooking it! The best way to prevent that is a simple meat thermometer. I highly recommend you invest in one, and they aren't even that pricey! Snag one at your local grocery store or even online, and check the chicken at the lowest recommended baking time, that way you can pull it at the perfect temperature, which is 165°F for poultry.

Let it Rest – Any time I make a chicken bake like this, I always recommend letting it rest once it's done in the oven. It helps all the juices reabsorb into the breasts and gives the sauce time to thicken up, which is much better for serving!
Recipe Short Cuts
If you need to make this recipe, but are extra short on time, here are a few ideas that can help make this recipe even faster!
Use smaller chicken – Chicken strips or pieces will cook much faster than an entire breast. That will save you some cooking time, and makes serving easier too, especially for little kids. Start checking your chicken for doneness at 20 minutes for smaller pieces.

Prep ahead – Slice the onion, pound out or slice your chicken, and shred the cheese so you can throw it together at dinner time super quickly.

Assemble ahead – You can actually assemble the entire dish up to 24 hours ahead. Leave the cheese off, but have it prepared. Then you can just pull the casserole dish from the fridge, sprinkle on the cheese, and bake.

Shop smart – Did you know that you can get pre-sliced onion in the produce section of many grocery stores? Grab a package, opt for chicken cutlets or strips, and buy pre-shredded cheese. All your prep is already done! All you have to do is season, layer, and bake!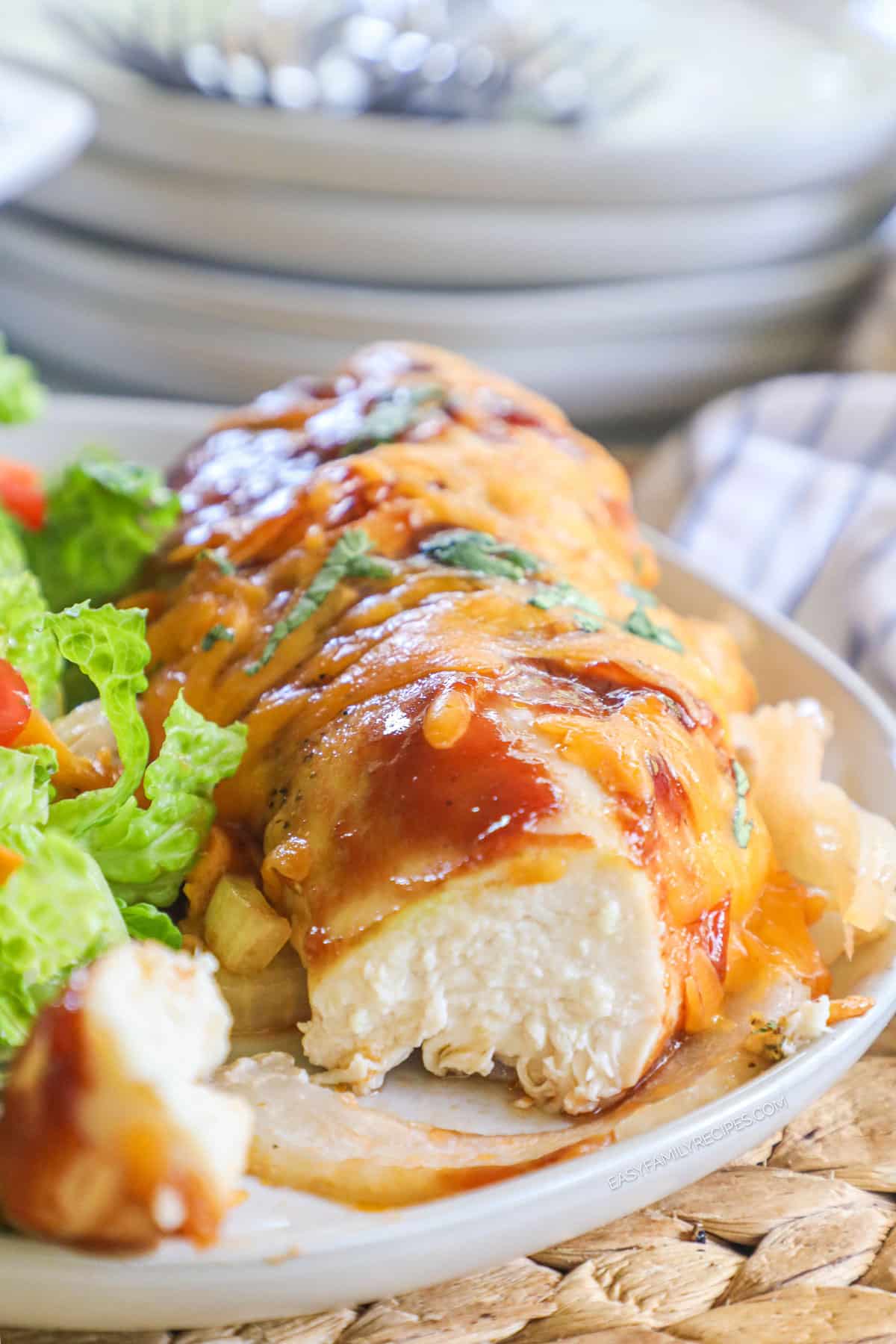 Freezer Meal Instructions
Making this BBQ chicken recipe into a freezer meal is simple! Follow the steps below and you can store this recipe in the freezer for up to 6 months.
To freeze before cooking
Layer the onions into a foil pan.
Season the chicken and add it on top.
Pour on the BBQ sauce and cover the pan with foil or cling film.
Freeze.
Before cooking, thaw in the fridge for 24-48 hours.
Sprinkle with cheese and bake as directed.
What to Serve with baked BBQ chicken breasts
Since this protein based dinner has the delicious flavors of your favorite BBQ sauce, it will pair well with many of your favorite southern or traditional side dishes.
Choose one or several of these side dishes to create a wholesome, well-rounded dinner. There are both classic options and some healthy options to keep it light.
Side Dish Ideas
BBQ Chicken Bake Leftovers
If you have leftovers after making this recipe, then it is your lucky day! They save and reheat well, and can make the start of another delicious dish.
To save leftovers, separate into meal sized portions and then place in an airtight container and store:
in the refrigerator for 3-4 days
in the freezer up to a month
Leftover Recipes
Here are a few ways to repurpose those leftovers and give them a delicious makeover!
Recipe FAQ's
Should I cover my baked chicken with foil?
For this recipe I don't recommend covering your BBQ chicken bake with foil. There is plenty of moisture in the sauce, chicken, and onions to keep the chicken tender and delicious without covering it. It also helps the BBQ sauce get bubbly and caramelized and the cheese to get super melty, which equals more flavor!
What is the best temperature to bake BBQ chicken?
The best temperature for your BBQ chicken bake is 375°F. It's the perfect oven temperature to achieve tender juicy chicken, hot bubbly BBQ sauce and gooey cheese without burning the sauce.
What goes with BBQ baked chicken?
Anything goes with BBQ baked chicken! Traditional sides like roasted vegetables, salads, breads, or potatoes are all great. You can check out some of my most recommended sides in the 'What to Serve with baked BBQ chicken breasts' above.
More EASY BBQ Dinner Recipes
If you enjoyed this recipe, I really hope you will take a moment to grab a few more easy recipes for another busy night!
You can check out all of my easy dinner recipes here, or see a few of our readers favorite recipes below.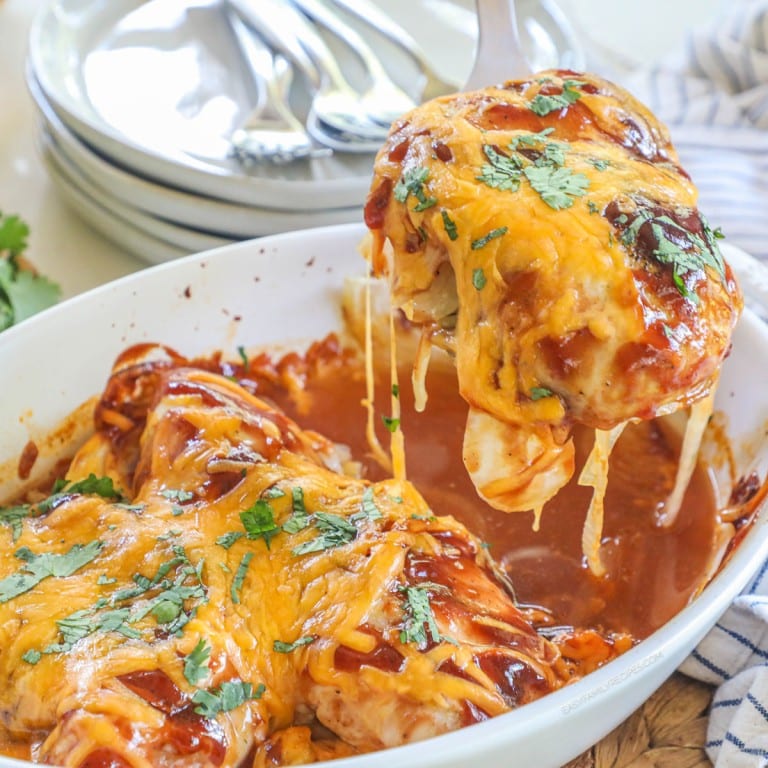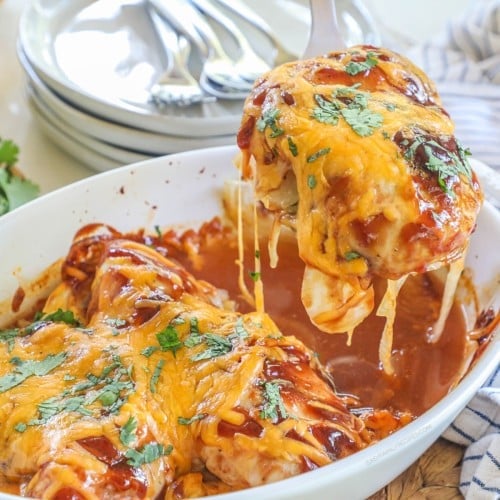 BBQ Chicken Bake
Simple chicken breasts, your favorite BBQ sauce, onions, and pantry seasonings make this super simple baked BBQ chicken recipe an easy weeknight meal for even the busiest of families. It can be served with any side and makes great, versatile leftovers.
Ingredients
1

large onion

2

pounds

chicken breast

,

cut into thin filets

1/2

teaspoon

salt

1/2

teaspoon

pepper

1/2

teaspoon

garlic powder

1/2

cup

BBQ sauce

1

cup

shredded cheddar cheese
Garnish (optional)
diced green onion

chopped cilantro
Instructions
Thinly slice the entire onion and place in the bottom of a casserole dish.

Season both sides of the chicken with salt, pepper, and garlic powder, then lay each chicken breast on top of the onions. Try to lay them flat so that they don't overlap to get the most flavor.

Spread BBQ sauce over the top of the chicken and then top with shredded cheese.

Bake for 30-40 minutes or until the chicken is cooked through (165˚F.)
Recipe Notes
Substitutions: 
Chicken Breasts –

Use chicken cutlets, strips, or boneless skinless thighs.
Cheddar Cheese –

Any shredded cheese you like with barbecue sauce can be used.
How to Store: 
To save leftovers, separate into meal sized portions and then place in an airtight container and store in the refrigerator for 3-4 days or in the freezer for up to a month.
How to Reheat: 
Reheat BBQ baked chicken by microwaving in 30 second bursts or in a skillet on the stovetop set over medium heat. Turn frequently and add more BBQ sauce as needed to keep it moist.
How to Scale:
This recipe can easily be halved to reduce the number of servings, or doubled. Make sure you use a large enough casserole dish if doubling, or separate it into two baking dishes.
Nutrition Information
Calories:
448
kcal
(22%)
,
Carbohydrates:
18
g
(6%)
,
Protein:
55
g
(110%)
,
Fat:
16
g
(25%)
,
Saturated Fat:
7
g
(44%)
,
Polyunsaturated Fat:
1
g
,
Monounsaturated Fat:
4
g
,
Trans Fat:
0.03
g
,
Cholesterol:
173
mg
(58%)
,
Sodium:
1108
mg
(48%)
,
Potassium:
992
mg
(28%)
,
Fiber:
1
g
(4%)
,
Sugar:
13
g
(14%)
,
Vitamin A:
433
IU
(9%)
,
Vitamin C:
5
mg
(6%)
,
Calcium:
231
mg
(23%)
,
Iron:
1
mg
(6%)