If you love spinach artichoke dip, then this Spinach and Artichoke Chicken recipe might just be your new favorite dinner. Baked in one dish, it is simple to make with fresh ingredients and easy to clean up so you can have a delicious hot meal on even the busiest of nights.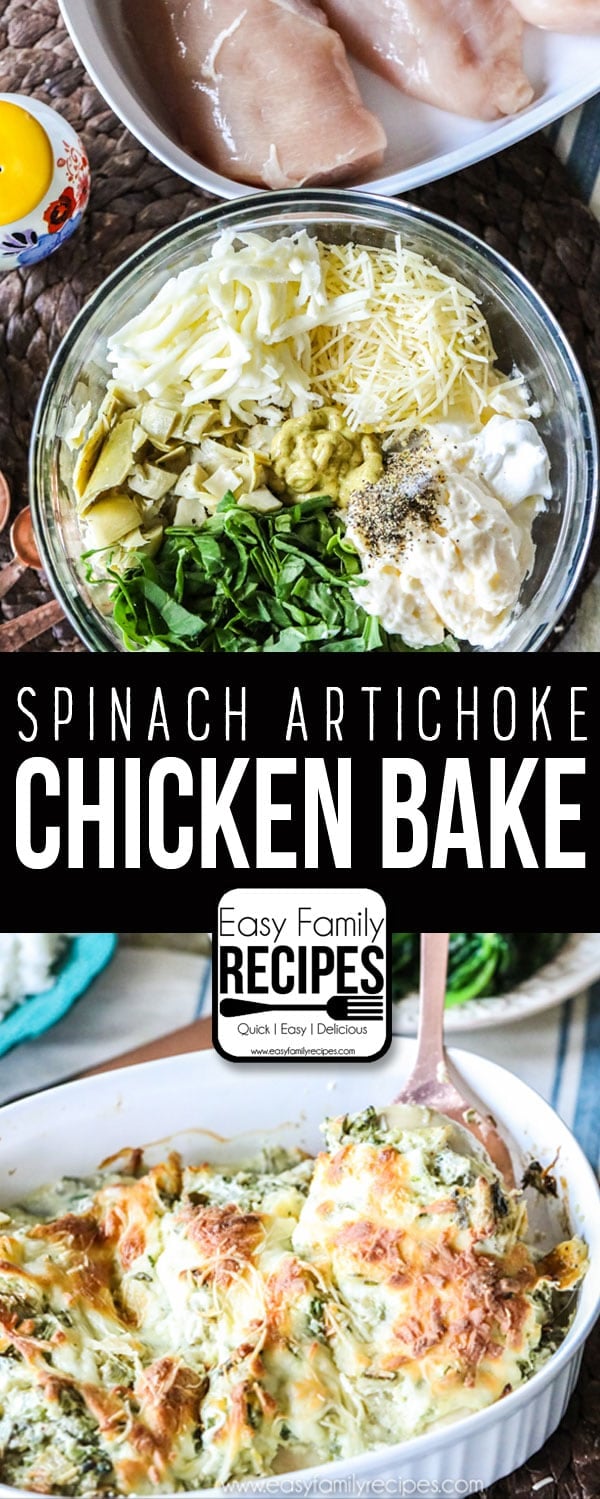 Spinach and Artichoke Chicken- The Easy Way!
I don't know what it is about combining spinach and artichokes with some creamy goodness but I think a little bit of magic happens, because despite starting as super healthy veggies, once they are baked these foods are pretty much transformed into the ultimate comfort food.
One dish chicken meals are kind of my jam. I have created quite a lot of chicken recipes over the years, some of which have reached millions of people like this super popular Baked Chicken Fajitas recipe, and my viral Million Dollar Chicken Bake. Crazy, right? I have had this particular recipe on my mind for quite awhile. I feel like any excuse to eat spinach artichoke dip is a good one, and since there is not one, but three veggies in this recipe, it was just meant to be piled on top of tender, juicy chicken breast to make a whole meal.
Why I love this recipe
Lusciously good– The creamy spinach dip creates the most delicious flavors to coat the chicken
Super easy– You get all the flavor of fancier spinach artichoke stuffed chicken, with none of the fuss!
Little clean up– There is not many dishes so clean up is easy!
Serving Options– This can be a great low carb meal when paired with low carb sides, but it is also a great every day meal for pairing with potatoes or rice
Leftovers are the bomb! You can make so many yummy things with leftovers from this spinach artichoke chicken!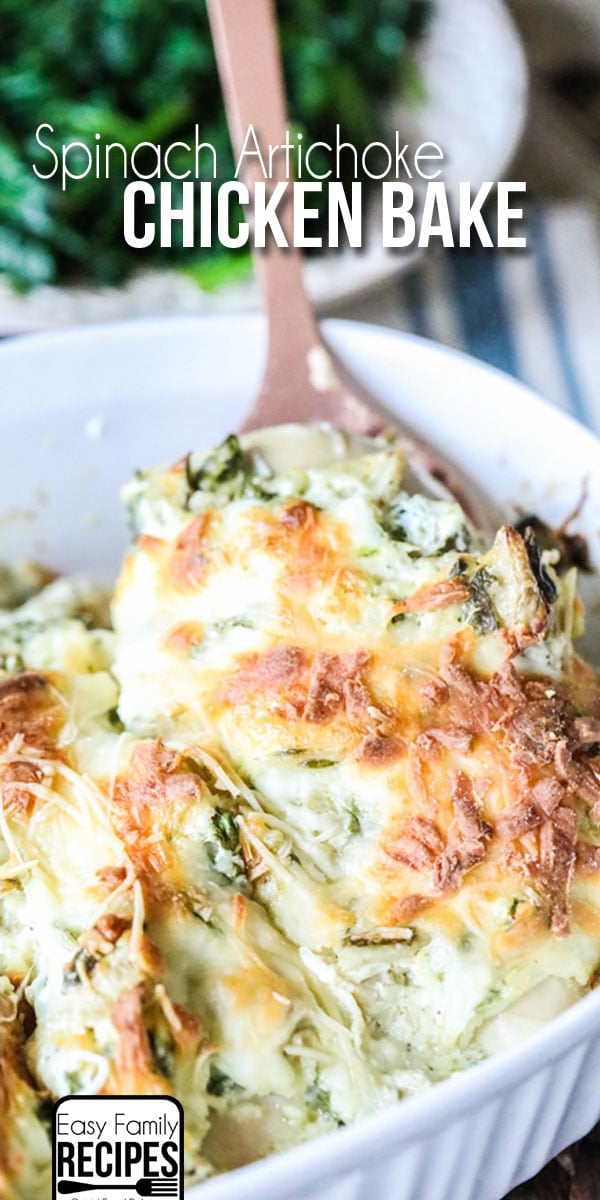 How do you make spinach dip?
While you could go to the store and buy a tub of dip, but I am going to beg you not to, because it is just not going to be the same. Using fresh ingredients makes a huge difference in the taste and texture of the dip.
There a a few different ways to make spinach dip. Some dips are cream cheese based, but I have always made mine with a mayonnaise base. Although both are pretty darn good, the one we use here is mayonnaise based. Not only does it make an amazing dip, but it also helps to tenderize the chicken while cooking.
The mayo is combined with fresh spinach, canned artichokes, onions, mustard and lots of cheese and baked to create that flavor that is just pure bliss. Follow the recipe below to make my spinach dip topping, or substitute your tried and true recipe for dip in the Spinach and Artichoke Chicken.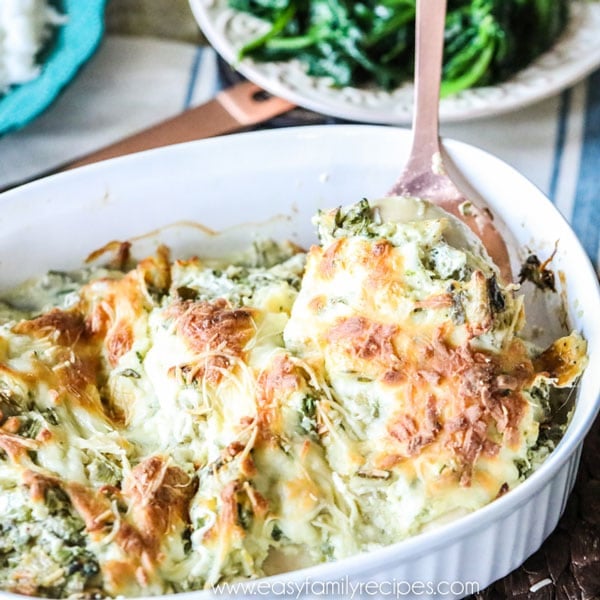 How to serve Spinach Artichoke Chicken
Once you get the dish whipped up, you have a bunch of options on how you can serve it. Since the dish has several veggies in it, it really can stand alone but I usually pair it with at least one thing. Here are some of my favorites:
Rice– Serving this on a bed of rice is easy and really tasty. The rice soaks up the extra juices from the dish and creates a really nice complete meal. You can use white rice, brown rice, long grain, or any type you like!
Potatoes– Serve this on top of a bed of mashed potatoes, try my super creamy mashed potatoes, garlic mashed potatoes, or boursin mashed potatoes.
Garlic Bread– Everything is better with a nice crusty piece of garlic bread and this is no exception! Use it to soak up all that creamy dip along with your meal.
Low Carb serving options
This Spinach and Artichoke Chicken recipe is naturally very low carb and keto friendly. If you are following a diet where you want to keep it low carb then there are a few great serving options. Let me know in the comments if you have other ideas!
How to make Spinach and Artichoke Chicken
This recipe combines some of my favorites- easy baked chicken and creamy spinach artichoke dip combined to make the ultimate spinach artichoke chicken casserole. I will share all of my notes, tips and tricks for how to make spinach artichoke chicken below. If you just want the quick version, skip down to the bottom and grab the recipe card.
Spinach and Artichoke Chicken Recipe – Ingredients
This may look like a lot of ingredients, or at least more than my average recipe, but many of them are super easy simple thing like salt and pepper or a squirt of mustard. So don't be intimidated. I promise, it will come together quick and be so, so delicious!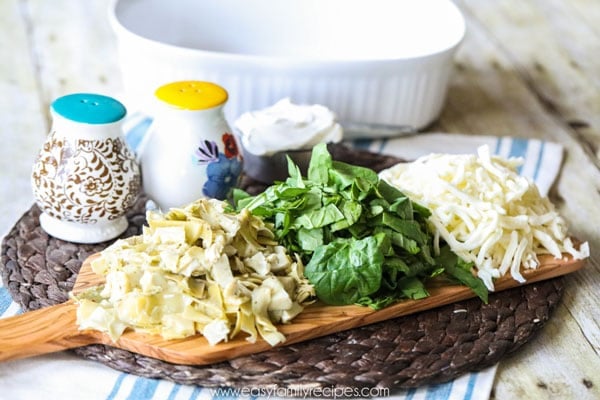 Boneless, skinless chicken breast – You can also use chicken thighs or chicken tenderloins in this recipe if you prefer.
Spices– A simple combination of garlic powder, salt, and pepper
Mayonnaise– full fat or light will work
Sour Cream– you can sub light here if you prefer, but fat free does not work well.
Dijon Mustard– if you don't have dijon you can sub yellow mustard
Onion– yellow, white, sweet, or red all work!
Mozzarella Cheese, grated- If you want to cheat a little, you can use 12 oz of an italian cheese blend in stead of the individual amounts of mozzarella and parmesan.
Freshly Grated Parmesan cheese
Artichoke Hearts– since they are drained, you can use artichokes that are in water or marinated and it won't effect the final dish. I like to buy them quartered though
4 cups Fresh Spinach, (about 4 cups) coarsely chopped- You can use frozen spinach, but I really recommend fresh. If you do use frozen it will be about a cup instead of 4 since it is already wilted, and make sure to get chopped so you don't end up having a hard time eating long strands of spinach. Also, you will need to wring it out excess liquid well or the end dish will be very watery.
Spinach and Artichoke Chicken Recipe Tips
Combine the dip–

You can really do no wrong on this step. Just throw in all of the ingredients for the spinach artichoke dip and mix it up!

You can even do this up to 24 hours in advance so all you have to do is add it to the top of the chicken breasts when you are ready to cook.

Use thin chicken breasts. I like to cut mine horizontally to half the thickness, but you can use a meat mallet to pound them out, or buy thinly sliced chicken at the store pre-cut. This helps the chicken to cook more quickly and evenly so that the chicken stays tender

Spinach Artichoke Chicken Leftovers
If you have leftovers after making spinach artichoke chicken, you are going to love all the ways you can use them! This is one of my favorite dishes to make new dinners from.
To store leftovers, package in an airtight container and place in:
Refrigerator for 3-4 days
Freezer for up to a month
Leftover Recipe Ideas
Spinach Artichoke Chicken Panini– Slice the leftover chicken and place it on a slice of sour dough bread. Add the creamy spinach dip on top. Add extra cheese if you want, then top with another slice of bread and grill each side on a hot buttered skillet.
Spinach Artichoke Chicken Pasta– Reheat and chop any leftover chicken. Make a pot of pasta per package directions. Once done, drain and add butter, salt, pepper and parmesan cheese. Stir in the leftover chicken and toppings.
Spinach Artichoke Chicken Pizza– Chop any leftover chicken. On a prepared pizza crust, spread a thin layer of jarred or homemade alfredo sauce, top with mozzarella cheese, and leftover spinach artichoke chicken. Bake as directed.
MORE Easy Chicken Recipes
If you enjoyed our Spinach Artichoke Chicken, make sure you check out more of our easy recipes! You can see all of our chicken recipes here, or get our personal favorites below!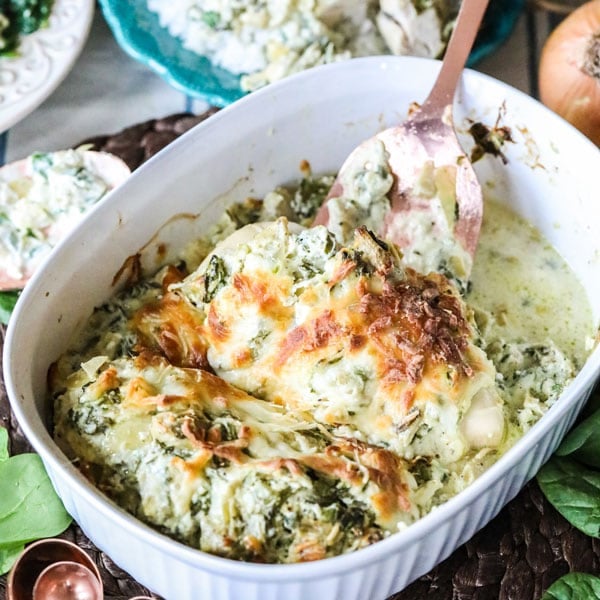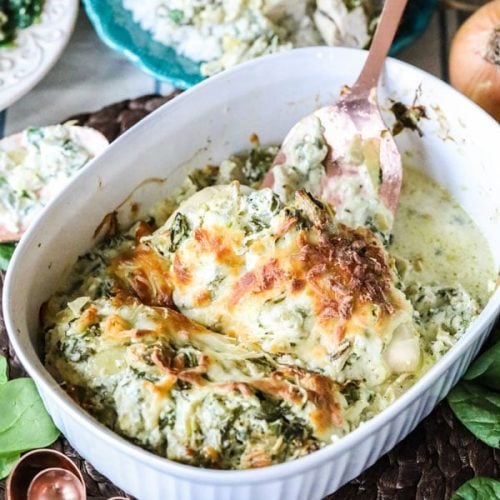 Spinach and Artichoke Chicken
This creamy spinach and artichoke chicken is the ultimate comfort food, but still easy enough to whip up on a busy weeknight!
Ingredients
2

lbs

boneless

,

skinless chicken breast (about 3-4 chicken breasts)

1/2

tsp

garlic powder

1/2

tsp

salt

1/2

tsp

pepper

1/2

Cup

Mayonnaise

1/2

Cup

Sour Cream

2

tsp

Dijon Mustard

1/4

Onion- finely chopped

8

oz

Mozzarella Cheese

,

grated

3

oz

Freshly Grated Parmesan

1/2

Can Artichoke Hearts

,

drained and diced

4

cups

Fresh Spinach

,

coarsely chopped (about 2 oz)
Instructions
Preheat the oven to 375˚F. Lay the chicken breasts flat in a large baking dish and season with garlic powder, 1/4 tsp salt and 1/4 tsp pepper.

Mix the cheeses, then set aside 1/3 of it (about a cup.) In a large bowl, mix the mayo, sour cream, mustard, onion, remaining salt and pepper, and the remainder of the cheeses. Then fold in the chopped spinach and diced artichoke hearts.

Spread mixture on top of chicken then top with cup of cheese that you set aside. Bake on middle rack of oven for 30-40 minutes or until the chicken is cooked through (internal temp of 165˚F).

Serve hot and ENJOY!
Nutrition Information
Serving:
1
/6 dish
,
Calories:
413
kcal
(21%)
,
Carbohydrates:
4
g
(1%)
,
Protein:
44
g
(88%)
,
Fat:
18
g
(28%)
,
Saturated Fat:
9
g
(56%)
,
Polyunsaturated Fat:
6
g
,
Monounsaturated Fat:
0
g
,
Trans Fat:
0
g
,
Cholesterol:
121
mg
(40%)
,
Sodium:
644
mg
(28%)
,
Potassium:
0
mg
,
Fiber:
2
g
(8%)
,
Sugar:
0
g
,
Vitamin A:
0
IU
,
Vitamin C:
0
mg
,
Calcium:
0
mg
,
Iron:
0
mg