Tender, juicy chicken breasts baked under a creamy, garlic cheddar topping is a family friendly, easy dinner you can always rely on. It only takes 10 minutes to get this Garlic Cheddar Chicken bake in the oven and it's ready serve just 35 minutes later. Familiar flavors of cream cheese, cheddar, and garlic create a dinner that both kids and adults will absolutely love, and it pairs well with any sides you like. For an easy weeknight dinner that's stress free, this recipe is what you need!
Garlic Cheddar Chicken – The EASY Way!
One of my favorite, classic flavor combinations is garlic and cheese. They're great together on potatoes, delicious in breads and biscuits, and absolutely amazing when slathered over juicy chicken like I do in this garlic cheddar chicken bake. If you have tried my Million Dollar Chicken Bake, you will love this delicious twist!
It's a dish of easy layers made with ingredients you might already have laying around. The topping is a super easy, but HUGELY flavorful blend of garlic, cream cheese, sour cream, and cheddar. It bakes right on top of chicken so you get creamy, cheesy flavor with every juicy, tender bite.
This is one of those easy win dinners. Your kids will eat happily, you'll be thrilled at how quickly it went in the oven, and definitely with how easy it is to clean up.
Why I LOVE this recipe!
Easy Ingredients – Every ingredient is super easy to find at any grocery store, and inexpensive too!
Quick Prep – You only need 10 minutes to get this baking, then your oven will do the rest of the work.
One Pan Clean Up – I always love a meal that leaves me with just one dirty pan to clean!
Family Friendly – No matter the ages, everyone can enjoy creamy, cheesy garlic cheddar chicken.
Goes with Everything! – This is a GREAT protein packed main dish to serve with any sides your family likes. Veggies, bread, pasta, or grains would all taste awesome with this.
What to Serve with Garlic Cheddar Chicken
Since this chicken bake recipe has the classic flavors of cheese and garlic, it will pair well with many of your favorite traditional side dishes. There are both classic options and some healthy options to keep it light.
Side Dish Ideas
You can choose one or add a few sides to make a wholesome, well rounded dinner.
Recipe Notes
This cheesy garlic cheddar chicken bake recipe is as simple as promised! Just 10 minutes and one pan for a family friendly meal.
In this section I am going to go through a few tips and tricks I use when making this recipe to get the absolute best and most delicious results.
Make sure to scroll to the bottom for the FULL recipe card.
Ingredients + Substitutions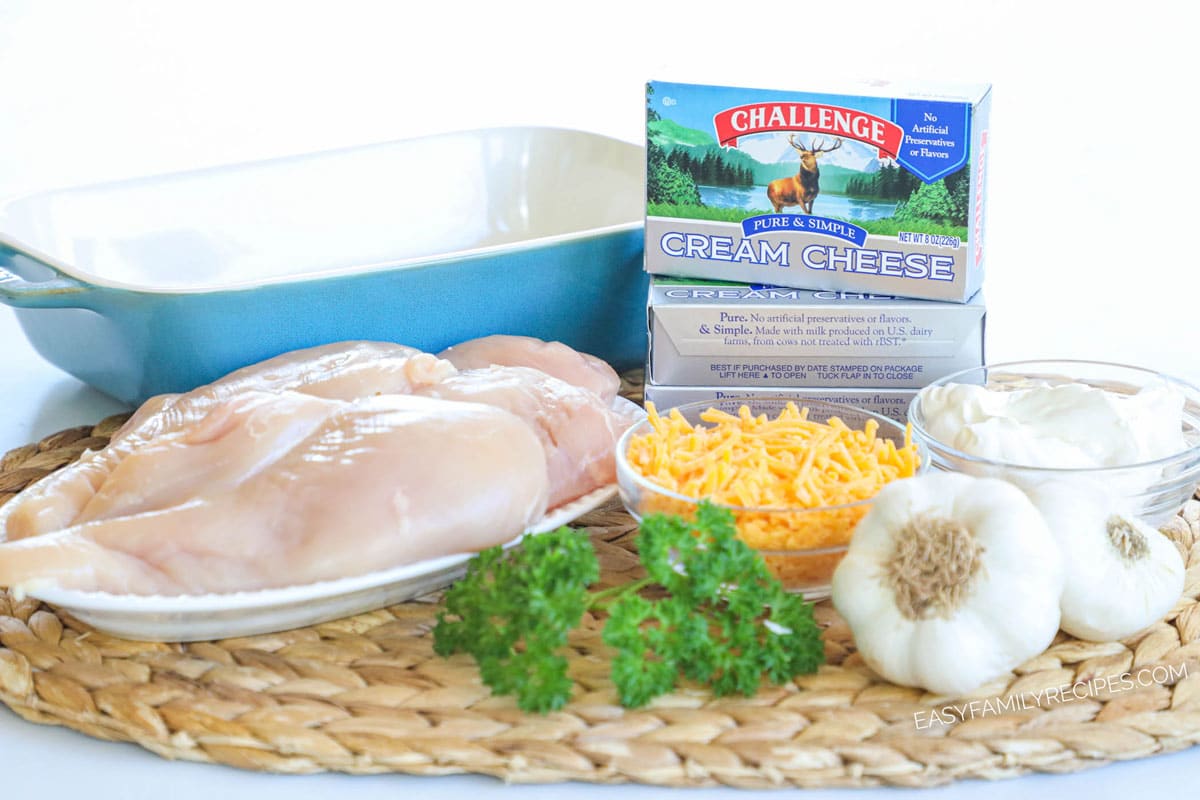 Chicken Breasts – Boneless, skinless chicken breasts is our go to for this garlic cheddar chicken bake. But you could also use tenderloins or cutlets with great results. Make sure you reduce the cooking time to account for smaller pieces baking faster.

Cream Cheese – I use regular cream cheese, but low-fat will work as well. I don't recommend fat-free however because it tends to be less creamy when baked.

Sour Cream – Both full or low fat sour cream will work. Or, a full fat, unflavored Greek yogurt can be substituted with great results.

Cheddar Cheese – You can use any kind your family likes, but we really prefer a sharp cheddar cheese. It packs a much bigger punch of cheesy flavor and makes this recipe absolutely delicious!

Garlic – I highly recommend using fresh garlic in this recipe. I used 4 whole cloves, and while that seems like a lot, it mellows as it cooks and delivers the BEST garlicky flavor to the cheesy topping. I like to use my garlic press to finely crush it and quickly release as much of the flavor as I can.

Salt & Pepper

Herb Garnish (Optional) – We like a sprinkle of chopped green onions and parsley over the top of our baked cheddar garlic chicken breasts for that perfect finishing touch.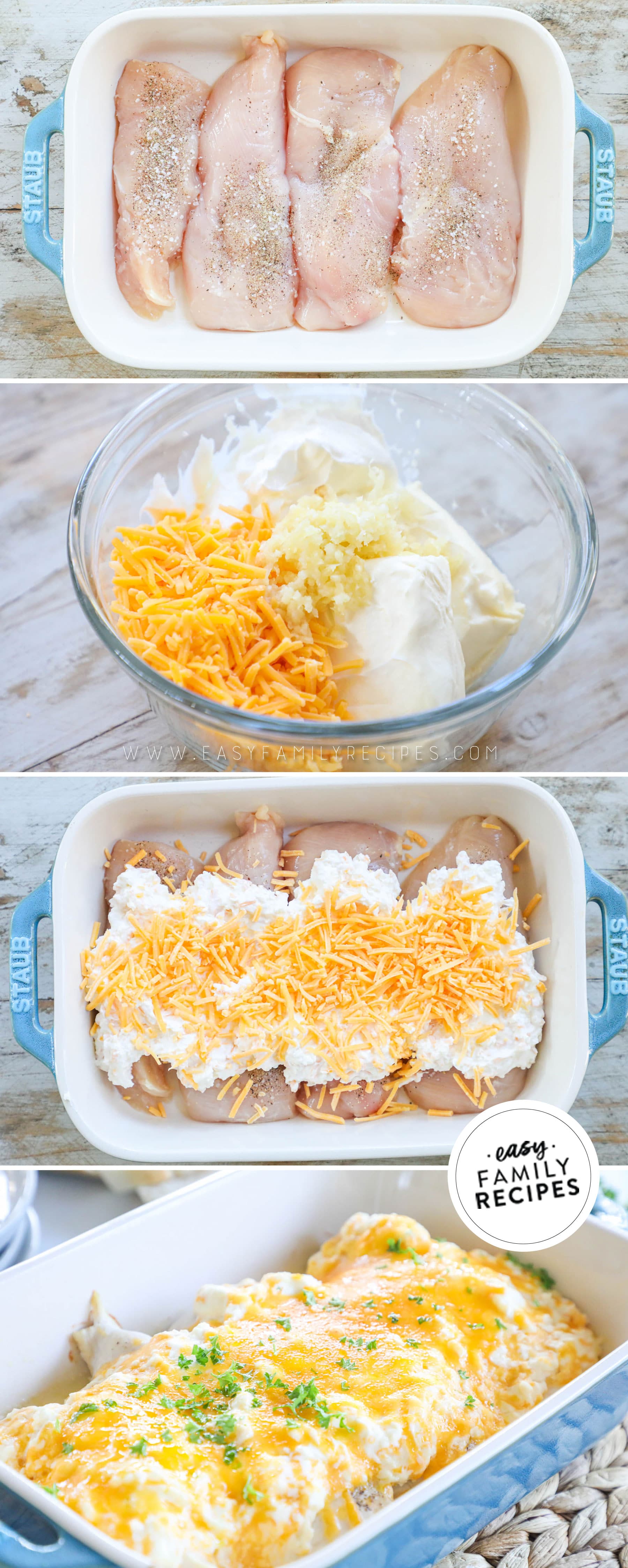 Recipe Tips
Use Thin Chicken Breasts – One essential tip for a juicy, garlic cheddar chicken bake is to use thin breasts. It will help ensure even baking, which is SO important in creating juicy, and not dry, chicken.

You can either slice larger breasts in half, purchase thin ones, or use a mallet or rolling pin to pound them into a thinner, even size. I'd recommend covering the chicken with plastic wrap if you choose that method to prevent germs from splattering in your kitchen.

Choose a Large Pan – Another key to even baking is to use a pan that can fit all of the breasts side by side with NO overlap. If they're crowded, some parts will cook faster than others. That means by the time the chicken is cooked to the right temperature, some parts will also be overcooked. I like a big, high-sided casserole dish for 4 chicken breasts.

Soften the Cream Cheese – Another easy tip is to make sure the cream cheese is completely softened. If it's cold, even a little bit, it won't blend as nicely with the other ingredients and you'll end up with chunks of plain cream cheese throughout the topping. If you think it needs to be softer, just pop it into the microwave for 30-60 seconds.

Cover with Foil – One secret to really gooey cheesy chicken is to cover the pan with foil for the first part of baking. It keeps the moisture in the pan so the cheese doesn't get crispy or dry out, and melts instead!

Temp your Chicken – The number one enemy of tender, juicy chicken is overcooking it. We always want that perfect 'done' temperature, which is 165°F internally.

The easiest way to make sure you get it just right is by using an instant read thermometer. If you don't have one, I highly recommend picking one up! They're inexpensive and easy to find at grocery stores, box stores, or online.

Let it Rest – Once you've taken your garlic cheddar chicken bake out of the oven, let it rest for 5-10 minutes while you get the rest of dinner on the table. That lets all the yummy juices reabsorb, so you have the absolute best flavor possible when it's time to serve.
Recipe Short Cuts
If you need to make this recipe, but are extra short on time, here are a few ideas that can help make this recipe even faster!
Use prepared ingredients– Save time by using ingredients that are already prepped for you. Garlic is sold minced in jars in the produce section of most grocery stores, and still packs a big punch of flavor. Go for pre-shredded cheddar cheese as well.

Chicken Pieces– To save time both on baking and serving, use chicken chunks rather than whole breasts. They'll cook faster than breasts and you can serve quickly just by scooping them out. You won't have to worry about portioning breasts among the family.

Prep Ahead– This is a great recipe to make the night before. You can assemble the entire dish, then cover and refrigerate it so all you have to do is pop it in the oven for dinner the next night.
Recipe Variations
If you love this recipe as much as we do and want some quick ways to change it up for variety, these little tips will do the trick!
Garlic Cheddar Chicken Thighs– Make the recipe exactly as directed but swap the chicken breasts for boneless, skinless chicken thighs. Cook as directed, but make sure they're done to the proper 165°F, which may require a few extra minutes.

Spicy Garlic Cheddar Chicken Bake– Sprinkle the chicken breasts with chili powder and/or cayenne pepper, and replace half the cheddar with pepper jack cheese. Then continue with the recipe as written.

Herb Garlic Cheddar Chicken Bake– Chop fresh parsley, thyme, and chives and mix them into the cream cheese mixture before placing it on the chicken breasts. Continue with the rest of recipe as directed and sprinkle with extra fresh parsley and chives after baking.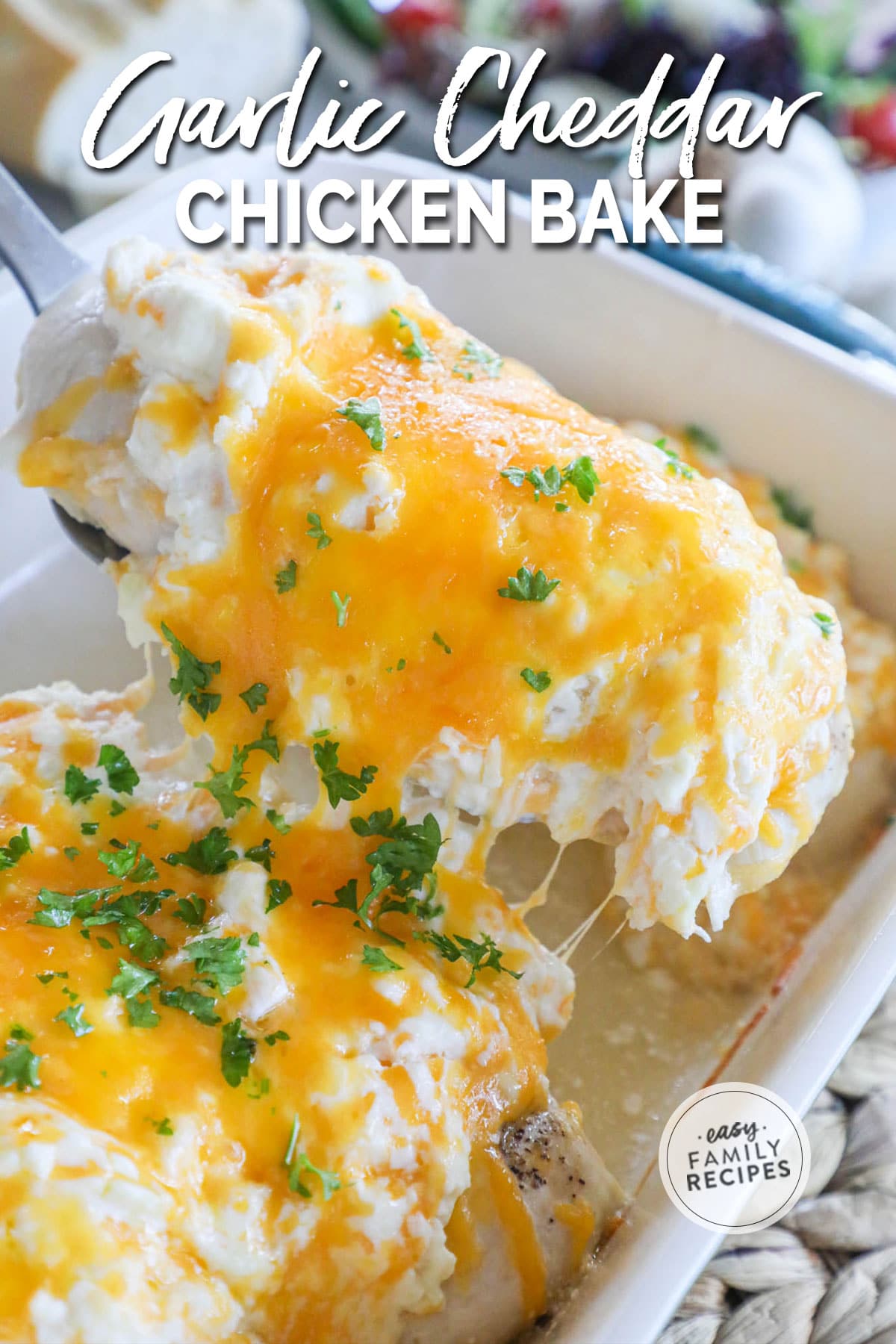 Freezer Meal Instructions
Making this garlic cheddar chicken bake recipe into a freezer meal is simple! Follow the steps below and you can store this recipe in the freezer for up to 6 months.
Assemble the recipe as directed in a freezer safe bag or container.
Cover and freeze.
When ready to bake, thaw in the refrigerator for 24-48 hours.
Bake as directed.
Garlic Cheddar Chicken Leftovers
If you have leftovers after making a garlic cheddar chicken bake, then it is your lucky day! They save and reheat well, and can make the start of another delicious dish.
To save leftovers, separate into meal sized portions and then place in an airtight container and store:
in the refrigerator for 3-4 days
in the freezer up to a month
Leftover Recipes
Here are a few ways to repurpose those leftovers and give them a delicious makeover!
Garlic Cheddar Chicken Stuffed Baked Potatoes– Wrap whole, russet potatoes with foil and bake at 435°F for 45-60 minutes, or until tender. Split the potatoes while hot and fluff with a fork. Season with salt and pepper to taste then add a heaping spoonful chopped leftover garlic cheddar chicken to each. Top with shredded cheddar cheese and return to the oven for 8-10 minutes, or until the cheese is melted. You can check out my chicken broccoli cheese baked potatoes for more detailed guidance!
Garlic Cheddar Chicken Grilled Cheese– Heat a nonstick skillet over medium low heat. Add a layer of shredded cheddar cheese to a piece of bread and top with a thin layer of chopped garlic cheddar chicken. Sprinkle with more cheese and place another piece of bread on top. Spread melted butter or mayonnaise on the outside of the sandwich and carefully place it in the skillet. Cook until golden brown on both sides and gooey and melted in the center.
Garlic Cheddar Chicken Stuffed Peppers– Combine chopped leftover chicken with 1-2 cups of cooked rice. Remove the tops, ribs, and seeds from bell peppers and arrange them upright in a baking dish. Fill with the chicken rice mixture and cover the pan with foil. Bake at 350°F for 30 minutes, then remove the foil and top with shredded cheddar cheese. Continue baking for 10-15 minutes, or until the cheese is melted and peppers are tender.
More Baked Chicken Recipes
If you enjoyed this recipe, I really hope you will take a moment to grab a few more easy recipes for another busy night!
You can check out all of my easy chicken recipes here, or see a few of our readers favorite recipes below.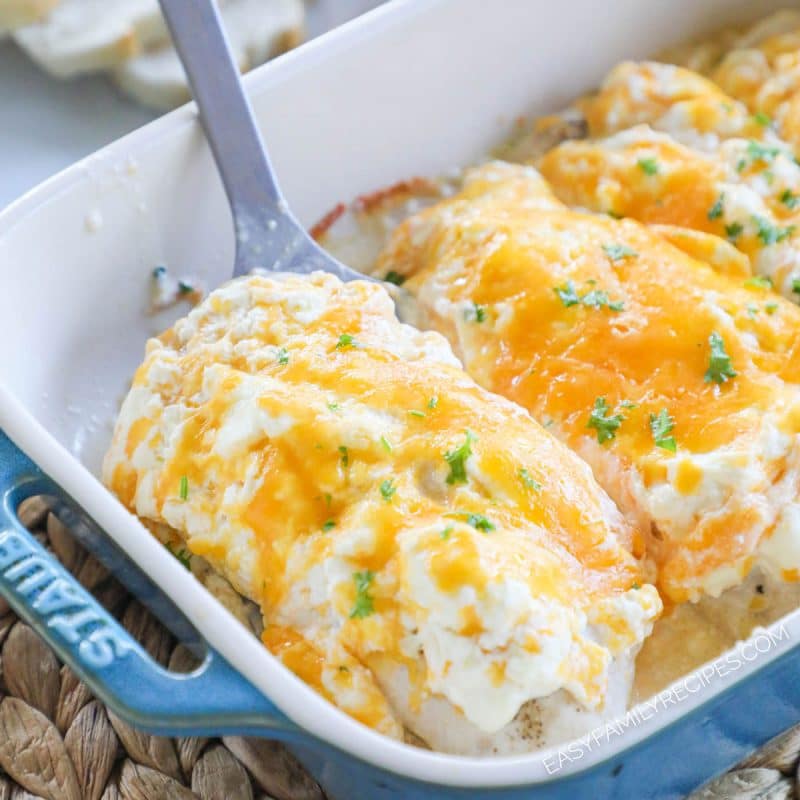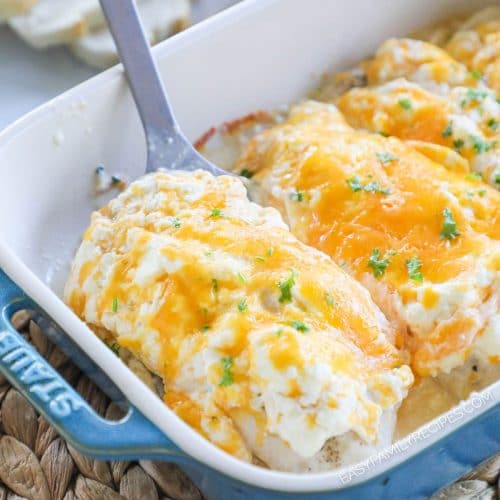 Garlic Cheddar Chicken Bake
Tender chicken breasts are baked in one pan with a creamy mixture of cream cheese, sour cream, cheddar, and garlic to create a juicy, family friendly meal that is quick to prepare and full of flavor.
Ingredients
2

pounds

boneless, skinless chicken breast

6

oz

cream cheese

,

softened

1/2

cup

sour cream

1¼

cup

grated cheddar cheese

,

divided

4

cloves

garlic

,

pressed

1/4

tsp

salt

1/4

tsp

ground black pepper
Garnish (optional)
freshly chopped green onions

freshly chopped parsley
Instructions
Preheat the oven to 400˚F.

In a medium bowl, combine the cream cheese, sour cream, 3/4 cup cheddar cheese, and garlic. Stir until well mixed.

Season each side of the chicken breast with salt and pepper, then lay flat in a large baking dish. Spread the cheese mixture evenly over the chicken. Sprinkle the remaining cheddar cheese over the top.

Cover with foil and bake for 30 minutes. Uncover and bake for an additional 5-10 minutes or until the chicken is cooked through (165˚F internal temp.)

Garnish with green onions or parsley and serve warm.
Nutrition Information
Calories:
607
kcal
(30%)
,
Carbohydrates:
4
g
(1%)
,
Protein:
60
g
(120%)
,
Fat:
38
g
(58%)
,
Saturated Fat:
20
g
(125%)
,
Polyunsaturated Fat:
2
g
,
Monounsaturated Fat:
10
g
,
Trans Fat:
1
g
,
Cholesterol:
244
mg
(81%)
,
Sodium:
788
mg
(34%)
,
Potassium:
987
mg
(28%)
,
Fiber:
1
g
(4%)
,
Sugar:
2
g
(2%)
,
Vitamin A:
1173
IU
(23%)
,
Vitamin C:
4
mg
(5%)
,
Calcium:
345
mg
(35%)
,
Iron:
1
mg
(6%)