This Spinach and Feta Chicken is one of the most creamy and delicious chicken recipes we make!  It is packed with flavor and is really quick and easy to make since it only has a handful of ingredients and bakes all on one casserole dish.  This oven baked dish has tender chicken breast smothered in a creamy mixture of spinach, cheeses, garlic, and is topped with delicious mozzarella cheese.  The creamy spinach in each bite is the perfect compliment to the juicy chicken for a wholesome family meal that might even have the kids loving to eat their veggies! Not only is it delicious, but as a bonus, this Spinach and Feta Chicken recipe is also gluten free and low carb.
Spinach and Feta Chicken Recipe
Spinach and feta has always been one of my favorite flavor combos!  When I was on a girls trip ummm…. over 10 years ago now… I picked up a package of spinach and feta dip at my favorite market and apparently that was a pivotal moment for me because 1. It has been over 10 years and I still remember this dip. And 2. I have not only tried to recreate this Cold Spinach Feta dip here, but also found ways to incorporate the flavors into all sorts of things over the years and today's is definitely a keeper!
How to Serve Spinach and Feta Chicken
This Spinach and Feta Chicken is packed with all sorts of creamy goodness.  It has the perfect balance of wholesome spinach, tender chicken and rich, creamy cheese.  This makes it a great low carb meal if you want to stay on that path, and there are a lot of great low carb sides that can go with it. If you aren't following a special diet there are some exceptional classic sides too that we love to serve it with in our family.
Classic Side Dishes
Rice or other grains- This is probably how we serve it most often because it is quick and easy and the rice is perfect for eating with any extra of that creamy spinach goodness that may fall off the chicken.
Pasta- Serve with pasta tossed in the sauce of your choice, or just toss it with a little butter, garlic, salt and pepper for an easy and delicious side.
Garlic bread- There is little better to add to a meal (especially in the opinion of my kids) than garlic bread and it goes really well with this meal!
Low Carb Side Dishes
Cauliflower rice- You can make roasted cauliflower rice in the oven like my friends Tracy & Krista, or in a skillet.
Zoodles- do traditional zucchini noodles, carrot, or even butternut squash to pair with this!
Roasted veggies- I love this Parmesan Ranch Roasted Cauliflower!
Side salad- Make your favorite salad and serve it right beside this delicious dinner!
Pick one or mix and match a few ideas to round out your meal!  If I missed a favorite side you like to serve this with, make sure to leave me a comment so that I can give it a try!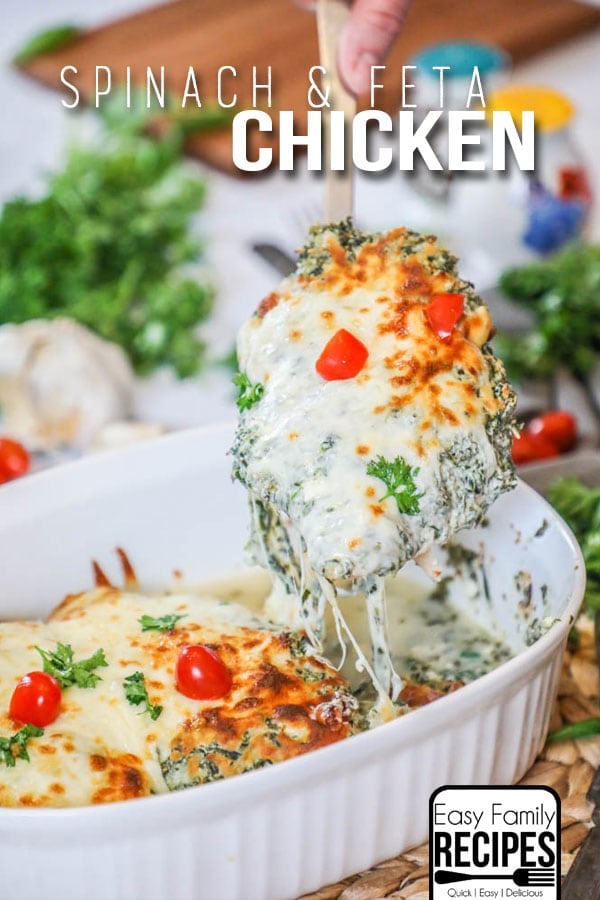 How to make Spinach and Feta Chicken
This recipe is super simple, made with every day ingredients.  I am going to walk through some tips and tricks on this recipe to hopefully answer any questions that might come up while cooking.  There is also a full printable recipe card at the bottom of this post for your convenience.
Spinach and Feta Chicken Ingredients
2 lbs boneless, skinless chicken breast- This will be around 3-4 normal sized chicken breasts.  If your chicken is on the thick side I recommend butterflying it, ie cutting it in half lengthwise so that it is half the thickness.  This will help it cook more quickly and evenly.
8 oz cream cheese, softened- I use regular philadelphia cream cheese. You can also use neufchatel or low fat cream cheese if you prefer.
8 oz frozen chopped spinach- I like to use chopped so it is less stringy.  You will want to thaw it and wring as much water from it as you can so it doesn't cook out while baking and make the whole dish liquidy.
1 cup mozzarella cheese, grated
1/2 cup feta cheese, crumbled
1/4 cup milk
1 tsp garlic powder
1/4 tsp salt
1/4 tsp black pepper
1/8 tsp nutmeg
1/8 tsp cayenne pepper (optional)
Garnish (optional)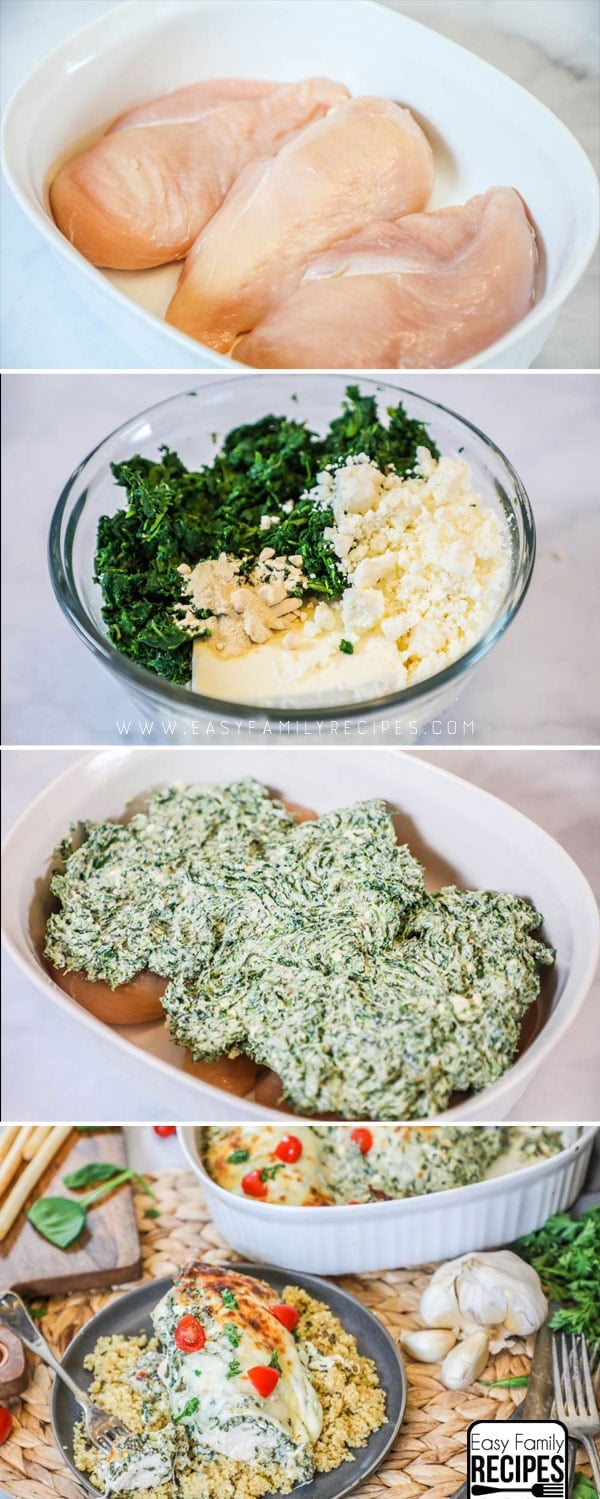 Spinach and Feta Chicken FAQ's
Q: How many does the Spinach Feta Chicken serve?
A: The recipe is calculated for 4 oz servings of meat which is about 1/2 a normal sized chicken breast, and would make this dish 8 servings.  While I only generally eat about 1/2 chicken breast at a meal, My husband will eat a whole chicken breast for a meal so that is technically two servings.  You can cut the chicken breast into halves if you want to help better portion it out for serving.
Q: Is this gluten free?
A: Yes!  This dish is naturally gluten free although not all of the serving suggestions are gluten free.
Q: Is this dish low carb or keto friendly?
A:  Yes!  One serving of this has only about 3 grams of carbs which makes it a great option for those on low carb diets.
Q: How do I store the leftovers?
A: You can store leftovers of your Spinach Feta Chicken in an airtight container in the refrigerator for 3-4 days or in the freezer for up to a month.
Serving Ideas for Spinach Feta Chicken Leftovers
If you have any of this leftover, you may want to try out some of these ideas for repurposing the dish into a new meal!
Spinach Feta Shells- Chop up the leftover meat and mix it with the leftover toppings.  Cook pasta shells according to package directions and then stuff them with the leftover meat mixture.  Top with your favorite pasta sauce and cheese and bake until heated through and cheese is melted.
Spinach Feta Chicken Panini- Slice up the leftovers and place it in between 2 slices of crusty bread.  Heat a well buttered skillet over medium heat and grill each side until golden.
Spinach Feta Pasta- Toss cooked pasta with olive oil, garlic, salt, and crushed red pepper.  Heat and slice up the leftovers and serve them on top.
Spinach Feta Pepper Bites- Cut sweet bell peppers into 2 inch pieces, chop up the leftover Spinach and Feta Chicken.  Lay the peppers on a baking sheet and top them with the chicken and some additional mozzarella cheese. Bake until heated through and cheese is melted.
I hope that your family enjoys this recipe as much as we do!
If you do get a chance to try it, I would love it if you let me know!  You can leave me a comment below, or if you post a picture on Instagram, make sure to tag me @easyfamilyrecipes so that I can see what you are cooking up! It makes my day to see others enjoying the recipes that I share!
Oh and before you go!… If you need a regular rotation of recipe inspiration like me, make sure to sign up to get our emails!  I send out my new favorites, the recipes my family has been devouring, and some of the best tried and true recipes.  It is easy and free of course!  You can click here to sign up or on the button below.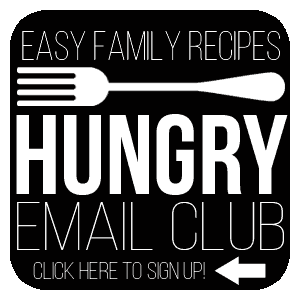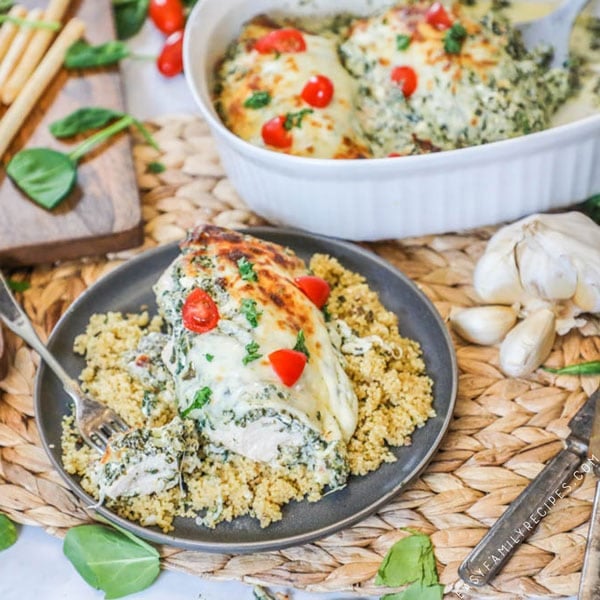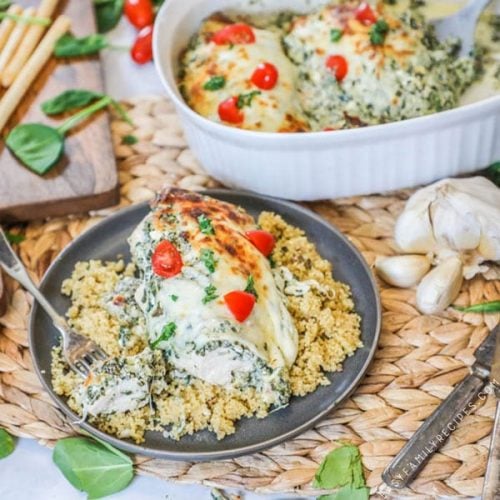 Spinach and Feta Chicken
This Spinach and Feta Chicken is not only super creamy and delicious but also easy to put together since there are only a handful of ingredients and a few steps in this recipe from start to finish.
Ingredients
2

lbs

boneless

,

skinless chicken breast

8

oz

cream cheese

,

softened

8

oz

frozen chopped spinach

1

cup

mozzarella cheese

,

grated

1/2

cup

feta cheese

,

crumbled

1/4

cup

milk

1

tsp

garlic powder

1/4

tsp

salt

1/4

tsp

black pepper

1/8

tsp

nutmeg

1/8

tsp

cayenne pepper

,

optional

Garnish

,

optional

Grape tomatoes

,

halved
Instructions
Preheat the oven to 375˚F.

Thaw the spinach and wring as much of the water from it as possible.

In a large bowl, combine the cream cheese with the garlic powder, salt, pepper, nutmeg, and cayenne pepper and mix until combined. Stir in the milk and then the feta cheese and spinach, mixing until combined.

Place the chicken breasts flat in a single layer in the bottom of a large casserole dish.  Spread the chicken with the spinach mixture and then sprinkle the mozzarella cheese evenly over the top.

Bake for approx 40-50 minutes on the middle rack of the oven until the chicken is cooked through (165˚F internal temp)

Garnish with grape tomatoes and serve hot!  Enjoy!
Recipe Notes
You can cut the chicken in half, chunks, or use chicken tenderloins in lieu of full chicken breasts to make serving easier. Cooking time may be reduced.
Leftovers can be stored in an airtight container for 3-4 days in the refrigerator or in the freezer for up to a month.
Dietary Considerations:
This recipe is naturally gluten free, low carb, and friendly for low carb and keto diets.
Nutrition facts provided based on my best estimation for the recipe and may not be accurate depending on what brands you use or modifications you make to the recipe.  I recommend using a nutrition calculator with the exact brands and measurements you use for the most accurate calculation.
©2018 Easy Family Recipes- Recipe found at: https://www.easyfamilyrecipes.com/spinach-and-feta-chicken/
For more great easy dinner inspiration, sign up for our emails here!
Nutrition Information
Serving:
6
oz (4 oz chicken 2 oz topping)
,
Calories:
334
kcal
(17%)
,
Carbohydrates:
5
g
(2%)
,
Protein:
32
g
(64%)
,
Fat:
19
g
(29%)
,
Saturated Fat:
10
g
(63%)
,
Polyunsaturated Fat:
0
g
,
Monounsaturated Fat:
0
g
,
Trans Fat:
0
g
,
Cholesterol:
122
mg
(41%)
,
Sodium:
436
mg
(19%)
,
Potassium:
614
mg
(18%)
,
Fiber:
0
g
,
Sugar:
3
g
(3%)
,
Vitamin A:
3865
IU
(77%)
,
Vitamin C:
2.1
mg
(3%)
,
Calcium:
197
mg
(20%)
,
Iron:
1.4
mg
(8%)