When you need an irresistible veggie side dish, this Garlic Parmesan Roasted Broccoli never fails! It is quick to make and can bake in the oven right next to your main dish to complete a meal fast. The rich flavors of garlic and parmesan make the broccoli almost addicting it is so good!
Baked Broccoli – The EASY Way!
You may have eaten broccoli raw, steamed it on the stove or even microwaved a frozen bag, but if you haven't ever roasted broccoli in the oven, you are missing out on how delicious this veggie can be!
Of all the ways that we eat broccoli, this is my favorite, and here's why:
EASY – Only 5 ingredients and 4 steps!
Perfect Texture – Never mushy, it has a tender but still slightly firm texture.
Best Flavor – The garlic and parmesan make this taste more like a treat than a veggie! I could eat it all day!
Roasting broccoli in the oven makes it easier than ever since it is a quick toss with the seasoning then spread on a baking sheet and baked to perfection.
No babysitting and comes out great every time!
What to serve Roasted Broccoli with
Broccoli is a super versatile veggie found in almost every cuisine around the world.
Since this recipe uses garlic and parmesan which are flavors also found widely, this dish makes a great compliment to many meal options from American, to Italian, BBQ, southern cuisine, and more.
These are some of my personal favorite dishes to pair it with as a side dish:
Quick & Easy Steak
Creamy Mushroom Baked Chicken
Tater tot Casserole with Bacon – the ultimate comfort food
Baked Italian Sausage and Peppers
One Dish Hawaiian Chicken
Cajun Butter Steak – Always gets RAVE reviews!
Crock Pot BBQ Pulled Pork- Feeds a crowd!
These are just a few ideas! There are so many dishes that work well with this side dish.
This broccoli even holds it's own to create a hearty meatless meal. More on that below!
How Roast Broccoli in the Oven
This recipe is easy peasy and doesn't need to much explanation, but I will offer a few tips in this section to help you get the absolute best out of this recipe.
Make sure to scroll to the bottom of this post for the FULL recipe card.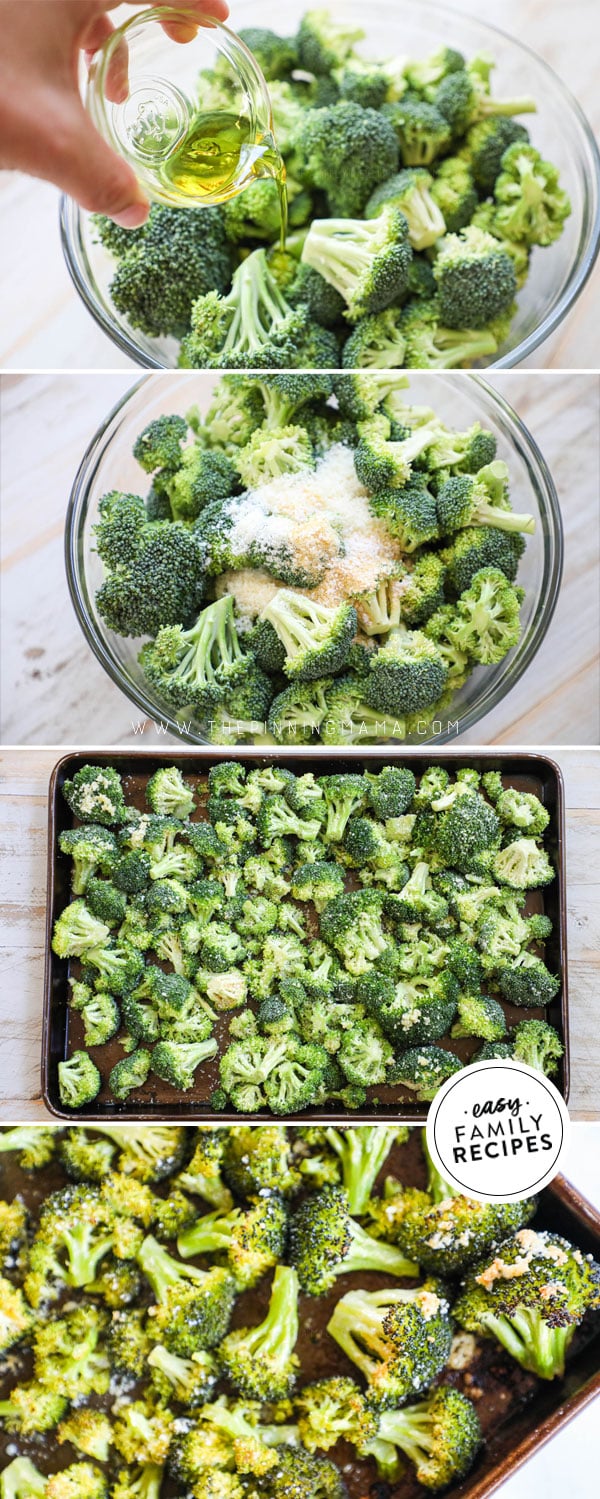 How to choose Broccoli at the Store
It all starts with having good fresh broccoli! You can use a head of broccoli and trim it down to florets, or buy a bag of pre-cut florets.
To choose a head of broccoli look for:
Uniform dark green florets, avoid any that have yellow or brown
Firm stalk that looks fresh and not dried out on the cut end
Broccoli should be dense and heavy for it's size
If you are buying pre-cut florets look for the same thing inside the bag with an expiration date as late as possible.
The Seasoning
This recipe is seasoned with garlic powder, salt, and parmesan cheese.
I recommend using garlic powder and salt over garlic salt just because you can control the quantity of each better for an over all better result. If you find yourself in a pinch, you can sub garlic salt instead!
Make sure that you mix these in evenly so that you don't get all the flavor in one spot. I like to sprinkle a little, toss, sprinkle a little more, and repeat.
When choosing parmesan, make sure you choose grated which will look more like a powder, and not shredded which is like you would see for cheddar or mozzarella.
The grated parmesan is easier to distribute and gets in all the nooks and crannies of the broccoli offering more flavor.
How long to Bake Broccoli
To create perfectly roasted broccoli, you need the right combination of a high temperature and the right amount of time in that temperature.
I like to roast my broccoli at 450˚F. This is a very high temp, but it allows the edges to get that flavorful browning, without cooking so long it becomes mushy.
The broccoli should be roasted for 15-18 minutes at 450˚F.
If you prefer your broccoli a little softer you can lower the temperature to 425˚F and cook it for 18-22 minutes, or 400˚F for 20-30 minutes.
What about frozen broccoli?
If you are out of fresh broccoli and wondering if you can roast frozen broccoli instead, you are in luck because it is 100% doable!
Frozen broccoli is blanched (partially cooked quickly in boiling water) before it is frozen so the process for roasting will be slightly different.
Spread the frozen florets on the baking sheet.
Drizzle with olive oil and sprinkle with salt, garlic powder and parmesan cheese. Stir with a spatula to evenly distribute.
Bake at 425˚F for 15 minutes. Then remove from the oven quickly toss the broccoli and bake for an additional 10 minutes, or until tender with the edges starting to brown.
Recipe Short Cuts
I always like to add a few notes on ways to speed up my recipes on particularly busy evenings. This one is already so fast there are only a few notes, but if you are in a hurry they can help!
Use pre-cut or frozen broccoli– see notes above! This will save you at least 5 minutes in chopping.
One pan method – Instead of dirtying a bowl and a baking sheet, spread the broccoli on the baking sheet then drizzle with olive oil, sprinkle with garlic powder, salt, and parmesan cheese and toss any that fell to the baking sheet back on top. This method will save you one dish to wash!
Make ahead– If you are really in a pinch, you can make this ahead, store in the refrigerator up to 24 hours, then place back in the oven at 450˚F for 4-6 minutes or until heated through for serving fast.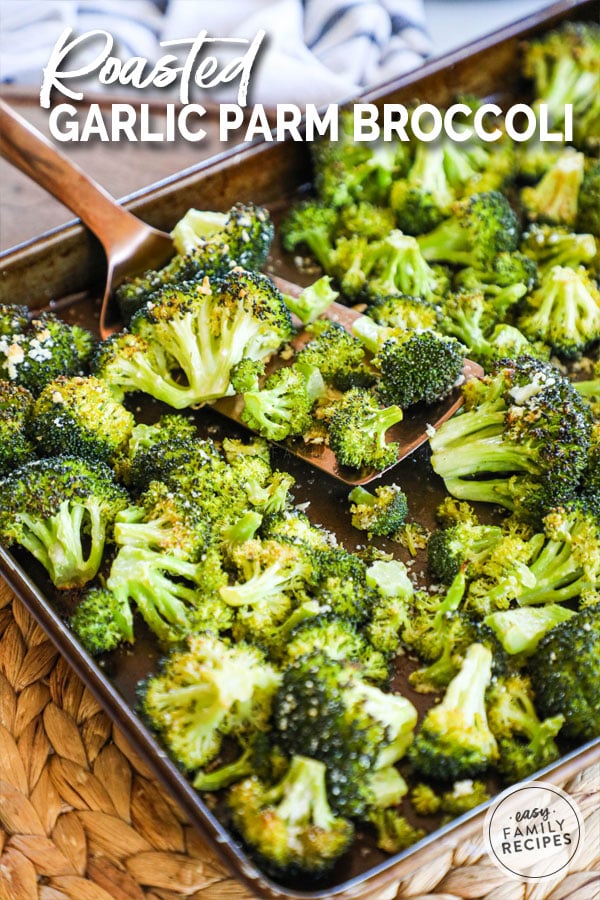 Dietary Considerations
Garlic Parmesan Roasted Broccoli is not only insanely delicious, but it is also friendly for a variety of dietary needs and can be compliant with others with modifications.
Gluten free– this recipe is naturally gluten free. Make sure to check packaging of any store bought ingredients to ensure compliance.
Low Carb / Keto – With only 5g net carbs, this veggie side dish qualifies as low carb and is friendly for most low carb diets like keto.
Dairy Free– This recipe is NOT dairy free as written. You can make this recipe as written, omitting the parmesan cheese and it makes a wonderful dairy free roasted garlic broccoli! This would also make it compliant for Whole30 or Paleo diets.
Garlic Parmesan Broccoli Main Dish Ideas
Roasted Broccoli is most often served as a side dish, but can also be the star of a delicious main dish! Here are a few ideas on how to use this recipe for a meatless main dish.
To make these recipes prepare broccoli as directed in the recipe card, then continue.
Garlic Parmesan Roasted Broccoli Salad– Place broccoli on a bed of mixed greens or spinach. Top with sliced toasted almonds, dried cranberries (optional), and shaved parmesan cheese (optional). Toss with Lemon Vinaigrette.
Parmesan Roasted Broccoli Alfredo– Make a pan of this super easy homemade alfredo sauce. Toss with garlic parmesan roasted broccoli and your choice of cooked pasta, zoodles or spaghetti squash. Can also be served over mashed potatoes or garlic toast.
Garlic Parmesan Roasted Broccoli Pizza– Spread a thin layer of olive oil over a prepared pizza crust. Top with Italian cheese blend and roasted broccoli. Dollop ricotta cheese over the top and sprinkle with crushed red pepper. Bake as directed on the crust.
Roasted Broccoli Casserole– Mix roasted broccoli with 1 box of Uncle Ben's Wild Rice, prepared. Add 1 can of cream of mushroom soup, and 1/2 cup sour cream. Spread into a baking dish. Top with additional cheese or bread crumbs mixed with melted butter if desired. Bake at 400˚F for 20-30 minutes or until the edges begin to bubble.
Garlic Parmesan Broccoli Power Bowls– Place a generous scoop of hummus in the bottom of a bowl. Swirl in a pour of olive oil. Place the broccoli on top and add some chopped spinach. Sprinkle with toasted almonds and crushed red pepper (optional.) Add a squeeze of lemon juice or lemon wedge for squeezing before serving.
Leftovers!
If you have leftovers of the Garlic Parmesan Roasted Broccoli, they can be stored in an air tight container in the refrigerator for 4-5 days.
Leftovers can be reheated in the microwave in 30 second increments, stirring in between until warmed, or in the oven.
Popping the leftover roasted broccoli in the oven is the best way to reaheat as it will regain some of the crispy texture it originally had.
To reheat broccoli in the oven, heat oven to 450˚F, then place the broccoli on a baking sheet in a single layer and cook 4-6 minutes or until heated through.
More Delicious Sides!
If you loved this recipe as much as we do, I hope you will take a moment to glance through a few of our other easy side dish recipes.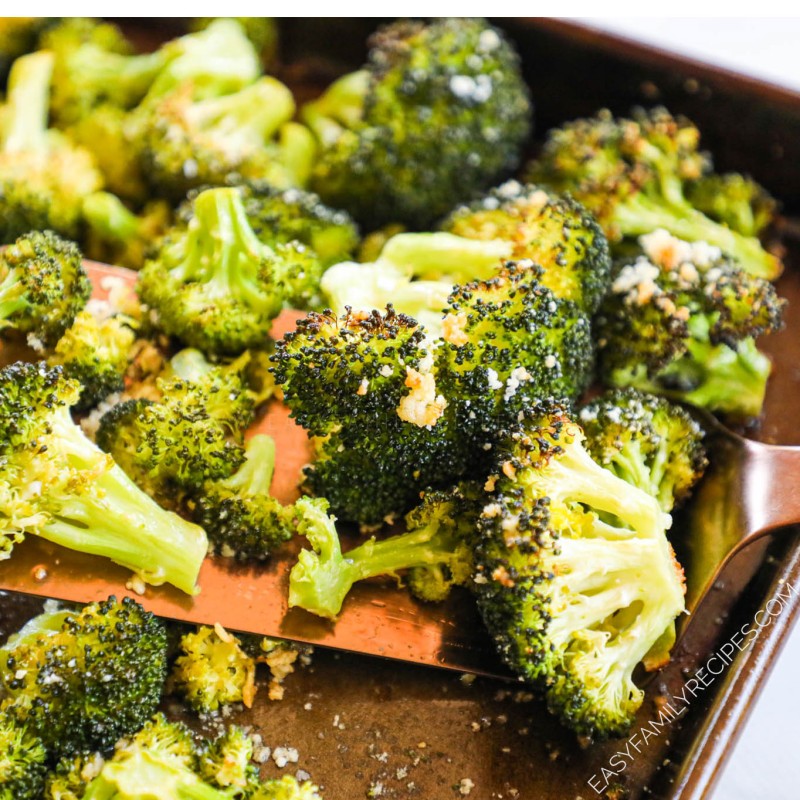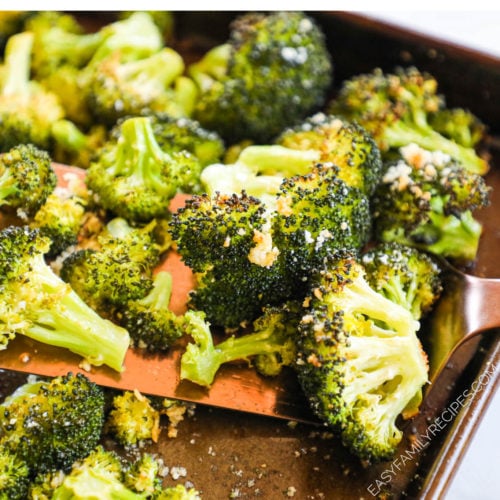 Garlic Parmesan Roasted Broccoli
The best and easiest way to make broccoli! This Garlic Parmesan Roasted Broccoli is packed with flavor and comes together quickly for a delicious veggie side dish.
Ingredients
2

lbs

broccoli florets

2

tbsp

olive oil

½

cup

parmesan cheese

,

grated

½

tsp

salt

½

tsp

garlic powder
Instructions
In a large bowl, toss broccoli with the olive oil until evenly coated.

Combine the parmesan cheese, garlic powder and salt and then sprinkle over the broccoli as you mix until combined.

Spread broccoli in a single layer on a large baking sheet.

Bake at 450˚F for 15-18 minutes or until tender.
Nutrition Information
Serving:
0.5
cup
,
Calories:
95
kcal
(5%)
,
Carbohydrates:
8
g
(3%)
,
Protein:
5
g
(10%)
,
Fat:
6
g
(9%)
,
Saturated Fat:
2
g
(13%)
,
Cholesterol:
4
mg
(1%)
,
Sodium:
283
mg
(12%)
,
Potassium:
364
mg
(10%)
,
Fiber:
3
g
(13%)
,
Sugar:
2
g
(2%)
,
Vitamin A:
755
IU
(15%)
,
Vitamin C:
101
mg
(122%)
,
Calcium:
127
mg
(13%)
,
Iron:
1
mg
(6%)