This delicious and easy Oven Roasted Turkey Tenderloin recipe is the best way to break away from a routine meal and savor a lean, protein rich meal. Each turkey breast tenderloin is crafted to perfection and offers a blend of tender, juicy meat and a delightful medley of seasonings. The effortless versatility of this recipe makes this meal perfect for a family, especially during those busy weeknights when you need to quickly get a healthy, delicious, and lean meal on the table!
Oven Roasted Turkey Tenderloin – The EASY Way!
A juicy turkey tenderloin, an often underrated cut of meat, delivers so much deliciousness. If you haven't ever cooked with it, I really encourage you to try it! Its naturally lean and tender nature ensures a moist and juicy bite with every forkful.
I cook with chicken a lot, so switching it up to this easy turkey tenderloin recipe is a great alternative so that we can still have a protein packed meal that tastes great.
If you haven't ever cooked with turkey tenderloin, you can find it in the meat section at your local grocery store. Butterball and Jenny O both have packages you can choose from. You've probably seen them when you've been over there for your Thanksgiving turkey!
That's the other beauty of this recipe – It's so easy for a quick weeknight meal, but also versatile enough that you can even make it for the holidays (Thanksgiving, Christmas, or even Easter!) without using a whole turkey. It really is the perfect choice for special occasions or holiday gatherings!
Why I LOVE this recipe!
Versatile: This is an easy and quick recipe for busy weeknights, but can also be the centerpiece of a traditional family dinner, sliced for sandwiches or wraps, or even used as a topping for salads or pasta dishes.
Family-friendly: Turkey tenderloin is a great option for feeding a crowd, and it's usually a hit with kids because it's so flavorful, juicy and tender.
Leftovers: Turkey tenderloin is also great for leftovers, which can be used in sandwiches, salads, or other meals throughout the week.
Packed with Flavors: The delicious flavors and aromas are able to develop during the roasting process. I do have another delicious turkey dinner recipe for Slow Cooker Turkey Tenderloin. The benefit of this roasted turkey tenderloin is that it has a slightly different taste profile compared to the crock pot version because it has crispy and caramelized edges that add a delightful texture.
What to Serve with Oven Roasted Turkey Tenderloin
Since this dish has the classic flavors of the holidays, it will pair well with many of your favorite comforting side dishes. There are both classic options and some healthy options to keep it light.
Side Dish Ideas
Holiday Side Dish options
If you choose to serve this Turkey Tenderloin for Thanksgiving, Christmas, or another special occasion, here are some of my favorite holiday sides to serve with it:
You can choose one or add a few sides to make a wholesome, well rounded dinner.
Recipe Notes
This Roasted Turkey Tenderloin recipe is as simple as promised! Just 25 minutes from start to finish for a family friendly meal.
In this section I am going to go through a few tips and tricks I use when making this recipe to get the absolute best and most delicious results.
Make sure to scroll to the bottom for the FULL recipe card.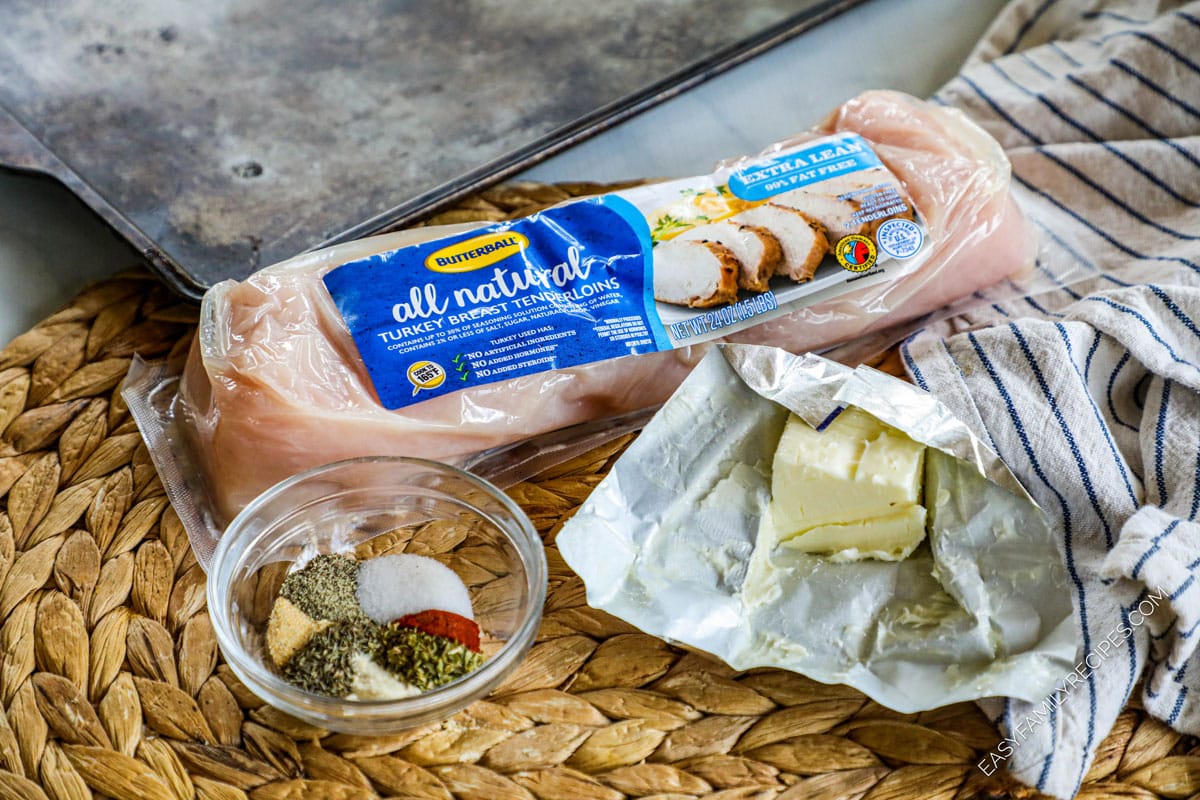 Ingredients + Substitutions
Turkey Tenderloins — These can be found in the turkey or poultry section of the meat department. Butterball and Jenni-O are the two brands that consistently carry these. The package will usually have 2 tenderloins and be much larger than a chicken breast. 2 turkey tenderloins will be about 1.5-2 pounds.
Butter — Just cut it up into 3-4 slices. You can use salted or unsalted. Whatever you keep on hand is fine!
Turkey Seasonings — These spices are all important for a signature, holiday turkey flavor. If you want to change the flavor you can use a different seasoning mix like Fajita Seasoning, Greek Seasoning, or Rotisserie Chicken Seasoning.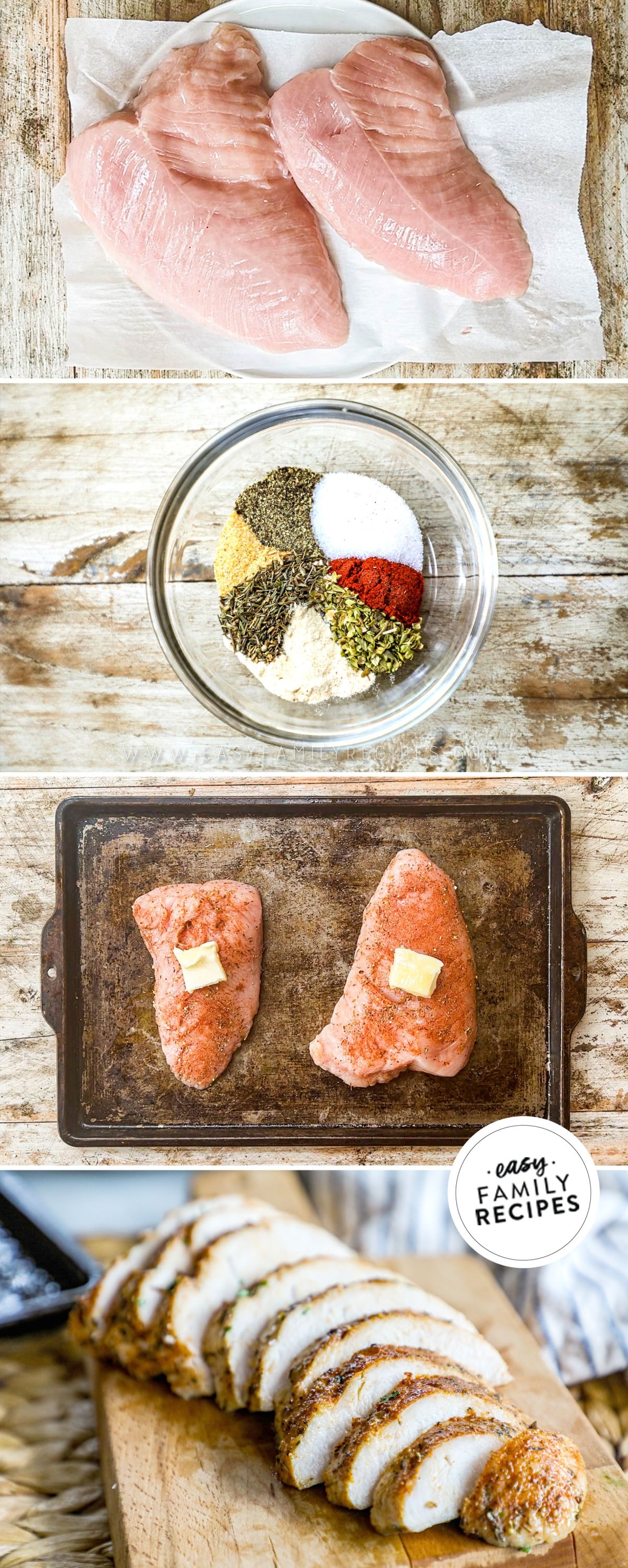 Recipe Tips
Turkey Tenderloin — This cut is very lean, so you want to make sure you lock in all the moisture and juices so that you do not over cook it.

Roast your turkey at 400 degrees for 20-30 minutes. Time will vary depending on turkey thickness, your oven, and even your climate. It is done when the meat thermometer reads 165 degrees. at the thickest part of the turkey. This will insure that you don't overcook your turkey.
Once it is fully cooked, you'll know it's ready to take out and slice up or shred.

Butter — Put a pat of butter onto each tenderloin. As it cooks the butter melts down and infuses the flavor into the tenderloin making the flavors of the turkey roast out of this world!
Seasonings — You may be wondering why I am not using a marinade for this. For this recipe, I prefer a dry rub vs a marinade because it's quick and delivers so much flavor.
Recipe Short Cuts
If you need to make this recipe, but are extra short on time, here are a few ideas that can help make this recipe even faster!
Dry Rub — Prepare the dry rub in advance and apply before roasting.
Prep Ahead — Apply the dry rub to the chicken the night before or the morning of. Make sure to store it in the refrigerator. This prevents the chicken from spoiling and ensures food safety. Allow it to come to room temperature for about 30 minutes before cooking.
Try my Slow Cooker Turkey Tenderloin version! The flavor profile is slightly different, but it is delicious and a very hands-off meal.
Recipe Variations
If you love this recipe as much as we do and want some quick ways to change it up for variety, these little tips will do the trick!
Citrus-Glazed Turkey Tenderloin — Create a tangy glaze using orange or lemon juice, honey, and Dijon mustard. Brush the glaze over the turkey tenderloin while roasting for a burst of bright citrus flavor.
Pesto-Stuffed Turkey Tenderloin — Make a pocket in the turkey tenderloin and stuff it with basil pesto, sun-dried tomatoes, and mozzarella cheese before roasting.
Chili-Lime Turkey Tenderloin — Combine 2 tbsp olive oil, 2 tbsp fresh lime juice, 2 tsp chili powder, 1 tsp garlic powder and a hint of brown sugar to create a mildly spicy glaze for the turkey.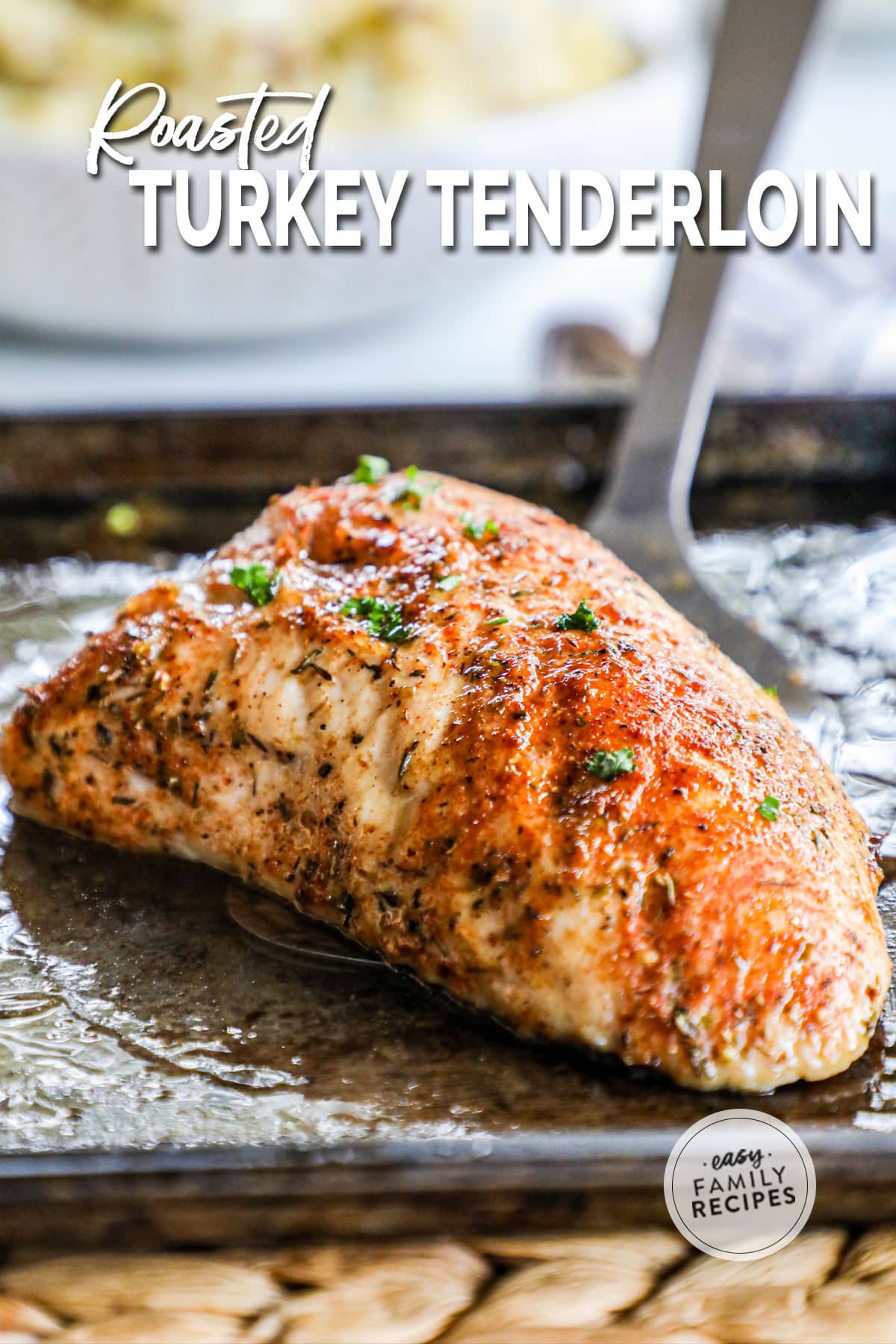 Freezer Meal Instructions
Making this Roasted Turkey Breast Tenderloin recipe into a freezer meal is simple! Follow the steps below and you can store this recipe in the freezer for up to 6 months.
Make your turkey tenderloin as directed.
Allow to cool to room temperature.
Package the tenderloins into meal sized quantities in a freezer bag or freezer friendly container.
Freeze.
When ready to use, thaw the turkey 24-48 hours in the refrigerator.
Roasted Turkey Tenderloin Leftovers
If you have leftovers after making Roasted Turkey Tenderloin, then it is your lucky day! They save and reheat well, and can make the start of another delicious dish.
To save leftovers, separate into meal sized portions and then place in an airtight container and store:
in the refrigerator for 3-4 days
in the freezer up to a month
Leftover Recipes
Here are a few ways to repurpose those leftovers and give them a delicious makeover!
Turkey Sandwich — Make a classic turkey sandwich with slices of tenderloin, your favorite bread, lettuce, tomato, and your preferred condiments.
Turkey Stir Fry — Use this easy turkey stir fry recipe, but just chop up your turkey into small pieces instead of using ground turkey.
Turkey and Cranberry Wrap — Roll up sliced turkey tenderloin, cranberry sauce, and some greens in a tortilla or wrap for a quick handheld meal.
Turkey Frittata — Use leftover turkey in a frittata with eggs, cheese, and vegetables for a hearty breakfast or brunch option.
More Hearty Recipes
If you enjoyed this recipe, I really hope you will take a moment to grab a few more easy recipes for another busy night!
You can check out all of my Easy Family Recipes here, or see a few of our readers favorite recipes below.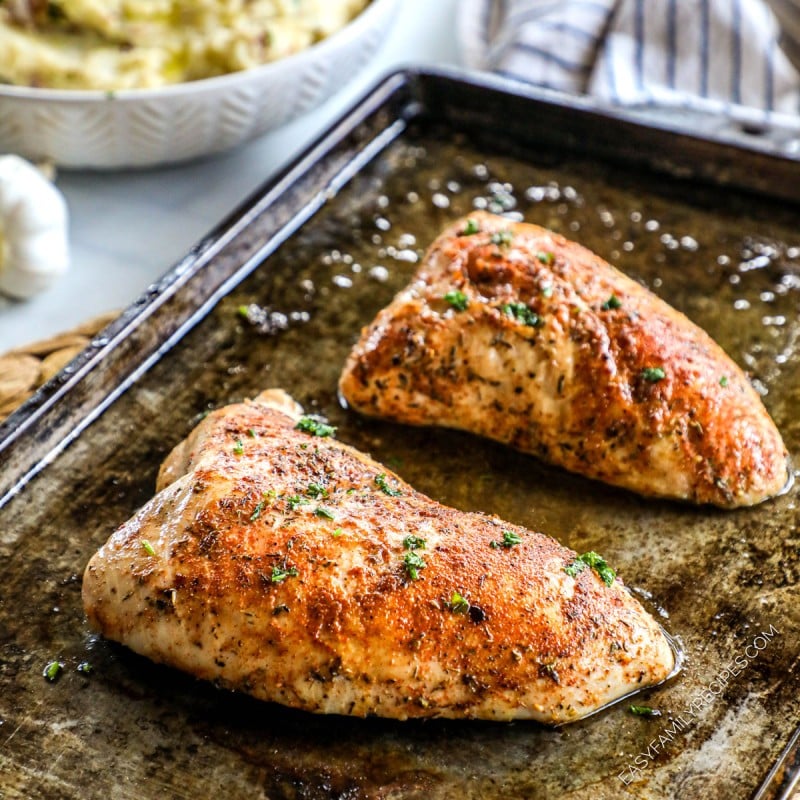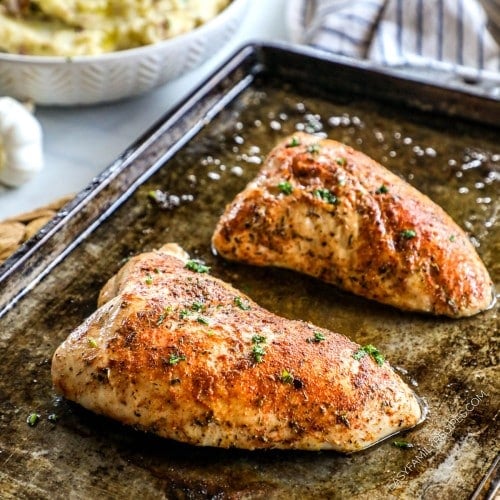 Oven Roasted Turkey Tenderloin
Turkey tenderloin is juicy, extra tender and very flavorful! This oven roasted turkey tenderloin recipe is what you need for an easy, quick, and delicious meal that can be enjoyed by the whole family.
Ingredients
1.5

pound

turkey tenderloins

2

tablespoons

butter
Turkey Seasoning
½

teaspoon

garlic powder

¼

teaspoon

onion powder

½

teaspoon

paprika

½

teaspoon

thyme leaves

½

teaspoon

oregano

¼

teaspoon

black pepper

½

teaspoon

salt
Instructions
Mix together all spices and rub on all sides of the turkey tenderloin. Lay the turkey tenderloin on baking sheet. Cut butter into pats and place on top of the turkey.

Cook for 20-30 minutes, or until the turkey is done (165˚F internal temp). Time will vary based on size of the turkey tenderloin.
Nutrition Information
Calories:
236
kcal
(12%)
,
Carbohydrates:
1
g
,
Protein:
40
g
(80%)
,
Fat:
8
g
(12%)
,
Saturated Fat:
4
g
(25%)
,
Polyunsaturated Fat:
0.2
g
,
Monounsaturated Fat:
1
g
,
Trans Fat:
0.2
g
,
Cholesterol:
91
mg
(30%)
,
Sodium:
450
mg
(20%)
,
Potassium:
19
mg
(1%)
,
Fiber:
0.3
g
(1%)
,
Sugar:
0.1
g
,
Vitamin A:
315
IU
(6%)
,
Vitamin C:
0.4
mg
,
Calcium:
9
mg
(1%)
,
Iron:
0.2
mg
(1%)