Made with everyday ingredients and just a few minutes of prep, this Chicken Parmesan Casserole recipe takes the rich flavors of classic chicken parmesan and packs them into a family friendly meal that is easy enough for the busiest nights!
Chicken Parmesan Casserole – The EASY Way!
The Chicken Parmesan we know an love… Tender chicken breast, coated in a crispy breading, layers of rich red marinara sauce, all topped off with melted mozzarella.
The classic flavors combine to form one of the most well loved Italian dishes, and today we are going to take those iconic flavors and marry them with my trusty casserole dish.
It gives us the rich and decadent flavors we love, all in a really family friendly, weeknight approved format.
What I love about this recipe:
Quick to make
Flexible to use what you have on hand
Bakes hands off to free you up for other tasks
Feeds a crowd.
Filling and delicious!
Casseroles are always welcome at our dinner table, with their easy and ability to please even our picky eaters. This Chicken Parmesan Casserole is requested time and time again!
If you are in the mood for a more classic Baked Chicken Parmesan, see my recipe here!
What to Serve with Chicken Parm Casserole
The great thing about casseroles are that they pack in the meat, vegetables, grains, and dairy all in one easy to serve dish.
This makes them not only super easy to make, but all super filling, which means that if you are in a time crunch you can serve this on it's own and it will be plenty.
If you want to add a little bit extra to help stretch the meal or round it out, I have several great suggestions we love to pair the Chicken Parmesan Casserole with at our house.
Side Dish Ideas
You can choose one or add a few sides to make a wholesome, well rounded dinner.
Recipe Notes
This casserole recipe is as simple as promised! Just a few ingredients and a casserole dish for a family friendly meal.
In this section I am going to go through a few tips and tricks I use when making this recipe to get the absolute best and most delicious results.
Make sure to scroll to the bottom for the FULL recipe card.
Ingredients + Substitutions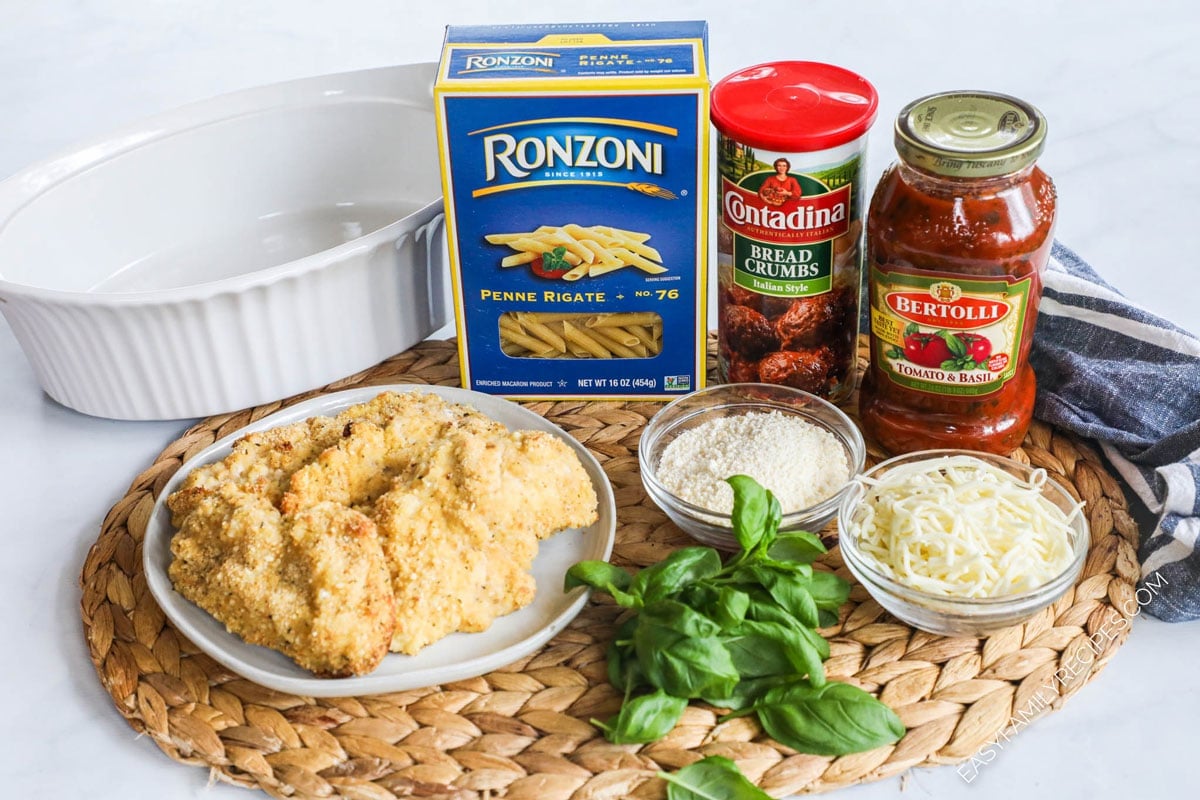 Pasta – I like penne because it is easy for the kids to eat and mixes well with the chicken, however, any bite sized pasta or noodles will work equally well!
Breaded chicken– You can use your choice of chicken. I like to use breaded chicken since that gives you the same flavor as true chicken parmesan. I frequently use these baked chicken cutlets. You can also use leftover or frozen (precooked) chicken tenders or chicken breast patties.

Another option, is using regular chicken that is not breaded. Rotisserie chicken or any Italian style or plain chicken will work well. Just pull chicken from the bones and chop into bite sized pieces.
Marinara sauce– This is where much of the flavor in the dish comes from, so it is important to pick a sauce that you really LOVE the flavor of! Some of my favorites are Mezzetta and Rao's. I used Bertolli in the recipe I photographed here. You can even make your marinara from scratch if you prefer!
Note: If you like really saucy pasta, you can add up to an extra cup of sauce!
Grated parmesan cheese– This adds flavor and texture to the dish. You can also substitute romano cheese.
Mozzarella cheese– To top the casserole off, we use mozzarella. This adds that really delicious cheesy crust to the top of the casserole and helps it all come together.
Italian bread crumbs– To mimic the crusty chicken that makes chicken parmesan so distinguishable, we use bread crumbs on the top too! This gives the casserole a nice texture and burst of flavor right on top.
Fresh basil- To keep the colors and flavors bright, I recommend adding a handful of freshly chopped basil. This works wonders with the flavors of the casserole! If you don't have it on hand, or it isn't in season, you can skip it.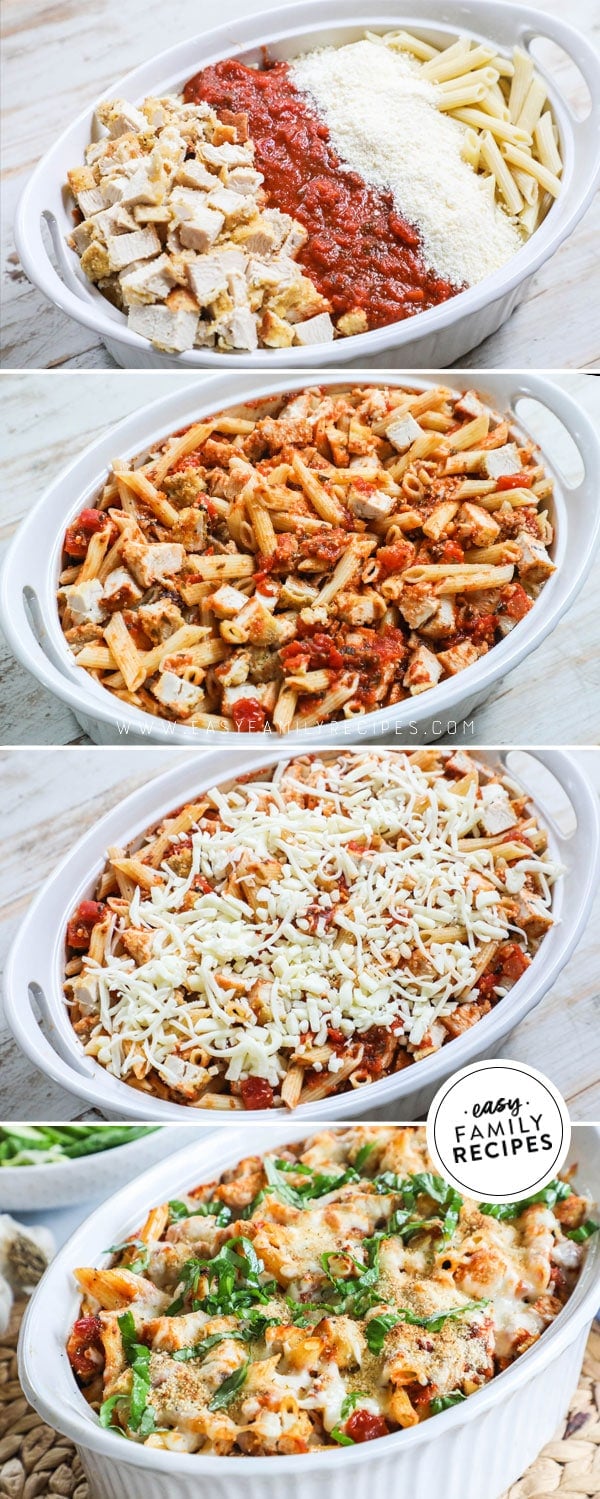 Recipe Tips
Cook the pasta al dente– It is important to cook the pasta to where it is just done, but still firm. It will continue to cook and soak up liquid as it bakes so you don't want them to be fully cooked and soft before you put them in the casserole, or you may end up with mushy noodles.

Chop the chicken to bite sized pieces- Make sure you cut the chicken into smaller pieces, or else you end up with a lot more work while you are eating. When chopped smaller, you are able to more evenly distribute the chicken, coat each bite in more saucy flavor, and have nice bite sized pieces while you are eating.

Melt the cheese, then add the crumbs– The bread crumbs are added in the last few minutes of cooking so that the cheese can melt and make a nice smooth top for the crumbs to sit on. If they are added before baking, they can fall between the cracks in the cheese and just become absorbed by the sauce, not nice and crispy and full of flavor!

Recipe Short Cuts
If you need to make this recipe, but are extra short on time, here are a few ideas that can help make this recipe even faster!
Use chicken tenders– My favorite short cut in this recipe is just using high quality chicken tenders, cut into bite sized pieces for the chicken. There are many great options in the freezer section, or you can find them hot and fresh in most grocery store deli sections.
Pre-cook the pasta– The pasta can be cooked up to 48 hours in advance. To do this, cook to al dente, then drain and rinse with cool water. Store in a container in water in the fridge for up to 3 days. Once ready to use drain and use as directed. *You may need a slightly longer cook time if the noodles are cold.
Recipe Variations
If you love this recipe as much as we do and want some quick ways to change it up for variety, these little tips will do the trick!
Extra Saucy Chicken Parm Casserole– I tend to like things on the saucy side. If you are the same, you can add up to an extra cup or so of sauce to the casserole when you mix it together.
Creamy Chicken Parmesan Casserole– Add 1/2 cup heavy cream to the marinara sauce and then mix into the casserole for a creamy version of this dish.
Veggie Chicken Parmesan Casserole– Add chopped zucchini, mushrooms, spinach, or a combination into the casserole before baking. The casserole may need to bake slightly longer to cook the vegetables, or you can saute them in a pan before adding to the casserole to keep the cook time quicker.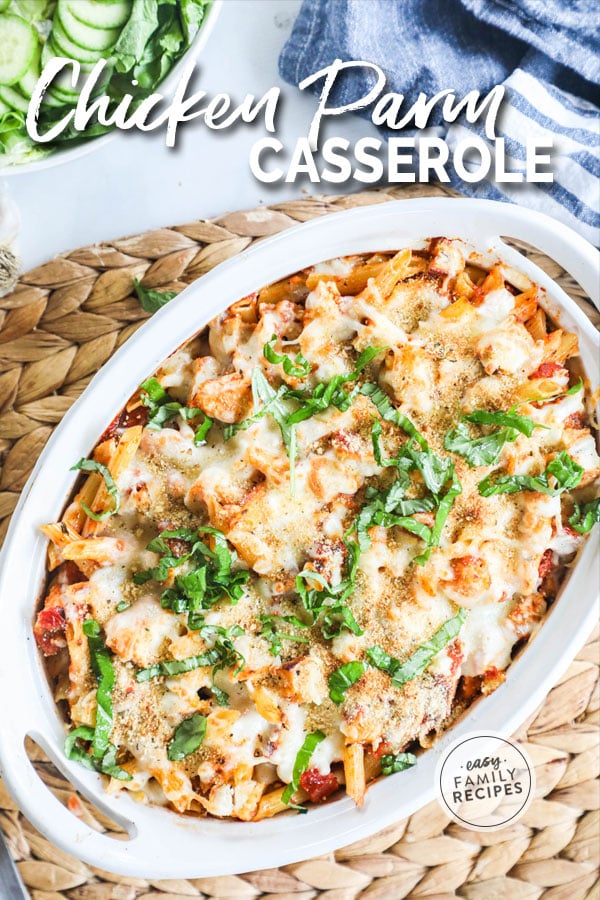 Chicken Parmesan Casserole Leftovers
If you have leftovers after making this Chicken Parmesan Casserole, then it is your lucky day! They save and reheat well, and can make the start of another delicious dish.
To save leftovers, separate into meal sized portions and then place in an airtight container and store:
in the refrigerator for 3-4 days
in the freezer up to a month
More Easy Dinner Recipes
If you enjoyed this recipe, I really hope you will take a moment to grab a few more easy recipes for another busy night!
You can check out all of my Casserole recipes here, or see a few of our readers favorite recipes below.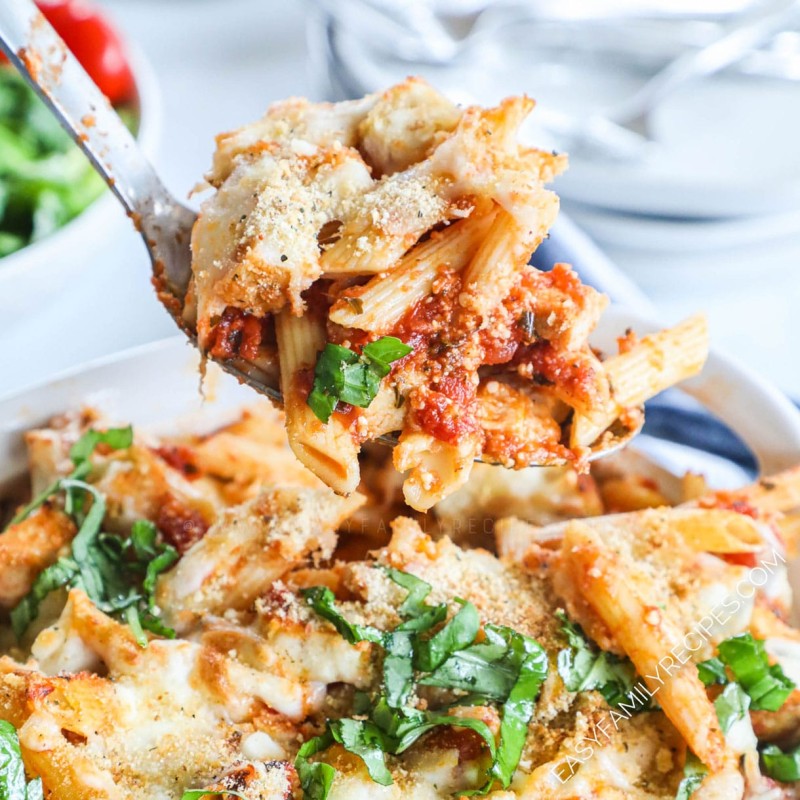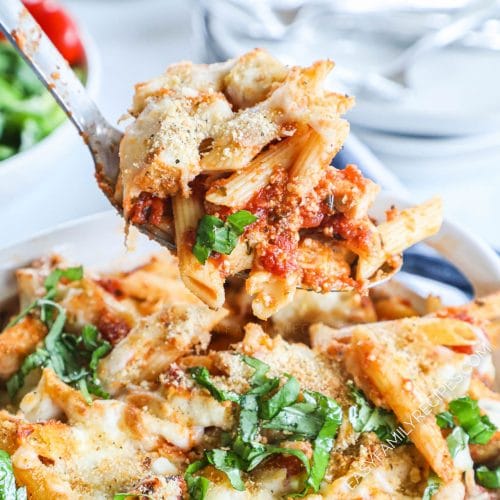 Easy Chicken Parmesan Casserole
This tastes like classic chicken parmesan… in casserole form! Chicken Parmesan Casserole combines, crispy chicken, rich marinara sauce, delicious cheese, and tender pasta for a favorite family dinner, that is as easy as it is delicious!
Ingredients
16

ounces

penne pasta

1.5

pounds

breaded chicken

,

cooked

36

ounces

marinara sauce

,

(about 3 cups)

1/3

cup

grated parmesan cheese

1/2

cup

mozzarella cheese

,

shredded

1

tbsp

Italian bread crumbs
Instructions
Preheat the oven to 350˚F. Prepare the pasta per package directions to al dente.

While the pasta cooks chop the chicken into small bite-sized pieces. Then mix the chicken, marinara sauce, and parmesan cheese together.

Once the pasta is done, drain and add to a large (2.5 qt) casserole dish. Mix in the marinara sauce mixture until all of the noodles are evenly coated. Top the casserole with the mozzarella cheese.

Bake for 15 minutes. Remove from oven and sprinkle the bread crumbs over the top of the cheese and return to the oven for 5 more minutes. For extra crispy topping, broil for 1-3 minutes.

Garnish the top with freshly chopped basil and serve hot.
Nutrition Information
Calories:
382
kcal
(19%)
,
Carbohydrates:
50
g
(17%)
,
Protein:
30
g
(60%)
,
Fat:
6
g
(9%)
,
Saturated Fat:
2
g
(13%)
,
Cholesterol:
64
mg
(21%)
,
Sodium:
895
mg
(39%)
,
Potassium:
874
mg
(25%)
,
Fiber:
4
g
(17%)
,
Sugar:
7
g
(8%)
,
Vitamin A:
661
IU
(13%)
,
Vitamin C:
10
mg
(12%)
,
Calcium:
117
mg
(12%)
,
Iron:
2
mg
(11%)