These Homemade Bacon Bits are perfectly crunchy, deliciously savory, and incredibly easy to make! They will blow store bought bacon bits out of the water in both flavor and texture and elevate any recipe with just a sprinkle. If you are a bacon lover, these real bacon bits are sure to be a homemade staple!
Bacon Bits – The EASY Way!
We all know bacon bits are good, but I am going to tell you that you haven't really lived if you are eating them from a store-bought bag. Yes, it is convenient to pick up a premade bag of bacon bits at the store, but once you try homemade bacon bits you will NEVER look back.
Best part? It is SO EASY and you can make a big batch so you have them on hand without having to make them each time. I'll show you how!
Why I LOVE this recipe!
Best flavor– NOTHING compares to freshly made bacon. Nothing.
So easy– The method couldn't be easier and takes about 5 minutes of actual effort
Hands off– We do the cooking in the oven both because it makes them perfectly crispy and because it helps keep it mess free
Goes with everything! Bacon bits make everything taste better! Salads, sides, appetizers, sometimes even dessert!
Healthier– homemade bacon bits have far less additives and preservatives than the prepackaged kind.
Best Ways to Use Bacon Bits
There are SO MANY ways to use these bacon bits! I am going to share a few, but I keep a bag of these in the freezer (see my method below) and throw them on anything and everything I want to jazz up with a little burst of flavor, so don't be shy with them.
Topping for baked potatoes– sprinkle bacon bits over a baked potato with sour cream and chives. Use the pressure cooker for making baked potatoes fast and easy!
In salads: add bacon bits to any salad for extra protein and a salty crunch, such as my Chef salad, Cobb salad, broccoli salad, or even just a side salad.
Mac and cheese: add bacon bits to your homemade mac and cheese or even store-bought mac and cheese for extra flavor and texture.
Soups– top off your favorite soup with bacon bits for a delicious addition, such as tomato soup, this healthy roasted cauliflower soup, or my baked potato soup.
Pizza– sprinkle bacon bits over your pizza for a smoky, salty flavor.
Omelets- add bacon bits to your omelet for a delicious and filling breakfast.
Pasta– toss bacon bits into any pasta dish, such as spaghetti with meat sauce or fettuccine Alfredo.
Sandwich wraps– a quick and convenient way to add extra crunch and flavor, such as BLT or turkey club sandwich wraps.
Deviled eggs– add bacon bits to your deviled eggs for a unique and delicious twist.
Dips– Try my Million Dollar dip, or sprinkle bacon bits over any dip, such as ranch or spinach dip, for an extra layer of flavor.
Casseroles– I use crispy crumbled bacon on top of many of my casseroles to add crunch and flavor! If you are a bacon lover try my Million Dollar Chicken Casserole, Loaded Baked Potato Chicken Casserole, or the crowd favorite breakfast casserole with bacon!
Recipe Notes
If you have ever wondered if you can make your own bacon bits, you can and it is so easy and delicious! This real bacon bits recipe is as simple as promised! Just bacon and a pan is all you need for perfect homemade bacon crumbles.
In this section I am going to go through a few tips and tricks I use to make the homemade bacon bits recipe to get the absolute best and most delicious results.
Make sure to scroll to the bottom for the FULL recipe card.
Ingredients
Bacon– All you need to make bacon bits is just bacon! That's it! You can use any flavor or variety that you like. Regular, maple, turkey bacon, or thick cut bacon all work for making homemade bacon bits, but I generally use the regular cut to make it quicker.
Other tools:
Foil– This is not a requirement, but it makes clean up much easier
Large baking sheet– The bigger the baking sheet you have the more bacon you can make!
How much does it make?
You can use any quantity of bacon you have to make bacon bits. Just a few slices to make a single serving or two, or a large package to make enough for a crowd, or prep and keep on hand to use as needed. You can use these guidelines below to decide how much bacon you need.
1 slice of bacon will make about 2-3 teaspoons of homemade bacon bits
1 pound of bacon will make about 1-1.5 cups homemade bacon bits
The quantity will vary based on how finely you chop the bacon bits.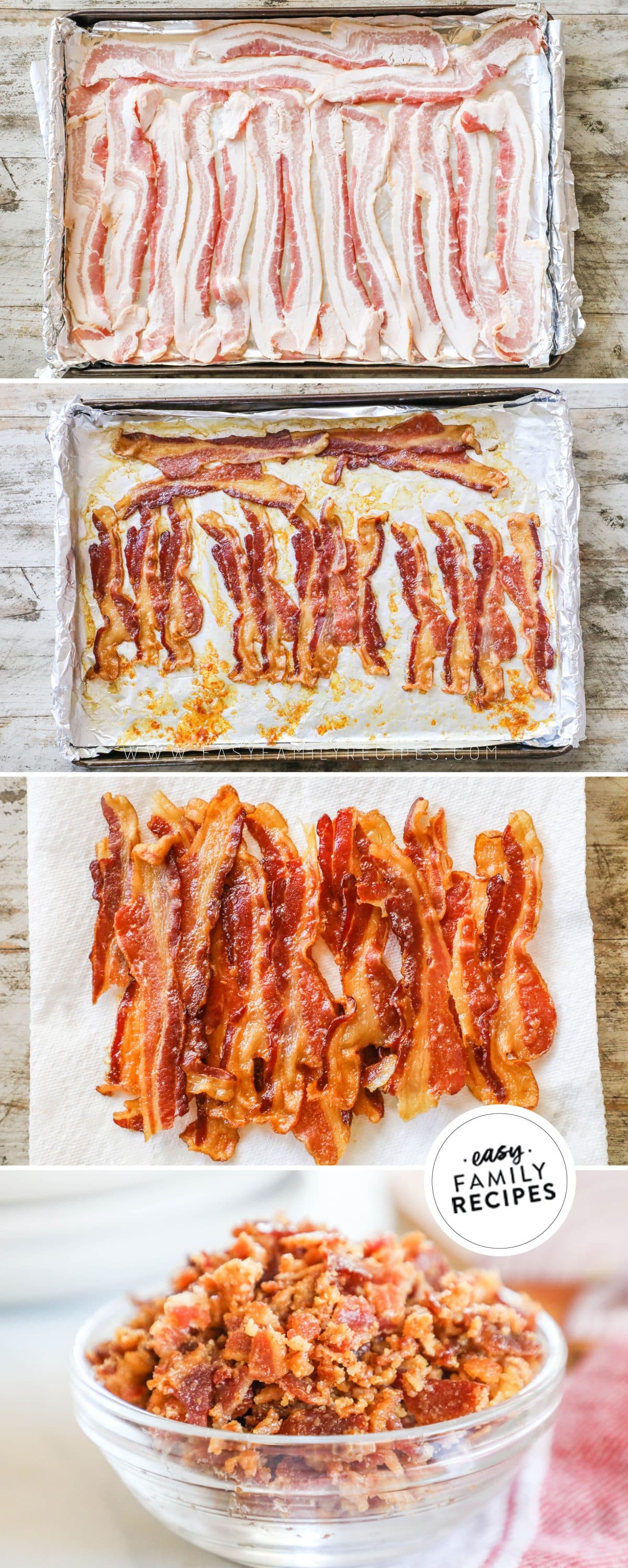 Recipe Tips
While you can make bacon bits using any method of cooking bacon, such as in a skillet or pan on the stove top, I find the best, most consistent, and easiest way to be cooking the bacon in the oven. Here are a few tips to get perfectly crispy bacon bits EVERY time!
Line the Pan with foil– While this isn't required if you throughly line the pan with foil, you can remove the bacon, let the grease cool, then just toss the foil for quick, mess free clean up.

Don't waste space– When cooking the bacon in the oven, place the strips of bacon as close together as possible. Since they shrink while cooking you don't need to leave any space in between the slices. You can see all of my best tips for cooking bacon in the oven here!

Perfectly crispy bacon– For the best bacon bits, you need perfectly crispy bacon. To get it to that point of perfection, you will need to keep an eye on it at the end of the cook time for the first few times you make it. You don't want just the edges crispy. You want the bacon to be crispy from end to end. This will be the best texture for chopping the bacon into bits.

If you remove the bacon and then realize it isn't quite crispy enough, no worries! You can just pop it back into the oven until it gets to the perfect level of crispiness. It may take a few minutes longer if it has already cooled down some.

When it is is the perfect level of crispieness, once cooled, it should snap when bent at all. If the bacon bends, it isn't crispy enough!

Drain the bacon well– Once the bacon is done, you want to remove as much grease as possible from the bacon slices. To do this, remove the bacon from the pan while still hot with a slotted spoon or spatula. Transfer them to a paper towel lined plate and gently pat the bacon while warm.

Alternately, you can bake the bacon on a baking rack over a pan so the grease drips away as it cooks, but I find this pretty cumbersome to clean up, so it is not my preferred method.

Chop it up– Once the bacon is done and cool, use a sharp knife to chop through the bacon several times until it is finely chopped. This is personal preference, so if you like your bacon a little chunkier, you can roughly chop, or if you like fine bacon bits, keep chopping until the bacon is very small.
Recipe Short Cuts
If you need to make this recipe, but are extra short on time, here are a few ideas that can help make this recipe even faster!
Food Processor– If you don't like chopping, throw the bacon in the food processor and give it a few pulses until you get to the right consistency.
Freeze your bacon– If you want to keep these delicious homemade bacon bits on hand at all times like I do, you can prep and freeze them to make it quick and easy to grab some in a hurry! See instructions below.
Recipe Variations
My recipe for homemade bacon bits uses the oven method, however you can make bacon bits using other cooking methods as well. These two are the most popular aside from the oven.
Air Fryer Bacon Bits– Lay the bacon in a single layer on a piece of foil in the air fryer basket. Cook for 8-10 minutes at 400˚F. Continue with recipe draining and chopping bacon bits.

Bacon Bits made in the skillet– Heat a large frying pan over medium high heat. Place the bacon in the skillet in a single layer. Cook the bacon for 2-3 minutes on one side until it starts to turn golden brown, then flip it over and cook for an additional 2-3 minutes on the other side. Keep flipping the bacon every 1-2 minutes until it's crispy and golden brown on both sides. Continue with recipe draining the bacon grease and chopping bacon bits.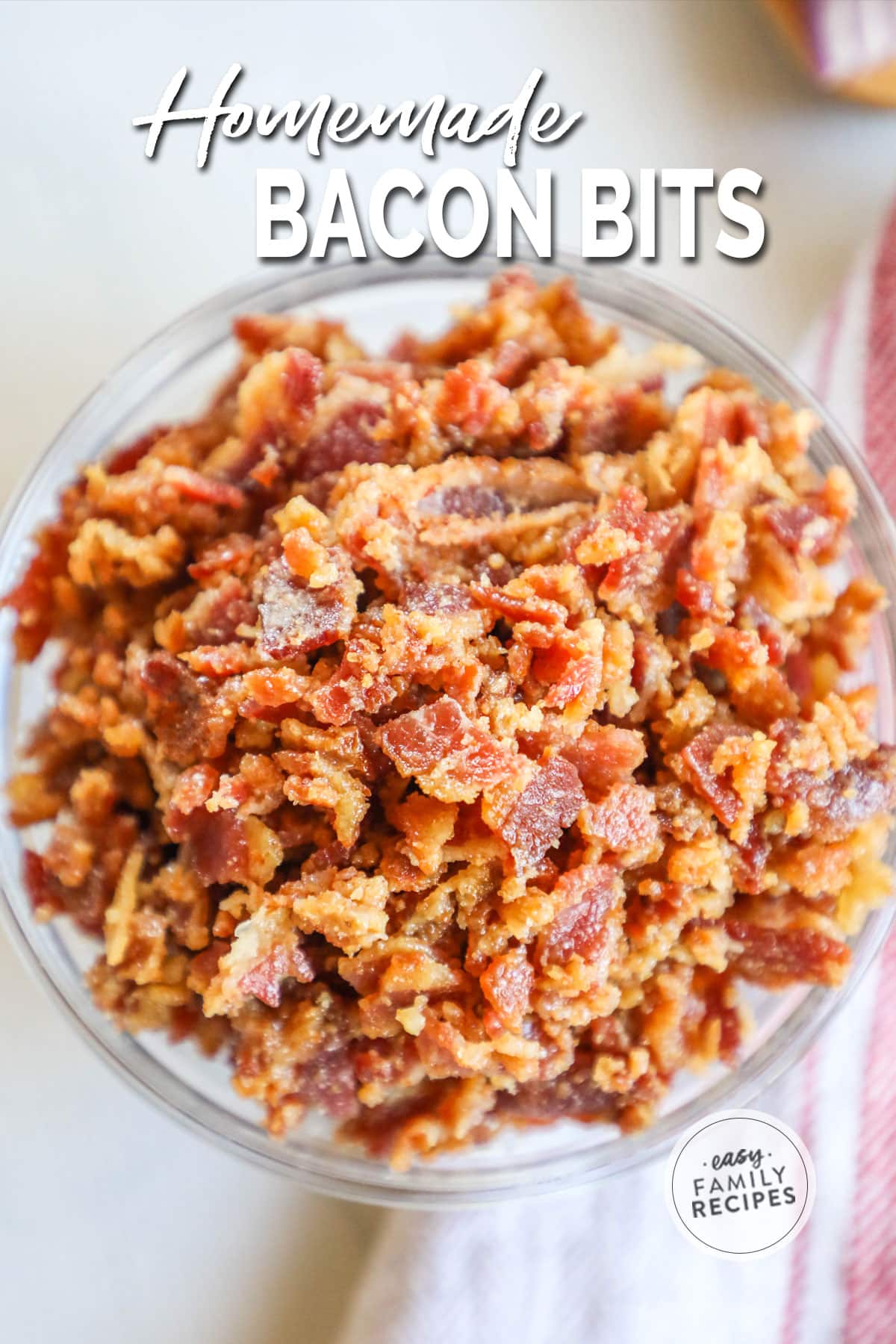 Freezer Instructions
If you are the type that likes to keep things on hand, homemade bacon bits can be made from frozen bacon, or prepared in advance and frozen to use as needed.
To make bacon bits from frozen bacon:
Let bacon thaw overnight, continue with recipe as directed.
Bacon can be cooked from frozen if it is separated into single slices that they aren't overlapping on the pan. Otherwise, bacon will need to be thawed before cooking.
To Freeze Bacon Bits:
Make bacon bits as directed in recipe.
Spread bacon bits in a thin layer over a sheet of parchment paper and place in the freezer for 2-3 hours.
Once they start to freeze, transfer them to a freezer bag or freezer friendly container.
When ready to use, remove the desired amount and recrisp by heating them in the microwave or skillet. If you are adding to a casserole or something in the oven, you can add straight from the freezer since they will crisp as the casserole bakes.
Leftover Homemade Bacon Bits
If you have leftovers after making bacon crumbles, then it is your lucky day! They save and reheat well, and can make the start of another delicious dish.
To save leftovers, separate into meal sized portions and then place in an airtight container and store:
Bacon bits will stay good refrigerator for one week
Bacon bits will stay good in the freezer up to 6 months
More Easy Homemade Recipes
If you enjoyed this recipe, I really hope you will take a moment to grab a few more easy recipes for another busy night!
You can check out all of my dinner recipes here, or see a few of our readers favorite recipes below.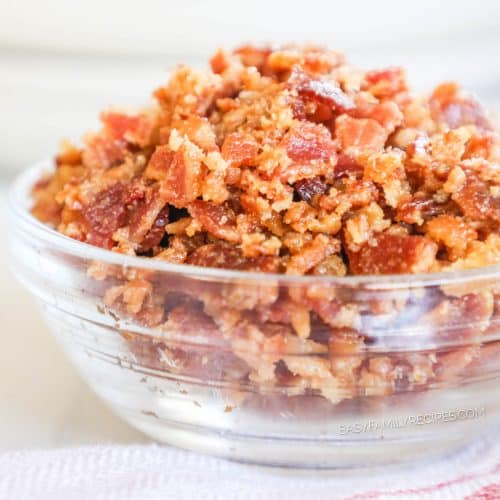 Homemade Bacon Bits
These homemade bacon bits are amazingly delicious and so easy to make. Use them to top casseroles, salads, baked potatoes, and more!
Ingredients
8

ounces

bacon

,

about 10 slices of bacon
Instructions
Optional: For easier clean up, line a baking sheet with foil.

Place each strip of bacon flat on the baking sheet. Bacon can be very close together, but try not to overlap.

Place bacon in a cold oven. Set the oven to bake at 400˚F.

Cook the bacon for 20 minutes. Check the bacon and allow to cook for another 5-15 minutes, or until the bacon is crispy throughout.

Remove bacon from the oven and transfer to a paper towel lined plate. Allow bacon to fully cool.

Break bacon into small bits with your hands, or chop more finely with a sharp knife, then transfer to a bowl to serve.
Recipe Notes
Bacon bits can be used immediately, or can be stored:

in the refrigerator up to a week
in the freezer up to 6 months

To recrisp bacon after storing, heat in a skillet, oven or microwave.
Nutrition Information
Serving:
1
tablespoon
,
Calories:
95
kcal
(5%)
,
Carbohydrates:
0.3
g
,
Protein:
3
g
(6%)
,
Fat:
9
g
(14%)
,
Saturated Fat:
3
g
(19%)
,
Polyunsaturated Fat:
1
g
,
Monounsaturated Fat:
4
g
,
Trans Fat:
0.03
g
,
Cholesterol:
15
mg
(5%)
,
Sodium:
150
mg
(7%)
,
Potassium:
45
mg
(1%)
,
Vitamin A:
8
IU
,
Calcium:
1
mg
,
Iron:
0.1
mg
(1%)