This classic Chef Salad is a delicious classic dinner pairing. It can be enjoyed as a side salad or as a main meal salad. Packed with protein and topped with creamy dressing, this hearty salad will be a regular in your dinner rotation!
Chef Salad – The EASY Way!
You know when you go out to eat and your meal comes with a starter salad but it's basically a meal in itself? If you were wondering what a chef salad is, that is what it is. It uses a base of crispy lettuce, a mix of proteins, hard boiled eggs, a variety of vegetables, and topped with a creamy dressing.
This is not a cobb salad though When comparing chef salad vs cobb salad, the main difference is that a cobb salad includes cheddar cheese and bacon bits while a chef salad has ham and chicken. Both are good but I always lean towards a chef's salad when given the option.
As much as I love eating a chef salad at a restaurant, I really love enjoying it at home or serving it to guests! It is super easy to make, can utilize leftovers, and makes for a beautiful center piece. So let's get to making this chef's salad so we can starting eating!
Why I LOVE this recipe!
Quick – Salads are inherently quick and this one is no different. It only takes 15 minutes to toss together, is delicious, and is a real a crowd pleasure!
Hassle-Free Ingredients – Ingredients in a chef salad are easy to get. If you cannot get an ingredient, no worries! You can use whatever similar variation you can find like deli ham or leftover spiral ham – either work.
Side Dish or Main Meal – This salad makes 4-6 side salads or 2 large salads that ill make a full meal. You can also easily double it to serve a crowd. The serving possibilities are endless!
What to Serve with A Chef Salad
Since this dish has classic flavors, it will pair well with many of your favorite side dishes. There are both classic options and some healthy options to keep it light.
Side Dish Ideas
Soup– Soup is a great pairing with salad. Some of my favorites are:
Sandwich– A quick sandwich can be a great compliment to a cool, crisp salad. Because there is so much protein already on the salad, I like to pair it with something vegetarian like grilled cheese or a veggie sandwich with hummus, cucumber, and sprouts.
Steak – Ok, I know I just said the salad already has a lot of protein on it, but it does not have steak. Steak and a chef's salad are a match made in heaven, especially with my Garlic Herb Steak!
You can choose one or add a few sides to make a wholesome, well rounded dinner.
Recipe Notes
This salad recipe is as simple as promised! Just 20 minutes for a family friendly meal.
In this section I am going to go through a few tips and tricks I use when making this recipe to get the absolute best and most delicious results.
Make sure to scroll to the bottom for the FULL recipe card on how to make a chef salad.
Ingredients + Substitutions
Lettuce – I like to use a combination of butter lettuce (for flavor) and romaine (for crunch). But, you can use whatever is easiest for you to get.
Provolone cheese – This can be cheese that is already sliced, like for sandwiches or it can be from the deli counter. If from the deli counter, you can ask them to cut it a little thicker to then make true cubes out of it for the salad. Provolone comes in smoked or un-smoked but what you use is totally personal preference.
Ham – Any kind of ham will work. This could be leftover ham from a holiday, cubed ham, or lunch meat ham.
Chicken or Turkey – Rotisserie chicken works great for this salad! You can also utilize any leftover turkey from say Thanksgiving or Christmas.
Hard Boiled Eggs – This is a classic chef salad ingredient. You can make your own or use premade hard boiled eggs. These are usually found near the dairy and eggs and are sold in small bags.
Avocado – When picking an avocado, gently squeeze the avocado. It should have a slight give to it indicating it is perfectly ripe!
Tomatoes – Any kind of tomato can be used but I prefer cherry tomatoes because it is less cutting and they are a sweeter.
Croutons – Feel free to use store bought or homemade croutons. I enjoy using garlic herb ones that are already made to save time and add flavor.
Dressing – Chef salad dressing sometimes debated when it comes to what is "traditional". But, it will be either Italian dressing or ranch or blue cheese.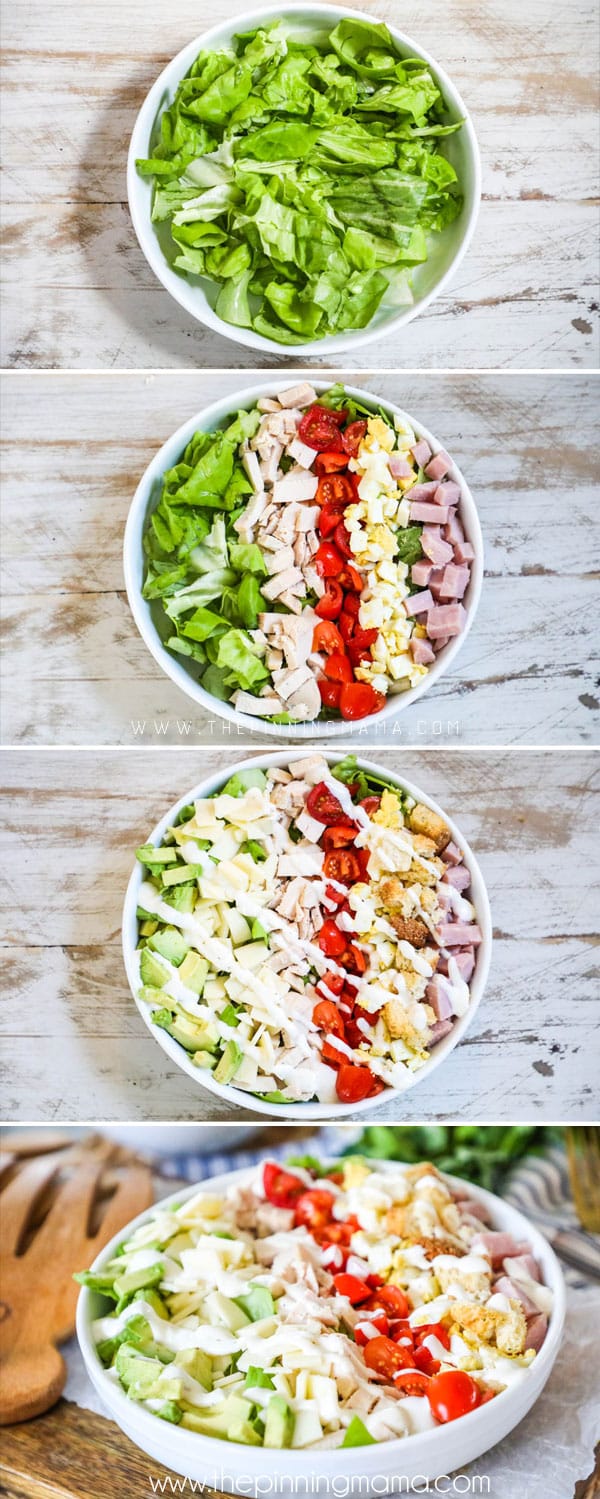 Recipe Tips
Use cheese from a deli – When getting cheese from the deli, you can specify how thick you want it cut. I like to have them cut it to 1/4″ to 1/2″ thick and then when I get home I cut it into even cubes.

Serve dressing on the side – Because folks can't always seem to decide on the dressing for a chef salad, I find it best to serve the classic options on the side. This way everyone picks what they want!

Serve as a center piece – This salad makes a beautiful center piece for a dinner party! I like to put the lettuce on a platter and then lay the topping ingredients in a vertical line on top. You can drizzle the dressing over the top or serve on the side.
Recipe Short Cuts
If you need to make this recipe, but are extra short on time, here are a few ideas that can help make this recipe even faster!
Use leftovers – Leftovers are a great time hack! They are already cooked meaning all you need to do is cut them up (and sometimes not even that!).

Buy pre-chopped lettuce – Any time I can find things already chopped up, I am all for it!

Prep Toppings – Most of the time for this salad is in preparing the toppings. By pre-dicing everything except the avocado you can save a lot of time. This can be kept in the fridge for up to 3 days prior to serving as long as the meat and cheese is kept separate from the vegetables.
Recipe Variations
If you love this recipe as much as we do and want some quick ways to change it up for variety, these little tips will do the trick!
Italian Chef Salad– For this variation, I like to use Italian dressing (the best dressing for chef salad, in my opinion) and to swap out the ham for salami. You could also add some roasted red peppers or sun dried tomatoes to really hammer home the Italian flavor.

Steak Chef Salad– Swap your chicken for steak and have a whole new hearty dinner

Southwest Chef Salad– Try swapping the tomatoes for pico de gallo and then topping the salad with our jalapeno ranch dressing for a delicious flavor twist!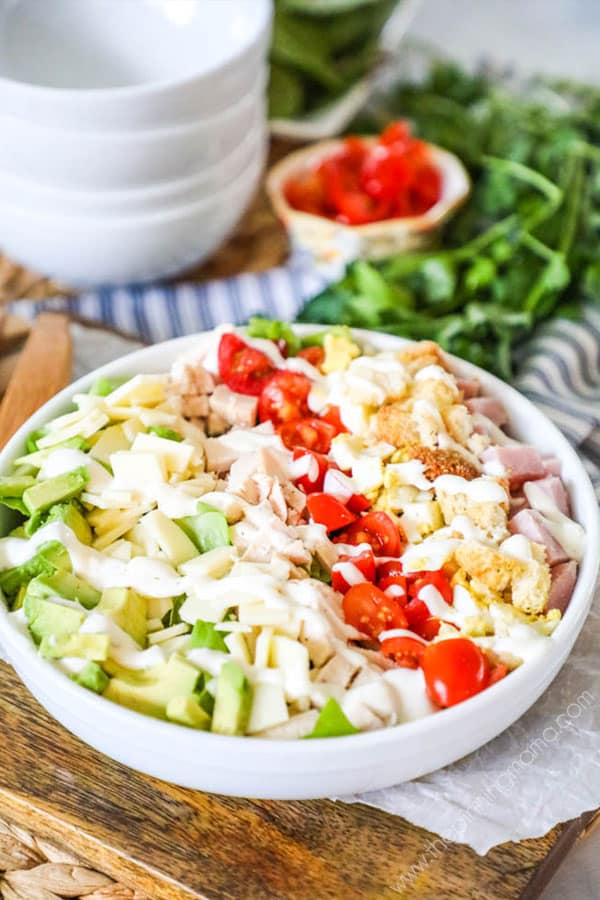 Chef Salad Leftovers
If you have leftovers after making the best chef salad, then it is your lucky day! They save well, and can make the start of another delicious dish. If you want to save salad, make sure to not add the dressing and store the salad and dressing separately.
To save leftovers, separate into meal sized portions and then place in an airtight container and store:
in the refrigerator for 3-4 days
More Salad Recipes
If you enjoyed this recipe, I really hope you will take a moment to grab a few more easy recipes for another busy night!
You can check out all of my salad recipes here, or see a few of our readers favorite recipes below.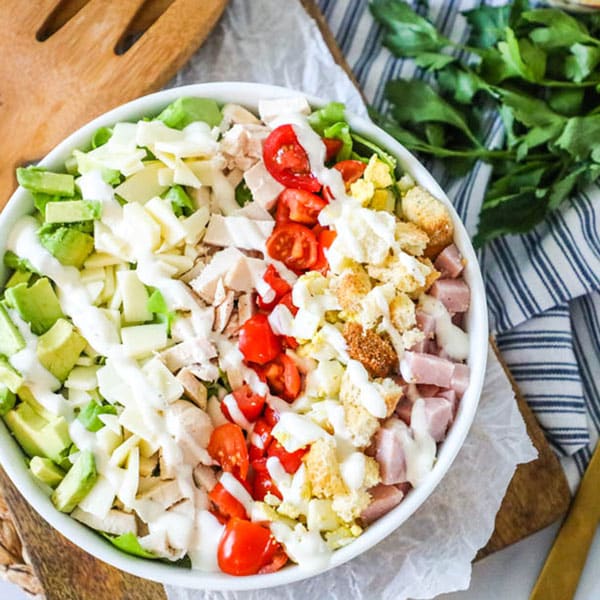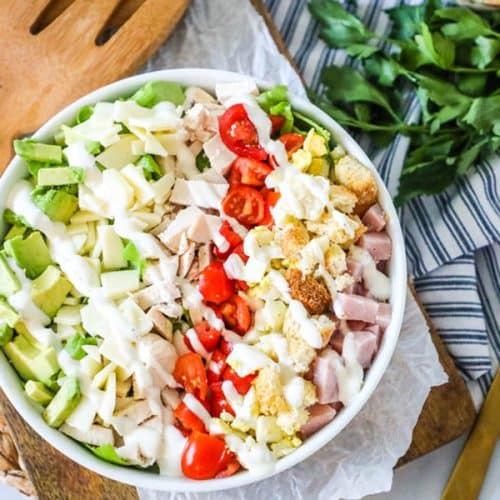 Chef Salad
Enjoy this delicious and crisp chef salad on a weeknight or serve it for a fun dinner party! With easy to find ingredients and delicious dressing options, it will be a hit with you and everyone else who get's a bite!
Ingredients
6

cups

about 6 oz Romaine or Butter lettuce (or combination)

4

oz

provolone cheese

,

cubed

1/2

cup

ham

,

cubed

1/2

cup

chicken or turkey

,

cubed

2

hard boiled eggs

,

diced

1

avocado

,

diced

1/2

cup

Tomatoes

,

diced

1/2

cup

croutons

1/4-1/2

cup

Italian dressing,

or ranch or blue cheese dressing (see note)
Instructions
Tear or chop lettuce into bite sized pieces. Combine lettuce in a large bowl and toss to mix. Leave in bowl, or move to platter.

Arrange each of the ingredients except the dressing in a line down the length of the salad.

Before serving drizzle the dressing over the top and toss, or toss the salad and serve it on the side for each person to add their own dressing. Enjoy!
Recipe Notes
Use the dressing of your preference.  We use homemade ranch, but all are great tasty options that are traditionally used on a chef salad.
Nutrition Information
Calories:
640
kcal
(32%)
,
Carbohydrates:
21
g
(7%)
,
Protein:
45
g
(90%)
,
Fat:
43
g
(66%)
,
Saturated Fat:
16
g
(100%)
,
Polyunsaturated Fat:
4
g
,
Monounsaturated Fat:
20
g
,
Cholesterol:
277
mg
(92%)
,
Sodium:
988
mg
(43%)
,
Potassium:
1315
mg
(38%)
,
Fiber:
9
g
(38%)
,
Sugar:
4
g
(4%)
,
Vitamin A:
6823
IU
(136%)
,
Vitamin C:
31
mg
(38%)
,
Calcium:
546
mg
(55%)
,
Iron:
5
mg
(28%)