This Homemade Ground Turkey Seasoning blend has the BEST flavor. With just a few spice cabinet staples you can whip up the perfect seasoning for ground turkey in just 5 minutes! This seasoning will store for up to a year, so you can have it on hand whenever you need it.
Homemade seasoning mix are one of my secrets for adding a TON of flavor to food, with just a tiny bit of time and effort, ie this ground turkey seasoning is so easy! This is my go to spice combination for seasoning ground turkey!
The great thing about homemade seasoning is that it takes about 5-10 minutes to make and then you can pop it in an airtight container and it will stay good for up to a year!
Because it lasts so long, I keep a variety of homemade seasonings on hand for convenience in addition to this recipe like my homemade fajita seasoning, carnitas seasoning, ranch seasoning mix, blackening seasoning, and taco seasoning.
You can easily make a single batch of homemade turkey seasoning, or if you enjoy it as much as me, you can make a double or triple batch in the same amount of time so you can always have it on hand.
How to use Turkey Seasoning
The thing that makes homemade Ground Turkey Seasoning so great, is that it can add so much flavor to a recipe with so little effort! I use it in SO many ways, both for seasoning dishes with ground turkey, and side dishes to go with ground turkey.
These are a few of my go-to uses- but if you have a favorite I missed, I would love to hear in the comments.
Main Dish Ideas
How to season ground turkey– I like to use this method when seasoning my ground turkey because it is so easy, and I think it comes out with the most flavor.
Cook ground turkey in a skillet over medium heat.
Drain any excess liquid.
Stir in stir in 1 tablespoon of ground turkey seasoning per pound of meat and 1-2 tablespoons (total) of water and continue to cook and stir for 2 minutes or until the seasoning evenly coats all of the ground turkey.
Now you have seasoned ground turkey! You can serve this over rice or potatoes on its own because it has such amazing flavor. Since it has such a great neutral flavor, you can also use the seasoned ground turkey in another recipe, which makes it perfect for meal prep, or freezer meals.
Whole Turkey– This easy turkey seasoning mix can also be used on a whole turkey. Combine 4 tablespoons of seasoning with 2 tablespoons of olive oil and rub on outside of turkey.
How to use seasoning for turkey burgers– Combine 1 tablespoon of seasoning, and one egg, per pound of meat, and work the seasoning in with your hands, then form into turkey burger patties.
These are a few examples of using seasoned ground turkey in a meal:
Side Dish Ideas
Side Salad– Make a vinaigrette by combining olive oil, vinegar, and seasoning mix and lemon juice. You can add the ground turkey on top for a hearty salad!
Potatoes– This seasoning is DEVINE on potatoes. You can do roasted potatoes, smashed potatoes, or even just toss potato wedges or french fries with the seasoning for an amazingly delicious upgrade to boring fries!
Vegetables– Whether you want to roast vegetables, steam them, or sauté them in a pan, a sprinkle of this ground turkey seasoning will add so much flavor to the final dish and be the perfect compliment to the ground turkey main dish.
Recipe Notes
This easy Turkey Seasoning blend recipe is as simple as promised! Just mix together some key spices and seasonings and you have the perfect flavors.
In this section I am going to go through a few tips and tricks I use when making this recipe to get the absolute best and most delicious results.
Make sure to scroll to the bottom for the FULL recipe card.
Ingredients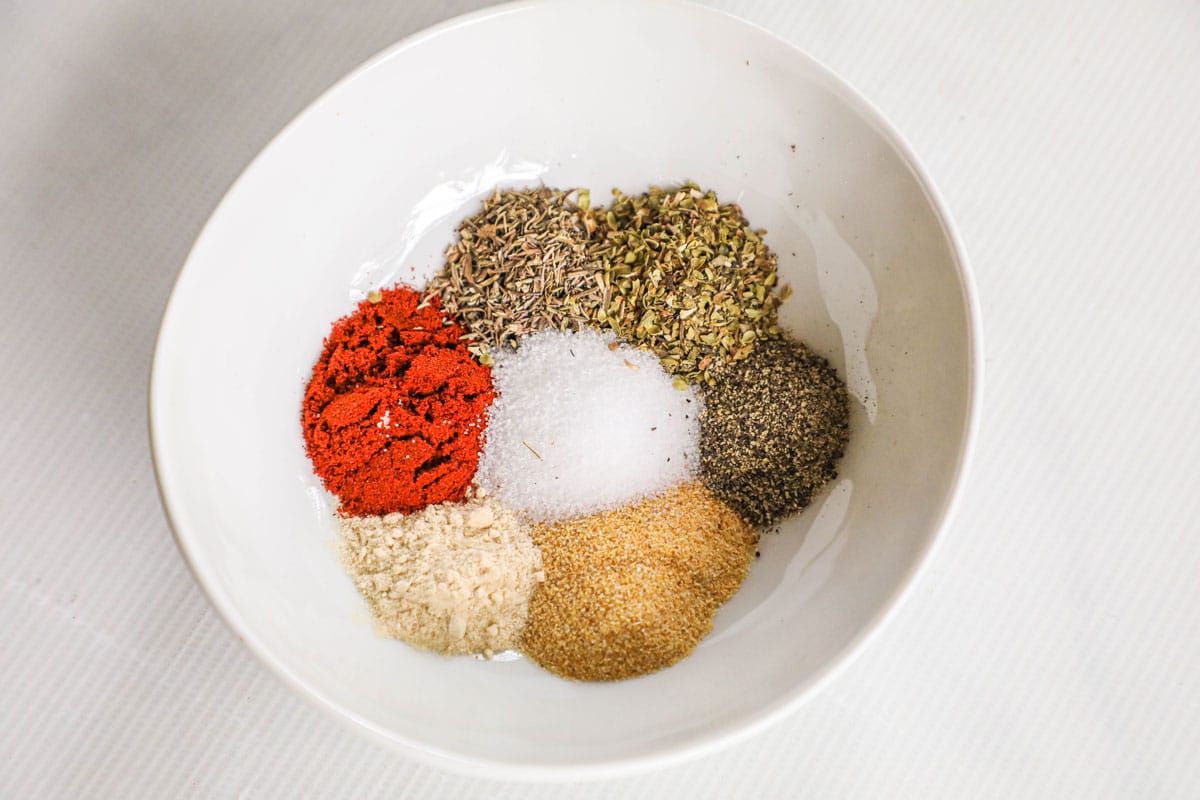 All spices and seasonings in this blend are dried. If you only have fresh on hand, I would recommend either drying them to be used in this seasoning blend, or grabbing the dried version the next time you are at the store. Fresh spices do not work here.
Garlic powder
Paprika
Thyme leaves
Oregano
Salt
Black pepper
Onion powder
This simple list has only 7 ingredients, and all of them are commonly found spices which should be found at any local grocery store. You may even have every single one already in your spice cabinet!
How to Make Ground Turkey Seasoning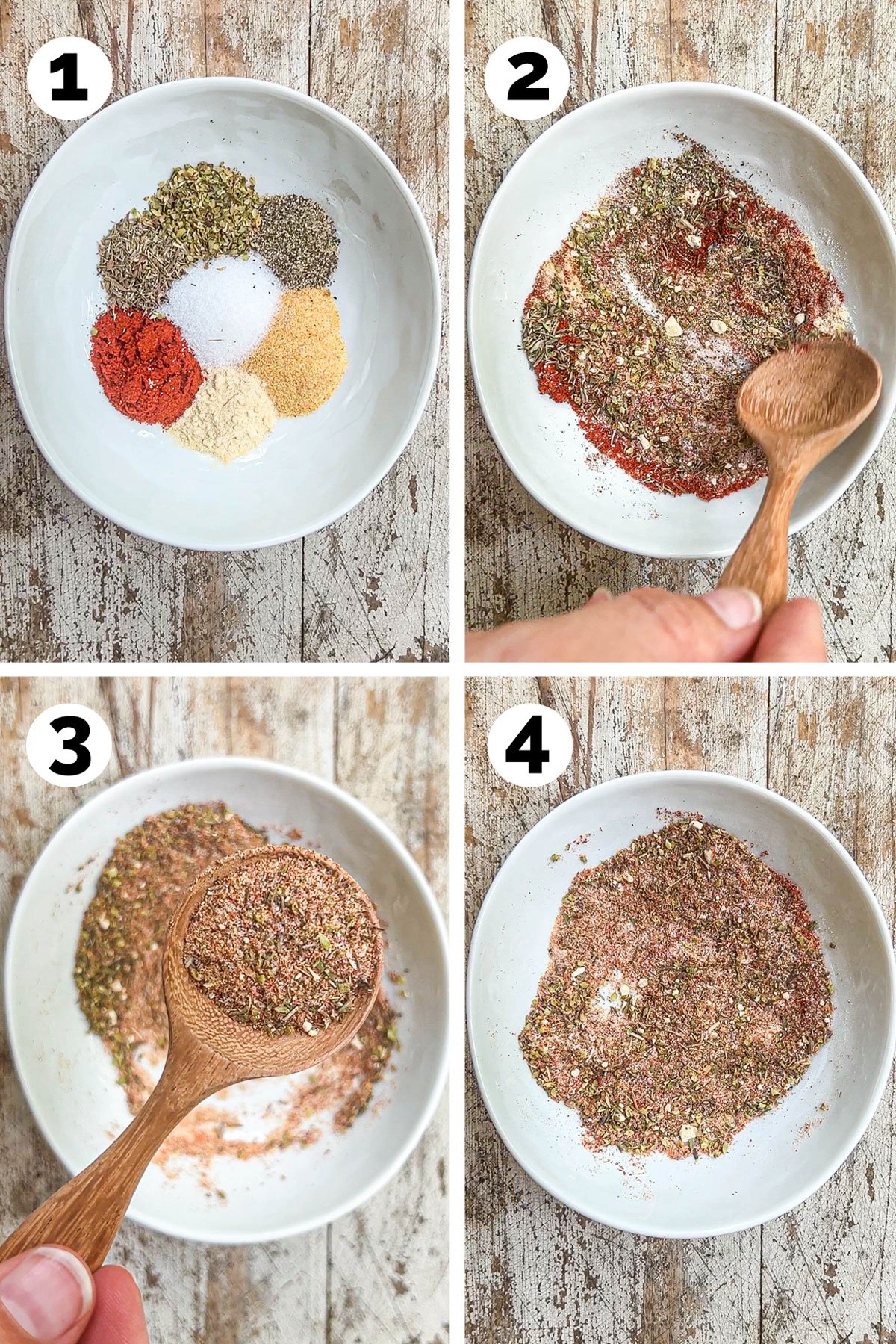 Measure all seasonings
Mix to combine. Grind seasoning mix if desired.
Use 1 tablespoon of seasoning per pound of meat.
Store any remaining seasoning in an airtight container in a cool dry place
Recipe Tips
Key Ingredients! Thyme and oregano are the unexpected key ingredients in this Ground Turkey Seasoning Blend. They are savory and compliment the ground turkey perfectly for the best flavor!

Mix to combine– There is no special magic here. To make this, you just dump it all together and mix it up. To make it even easier, you can use a mason jar or other container and dump, then shake. Then all you get messy is a couple of measuring spoons!

Grinding is optional– In the blend of spices that make up the ground turkey seasoning there are a variety of sizes, due to the ground spices combined with the leaves of the thyme and oregano. You can combine them, but as they sit, the seasoning blend can settle so that it is harder to grab an even scoop out with every spice evenly distributed. To solve this you can:

Shake or stir before each use – This is what I do
Grind- Run it through a grinder, food processor, or blender to get the spices to a smaller consistency so that they combine evenly.


Store in an airtight container in a cool dry place. When stored like this the Ground Turkey Seasoning should

stay fresh for up to a year

. Some also recommend putting it in the freezer to further extend the life but I have never found that necessary. I run out long before it would ever go bad.

Double, triple, or more! This recipe can easily be scaled up to make a big batch of Ground Turkey Seasoning. This will allow you to keep it on hand for longer periods of time, especially when you start throwing it in everything as your "secret ingredient" like I do!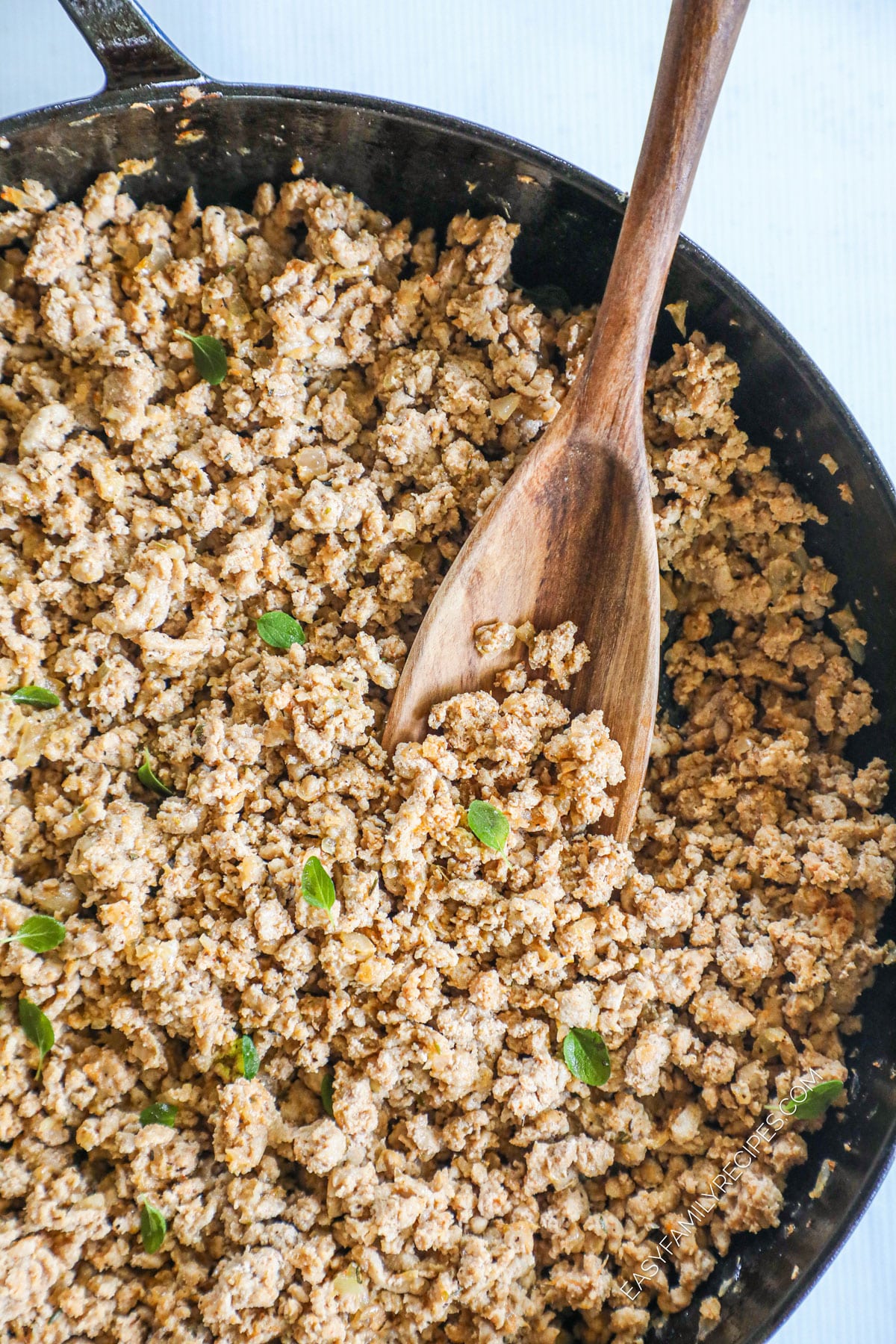 More Seasoning Mix Recipes
If you enjoyed this recipe, I really hope you will take a moment to grab a few more easy recipes for another busy night!
You can check out all of my Easy recipes here, or see a few of our readers favorite seasoning mixes recipes below.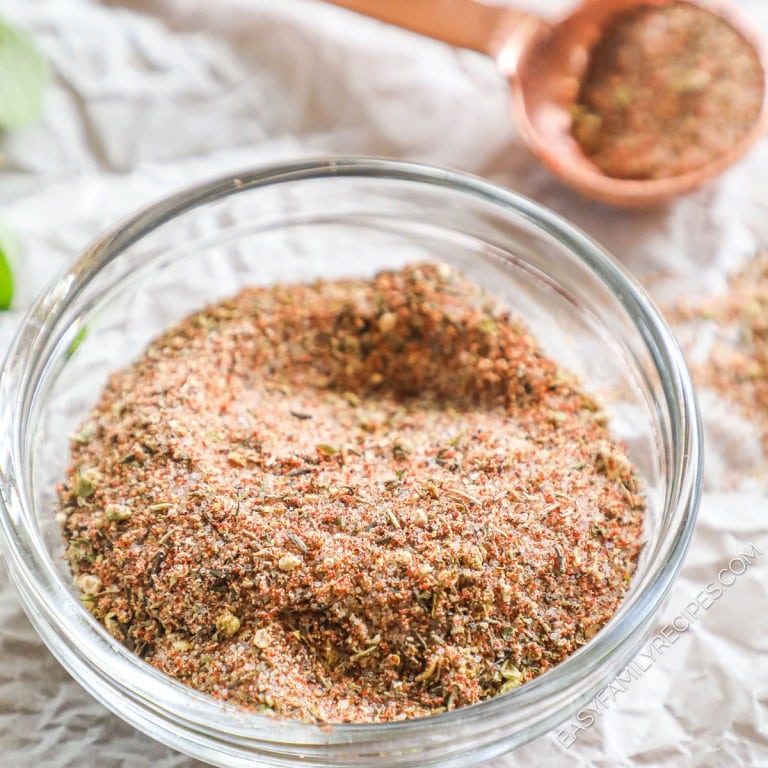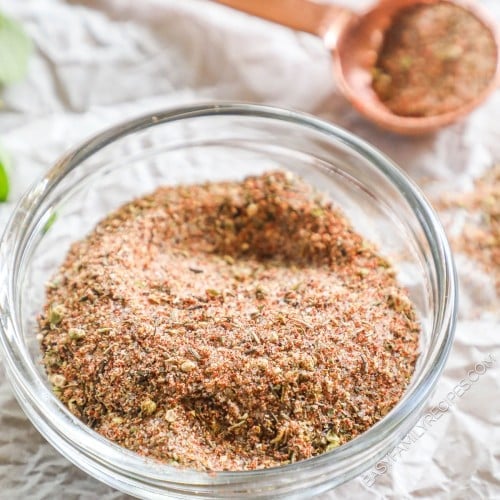 Ground Turkey Seasoning
This is the best Ground Turkey Seasoning! It is packed with flavor and only takes 7 ingredients to make, so it is quick and easy! Use it to season ground turkey for meal prep, burgers, or using in your favorite recipes.
Ingredients
2

tablespoons

garlic powder

2

tablespoons

paprika

2

tablespoons

thyme leaves

2

tablespoons

oregano

2

tablespoons

salt

1

tablespoon

black pepper

1

tablespoon

onion powder
Instructions
Mix all ingredients together.

Place in an airtight container. Store in a cool, dry place.
Recipe Notes
Makes about 2/3 cup seasoning. 
Seasoning can be stored for up to 1 year.
To use:
Ground Turkey– Season with about 1 tablespoon of Turkey seasoning mix per pound of meat.
Whole Turkey– Combine 4 tablespoons of seasoning with 2 tablespoons of olive oil and rub on outside of turkey.
Turkey Burgers– Combine 1 tablespoon of seasoning and 1 egg, per 1 pound of ground turkey. Mix and form into burger patties.
Nutrition Information
Calories:
5
kcal
,
Carbohydrates:
1
g
,
Protein:
0.2
g
,
Fat:
0.1
g
,
Saturated Fat:
0.02
g
,
Polyunsaturated Fat:
0.04
g
,
Monounsaturated Fat:
0.01
g
,
Sodium:
424
mg
(18%)
,
Potassium:
26
mg
(1%)
,
Fiber:
0.5
g
(2%)
,
Sugar:
0.1
g
,
Vitamin A:
235
IU
(5%)
,
Vitamin C:
1
mg
(1%)
,
Calcium:
10
mg
(1%)
,
Iron:
0.3
mg
(2%)