All of the cravable Southwest flavors are in this Green Chile Chicken Casserole recipe! With just a few ingredients and one dish, you can pull this zesty casserole together in as little as 30 minutes. This comforting dish is packed with tender shredded chicken, in a creamy sauce made with green chiles, sour cream, cream of chicken soup and a blend of spices. Topped off with cheddar cheese, this easy dinner is a crowd pleaser!
Green Chile Chicken Casserole – The EASY Way!
We have long LOVED the amazing flavor that green chiles can bring to a dish. We have packed them in to this Green Chile Chicken Bake, this Crock Pot Green Chile Chicken, Green Chile Smothered Pork Chops, and now we are bringing them to one of the most delicious, and easiest recipes yet… Green Chile Chicken Casserole!
Casseroles are my go-to for the busiest night because they can be prepped quickly, and super creamy and comforting (less whining kids!) and great for feeding a crowd.
What I love about this recipe
Quick– We utilize shredded chicken to make this casserole come together in just minutes
Super creamy– With the combination of the cream of chicken soup and sour cream, this Green Chile Chicken Casserole is enveloped in an ultra creamy base!
Every Day Ingredients– Nothing fancy… just common pantry/fridge ingredients here!
BEST Flavor– The green chiles combined with the creaminess and rich chicken is just magic! Dinner flavor magic that is!
Lots of serving options– This casserole can be served many ways depending on what you have on hand and what your family likes! Try anything from rice and beans, to burrito style wrapped in a tortilla. Grab more ideas below in the how to serve section!
Easily scales– If you need to feed a crowd, you can double this recipe, or if you are just feeding 2-3 you can half it. No special math needed, just scale it up or down as needed.
What to Serve with Green Chile Chicken Casserole
Since this dish has the classic Southwest flavors, it will pair well with many of your favorite Mexican or Southwest side dishes. There are both classic options and some healthy options to keep it light.
Side Dish Ideas
Rice– I think this dish is served best over a bed of rice to hold on to all of the creamy sauce it bakes in. You can use plain white rice, brown rice, or cilantro lime rice (my favorite).
Side salad with Jalapeno Ranch – We keep this dressing in our fridge at all times. It makes salad SO GOOD, and it is amazing for dipping veggies.
Mexican Street Corn Casserole or classic Corn Casserole – Both are among our top recipes on the site!
Crock Pot Black Beans or Quick and easy canned black beans – Options for if you want to use dried beans, or short cut it by making canned beans taste from scratch good!
Mexican Roasted Veggies– Maybe the simplest recipe on this list, but still one of the most delicious!
Cornbread – This quick 3 ingredient cornbread is a personal favorite!
Peppers and Onions– This light and healthy side is quick and perfect for the flavors in the dish.
Tortilla Chips- My kid's favorite way to eat this dish is with tortilla chips! They will just scoop up the casserole and and eat it dip style!
You can choose one side dish or a few to stretch the meal and give you well rounded options.
Topping Ideas
Toppings are optional, but may be my kids favorite part! Here are a few things we serve the Green Chile Chicken casserole with frequently:
Chopped Cilantro– This adds a fresh touch to the top and gives it a pop of color for presentation.
Sour Cream– A cool creamy dollop of sour cream is heaven on this hot casserole.
Pico de Gallo– My personal favorite- I think this simple fresh salsa is perfect for scooping on top of the green chile chicken casserole
Sliced black olives– I buy these canned and offer them as another topping option
Recipe Notes
This Green Chile Chicken Casserole recipe is as simple as promised! Just 8 ingredients and a casserole dish for a family friendly meal.
In this section I am going to go through a few tips and tricks I use when making this recipe to get the absolute best and most delicious results.
Make sure to scroll to the bottom for the FULL recipe card.
Ingredients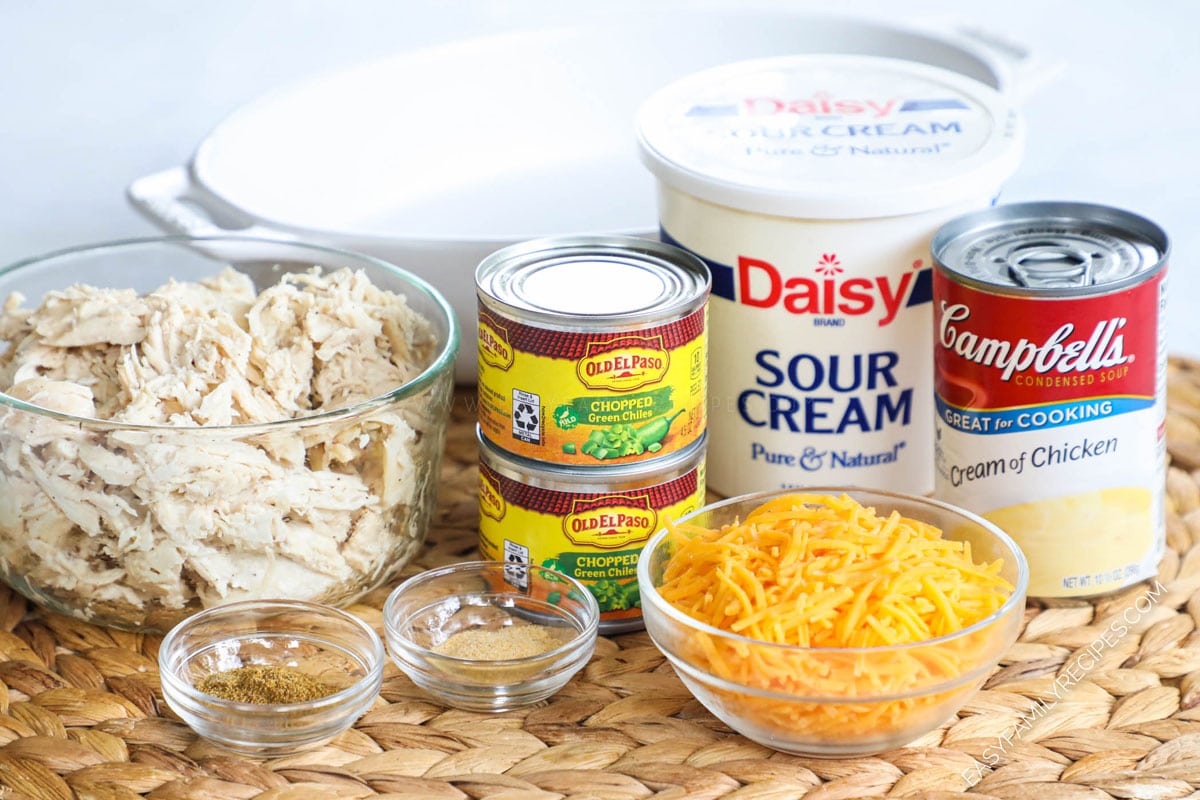 Shredded chicken– You can use whatever type of chicken you like based on your preference. Shredded chicken breast, shredded chicken thighs, or even a whole chicken that has been shredded will work well for this recipe. I have more notes below on options for shredded chicken in this recipe.

Chopped green chiles– The main flavor in this recipe comes from the green chiles. I use canned green chiles for convenience. My favorite is the Old El Paso brand because of how they are slightly smashed, but any chopped green chiles will do.

Cream of chicken soup– I use the traditional cream of chicken soup, but you can also use the low fat cream of chicken soup for this casserole.

Sour cream– This adds to the creaminess and tang of the recipe. You can use basic sour cream or light sour cream.

Milk– Any variety will do. You can use low fat (1%, 2% etc) or go with whole milk. Whatever you normally keep in your fridge will work!

Spices – Garlic powder and cumin flavor the casserole.

Cheddar cheese– I like sharp cheddar because you get more flavor with less cheese, but you can use mild, medium or even Mexican blend in its place.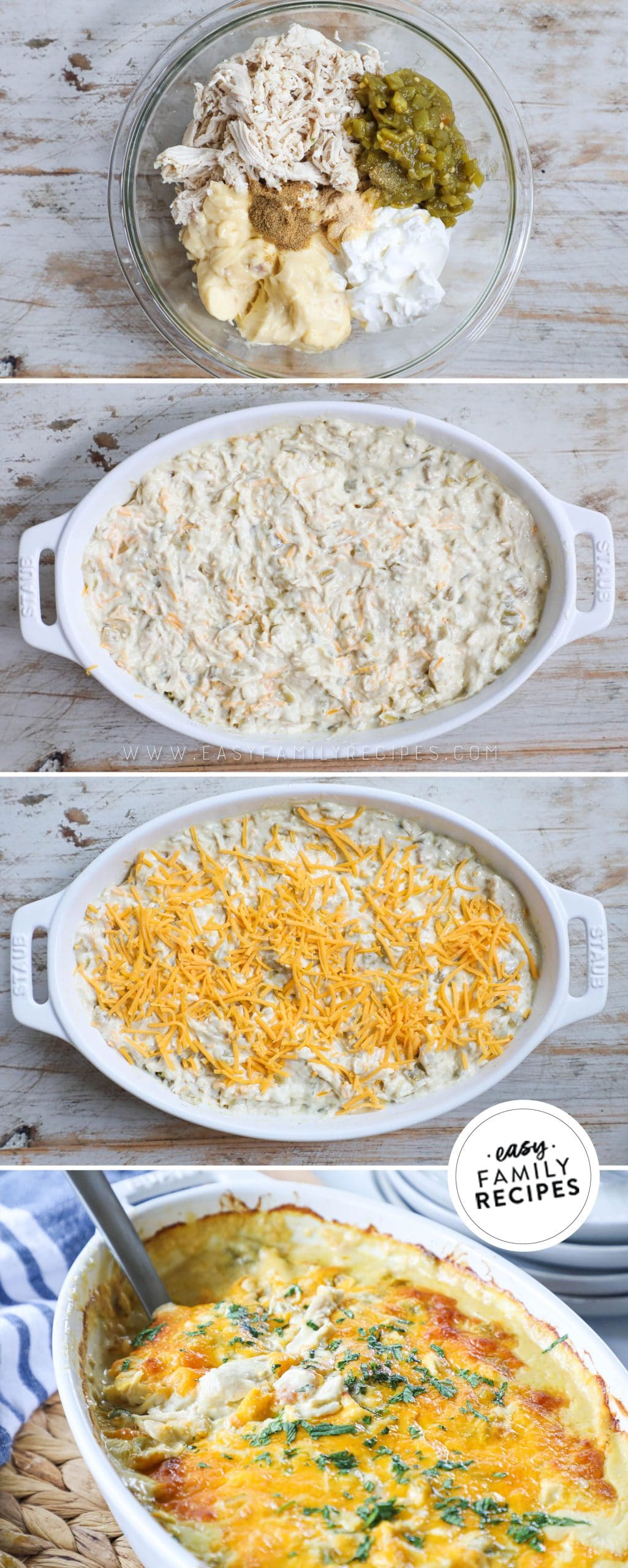 Recipe Tips
Watch for the bubbles– You will know the casserole is done by watching for the edges to become nice and bubbly.

Serve with something that can "grab" the sauce. This is a saucy casserole and all the flavor is in that sauce. I like to serve over rice, mashed potatoes, chips, or with bread that you can soak up all the sauce with!

Use chopped green chiles– The canned green chiles are most frequently in the Mexican aisle/section of the grocery store. They come in small 4oz cans and sometimes larger 8 oz cans. Read the can to make sure you get chopped green chiles, and not whole green chiles. This saves prep time!
What are Green Chiles
If you have never cooked with Green Chiles before, you are in for a treat! These are mild green chile peppers grown in the southwestern part of the United States, especially New Mexico, and Mexico. Although there are different varieties, most, including the ones that we cook with in this recipe, are mild so they work to enhance the flavor of the dish without adding much heat.
SHREDDED CHICKEN
The main ingredient in this dish is shredded chicken. You can really use any type of shredded chicken you like to make this.
My best advice is that the quality of the chicken makes a big impact on the flavor, so use a type that you really enjoy.
Here are a few options for shredded chicken.
Oven– Bake chicken breast then shred once cooled.
Stove top– Chicken can be boiled until done, then cooled and shredded.
Crock pot– Slow cook with mild seasonings, then shed and store.
Rotisserie– Store bought or homemade rotisserie chicken can be pulled and used. This is one of the most flavorful options for this dish.
Canned– If you are in a pinch or have canned chicken that needs to be used up, it will work in this recipe. This is not my favorite option for this dish, but can still turn out well.
Recipe Variations
If you love this recipe as much as we do and want some quick ways to change it up for variety, these little tips will do the trick!
Green Chile Chicken and rice– If you want to make the green chile chicken casserole and the rice all in one dish, you can add 1 cup of rice and 1.5 cups of chicken broth to the mixture. Pour the mixture into a LARGE casserole dish and cover the top with cheese. Bake covered for 40-50 minutes or until the rice is tender.

Green Chile Chicken Noodle Casserole– Prepare 12 oz egg noodles per package directions, then drain. Mix ingredients for casserole adding extra 1/2 cup milk. Mix together Green Chile Chicken Casserole mixture with noodles and spread in a casserole dish. Top with cheese and bake as directed.

Layered Green Chile Chicken Casserole– Mix up casserole as directed. Cut 8 corn tortillas into halves. Spread a little casserole mixture in the bottom of the dish. Cover with tortillas, then layer a thick layer of green chile chicken casserole, a layer of tortillas, then top with the remaining green chile chicken casserole. Top with cheese and bake for 25-35 minutes,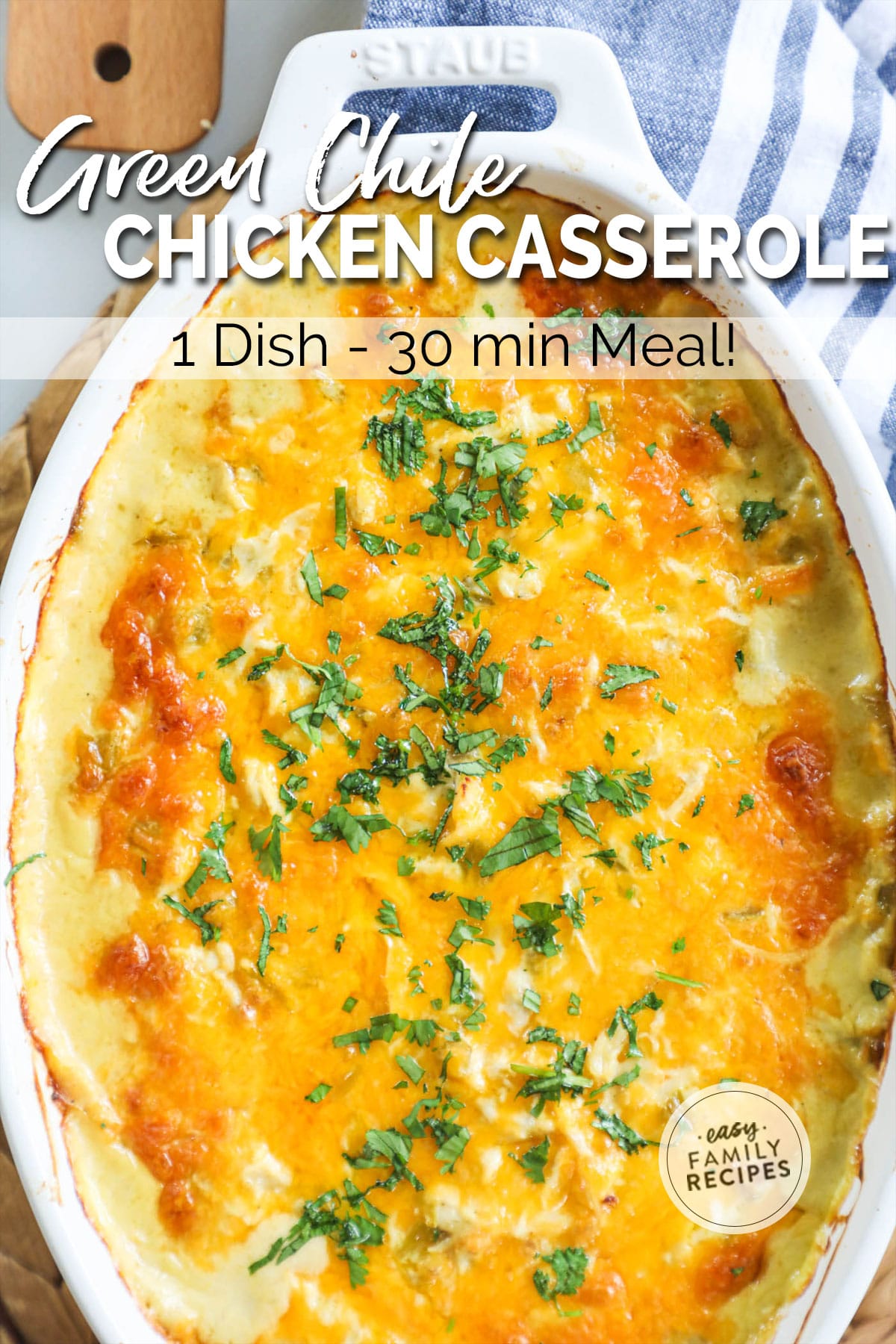 Freezer Meal Instructions
TO FREEZE BEFORE COOKING:
Prepare the Green Chile Chicken Casserole combine the ingredients short of the cheese and store in a plastic zip top bag, or spread in a casserole dish and add cheese, then wrap in foil and plastic wrap tightly to freeze in the dish.
Freeze
When ready to cook, thaw in the refrigerator.
Add cheese is prepared in a zip top bag, or if prepared in a casserole dish, uncover.
Cook as directed.
Green Chile Chicken Casserole Leftovers
If you have leftovers after making this easy casserole recipe, then it is your lucky day! They save and reheat well, and can make the start of another delicious dish.
To save leftovers, separate into meal sized portions and then place in an airtight container and store:
in the refrigerator for 3-4 days
in the freezer up to a month
Leftover Recipes
Here are a few ways to repurpose those leftovers and give them a delicious makeover!
Green Chile Chicken Enchiladas– Scoop leftover green chile chicken casserole into a tortilla and roll. Place in a baking dish side by side. Mix green enchilada sauce in equal parts with sour cream and pour the sauce over the top. Sprinkle with cheese and bake for 20-30 minutes or until heated through.
Grilled Green Chile Chicken Burritos– Heat leftover green chile chicken casserole. In a large tortilla, pile green chile chicken, black beans, rice, salsa, cheese, and sour cream. Fold each end in, then tightly roll. Heat a skillet over medium heat. Melt a small amount of butter in the skillet. Grill the burrito on each side until golden brown.
Green Chile Chicken Tamale Bake– Spread leftover casserole in a baking dish. Cover with corn bread batter. Bake for 25-35 minutes or until cornbread is cooked through.
Green Chile Chicken Bowls– Create a base with cilantro lime rice, and beans (either black or pinto,) add heated green chile chicken casserole, then top with your choice of corn salsa, sour cream, cheese, shredded lettuce, pico de gallo, black olives, and guacamole.
More Easy Casserole Recipes
If you enjoyed this recipe, I really hope you will take a moment to grab a few more easy recipes for another busy night!
You can check out all of my EASY DINNER recipes or quick casserole recipes here, or see a few of our readers favorite recipes below.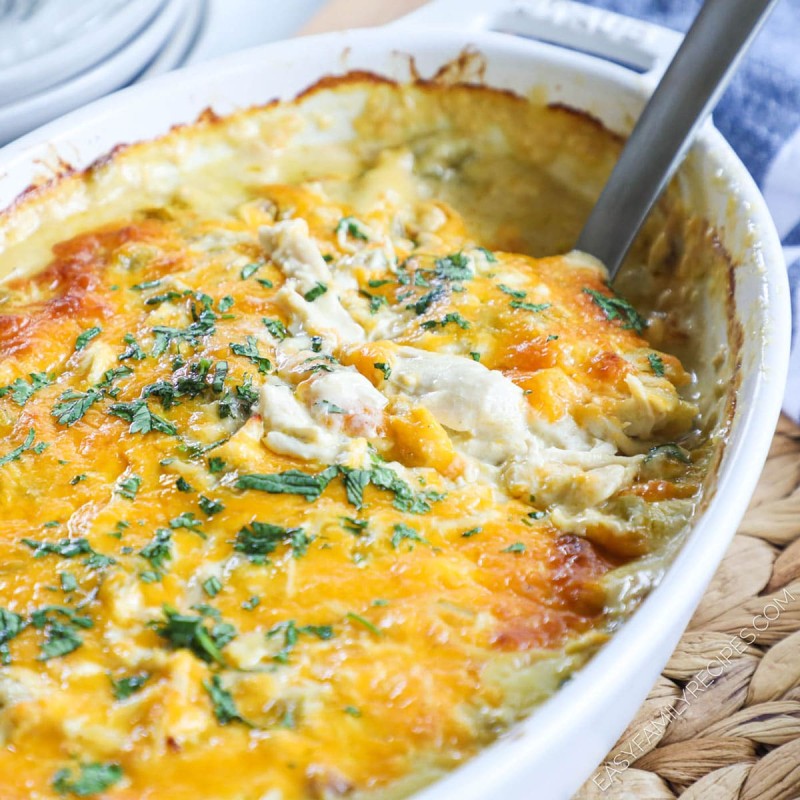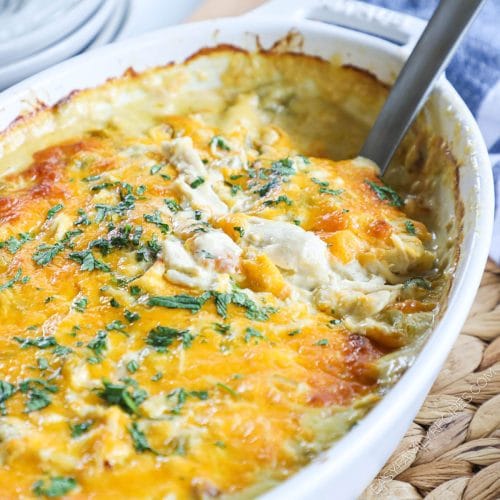 Green Chile Chicken Casserole
This Green Chile Chicken Casserole is full of tangy southwest flavor, super comforting, and easy to make! With only 8 ingredients, it comes together quickly and makes dinner a breeze. With a variety of serving options, this will quickly become a favorite!
Ingredients
4

cups

shredded chicken

8

oz

chopped green chiles

,

(2 cans)

10.5

oz

cream of chicken soup

1/2

cup

sour cream

1/4

cup

milk

1/2

tsp

garlic powder

1/2

tsp

cumin

1

cup

cheddar cheese
Instructions
Preheat oven to 350˚F.

Combine the cream of chicken soup, sour cream, milk, garlic powder, and cumin. Then stir in the shredded chicken and green chiles.

Spread the mixture in a casserole dish and top with cheddar cheese.

Bake for 20-30 minutes until the edges are bubbly and the casserole is hot throughout.

Let sit 10 minutes, then serve with your choice of rice, beans, or tortillas. Enjoy!
Recipe Notes
Side Dish Ideas
You can choose one side dish or a few to stretch the meal and give you well rounded options.
Topping Ideas
Toppings are optional, but may be my kids favorite part! Here are a few things we serve the Green Chile Chicken casserole with frequently:
Chopped Cilantro
Sour Cream
Sliced black olives
Nutrition Information
Calories:
328
kcal
(16%)
,
Carbohydrates:
7
g
(2%)
,
Protein:
30
g
(60%)
,
Fat:
19
g
(29%)
,
Saturated Fat:
9
g
(56%)
,
Polyunsaturated Fat:
2
g
,
Monounsaturated Fat:
6
g
,
Trans Fat:
1
g
,
Cholesterol:
104
mg
(35%)
,
Sodium:
706
mg
(31%)
,
Potassium:
346
mg
(10%)
,
Fiber:
1
g
(4%)
,
Sugar:
1
g
(1%)
,
Vitamin A:
496
IU
(10%)
,
Vitamin C:
13
mg
(16%)
,
Calcium:
202
mg
(20%)
,
Iron:
2
mg
(11%)