These are the BEST Chicken Tinga Tacos! They are made in the slow cooker with chipotle peppers in adobo sauce, spices, and tomatoes with chicken for an easy family-friendly recipe inspired by authentic chicken tinga flavors. These tacos are great to make ahead of time and will fit perfectly into a meal plan for a busy week.
The kids will love making chicken tacos with all their favorite toppings. You can control the how spicy this tinga dish is so every one can enjoy!
Chicken Tinga Tacos – The EASY Way!
If you love Mexican-inspired dishes and easy recipes, these chicken tinga street tacos are at the top of the list! It's full of the best seasonings and can be topped with your favorite additions. To make it even easier, use leftovers from making Crock Pot Chicken Tinga.
What is Chicken Tinga?
Chicken tinga is shredded chicken cooked in a red sauce that's made from tomatoes, and chipotle peppers, with Mexican seasonings. A blended thick and smooth sauce that the chicken is tossed into and usually served in tacos or on a tostada.
A street style taco, these tinga tacos made with chicken are full smoky chipotle flavor and tender, juicy chicken seasoned with traditional mexican spices.
Why I LOVE this recipe!
EASY! – Like most crockpot recipes, the best chicken tinga recipe is exactly that… easy. Add your sauce ingredients to the slow cooker and top with chicken. After that, you're simply shredding the chicken and blending the sauce.

Packed with Flavor – Tinga is a smooth chipotle tomato-based sauce and with all the flavors from the peppers, plus the Mexican spices, this spicy chicken tinga is so flavorful and delicious.

Family-friendly – This chicken tinga slow cooker recipe has the best flavor and your family will agree. You can control the spiciness of the sauce so everyone can enjoy it.
What to Serve with Shredded Chicken Tinga Tacos
Since these tacos have the classic flavors of Mexican cuisine, they will pair well with many of your favorite Mexican side dishes. There are both classic options and some healthy options to keep it light.
You can make this a fun taco night with a tablespread of different taco shellos, a variety of sides, and all the toppings. Taco night, buffet style!
Side Dish Ideas
You can choose one or add a few sides to make a wholesome, well rounded dinner.
Recipe Notes
This Easy Chicken Tinga Taco recipe is as simple as promised! Just 3 hours in the slow cooker, or 20 minutes if using leftover chicken tinga, for a family friendly meal.
In this section I am going to go through a few tips and tricks I use when making this recipe to get the absolute best and most delicious results.
Make sure to scroll to the bottom for the FULL recipe card.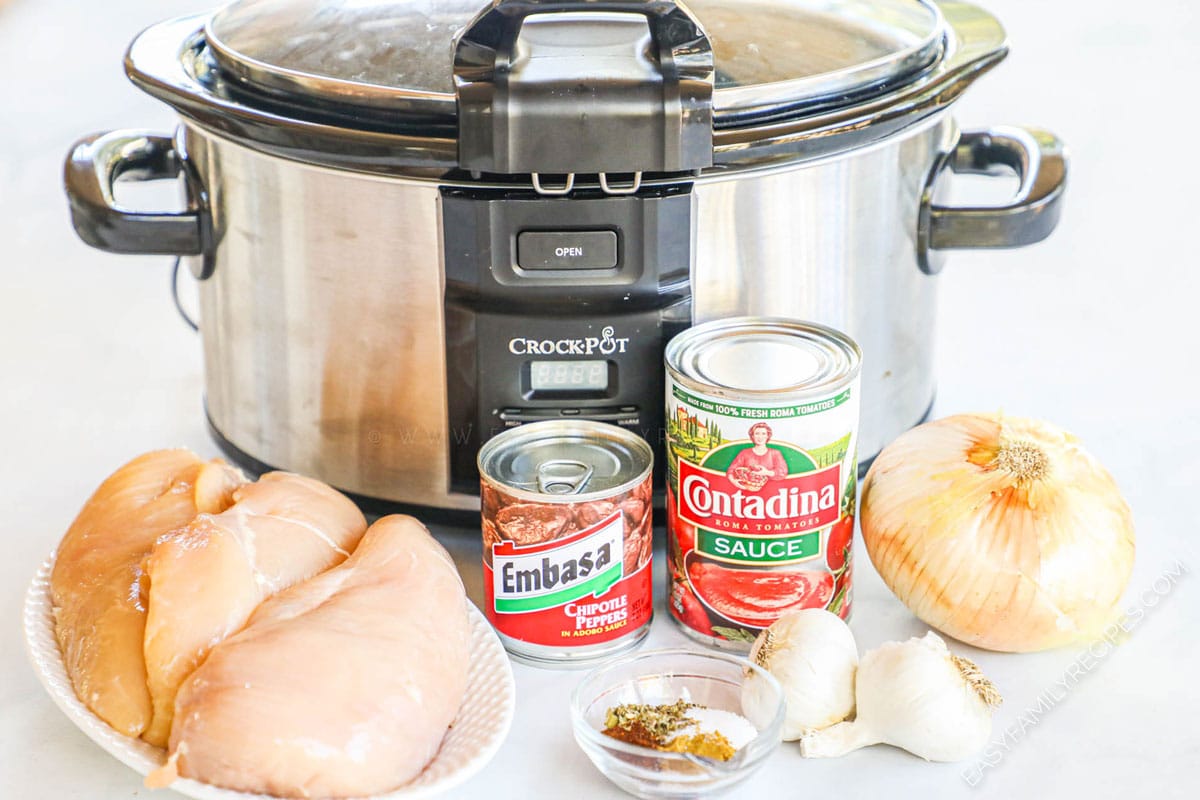 Ingredients + Substitutions
For the Meat:
Chicken – this chicken tinga crock pot recipe uses boneless skinless chicken breast. It is usually the most family-friendly piece of chicken. Chicken thighs would be delicious and are great if you want to cook over a longer period of time to stay juicier.
Sauce:
Onion – yellow onions have a strong flavor than most and are great in this recipe. Substitute red, white, or sweet onion if preferred.
Tomato sauce – canned tomato sauce adds a depth of flavor and smoothness to the sauce.
Chipotle peppers in adobo sauce – Here's where you'll find all the flavor and heat for this slow cooker chicken tinga tacos recipe. They have the best flavor and you can control how spicy your sauce is by removing the seeds
Seasonings:
Garlic – Fresh is best for flavor. Throw in the crock pot whole as it will be blended in later.
Spices – dried oregano, ground cumin, chili powder, salt
For the Tacos
Corn tortillas – these chipotle chicken tinga tacos taste more authentic in corn shells, but flour tortillas could easily be substituted.
Lettuce – We use romaine but iceberg or spring mix could also be used.
Pico de gallo – make a fresh batch of pico de gallo and keep in the fridge until ready to use.
Cheese -Cojita has a more authentic flavor, but you could also use shredded cheddar, Mexican blend, or your other favorite cheese to top these tacos with chicken and adobe sauce.
More topping ideas
Mexican Creama
Cilantro
Sour cream or Mexican crema
Chopped onions
Diced tomatoes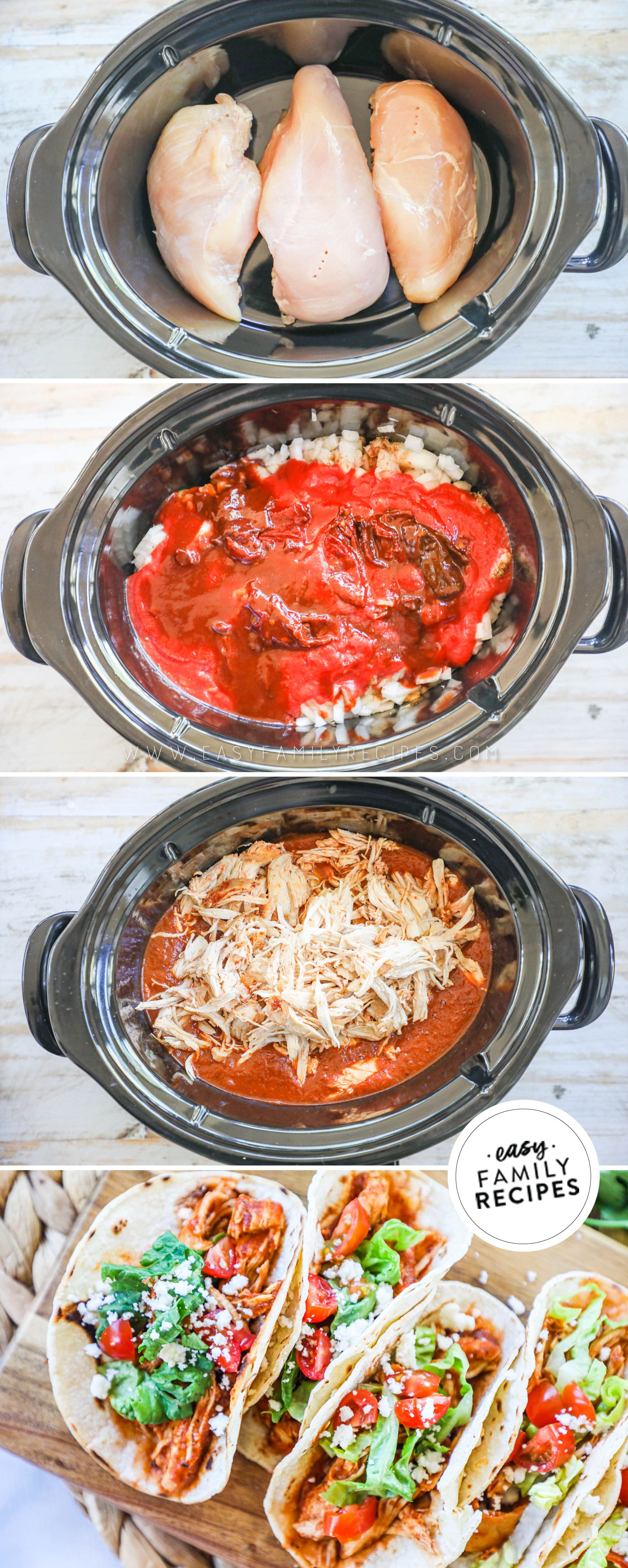 How to make chicken tinga tacos
In the bottom of the crockpot lay the chicken down and then spread the diced onions, garlic, and spices on top.
Prep the chipotle peppers by removing the seeds and pouring over chicken and vegetables with the remaining sauce and tomato sauce.
Place the lid and cook for 2 ½ to 3 ½ hours.
Remove the chicken and blend the sauce in the crockpot with an immersion blender. Shred the chicken and add to the sauce.
Assemble tacos
Heat the tortilla on both sides in a skillet over high heat, just until it starts to brown
Fill your tacos with meat and your favorite toppings.
Recipe Tips
Don't overcook the chicken – Chicken breast can become dry and rubbery when overcooked. For best results, remove chicken at about 2 ½ hours on high, or 3 ½ hours on low, or when the internal temperature reaches 165˚F.  If you are hoping to cook it longer, swap chicken breast with chicken thighs for the best results.

Substitute chicken thighs – If preferred, chicken thighs can be used. What's great about thigh meat is it will not dry out and can be cooked longer than chicken breast. You could start this crockpot chicken tinga in the early afternoon and allow to cook on low longer than the recommended 4 hours for chicken breast. This will give you a little ore leeway on having dinner ready.

Use an immersion blender – This recipe is so easy so by using and a handheld blender you can simply blend the chicken tinga sauce right in the crockpot after removing the chicken.


If you do not have an immersion blender then a regular blender, or food processor will also work. Use caution when removing the hot liquid to and from the crockpot. 


Control the heat – To keep this a family-friendly recipe, I recommended removing the seeds from the chipotle peppers. These peppers are very spicy and will make your chicken tinga tacos spicy. and by removing the seeds you'll have less heat and more flavor. You can also reduce the heat by using less adobo peppers. If you want it extra spicy you can leave some seeds in. 
How to make Chicken tinga tacos less spicy
Removing the seeds from the chipotle peppers will reduce how spicy the sauce is. You can also reduce the heat by using less adobo peppers, or adding a sweetener to help reduce the spiciness. Try adding a small amount of honey, sugar, or even ketchup to the sauce.
How to remove seeds from jarred chipotle peppers
To remove the seeds, place the pepper on a cutting board. Use a knife to cut open the pepper, then scrape the seeds out and discard them. If you're sensitive to peppers, I recommend wearing a pair of gloves.
Recipe Short Cuts
If you need to make this recipe, but are extra short on time, here are a few ideas that can help make this recipe even faster!
Use leftover Chicken Tinga – Make this recipe earlier in the week and use leftovers for this taco recipe. It's an easy way to a quick meal. Everything else will come together quickly. Simply reheat the chicken tinga in a skillet until warmed through.

Prep – Prepare the chipotle peppers and other veggies ahead of time and store them in the refrigerator until ready to use.

Use an immersion blender – For the quickest and easiest way to blend the sauce, use a handheld blender directly in the crockpot. This will keep you from handling hot ingredients and will surely be less messy!

Use leftover ingredients – Plan on Mexican more than once this week? Go ahead and make your salsa, guacamole, or other toppings and enough for more than one meal. You'll save time and utilize your recipes more than once.
Recipe Variations
If you love this recipe as much as we do and want some quick ways to change it up for variety, these little tips will do the trick!
Pork Tinga – Use pork shoulder and follow the same recipe with the same ingredients.
Beef Tinga– Use chuck roast and follow the same recipe with the same ingredients.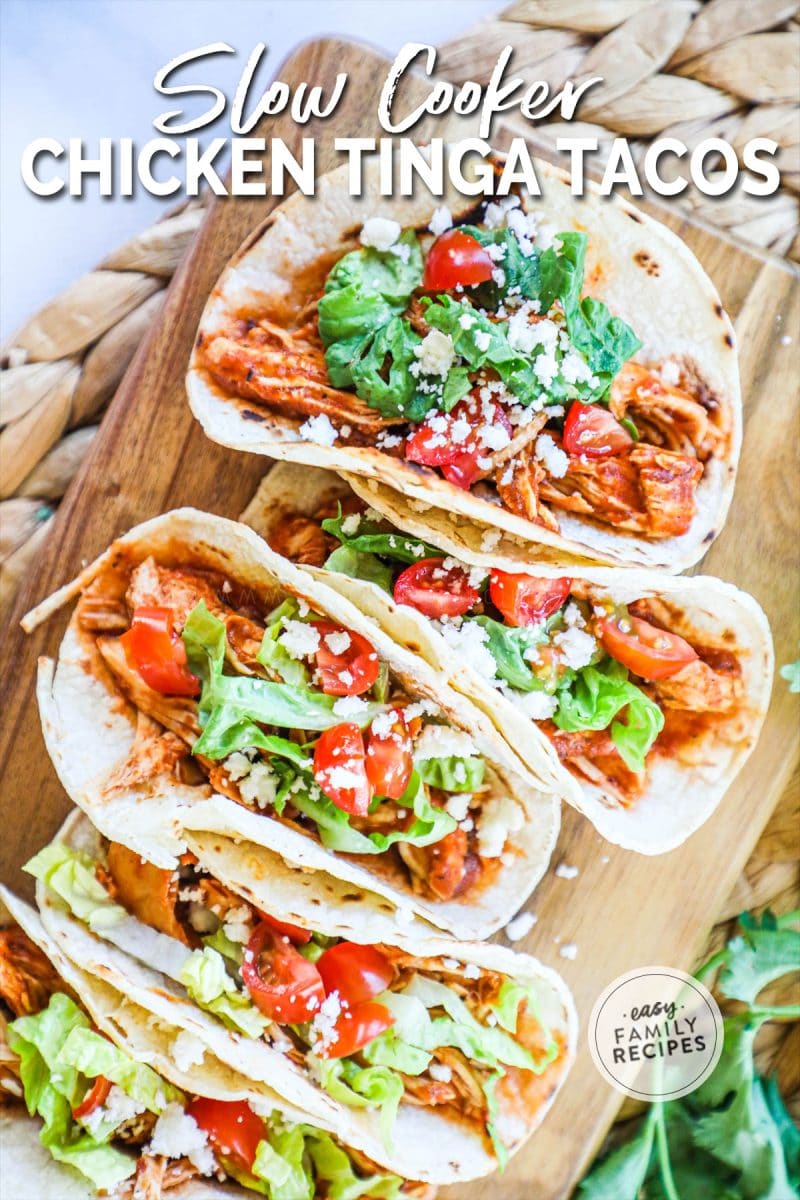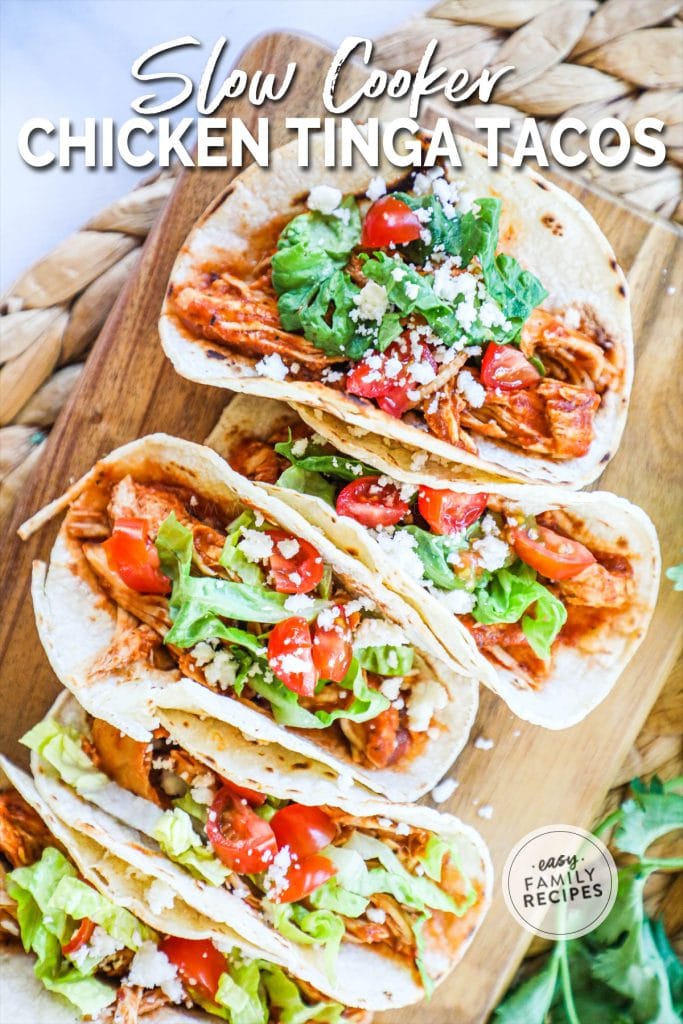 Freezer Meal Instructions
Making this Chicken tinga taco recipe into a freezer meal is simple! Follow the steps below and you can store this recipe in the freezer for up to 6 months.
Place the chicken and sauce in a freezer friendly container. Be sure to leave about an inch of space between the tinga and lid to allow for expansion.
Most toppings should be made fresh when ready to serve.
Mexican Chicken Tinga Taco Leftovers
f you have leftovers after making this chicken tinga tacos recipe, then it is your lucky day! They save and reheat well, and can make the start of another delicious dish.
To save leftovers, separate into meal sized portions and then place in an airtight container and store:
in the refrigerator for 3-4 days
in the freezer up to a month
Note – this is for the chicken tinga and not the toppings. For best results, prepare your toppings fresh when ready to eat.
Leftover Recipes
Here are a few ways to repurpose those leftovers and give them a delicious makeover!
Chicken Tinga Nachos – Layers of tortilla chips, chicken tinga, chopped onions, avocado, cheese, and pico de gallo.

Chicken Tinga Tostadas – Pile on all the good stuff on a crispy totada for an easy, handheld chicken tinga dish.

Chicken Tinga Burrito Bowls – Start with a bed of rice or quinoa, beans, chicken tinga, and all your favorite burrito toppings.

Chicken Tinga Salad – Just like the burrito bowl but lettuce instead of rice and top with jalapeno ranch dressing and crispy tortilla strips.
More Mexican Recipes
If you enjoyed this recipe, I really hope you will take a moment to grab a few more easy recipes for another busy night!
You can check out all of my ||||| recipes here, or see a few of our readers favorite recipes below.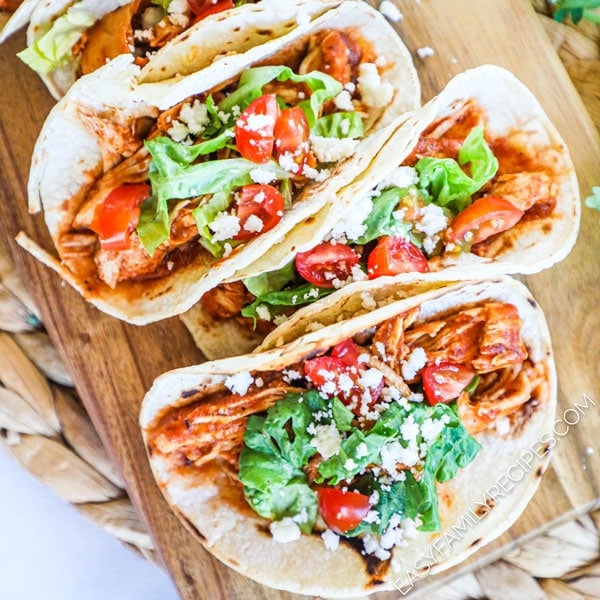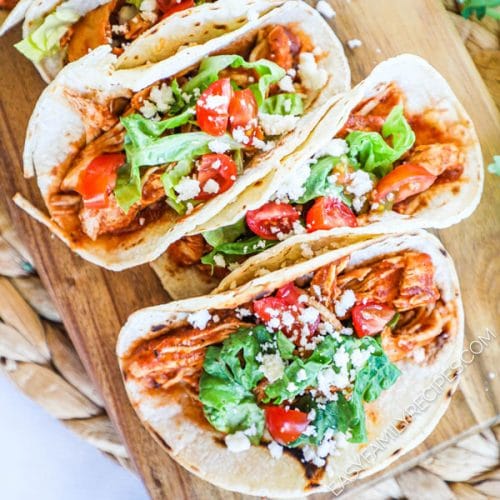 Crock Pot Chicken Tinga
These Chicken Tinga Tacos give you a restaurant quality recipe you can have prepped and in the Crock Pot in minutes! These are packed with flavor and crazy delicious!
Ingredients
For the Meat:
2

lbs

boneless skinless chicken breast

1

onion

,

diced

8

oz

tomato sauce

,

1 small can

7

oz

chipotle peppers in adobo sauce

,

1 can

3

cloves

garlic

,

pressed

1

tsp

dried oregano

1

tsp

ground cumin

1

tsp

chili powder

1

tsp

salt
For the Tacos
24

corn tortillas

2

cups

romaine lettuce

,

shredded

1/2

cup

pico de gallo

1/4

cup

cotija cheese

,

crumbled
Instructions
To prepare the meat:
Lay the chicken in the bottom of the slow cooker. Cover with diced onions, garlic, oregano. cumin, and chili powder.

Remove the chipotle peppers from the can. Split them open with a knife and scrape the seeds out. Then add the tomato sauce, chipotle peppers and remaining sauce in the chipotle peppers can to the slow cooker.

Cook on high for 2.5-3.5 hours.

Once done, remove the chicken from the crockpot. Optional: Use an immersion blender to blend the sauce until smooth.

Shred the chicken, and then stir it back into the sauce.
To assemble tacos:
Heat both sides of each tortilla over high heat until it just starts to brown.

Fill each tortilla with meat. Add lettuce, pico de gallo, and a sprinkle of cotija cheese. Serve immediately.
Recipe Notes
Topping options
Here are more fun topping combinations we love on chicken tinga tacos
Sour cream
cheddar cheese
chopped cilantro
shredded cabbage
pineapple salsa– sweet and spicy
Nutrition Information
Serving:
2
tacos
,
Calories:
295
kcal
(15%)
,
Carbohydrates:
33
g
(11%)
,
Protein:
29
g
(58%)
,
Fat:
6
g
(9%)
,
Saturated Fat:
1
g
(6%)
,
Cholesterol:
75
mg
(25%)
,
Sodium:
1043
mg
(45%)
,
Potassium:
678
mg
(19%)
,
Fiber:
7
g
(29%)
,
Sugar:
6
g
(7%)
,
Vitamin A:
2592
IU
(52%)
,
Vitamin C:
6
mg
(7%)
,
Calcium:
88
mg
(9%)
,
Iron:
2
mg
(11%)