Bacon Ranch Pot Roast has the most irresistibly comforting flavors all packed into a quick and easy to make crock pot dinner.
The roast slowly cooks with bacon and ranch seasoning to tender, juicy, flavorful perfection. The potatoes and carrots cook right along with the meat for a delicious hands off family dinner. 
Crock Pot Pot Roast with Bacon and Potatoes
There are few comfort foods more classic and comforting than pot roast. Throw in the fact that it is super easy to make, and cooks with no babysitting, and you have the recipe for the perfect dinner!
This recipe is flavored with ranch mix and soaks in the rich smokey flavor of the bacon while it slowly cooks in the Crock Pot. 
We make this recipe right on top of a bed of baby potatoes and carrots so that once the meat is done, we have a full meal ready to go. You can leave them out if you just want the meat, or follow a low carb diet, or add other hearty veggies if you prefer something else.
If you can't get enough flavorful pot roast, make sure to check out our highly rated Tuscan Pot Roast too!
What to Serve with Pot Roast
Although we are making a slight flavor twist on a classic pot roast, the bacon and ranch both also carry American flavors so it will pair well with many of the same side dishes that a classic pot roast would.
Remember that potatoes and carrots both cook right along with the pot roast so if don't want to make anything else, it will still be a filling meal.
Side dish ideas
I really like to add a green side to serve with Pot Roast. You can pick one or add a few. Plus, pairing it with garlic bread gives you something to soak up all the delicious juices.
Recipe Tips
Making a pot roast is as easy as they come. I am going to share some notes and give you a few tips for getting the most tender, juicy flavor filled pot roast, and hopefully answer any questions that may come up while cooking.
Make sure to find the FULL recipe card at the bottom of this post.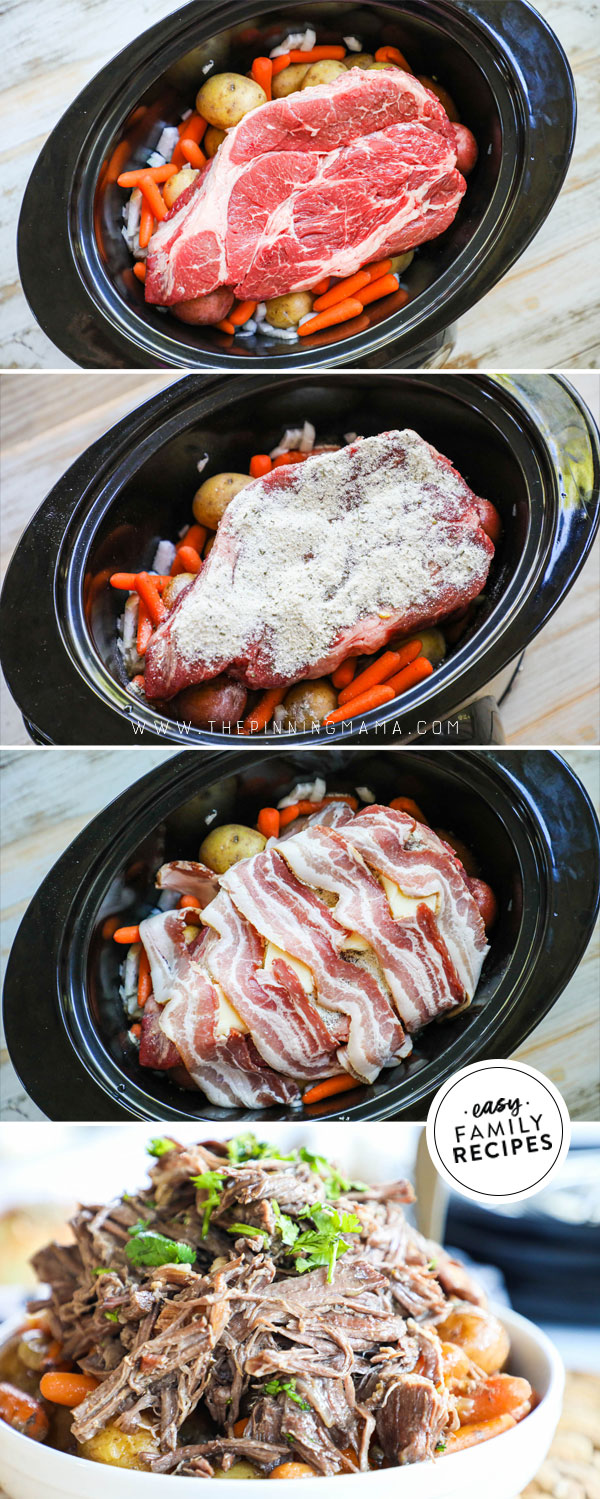 Best Cut of Meat for Pot Roast
When slow cooking a piece of meat in the crock pot you will want to use a cut that is fattier and has more connective tissue (or is tougher) to ensure that it stays tender and juicy over the low and slow cooking process.
A chuck roast is the perfect cut of meat for pot roast prepared in a crockpot because it is filled with these connective tissues.
When cooking slowly, the fat will cook first then over time during the cooking process the connective tissues will  break down which keeps the meat juicy while it cooks over a long period of time to gain that tenderness.
Other cuts that work well for a pot roast are shoulder steak, shoulder pot roast, beef chuck, round steak, or blade steak.
The Seasoning
This recipe uses a combination of ranch seasoning, pickle juice, and bacon to season the meat.
The pickle juice helps to tenderize the roast as well as add a little depth to the flavor with its tanginess. You can use any jar of dill pickles you have (cut doesn't matter) and just drain the juice from it to use in the roast.
For the ranch seasoning I use either Hidden Valley Ranch Dressing mix or this Homemade Ranch seasoning. They both carry the flavor well and can be used interchangeably in the recipe depending on your preferences and what you have on hand.
The Bacon
The bacon in this recipe is primarily for seasoning.  I generally prefer to take it out after it has cooked, because my family really only likes bacon when it is crispy.
That said, you can absolutely shred the bacon right along with the beef and stir it right into the meat for more bacon flavor. It is so soft once it is slow cooked it just breaks up and stirs right in.
When you select bacon to use in this recipe I like to go for a sturdy smoked bacon. The smokey flavor of the bacon will infuse into the roast as it cooks, making it even more delicious.
The last little option I want to add is that if you are like us and really only like crispy bacon, you can discard the bacon after cooking, and then use another batch of bacon to cook to crisp and then crumble it over the top at the end. That is an extra step in the cooking process, but it is a really delicious finishing touch!
The Veggies
The recipe calls for potatoes and carrots. I like to use small red potatoes, or larger baby potatoes. They will cook well over time and aren't too huge for serving purposes.
The carrots an onions can go in along with it. If you have other veggies you would like to use, anything that is hearty and takes awhile to cook can work. Softer vegetables like broccoli, zucchini or squash won't work well.
If you are shooting for a low carb diet, or have other sides you want to serve this with (like this AMAZING hashbrown casserole!) you can leave the veggies out all together and still have a great pot roast.
How Long to Cook the Pot Roast
The reason the slow cooker does so well with pot roast is that it NEEDS to be cooked over a long period of time to become the most tender and juicy.
The pot roast will need to cook for a minimum of 6 hours in the crockpot, and preferably 8 or more to be at the peak tenderness.
Dietary Considerations
This recipe is friendly for some diets, and can be easily modified to meet others. See notes below for special dietary needs.
Gluten Free– This recipe is naturally gluten free. Use homemade ranch seasoning and check all purchased ingredients to ensure compliance.
Dairy Free– This recipe can be made dairy free by using this homemade ranch seasoning, and substituting olive oil for the butter.
Low Carb/Keto- This recipe can be made low carb by leaving out the vegetables and serving with low carb friendly side dishes.
Paleo – Whole30- This dish can be made Paleo and Whole30 compliant by using this homemade ranch seasoning, substituting olive oil for the butter, and using compliant bacon.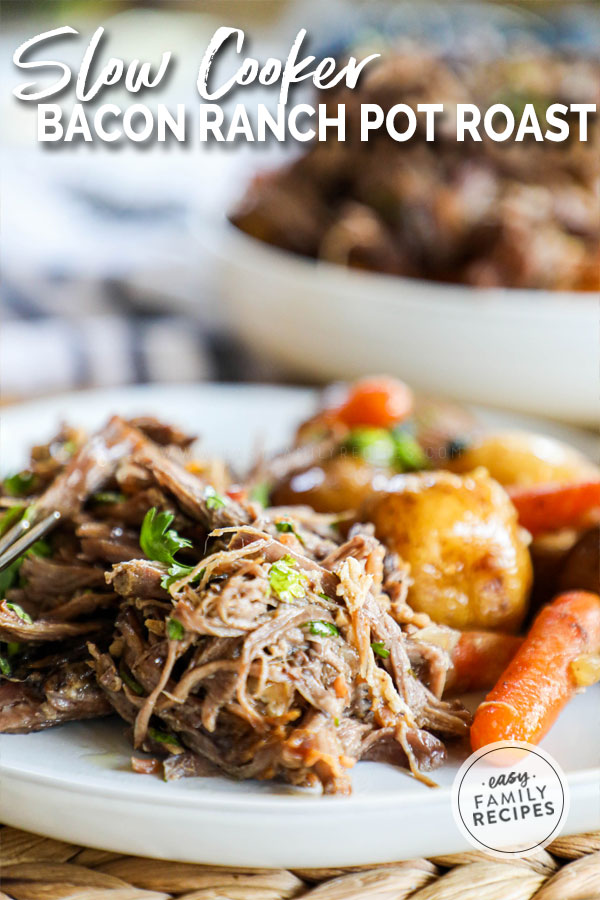 Freezing Pot Roast
Pot roast freezes well both before cooking to be prepared as a freezer meal or after cooking to save leftovers to serve another day.
Freezer meal instructions
Follow the recipe through step 3.
Place all ingredients in a zip top bag, or airtight container.
Freeze.
When ready to cook, thaw in the refrigerator for 24-48 hours.
Place ingredients in the slow cooker with the vegetables on bottom and roast on top.
Cook as directed.
To Freeze after Cooking
Prepare roast as directed.
Shred meat and divide into meal sized portions with vegetables.
Place in zip top bag or air tight container.
Freeze.
When ready to eat, heat in the microwave or on the stove top until hot.
Bacon Ranch Pot Roast Leftover Recipes
If you have leftovers, you are in luck because there are a lot of great meals you can make from leftover pot roast.
Leftovers can be saved in the refrigerator for 4-5 days, or in the freezer for up to a month.
Beef and pepper subs– Sautee bell pepper strips in a skillet, add pot roast to warm it. Butter each side of a sub roll and then grill it butter side down until golden. Load the roll with the beef and pepper mixture and top with provolone cheese. Melt under the broiler if desired. Serve leftover veggies on the side.
Bacon Ranch Pot Roast Tacos– Mix coleslaw mix with ranch dressing. Heat leftover pot roast and place in warmed tortillas. Top with ranch slaw and crumbled bacon. Use lettuce wraps as a low carb. whole food option.
Pot Roast "Shepards Pie"-  Chop veggies from the pot roast and mix together with the meat. Spread in the bottom of a pie dish. Drizzle ranch dressing over the top then cover with prepared mashed potatoes. Bake at 350˚F for 25-35 minutes or until heated through and top is golden.
Pot Roast Noodle Casserole– Chop pot roast veggies and mix in with shredded beef. Mix all of that with prepared egg noodles, cream of celery soup, and sour cream. Spread into a casserole dish and sprinkle with mozzarella cheese. Bake at 350˚F for 25-35 minutes until edges are bubbly.
More DELICIOUS Crock Pot Recipes
If you enjoyed this recipe, I hope you will take a minute to browse some of our other delicious (and kid approved) recipes!  You can see all of our easy recipes here, or a selection of our favorite slow cooker recipes below.
Hungry for more family-friendly recipes? Sign up for my free recipe club to get new family-friendly recipes in your inbox each week! Find me sharing daily meal-time inspiration on Pinterest, Instagram, and TikTok.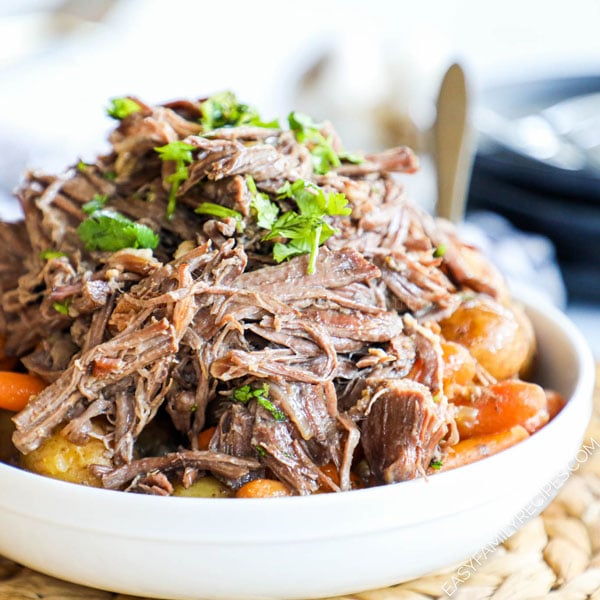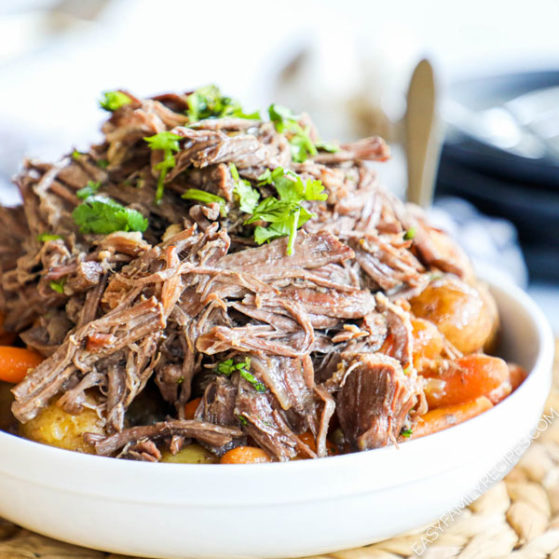 Bacon Ranch Pot Roast
This slow cooked Bacon Ranch Pot Roast is tender and juicy and packed with the flavors of smokey bacon and delicious ranch dressing. It makes an easy dinner that can feed the whole family for Sunday dinner or any night!
Prep Time: 10 minutes
Cook Time: 6 hours
Total Time: 6 hours 10 minutes
Serves:8 servings
Hover over "serves" value to reveal recipe scaler
Ingredients
3 lb chuck Roast
6 oz bacon smoked flavor
½ cup pickle juice
4 tbsp ranch seasoning (or 2 Hidden Valley packets)
3 tbsp butter
1½ lb baby potatoes red or gold
1 sweet yellow onion roughly diced
1.5 cups baby carrots
Instructions
Place the potatoes, carrots and diced onion in the bottom of the crock pot.

Trim any excess fat from the roast, then place it in the slow cooker and pour the pickle juice over it. Sprinkle and pat the ranch seasoning on all sides of the roast then place the butter on top cut into 4 pats.

Lay the bacon strips over the roast and wrap the ends underneath it.

Place the lid on the slow cooker and set it to cook on low for 6-8+ hours.

Once done, remove the roast and shred with 2 forks discarding any excess fat. Remove and discard the bacon -OR- break the bacon up and stir it into the roast as you shred the meat, depending on your preference.

Remove the carrots, potatoes and onions from the slow cooker and place them in a large serving bowl.

Mix 1 cup of the juices back into the shredded meat and then place the meat on top of the potatoes and carrots. Serve warm and enjoy!
Nutrition Information:
Serving: 8ozCalories: 545kcal (27%)Carbohydrates: 25g (8%)Protein: 38g (76%)Fat: 32g (49%)Saturated Fat: 14g (88%)Cholesterol: 143mg (48%)Sodium: 1128mg (49%)Potassium: 1071mg (31%)Fiber: 3g (13%)Sugar: 4g (4%)Vitamin A: 3473IU (69%)Vitamin C: 19mg (23%)Calcium: 56mg (6%)Iron: 5mg (28%)
(Nutrition information provided is an estimate and will vary based on cooking methods and brands of ingredients used.)