These Chicken Tacos made in the Crock Pot are AMAZINGLY DELICIOUS and couldn't be easier to make. Made with tender chicken perfectly seasoned and cooked too perfection, this recipe is perfect for making tacos on even the busiest days!
Shredded Chicken Tacos – The EASY Way!
Tacos are a go to meal for us! We eat them on a regular basis because. of course, they are super delicious, but also because they are quick and easy to make.
There is almost nothing more simple than this Crock Pot Chicken Taco recipe.
Just 3 ingredients
Prepped in as little as 5 minutes
Set the slow cooker and come back to dinner!
With as easy as it all is, the results are just so tasty! They are reminescent of an authentic Mexican street taco. With meat that is perfectly shredded and seasoned and just a hint of the tomatoes and chiles peeking through.
So when taco night rolls around, this is absolutely the go-to recipe for shredded chicken tacos.
If you want traditional taco meat, make sure to check out my ground turkey tacos.
What to Serve with Chicken Tacos
Since this dish has the classic flavors of Mexican food, it will pair well with many of your favorite Mexican side dishes. I have included a few of our favorites and go-to recipes with both classic options and some healthy options to keep it light.
Side Dish Ideas
Beans- Black, pinto or refried beans
You can choose one or add a few sides to make a wholesome, well rounded dinner.
Chicken Taco Toppings
Beyond side dishes to serve with tacos, you will want to have a good variety of toppings to pile on and make them extra delicious.
Shredded lettuce
Cheese – I like cheddar or colby jack best
Sour cream
Chopped cilantro
Recipe Notes
This Crock Pot Chicken Taco recipe is as simple as promised! Just 3 ingredients and then you let the slow cook do the work for a family friendly meal.
In this section I am going to go through a few tips and tricks I use when making this recipe to get the absolute best and most delicious results.
Make sure to scroll to the bottom for the FULL recipe card.
Ingredients
Chicken breast– I use chicken breast with this recipe, but you can also use boneless skinless chicken thighs. They work really well in the crock pot and stay super tender and juicy.
Taco seasoning– You can use a store bought package, but I highly recommend using my homemade taco seasoning if you have time. You can make a batch and keep it in the cupboard up to a year to have on hand whenever you need it. This is especially important if you have special dietary needs. More on that below.
Rotel tomatoes with green chiles– Again, Rotel tomatoes are my preference. I love the flavor and how it mixes with the meat. You can use salsa in place of Rotel if you want to though and it will also work well!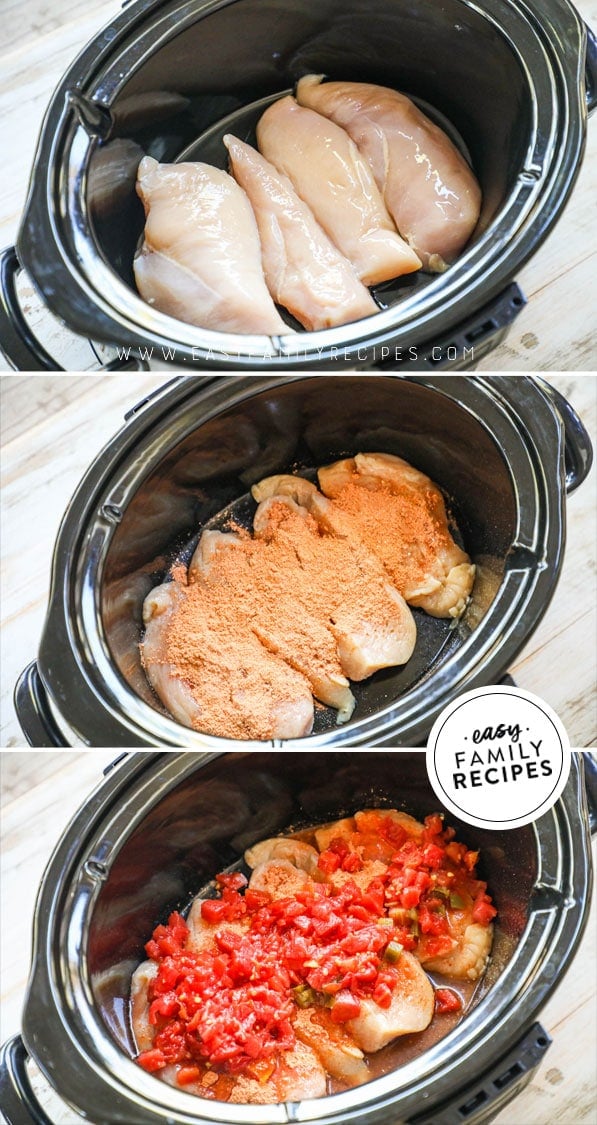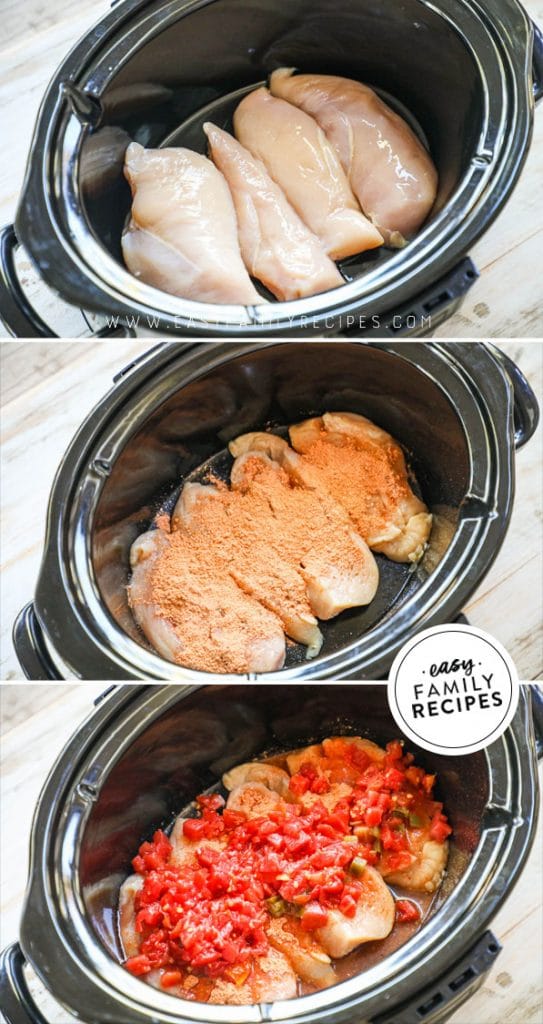 Recipe Tips
With such an easy recipe, there isn't much to getting these delicious tacos to the table, but these few tips come with hundreds of times making the tacos and really make these chicken tacos a hit.
How Long to Cook Chicken in the Crock Pot
Chicken doesn't need to be cooked in the slow cooker nearly as long as many people think.
To get the most tender and juicy crock pot chicken you will want to cook it on low for 3-4 hours, or high for 2-3 hours.
The science behind this is that since chicken is a lean meat cooking it too long in the crock pot will give it a more dry and/or tough texture. Since the crockpot holds the moisture in, you will not usually get burnt food, but the chicken is still over cooked when it stays in for that long.
When you cook it for just enough time to bring it up to temperature (165˚F internal temperature) it allows it to stay super tender and juicy without taking on the dry or hard to chew texture.
Lay the chicken Flat
Although this isn't rocket science, this little trick will really make a big difference. To get the best results, don't just thow the chicken in the slow cooker in a big pile. If you can lay it flat and not piled on each other it will:
Allow it to be better and more evenly seasoned since there will be more surface area to season while cooking
Allow it to cook more evenly. In a big pile of chicken it takes longer for the middle part to become cooked so the outside pieces of chicken start to become more tough, while the middle isn't done yet. By laying the chicken flat you are able to cook evenly throughout the pot.
How to Shred Chicken
Once the chicken is cooked, it is time to shred the chicken and mix it back into the tomatoes and seasoning.
The chicken should be perfectly cooked and easy to shred. There are a few ways to do this to make it even quicker.
Use a mixer– You can use a stand mixer or hand mixer to shred the chicken. Just place the chicken breast in a mixing bowl and turn the mixer on to a medium speed. It will be perfectly shredded in minutes!
Meat claws– These may seem like just another kitchen gadget but they really do make shredding meat by hand a breeze!
The old 2 forks method– If you want to do it the traditional way, just grab two forks and pull the meat apart. Since it has been slow cooked this should be an easy process.
Recipe Variations
This is a basic recipe that makes AMAZING tacos. However if you want to change it up every now and again, there are some easy changes you can implement to give it a whole
Creamy Chicken Tacos– Make the recipe as directed. Once the meat is shredded and mixed back into the crockpot, add 1 8 oz block of cream cheese. Return the lid to the slow cooker and allow it to sit and soften for 10 minutes. Open the lid and mix the cream cheese into the taco meat until combined.
Chipotle Chicken Tacos– Remove the ribs and seeds from one can of chipotle peppers in adobo sauce. Chop the peppers into a very small dice. Add these in with the rotel tomatoes and cook as directed. Once done and the chicken is removed, you can leave the peppers as is, or use a hand blender to blend the tomatoes and chiles to a smooth sauce, then shred and mix the chicken back in.
Spicy Chicken Tacos– Follow the recipe as directed adding 1/2-1 tsp cayenne pepper in with the taco seasoning and 1/4 cup juice from jarred jalapeño slices. Cook and finish recipe as directed. This will give a nice kick to your tacos. You can up the cayenne or add jalapeño slices as well if you want even more spice.
Healthy Chicken Tacos
If you have special dietary needs, this recipe is not only healthy, but meets many special dietary requirements when made with our homemade taco seasoning.
As always, check all store bought ingredients for compliance on specific dietary needs. The notes below are a general guide.
Gluten free: This recipe is naturally gluten free when made with homemade seasoning.
Dairy free: This recipe is naturally dairy free when made with homemade seasoning.
Nut free: This recipe is naturally nut free.
Egg free: This recipe is naturally egg free.
Low carb/Keto: This recipe is low carb and very keto friendly at only 2g net carbs per serving.
Paleo– This recipe is friendly for paleo diets
Whole30– This recipe is naturally Whole30 compliant.
Macros: The approximate macro calculation for this recipe is- P: 32g C: 3g F: 4g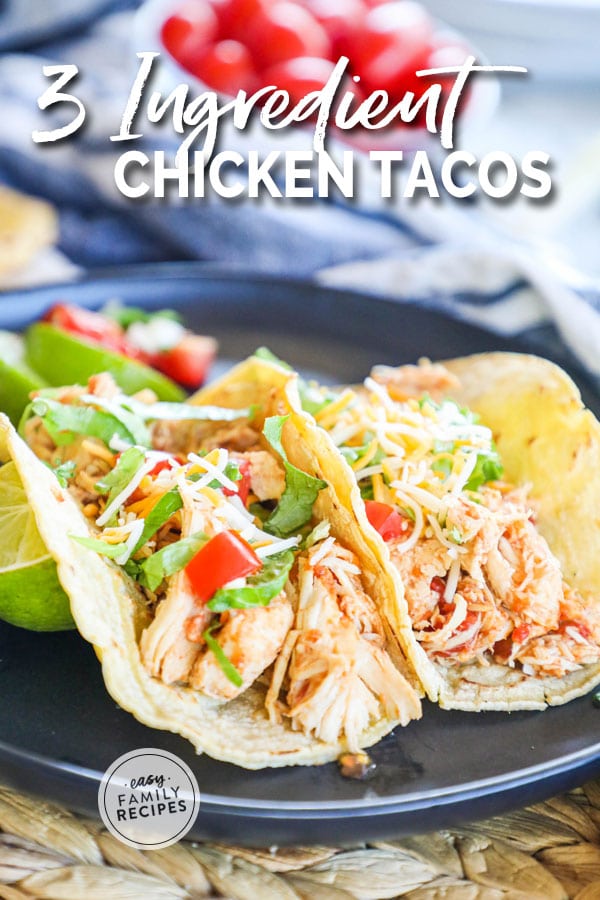 Freezer Meal Instructions
This recipe can very easily be converted to a freezer meal.
Combine the chicken breast with the taco seasoning and Rotel (or salsa.)
Place in a freezer bag, or other freezeer friendly container.
Freeze.
When ready to cook, thaw for 24-48 hours in the refrigerator.
Cook as directed.
Meal can be frozen for up to 6 months for best flavor and texture.
Shredded Chicken Tacos Leftovers
If you have leftovers after making these crock pot chicken tacos, you will be thanking yourself tomorrow! They save and reheat well, and can make the start of another delicious dish.
To save leftovers, separate into meal sized portions and then place in an airtight container and store:
in the refrigerator for 3-4 days
in the freezer up to a month
Leftover Recipes
Here are a few ways to repurpose those leftovers and give them a delicious makeover!
Shredded Chicken Quesadillas– Lightly butter the outside of a large tortilla. Pile the shredded chicken taco meat inside half of the tortilla, then top with extra cheese and fold over. Grill in a skillet over medium heat until each side is golden brown. Top with sour cream, guacamole and pico de gallo.
Shredded Chicken Taco Salad– Top a bed of shredded romaine lettuce with Mexican shredded chicken. Add pico de gallo, a scoop of sour cream, guacamole, and a sprinkle of queso fresco or other cheese. Top with crumbled tortilla chips and drizzle with this AMAZING jalapeno ranch dressing.
Shredded Chicken Burrito Bowls– Start bowl with a bed of rice and beans. Top with chicken, salsa, sautéed peppers and onions, and cheese. Add sour cream, guacamole, and shredded lettuce as desired.
Cheesy Shredded Chicken Flautas– Mix chicken taco meat with a good amount of shredded colby jack cheese. Use flour tortillas to pile on the chicken and tightly roll. Then lightly brush with oil and place on a baking sheet and cook at 425˚F for 15-20 minutes or until the tortilla starts to turn golden brown. Serve with salsa or queso to dip in.
More Easy Crock Pot Recipes
If you enjoyed this recipe, I really hope you will take a moment to grab a few more easy recipes for another busy night!
You can check out all of my EASY Crock Pot recipes here, or see a few of our readers favorite recipes below.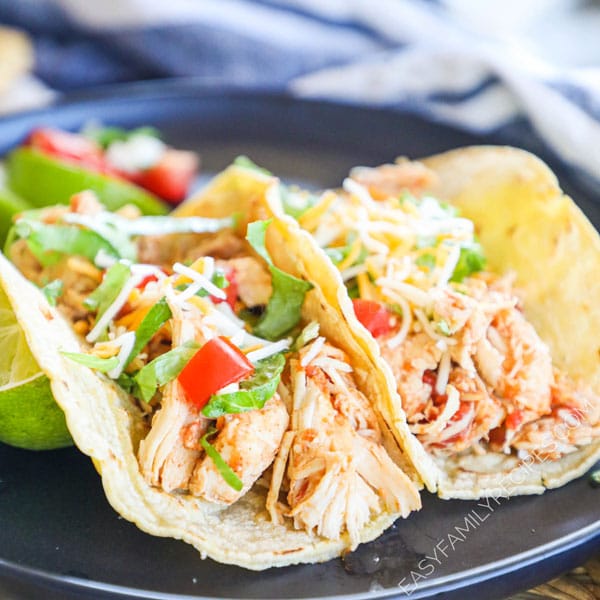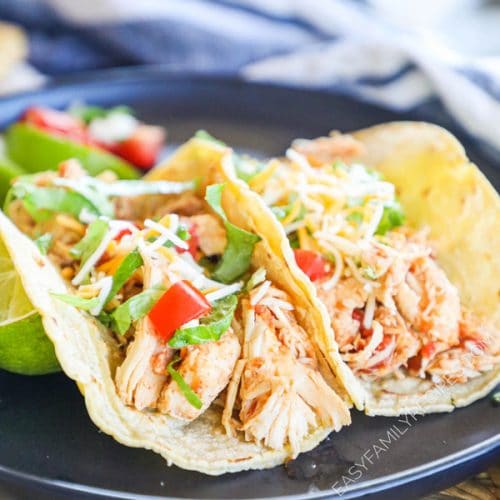 3 Ingredient Crock Pot Chicken Tacos
These Crock Pot Shredded Chicken tacos are not only super simple but SO DELICIOUS! Reminiscent of authentic Mexican street tacos, these are filled with all of the flavor but none of the work!
Ingredients
2

lbs

boneless skinless chicken breasts

3

tbsp

taco seasoning,

(or 1 envelope)

10

oz

Rotel tomatoes with green chiles

,

(1 can)
Instructions
Lay the chicken breast in the bottom of the slow cooker.

Sprinkle taco seasoning over the chicken. Pour the entire can of Rotel tomatoes over the top.

Cook on high for 3 hours. Once done, remove the lid and shred chicken with a fork and stir back into liquid.
Recipe Notes
Chicken Taco Toppings:
Shredded lettuce
Cheese – I like cheddar or colby jack best
Sour cream
Chopped cilantro
Nutrition Information
Calories:
183
kcal
(9%)
,
Carbohydrates:
3
g
(1%)
,
Protein:
32
g
(64%)
,
Fat:
4
g
(6%)
,
Saturated Fat:
1
g
(6%)
,
Cholesterol:
97
mg
(32%)
,
Sodium:
281
mg
(12%)
,
Potassium:
648
mg
(19%)
,
Fiber:
1
g
(4%)
,
Sugar:
1
g
(1%)
,
Vitamin A:
218
IU
(4%)
,
Vitamin C:
7
mg
(8%)
,
Calcium:
22
mg
(2%)
,
Iron:
1
mg
(6%)