Chicken Taco Casserole is the dinner that has everyone cleaning their plates! This casserole is layered with the best flavors from chicken tacos, from the tender meat, to the crispy shells, and all baked together to perfection. This crowd pleaser isn't just delicious, but quick to make too. Perfect for the busiest week night, or any night you need some Mexican comfort food.
Chicken Taco Casserole – The EASY Way!
Tacos may be one of the most universally loved foods in the world for a good reason. There are endless varieties of them to make and try from traditional, like these tacos, to unique combos that blend ethnic cuisines like these Hawaiian Chicken Tacos, but none have the winning combination of simple and delicious that this Chicken Taco Casserole offers!
With only 5 base ingredients and a handful of toppings, you can make magic happen in a casserole dish!
Some simple layering brings together the best flavors of traditional chicken tacos, and turns them into a hearty and comforting casserole.
The great part about this is that it has never been so simple to feed a crowd!
In as little as 30 minutes you have a piping hot casserole, ready to be devoured.
These may not be traditional tacos, but that doesn't mean this casserole isn't every bit as delicious!
What to Serve with Chicken Taco Casserole
The really great thing about this casserole is that it is packed with meat, beans, cheese, and veggies, all in one dish. That makes it a filling and wholesome meal all on its own.
Since this dish has the classic flavors of tacos, it will pair well with many of your favorite Mexican side dishes. There are both classic options and some healthy options to keep it light.
Side Dish Ideas
You can choose one or add a few sides to make a wholesome, well rounded dinner.
Recipe Notes
This Taco Casserole recipe is as simple as promised! Just a handful of ingredients and a casserole dish for a family friendly meal.
In this section I am going to go through a few tips and tricks I use when making this recipe to get the absolute best and most delicious results.
Make sure to scroll to the bottom for the FULL recipe card.
Ingredients
Shredded chicken– You can use any neutral flavored or Mexican style shredded chicken in this recipe. My favorite kind to use is just rotisserie chicken pulled from the bones. You can also use baked, boiled or leftover chicken.
Salsa– You can use your favorite type of salsa to add the flavors you most like. I really love fresh salsa, but in this recipe, I prefer a thicker salsa so that it can really coat the chicken and doesn't make the casserole watery.
Taco seasoning– Both store bought seasoning or homemade seasoning will work well in this recipe. I encourage you to use homemade if you have special dietary needs because you know it is gluten free, dairy free, etc. Also, the homemade stuff is just really, really delicious!!
Refried beans
Cheddar cheese– I love the flavor of cheddar in this dish and like to use sharp so that the flavor comes through without using tons of cheese. You can also use
Toppings
Tortilla chips– If you have a bag that is getting close to empty, the chips at the bottom are perfect for this! If not, you can just crush up chips from the top.
Shredded Lettuce- You can use either romaine or iceberg for this. Either chop it up fresh or you can buy bagged shredded lettuce in the salad section at the grocery store.
Pico de gallo– This can be made from scratch (so easy!) or bought in the fresh produce section at many grocery stores. It is one of my favorite toppings.
Sour cream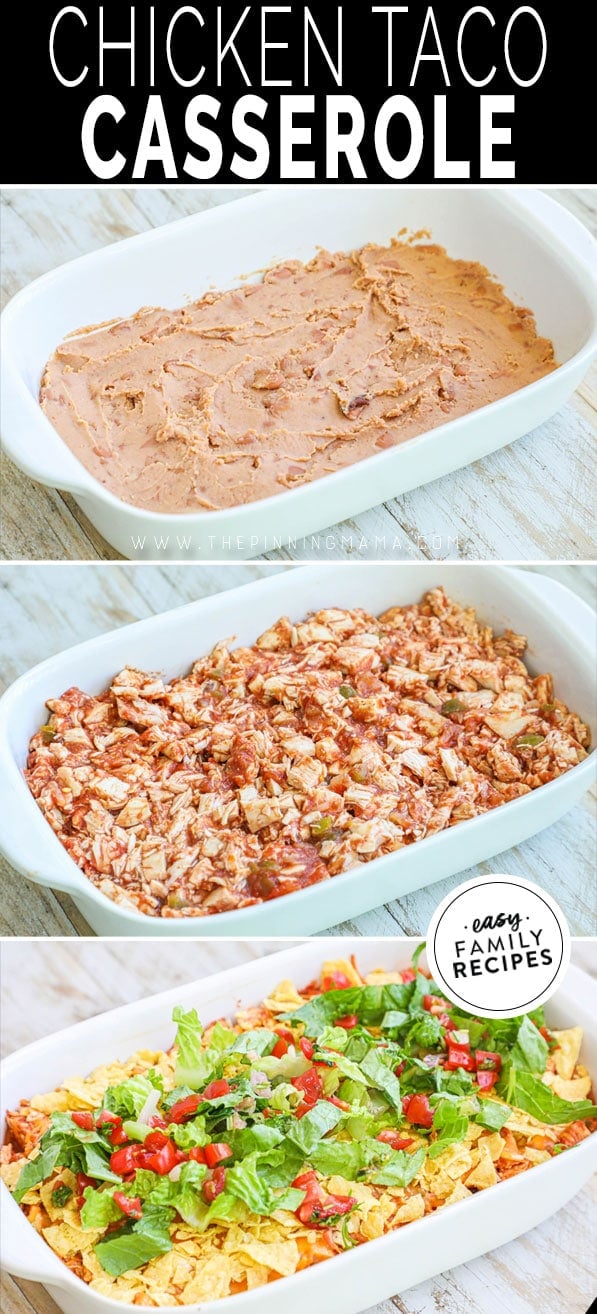 Recipe Tips
The right size dish. You can really use any sized dish and have this come out delicious, but I prefer a medium (around 2-2.5 qt) casserole dish. This size allows the layers not to be spread too thin, but allow it to be big enough so that you get lots of room for delicious toppings.

Flavor it right! The burst of flavor in this dish comes from a combination of the salsa and taco seasoning. Both of these can vary in flavor from brand to brand, so it is really important to use a brand that you love!

Homemade Taco Seasoning– I can't say it enough! I really encourage you to try making your own taco seasoning! Not only is the flavor AMAZING, but it is so easy, healthier and cheaper than the store bought stuff, and you can make a big batch which will keep in your pantry for up to a year! What a huge win!

Use THICK and SAUCY Salsa! To keep the casserole hearty (not watery) I recommend a thick salsa that is closer to a sauce consistency, instead of a more fresh salsa that can have a more watery base.

Give it something a little extra! If you have the time I highly recommend adding the crumbled chips after the cheese is melted and let them get nice and crispy in the oven while the casserole finishes cooking. This really boosts the flavor and texture of the entire dish, so if you have the time, it is worth the extra minute or two it takes! (This step is further detailed in the notes section of the recipe card.)
Recipe Short Cuts
If you need to make this recipe, but are extra short on time, here are a few ideas that can help make this recipe even faster!
Prep ahead– Up to 2 days in advance, the chicken can be cooked and shredded, and the toppings can be prepped such as making the pico de gallo and shredded lettuce.
Buy things ready-made– Most of these items can even be bought already prepped at the store such as shredded or pulled chicken, refried beans, taco seasoning, pico de gallo and shredded lettuce.
Get the Casserole ready to cook– Up to 24 hours in advance you can prepare the taco casserole through step 2 where it is ready to go in the oven. Then when ready to cook, pop it in the oven and continue at step 3.
Prepare as a Freezer Meal– More details on this below, but it can allow you to get a good portion of the work done up to 3 months in advance!
Recipe Variations
If you love this recipe as much as we do and want some quick ways to change it up for variety, these little tips will do the trick!
Cheesy Taco Casserole– This version has a double dose of cheese. Make recipe as directed, adding in 1 8oz block of softened cream cheese with the shredded chicken and salsa mixture. This makes the casserole, extra creamy, extra cheesy, and EXTRA delicious.
Ground Beef Taco Casserole– Make the recipe as directed swapping the shredded chicken for 2 lbs cooked ground beef.
Taco Casserole with Rice– To make this version, you will need 2 cups of prepared Mexican rice. Use my homemade Mexican rice recipe or store bought Mexican rice. There are two options on how to prepare it:

Mix the rice in with the refried beans and layer as directed.
Spread the refried beans on the bottom of the casserole dish then layer the rice after the beans then place the chicken mixture on the rice and continue as directed.
Dietary Considerations
If you have special dietary needs, this recipe meets some and can be easily modified to comply with others.
As always, check all store bought ingredients for compliance on specific dietary needs. The notes below are a general guide.
Gluten free: This recipe can be made gluten free easily. Pay attention to packages on premade ingredients, and make you own taco seasoning to ensure it is gluten free.
Dairy free: To make this recipe dairy free, leave out the cheese layer and the sour cream
Nut free: This recipe is naturally nut free
Egg free: This recipe is naturally egg free
Low carb/Keto: To make this recipe lower carb, leave out the refried beans and chip layers.
Macros: The approximate macro calculation for this recipe is- P: 31g C: 37g F: 22g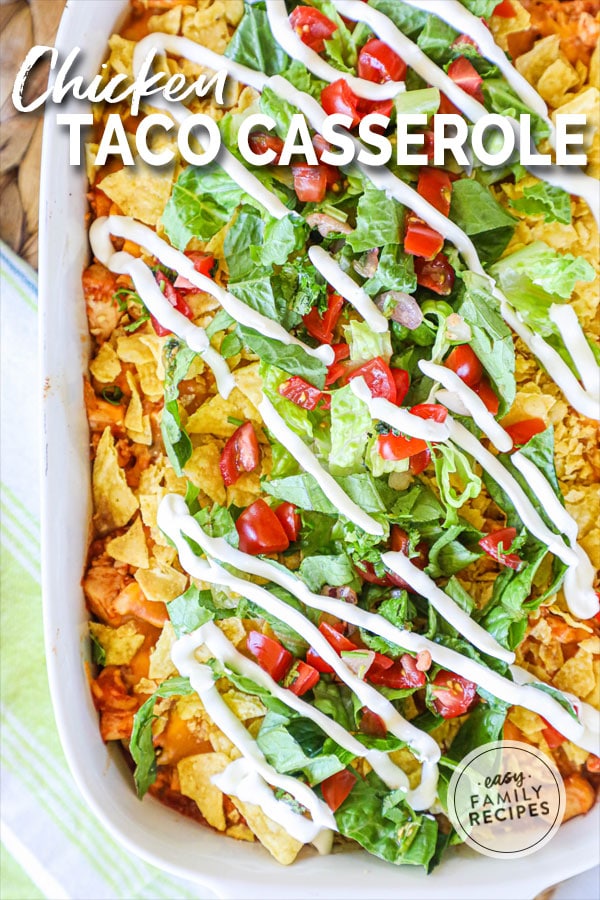 Freezer Meal Instructions
To prepare this taco casseerole as a freezer meal:
Mix the chicken with the salsa and taco seasoning.
Layer the beans in a casserole dish, followed by the chicken mixture and cheese.
Freeze.
When ready to bake, thaw 24-48 hours in the refrigerator. Then bake as directed. You may need to add up to an additional 5-10 minutes of cooking time when cooking from cold.
After baking, continue with the recipe as directed.
Chicken Taco Casserole Leftovers
If you have leftovers after making Taco Casserole (which might not happen!) then they can be saved for another day.
To save leftovers, I prefer to remove all of the topping layers including the lettuce, pico de gallo and sour cream. Then I separate into meal sized portions and then place in an airtight container and store:
in the refrigerator for 3-4 days
in the freezer up to a month
Once you are ready to eat, reheat the leftovers, then you can add new or additional toppings on it.
More Easy Casserole Recipes
If you enjoyed this recipe, I really hope you will take a moment to grab a few more easy recipes for another busy night!
You can check out all of my EASY Casserole recipes here, or see a few of our readers favorite recipes below.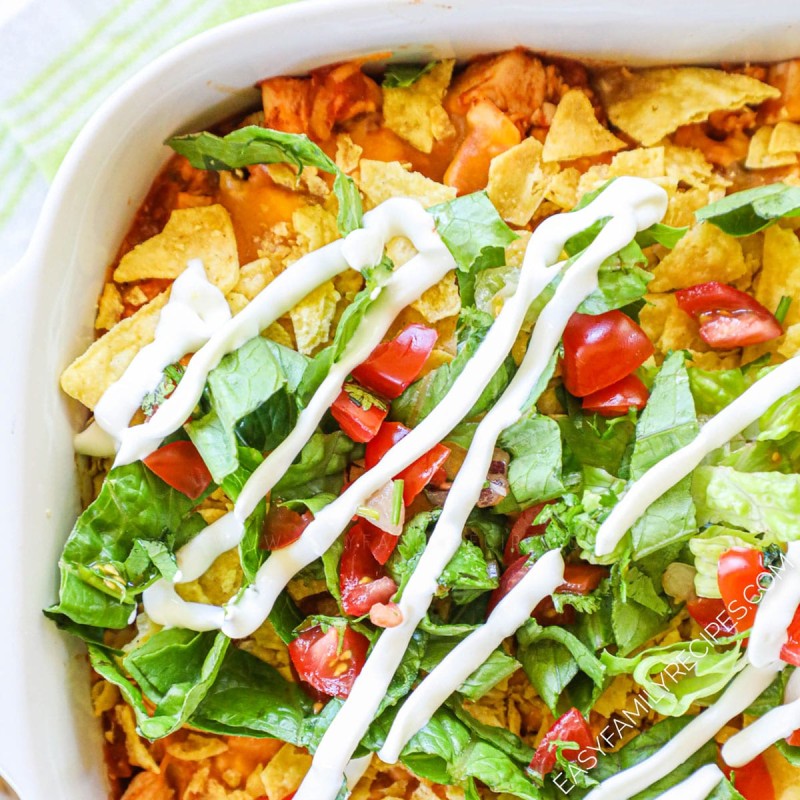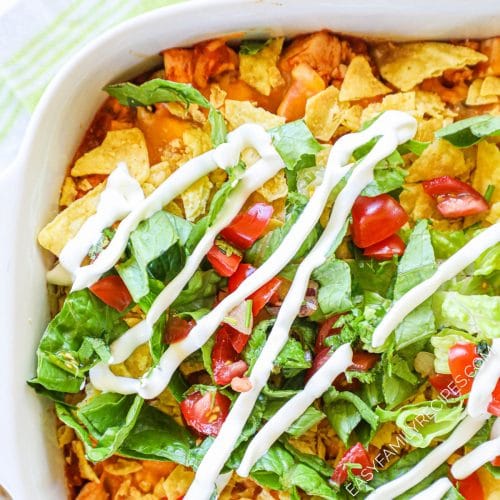 LOADED Chicken Taco Casserole
This Chicken Taco Casserole is AMAZINGLY delicious, and just as easy! With layers of refried beans, tender chicken, salsa, and taco seasoning, this dish is a crowd pleaser.
Ingredients
4

cups

shredded chicken

2

cups

salsa

2

tbsp

taco seasoning

16

oz

refried beans

,

(1 can)

6

oz

cheddar cheese

,

shredded
Toppings
1

cup

tortilla chips

,

crushed

2

cups

lettuce

,

shredded

1/2

cup

pico de gallo

1/4

cup

sour cream
Instructions
In a large bowl, combine the chicken, salsa and taco seasoning stirring until the chicken is evenly coated.

Spread the refried beans evenly in the bottom of a 2 qt casserole dish. Then top the beans with the chicken mixture and finish with the cheese.

Bake at 350˚F for 20-25 minutes until piping hot all the way through.

Top the casserole with crushed tortilla chips, lettuce, pico de gallo and sour cream. Serve immediately.
Recipe Notes
For an extra crispy chip layer, add the chips on top of the cheese after the casserole has cooked for about 10 minutes and the cheese is melted then return to oven for the remainder of the cooking time.
Nutrition Information
Calories:
472
kcal
(24%)
,
Carbohydrates:
31
g
(10%)
,
Protein:
37
g
(74%)
,
Fat:
22
g
(34%)
,
Saturated Fat:
9
g
(56%)
,
Cholesterol:
105
mg
(35%)
,
Sodium:
1587
mg
(69%)
,
Potassium:
577
mg
(16%)
,
Fiber:
6
g
(25%)
,
Sugar:
8
g
(9%)
,
Vitamin A:
1153
IU
(23%)
,
Vitamin C:
4
mg
(5%)
,
Calcium:
315
mg
(32%)
,
Iron:
3
mg
(17%)