Cream Cheese Chicken Chili is made crazy easy (and amazingly delicious) in the slow cooker! Just dump, cook, and mix your way to one of the tastiest white chicken chili recipes out there. Made ultra creamy with cream cheese AND sour cream, the combination of flavors in this dish is almost magical!
White Chicken Chili – The EASY Way
There are a lot of chili recipes out there and many of them are great. This one though… it hits the mark on so many levels!
Let me tell you what I don't love. A recipe that has so many intricate little steps and endless ingredient lists, that leave you wondering why these things are all even necessary?!
This recipe cuts right to the chase.
It couldn't be easier.
It is a dump and cook recipe that let's the Crock Pot do the hard work.
The ingredient list is a tad longer than my usual recipe here, but each ingredient is important and adds flavor or texture to the dish.
And most importantly, all of the ingredients are familiar fridge and pantry staples. Nothing weird to hunt down… A little magic happens when you combine simple everyday flavors to tun them into a velvety, mouth-watering chili.
What to serve with Cream Cheese Chicken Chili
Chili is one of my favorite winter meals because it is hearty and filling all in one easy bowl. I tend to like to serve the white chicken chili with just topping options instead of a bunch of side dishes.
Topping options:
Cilantro
Cheddar cheese
Sour cream
Tortilla chips
Diced avocado
Sliced jalapeno peppers
Pico de gallo
If you do want to add a side or two, that is a great option as well, and can really help to bulk up the meal and make it stretch to feed a crowd.
Side Dish Ideas
Buttermilk Cornbread– Try this for a classic cast iron skillet corn bread
Easy Mexican Cornbread– This is a super fast and simple recipe
Tortillas- perfect for dipping
Chips and Salsa– this recipe is so delish and crazy easy!
Side salad with creamy jalapeño ranch dressing
Pick one, or pair it with a few! This Chicken chili will be the star of the show either way.
Recipe Tips
Making this recipe couldn't be easier! I am going to share with you a few of my notes for making sure to get the absolute tastiest white chicken chili out there, along with some tips on substitutions and alterations.
Make sure you find the FULL, printable recipe card at the bottom of the post.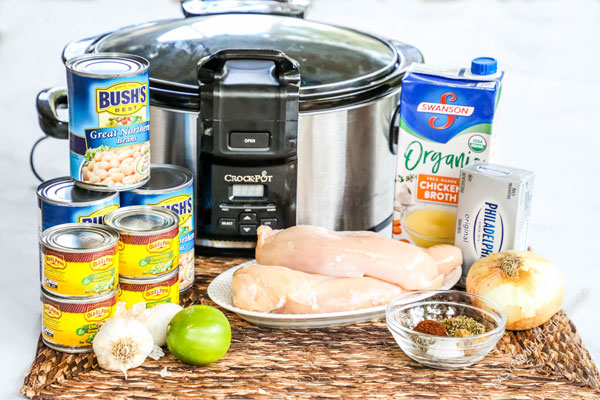 Ingredients
Meat: This recipe calls for chicken breast. I really think that this cut provides the best flavor and texture for the recipe.
Veggies and Beans: Onion, two types of beans and green chilis provide the bulk of the substance of the soup, while fresh lime juice provides flavor. Using both great northern beans and pinto beans give the soup more texture and heartiness. The great northern beans are softer and creamier, while the pinto beans hold their shape more as they cook.
Spices: The flavor in this soup comes from the signature combination of spices. Fresh garlic is combined with oregano, cumin, salt, pepper, and of course chili powder for the perfect savory chili flavor.
Creamy Ingredients: The chili is made ultra creamy with the addition of not only cream cheese, but also sour cream. This helps to make the chili both rich and a touch tangy which is what makes it really special.
Substitutions
I always recommend making the recipe as written if possible. Things come up though, whether it is an ingredient you thought you had on hand but can't find, personal preference, or a special dietary need. There are a few substitutions that work well in this cream cheese chicken chili recipe.
Chicken- any boneless, skinless cut of chicken can be substituted in this recipe. Both chicken tenderloins or chicken thighs work well.
Beans- I like both great northern and pinto beans for the unique texture that they add to the soup. If you are in a pinch, you can use a double amount of one type of bean.
Spices- I like to add the spices individually because it allows you to really control the flavor profile of the chili. If you want to make this recipe even faster, you can use a premade chili seasoning packet.
Cream Cheese- I prefer traditional (full-fat) cream cheese in this recipe. Low fat (neufchatel) cheese can be substituted for traditional, however fat-free cream cheese should be avoided since it doesn't melt the same way.
Sour cream- Sour cream adds a bit of tanginess to the chili. If you are in a pinch, you can use heavy cream in place of the sour cream. You can also substitute light sour cream for full fat.

How long to Cook Chili in Slow Cooker
Since chicken breast is a lean meat, it is important to the texture of the meat not to overcook it.
I recommend cooking the chicken chili for 2.5-3 hours on high or 3.5-4 hours on low. This allows the chicken to cook without drying out or becoming too tough or chewy.
If you have to leave the crock pot to cook all day, this recipe can cook for longer but it will effect the texture of the meat.
Recipe Variations
If you love this recipe as much as I do, you may want to try changing it up from time to time for a new twist on the cream cheese chicken chili. Here are a few of my favorites:
Spicy White Chicken Chili- in place of half of the green chilis, add 4-8 oz diced jalapenos. Make as directed.
Vegetarian Cream Cheese Chicken Chili- Instead of chicken breast, add a two cans of kidney beans to the recipe. Cook as directed.
Skinny White Chicken Chili- Omit cream cheese and sour cream. Take 1 additional can of great white northern beans and blend it with chicken broth until smooth. Stir into the chili to create a thick "creamy" broth. You can garnish with a small dollop of light sour cream if desired.
Dietary Restrictions
If you have dietary restrictions, this recipe can be friendly with small modifications for many different needs.
Please make sure to check any store bought ingredients for compliance with your dietary need.
Gluten Free- This recipe is naturally gluten free.
Dairy Free- This recipe can be made dairy free by omiting the cream cheese and sour cream. Instead use a 3rd can of great northern beans blended with chicken broth until "creamy" and mix into soup.
Nut Free- This recipe is naturally nut free
Vegetarian- To make this recipe vegetarian, omit the chicken and replace it with 2 cans of kidney beans.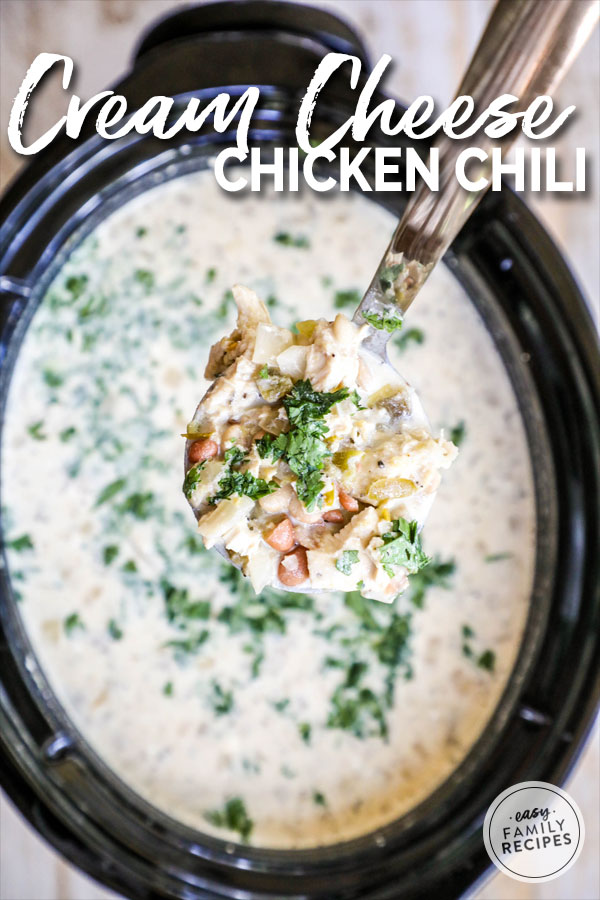 Freezer meal Instructions
This Cream Cheese Chicken Chili makes a great freezer meal and can be frozen both before and after cooking.
To freeze before cooking:
In a zip top bag or freezer friendly container, combine the chicken breast, chicken broth, onion, beans, green chiles, lime, garlic and spices.
Freeze.
When ready to cook, thaw completely (24-48 hours in the refrigerator.)
Place ingredients in the slow cooker and cook as directed, continuing with the recipe at step 2.
Note: The chicken chili prepared before cooking is best when used within 3 months of the date frozen.
To freeze after cooking:
Cook as directed.
Cool and divide into meal sized portions. Package each portion in a freezer friendly container.
Freeze.
When ready to eat, reheat on the stove top over medium heat, or in the microwave heating in 30-60 second increments until warm.
Note: The chicken chili prepared after cooking is best when used within 1 months of the date frozen.
More Easy Crock Pot Recipes
If you enjoyed this recipe, I hope you will bookmark a few of our other recipes for another night. You can see all of our recipes here, or a few of our favorite easy crockpot recipes below.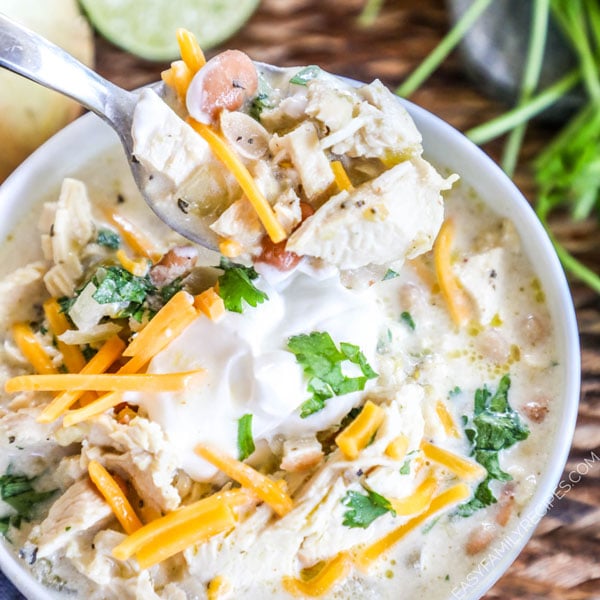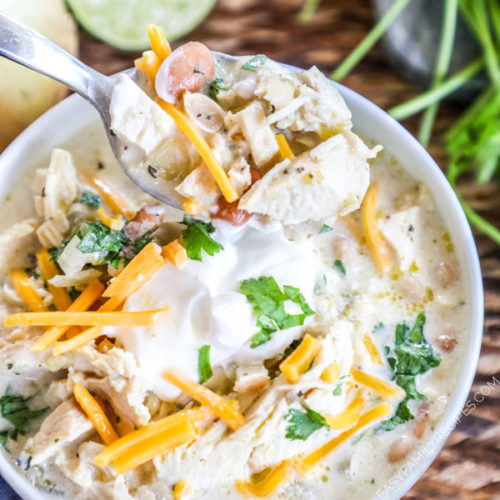 Cream Cheese Chicken Chili
This ultra creamy Cream Cheese White Chicken Chili is made easy in your slow cooker! Just dump, cook, and mix to the most tender and flavorful chicken chili perfect for feeding a crowd.
Ingredients
3

lbs

chicken breast

,

boneless, skinless

1

yellow onion

,

diced

32

oz

chicken broth

32

oz

great northern beans

,

(2 cans) drained and rinsed

16

oz

pinto beans

,

(1 can) drained and rinsed

12

oz

chopped green chiles

,

(3 cans)

1

lime

,

juiced

4

cloves

garlic

,

pressed

1

tbsp

dried oregano

2

tsp

cumin

1

tsp

chili powder

1

tsp

salt

1

tsp

ground black pepper

8

oz

cream cheese

1

cup

sour cream
Toppings (optional)
fresh cilantro

,

chopped

cheddar cheese

,

shredded

tortilla chips

avocado

,

diced
Instructions
Place the chicken breast in the bottom of a slow cooker. Cover with green chiles, onion, beans, seasonings, garlic, and lime juice. Pour in the broth and mix to combine.

Cook on low for 3.5-4 hours or high for 2.5-3 hours.

Once chicken is done, remove the chicken breast and shred or chop the chicken and return to crock pot. Then place the cream cheese on top and allow to soften for 3-5 minutes.

Stir in the cream cheese and sour cream and serve warm with your choice of toppings. Enjoy!
Nutrition Information
Serving:
1.5
cups
,
Calories:
473
kcal
(24%)
,
Carbohydrates:
37
g
(12%)
,
Protein:
43
g
(86%)
,
Fat:
17
g
(26%)
,
Saturated Fat:
8
g
(50%)
,
Cholesterol:
124
mg
(41%)
,
Sodium:
957
mg
(42%)
,
Potassium:
1277
mg
(36%)
,
Fiber:
12
g
(50%)
,
Sugar:
2
g
(2%)
,
Vitamin A:
625
IU
(13%)
,
Vitamin C:
24.5
mg
(30%)
,
Calcium:
173
mg
(17%)
,
Iron:
4.7
mg
(26%)