These Black Beans made in the crock pot with a few special seasonings are one of the easiest and most delicious way to prepare them. The dried beans are slow cooked over hours in a rich and perfectly seasoned broth to draw in an incredible amount flavor. Perfectly soft and tender, these are a family favorite!
Black Beans – The EASY Way!
Black beans are one of my all time most used ingredients. For years of my life I would pop them out of the can to use as a side dish or ingredient in a recipe. And I still do this when I am pinched for time.
But the difference is now I KNOW there is a better way!
Making black beans from dried beans in the crock pot infuses them with significantly more flavor! They take in flavor from the broth, the seasonings, and vegetables you cook them with for a flavor punch that just can't be replicated from a can.
It may seem fancy, or antiquated to cook dried beans, but I assure you, although it does take some time, it could not be EASIER!
What I love about this recipe:
Flavor level is off the charts! No boring beans!
It is just one dish for easy clean up
Couldn't be easier – dump and go!
You can keep dried beans for ages in the pantry so they are always there when you need them
Cooks hands off – Put it in in the morning, then it is done at dinnertime. No babysitting required!
You can make big batches and freeze portions to use over months of time.
So grab your crockpot and let's do this!
What to Make with Black Beans
Since this dish has the classic flavors of Southwest and Mexican cuisine, it will pair well with many of your favorite Mexican style main dishes. You cans serve these crockpot black beans as a side dish, use them as an ingredient in a main dish, or make them the main protein in an entree.
Serve as a side dish with:
Try serving black beans as a side with these main dishes:
Use in these Main Dish recipes:
You can choose one or add a few sides to make a wholesome, well rounded dinner.
Recipe Notes
If you want to know how to cook dried black beans… the crock pot method is one of the best!
This slow cooker recipe is as simple as promised! Just a few simple ingredients for perfect black beans.
In this section I am going to go through a few tips and tricks I use when making this recipe to get the absolute best and most delicious results.
Make sure to scroll to the bottom for the FULL recipe card.
Ingredients + Substitutions
Dried black beans – You can make this recipe with plain dried black beans from the store. If you are new to cooking dried beans, you will usually find them near the rice int he super market. There is no need to soak them, however, you will want to rinse them and sift through for debris.
Onion– I use yellow, but white, sweet, or red can all be used
Garlic– you can use fresh or jarred garlic in this recipe
Broth – I like chicken for the flavor, but vegetable broth can also be used with great results to make vegetarian or vegan black beans
Spices: The special spice blend I use to make the flavor in these beans out of this world is – ground cumin, dried oregano, bay leaves, salt
Vegetable oil
Apple cider vinegar – The apple cider vinegar is optional, but can help to make the beans less gassy during digestion. Make sure to add it at the end.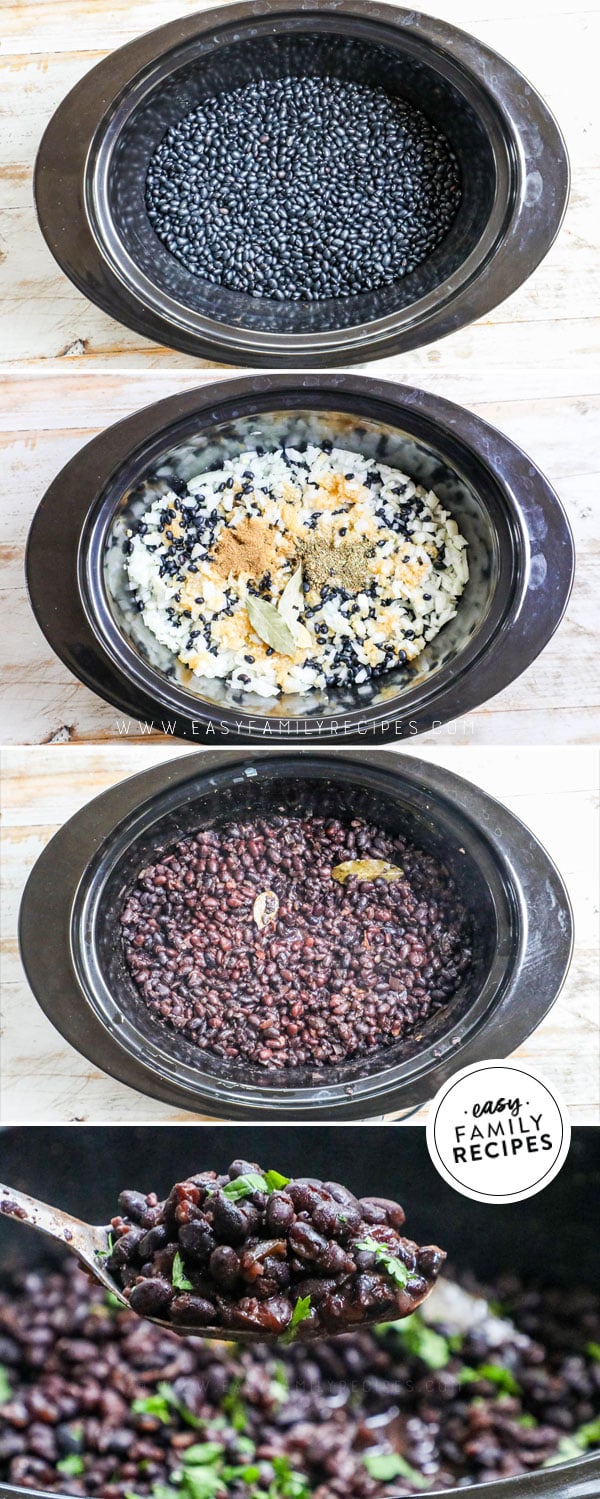 Recipe Tips
No need to soak! The beauty of using the crock pot for this recipe is that it saves time and steps. You do want to rinse the beans and sort any out that aren't good, but that is usually minimal. There is no need to do any additional soaking.
Don't open the lid. It is so tempting to open it up, stir the beans around and get that heavenly waft of the scent of beans cooking, but RESIST! Every time you open the lid, it will slow down the cooking process. Leaving the lid on will produce more tender beans, more quickly.
Add the apple cider vinegar and salt last – It is noted in the directions to add the apple cider vinegar 30 minutes before the end of cooking and the salt to season after cooking, but it is worth noting that there is an important reason for this. If you add the adding salt or acidic products at the beginning of the cooking process it can hinder the beans form becoming soft which can ultimately make the dish take significantly longer to cook.
How to season black beans – The special seasoning mix of ground cumin, dried oregano, bay leaves provide a great punch of flavor to these beans. At the end of cooking you will want to add salt to taste. The beans will also take on flavor from cooking the broth, onion, and garlic.
How long to cook black beans– Black beans will become tender after cooking in liquid in the slow cooker for 5-6 hours on high.
Recipe Variations
If you love this recipe as much as we do and want some quick ways to change it up for variety, these little tips will do the trick!
Refried Black Beans– Make beans as directed, omitting the apple cider vinegar. Once the beans are tender, remove the bay leaves and use an immersion blender to blend until smooth and creamy. Season with salt to taste.
Instant Pot Black Beans– Place the beans in a slow cooker with the onion, garlic, broth, cumin, oregano, bay leaves, and vegetable oil. Cook on high pressure for 50-60 minutes. Once done cooking, remove the lid and add the apple cider vinegar and stir, then salt to taste.

Spicy Black Beans– Make recipe as directed adding 1/2 cup diced jalapenos and 1/4 tsp cayenne pepper to the beans before cooking. Continue with recipe as directed. Once done, season with hot sauce to taste.
Dietary Considerations
Black beans are rich in antioxidants, fiber, protein, and carbohydrates making them nutritionally powerful and a healthy choice for many diets.
Black beans have approximately 114 calories, 8g protein, 7g fiber per serving.
If you have special dietary needs, this recipe meets many and can be easily modified to comply with others.
As always, check all store bought ingredients for compliance on specific dietary needs. The notes below are a general guide.
Gluten free: This recipe is naturally gluten free.
Dairy free: These black beans are naturally dairy free.
Nut free: This Black beans recipe is naturally nut free
Egg free: This recipe is naturally egg free
Vegetarian: This recipe is naturally vegetarian.
Vegan: This Black Beans recipe is vegan when using vegetable broth.
Macros: The approximate macro calculation for this recipe is- P: 11g C: 31g F: 2g per serving.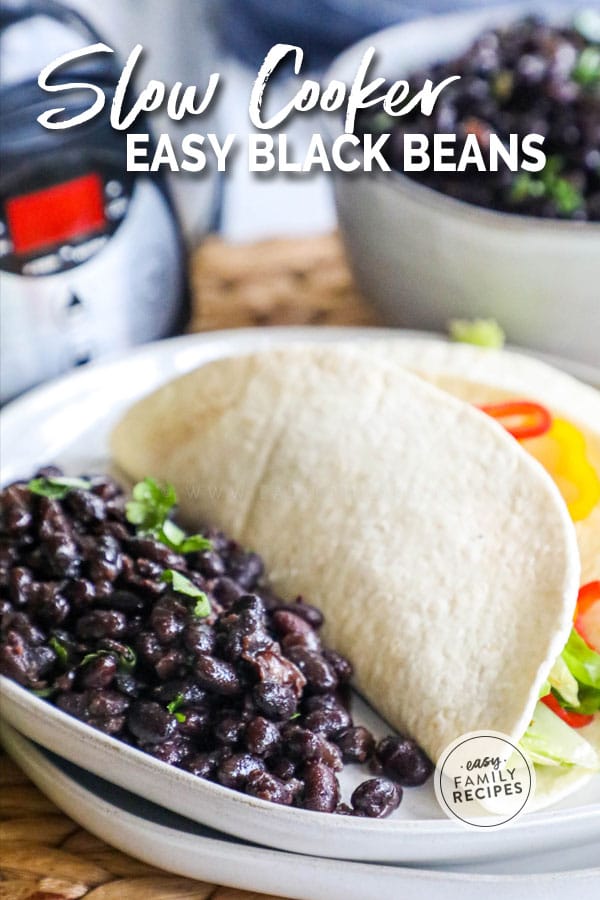 Freezer Meal Instructions
One of my favorite things about this recipe is that it is extremely freezer friendly. You can make a big batch of black beans, separate it out into portion sizes, and freeze the black beans for use later.
Prepare recipe as directed
Allow beans to cool to room temperature
Separate into portions and package in a freezer bag or freezer friendly container.
Freeze.
Frozen black beans can be reheated on the stove top, or in the microwave.
For the best flavor, this meal can be frozen for up to 6 months.
Crock Pot Black Beans Leftovers
If you have leftovers after making this recipe, then it is your lucky day! They save and reheat well, and can make the start of another delicious dish.
To save leftovers, separate into meal sized portions and then place in an airtight container and store:
in the refrigerator for 4-6 days
in the freezer up to 6 months
Leftover Recipes
Here are a few ways to repurpose those leftovers and give them a delicious makeover!
Black Bean Burger– Use leftover crockpot black beans as the base of a black bean burger. Try a recipe like this!
Black Bean Soup– Mix 3 cups of black beans with 1 can of ROTEL, 2 cups chicken or vegetable broth, and blend until smooth. Simmer in a heavy pot for 10 minutes and then serve warm with rice.
Black Bean Tacos– Toast up some corn tortillas and fill with black beans. Add pineapple jalapeno salsa or mango avocado salsa and top with shredded cabbage.
Black Bean Enchiladas– Heat oil over medium high heat in a shallow skillet. Dip corn tortillas quickly into the oil and then remove and fill with black bean mixture. Add cheese if desired and roll up. Fill a casserole dish with enchiladas, then top with red or green enchilada sauce and cheese. Bake at 400˚F for 20 minutes. Top with fresh pico de gallo and serve hot!
More Easy Side Dish Recipes
If you enjoyed this recipe, I really hope you will take a moment to grab a few more easy recipes for another busy night!
You can check out all of my EASY Side Dish recipes here, or see a few of our readers favorite recipes below.
Hungry for more family-friendly recipes? Sign up for my free recipe club to get new family-friendly recipes in your inbox each week! Find me sharing daily meal-time inspiration on Pinterest, Instagram, and TikTok.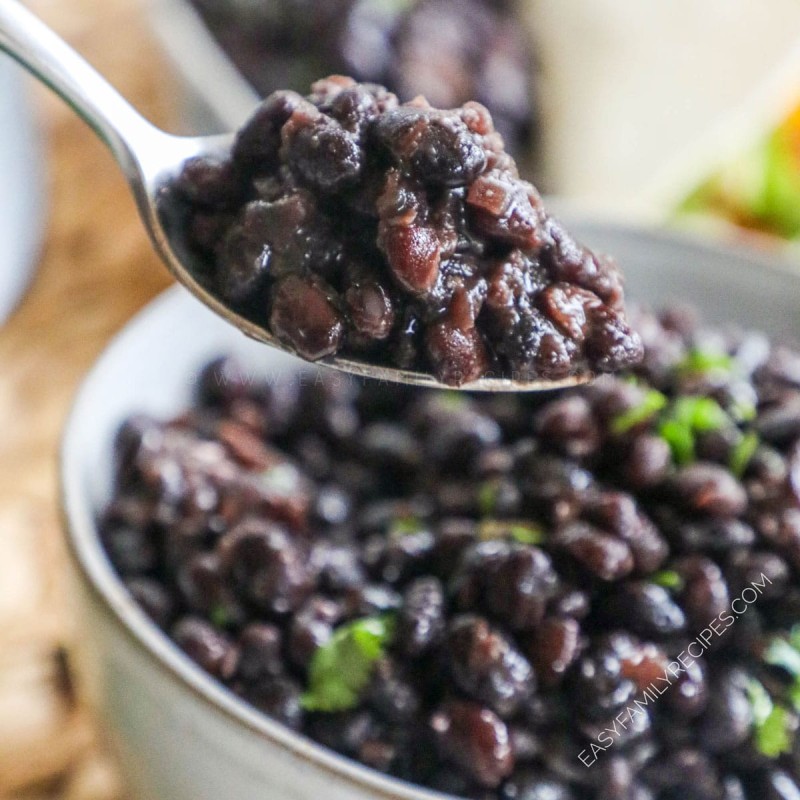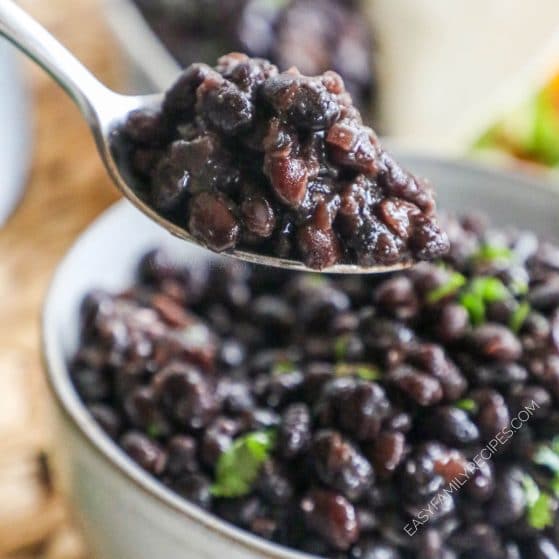 EASY Slow Cooker Black Beans
These Black Beans are made with a special blend of herbs and spices to create an amazingly flavorful dish. Use them as a main dish, a side dish, or freeze them for later!
Prep Time: 5 minutes
Cook Time: 5 hours 30 minutes
Total Time: 5 hours 35 minutes
Serves:10 servings
Hover over "serves" value to reveal recipe scaler
Ingredients
1 pound dried black beans (unsoaked)
1 onion finely diced
8 cloves garlic pressed or minced
6 cups chicken or vegetable broth
1 teaspoon ground cumin
1 teaspoon dried oregano
2 bay leaves
1 tablespoon vegetable oil
2 teaspoon apple cider vinegar
salt to taste
Instructions
Rinse the beans and discard any undesirable beans or debris.

Place the beans in a slow cooker with the onion, garlic, broth, cumin, oregano, bay leaves, and vegetable oil.

Cook on high for 5-6 hours. 30 minutes before you are done cooking, remove the lid and add the apple cider vinegar and stir, then return to finish cooking.

Once done, the beans should be soft. Season to taste with salt and garnish with cilantro if desired.
Recipe Notes:
How to freeze black beans:
Prepare recipe as directed
Allow beans to cool to room temperature
Separate into portions and package in a freezer bag or freezer friendly container.
Freeze.
Frozen black beans can be reheated on the stove top, or in the microwave.
For the best flavor, this meal can be frozen for up to 6 months.
Nutrition Information:
Serving: 0.5cupCalories: 183kcal (9%)Carbohydrates: 31g (10%)Protein: 11g (22%)Fat: 2g (3%)Saturated Fat: 1g (6%)Sodium: 520mg (23%)Potassium: 815mg (23%)Fiber: 7g (29%)Sugar: 1g (1%)Vitamin A: 8IUVitamin C: 11mg (13%)Calcium: 76mg (8%)Iron: 3mg (17%)
(Nutrition information provided is an estimate and will vary based on cooking methods and brands of ingredients used.)