This Chicken Zucchini Casserole is the best easy dinner for busy weeknights because it only has a handful of simple ingredients, and all bakes in one dish so clean up is a breeze! It is full of fresh, healthy flavors and is tasty and light but still very filling. If you are looking to use up some zucchini or squash then this might just be the best way!
I really love to cook, but some days dinner is just such a chore.
Casserole dish to the rescue. I am a huge fan of easy chicken dinners all made in one dish like these Baked Chicken Fajitas, our reader favorite Million Dollar Chicken Bake, and this Pesto Spinach Chicken.
I love that you can take chicken, toss it with some herbs or spices, add some veggies, top with cheese and have dinner prepped and in the oven in 10-20 minutes, without destroying the kitchen. This chicken and zucchini recipe does the same thing but with new fresh flavors.
Since this seems to be the time of year when zucchini and squash are over flowing at the stores, and your garden if you are lucky enough to have one, I figured it was about time I made one of these easy chicken bakes with some summer squash.
Recipe Tips
I am going to walk through how to make this Chicken Zucchini Casserole Recipe to get the absolute best results below. I like to add all of my notes, along with the tips and tricks I use when making this.
**If you just want the quick version, scroll to the bottom for the recipe card.**
Chicken Zucchini Casserole Ingredients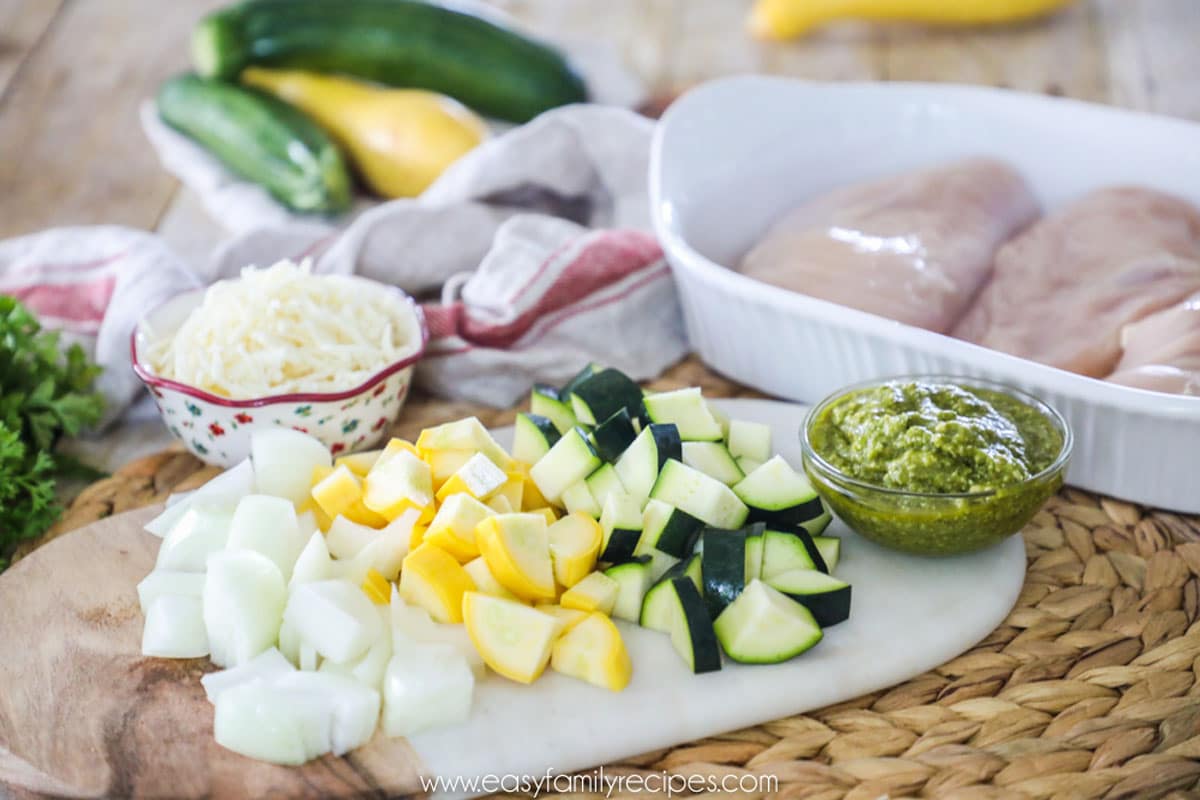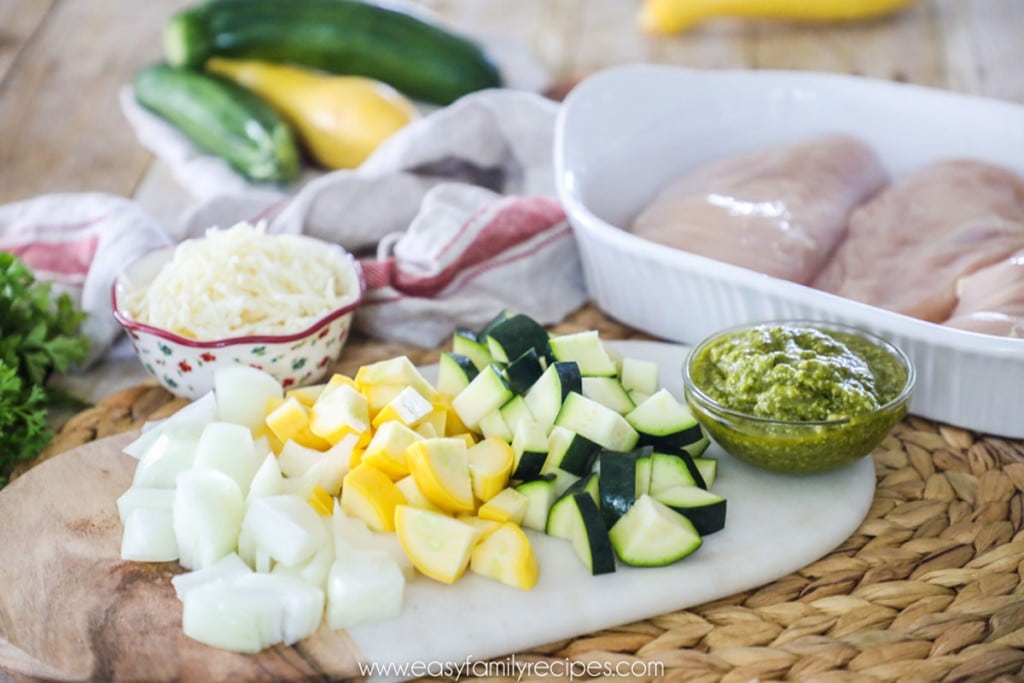 Boneless, skinless, chicken breasts- This will be roughly 1.5- 2 lbs package. Trim the chicken breast to prep.
Salt & Pepper + Garlic powder– These will all be used to season the chicken breast before putting on the veggies. You can use more or less salt pepper and garlic to your personal tastes. I actually don't measure these usually, I just sprinkle them on, so feel free just to do this by feel.
Zucchini and yellow squash- You can use zucchini and squash here or just use 2 of either. I love the color of using both, but if you just have one on hand you can easily just use that one.
Sweet yellow onion- I prefer yellow onion in this because they get nice and sweet once cooked, but you can use another variety like white or red if you prefer.
Pesto, prepared- I usually buy this at Costco or Sam's Club in a large jar in the refrigerated section. You can also find prepared pesto in most regular grocery stores near the refrigerated pasta and sauces. I really prefer refrigerated pesto over non-refrigerated jarred pasta.
Parmesan cheese- make sure you get fresh grated, not the powder kind.
Mozzarella cheese- You can blend 4 oz of each parmesan and mozzarella or use 8 oz of an Italian cheese blend in lieu of the separate cheeses.
Recipe Step by Step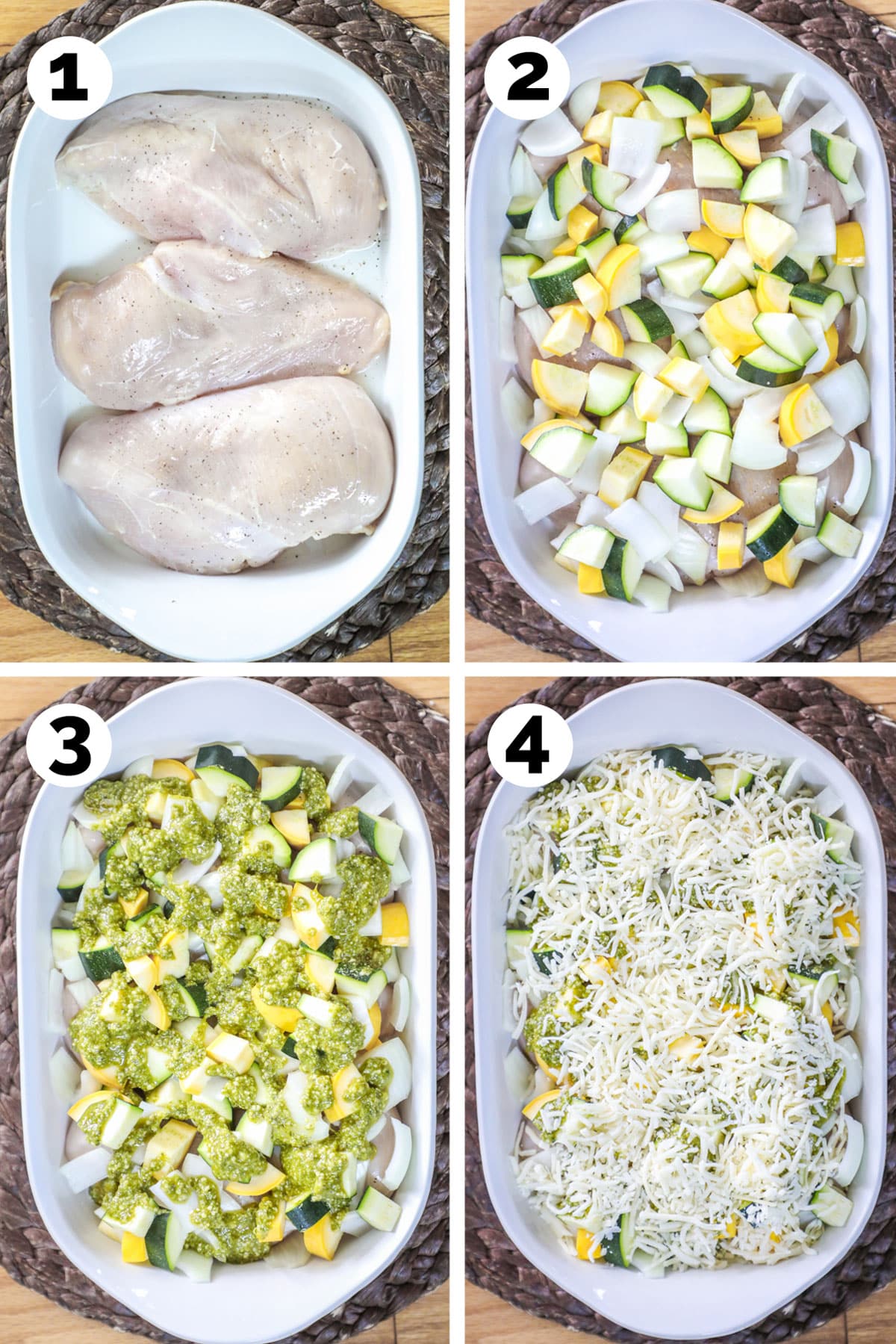 Lay chicken breast in a baking dish and season- Careful not to over crowd it! You want them to have plenty of room without overlapping.
Top with zucchini, squash, and onion- You can use all zucchini, all squash, or a combination of both for the zucchini mixture topping.
Drizzle pesto over the top- you can also toss the vegetables with the pesto before putting it down, but in my experience that just makes an extra dish to clean and you end up with the same result, so I save the effort and just drizzle it over the top.
Top with cheese and bake! You shouldn't need to cover it, though some readers say they prefer to so that the cheese topping stays more gooey. If you cover the chicken while baking it will increase the baking time.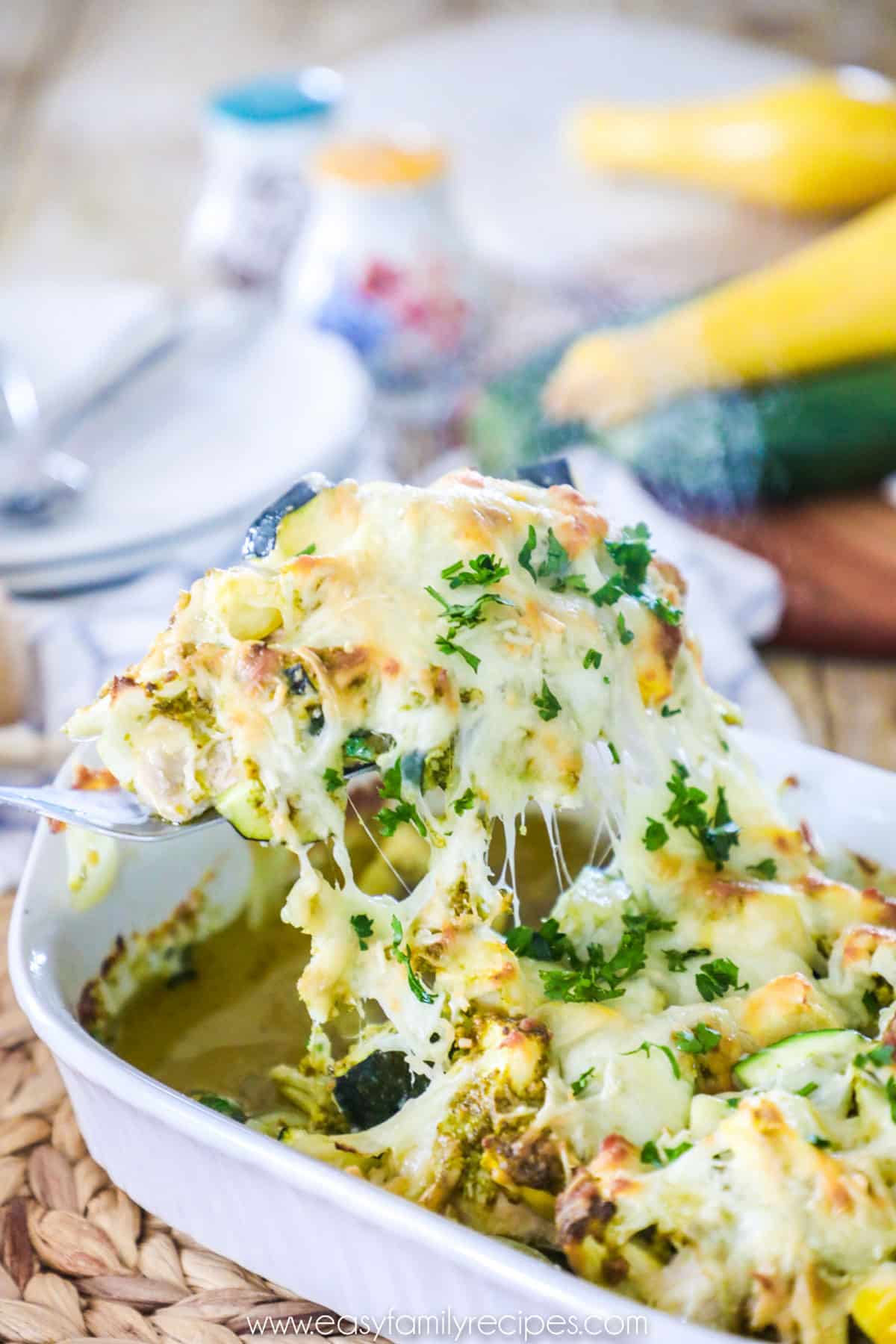 Can you make the Chicken and Zucchini Casserole ahead and freeze it?
The short answer to if you can make this baked chicken and zucchini ahead of time is – yes. The better answer is that this really only takes 10 minutes to prep since all you really have to do is chop the veggies. The zucchini and squash will be way less "squishy" and hold their texture much better when you do it fresh, so I think it is best just to do it the day of.
If you want a good compromise between fresh and frozen, you could freeze chicken with the pesto, then just throw some fresh veggies and cheese on top before baking. Or another time saving tip is to chop the zucchini, squash, and onions the night before or buy it pre-chopped at the store so getting this in the oven is as simple as layering chicken, veggies, pesto, and cheese.
If you do choose to freeze this recipe, there are two tips:
Freeze the chicken and pesto, or chicken, pesto and zucchini together. Freeze the cheese separately. The zucchini and squash will be much more mushy after freezing than when baked fresh.
It is important to thaw the chicken before baking or it will take much longer to cook and the other ingredients will get over-done.
How to Serve Baked Chicken and Zucchini Casserole
You can serve this dish so many ways based on your taste preferences! Once the Zucchini Chicken Casserole is baked, there will be flavorful juices from the chicken, pesto, and veggies at the bottom of the dish. I usually serve the chicken with one of the options below and spoon the some of the sauce over the top when serving.
Some of my favorite ways to serve Chicken Zucchini Casserole are:
Rice– I particularly like wild or long grain (I used Uncle Ben's wild rice, pictured in these photos)
Mashed potatoes– Make a bed of mashed potatoes and put the chicken, veggies and sauce right on top
Potatoes– Serve it with a side a of roasted or smash potatoes
Pasta– You can put it right over pasta tossed with butter or olive oil and garlic, or do pasta with marinara sauce. Make it easy by using your favorite jarred sauce.
Bread– Serve it with a big slice of crusty garlic bread. I actually served mine with rice and garlic toast. It is perfect to soak up all the yummy sauce!
Low Carb Serving Options:
More Easy Casserole Recipes
If you enjoyed this chicken zucchini bake recipe, I would love it if you tried some of my other easy Casserole recipes for another simple weeknight meal! You can find all of my easy dinner recipes here, or a few of my personal favorite chicken casseroles below.
I hope you enjoy this recipe as much as our family does. It is a great and tasty way to use up your summer squash and comes together quickly for those super hectic week nights. If you get a chance to try it, leave me a comment below, or even better, snap a pic and tag me on Instagram @easyfamilyrecipes. It makes my day to see you enjoying the recipes I share!
Don't forget to sign up for the Hungry Email Club where I share new recipes and dinner inspiration each week! Click here to sign up!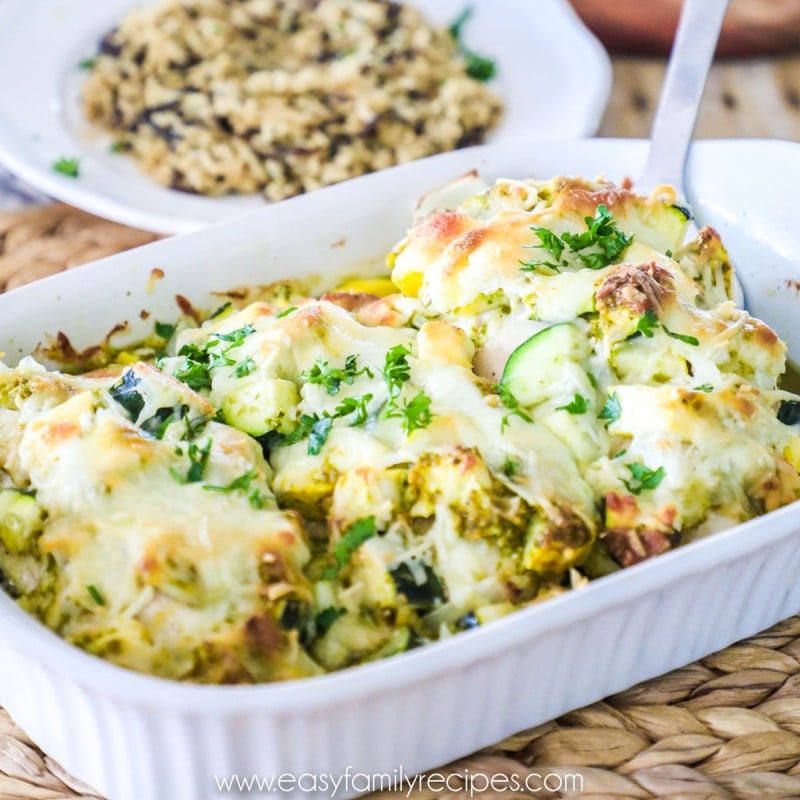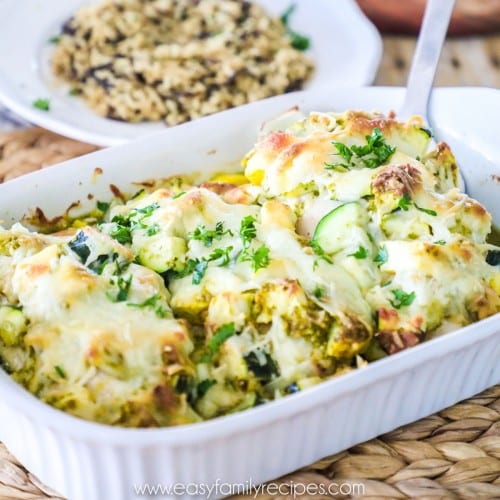 Chicken Zucchini Casserole
This Chicken Zucchini Casserole is full of fresh, healthy flavors and can be prepped and in the oven in as little as 10 minutes! Since you make the entire thing in one dish, it is both simple to make and clean up! It is the dinner trifecta of easy, healthy and delicious.
Ingredients
3-4

boneless

,

skinless, chicken breasts (about 2 lbs)

1/4

tsp

salt

1/4

tsp

pepper

1/4

tsp

garlic powder

1

medium zucchini

1

medium yellow squash

1/2

medium sweet yellow onion

1/2

cup

pesto

,

prepared

4

oz

parmesan cheese

4

oz

mozzarella
Instructions
Preheat the oven to 375˚F.

Chop the zucchini, squash, and onion and combine.

In a large casserole dish, lay the chicken in a flat single layer and season it with the salt, pepper and garlic powder.  Next layer the veggies on and then dollop the pesto over the veggies, then top with the cheeses.

Bake on the middle rack for 35-45 minutes or until chicken is cooked through, 165˚F internal temp. If it starts to brown more than desired, loosely cover with foil until it is done cooking.

Serve hot and enjoy!
Recipe Notes
Substitutions:
You can cut the chicken in half, chunks, or use chicken tenderloins in lieu of full chicken breasts to make serving easier. Cooking time may be reduced.
How to Store: Leftovers can be stored in an airtight container for 3-4 days in the refrigerator or in the freezer for up to a month.
How to Freeze:
You can easily freeze this meal before or after cooking. Read the freezer section in the post for full instructions. 
How to Reheat: This can be reheated in the microwave in 30 second increments. 
Dietary Considerations: This recipe is naturally
Gluten free (verify on individual brands used)
Low carb
Friendly for low carb and keto diets
For more great easy dinner inspiration,

sign up for our emails here!
Nutrition Information
Serving:
6
servings
,
Calories:
386
kcal
(19%)
,
Carbohydrates:
5
g
(2%)
,
Protein:
44
g
(88%)
,
Fat:
22
g
(34%)
,
Saturated Fat:
6
g
(38%)
,
Polyunsaturated Fat:
3
g
,
Monounsaturated Fat:
0
g
,
Trans Fat:
0
g
,
Cholesterol:
102
mg
(34%)
,
Sodium:
755
mg
(33%)
,
Potassium:
0
mg
,
Fiber:
1
g
(4%)
,
Sugar:
3
g
(3%)
,
Vitamin A:
0
IU
,
Vitamin C:
0
mg
,
Calcium:
0
mg
,
Iron:
0
mg
s