This Spinach Pesto Baked Chicken is loaded with veggies and FLAVOR galore! With this simple method you can get a healthy chicken dinner from the fridge to the oven in just minutes.
Spinach Pesto Baked Chicken – The EASY Way!
When I say this is an easy dinner, I mean it is truly simple to make, cook, and serve. Everything about this dinner is EASY.
… And delicious!
With only 6 ingredients and one dish, this meal can go from the fridge to the oven in literally minutes. The chicken cooks in the oven completely hands off to give you time to do the other things that need to get done.
When you are ready to serve, it plates up in a snap and can be served with simple sides (or more elaborate) for a dinner that is almost too easy to taste so good.
The best part is that with all of the delicious flavors and colors in this dish, even though it is so easy, it is still delicious enough (and pretty enough) to serve to company, or take to a friend. I actually invented this dish just for a friend who had just had surgery. It was so good, I went home and made the same thing for our family, and we have been eating it ever since.
🥘What to Serve with Baked Chicken
With the pesto, spinach, artichoke and tomato, this meal is already loaded with some great veggies. You can keep it simple and pair it with one easy side for a fast dinner, or add a a few to bulk up the meal and help it go even further.
Fast Side dishes
These are dishes you can have made just as quick as the easy Spinach and Pesto Baked Chicken for a wholesome and filling meal.
Classic Sides
So many great options for putting together a really delicious meal. Make sure and let me know in the comments below if you have any other favorites to serve it with.
🐔 Recipe Tips
Spinach and Pesto Baked Chicken is as simple to make as promised. I am going to walk through a few of my notes on how to make this recipe, as well as some tips and tricks to get the absolute best, most tender and juicy chicken.
Make sure to find the FULL recipe card at the bottom of this post.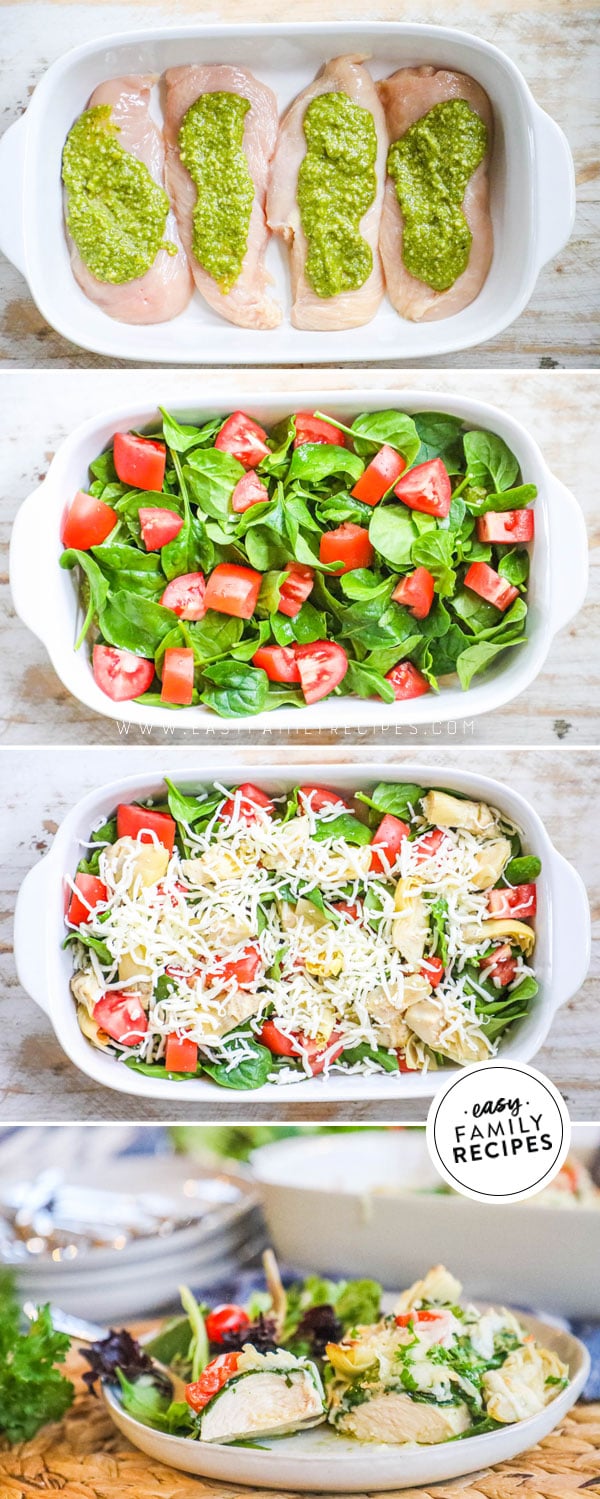 This recipe is made with just a handful of ingredients. 6 to be exact! Since we only use a few, each are important in the flavor of the dish.
The Chicken
This recipe calls for 2 pounds of boneless, skinless chicken breast. This should feed 4-6 people depending on the portion size.
I always use thin chicken breasts. You can buy thin chicken breasts in the store, but I just buy regular ones and cut them in half so that I have two pieces that are half the thickness. You can also use a meat mallet to pound them out.
This both helps the chicken to stay more tender and juicy since a thin chicken breast will cook more quickly and evenly than a thick one, and makes it easier to serve the dish.
Substitutions: If you prefer other cuts of meat, you can use any boneless, skinless cut of chicken in this dish. Boneless chicken thighs, or chicken tenderloins both work well in this recipe.
The Pesto
Pesto is a key ingredient in this dish. It impacts the flavor of the baked chicken more than any other ingredient, so it is important to use a really high quality pesto.
I greatly prefer the prepared pesto you can buy in the refrigerated section, over the jars on the shelf. You can find them near the fresh pasta in the grocery store. You can even find large jars under the store label at wholesale clubs such as Sam's and Costco.
Another option is making it homemade. You can make homemade pesto and use it fresh or freeze it to use for up to 6 months in the future.
Substitutions: There are many different kinds of pesto. While this dish is traditionally made with the classic version, you can change up the flavors by using other flavors of pesto like sun dried tomato pesto, mint pesto, or french onion. For a very different flavor you can also try marinara sauce in place of pesto.
The Veggies
We will use a simple blend of fresh spinach, artichoke hearts and tomatoes which will add lots of nutritious veggies, fiber, vitamins and minerals to the dish.
Fresh spinach is delicious and perfect for this recipe. The one thing you need to note, especially if you don't cook with fresh spinach much, is that it wilts down and reduces in size significantly when cooked. That means that you will use what seems like almost too much spinach, but once it is cooked it will be the perfect amount.
I don't recommend using frozen spinach in this recipe. It is so much more dense, you end up using more and it really alters that taste to be much more "spinach-y" than fresh. If you are in a big pinch you can do it, but do it with caution!
Artichoke hearts can be bought many different ways, I generally use canned. I like to purchase them already quartered so that it cuts down on the prep time and makes it super fast. All you have to do is drain the can and throw them on.
For the tomatoes, I generally use roma tomatoes. Usually you can cut them into 6-8 pieces and they end up perfectly bite sized. You can use any variety of tomatoes in this recipe though. Cherry or grape tomatoes that have been halved work really well too.
Substitutions: I know that both tomatoes and artichokes are vegetables that people have strong feelings about. You can leave either of them out all together if it is your preference. Other vegetables can be added also such as zucchini, squash, small cauliflower florets, etc. You can also check out my Zucchini Pesto Chicken for an alternative.
How long to bake the chicken
Since we are using thinly sliced chicken breasts, this recipe shouldn't take too long to cook!
At 375˚F the Spinach Pesto Chicken usually takes about 30-35 minutes. If you have thicker chicken breasts it can take upwards of 45.
You will want to cook the chicken until it is 165˚F internal temp. This will keep the chicken tender and juicy, and avoid it becoming over cooked!
If your chicken is dry, or more commonly tough or hard to chew, this is almost always a result of over cooking. The higher the temperature goes over 165˚F, the tougher the chicken can become.
The other thing to note on baking is the cheese. I always bake my dish uncovered and put the cheese on before putting it in the oven. Based, on size, power type, and climate each oven will cook differently.
If your cheese gets too browned, you can throw some foil over it to loosely cover for the remainder of the cook time, OR you can hold the cheese, and just add it 5 minutes before the end of the cook time.
🚫Dietary Considerations
I always recommend you make the recipe as written if you can, but if you have some special dietary needs, there are some modifications you can use to make it friendly for many diets.
Make sure to check any store bought ingredients for compliance to your specific dietary need. The advice below is based on standard norms, but there is no way to make a blanket statement that covers all brands and varieties sold in stores.
Gluten free– This recipe is naturally gluten free.
Low Carb/ Keto– This recipe is low carb and Keto diet friendly with only 5g net carbs per serving.
Dairy Free– This recipe can be made dairy free by using vegan pesto (Trader Joe's makes a delicious one!) and omitting the cheese on top.
Paleo/Whole30 – This recipe can meet the requirements for paleo and Whole30 diets by using vegan pesto (Trader Joe's makes a delicious one!) and omitting the cheese on top.
Macros– This is a macro friendly meal with 57g Protein, 7g carbs and 26g fat.
🍲 Recipe Variations
If you love this recipe and want to try something new, here are a few ideas to change it up with some new fun flavor combinations.
Creamy Pesto Chicken- Try adding a layer of cream cheese with the pesto for a creamy delicious treat!
Marinara Baked Chicken- Replace the pesto sauce with your favorite marinara.
Spicy Spinach Pesto Baked Chicken- Season the chicken with salt, pepper, and crushed red pepper flakes before adding the pesto. You can also stir in red pepper paste with the veggies for even more kick!
Olive Spinach Baked Chicken- Replace the pesto with an olive tapenade. This is a treat for the olive lover!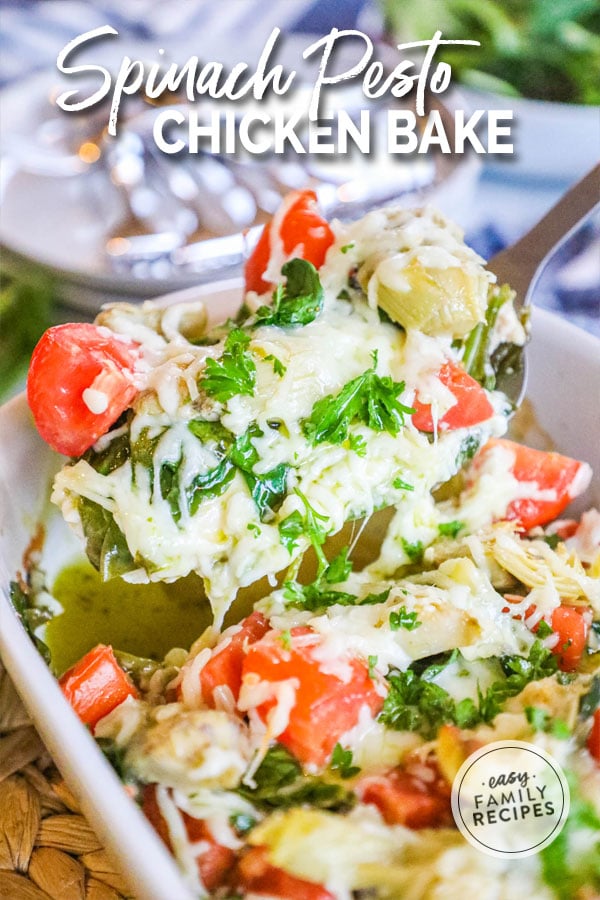 ❄️Spinach Pesto Baked Chicken Freezer Meal
Spinach Pesto Baked Chicken can make a lovely freezer meal to eat for later or to give to a friend in need.
Follow the directions below to prepare the meal, then store it in the freezer for up to 3 months for the best taste.
Freezer Meal Instructions
Lay chicken breasts flat.
Cover with pesto.
Place spinach, artichoke and tomatoes on top. Cheese can be frozen separately or used fresh when ready to cook.
Package in an airtight container or zip top bag flat so that the toppings stay on top of the chicken.
Freeze.
When ready to cook, thaw for 24-48 hours in the refrigerator. Then transfer carefully to a baking dish, piling any toppings that fall off back onto the top. Add cheese, then bake as directed.
🍽 Leftover Ideas
If you have leftovers of the Spinach Pesto Baked Chicken, there are so many ways to use them to create new dinners for later in the week!
Here are a few of our favorites:
Pesto Spinach Chicken Pizza– On a prepared crust, spread a thin layer of pesto and sprinkle with garlic. Chop leftovers and spoon over crust. Top with mozzarella cheese and add mushrooms or black olives if desired. Bake per package directions.
Pesto Spinach Baked Shells– Prepare large pasta shells per package directions. Chop leftovers and place inside shells then put into a casserole dish. Cover with marinara sauce and a sprinkle of mozzarella. Bake at 350 for 25-35 min or until heated through.
Spinach Pesto Chicken Paninis– Slice leftover chicken. Spread a layer of pesto and a sprinkle of parmesan on a slice of good quality bread. Lay the sliced chicken and veggies on top. Add additional mozzarella if desired and top with another slice of bread. Grill on a buttered skillet until each side is golden brown.
Spinach Pesto Spaghetti Squash Skillet– Prepare spaghetti squash and remove from rinds. Chop leftover chicken and add to a skillet over medium heat to warm. Add spaghetti squash, additional pesto as needed, and sprinkle with feta cheese and black olives as desired.
Spinach Pesto Chicken Caesar Salad– Wash and roughly chop romaine lettuce. Chop leftover baked chicken. Toss lettuce, with 1:1 ratio of caesar dressing and pesto. Add chopped chicken, vegetables and parmesan cheese. Add croutons or cooked pasta and give a final toss. Serve immediately.
🍗MORE Easy Baked Chicken Recipes
If you enjoyed this recipe, I hope you will take a few minutes to find some others! We have tons of Easy Chicken Recipes that are just as delicious as they are simple to make. Here are a few favorites: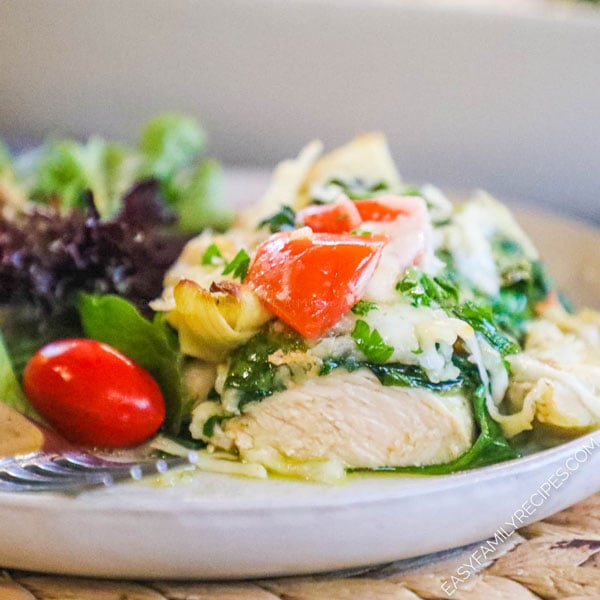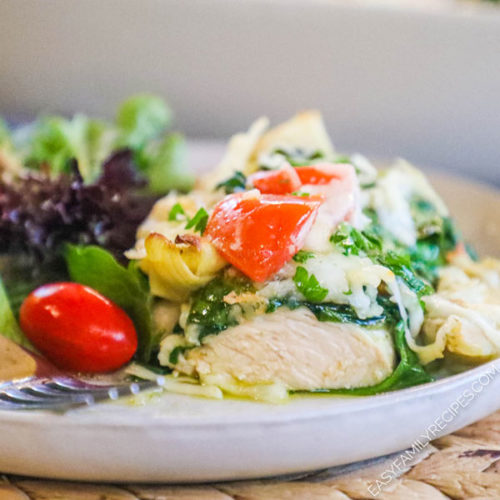 Spinach Pesto Baked Chicken
This Spinach Pesto Baked Chicken is as DELICIOUS as it is EASY! With only one dish and six ingredients, it can be from the fridge to oven in minutes. It is simple enough for a busy weeknight, but pretty enough and tasty enough for company!
Ingredients
2

lbs

boneless skinless chicken breast

,

sliced or pounded thin

6

tbsp

pesto

,

prepared

2

oz

fresh baby spinach

2

roma tomatoes

,

roughly chopped

8

oz

quartered artichoke hearts

,

(1 14 oz can, drained)

1

cup

mozzarella cheese

,

shredded (or Italian cheese blend)
Instructions
Preheat the oven to 375˚F. Place chicken flat in the bottom of a baking dish and spread 1-2 tbsp pesto on top of each chicken breast.

Layer spinach on top of the pesto, then place the tomatoes and artichoke hearts on top of the spinach.

Cover the top with mozzarella cheese.

Bake on lower middle rack for 30-45 minutes or until the chicken is cooked through (165˚F internal temperature.) Serve warm. Enjoy!
Nutrition Information
Serving:
10
oz
,
Calories:
488
kcal
(24%)
,
Carbohydrates:
7
g
(2%)
,
Protein:
57
g
(114%)
,
Fat:
26
g
(40%)
,
Saturated Fat:
7
g
(44%)
,
Cholesterol:
169
mg
(56%)
,
Sodium:
877
mg
(38%)
,
Potassium:
1013
mg
(29%)
,
Fiber:
2
g
(8%)
,
Sugar:
2
g
(2%)
,
Vitamin A:
2865
IU
(57%)
,
Vitamin C:
23
mg
(28%)
,
Calcium:
217
mg
(22%)
,
Iron:
2
mg
(11%)