What do you get when you combine pizza with tender skillet-cooked chicken? You get Chicken Pizzaiola, a one-pan dinner that your whole family will devour! Juicy chicken breasts are cooked to perfection on the stovetop, then smothered in a rich, creamy tomato sauce with pepperoni and plenty of cheese. You're going to want to make this recipe again and again!
Chicken Pizzaiola – The EASY Way!
If it were up to our kids, they'd have pizza, macaroni and cheese, or tacos for dinner every night of the week. While we can't serve pizza on the daily, one way to get kids to broaden their horizons a little bit is to take those familiar flavors and spin them into something new and different. That's what makes this Chicken Pizzaiola such a winner.
What Is Chicken Pizzaiola?
Pizzaiola is short for alla pizzaiola, which means "in the manner of a pizza maker" in Italian. In the traditional Neapolitan version of this dish, meat is cooked with tomatoes, wine, and other ingredients for an extended amount of time until the meat tenderizes.
To make this a weeknight meal, I start with chicken breasts that are cut or pounded thin, which means there's no long wait for the meat to get tender. But don't worry, you still get all those classic pizza flavors thanks to the seasonings and pepperoni, and the acid from the tomatoes does a fabulous job deglazing the pan, bringing all that flavor into the sauce.
Finish with lots of cheese and you've got a fun family-friendly skillet chicken dinner for a busy weeknight. Chicken Pizzaiola for the win!
Why I LOVE this recipe!
Quick – Super quick, really. The sauce tastes like it's been simmering away on the stovetop for hours, but the whole recipe comes together in a matter of minutes.
Family-Friendly – With tender white meat chicken, a rich tomato sauce, crispy pepperoni, and so much cheese, your kids are guaranteed to love it—and so will you!
Customizable – We've got lots of ideas for variations below, or you can get creative and try your own additions and swaps. Think about what your family likes on a pizza and incorporate it into this Chicken Pizzaiola recipe!
Hearty and Satisfying – Between the protein-packed chicken, cheese, and rich sauce, this is a dinner that has staying power. Pair it with a veggie side for a well-rounded meal.
What to Serve with Chicken Pizzaiola
Since this dish has the classic flavors of pizza, it will pair well with many of your favorite Italian side dishes. There are both classic options and some healthy options to keep it light.
Side Dish Ideas
You can choose one or add a few sides to make a wholesome, well rounded dinner.
Recipe Notes
This Chicken Pizzaiola recipe is as simple as promised! Just a few minutes of cooking on the stovetop for a family friendly meal.
In this section I am going to go through a few tips and tricks I use when making this recipe to get the absolute best and most delicious results.
Make sure to scroll to the bottom for the FULL recipe card.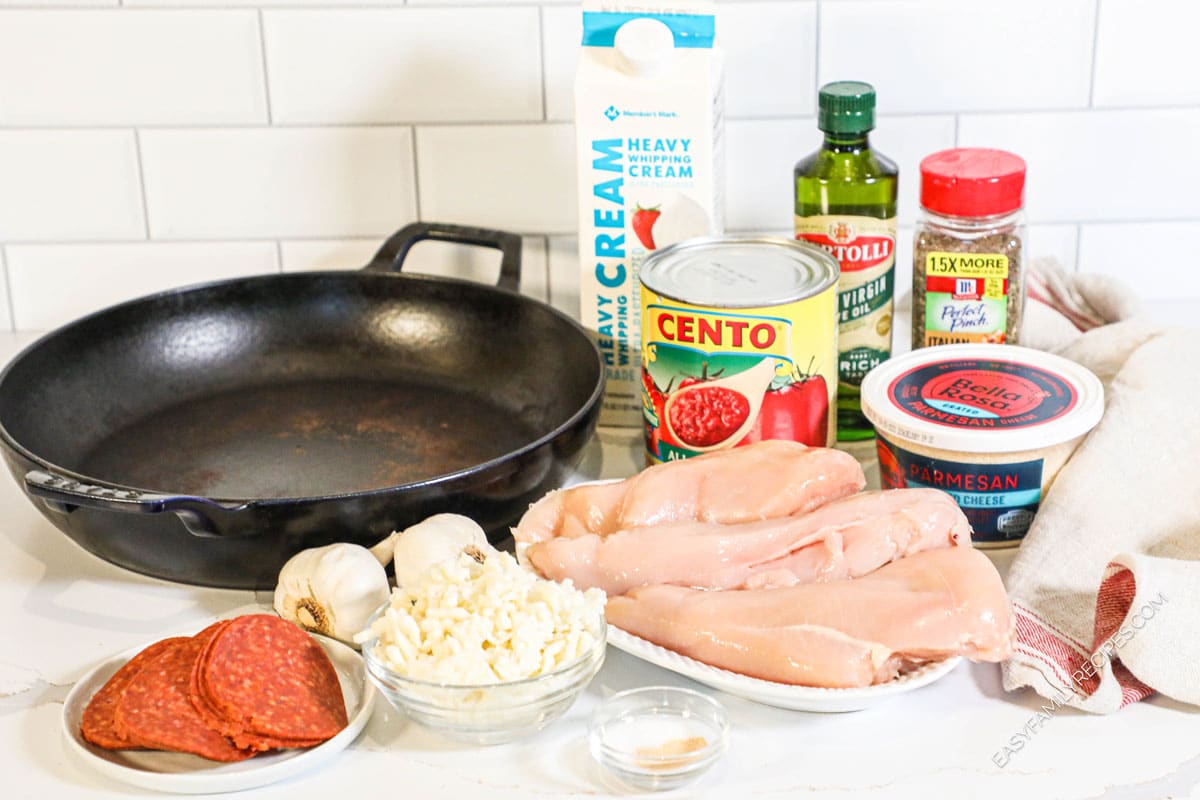 Ingredients + Substitutions
For the chicken
Boneless skinless chicken breast – You'll need to cut or pound this until it's about 1/2-inch thick throughout.
Italian seasoning – Use store-bought or homemade Italian seasoning.
Garlic powder
Salt
Olive oil – You want a basic cooking olive oil here, not a pricey extra-virgin olive oil.
For the sauce
Pepperoni – Cut the pepperoni into small pieces so it distributes evenly into the sauce.
Garlic – There are 4 garlic cloves in this recipe to really amp up the flavor. Cooking the garlic before adding the other sauce ingredients cuts some of its bite.
Crushed tomatoes
Italian seasoning
Salt
Heavy cream – If you want to cut back on calories a bit, you can use half-and-half, but the sauce will be thinner and less rich. Don't substitute milk, though—the sauce will be much too thin.
Parmesan cheese – Freshly grated is always best because it will melt right into that sauce, but I know that's not always practical. The store-bought kind is just fine too!
Mozzarella cheese – An Italian blend of cheeses would also be delicious.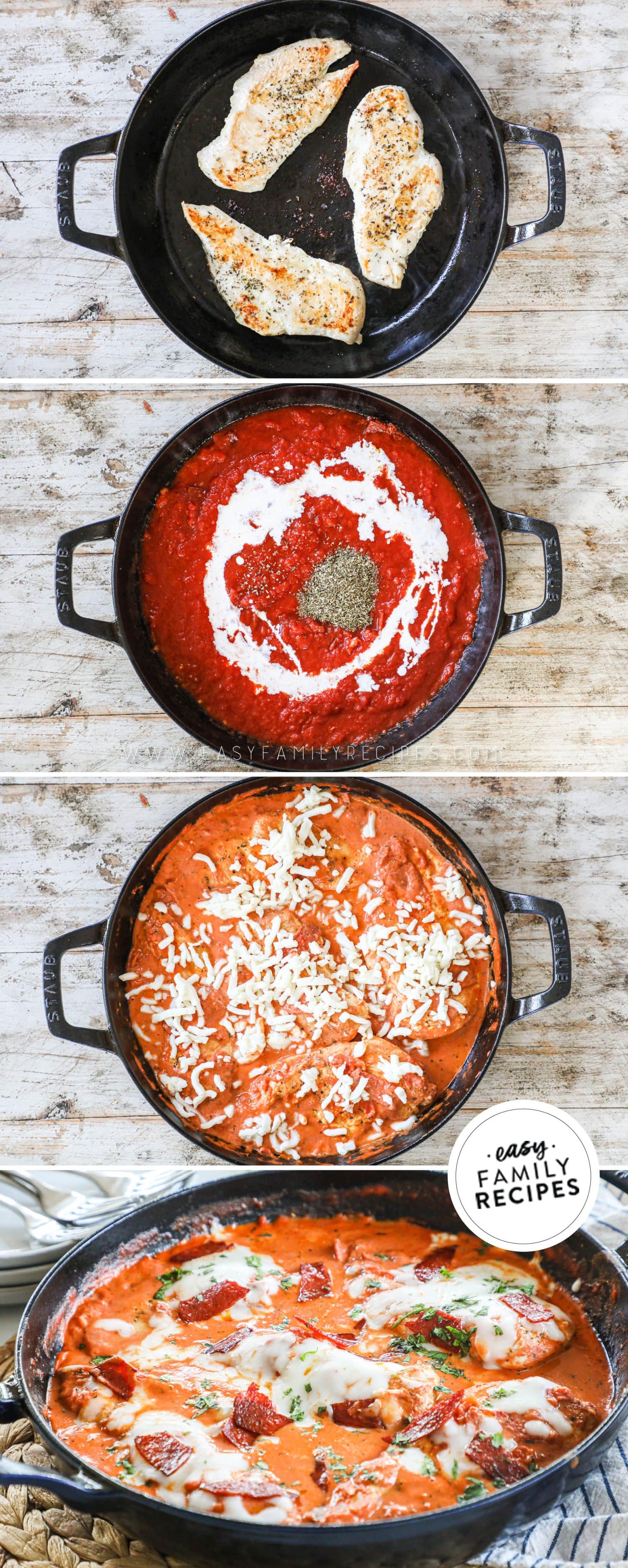 Recipe Tips
Start with thin chicken – This is the key to chicken that cooks all the way through in the skillet so you don't have to finish it in the oven. The chicken should be pounded or cut into roughly 1/2-inch thickness, and it should have the same thickness throughout so it cooks evenly. Thin chicken is chicken that cooks quickly, and chicken that cooks quickly is tender and juicy!

Have everything ready to go – The French word for this is mise en place, which basically means have all of your ingredients prepped and within reaching distance. When I said this recipe was fast, I meant it—it cooks really quickly! That means you won't have time to stop and mince garlic or open the can of tomatoes.

Use a large skillet – To get a nice sear on both sides of the chicken, it needs a little breathing room. Don't crowd the chicken into the pan. (Also make sure the skillet is nice and hot when you add the chicken!)

Cook the pepperoni until it's crispy – You know how the pepperoni on top of a pizza gets those crispy, curled edges from being under the broiler? To achieve that same texture, take the time to cook the pepperoni in the oil until it darkens slightly and crisps up. This also helps infuse the oil with pepperoni flavor, which means your sauce will be more flavorful too.
Recipe Short Cuts
If you need to make this recipe, but are extra short on time, here are a few ideas that can help make this recipe even faster!
Buy chicken cutlets or chicken tenders – This will save you a little time because you won't need to cut or pound the chicken breasts yourself.

Use leftover chicken breasts – Chicken Pizzaiola is a great way to give your leftovers a second life. Plus, if you use leftover chicken, you'll cut the cooking time because you can start the recipe with the sauce. (Just make sure your chicken is heated through to 165ºF before serving.)

Swap in store-bought pizza sauce – Do this and you can skip the garlic, Italian seasoning, and crushed tomatoes. It's not quite as flavorful without the homemade sauce, but it does shave off some prep time.
Recipe Variations
If you love this recipe as much as we do and want some quick ways to change it up for variety, these little tips will do the trick!
Make it meatless – Vegetarian "chicken" can be used instead of the chicken breasts, or you can even use cauliflower steaks. Don't forget to swap in a plant-based pepperoni too!

Chicken Pizziaola with Pasta – Remove the chicken from the pan and cut it into thick slices. Serve the sauce over penne, rotini, or another favorite pasta shape, then place the sliced chicken on top. Garnish with Parmesan and garlicky panko breadcrumbs.

Chicken Pizziaola Supreme– Amp up the veggies by sautéing sliced mushrooms, onions, and black olives in the skillet before adding the garlic and pepperoni; once you've made the sauce, stir in baby spinach until it wilts. Now you've got Pizzaiola with supreme pizza toppings!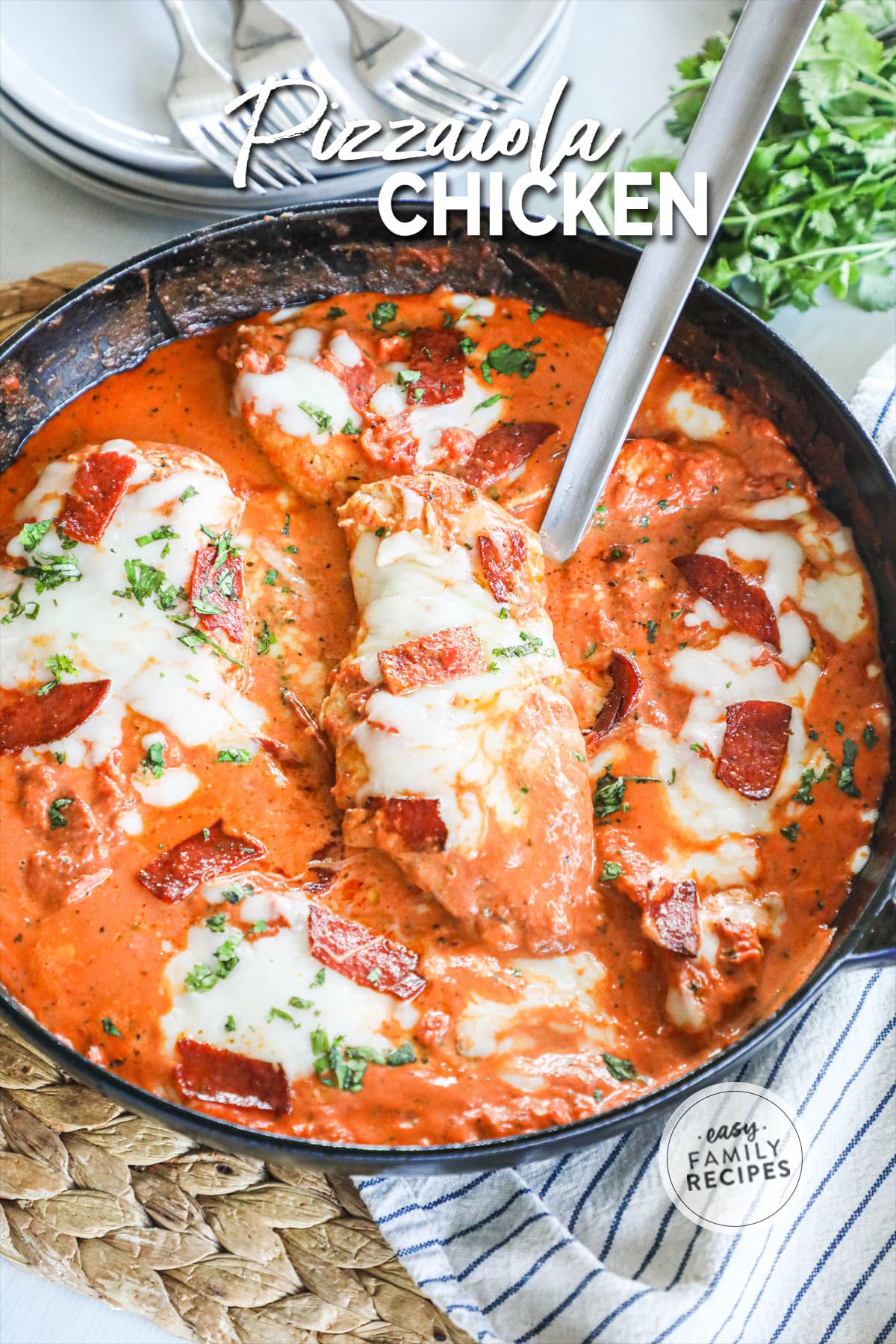 Freezer Meal Instructions
Making this Chicken Pizzaiola recipe into a freezer meal is simple! Follow the steps below and you can store this recipe in the freezer for up to 1 month.
Transfer the Chicken Pizzaiola to an airtight freezer-safe container or freezer bag.
Let the Pizzaiola thaw in the refrigerator overnight before you plan on serving it. Although you can reheat it in the microwave, we recommend warming it up in a skillet on the stovetop over medium heat for best results.
Once the Pizzaiola is warmed through and the chicken reaches 165ºF, it's ready.
Chicken Pizzaiola Leftovers
If you have leftovers after making Chicken Pizzaiola, then it is your lucky day! They save and reheat well, and can make the start of another delicious dish.
To save leftovers, separate into meal sized portions and then place in an airtight container and store:
in the refrigerator for 3-4 days
in the freezer up to a month
Leftover Recipes
Here are a few ways to repurpose those leftovers and give them a delicious makeover!
Chicken Pizzaiola Sandwiches – If you love a good Chicken Parmesan Sandwich, you'll love Pizzaiola sandwiches! Reheat the leftovers, then layer the chicken onto a toasted hoagie roll or sesame bun. Spoon sauce over the top and add some extra cheese to help hold it all together.

Chicken Pizzaiola Bowls – Buy a tube of polenta at the grocery store; cut it into slices and cook them on the grill or in a skillet with oil; they'll get crispy and delicious on the outside. Divide the polenta slices into bowls along with your leftover Pizzaiola, then add either a simple oven-roasted vegetable side or an Italian-inspired salad like my Italian Quinoa Salad or Tomato Basil Mozzarella Salad.

Chicken Pizzaiola Bake – Put your leftovers in a casserole dish, add some more cheese to the top (there's always room for more cheese!), cover, and bake at 325ºF until the chicken reaches 165ºF. Serve with orzo or pasta.
More Easy Chicken Dinner Recipes
If you enjoyed this recipe, I really hope you will take a moment to grab a few more easy recipes for another busy night!
You can check out all of my chicken recipes here, or see a few of our readers favorite recipes below.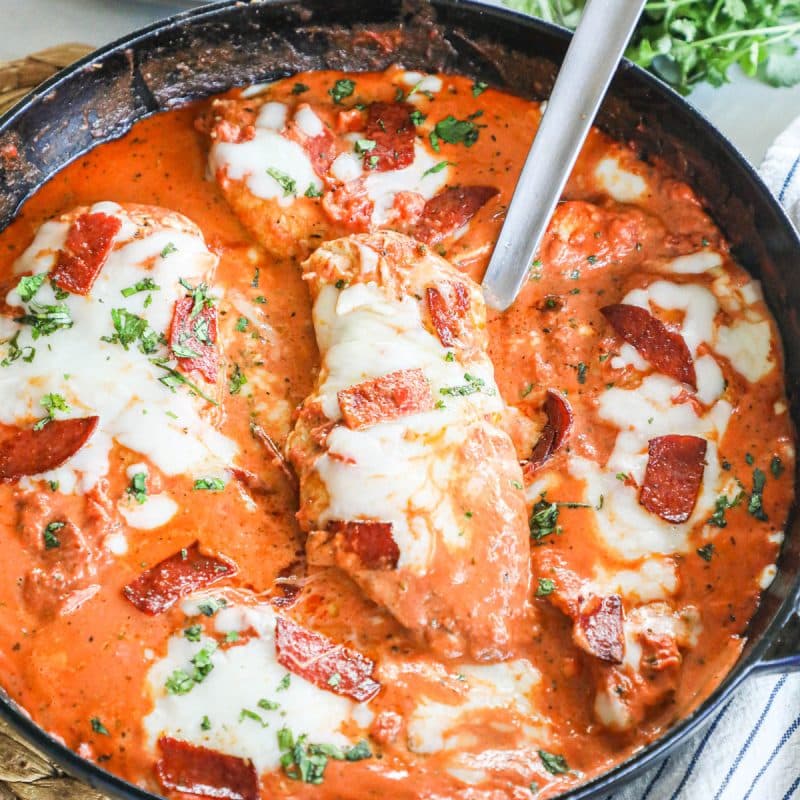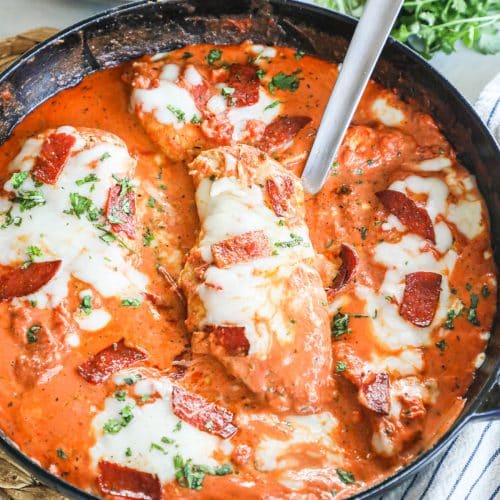 Chicken Pizzaiola
This Chicken Pizzaiola recipe has all the flavors of pizza in a one-pan skillet chicken dinner. Kids love it and you will too!
Ingredients
For the chicken
2.5

lbs

boneless skinless chicken breast

,

cut or pounded thin

1

tsp

Italian seasoning

1

tsp

garlic powder

1

tsp

salt

1

tablespoon

olive oil
For the sauce
2

oz

pepperoni

,

chopped into bite sized pieces

4

cloves

garlic

,

pressed

28

oz

crushed tomatoes

1

tbsp

Italian seasoning

1/2

tsp

salt

1/2

cup

heavy cream

1/4

cup

parmesan cheese

4

oz

mozzarella cheese
Instructions
Season the chicken breast with Italian seasoning, garlic powder and salt.

Heat a large skillet with olive oil over medium heat. Once hot place the chicken in a single layer in the pan and cook for 3 minutes per side without moving to create a nice sear. Remove chicken from pan and set aside.

Be careful not to overcrowd the pan. Cook the chicken in 2-3 batches if needed to make sure that you are able to have enough space in the pan to get the chicken seared.

Add the pepperoni and fresh garlic to the pan and cook 30-60 second stirring frequently. Then add the tomatoes, Italian seasoning and salt to the skillet and scrape the bottom to deglaze the pan.

Slowly stir in the cream, then add the parmesan cheese. Once combined, add the chicken and juices back into the sauce and simmer until chicken is done measured at 165˚F internal temp.

Turn off the heat, then top the chicken with mozzarella cheese and cover the skillet and let the cheese melt, about 4-5 minutes.

Top with freshly chopped parsley and serve warm.
Nutrition Information
Calories:
441
kcal
(22%)
,
Carbohydrates:
12
g
(4%)
,
Protein:
50
g
(100%)
,
Fat:
21
g
(32%)
,
Saturated Fat:
9
g
(56%)
,
Polyunsaturated Fat:
2
g
,
Monounsaturated Fat:
8
g
,
Trans Fat:
0.2
g
,
Cholesterol:
159
mg
(53%)
,
Sodium:
1313
mg
(57%)
,
Potassium:
1169
mg
(33%)
,
Fiber:
3
g
(13%)
,
Sugar:
6
g
(7%)
,
Vitamin A:
667
IU
(13%)
,
Vitamin C:
15
mg
(18%)
,
Calcium:
231
mg
(23%)
,
Iron:
3
mg
(17%)