To make the most decadent, delicious pasta dinner, try this EASY Chicken Fritta with Garlic Cream Sauce. It's a tasty combination of crispy chicken and pasta tossed with creamy, garlic parmesan sauce. It's a quick, fantastic family meal inspired by Olive Garden, and best of all it's SO easy! With one pan, 30 minutes, and simple ingredients you can whip up this indulgent restaurant meal at home and make everyone happy to sit down at the table.
Crispy Chicken Fritta – The EASY Way!
I am so happy to share how to make this amazing crispy chicken fritta recipe with you. The original inspiration comes from my son's favorite Olive Garden meal. My homemade version is just as tasty as theirs, but it's fast and EASY! It only takes 30 minutes and one pan to make a hearty meal that I PROMISE the whole family will love. Mine sure does!
The secret is super crispy, quick cooking chicken and the most decadent, rich garlic cream sauce for the pasta. I make a delicious alfredo sauce, but I have to say, this is one of the BEST cream sauces I've ever made! The combination of that sauce and crisp breaded chicken makes this a wonderfully indulgent and satisfying meal. I love that I can serve up a restaurant style dinner so quickly right at home, and I think you'll love treating your family, friends, and guests to this amazing chicken fritta too.
Why I LOVE this recipe!
Delicious Decadence! – The buttery garlic parmesan cream sauce is absolutely irresistible, but super easy to make!
One Pan – Is there anything better than a delicious dinner that doesn't create dishes? Quick clean up!
SO Family Friendly – Kids love creamy pasta, and adults will appreciate the layers of flavor in every bite.
30 Minute Meal – You can easily make this crispy chicken fritta and the homemade garlic cream sauce in just 30 minutes.
It will impress! Restaurant quality taste in as little as 30 minutes is nothing short of amazing!
Copycat– Perfect for when you want the flavors of a favorite restaurant without leaving the house. If you love copycat recipes make sure and try our Chili's Southwest Chicken Soup too!
Recipe Notes
This Crispy Chicken Fritta recipe is as simple as promised! Just one pan and 30 minutes for a family friendly meal.
In this section I am going to go through a few tips and tricks I use when making this recipe to get the absolute best and most delicious results.
Make sure to scroll to the bottom for the FULL recipe card.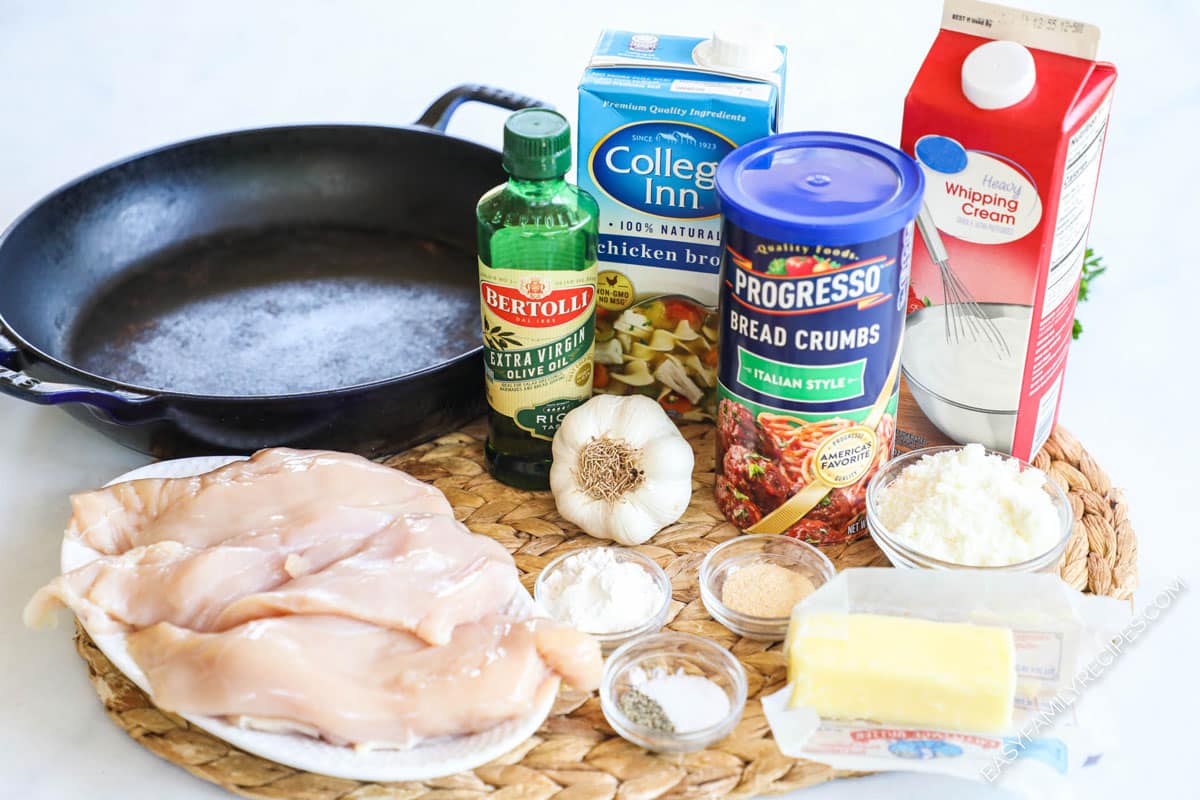 Ingredients + Substitutions
Chicken Fritta
Chicken – We use boneless skinless chicken breasts to make crispy chicken fritta. To keep the cook time quick and the chicken juicy and evenly cooked, I recommend using thinner cutlets, or butterflying large breasts to make them thinner. This is so important to keep the chicken tender and juicy on the inside while getting a nice golden crunch on the outside!

Breadcrumbs – I love Italian style breadcrumbs, which makes giving the chicken a flavorful coating SO easy. You can also use plain breadcrumbs and add some homemade Italian seasoning. I do add more seasoning to the breadcrumbs. Even though they are already seasoned, this just gives the chicken a nice robust flavor.

Parmesan – Freshly grated parmesan adds tons of flavor. You can use pre-shredded, or even swap in other hard cheeses if you need too. Romano or Asiago are both great alternatives.

Salt & Garlic Powder – To create another layer of flavor you'll want to season the breadcrumbs with both of these before coating the chicken.

Olive Oil – I use olive oil but you can use any neutral flavored cooking oil instead. Canola, vegetable, or grapeseed oil all work well.
Pasta with Garlic Cream Sauce
Pasta – We love penne, which is a nice sturdy noodle which is easy for kids to eat. You can swap in your favorites! Any pasta tastes amazing in this buttery garlic sauce!

Butter – You can use salted or unsalted butter to start the sauce. But, you may need to adjust how much salt you add to the sauce later if you use salted butter.

Garlic – Fresh garlic gives this sauce so much flavor. If you don't have any, you can add garlic powder into the pan with the chicken broth instead.

Flour – All purpose, regular flour is perfect for making the roux that thickens the sauce.

Heavy Cream – This creates the richest, most indulgent garlic cream sauce. You can also use half and half but the sauce won't be as creamy.

Chicken broth – Chicken stock or even vegetable broth could be used instead.

Parmesan – I highly recommend freshly grated for the sauce. Pre-shredded types are often tossed with starch to prevent clumping and that can make it harder to melt it into a luscious sauce.

Salt & Pepper

Parsley – I love a sprinkle of freshly chopped parsley as a garnish. It makes it beautiful with hardly any effort. This is completely optional though!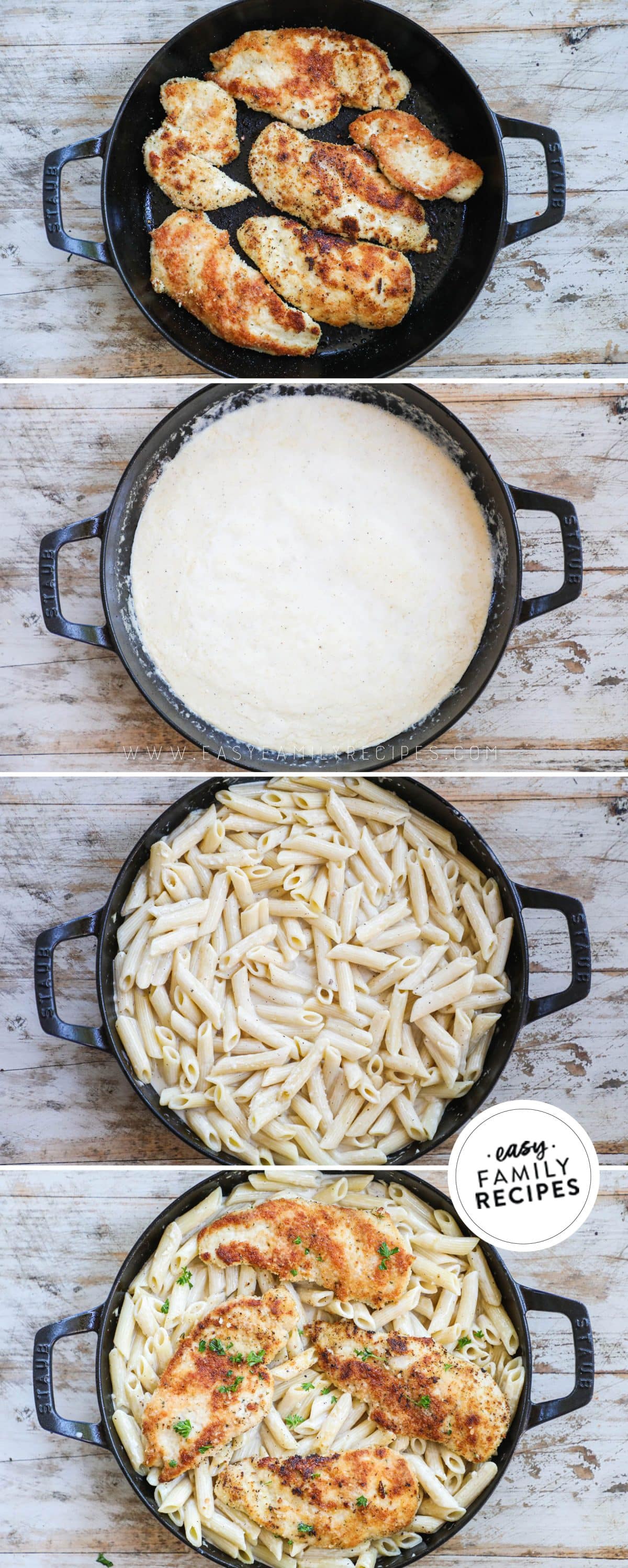 Recipe Tips
Prep First – This is an amazing 30 minute, one -an meal, but that means it cooks fast! It helps to have all your ingredients assembled and measured before you start. Cooking will be effortless and fun that way!

Start with the Pasta – I like to boil the pasta first. You can tackle the prep work while the water comes to a boil, and make your chicken and sauce while the pasta is cooking. This is the best way to make sure you'll have noodles ready when the sauce is finished.

This Even Chicken Cutlets – Use thin chicken cutlets that are about the same size. That will make sure they cook quickly without burning the breading and also help avoid uneven cooking. You can slice them to create thin, even cutlets, or pound them thinner. Make sure to cover the chicken with plastic wrap if pounding them out to avoid splattering chicken throughout your kitchen.

Don't Crowd the Pan – It's better to cook in batches than try to put too much chicken in a small pan. Overcrowding leads to steaming, which will ruin that crispy coating we want! Instead use your largest pan and give each piece of chicken a bit of space so it can crisp up properly.

Cook to 165°F – I always suggest using a meat thermometer to ensure you're cooking your chicken to the perfect doneness. They're cheap and available online or at grocery stores. It will help make sure you never end up with raw or overcooked chicken, and instead have juicy, tender pieces every time!

Get the Brown Bits – After the chicken has finished cooking you'll be left with brown bits on the bottom of the pan. Those bits are big flavor! When you add the butter, scrape it all up so you get all that tasty flavor into your sauce.

Don't Burn the Garlic – I flash cook the garlic for just 30 seconds. That gets it cooking and releases it's flavor, but doesn't let it burn and get bitter. This is one reason you definitely want to have your ingredients prepped, so the flour and broth are ready to go when you need it!
Recipe Short Cuts
If you need to make this recipe, but are extra short on time, here are a few ideas that can help make this recipe even faster!
Use Chicken Strips– The smaller and thinner the chicken is, the faster it will cook. You can use very thin cutlets or even tenderloin strips to speed things up.

Prep Ahead– You can mix the breadcrumb mixture, slice the chicken, and even cook the pasta ahead. That way it will be just a simple process of coating and cooking the chicken, then making the butter garlic cream sauce come dinner time.
Recipe Variations
If you love this recipe as much as we do and want some quick ways to change it up for variety, these little tips will do the trick!
Lemon Chicken Fritta– Zest and juice one lemon. Add the zest to the breadcrumb mixture used to make the chicken fritta. Replace 2 tablespoons of chicken broth with the lemon juice then continue with the rest of the garlic cream sauce according to the recipe.

Chicken Fritta with Spinach– Make the recipe as directed up to stirring the chicken broth into the roux. After you whisk in the cream, add 5 cups of fresh spinach into the pan. Stir until it's wilted and the sauce has thickened.

Cajun Chicken Fritta– Swap the Italian seasoned breadcrumbs, garlic powder, and salt for plain breadcrumbs seasoned with 1 tablespoon of Cajun seasoning. Continue with the recipe as directed, adding 1 teaspoon of Cajun seasoning to the flour used to make the garlic cream sauce.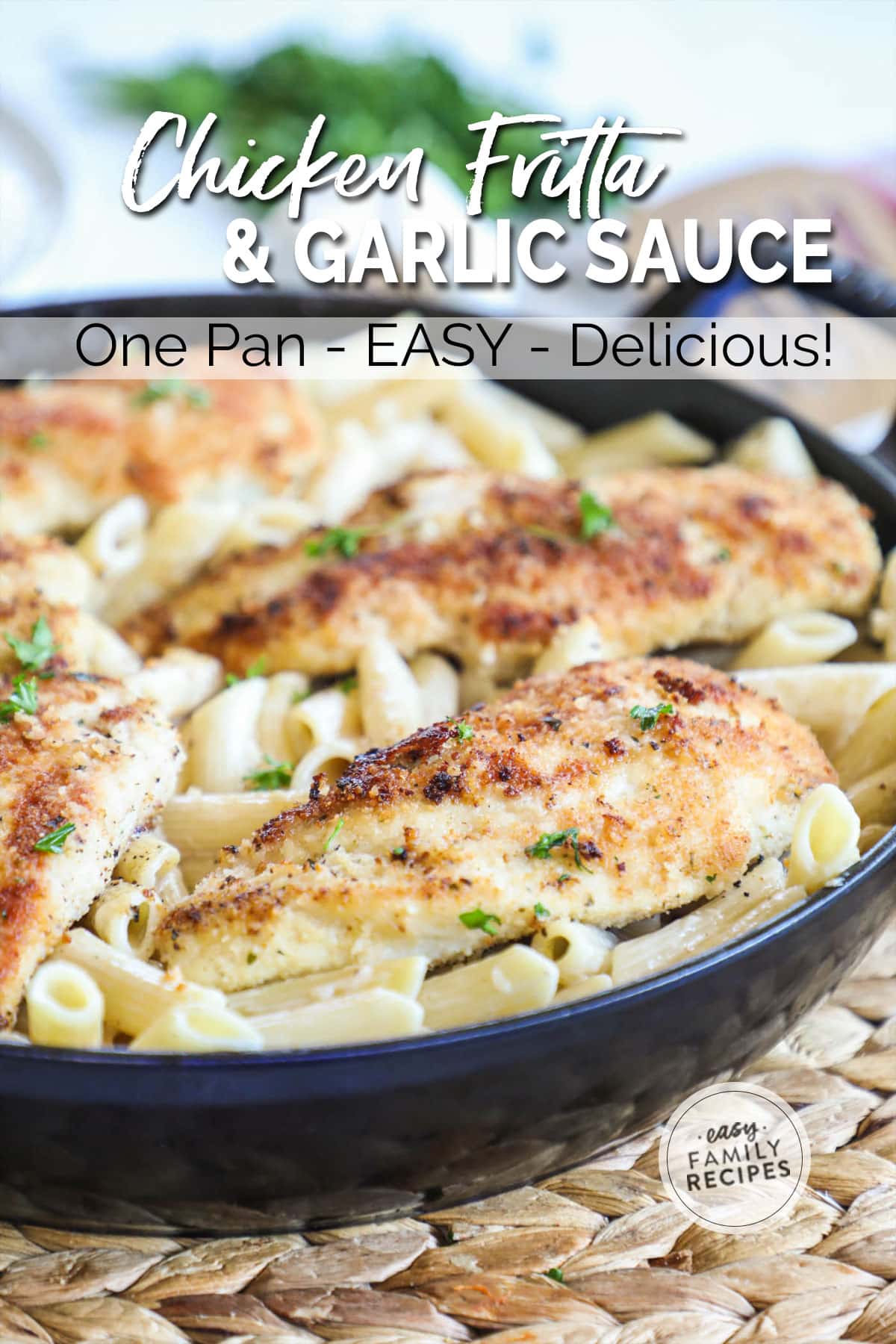 What to Serve with Chicken Fritta and Garlic Parmesan Pasta
Since this dish has the classic flavors of garlic alfredo sauce, it will pair well with many of your favorite traditional side dishes. There are both classic options and some healthy options to keep it light.
Side Dish Ideas
You can choose one or add a few sides to make a wholesome, well rounded dinner.
Crispy Chicken Fritta Leftovers
If you have leftovers after making chicken fritta with garlic cream sauce pasta, then it is your lucky day! They save and reheat well, and can make the start of another delicious dish.
To save leftovers, separate into meal sized portions and then place in an airtight container and store:
in the refrigerator for 3-4 days
More Chicken Recipes
If you enjoyed this recipe, I really hope you will take a moment to grab a few more easy recipes for another busy night!
You can check out all of my chicken dinner recipes here, or see a few of our readers favorite recipes below.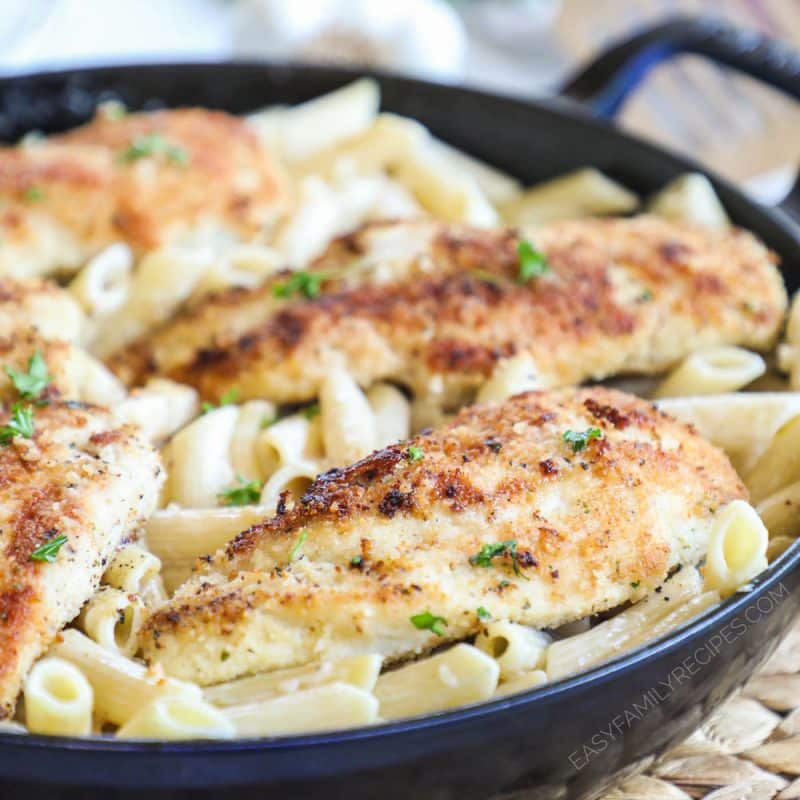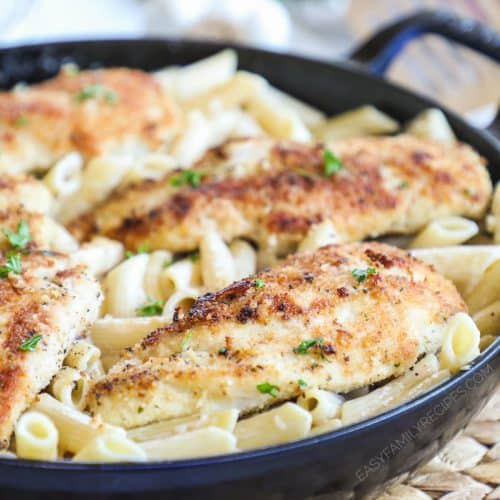 Chicken Fritta with Garlic Cream Sauce
Crispy, breaded chicken cutlets are served over a decadent, rich garlic cream sauce pasta to create an Olive Garden inspired dinner that the whole family can easily enjoy. It takes just 30 minutes and one pan to whip up this quick weeknight meal.
Ingredients
For the Chicken Fritta
2

pounds

boneless, skinless chicken breast

,

cut into thin cutlets

1/2

cup

Italian style bread crumbs

1/4

cup

grated parmesan cheese

1

teaspoon

garlic powder

1/2

teaspoon

salt

2

tablespoons

olive oil
For the Pasta with Garlic Cream Sauce
16

ounces

pasta

,

uncooked

6

tablespoons

butter

4

cloves

garlic

,

pressed

2

tablespoons

flour

2

cups

heavy cream

1

cup

chicken broth

1/4

cup

grated parmesan

1

teaspoon

salt

1/2

teaspoon

pepper
Instructions
Cook the pasta per package directions.
To make the Chicken Fritta
Make sure the chicken breast is trimmed and cut into thin cutlets. Then mix together the bread crumbs, parmesan, garlic powder and salt.

Coat the chicken in the mixture on each side.

Heat a large skillet with 1 tablespoon oil over medium heat. Once hot, place the chicken in the skillet and let cook 4-5 minutes without moving. Flip and cook on the other side 4-5 minutes or until the chicken has reached an internal temperature of 165˚F. Remove and set aside.

Cook chicken in batches so that you can fit the chicken flat in the skillet without over crowding. Add the remaining 1 tablespoon of oil as needed.
To make the Garlic Cream Sauce
Once the chicken has been removed, add the butter and stir until melted. Mix in the garlic and let cook for about 30 seconds, then add the flour mix well.

Stir in the broth slowly until it is smooth, and bring the mixture to a simmer. Let cook until the sauce starts to thicken. Add in the remaining salt and pepper, and parmesan, and then slowly stir in the cream and bring the mixture back to a simmer. Let simmer 3-5 minutes then toss with cooked and drained pasta.

Serve the Chicken Fritta either whole, or sliced on top of the pasta and garnish with parsley if desired. Enjoy!
Recipe Notes
Substitutions:
Parmesan – Freshly grated parmesan adds tons of flavor. You can use pre-shredded, or even swap in other hard cheeses if you need too. Romano or Asiago are both great alternatives.
Olive Oil – I use olive oil but you can use any neutral flavored cooking oil instead. Canola, vegetable, or grapeseed oil all work well.
How to Store: To save leftovers, separate into meal sized portions and then place in an airtight container and store:
in the refrigerator for 3-4 days
How to Reheat: This can be reheated in the microwave in 30 second increments, or cover with tin foil and place into the oven to reheat.
Nutrition Information
Calories:
713
kcal
(36%)
,
Carbohydrates:
52
g
(17%)
,
Protein:
37
g
(74%)
,
Fat:
39
g
(60%)
,
Saturated Fat:
21
g
(131%)
,
Polyunsaturated Fat:
3
g
,
Monounsaturated Fat:
12
g
,
Trans Fat:
1
g
,
Cholesterol:
168
mg
(56%)
,
Sodium:
918
mg
(40%)
,
Potassium:
646
mg
(18%)
,
Fiber:
2
g
(8%)
,
Sugar:
4
g
(4%)
,
Vitamin A:
1224
IU
(24%)
,
Vitamin C:
2
mg
(2%)
,
Calcium:
142
mg
(14%)
,
Iron:
2
mg
(11%)