This Classic Steakhouse Wedge Salad is a stunning display that will WOW your guest with its grand size of crispy iceberg lettuce and traditional toppings. Best of all, it is super quick and easy to make for the perfect starter to your main meal. A crunchy lettuce wedge with creamy dressing, sweet and bright cherry tomatoes, crispy bacon, and tangy blue cheese crumble for the ultimate classy salad recipe.
Iceberg Wedge Salad – The EASY Way!
This is the Best wedge salad because it has all the makings of a classic steakhouse recipe that offers an impressive display of textures, flavors, and beautiful contrasting colors. You can pair it with any main dish as a stunning appetizer or serve larger meal-size portions.
Why I LOVE this wedge salad recipe!
An incredibly EASY and QUICK salad. This recipe comes together quickly and with little effort. Simply chop the head of lettuce into wedges and add the toppings! I always keep precooked bacon crumbles in the freezer and pop them in the microwave when needed. If making the dressing from scratch, it only takes a few minutes, too.

Pairs with a delicious homemade dressing. For a classic steakhouse blue cheese wedge salad, you can make a luscious tangy dressing with just a few simple ingredients. Storebought can be used, but making this blue cheese dressing from scratch is so much better, and you control what goes in it.

A salad to impress. This salad for a classic wedge feels fancy and classy, like the ones you get in a steakhouse with grandeur height, a pop of color from the bright red cherry tomatoes, and a creamy dressing with crispy bacon flowing down the large wedge.
What to Serve with a Classic Wedge Salad
Since this dish has the classic flavors you find at the steakhouse, it will pair well with many of your favorite traditional main dishes. There are both classic options and some healthy options to keep it light.
Main Dish Ideas
Side Dish Ideas
You can choose one or add a few sides to make a wholesome, well rounded dinner.
Recipe Notes
This steak wedge salad recipe is as simple as promised! Just 15 minutes for part of a family friendly meal.
In this section I am going to go through a few tips and tricks I use when making this recipe to get the absolute best and most delicious results.
Make sure to scroll to the bottom for the FULL recipe card.
How to Make a Wedge Salad
This brilliant recipe takes no time to make, and if you have some of the ingredients already prepared or use storebought, this wedge salad will be on the table in just a few minutes. I love quick recipes, so if I know I'm going to make it during the week, I'll cook up bacon and make the dressing earlier on to have it available when ready to serve.
What lettuce is best for a wedge salad?
Traditional wedge salads use iceberg lettuce because it is a hearty head of greens with a crisp texture and holds it shape well once cut. Another option that would work is romaine lettuce. A large head of romaine cut into quarters is also a hearty lettuce that is super crunchy.
How to core lettuce
To make a wedge salad, you'll start by preparing a head of iceberg lettuce. Rinse it first and remove the core. You can remove the core afterward if it's easier by cutting it out with a knife or pulling it with your hands.
To remove the core of the lettuce before cutting, hold the head in your hands with the core facing downwards. Firmly hit the core on a hard surface or counter corner. This will separate the center from the leaves, and you can effortlessly twist and pull the entire heart out with your hands.
How to cut a wedge salad
After you remove the core, cut the lettuce into quarters for a medium or small head. If you have a large, denser head of iceberg, use your best judgment to cut it into additional wedges. You can likely cut a giant head into 8 wedges. To cut into ⅛ths, start by cutting into four wedges and then simply cut each quarter in half.
Toppings for a Wedge Salad
I love to add traditional flavors to this wedge salad, but you can certainly mix it up with your favorite salad toppings. Here are a few classic toppings and some other ideas, too.
Dressing – Steakhouse salad wedges are perfect for creamy dressing like blue cheese, ranch, or a buttermilk dressing.

Tomatoes – Cherry tomatoes are the perfect complimenting flavor to tangy blue cheese because they pop with a bright, sweet, juicy flavor. You could also use larger tomato varieties and dice them into chunks.

Bacon – Freshly crisped bacon is hands down the best addition and only takes a few minutes to bake in the oven. The flavor and texture of freshly cooked bacon are hands down the best, but store-bought bacon bits could also be used.

Blue cheese crumbles – Velvety, pungent, and tangy crumbles of blue cheese have the best flavor against a crisp iceberg.

Green onions – Sliced thinly for an aromatic addition. You could also use fresh chives or small diced red onions.
More topping ideas
Crispy fried onions
Crushed Croutons
Shredded cheese
Black pepper
Boiled eggs
Red bell peppers
Black olives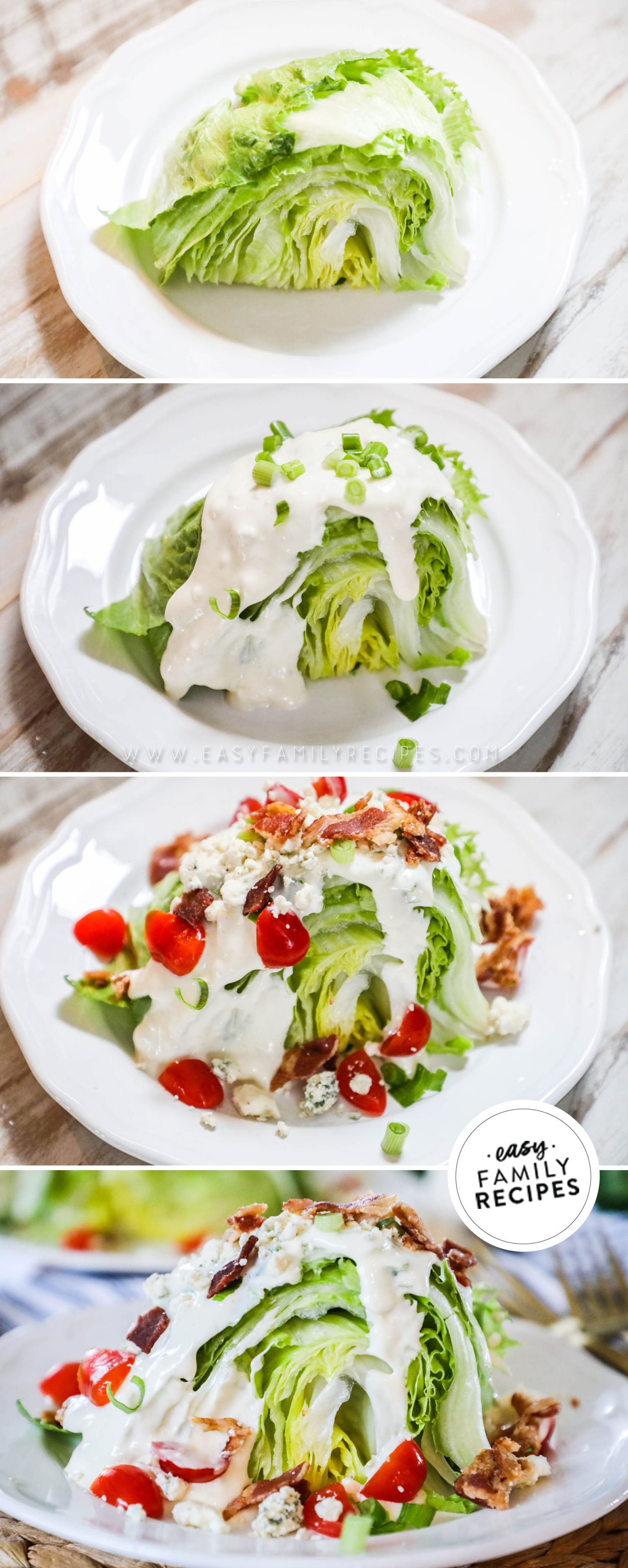 Recipe Tips
Make bacon fresh – To make bacon in the oven, line a baking sheet with parchment paper or foil and lay the slices down. Bake at 400 degrees F for about 15 minutes or until crispy and remove. Crumble or chop the bacon for a delicious bite to this classic salad recipe.

Serve for any occasion – I absolutely love how classy this wedge salad recipe looks and tastes, making it a fantastic option for special occasions. But because it uses the most basic ingredients, you can enjoy a chunky wedge salad for weeknight meals and small dinners. Elevate a dinner with the best steakhouse wedge salad to boot.

Chop the toppings small – This large chunk of crunchy lettuce will be cut down when you eat it, and you want to ensure you have all the tasty toppings in each bite. Keep the cherry tomatoes whole, cut them in half, chop the bacon into small crumbly pieces and finish with small pieces of blue cheese.

Give the lettuce an extra rinse – Rinsing off just the outer layer before chopping will suffice, but if you feel the wedges are sandy, give them another quick rinse to get in between all the layers. If you take this extra step, do it early to give it time to dry.
Recipe Short Cuts
If you need to make this recipe but are extra short on time, here are a few ideas that can help make this recipe even faster!
Prepare lettuce wedges ahead of time –You can cut and store the wedges up to a day in advance with good results. Skip adding any dressing or tomatoes to the lettuce while storing as it can cause the leaves to wilt and become soggy.

Bake bacon and store it until ready – You can make extra and store it in the fridge or freezer and crisp up when a recipe calls for bacon. Then, place it in the microwave for a few seconds until it crisped back up for bacon whenever you want!

Keep blue cheese dressing in the fridge – I have a wonderful recipe made with the best fresh ingredients. Once made, you can store it in the fridge for up to two weeks to use on salads, as a dip, with pizza, you name it. You can also make a homemade ranch dressing or add a little heat with a spicy jalapeno ranch dressing to have on hand, too.

Pan fry the tomatoes–Add a fantastic depth of flavor by pan frying the cherry tomatoes using the bacon grease from cooking the bacon. Heat the bacon grease and toss in the tomatoes, swirling them in the pan until plump and serving warm over the wedge salad.

Recipe Variations
If you love this recipe as much as we do and want some quick ways to change it up for variety, these little tips will do the trick!
Chopped Wedge Salad – To keep this salad's yummy flavors in a more manageable dish, chop the lettuce and toss it with toppings and dressing before serving. This is a more kid-friendly way to serve this classic salad.

Grilled Wedge Salad – This is a fun twist on a cold wedge salad by grilling the wedges for less than a minute to add smoky grilled flavoring. To grill the lettuce chunks, toss them in olive oil and place the cut side down on a hot grill. Cook for about 45 seconds and rotate to the other cut edge for another 30 – 45 seconds.

Romaine Wedge Salad – Prepare a large head of romaine lettuce by cutting it into quarters and removing the core. Then, add the same toppings for an ample serving of salad.

Buffalo Wedge Salad – Add a drizzle of buffalo sauce or chopped buffalo chicken tenders to make this a complete meal.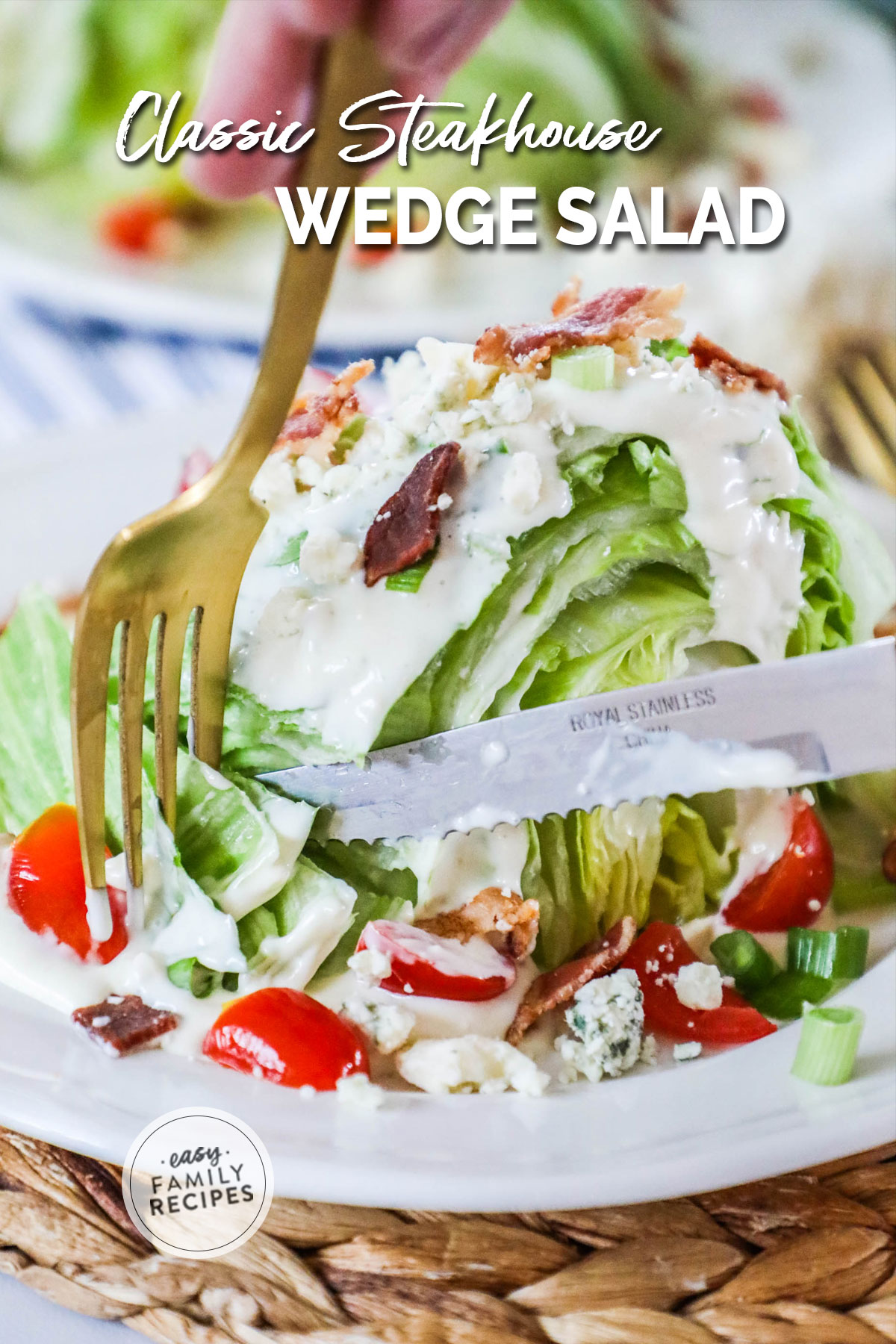 Wedge Salad Leftovers
If you have leftovers after making iceberg wedge salad, then it is your lucky day! It can save well if not topped with dressing.
To save leftovers, separate into meal sized portions and then place the wedges undressed in an airtight container and store the toppings separately and store:
Lettuce wedges will stay fresh in the refrigerator for about a day
The dressing will stay fresh for up to two weeks in the refrigerator
Cooked bacon and tomatoes can store in the fridge for up to a week
Blue cheese crumbles will stay fresh for 8-9 days in the refrigerator
More EASY Salad Recipes
If you enjoyed this recipe, I really hope you will take a moment to grab a few more easy recipes for another busy night!
You can check out all of my salad recipes here, or see a few of our readers favorite recipes below.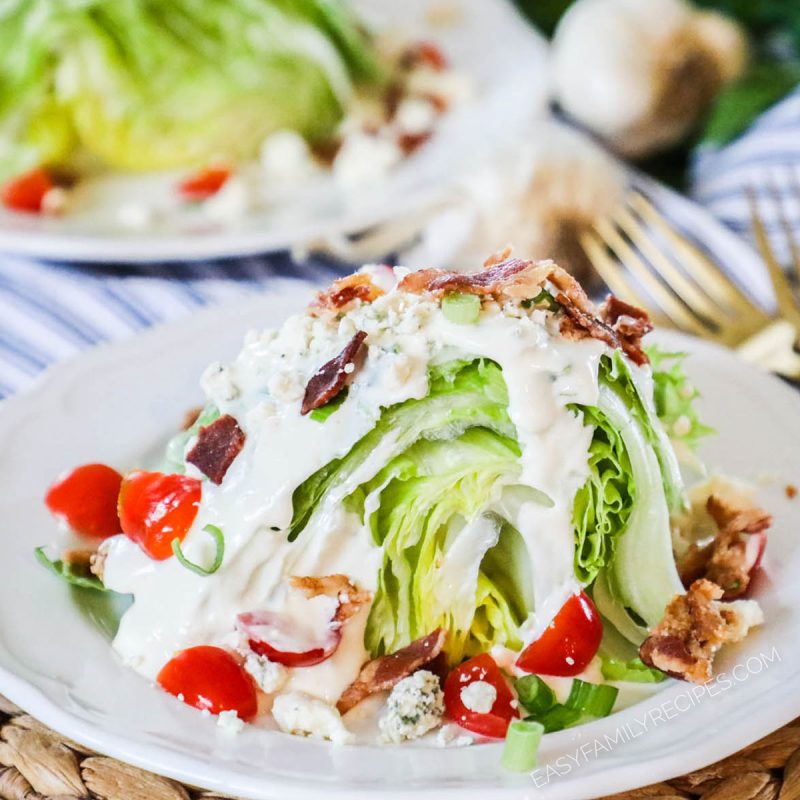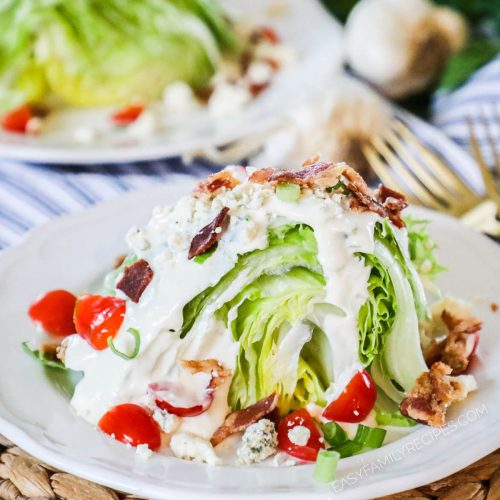 Classic Wedge Salad
This Steakhouse Wedge Salad is the best combination of textures and flavors for a classic recipe that will impress—layered with creamy dressing, juicy tomatoes, crispy bacon, and soft blue cheese crumbles for an irresistible bite.
Ingredients
1

head

iceberg lettuce

,

washed.

1

cup

cherry tomatoes

,

halved or quartered

4

green onions

,

sliced

1/2

cup

crispy bacon

,

crumbled

1/2

cup

blue cheese

,

crumbled

1/2

cup

Blue Cheese dressing
Instructions
Core the lettuce and cut lengthwise twice so that you have 4 equal wedges of lettuce. If the head of lettuce is extra large you may want to half each wedge to make a more reasonable size.

Place each wedge on a plate. Top the wedge with 2 tbsp gorgonzola dressing, 1/4 cherry tomatoes, 1-2 tbsp green onion, 2 tbsp bacon crumbles, and 2 tbsp blue cheese.

Serve immediately. Enjoy!
Nutrition Information
Calories:
185
kcal
(9%)
,
Carbohydrates:
8
g
(3%)
,
Protein:
12
g
(24%)
,
Fat:
12
g
(18%)
,
Saturated Fat:
6
g
(38%)
,
Polyunsaturated Fat:
2
g
,
Monounsaturated Fat:
4
g
,
Trans Fat:
0.02
g
,
Cholesterol:
27
mg
(9%)
,
Sodium:
738
mg
(32%)
,
Potassium:
420
mg
(12%)
,
Fiber:
2
g
(8%)
,
Sugar:
5
g
(6%)
,
Vitamin A:
1113
IU
(22%)
,
Vitamin C:
15
mg
(18%)
,
Calcium:
155
mg
(16%)
,
Iron:
1
mg
(6%)