These Taco Stuffed Zucchini Boats are a super delicious and crowd pleasing dinner idea.  These come together quickly and a filled with great tons of flavor, but also are wholesome, low carb, gluten free and a great way to feed a crowd. You can make these with zucchini from the store or from your summer garden by just hollowing out the zucchini, stuffing them with great taco flavors and baking.  Not only are they easy to make, but they bake on a simple sheet pan and so they are easy to clean up too!
Taco Zucchini Boat Recipe
Let me introduce you the healthy dinner that my whole family devours in minutes.  These Taco Stuffed Zucchini boats are the perfect balance when you want to eat ALL THE TACOS but you also want to keep it light.
These start out with some of the most delicious and flavorful taco meat out there!  This recipe is absolutely my favorite!  You can actually make a big batch of it up and serve it as traditional tacos the first day, then you can use the leftovers later in the week to make these zucchini boats for a whole new take on it as a main dish.
Zucchini boats really are the perfect meal, light enough for the summer, but warm and flavorful to make a great fall and winter dinner too.  Even better, they are equally adult and kid friendly!  When I made this batch we had friends over and even her 10 month old baby thought these were delish!
What to Serve with Taco Zucchini Boats
This is a super simple meal that we usually make with leftovers from taco night.  Being that, I always try to keep it simple with the side items so that we have a quick and easy dinnertime with little prep and little clean up.  You can a lot of different side options with these and use classic sides that go well with Mexican cuisine, try low carb side items to keep the whole meal lighter, or do a combo of both to satisfy all the appetites at the table that night.
Classic Mexican Style Side Ideas
Chips and salsa
Mexican Cornbread
Mexican street corn casserole
Spanish rice
Black, pinto, or refried beans
Hot buttered tortillas
Low carb side options
Mexican Cauliflower Rice
Sautéed Fajita Veggies
Pico de Gallo with veggie "chips" (pepper slices, carrot slices, etc)
Side salad with homemade ranch
You can serve the Taco Zucchini boats with one of these or mix and match a few.  If you have a serving suggestion that you love and I missed here, let me know in the comments.  I would love to try it out!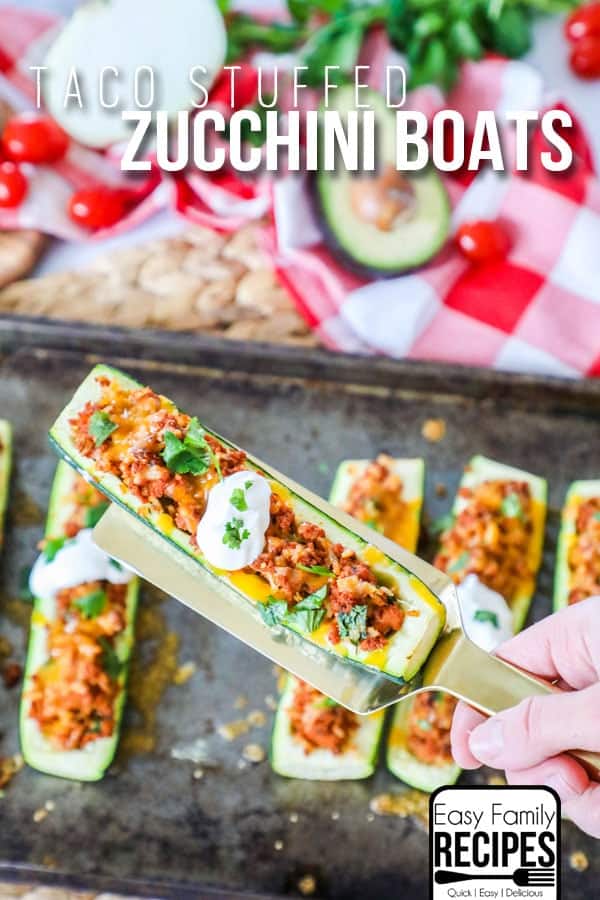 How to Make Taco Zucchini Boats
This recipe is super simple as promised!  I usually make this so I have something to do with our taco meat leftovers so I am not usually using exact measurements, but rather just throwing it together so that it works.  With that said, I did my best to put down measurements for you in the recipe, but really you can use more or less meat, cheese, seasonings, toppings etc or modify these zucchini boats so that it fits the taste preference for your family.
I am going to walk though my notes and tips with you here to hopefully answer any questions that may come up and you can find the FULL recipe card with nutrition info at the bottom of this post.
Taco Zucchini Boats Ingredients
8 small zucchini squash– This is going to be about 2-2.5 pounds.  I recommend using the small ones so that they can cook more quickly in the oven.  The big ones end up to be thicker and will take longer to get tender.  We are always impatient to eat so I go for quick and easy!
2 cups taco meat, prepared– I use this to-die-for Homemade Taco Meat which uses a homemade taco seasoning that is gluten free and low carb which is helpful if you are catering to special dietary needs.  We don't have any special dietary needs in our family but it is still just the best seasoning I have had so we use it as our taco seasoning go to recipe!
1 cup sharp cheddar cheese– I like to use sharp because it is stronger so I can use less cheese in the recipe and still get tons of cheesy flavor. You could also substitute a Mexican blend or colby jack cheese here.
dash salt & pepper
For garnish (optional)
1/2 cup sour cream
cilantro, chopped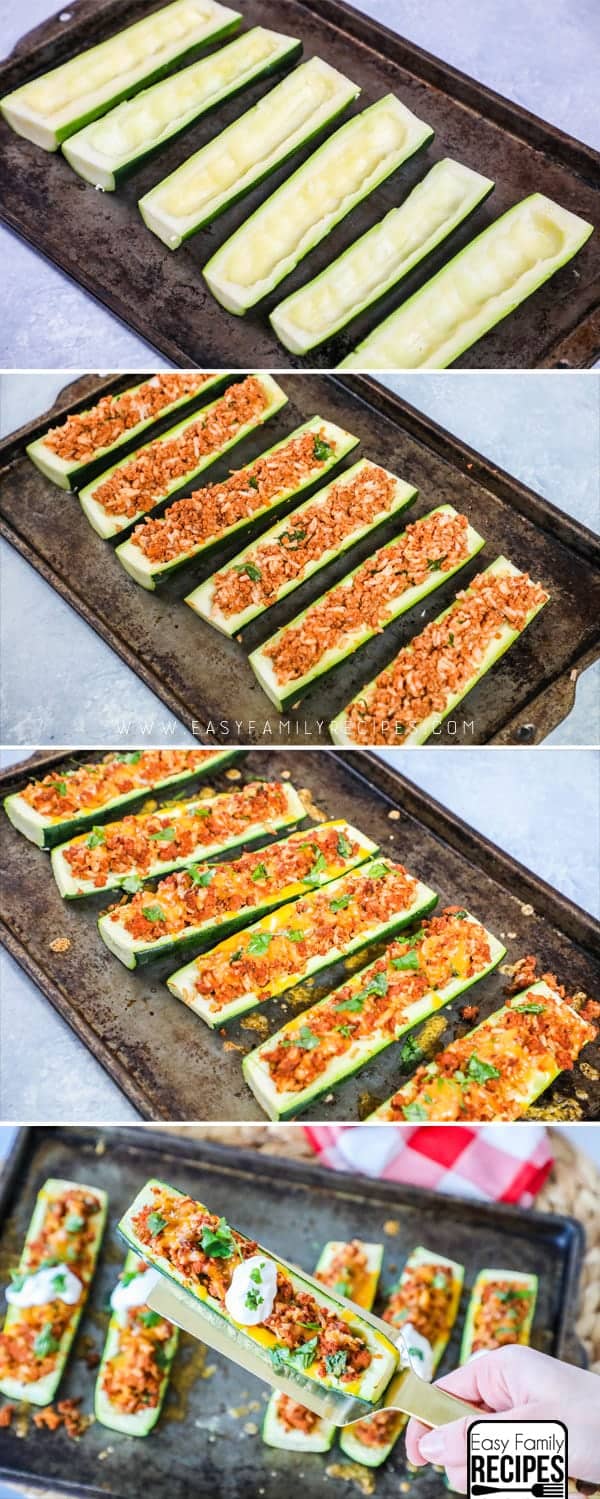 Taco Zucchini Boats- FAQ's
Q: How many do I serve each person?
A: For our family, the adults eat 2 boats each and the kids each eat one.  The nutrition info is calculated on 2 boats per person.
Q: Do I need to cover these while cooking?
A:  I do not cover them while I cook them.  Each oven bakes differently based on size, brand, climate, elevation, etc.  If you find the zucchini boats getting too browned then you can pop a piece of foil over them loosely to protect them from further browning for the remainder of the cook time.
Q: How do I store the leftovers?
A: You can put the leftovers (if you have any!) in an airtight container in the refrigerator for 3-4 days or in the freezer for up to a month.  If you are going to freeze, I recommend not topping with sour cream until you reheat and are ready to serve.
I really hope that you enjoy this Zucchini Boat recipe as much as we do!
If you do get a chance to try it, I would love it if you let me know!  You can leave me a comment below, or if you post a picture on Instagram, make sure to tag me @easyfamilyrecipes so that I can see what you are cooking up! It makes my day to see others enjoying the recipes that I share!
Oh and before you go!… If you need a regular rotation of recipe inspiration like me, make sure to sign up to get our emails!  I send out my new favorites, the recipes my family has been devouring, and some of the best tried and true recipes.  It is easy and free of course!  You can click here to sign up or on the button below.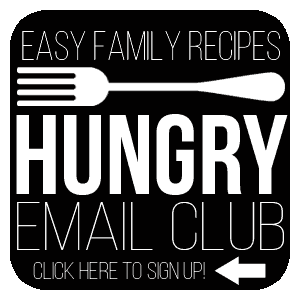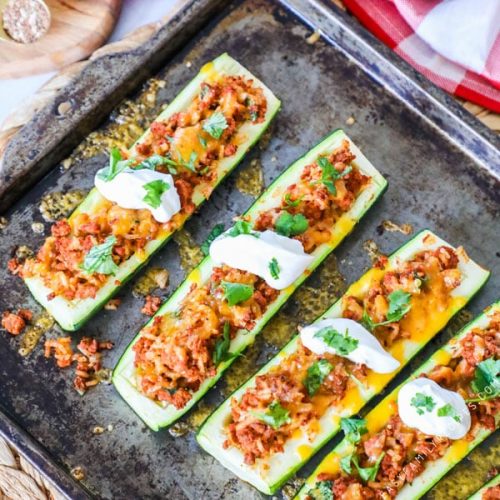 Taco Stuffed Zucchini Boats
These Taco Stuffed Zucchini boats are one of our favorite easy dinner recipes. You can make it with fresh, or leftover taco meat from earlier in the week. They are quick to make and easy to clean up. As a bonus they are also wholesome, low carb, and gluten free!
Ingredients
8

small zucchini squash

,

about 2-2.5 lbs

2

cups

taco meat

, prepared- I use this to-die-for Homemade Taco Meat (see note for gluten free)

1

cup

sharp cheddar cheese

dash salt & pepper

For garnish

,

optional

1/2

cup

sour cream

cilantro

,

chopped
Instructions
Preheat the oven to 350˚F.

Cut each zucchini lengthwise and scoop out the seeds using a melon baller. Place them on a baking sheet cut side up.

Pile 1/4 cup meat inside the trough of each zucchini and top with 2 tbsp cheese.

Bake for 30-40 minutes or until the zucchini becomes fork tender. If you prefer you can cook uncovered for half the time and loosely cover with foil at the end for the remaining time.

Once they are done baking, dollop with a tablespoon of sour cream and sprinkle with fresh cilantro.  Enjoy!
Recipe Notes
To ensure these are gluten free and low carb make sure to use homemade taco seasoning (used in my taco meat recipe) or verify any prepared meat is gluten free.
Feel free to use more or less of any ingredient in this recipe per your taste.  It will be great with double the meat if you are a meat lover, or more veggies, or other toppings like guacamole and salsa.

Nutrition facts provided based on my best estimation for the recipe and may not be accurate depending on what brands you use or modifications you make to the recipe.  I recommend using a nutrition calculator with the exact brands and measurements you use for the most accurate calculation.

©2018 Easy Family Recipes- Recipe found at: https://www.easyfamilyrecipes.com/taco-zucchini-boats/ For more great easy dinner inspiration, sign up for our emails here!
Nutrition Information
Serving:
2
zucchini boats
,
Calories:
294
kcal
(15%)
,
Carbohydrates:
9
g
(3%)
,
Protein:
35
g
(70%)
,
Fat:
13
g
(20%)
,
Saturated Fat:
4
g
(25%)
,
Polyunsaturated Fat:
0
g
,
Monounsaturated Fat:
0
g
,
Trans Fat:
0
g
,
Cholesterol:
118
mg
(39%)
,
Sodium:
485
mg
(21%)
,
Potassium:
0
mg
,
Fiber:
2
g
(8%)
,
Sugar:
1
g
(1%)
,
Vitamin A:
0
IU
,
Vitamin C:
0
mg
,
Calcium:
0
mg
,
Iron:
0
mg